10 Best Adidas Running Shoes (Buyer's Guide)
Adidas is one of the top brands in the athletic footwear scene. In running shoes, Adidas continues to be a popular choice among users. Many of their models are uniquely built: prepped for performance yet also trendy.
This article talks about Adidas as a top player in the running shoe industry, which makes them so, and what sets Adidas running shoes apart from others. If you would like to know more about running shoes in general, head on over to our overall buying guide.
How we pick the best Adidas running shoes
Out of 200+ Adidas running shoe models, the best of the best are determined through their Corescore. The Corescore is any number from 0 to 100 that represents the final verdict derived from ratings and reviews of more than 150,000 users.
Ranking of the 10 best Adidas running shoes
Based on 428,506 user ratings 831 expert reviews
Here is a list of all 204 Adidas running shoes, where you can sort by "best rated" and apply filters.
Top 5 most popular running shoes
Popular running shoes aren't the better rated ones
Why choose Adidas running shoes?
Many users prefer to buy Adidas running shoes just because of the name alone. After all, the brand is reputable when it comes to producing high-quality shoes. But aside from this reason, we'll give you 3 more that could get you interested:
Adidas is an established brand. Since 1948, Adidas has been developing and evolving running shoes. If you want a running shoe from an "experienced" brand, Adidas is a good choice.
Innovation in shoe technology. The Boost cushioning is popular in the running shoe industry. It remains highly recognized because of its effectiveness, consistency, and reliability.
Reasonable pricing. They may not be the cheapest, but Adidas running shoes continue to sell because they meet users' expectations in quality and performance (they are also usually available on discount!)
Top-rated Adidas running shoe series
Adidas offers many running shoe series and models, which may be confusing or overwhelming to new users. Here's how to differentiate the most popular ones:
Adidas Ultraboost
The Ultraboost series is the most notable running line from Adidas. Known for their flexible yet durable cushioning, the Ultraboost models guarantee 20% more energy return than those with standard foam midsoles.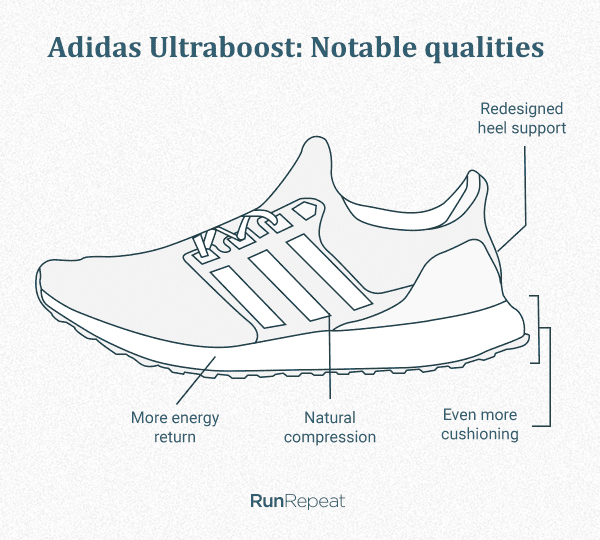 Adidas Alphabounce
The Alphabounce series aims for a more adaptive running experience through the use of Aramis motion sensor. Alphabounce shoes are characterized as "soft and bouncy," and are emphasized on allocating comfort on every area of the foot.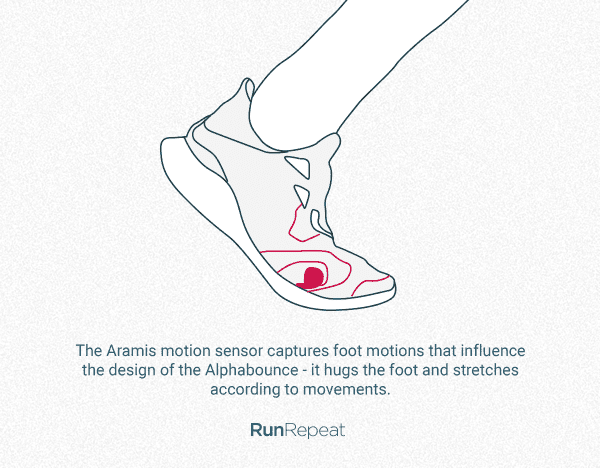 Adidas Pureboost
Another Adidas shoe series that uses the Boost midsole tech is the Pureboost. It is intended for short-distance runs in urban settings. In contrast to Ultraboosts that are built for responsive runs, Pureboost shoes are more focused on providing comfort.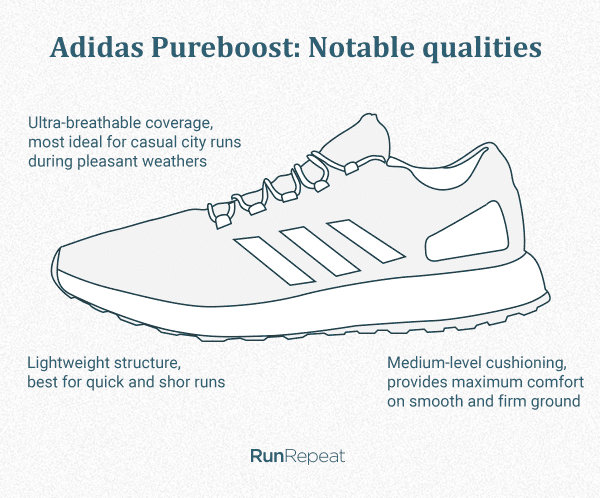 Adidas Duramo
With the Duramo series, beginners don't have to settle for less. These cheap running shoes are aimed towards newbies who don't want to splurge just yet, but still want to get the benefits of a decent running footwear.
Adidas Terrex
The Adidas Terrex is the brand's special line for outdoor gear. Running shoes that are part of this series are meant for trail running, as they are equipped with features that perform best on technical terrains. The Terrex line also carries hiking shoes and hiking boots.
Running in Adidas shoes: 3 things to consider
Terrain: Pavement or trails
For your regular running pursuits on paved surfaces, smooth gravel, or other urban landscapes, consider getting an Adidas road running shoe.
If you are running on technical terrains that include rocks, mud, or puddles, the brand's trail running shoes are suitable for you.
The graphic below summarizes the key differences between each shoe category: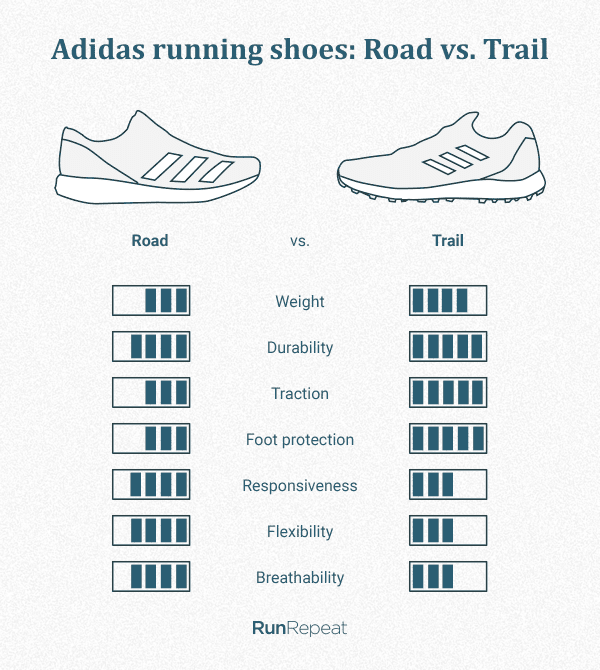 Use
Adidas daily running shoes are your best bet if you are looking for a go-to companion for your regular runs. These are also the most suitable for beginners.
For your speed workouts, training runs, or other athletic-level runs, the brand's competition running shoes can help you achieve your goals. Adidas also offers several advanced racing flats with a carbon plate.
Here is a quick comparison between the two shoe categories: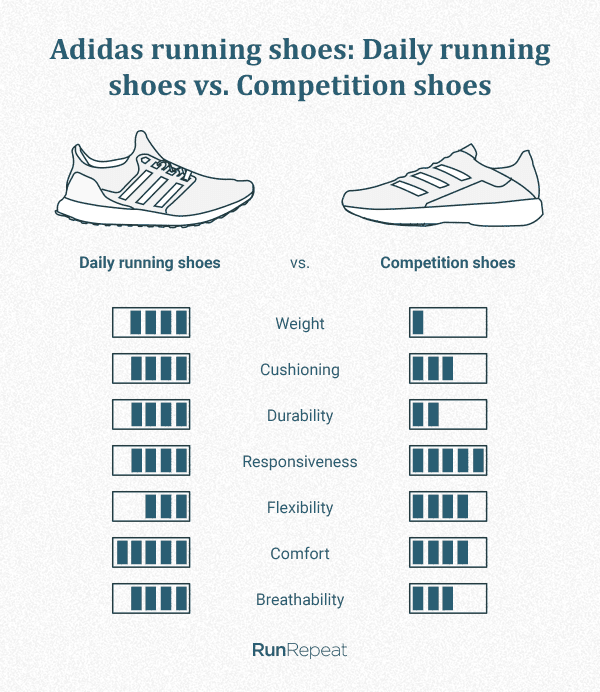 Arch support
Runners with normal arches and neutral pronation can pick up a pair of Adidas neutral running shoes. These shoes are perfect if you have no issues with foot stability.
Conversely, if you feel there's a need for additional arch support, or if you want to correct your overpronation (when the foot rolls inward excessively), Adidas stability running shoes are recommended.
If you are a beginner, or if your pronation does not interfere with your running at all, neutral shoes are always a good choice. You can also read more about pronation and running shoes in our arch support study.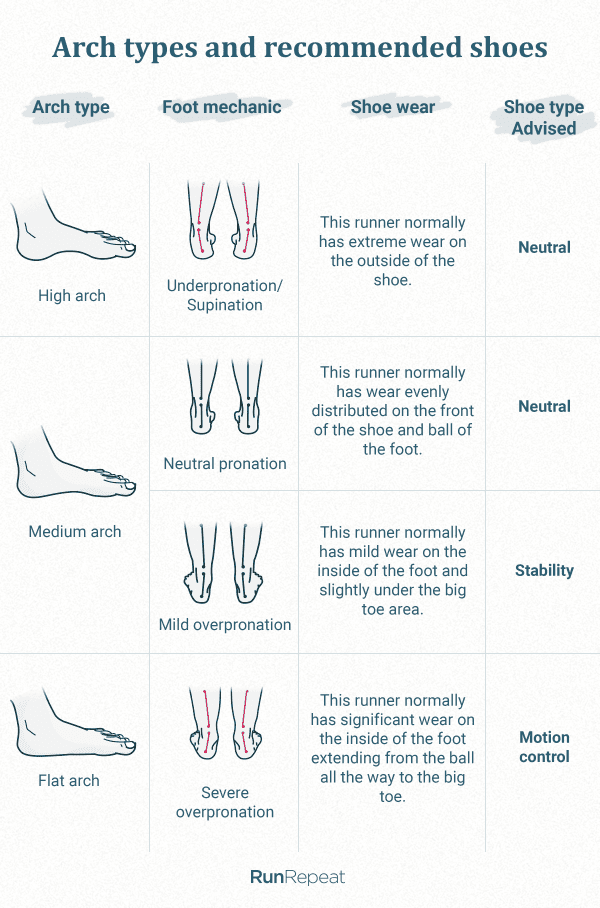 Running alternatives from Adidas
Adidas can be considered an omnipresent brand because they offer athletic gear for almost every sport. The shoes from some of these categories are versatile enough to consider them for running as well.
For quick, casual runs, or those that don't require performance-level movements, Adidas sneakers or training shoes may be a worthy companion.
Although basketball is far from running, Adidas basketball shoes are a good alternative if you want that heavy-duty stability during your runs. And if you're an athlete who wants a shoe that's just as professional, Adidas track spikes can give you that.
The best Adidas running shoes in every category
Other buying guides
Now, are you ready to buy adidas running shoes?