6 Best Adidas Training Shoes in 2023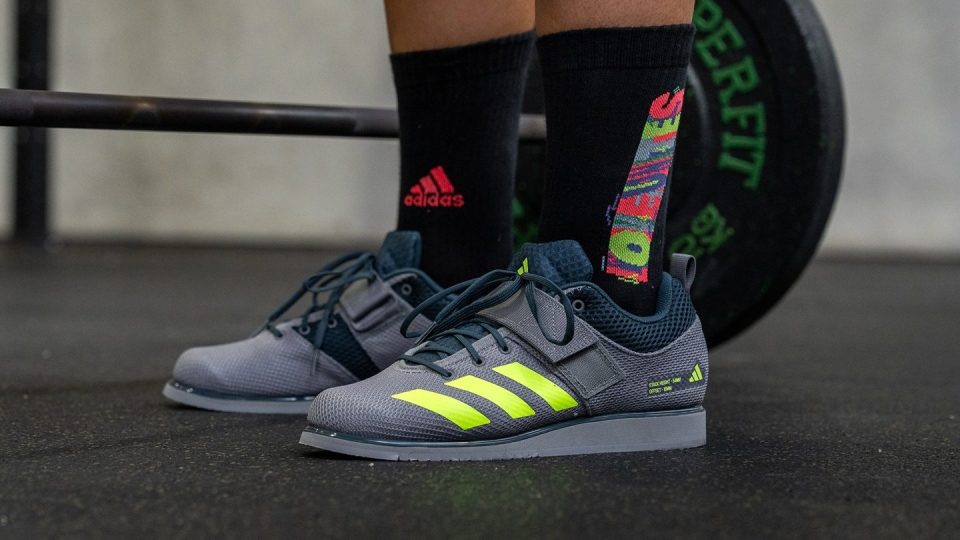 We earn affiliate commissions at no extra cost to you when you buy through us. Why trust us
From powerlifting to all-around trainers, Adidas offers some of the superbly high-quality training shoes in the business. As a trusted brand in the athletic footwear industry, you can be sure to get genuine value from the company's latest offerings of training kicks.
To get you started, we've rounded up, tested, and ranked all the best Adidas training shoes available in the market. Take a peek at our top picks below.
Comparison of the 6 best Adidas training shoes
| | | | | | | | |
| --- | --- | --- | --- | --- | --- | --- | --- |
| Best | | | | | | | |
| CoreScore | | | | | | | |
| Users rating | | | | | | | |
| Experts | | | | | | | |
| Best price | | | | | | | |
| Ranking | | | | | | | |
| Popularity | | | | | | | |
| # of colorways | | | | | | | |
Buyers' guide on Adidas training shoes
Famous for its iconic weightlifting shoes, Adidas has also been catching up with some pretty impressive cross-training shoes. But how do you know which Adidas shoe is best for your training needs?
We've put together this comprehensive best buyer's guide so you can choose with confidence.
An overview of training shoes from Adidas
The first thing to consider is of course the type of workout that you are planning to do in your Adidas trainers. Here is a quick overview of various training shoe series from Adidas and what they are intended for:
| | |
| --- | --- |
| Shoe | Best for |
| Adidas Dropset Trainer | cross-training, Crossfit, light-to-moderate weightlifting |
| Adidas Powerlift | light-to-moderate weightlifting |
| Adidas Power Perfect | moderate-to-heavy weightlifting |
| Adidas Adipower | heavy/competitive weightlifting |
What to look for in Adidas training shoes
Narrowing down your options, you should also pay attention to a number of parameters such as:
heel height
cushioning (or stiffness, for lifting shoes)
support
durability
breathability
fit
Making sure you've got these tuned to your demands will result in the best workout experience in your future Adidas trainer.
Heel height
If you are choosing an all-around cross-trainer, the can range from 4 mm to 8 mm. The former will make you feel more grounded and in control while the latter will add more impact protection in the heel for high-impact exercises.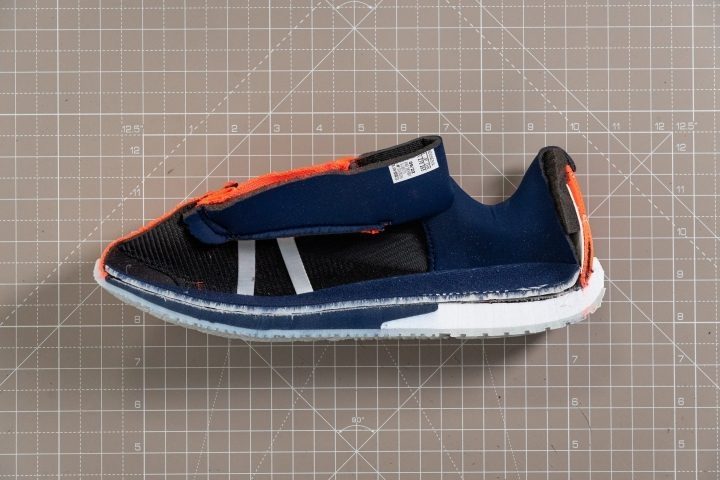 Example of a trainer with an 8-mm drop (Adidas Dropset Trainer)
In weightlifting shoes, the lowest drop starts at 15 mm and is considered best for entry-level athletes who are only getting used to the elevated heel.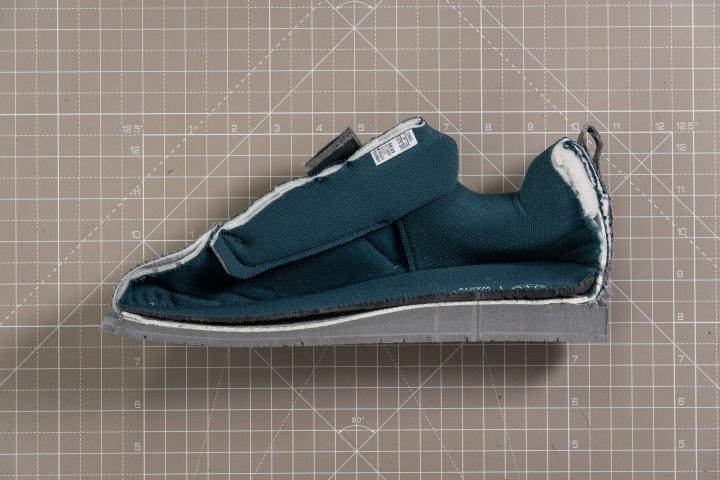 Example of a 15-mm drop (Adidas Powerlift 5)
The higher drop of 19 mm (Adidas Power Perfect) and 22 mm (Adidas Adipower) are chosen by the more seasoned athletes as it helps to improve posture for squats. When the heel is placed high above the toes, it takes the pressure off the ankles and creates more ergonomic angles in the knees and hips. This results in a more upright torso and improved lifting performance.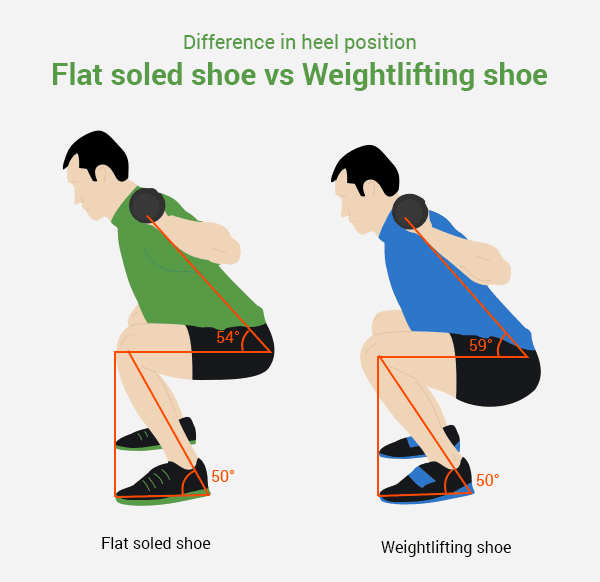 However, some athletes do prefer flat-soled lifting shoes for deadlifts. Especially those with strong and flexible ankles. They tend to choose flat-soled shoes like the Converse Chuck Taylor. In response to that, Adidas released a zero-drop lifting shoe in 2023, called the Total.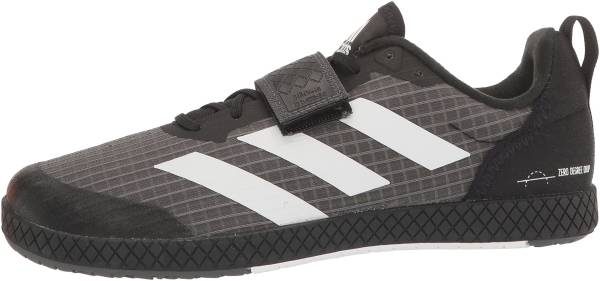 You can learn more about how different shoe types affect weightlifting performance in our comprehensive guide on the topic.
Cushioning/Stiffness
If you are going for a cross-trainer, you want to make sure there is enough cushioning to support your HIIT and cardio sessions. In our lab, we measure two parameters to assess the shoe's cushioning: stack height and softness.
The typical stack height of an Adidas cross-trainer is 25 mm in the heel. It provides the right balance of impact protection and ground feel to make sure you feel in control of various movements. However, you may come across shoes with thicker soles. Most of the time, these are better for running-oriented workouts.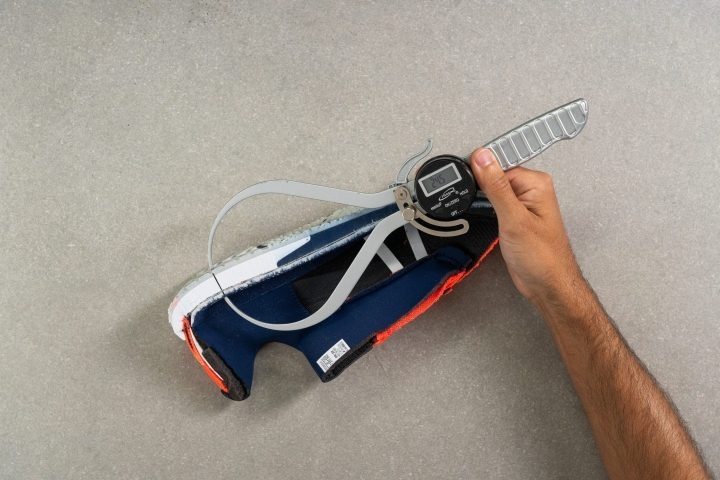 The cushioning foam also tends to be firm in Adidas trainers. We measure each one with a durometer to let you know if it is softer or firmer than average.
In weightlifting shoes, it is simple: you are looking for a platform that doesn't compress at all. That often means an extra firm TPU platform.
For beginners dealing with weight lower than 350 pounds, it's okay to go with a cheaper lifting shoe made with compressed EVA. There is a tiny bit of give there but not enough to make you wobble.
Example of a compressed EVA platform
Support
You must feel strong side support in a training shoe to go full force in your workouts. This is especially important for dynamic sessions with lots of multi-directional movements. That's why Adidas training shoes often come with additional sidewalls to keep the foot in place.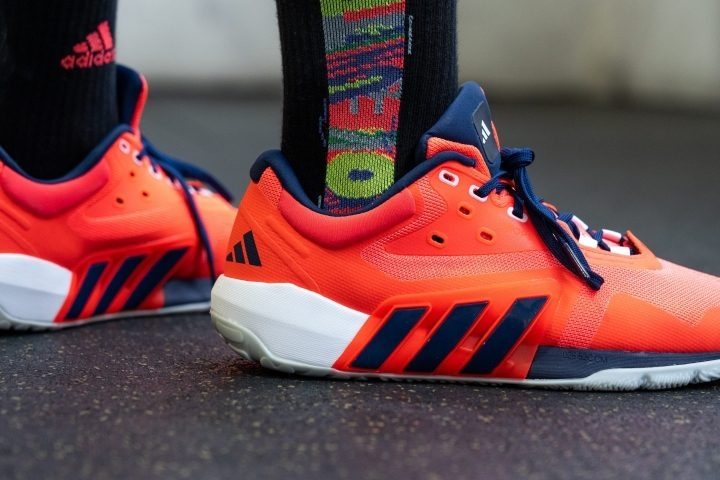 In our lab, we also assess how stiff the shoe's heel counter is. It has a direct impact on how supported the ankle is.
This shoe has an average heel counter stiffness (3 out of 5)
Weightlifting shoes from Adidas always have more support than cross-trainers. They feature sturdy leather or canvas uppers, wide soles, and extra stiffness for stability.
This shoe has the stiffest heel counter (5 out of 5)
Durability
We use a Dremel to test how wear-resistant various parts of Adidas training shoes are.
Based on the amount of damage that the Dremel causes to the material, each shoe gets a durability rating of 1 to 5.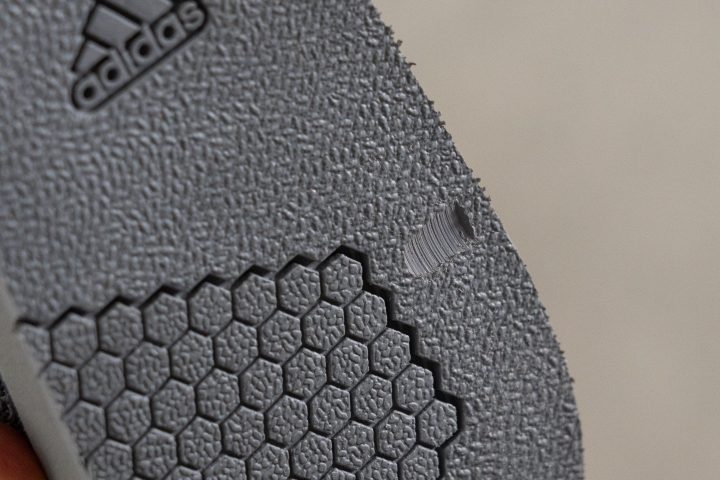 Breathability
When your toes are nice and fresh, it definitely helps you work out longer and more efficiently. We put each Adidas shoe through a smoke-pumping machine test to assess its ventilation. That way, we help you to rule out the toasty options even when shopping online!
Fit
Look for a shoe that fits your foot snugly, but not too tightly in the toe area. You should be able to naturally splay your toes without hitting the upper material. The upper should also have a stabilizing framework to hold the foot in place during intense training.
We provide detailed information on the fit of each Adidas trainer in our in-depth reviews.
Why choose Adidas training shoes?
Adidas has a long history of creating dependable, high-quality athletic equipment that has been tried and trusted by athletes all over the world. The company is dedicated to technological advancement and innovation, so every new model of training shoe is created with the most recent developments in performance-enhancing features.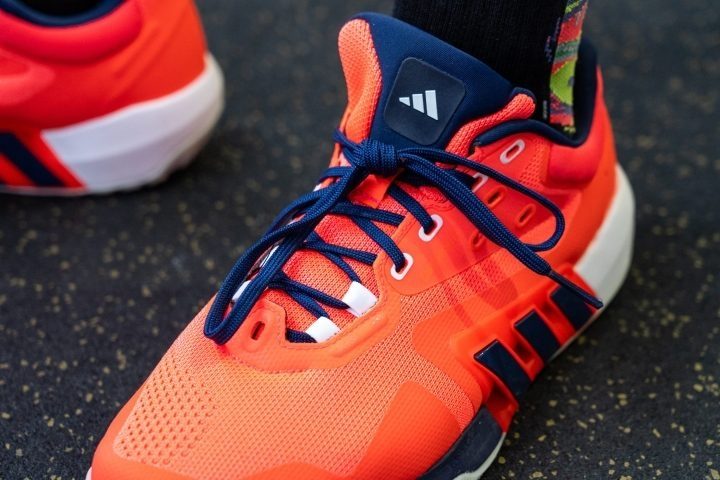 Training shoes from Adidas also stand out from the rest with their stylish non-trivial designs. This makes them a popular choice among both athletes and fashion-conscious people who want to look good while exercising. Adidas training shoes come in a variety of colors, styles, and designs, so you're bound to find a shoe to match your personal tastes.
Adidas training shoes vs. Adidas running shoes
Adidas training shoes are made for activities such as weightlifting, HIIT, and cross-training. They incorporate more lateral support to help minimize injuries during side-to-side motions and often have a more sturdy and supporting construction.
Adidas running shoes, on the other hand, are made expressly for running and offer characteristics like a cushioned midsole and a breathable upper for support and comfort during long runs.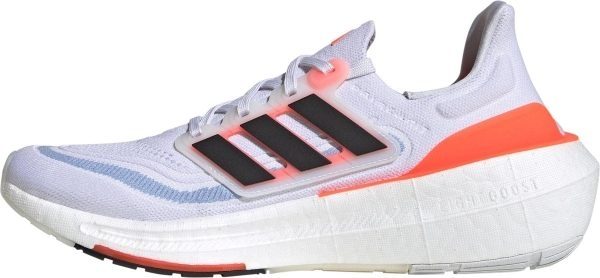 Adidas Ultraboost Light
The Ultraboost Light, for example, is listed as a workout shoe on the brand's official website. However, this shoe is absolutely awful for the gym, unless all you do is run on the treadmill. Its tall and plush cushioning lacks the stability needed for cross-training activities.
How we test training shoes
Before making our recommendations, each pair of shoes in our repertoire is put to the stringiest wear tests. That means subjecting the training shoes to the daily rigors of gym workouts and training exercises. We check the shoe materials and how they really perform in real gym life.
Below are the following protocols that we do:
We buy the Adidas training shoes for our wear test sessions. We spend our own savings on this so as to avoid any brand loyalty.
We wear each model for routine workouts to determine their comfort level, breathability, traction, stability, arch support, and many more. We further use the shoes to test their durability and overall performance by executing training regimens specifically designed for the shoes.
After putting in around 20 hours of training usage, we give the model our initial assessments.
We gather more useful info from other trusted wear testers, fitness experts, and regular gym goers.
Finally, a final score is given to all the Adidas training shoes in the database. You will then see on the CoreScore the overall rating of each model.