10 Best Adidas Basketball Shoes (Buyer's Guide)
Adidas is a trusted brand when it comes to sportswear. The Three Stripes' basketball shoes and other apparel are always neck to neck with Nike products in the market.
How we come up with the top 10 Adidas basketball shoes
Here at RunRepeat, we scour the web for basketball shoe reviews so that you won't have to. Once all inputs are in, we come up with a CoreScore for each Adidas shoe to determine the top ten.
Ranking of the 10 best Adidas basketball shoes
Based on 53,059 user ratings 582 expert reviews
Here is a list of all 88 Adidas basketball shoes, where you can sort by "best rated" and apply filters.
Popular basketball shoes aren't the better rated ones
73
76
79
82
85
88
91
94
97
100
10 best shoes
12 most popular shoes
Adidas signature basketball shoes
Let's face it: no matter how versatile a basketball shoe is claimed to be, it's never bound to please everybody. There will always be cushioning that is too hard or a material too flimsy; it all depends on the wearer's physique and style of play.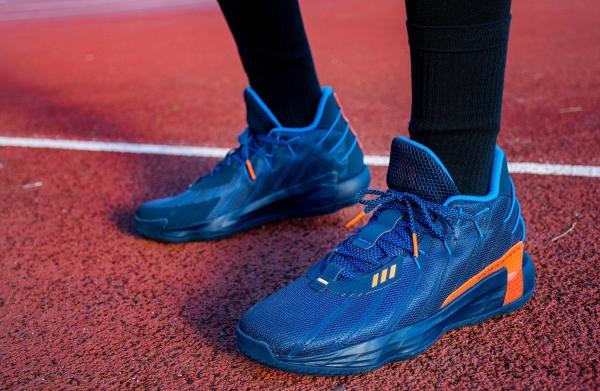 Example: Adidas Dame 7 from the Damian Lilliard collection
Good thing that Adidas has four signature athletes that buyers can easily compare their profiles and playstyles against. Simply put, if a buyer's descriptions match that of say, James Harden, then Harden shoes are probably the ones for him.
Profile

6'5"

220 lbs

Shooting/Point Guard

6'3"

215 lbs

Shooting Guard

6'3"

195 lbs

Point Guard

6'3"

190 lbs

Point Guard

Playstyle

focuses on quick footwork to trick defenders and create space

similar to Dame's and Wade's shiftiness and drives.

reliant on quick direction and speed changes and quick runs to the basket

does a lot of jumps and on-court acrobatics
All four of Adidas's signature athletes are guards. Hence, their shoes are expected to pay particular focus on court feel and responsiveness to accommodate guards' quick direction changes and sprints to the basket.
However, signature shoes for James Harden and Derrick Rose might be a bit friendlier to big men. Harden is himself a really big man, so it's necessary to add a bit of cushion in the fray. Though Rose is relatively small, his acrobatics-infused jumpshots necessitate additional cushioning for more pronounced impact protection.
Adidas non-signature shoes: What are they good for?
Like Nike and Jordan, Adidas also resurrects old hoop shoes. One of the most notable is the Adidas Pro Model 2G. It is a reprise of a 2000s favorite, and its wearers include the then high school sensation LeBron James.
Aside from performance retros and sought-after basketball shoes for James Harden, Derrick Rose, Damian Lillard, and Donovan Mitchell, Adidas also has newly minted non-signature offers in its roster. They are often cheaper, so they are more appealing to a lot of buyers. Presented below are the two most noteworthy.
Adidas Marquee Boost
The first Marquee Boost debuted in late 2018. It immediately became one of the most talked about mid-top basketball shoes because of its use of one of Adidas's most prized technologies: Boost.
Marquee Boost and its low-top version focus on balancing court feel and impact protection. The forefoot is made a little firmer to provide much needed response and court feel. The good old plushness of Boost is retained in the rear area to provide ample cushioning for heel strikes.
Adidas N3xt L3v3l
The N3XT L3V3L series is quite unique because of their laceless construction. Shoes from this line aim to be the most supportive without adding so much weight and bulk. The collection's 2021 release features a data-driven Futurenatural construction to further ensure a secure and streamlined foot lockdown.
What sets the best Adidas basketball shoes apart
Adidas always gives Nike and other brands a run for their money because the Three Stripes take competition very seriously. Their product development labs are always busy producing shoe technologies that give Adidas hoop shoes their unique mark.
Cushioning technologies
| | |
| --- | --- |
| Technology | Description |
| Adiprene | Composed of specially developed EVA, Adiprene absorbs shock and provides sufficient energy return. |
| Adiprene+ | An enhanced version of Adiprene, Adiprene+ provides more energy rebound without sacrificing comfort. |
| Boost | Boost is made of thousands of expanded TPU particles. It provides energy return, comfort, durability, flexibility, and utility in a wide range of weather conditions. |
| Bounce | Bounce is firmer than Boost. It is infused with anti-collision protectors to maintain its integrity. |
| Cloudfoam | Cloudfoam is made of an EVA compound, making it plush and lightweight. It relieves pressure just like memory foam. |
| Lightstrike | Made of "super light" materials, Lighstrike aims to provide the perfect balance of impact protection and responsiveness. |

Upper technologies
| | |
| --- | --- |
| Futurenatural | Futurenatural is an innovative data-driven process that involves the production of a seamless one-piece upper for the best fit. This is first used on the Harden Vol. 5. |
| Primeknit | A Primeknit upper is purposefully knitted as a single piece to minimize stitching and gluing. It's breathable and soft. |
| Sprintframe | Sprintframe is a light, supportive, and durable midfoot chassis. It is inspired by bridges' ability to stably support massive weight. |
| Sprintskin | Made of durable synthetic, Sprintskin is designed to provide reinforcement and support for intense lateral movements. |
| SprintWeb | Sprintweb is a light, sturdy, and supportive structure used in the uppers of many Adidas performance models. |
The best Adidas basketball shoes in every category
Other buying guides
Now, are you ready to buy adidas basketball shoes?