7 Best Basketball Shoes in 2023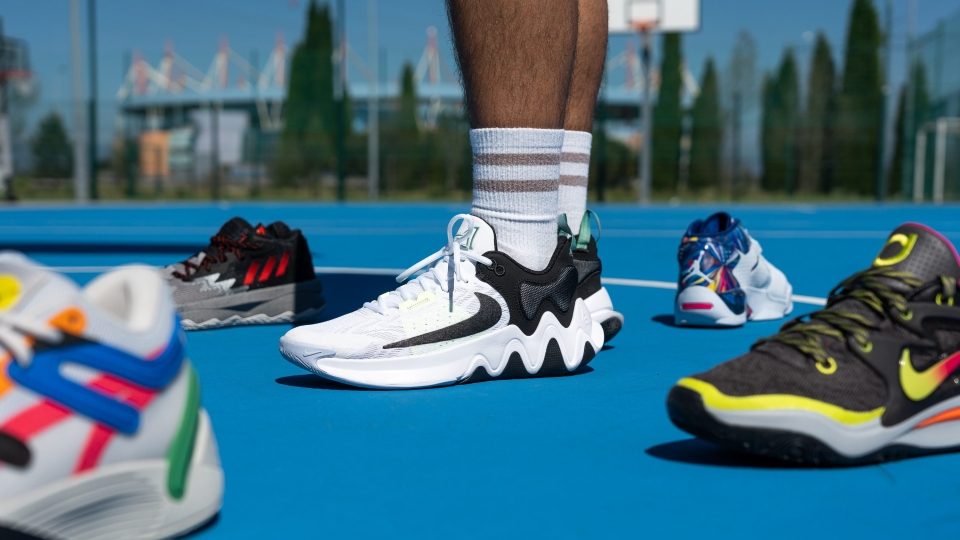 We earn affiliate commissions at no extra cost to you when you buy through us. Why trust us
Basketball is a combination of running, jumping, quick stops, and abrupt direction changes. Regular trainers can support some of these movements, but only the right basketball shoes support them all.
Some shoes make for perfect all-rounders while others excel in a specific characteristic like grip or cushioning. Don't be overwhelmed, though, as we are here to guide you through your choice.
We have reviewed over 100 basketball shoes from 10+ different brands to single out the best options to date.
Comparison of the 7 best basketball shoes
| | | | | | | | | |
| --- | --- | --- | --- | --- | --- | --- | --- | --- |
| Best | | | | | | | | |
| CoreScore | | | | | | | | |
| Users rating | | | | | | | | |
| Experts | | | | | | | | |
| Best price | | | | | | | | |
| Ranking | | | | | | | | |
| Popularity | | | | | | | | |
| # of colorways | | | | | | | | |
Why basketball shoes?
Logic says that because basketball involves a lot of running, it's OK to play in your reliable ASICS or Brooks runners. They've got traction. They've got a cushion. They even promise durability. But are these in the right amounts?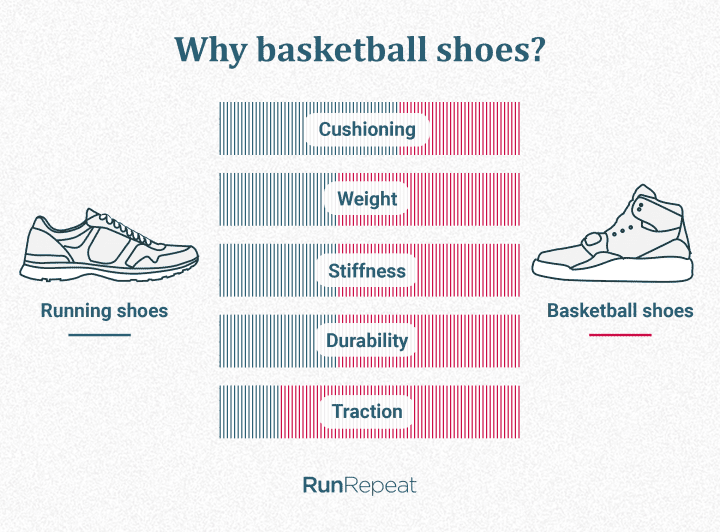 Compared to running shoes, good basketball shoes need the following:
Great traction. Basketball needs good traction because of the complex footwork that it requires. There are quick stops, jumping, and a lot of lateral actions. These are high-intensity movements that a shoe designed for running is not prepared for.
Slightly less cushion. Because of the complexity of their footwork, basketball players need to feel the court. Too much cushion can lead to dangerous movement miscalculations, slips, and falls.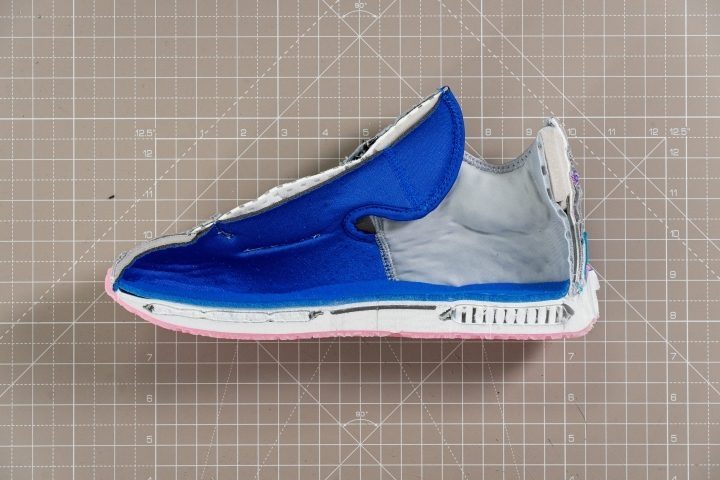 Average stack height in basketball shoes: 30 mm heel, 21.5 mm forefoot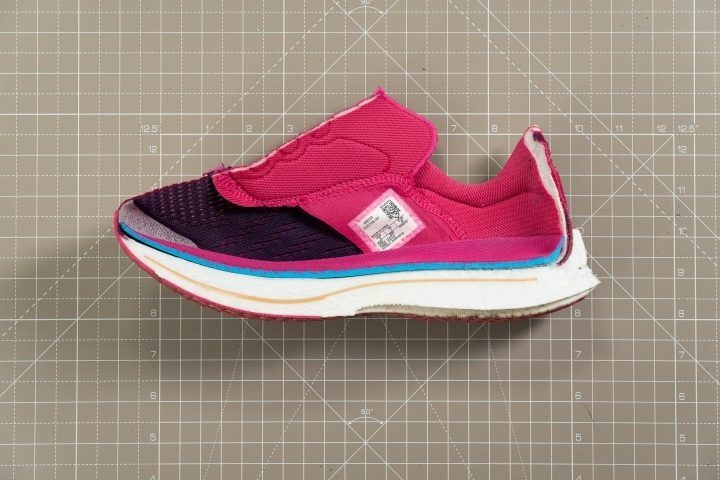 Average stack height in running shoes: 33.5 mm heel, 24.5 mm forefoot
More support. A good basketball shoe withstands immense pressure from aggressive movements. The extra stiffness and weight that it has make this possible.
Choosing one basketball shoe among many seemingly great options is already a daunting task. You can make your search easier by following the 3 quick steps below.
Basketball shoes and playing styles
Basketball positions allow us to predict what movements a player most likely does during the game. Basketball shoes should correspond to the needs of the wearer's playing position.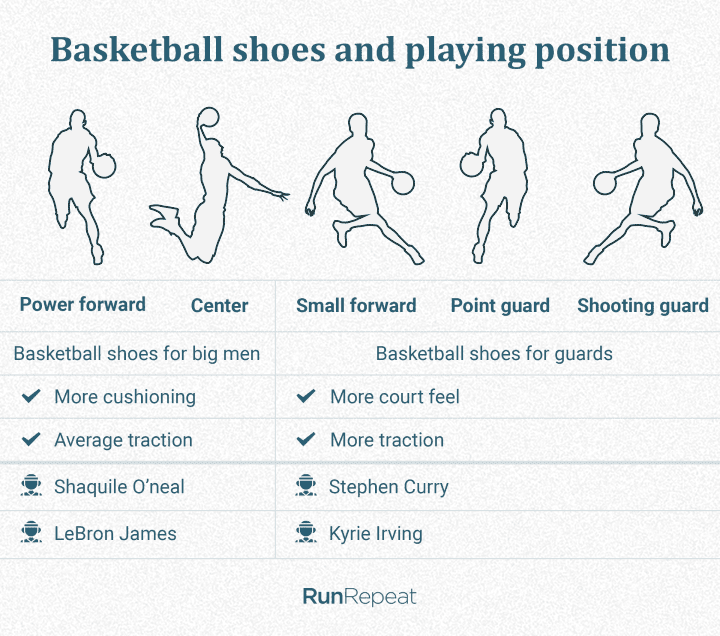 Centers and power forwards are quite similar. Big and strong, they usually position near the basket to do rebounds or blocks. Reebok's Shaquille O'Neal and Nike's LeBron James are among the most celebrated big men in the NBA.
Small forwards, point guards, and shooting guards are more aggressive with their movements. Smaller and more agile, they are pretty mobile and more physically engaged with their opponents. Kyrie Irving and Stephen Curry are great examples.
Generally, basketball shoes must provide a secure lockdown regardless of what role the wearer plays on the court. To ensure this, the best shoes are often equipped with laces, which you can tie in different ways depending on the size and shape of your foot. View quick lacing demonstrations here.
Finding the best fit in basketball shoes
It's obvious that you should get the right size to maximize a shoe's potential. What's not so obvious are the factors that affect your size-related decisions.
Brands fit differently. RunRepeat is equipped with a tool that helps you find the right size given the brand. This tool can also use your actual size, brand preference, and inputs from other users to come up with sizing recommendations.
Consider the thickness of your braces. Ankle braces provide additional support to your foot. Braces basketball players use are thicker than normal. If you plan to wear braces, get shoes that are at least half a size larger than your usual shoe size.
Don't forget the aesthetics
Low or high, know what you want. Low-tops are not really better performers than high tops, and vice versa. It's just a matter of preference.
Know your color. Basketball shoes are available in thousands of colorways. Some of these colors allude to NBA teams, NBA events, popular holidays (e.g. Easter and Christmas), and even political advocacies (e.g. Black History Month).
Indoor or outdoor: The sturdiness test
The basketball shoe industry is largely driven by the NBA. As such, brands rarely release shoes that are deliberately for outdoor hooping.
If you often play outdoors, you need to know how to assess a shoe's outdoor playability. Here's our suggestion: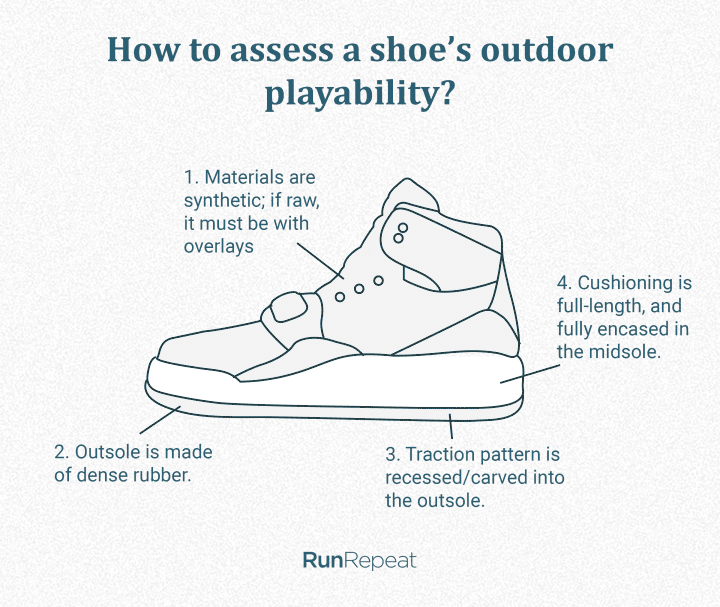 The best basketball shoes for wide feet
We have to be blunt, top basketball shoe creators like Jordan and Adidas rarely release products that are really for those with wide feet. Thus, we always measure the toebox width in all our lab-tested hoop shoes to let you know if they work for wide feet or not.
In the first half of 2020, LeBron James's LeBron 17 and Chris Paul's CP3 12 from Jordan are among the basketball shoes voted to be the best for wide-foot players.
A lacing technique can also help in making regular shoes fit wide feet better. You can watch a quick demonstration here.
How do I break in my basketball shoes?
There are shoes that need break-in time so that they can be worn more comfortably. There are many ways to break in basketball shoes. The following are some.
Hold the shoe by the heel and then twist the toe area left and right using the other hand. Do this as many times as needed to soften the upper. Softening helps the material conform to the foot better.
Wear the shoes daily with a thick pair of socks for at least ten minutes. After a week, try a different pair of socks while doing household chores. You may look funny wearing high-end kicks in your home, but doing this makes the shoe court-ready quickly.
Use the shoes during your light indoor gym workouts such as in treadmill running. Don't lift heavy weights while in basketball shoes as this might put too much pressure on the footwear.
Practice playing basketball in your basketball shoes. Basketball practices introduce the shoe to your unique movement patterns. After a few weeks, the basketball shoes should be ready to hit the court for some real action.
How we test basketball shoes
To come up with our list of the top basketball shoes:
We purchase the shoes by reaching into our own pockets so that we can proceed to review the shoes with total fairness.
We play, run, walk, and jump in the basketball shoes on both indoor and outdoor courts, so we will have a diversified feel of them.
Also, we put them through various tests in the lab, where we also dissect the shoes to scrutinize them more profoundly.
To elaborate more on the tests we perform in the lab, we judge what factors affect the shoe's performance during our play and wear tests. A few of the things we check are the stack height measurements and the insole's thickness where we use our caliper.