After years and years of using Asics shoes – Kinsei and Nimbus specifically – my girlfriend convinced me to try Nike Vomero, since she had been using it since the 8th edition and only had positive comments regarding weight, cushion, and stability.
Therefore, in 2017 I bought my first Vomero, 12th and was indeed impressed with the amount of cushion and stability despite its light weight. And I can tell you, stability and cushion are very important for me due to my heavyweight – 95kg and twisted ankles and knee problems in the past.
So, my experience with the Nike Vomero 12 was overall great, making me run faster and needing less recovery time than ever before, which made me jump at 13th edition as soon as it was released, last mid-December.
Cushion X Weight X Stability
When you put Vomero 13, right away you can feel the Nike Zoom Air technology working. It's different from the Nike Pegasus where the cushion is spread out the entire sole, making your feet feeling that it's literally walking on clouds, or being more realistic, a gym mattress.
When you start running, the Nike Zoom Air tech becomes even more vivid, making the steps softer and the back return stronger. This translates to a lighter step/higher speed and fewer sores after training.
That being said, even though Nike states that Vomero 13 is almost 10% lighter than the previous version – weighing 306 gr at size 10 US versus 334 gr for Vomero 12, my overall feeling was that the cushion has improved.
It's stronger now, especially in the forefoot part, which made me very happy. In this topic, Vomero 13 gets a plus.
On the other hand, in terms of stability, I felt that Vomero 12 had better arch and ankle support, wrapping up in the foot as an envelope. In this topic, Vomero 13 gets a minus.
Sole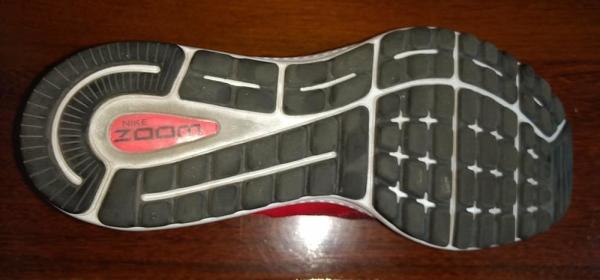 Nothing much to talk about here, it is essentially the same as the Vomero 12, which was already good for different types of soil, and most importantly, durable.
Upper
This is the biggest difference from 12, with new color schemes and materials used on the upper part.
The upper is also very strong and solid with a double layered fabric. It's very breathable which means a shoe that could last you for long runs. It also has good toe protection at the same time.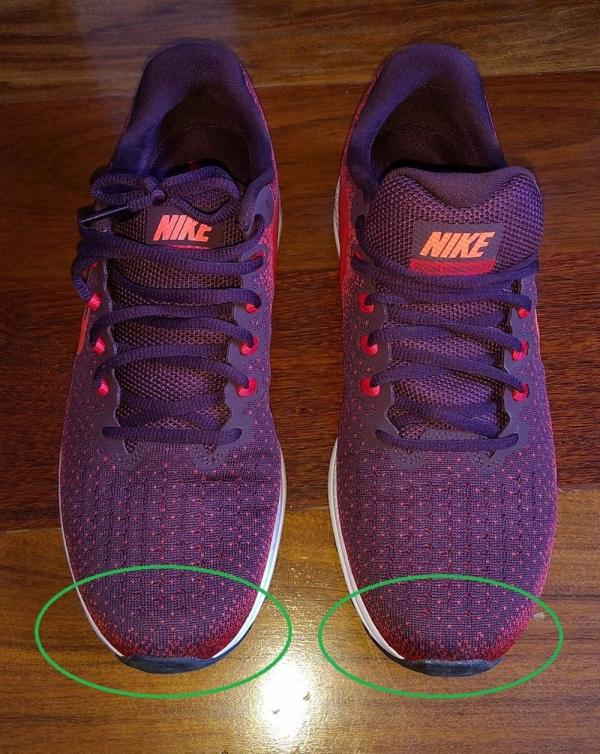 And the back part now includes a retroreflective light mark for safer night running, so another plus here.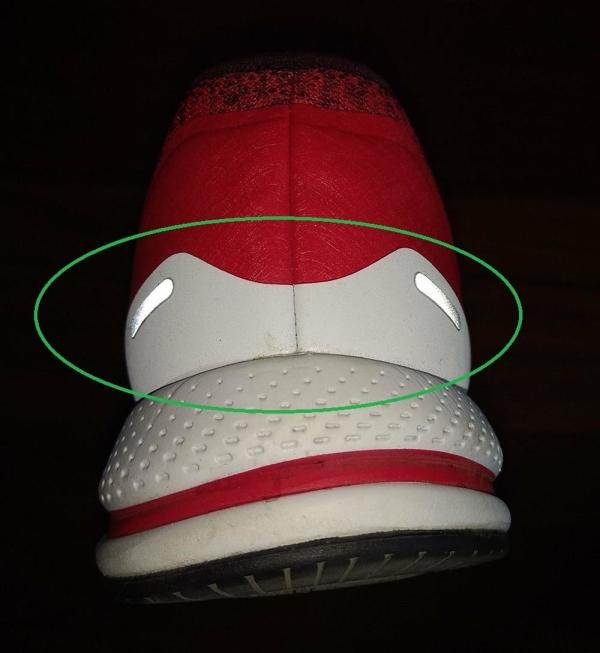 But I was a little bit disappointed with the laces support stripes on the side of the shoe, which can be felt from the inside while wearing them.
In the image below, you can even see the relay between the black lines as a continuation of the red stripes.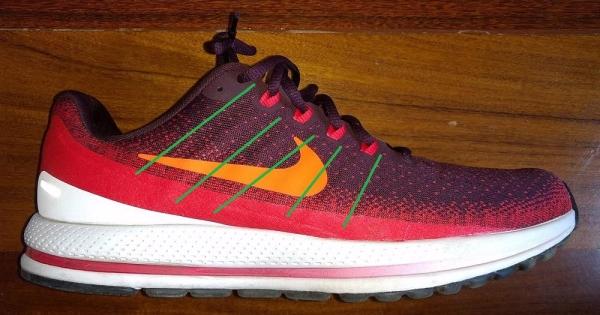 My tip here would be to wear the shoelaces a bit loose and a thicker sock. For that, I give a minus.
Pros
Modern & sleek looking with a good amount of color schemes
Strong and smooth support for the toes
Better cushion experience in comparison to Vomero 12
Lightweight, supposedly even lighter then Vomero 12
Cons
Worse arch support and stability compared to Vomero 12
The white side of the sole gets dirty pretty quickly
Conclusion
The Nike Vomero 13 is a comfortable, high cushioned running shoe for all types of running lengths. Due to its Zoom Air technology, it absorbs the impact and returns energy for the runner, giving more speed during the race and fewer lesions after exercise.
In comparison with the previous edition, I would highlight a better cushion experience, especially in the forefoot, despite lesser stability. So in case you have ankle issues be careful.
The reflective mark for night running is another plus, but being able to feel the shoelace stripes from inside while wearing the shoe really bothered me.
In conclusion, it is a very good shoe but may not justify the purchase if you are bothered by the minus I highlighted in this review.