My motivation for buying the Nike Zoom Pegasus 33 was based on the fact that I had previously bought the Nike Zoom Elite 8.
What I found in the Elites was that the running experience in whole related to my running style.
As a neutral runner with a heel strike, the transition from heel to toe, for me made perfect sense. The sole comfort and ride for my weight (74kg) and medium build proved to be an ideal match. My average pace of 4 to 5 min per km made this shoe a good blend of comfort and speed.
Besides, look at it, how visually appealing is this shoe? And there are more vibrant colors to choose from. On the onset, you can see no stitching or patchwork, the sloping sole, and no heavy duty lugs. It just looks fast.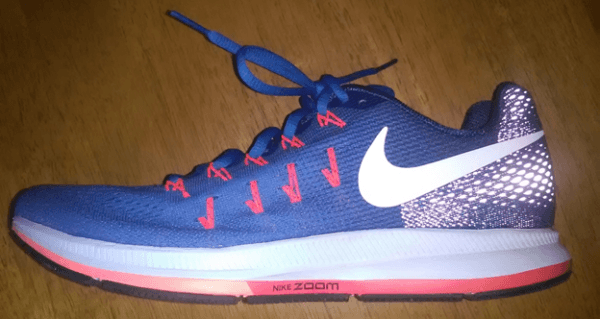 Midsole
At first putting on the shoe, I noticed that the feel was snug and light. Bouncing on the shoe and walking felt really good. Snug to a point that I felt that my usual thick Falke sock felt a bit tight when wearing the Pegasus.
I adjusted to a thinner sock and this made it feel roomier. At first fitting, you will also notice that under the ball of the forefoot I could feel something that felt like an orthotic insert. This felt a little strange.
Taking out the insole, you will notice that the ortholite is raised where the air pocket has been built into the sole. While running in the shoe, this is not noticeable and does not hinder with the job at hand. This eventually wears in and becomes unnoticed.
See A below: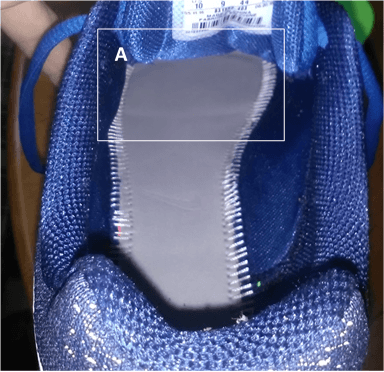 Outsole
The sole has an unrestricted role from heel to toe (no structured inserts on the outer sole) with plenty of comfort under heel and forefoot thanks to the air pocket inserts. Outer sole seems durable and I hope to get a minimum of 700km out of these shoes, I will find out in time.
While running, the feel underfoot is good, sure-footed and cushioned. Going over some really coarse asphalt, was not a problem, the flexible sole was able to compensate comfortably.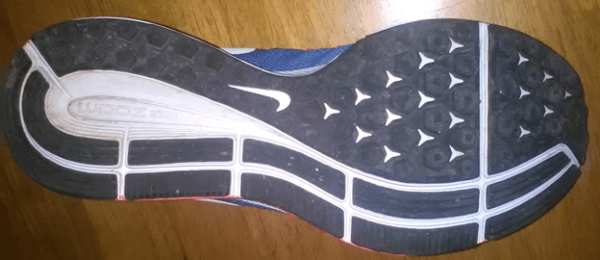 I did, however, notice that small stones tend to get captured in the crash rail. If you are pedantic as I am, this can be irritating. I had experienced the same problem with the Elite 8, this does not hinder your run as to a point that you need to stop and remove it.
But in the white grooves (see below pic), I have had larger stones lodged and this caused me to stop my run and remove it. I would hate having to do this on tired legs and risk getting a cramp in the hammie. (Hamstring)
I also feel that the sole could do with some structure, or let me rather say slight structure under the arch or in the arch.

Upper
The flymesh, flywire and inner sock lining of the Pegasus are in spec with the look and feel of modern top comparative brands. With one exception, I think the Pegasus has a wider array of color choices, not seen by other brand makers. At first glance, it looks simplistic and beautiful.
The toe box has an aerodynamic look, and as mentioned can feel restrictive when wearing thick socks. Plenty of ventilation and no foot slide with the flywire lockdown system.
Tubular laces, which stays tied without the need for double lace knotting. (See Segment B below.) Nice comfortable heel and ankle support, reflective 3M at the back of the shoe for night running.
Materials do have a durable look and feel. The upper is seamless, except for a few stitches attaching the tongue.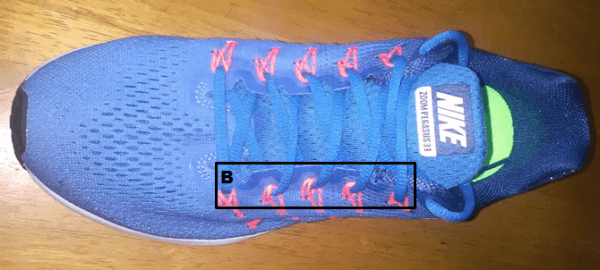 The edge of the shoelace area, has a gel-like feel to it, again, no stitching. A small thing to notice, but it is all the small things that add up.
No plastic inserts, no metal studs in the shoelace holes. These norms of yesteryear, is of no interest to the Pegasus, taking shoe design up a notch, by using a less is more approach.
Pros
Modern & sleek looking.
Perfect hill to toe transition.
Good comfort without compromising the speed
Lightweight
Good fair Pricing
Cons
Narrow toe box
Minimum arch support
Stones get caught in the crash rail
Conclusion
The Nike Zoom Pegasus 33, is a comfortable, medium cushioned speed marathoner or daily runner. It is good value for money and offers top-notch technology with quality materials.
The ergonomic design allows for an uncompromising smooth ride. On the flip side, a thick sock is close-fitting, outer sole – crash rail gathers small stones. It could also do will a little structure under the arch. Despite small nuances in the Pegasus, it still does the job and does is so with top marks.
In conclusion, it is such a good shoe, that I was convinced enough to buy another pair. Yes, I now have 2 pairs of Nike Zoom Pegasus 33. That validates its stature on my behalf.