In the world of budget-friendly running shoes, we can find a ton of possibilities. But, as we know, not every shoe in this category is born equal. By providing a very comfortable experience, a responsive ride, and a good amount of versatility, the Quest 5 stands out as one of the best low-priced Nike shoes. And it's even a great choice for gym goers and casual wearing.
Pros
Versatile for different activities
Excellent comfort
Responsive ride
Strong and snug lockdown
Decent airflow
Grippy outsole
Very competitive price
Good-looking shoe
Many colorways available
Cons
A little bit firm underfoot
Not for wide feet
Who should buy the Nike Quest 5
Get it if you have just stepped into the world of running, and what you are after is a versatile shoe that can suit both your runs and gym sessions, without making you spend a fortune. Bear in mind that, compared to other models, this shoe has a bit of a firm feel underfoot, and that the fit is quite narrow, so if you have wide feet you should go a half size up.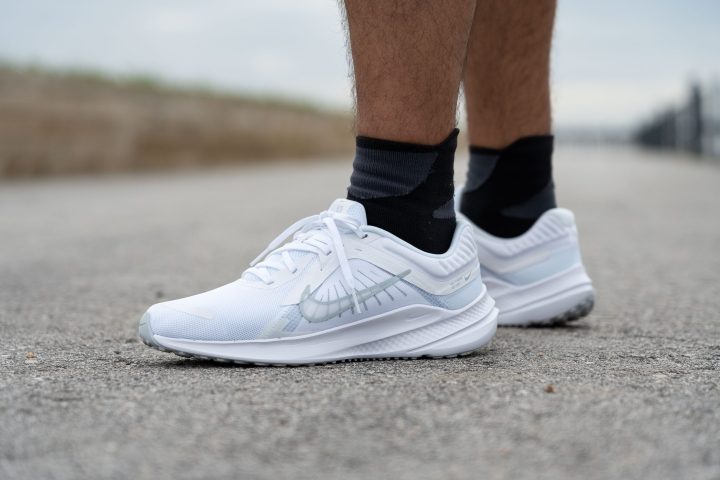 Who should not buy it
Definitely steer away if you like very soft midsoles. The Nike React Miler 2 is for sure a better option in that case.
If you have wide feet, consider the Nike Vomero 16 . It's a great alternative for you.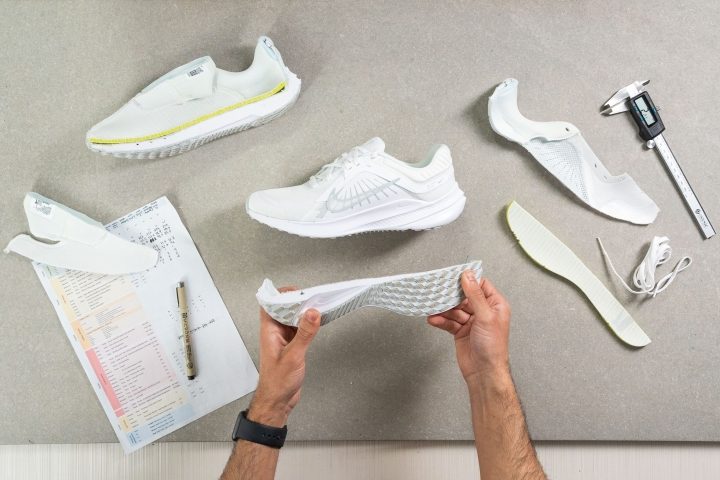 Nike Quest 5 is airy
The upper is described by a tester as being "quite basic," yet it allows for a "really nice breathability." While the same tester underlined that there are models that offer a more significant amount of airflow, he added that this is "definitely a very breathable shoe for the price."
Fact check
Our lab data confirms what reviewers experienced. In the smoke test, the upper received 3 out of 5 (with 5 being the most breathable), which means there's decent airflow in the shoe.
Nike Quest 5 (left): the smoke is passing through the mesh; Adidas Runfalcon (right): the toe box isn't letting any smoke out.
In our test, we use a smoke-pumping machine and cover up the shoe mouth entirely so that the smoke is only able to escape through the upper.
We also checked how transparent the upper material is. As you can see in the video below, there's quite a good amount of light shining through the fabric, meaning that the mesh is breathable.
Even when viewed under a microscope, the fabric looks well-perforated.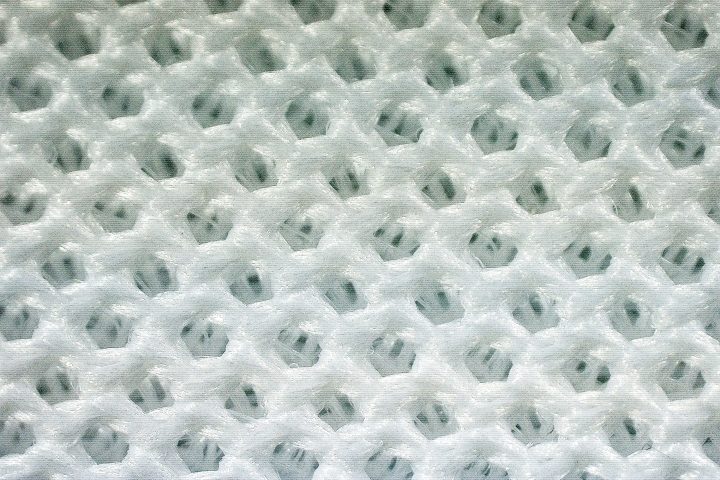 A close-up photo of the Nike Quest 5.
For comparison, the image below shows the fabric of a running shoe that lacks breathability.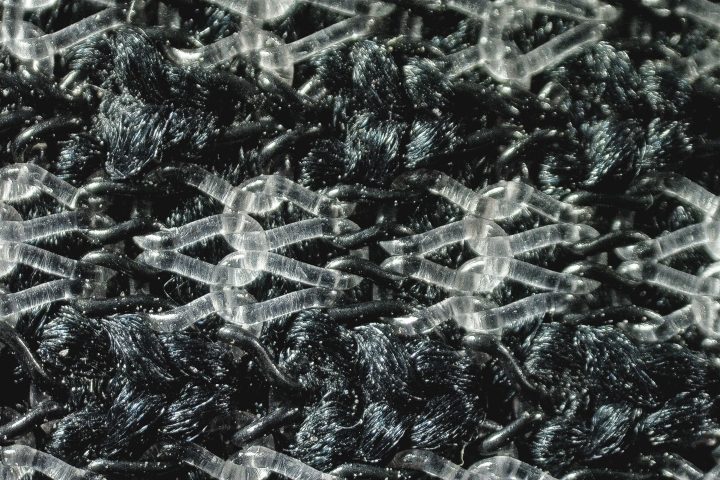 A close-up photo of the Nike ZoomX Invincible Run Flyknit 2.
A surprisingly good midsole
As reported by a runner, the shoe offers a "really nice amount of firm, responsive bounce back and comfort."
Fact check
Using a durometer to check the softness of the foam, we received 28.5, which confirms what reviewers said: the midsole is a little bit firmer than average (25.3).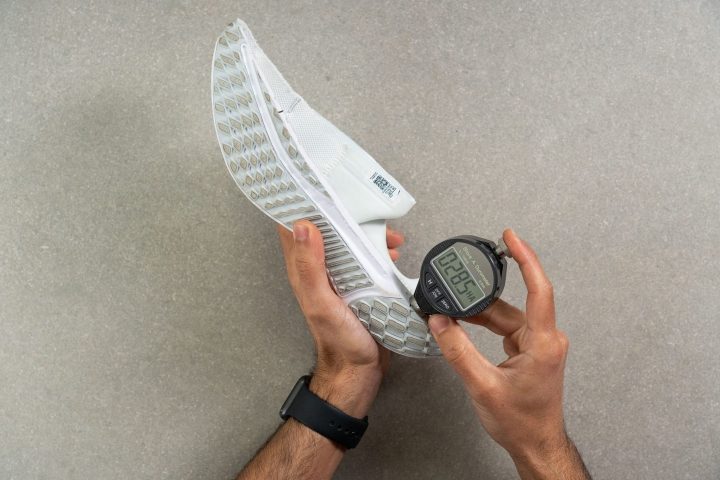 Disclaimer: We take an average of 4 measurements and exclude any outliers. This image shows just one of our measurements.
Another experienced runner was a bit skeptical initially, but eventually, he stated that "the foam ended up doing a great job."
The midsole seems very similar to the one of the Nike Downshifter 12, but a tester underlined how the Quest 5 is overall a "better-looking shoe and also a better-performing shoe."
Nike Quest 5 (top) vs. New Balance Fuelcell SuperComp Trainer (bottom)
The Quest 5 doesn't have a particularly rockered geometry, and as you can see in the video above, it doesn't roll forward as easily as the New Balance SC Trainer.
Well-protected runs
Testers noticed that there's quite a good amount of protection underfoot, and according to them, the new version has more cushioning compared to the Quest 4.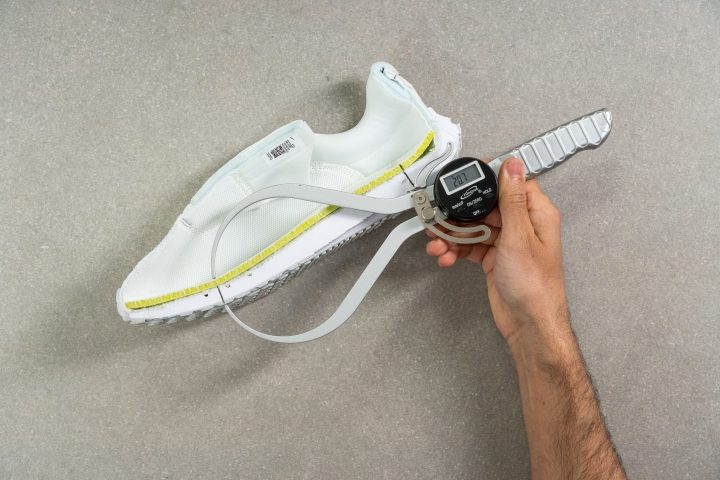 Fact check
We found that the heel height stack of the new version is actually 7.4% lower, which should mean less cushioning. But the shoe is also 11.7% taller at the forefoot, and the foam is softer than the previous version (8.4% softer, to be exact).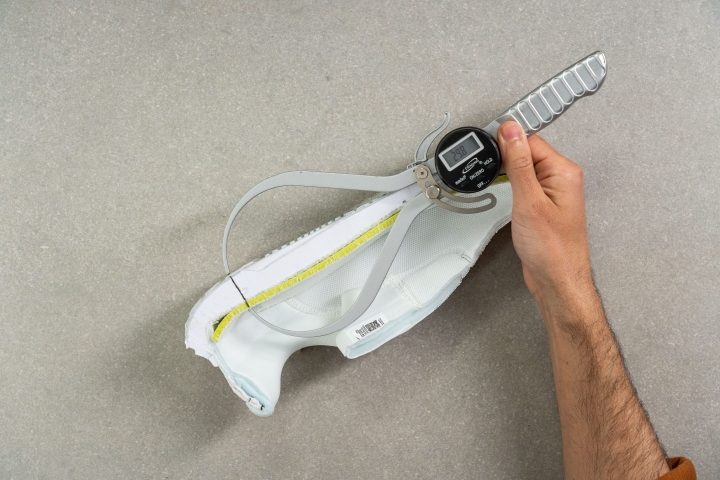 The height stack measurements take into account the insole, which in this case has a thickness of 4.7 mm, very close to the average of the shoes we tested.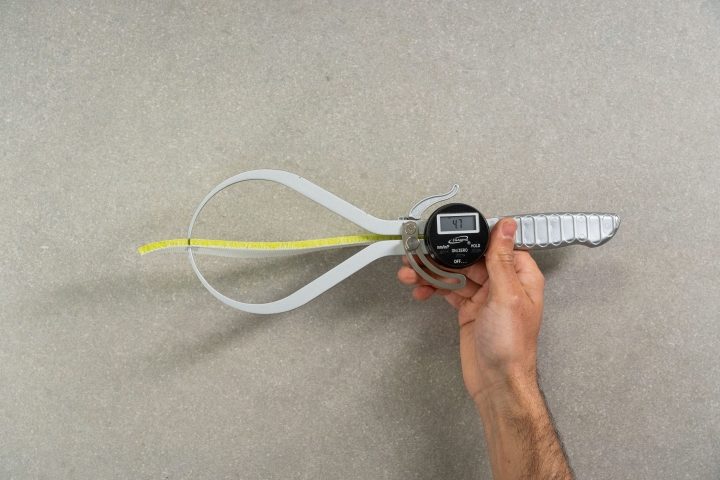 More than just running
Branded as a road running shoe, the Quest 5 goes beyond its category and can be used for more activities.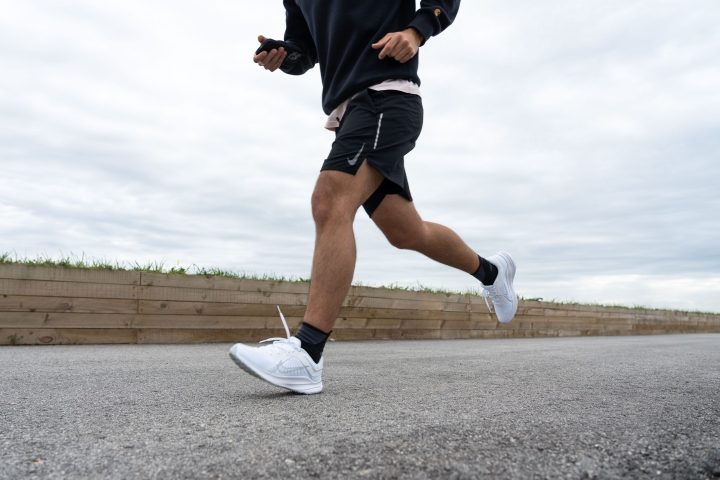 According to a tester, it can be "a great and affordable gym shoe," while another experienced runner said that he tried the shoe casually and it was "comfortable to use for just walking around."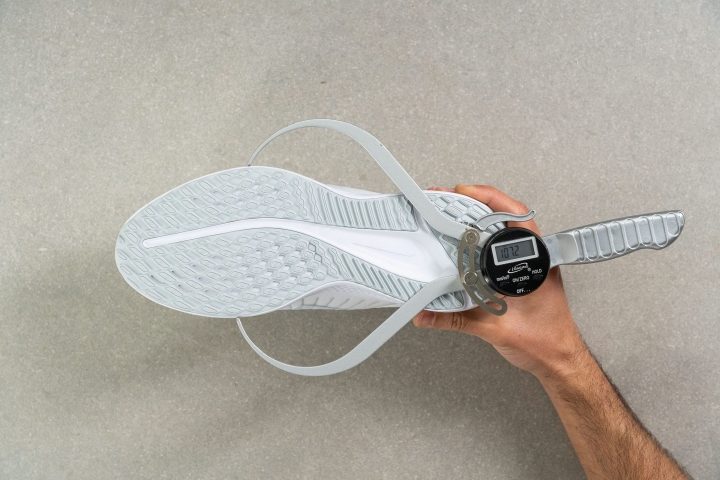 To be good for gym workouts, a shoe usually needs to have a decent amount of stability. This can be provided by wider soles, but it's not the case with the Nike Quest 5.
We measured the widest part of its platform and found that it is 107.2 mm, which is 5.2 mm narrower than the average of all running shoes we've tested. The same goes with the heel: it measures 86.2 mm and the average is 89.4 mm.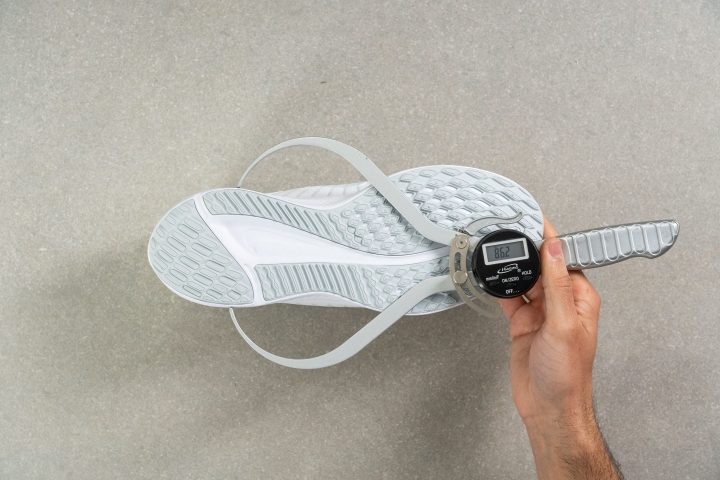 This means that its qualities as a gym shoe must be found in the relatively low heel stack height (29.8 mm) and firmer midsole, as both enhance the overall stability.
To sum it up, a runner stated that this is an "honest and genuine beginner running shoe or an everyday all-way wear out."
Plenty of comfort in the Quest 5
Despite being a bit narrow in the toe box, a runner shared that this Nike running shoe "fit very nicely." As with the tongue, there's "a nice amount of padding around the heel" and he felt a "really nice support from the upper."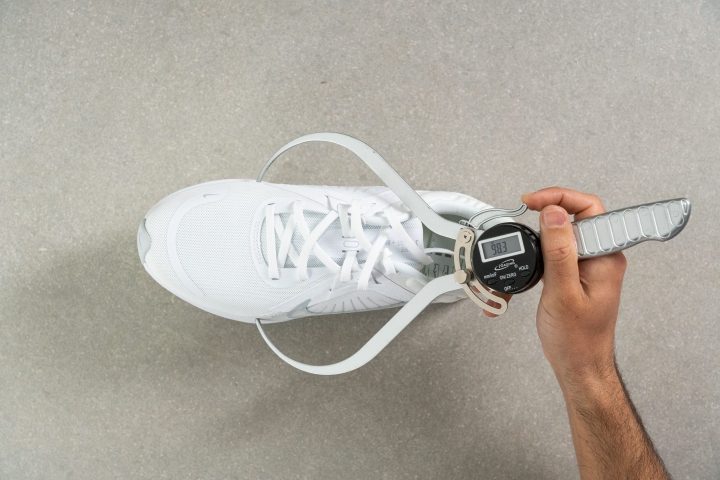 Another tester stated that, after a HIIT workout, he was "incredibly surprised at how seamless and comfortable it had felt throughout."
Fact check
At its maximum width, the upper measures 98.3 mm, not far from the average of 97.6 mm. Yet, at the big toe, it measures 69.7 mm which is just narrower than the average of most shoes we've tested (72 mm). That is one REALLY pointy toebox!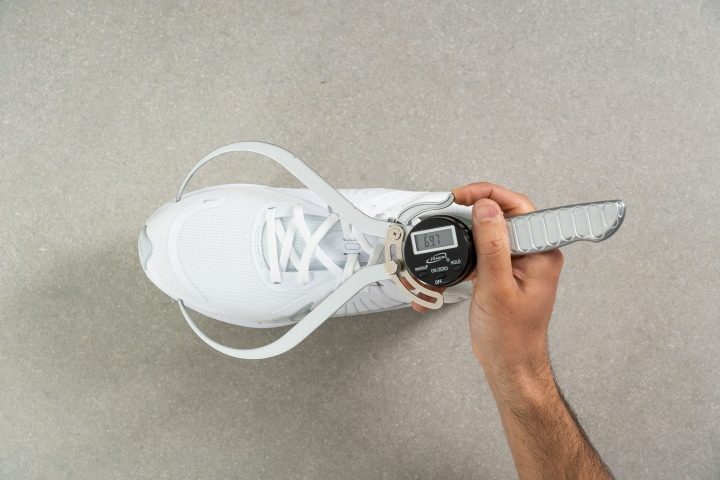 We also measured the tongue's thickness and it received a staggering 10.2 mm, which is 4.6 mm thicker than the average.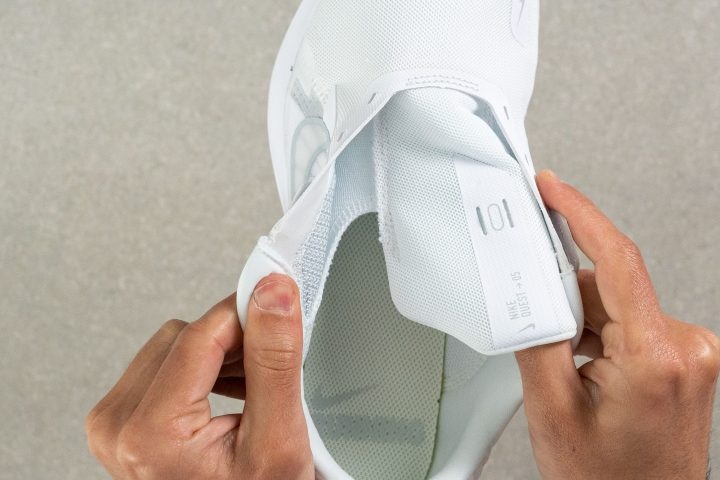 It doesn't need time
No issues were reported with this shoe needing a break-in period. Judging by the reviews it has garnered, the shoe is ready out of the box.
Reviewers also liked how flexible the shoe was during their tests.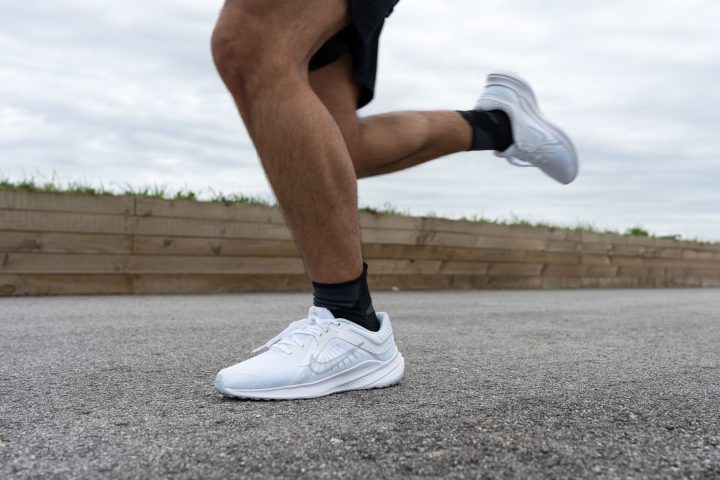 Fact check
We found that reviewers were right about flexibility. In our first test, we found that the shoe is 58.7% more flexible than the average.
In a second test, the shoe was measured on a subjective 1-5 scale (with 5 being the stiffest) and it received 2 for longitudinal flexibility and 3 for torsional flexibility.
Fact check
It must be taken into account that flexibility changed a lot after we put the shoe in the freezer for 20 minutes. We did this to simulate cold environments and found that it became 53% stiffer.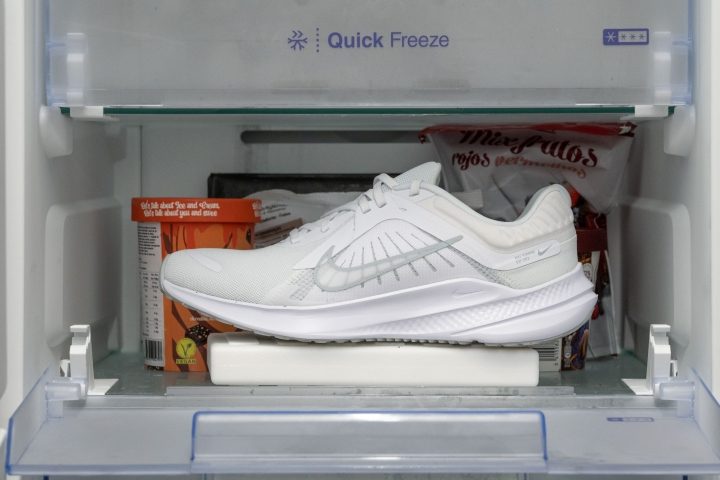 Great lockdown with the Nike Quest 5
Thanks to the Flywire technology, basically a cage system on the sides, the shoe feels "nice and snug around the midfoot," as a runner reported.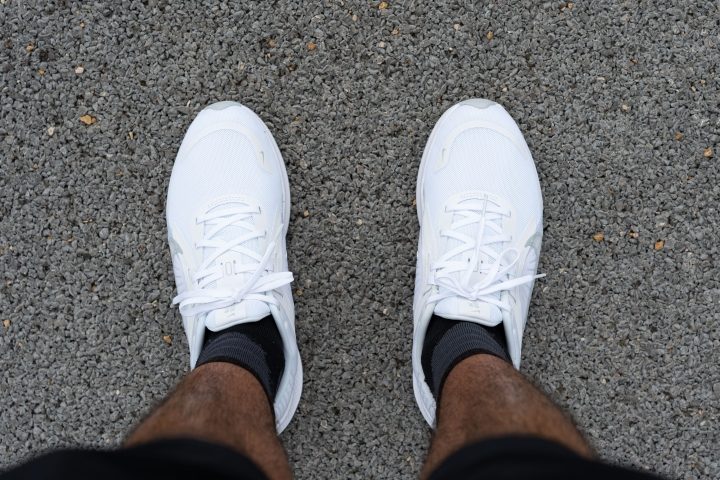 The same goes for the heel, which wraps the foot nicely but at the same time has a great amount of flexibility. On a scale from 1 to 5, we rated it 2 (with 5 being the stiffest).
This was confirmed by another expert, who stated that it provided "an overall secure fit throughout the entire shoe that [he] was quite impressed with."
Grip is not a problem
In the outsole department, reviewers shared that the shoe does a great job. An expert said that he liked the grip system which "does feel very nice underfoot."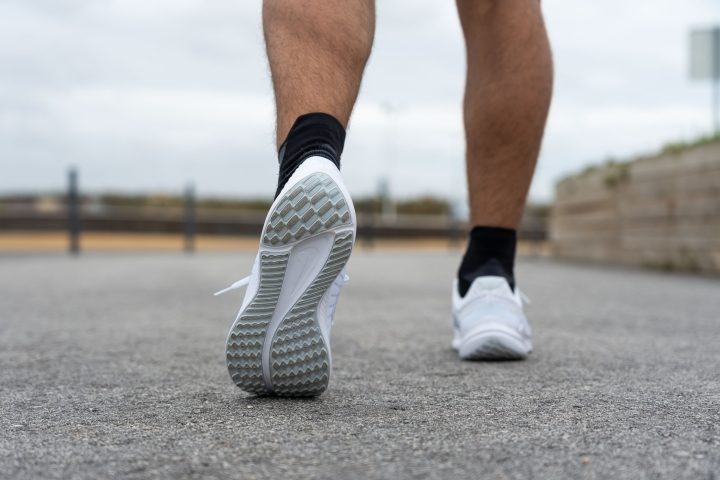 He then added that it feels like "it's going to offer you a lot of traction."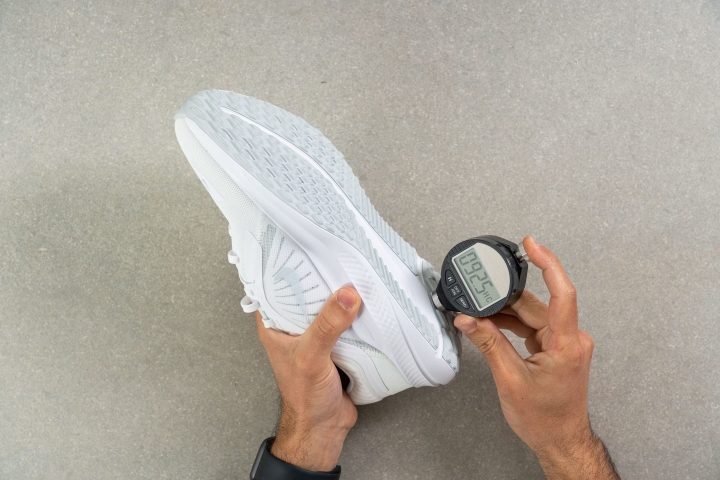 We checked the rubber's firmness with the help of the durometer and received 92.6. It's 15% firmer than the average of most shoes we had in our lab and this can be an indication of good durability.
A rather attractive shoe
This shoe comes in no less than 9 colorways, which is a great plus for those considering it for casual wear.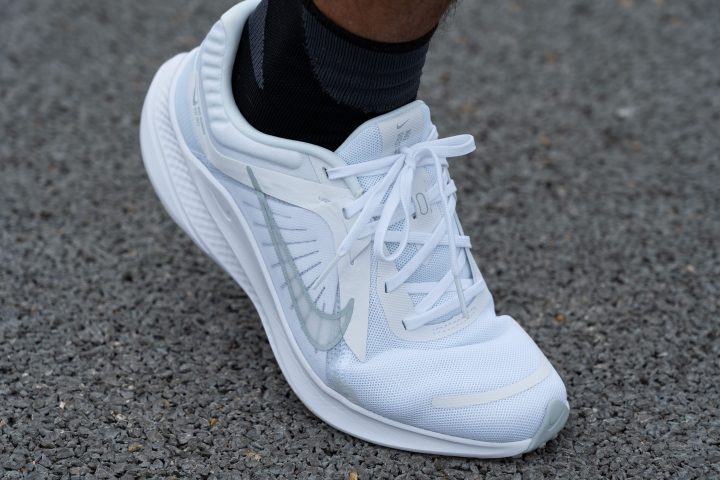 While a runner was immediately convinced by the design and stated that it is "quite a good-looking shoe," for another reviewer "when first looking at it, it seemed a bit plasticky and rubberish." In the end, though, he found it to be great as a sneaker to wear for work, going to school, and everyday life.
Quest 5 has a fantastic price
When it comes to the cost, reviewers have no doubt, it's extremely appealing not only for beginners but also for those who don't want to spend too much on running shoes, which usually have an average price of about $123. As an avid runner said, $77 is "a really good price."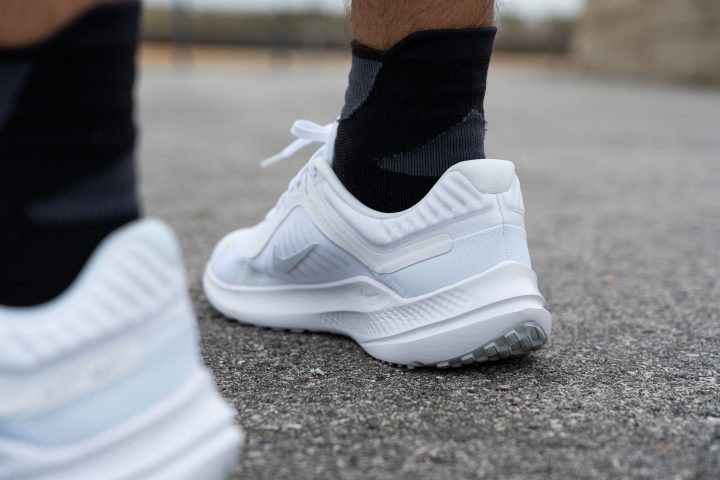 Complete lab-specs overview
Nike Quest 5
Average
Whole shoe

Weight (g)

257*

263

Drop (mm)

9.1

8.7

Flexibility of the shoe (N)

18.5

34.1

Flexibility of the shoe (Freezer 20 min) (N)

31.6

46.9

Flexibility of the shoe (% of change)

70.8%

44.0%

Longitudinal flexibility (1-5 scale, 5 being the stiffest)
2

3.0

Torsional flexibility (1-5 scale, 5 being the stiffest)
3
3.2
Upper

Thickness - Tongue (mm)

10.2

5.7

Width Upper - Forefoot: Max width (mm)

98.3

97.7

Widt Upper - Forefoot: Big toe (mm)

69.7

71.3

Flexibility of the heel counter (1-5 scale, 5 being the stiffest)
2
2.6
Tongue: gusset type

both sides (full)

Heel: pull tab

no

Midsole

Width Midsole - Forefoot (mm)

107.2

112.5

Width Midsole - Heel (mm)

86.2

89.5

Stack - Forefoot with insole (mm)

20.7

24.5

Stack - Heel with insole (mm)

29.8

33.2

Durometer Midsole Heel (Room temperature) (HA)

28.5

25.5

Durometer Midsole - Heel (Freezer 20 minutes)
37.1
32.1
Durometer Midsole - Heel (% of change) (TEST)

30.2%

26.9%

Outsole

Outsole thickness (Heel) (mm)

3.4

3.5

Lugs Depth (mm)
-
-
Durometer Outsole Heel (Room temperature) (HC)

92.6

79.7

Insole
Insole Heel Thickness (mm)

4.7

4.5

Insole: removable
yes
*Disclaimer: The weight of the Nike Quest 5 was measured in a men's US 8. In a US size 9, this corresponds to 273g per shoe, based on the weight measurements of over 40 sizes.