The Nike Downshifter 12 is a budget running shoe that serves very well as a sneaker too. The price is one of the lowest on the market and is definitely the most appealing reason to consider it. Yet, that's not its only pro, given that it boasts a surprisingly enjoyable midsole, and most reviewers were convinced by the comfort it provides. And since it's made from 20% recycled content, we probably can't ask for more.
Pros
Unbeatable price
Premium softness underfoot
Comfy interior padding
Above average durability
Versatile sneaker/running shoe
Simple, yet pleasant design
Plenty of colors available
Recycled materials
Cons
Not responsive
On the heavier side
Tapered toebox
Lacing is not always secure
Who should buy Nike Downshifter 12
Get this Nike shoe if you are just starting out your running journey, and you don't need or want more premium models for your workouts. It's also a great choice simply as a friendly and very comfortable sneaker, to wear for everyday life.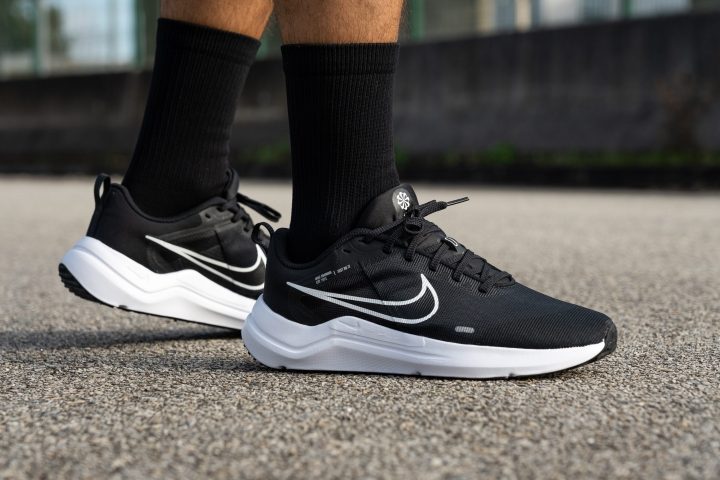 Most of all, if saving some money is what you care about at the moment, you can't really go wrong with this shoe.
Who should NOT buy the shoe
Look elsewhere if you: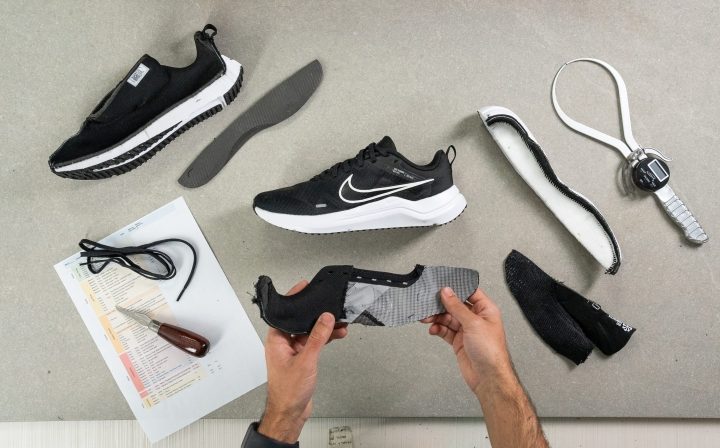 Nike Downshifter 12 vs Downshifter 11
According to those who tested the shoe, there are a few changes compared to the previous version. The upper has been slightly updated and some subtle tweaks are done on the outsole. But what really sets these shoes apart, is that the new Downshifter 12 is much softer underfoot and as a runner said, "a lot more cushy and stable".
Fact check
This is confirmed by our durometer measurements as well. We found the Downshifter 12 to be 19% softer than the 11.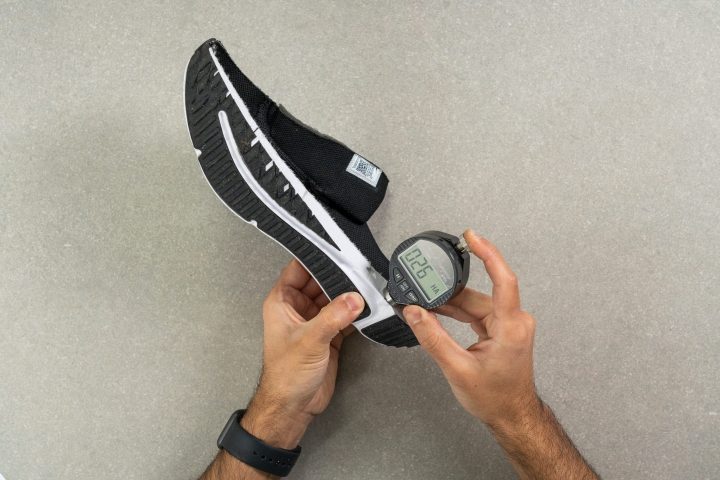 Disclaimer: We take the measurement 5 times to ensure accuracy. The photo shows one of them.
But if you are planning to take the shoe out in the cold, be prepared that it is going to stiffen up.
Fact check
In our freezer test, the Downshifter 12 got 30.8% firmer compared to its room temperature state.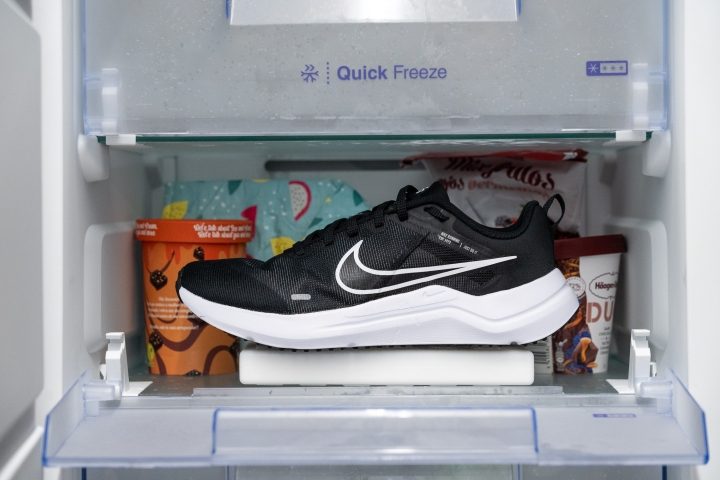 Airy enough
When it comes to breathability, this shoe sits in the middle. It now sees a higher amount of material in the upper, and this impacts the airflow a little. Yet, reviewers found it sufficient, or as one of them stated, the shoe is "averagely breathable."
Fact check
As you can see from our breathability tests, not much smoke or light is passing through the toebox mesh.
Downshifter 12 is a cozy shoe
Testers loved how the shoe fit and felt. According to an expert, the tongue is soft, while there's "really nice padding in the heel," and this combination made for a pleasant in-shoe experience.
Fact check
The tongue is indeed very generously padded. It is 10.1 mm thick compared to the average 5.8 mm.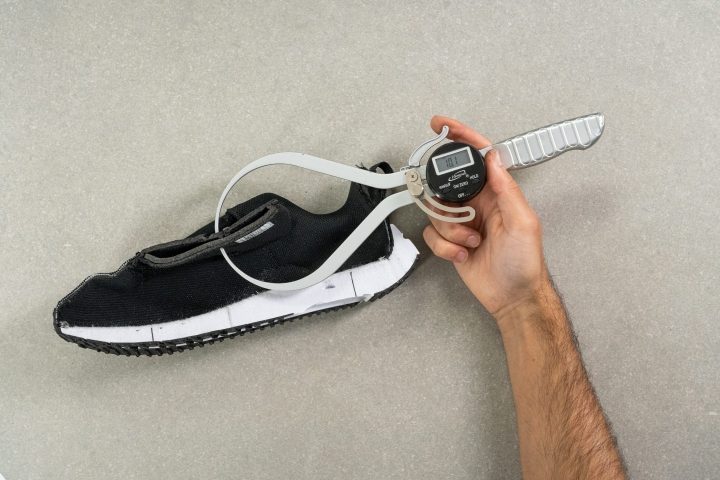 Fact check
The shoe's heel counter is not very stiff either. In our subjective assessment, we have it only 2 out of 5, where 5 is the stiffest.
However, for those with wider feet, the reviewers recommended getting the wide version. Extra wide is also available for this Nike model.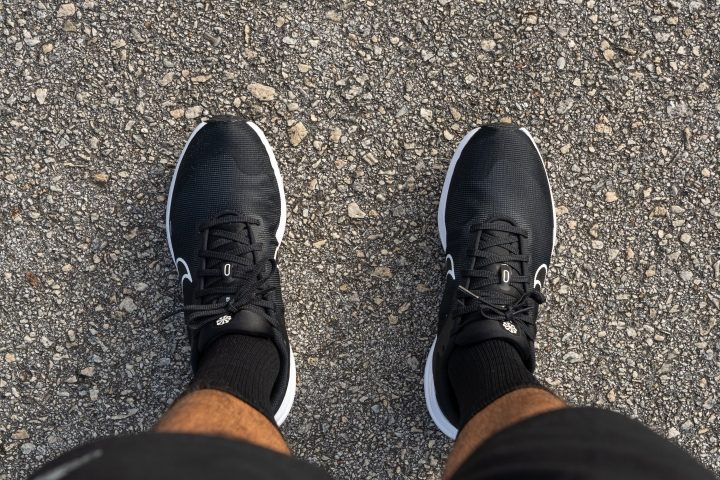 Fact check
The biggest problem with this Nike shoe is that the toebox is incredibly tapered. Despite being wider than average near the ball of the foot, the toebox gets way too narrow around the toes.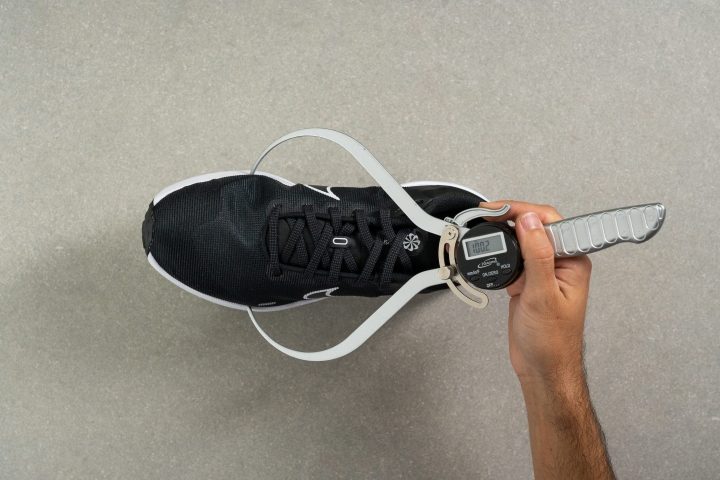 Midsole is not lively, yet nicely balanced
Price aside, another great reason to buy this shoe is its midsole. Runners appreciated how soft it was during their tests. They shared that it's not overly soft though, and as one of them explained, it gives "a really nice balanced and cushioned ride." He added that he "really enjoyed the comfort that you get underfoot."
On the other hand, some reviewers found the shoe lacking in energy return and not helping the foot much when it pushes off.
Beginner-friendly heel drop
The Nike Downshifter 12 comes with an averagely-stacked midsole which is neither too minimalist nor high off the ground. Perfect for someone who is just starting out on a running habit.
Fact check
We measured the heel stack at 31.7 mm and the forefoot at 21.7 mm. For comparison, the averages across running shoes are 32.6 mm and 24.3 mm respectively.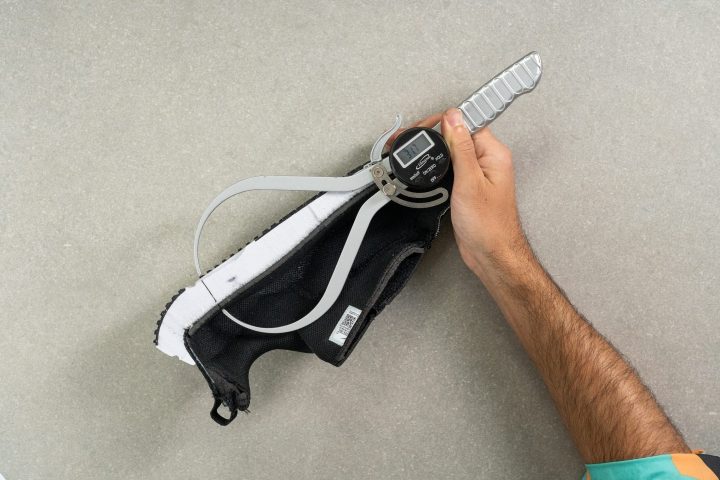 Disclaimer: We always measure stack height with the insole included.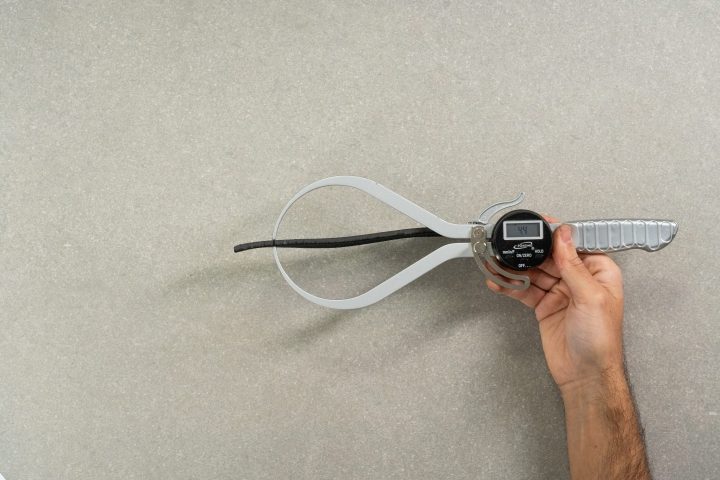 The insole in this Nike shoe is 4.4 mm thick, which is the average for running shoes.
Platform feels stable
The midsole on the Downshifter 12 feels soft but it has enough firmness to it to create a stable platform to rely on.
Fact check
Based on our flexibility measurements, the shoe is 19% stiffer than the average.
Fact check
In our subjective flexibility assessment, we gave the shoe's longitudinal flexibility 3 out of 5. For reference, 5 is the stiffest possible.
Nike Downshifter 12 has a good grip
As seen in the 11th iteration, the traction of the shoe remains reliable on most surfaces, and an expert noticed that, although the difference is not huge, there's even some more grip in this new version.
Not the lightest choice
As a tester said, if taken as a sneaker, the Downshifter 12 does a good job in this department. However, a weight above 10.6oz (300g) is nowadays quite a lot for a road running shoe, which has usually an average of 9.6oz (273g).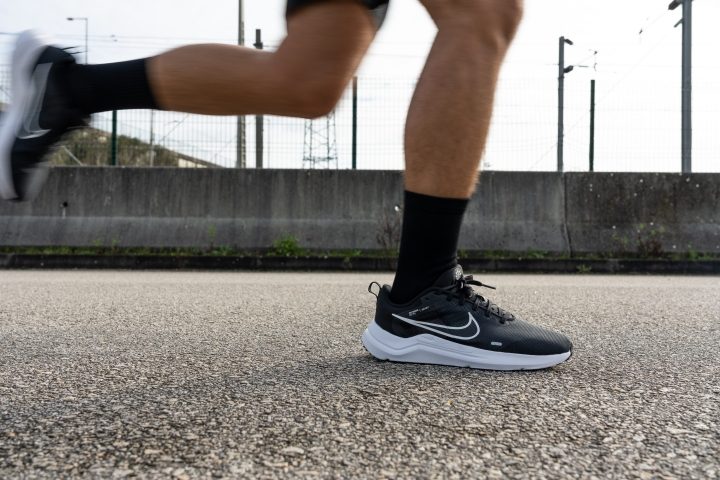 Lockdown didn't work for everybody
Some reviewers noticed that the laces didn't stay in place during their tests. According to one of them they "constantly come undone when running, and even just walking." The same expert explained that this is probably because they are flat as opposed to rounded, and so they don't hold up very long.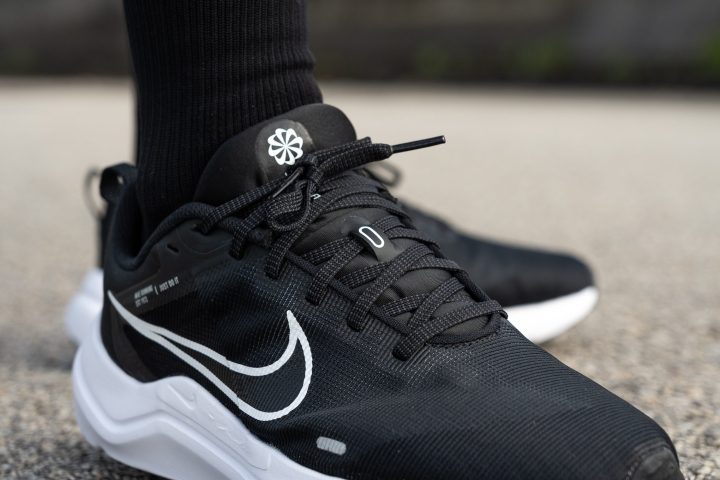 Downshifter 12 is a versatile shoe
Many reviewers found this shoe to be a great choice as a day-to-day lifestyle model. In fact, some of them actually preferred it just as a sneaker.
Long-lasting rubber
The previous iteration had an outsole that proved noticeably resistant, and the Downshifter 12's proved as much as good. Quoting a runner who tried it on, "I can definitely say it's very durable."
Fact check
We would rank the shoe's outsole rubber as average in terms of durability based on two factors: its thickness and density.
The outsole component on the Downshifter is 3.5 mm thick which is exactly the average across running shoes.
Fact check
As for the rubber density, our durometer shows it to be close to the average as well. Only 4% softer.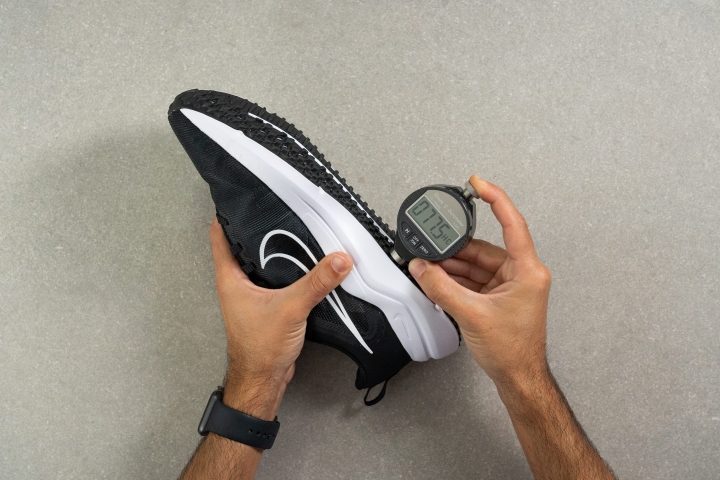 A well-designed shoe
There were mixed opinions regarding this, but most reviewers liked the design of version 12. One of them pointed out that it's a "good and well-designed shoe."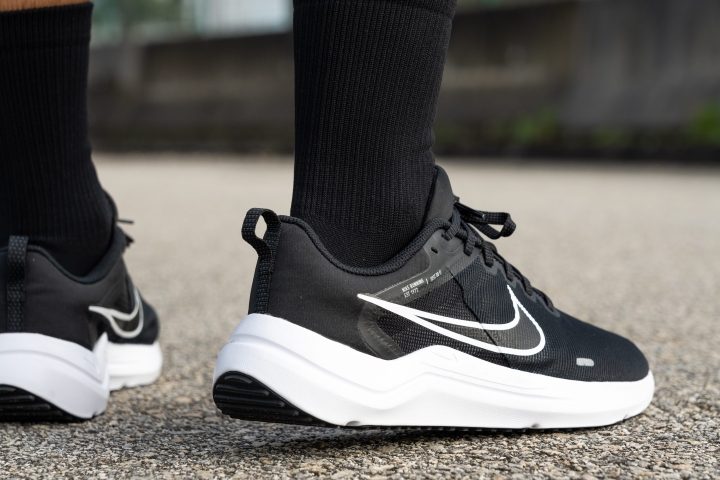 What's more, the shoe is available in many different colors, and considering that this is a budget model, it's great that they decided to make it more environmentally friendly.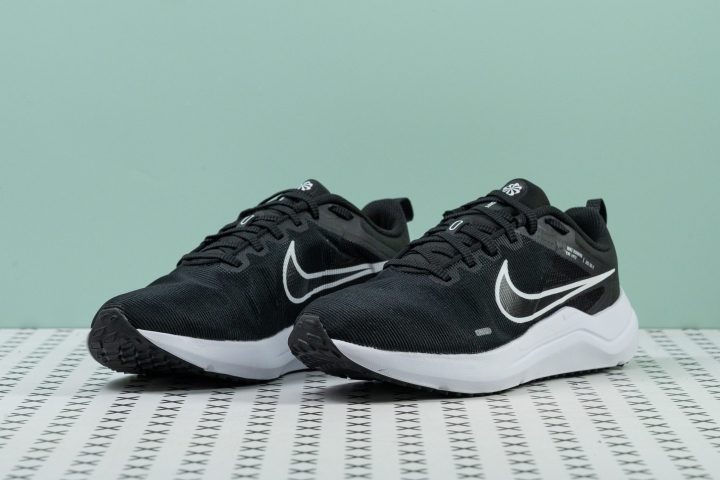 Just great for your wallet
Version number 11 was $10 cheaper, but as a tester pointed out, the $70 price tag of the new version is "definitely worth it."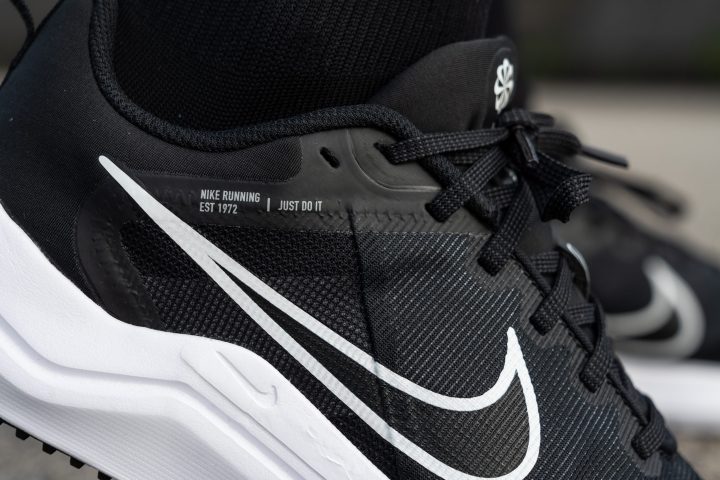 Even with this slight increase, the shoe remains incredibly cheap and, as another runner said, for an entry-level model, "I don't think you are gonna find much better."
Complete lab-specs overview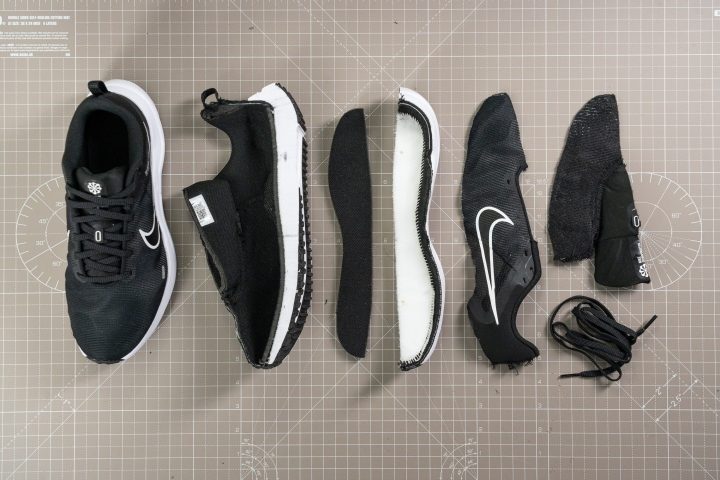 Nike Downshifter 12
Average
Whole shoe

Weight (g)
264
269
Drop (mm)
10.0
8.4
Flexibility of the shoe (N)
36.7
30.9
Flexibility of the shoe (Freezer 20 min) (N)
62.1
43.8

Flexibility of the shoe (% of change)

69.3
45.0
Longitudinal flexibility (1-5 scale, 5 being the stiffest)
3.0
3.1
Torsional flexibility (1-5 scale, 5 being the stiffest)
2.0
3.2
Upper

Thickness - Tongue (mm)
10.1
5.8
Width Upper - Forefoot (mm)
100.2
98.1
Width Upper - Heel (mm)
71.2
75.1
Flexibility of the heel counter (1-5 scale, 5 being the stiffest)
2.0
2.8
Tongue: gusset type
both sides (semi-gusseted)
-
Heel: pull tab
finger loop
-
Midsole

Width Midsole - Forefoot (mm)
111.0
111.8
Width Midsole - Heel (mm)
85.0
88.7
Stack - Forefoot with insole (mm)
21.7
24.3
Stack - Heel with insole (mm)
31.7
32.6
Durometer Midsole Heel (Room temperature) (HA)
26.0
27.3
Durometer Midsole - Heel (Freezer 20 minutes)
34.0
34.6
Durometer Midsole - Heel (% of change) (TEST)
30.8
26.1
Outsole

Outsole thickness (Heel) (mm)
3.5
3.5
Durometer Outsole Heel (Room temperature) (HC)
77.5
80.8
Insole
Insole Heel Thickness (mm)
4.4
4.5
Insole: removable
yes
-