The Nike Flex Experience Run 10 is an all-round running shoe with a lightweight construction and featherweight price point. With a perfect fit and huge amounts of flexibility, the Flex Experience Run 10 is a perfect shoe for your active days.
Pros
Fits true to size
Excellent ground feel
Great lockdown
Super lightweight
Chart-topping flexibility
Super comfortable
Best for slow-paced runs
Daily-wear friendly
Attractive design
No break-in period
Cons
Less than average durability (~200miles)
Poor grip on wet surfaces
Low toe box
Nike Flex Experience Run 10 review and lab test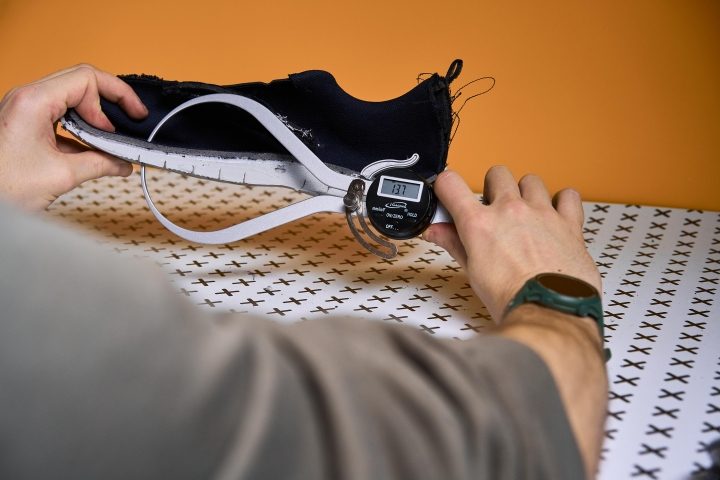 I feel that the design and feel of this shoe will divide a lot of people, it's definitely comfy, breathable, and secure but it lacks a few of the basic things that we've come to expect from running shoes, like an outsole.
Who the shoe is for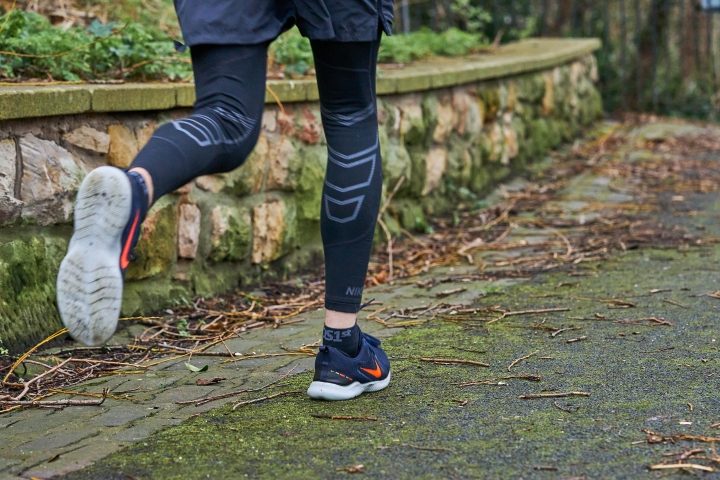 The Nike Flex Experience Run 10 is a neutral running shoe that (as the name suggests) offers huge amounts of flexibility. This makes it super comfortable for slower-paced workouts, walks, and jogs. I would even recommend it for daily wear.
Who the Nike Flex Experience Run 10 is not for
It's probably best to avoid the Flex Experience Run 10 if:
An extremely lightweight design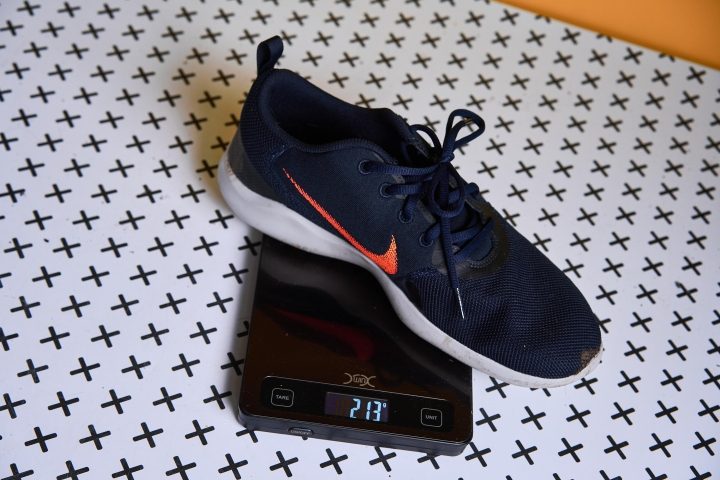 At 7.5oz (213g) the Flex Experience Run 10 is one of the lightest running shoes on the market. This is down to its minimalist upper and the single piece of Foam for a midsole.
There's no outsole to weigh you down, leaving nothing but the midsole between you and the ground.
Let's talk flexibility
Nike clearly made the Free series (that the Flex is modeled on) all the way back in 2004 as a minimalist runner. The Flex Experience Run 10 has kept the single-layer midsole-outsole construction with deep grooves cut for flexibility throughout the shoe.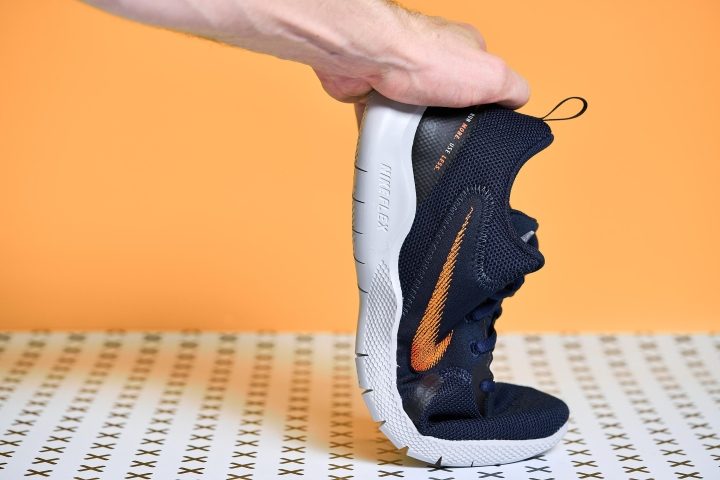 The result is an incredibly flexible shoe. Our lab average flexibility for running shoes is 34.5N (that's for bending a shoe to 45°), the Nike Flex Experience Run 10 sits firmly at the bottom of our leaderboard at 7N.
This makes the shoe feel very socklike and agile. It does mean that there's very little support because the shoe's design relinquishes any motion control. If you're after a running shoe that feels barely there, this is the one for you.
That's not all good news for the Nike Flex Experience Run 10
At first, I thought (probably like many others) that the midsole on the Nike Flex Experience Run 10 had little to do with the flexibility of the shoe. Seeing as the grooves are cut so deep, I thought that they were all there was to it.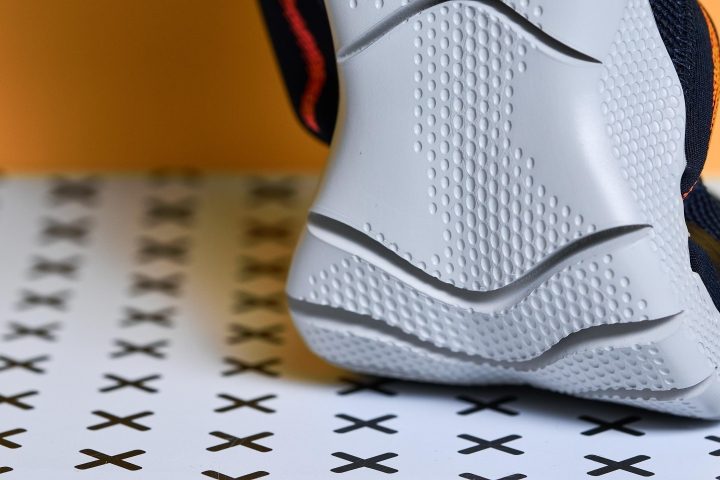 Our lab testing for cold weather changed that though. After 20 minutes in the freezer, the flexibility results increased to 10N which is still far below the average (48N) and shouldn't make any noticeable difference.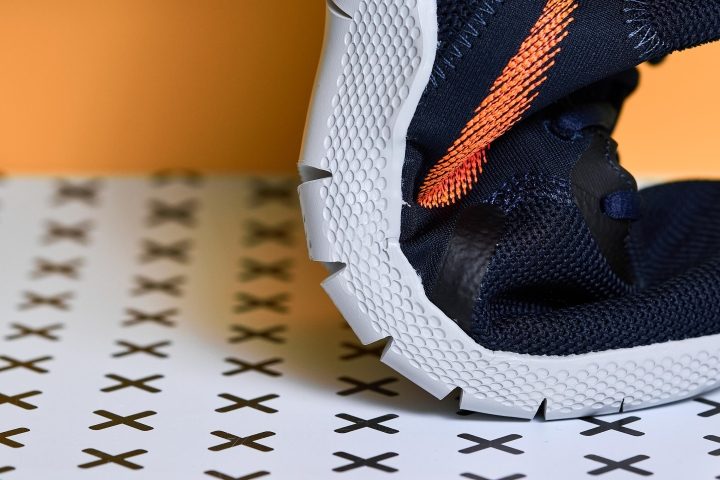 The change of flexibility though is 42.9% which is well above the average, however. This means that there's more reliance on the midsole (specifically at the top of the cut out) for flexibility than I thought, which worries me when it comes to durability.
The Nike Flex Experience Run 10 may have some durability issues
The design is really cool and definitely attractive.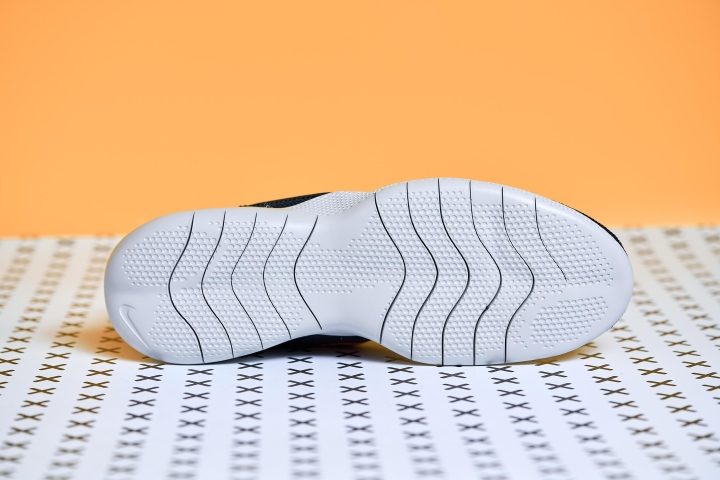 I've found a few issues with the design though. First, the glaringly obvious is that there's no outsole. We're used to some form of rubber or multi-density plastics (or even graphene from Inov8) on running shoes. Without that hard exterior, the sole of the Flex Experience Run 10 is going to wear down incredibly fast. I would be surprised if it makes 200 miles.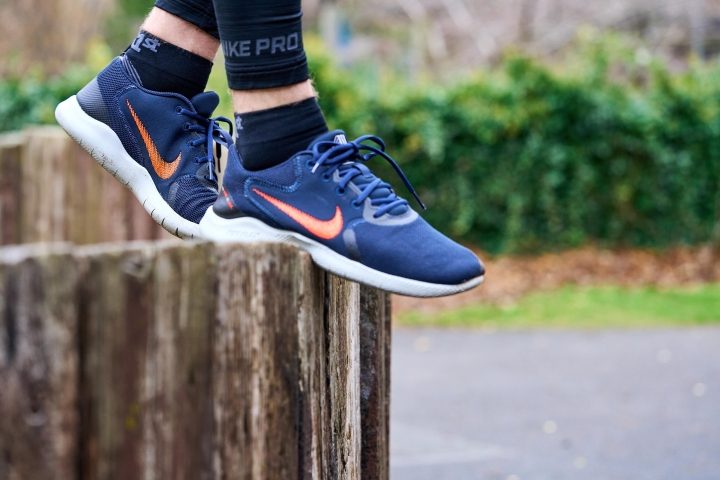 I'm also concerned about the amount of debris that gets in between the shoe midsole sections. Small stones and twigs easily get hoovered up when running and easily get lodged firmly in there. This worries me because if a sharper object were to wear down the midsole where the sections meet the whole function of the shoe is compromised.
A comfy, yet narrow upper
While the Nike Flex Experience Run 10 fits true to size, the upper feels a bit constricting. I have relatively narrow feet but found the shoe tight on me. More than that, the toe box is extremely low, making it even more cramped.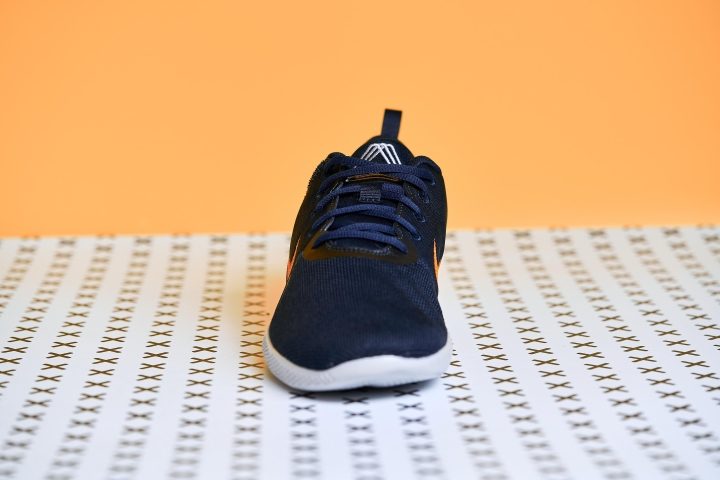 While running I didn't notice this too much, but it will likely be a problem for people with wider feet or anyone wanting to put their own insoles into the shoe.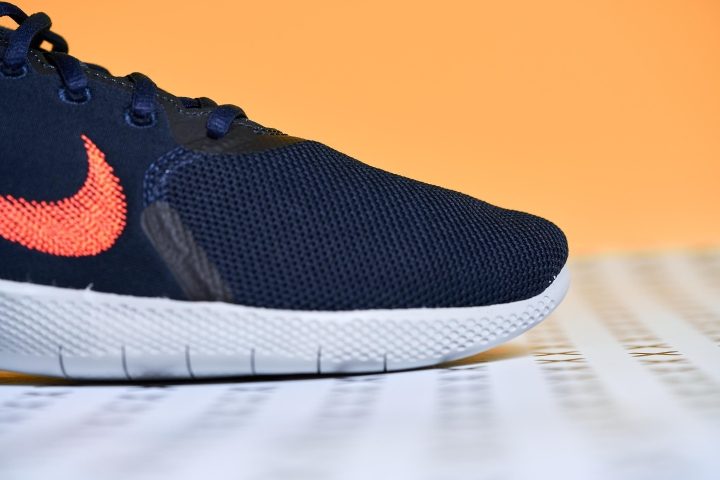 The Lockdown on the Nike Flex Experience Run 10 is great
Once in, I felt the lockdown in the Flex Experience to be really solid. This is a necessity with such a flexible shoe as this. The lacing is super minimal and the laces work fine.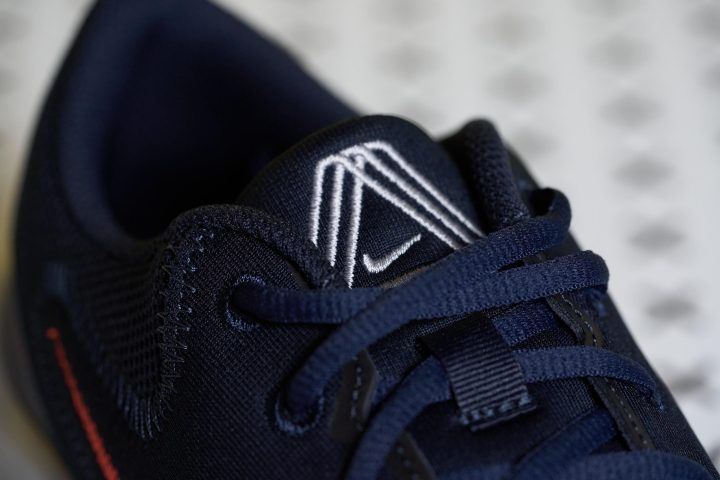 The result is a good feeling movement for most activities.
The minimal midsole does the job
I've spoken a fair bit about the midsole/outsole situation going on in the Flex Experience Run 10, but it is good. The focus is definitely on groundfeel and there's lots of it.
With a durometer (hardness) of 45.5 HA it's actually quite hard -the average is 26.9 HA. That's definitely down to Nike trying to make the "outsole" somewhat durable. Luckily for a minimal shoe that's what you want.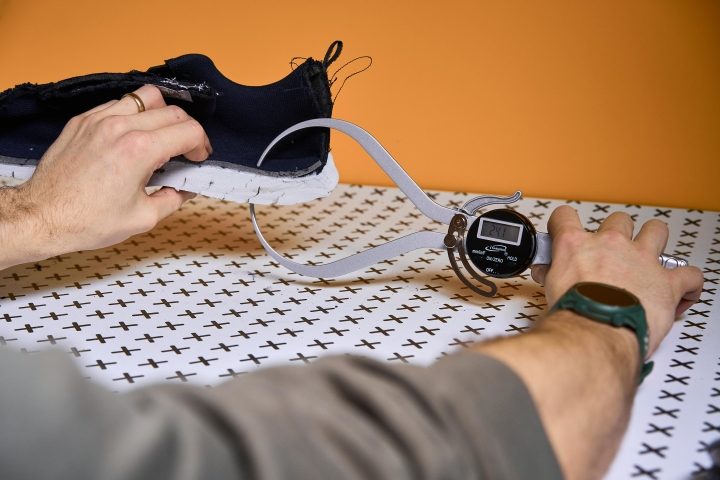 I found it quite comfortable for shorter runs of about 8km, but more than that it's a bit hard for me. I really think the shoe itself is more of a daily sneaker that you could also jog/workout/play a casual game of soccer in.
The Nike Flex Experience Run 10 has no break-in period
Thanks to that flexibility, theFlex Experience Run 10 was ready to go straight out of the box. The lack of break-in means no blisters, and instant use.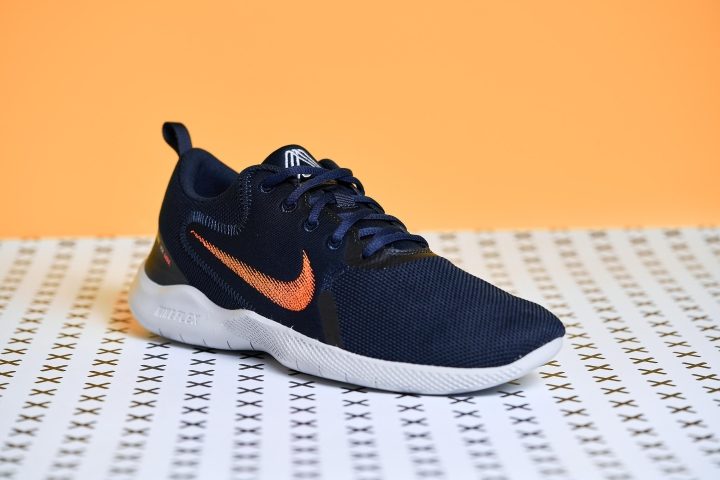 It's relatively minor but it's always a nice extra.
The Experience Run 10 isn't grippy.
It comes back to the midsole at the end. Having an EVA foam as your direct contact with the ground is never going to provide tons of traction. I found it performed okay on dry, smooth concrete, but in the wet, there was a bunch of issues.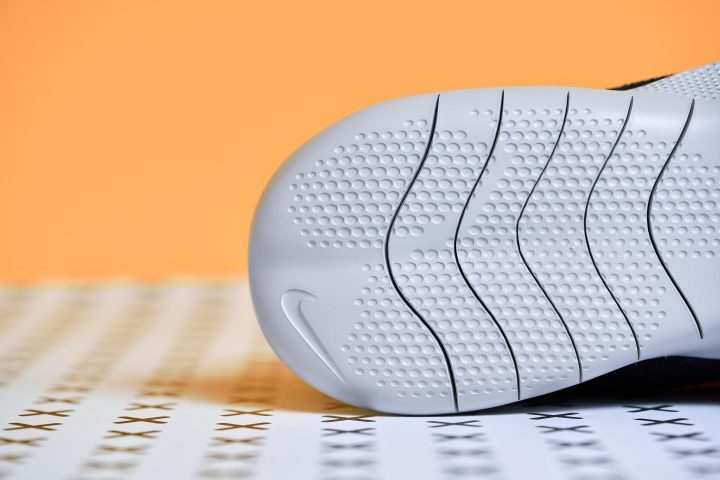 Changing direction with speed is not a confident experience and I felt myself wasting energy trying to go uphill as my foot would slip.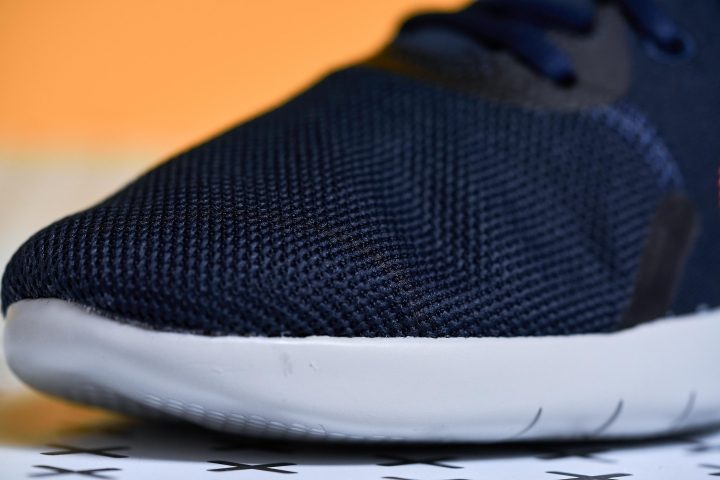 This paired with the lack of durability means that they're really my choice for running shoes. I would definitely use them as an everyday activity shoe though.
Conclusion
The Nike Flex Experience Run 10 is a really lightweight, flexible, and budget-friendly option for everyday activities. If you're looking for something to run in I would look at other budget options with more durability otherwise your money won't go far.
But, if you want a shoe for walks, a bit of casual sport, and maybe a jog every now and again, the comfort and style of these might be perfect for you.