I have already written a review of the Nike Air Zoom Pegasus 33 (NAZP33) a few months ago.
I have two pairs and felt justified that this might give me a second chance and another opinion at writing about this shoe.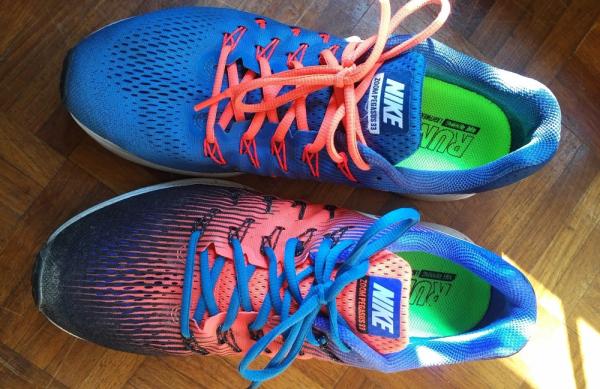 After doing a combined 900km in the two pairs of shoes, I think my opinion to a degree has changed.
My previous review was written with shoes within which I had done about 200km, now with additional experience and groundwork, I can add more value to the conversation.
So here is my take two on these shoes.
Introduction
NAZP33 is an enjoyable and fun shoe to own, it brings a lot to the table with little to falter. I like going fast and light with comfort to spare.
I like the flashy look of modern appeal with plenty of color options. I like a good price for quality and durable materials.
With all of that in mind, does the NAZP33 meet my spec.
What's Not To Like
My number one irritant, hot spots, it can be felt under the forefoot. This happens due to a combination of two factors, the insole and the zoom unit expanding.
Once your foot becomes hot, the zoom unit in the forefoot heats up and expands. This is most noticeable when walking.
The nylon insole coupled with wearing thinner socks can exacerbate friction. I, therefore, countered the problem by running in a thicker natural fiber sock.
Uneven wear, the outer sole has more wear directly under the forefoot just after the flex groove, than on other parts of the sole. This I assume is due to the flex groove, when kicking off at the forefoot.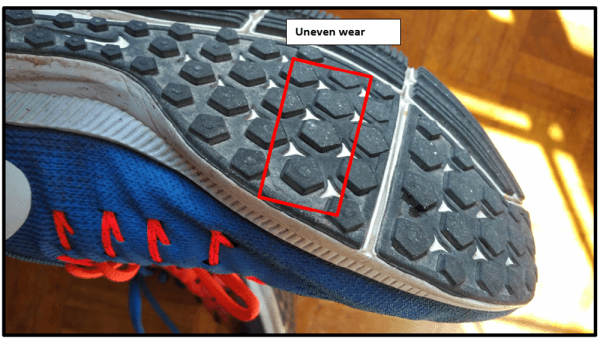 What's To Like
Four things, in any given order, make a good shoe - price, comfort, durability, and style.
Price
The NAZP33 is an expensive shoe, also looking at the Pegasus 34, which runs on the same chassis as the Pegasus 33. I don't think the extra money gives it any more value than its predecessor.
If I say expensive, why did I buy it? I got mine at a discounted more affordable price. (R1300)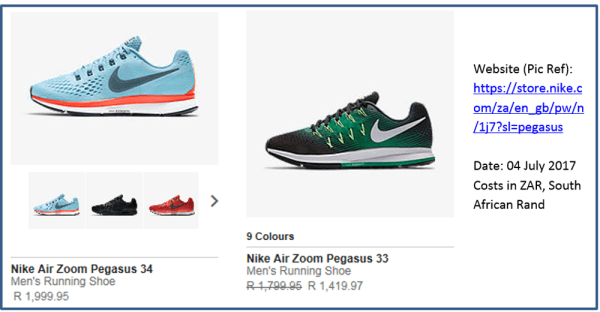 Comfort, Durability & Style
The upper has really nice material, easy to clean and stay clean. I really like the tight knit of the material, it is easy to wipe off and clean, it is not a dirt magnet.
The rest of the upper meets the obvious specifications, breathability, comfort, color and fit, plus a bonus hill reflector. The one stand out is the lockdown fly wire which in unison embraces the foot snugly.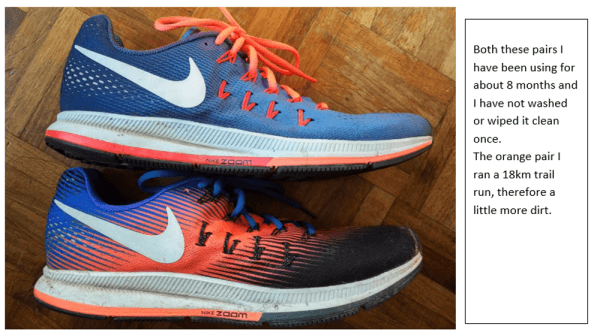 The outer shell seems to be hard wearing and after the distance that I already have done, looks nearly brand new. The sole has a nice structured feel with a little more cushioning than your standard shoe.
But enough on all the facts and figures, what is important is how the shoe runs.
What makes the NAZP33 feel right for me?
It makes me feel lighter and faster. I have had a few injuries along my running career, whilst running in the NAZP33 I have not had any injuries or reoccurrences from past niggles.
I ran hard and fast, I trained for 6 months in these for an Ultra (50km) and I can say that nothing flared up, especially my ITB. I personally think that the shoes had something to do with it.
Due to the comfortable cushioning, specifically at the heel, might be the contributing factor.
Outer sole wear - as mentioned tends to run off faster at the ball of the forefoot. However considering the distance that has been done, it is good.
If the same carbon rubber was used throughout the sole, as like the crash rail, these shoes would be indestructible.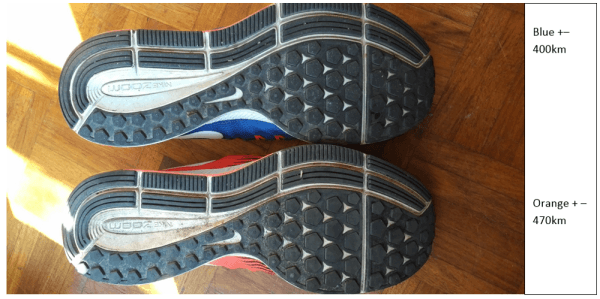 Conclusion
I am invested in two pairs of Nike Air Zoom Pegasus 33, it has been well worth my (discounted) money, taking into account how I enjoy running and looking at them.
It's an all-around feel-good shoe that nearly covers all my ticks in the tick box.
I was hoping that the Pegasus 34 might bring a new updated sole/chassis, this would have spiked my interest in wanting to buy another new pair of shoes.
With this in mind, I would like to believe that the Nike engineering and design team, comes so close to perfection with the Pegasus 33, that only a color change deemed necessary in the new updated Pegasus 34.