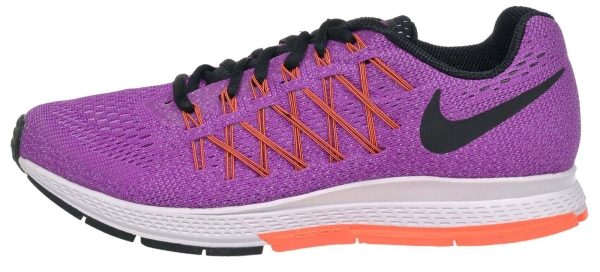 The Nike Air Zoom Pegasus 32 is a reliable neutral running shoe that is highly durable and comfortable. This shoe is ideal for those runners who are looking for a reliable road shoe that can also survive long-distance runs. It also works as a superb daily training partner.
---
Verdict from 16 experts and 100+ user reviews
8 reasons to buy
Many runners wrote that the Nike Air Zoom Pegasus 32 was comfortable.
Several reviewers noted that this version was lighter in weight than its predecessors.
A lot of testers welcomed its modern design, its cloth-like upper and its color schemes.
The consumers thought that the forefoot area of this shoe was very flexible; it allowed them to do the toe-offs more naturally and efficiently.
There were those who used it for daily activities, and they stated that it didn't easily lose structure or effectiveness.
The fit was very agreeable right out of the box, according to some runners.
The general durability of this model was lauded by many; a number of testers have even used it in marathons and it didn't break down on them.
Some consumers wrote that they would recommend the Air Zoom Pegasus 32 to those who're on a budget because of its high quality features and its inexpensive price.
3 reasons not to buy
A runner reported that the lining around the collar peeled off, making the shoe look less appealing and causing some discomfort on the skin.
The Flywire cables tended to cut through the upper fabrics, penned some concerned testers.
A few reviewers commented that toe box was smaller than the previous version; this design caused their toes to clump together uncomfortably.
Bottom line
The Nike Air Zoom Pegasus 32 is a reliable neutral running shoe that is highly durable and comfortable. This shoe is ideal for those runners who are looking for a reliable road shoe that can also survive long-distance runs. It also works as a superb daily training partner.
Best price from 50 shops
We earn affiliate commissions at no extra cost to you when you buy through us.
87% say it's true to size.



Our reviews
Nike shoes.
This gives the shoe a more muted look, and in my opinion makes the shoe look better when put into a casual outfit. The contrasting cross stitching on the sides of the shoe gives it the pop it needs without being overly flashy.
I chose the black color, and was very impressed with how often I was able to wear it no matter what the occasion was.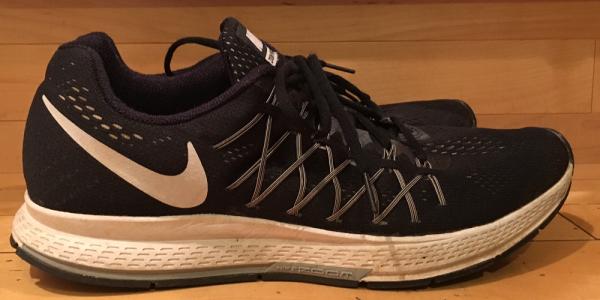 Fit
The shoe fits true to size for the most part. Length wise, it is a perfect fit and I would not change anything. Width wise however, I found it a tad narrow.
This is just because I have a slightly wide foot, so the majority of consumers will find the width fine. Although a tad narrow, I would not have gone up half a size. The width is totally bearable and the length is exactly true to size. Overall, a decent fitting shoe.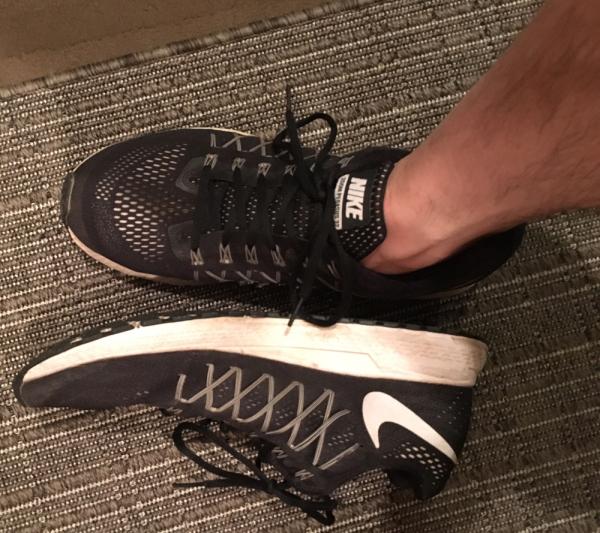 Price
Some might agree with me when I say that Nike quality control has gone down in the past couple of years. I have frequently gotten shoes with glue stains, among other things.
The Pegasus was no different, having come in with some minor flaws. However, the shoe itself is so great that those cosmetic flaws do not matter one bit.
The $140 CAD that I paid was worth every penny, as the Pegasus has been the best Nike runner I have ever tried. I would recommend the Pegasus over any other shoe in the $130-150 CAD price range.
Performance
Lightweight. Responsive. Two words that come to mind when describing the Nike Pegasus 32.
I was very impressed with the amount of spring in my step that I experienced while wearing this shoe. It is super responsive, and great for any shorter distance runs.
I personally used it for speed work, and it has never failed me. The shoe is also very lightweight and goes through workouts with ease.
The midsole on the Pegasus uses Zoom, which makes the shoe very comfortable for both walking and running. In conclusion, the Nike Pegasus 32 is a shoe with a great neutral ride that uses a Zoom midsole to deliver great responsiveness and comfort.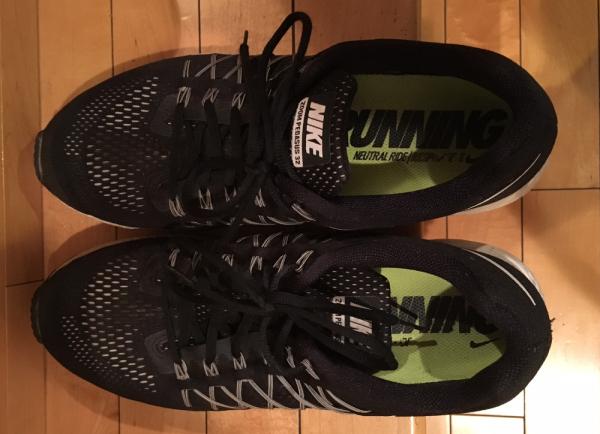 Conclusion
In my opinion, the best Nike shoe for a relatively low price in terms of performance and looks. Aside from the slightly narrow fit, there is really nothing I could point out that is negative about the shoe.
It has a great Zoom midsole that is responsive and gives the shoe a great ride. I have heard even better things about the Pegasus 33, so it is an absolute must have for me.
I have completed over 560 kilometers (350 miles) with this pair of Nike Air Zoom Pegasus 32. I have attended and completed a full marathon and three half marathons with it.
This is not the first Pegasus I owned, but back then, I did not have the proper running experience to compare shoes and comment about them.
It comes out the box with black laces, but I liked the way it looks more with gray ones.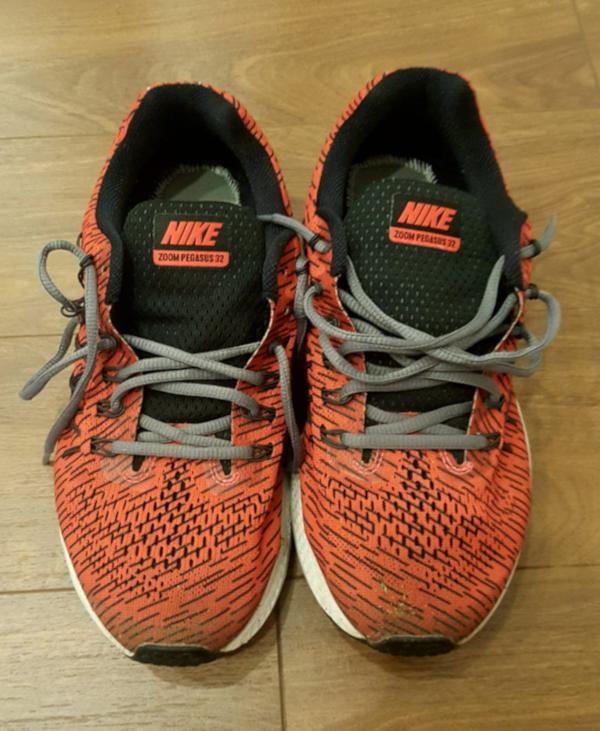 Positives
NAZP32 is a lightweight & comfortable shoe at first try and also does not disappoint at further use. I have completed my first full marathon and my fastest half marathon run (10k) with it. So, saying that it is fast and good to put on when you are going to have a long run cannot be wrong.
How it looks like after my first full marathon and fastest half marathon.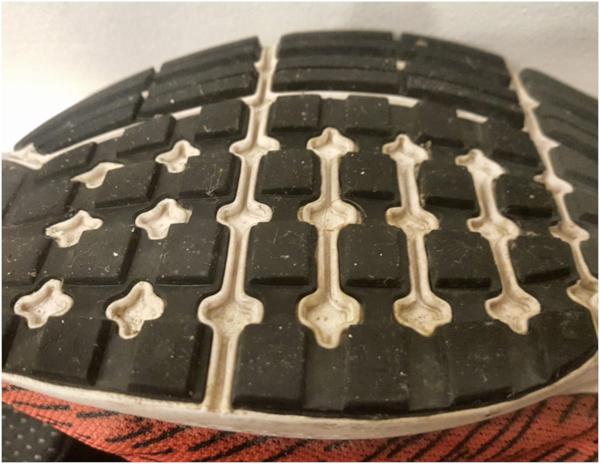 Negatives
Before my expected duration, which is around 750 km (470 miles), NAZP32 started to make me feel uncomfortable with a mid-sized blister. Especifically pinpointed at the inner left connection of my forefoot and midfoot.
This happened at around 500 km (310 miles). Following that, I am still able to wear and run with it with insoles and without any blisters or discomfort. I have to admit that the insoles add significant weight, but does not feel heavy during runs.
I do know that it is not a stability shoe, but the amount of arch support it provides feels somewhat insufficient in time with use. The Dynamic Flywire system Nike used on this model made it hard for the timing chips to be placed on the laces. Once a loop escapes underneath the bridge, it is quite tricky to get it back to its proper position.
How it looks like after last night's run under the rain.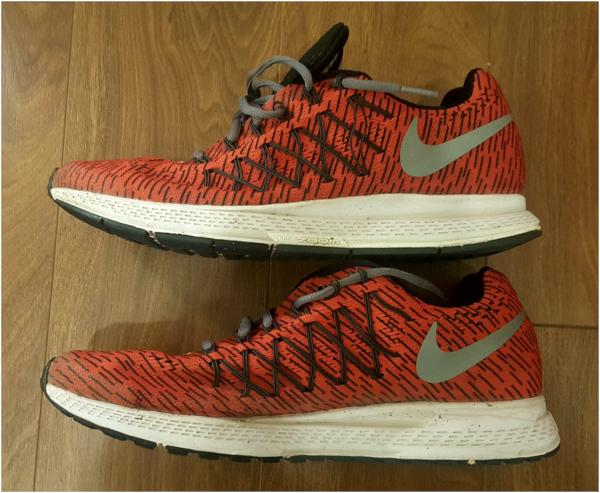 I like to keep all my shoes clean. I brush and clean them with a damp soapy sponge after each run. However, it was raining at my last run with this pair, and I wanted to show them in their current condition.
In between
I have experienced a bleeding toenail after my fastest half marathon with NAZP32. I have to admit I was shocked to see blood on my sock at first glance. Because I did not have the slightest pain or anything. No sign at all.
Afterward, it was not a black or purple nail. It healed perfectly. Most probably because the blood was not trapped underneath. There must have been a crack or leakage from a point on/around the nail to allow hemorrhage.
So, as you can see, I did not want to add this to the negatives, because the result could have been worse with another pair of shoes. The upper part is highly breathable, which makes NAZP32 perfect for high temperature runs in summer days.
However, the same does not apply to rainy and cold conditions. Your feet can get wet super easy, which is not pleasant at all.
Unrecognizable level of wear.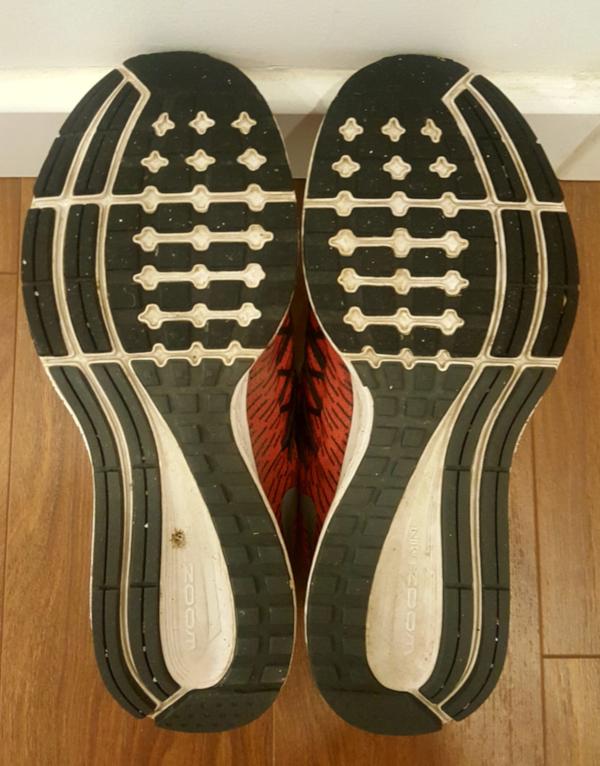 The wear level is almost unrecognizable. So the material, BRS 1000 carbon rubber & environmentally preferred rubber, used on the outsole can be deemed durable.
Conclusion
NAZP32 is fast and reliable, but not durable enough. You must not get too attached. Because like every good thing, it does not last very long. At least, not as long as you want it to.
When you are planning to break a personal record of yours, it will provide you with the speed you need. Just beware of the total distance you have covered with it beforehand.
Updates to Nike Air Zoom Pegasus 32
Getting smooth and reliable performance is part of what the Air Zoom Pegasus 32 has to offer. This update features an appealing design that's meant to cater to the tastes of modern runners. Eye-catching colors are utilized here, making sure to allow the façade of this model to be endearing to anyone who looks at it. It also functions well, because of the presence of efficient compounds and components.
The upper unit of this running shoe makes use of a mesh material that looks like it resembles woven cloth. It's soft, smooth and breathable. Air is allowed to enter the shoe in order to keep the foot cool and dry. The Flywire technology is helpful when it comes to securing the foot and providing a snug but customizable fit.
Cushioning and underfoot support are afforded by the full-length mid-sole foam that's made from compounds that are durable and responsive. It's used liberally here, so the runner won't feel as if it's thin or lacking. Pressurized air pockets called the Zoom Air technology provide impact attenuation and added cushioning. A crash pad has been placed at the bottom of the heel to handle the landing motion of each step.
High-tier shielding and traction are afforded by the durable rubber materials that are placed in the outsole unit of the Nike Air Zoom Pegasus 32. The forefoot area benefits from a waffle design that adds a bit more cushioning with each step while also allowing more efficient toe-offs.
Size and fit
The Zoom Pegasus 32 has a standard running shoe length. It comes in sizes that follow the regular measurements for men and women. The widths of this shoe are narrow, regular, wide and extra wide, so it is able to accommodate a variety of runners who also have varying foot dimensions. The wearer is even able to acclimate well to this shoe because of its semi-curved shape.
Outsole
The BRS 1000 carbon rubber is one of the most durable compounds and it's used in the heel section of this running shoe. It is able to handle the impact shock, abrasive surfaces and continued use.
Environmentally Preferred Rubber in the forefoot area delivers multi-surface traction. It is placed in the forefoot section. Running on slippery surfaces won't become a problem with this material.
The Waffle design of the outsole's front section adds a bit of cushioning to the foot, which is helpful when it comes to transitioning from the heel to the toe.
Midsole
Cushlon is a full-length mid-sole material that is responsible for providing a plush yet resilient underfoot cushioning. Its responsiveness allows the foot to move naturally and feel comfortable while standing upon it. It springs the foot forward, as well.
The Zoom Air, which is also used in the Nike Pegasus 35, is a technology placed in the heel area. It is comprised of pressurized air pockets that are meant to handle the landing impact during each run. It carries the foot well, making sure that it doesn't feel the impact forces that might try and cause discomfort.
At the bottom of the rear is a Crash Pad. This unit has been decoupled in order to move independently. It reduces impact shock during each run.
Above the mid-sole unit is an EVA sock liner, which is able to mimic the shape of the heel and arch. It essentially supports the underfoot, making sure that the curves are cushioned, as well.
Upper
The upper unit uses a Single-Layer Engineered Mesh, a lightweight material that's highly breathable and comfortable against the skin. Its woven-fabric look makes it appealing to look at. Still, it is able to maintain a dry and cool interior as it welcomes air flow.
The Dynamic Flywire system is comprised of durable cables in the mid-foot, which are meant to help the fabrics in wrapping around the foot securely. Connected to the lacing system, these cables adjust to how the shoelaces are manipulated, tightening or loosening accordingly.
Rankings
How Nike Air Zoom Pegasus 32 ranks compared to all other shoes
Popularity
The current trend of Nike Air Zoom Pegasus 32.