Introduction
I came across the Nike Zoom Elite 8 by chance; it was a shoe and brand that I would not normally consider. I was a brand loyal Adidas fan and nothing could sway my mind. Except, for me being a price sensitive shopper and this was the last pair in the shop, at real bargain price.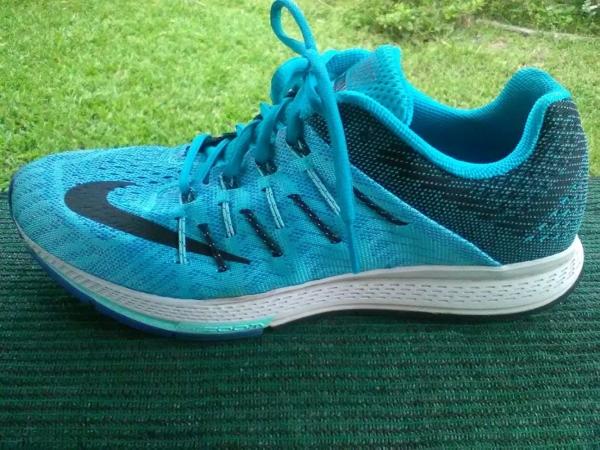 I really started to enjoy running in the Elite 8 only after a few runs, initially it was a little hard.  After 50km of running the shoe in, it only then started to show its true pedigree. It was a racer.
Midsole & Outer Sole
My first run in the Elites felt firm, angle of the hill is acute, crash rail provided good role from back to front. Forefoot was firm and kick off is sure footed.  In fact, I felt faster. I was looking for a shoe to do short runs and speed work in; I think I met my match.
The shoe felt light, coming from an Adidas Supernova Glide Boost 7, the Elites had a definite weight advantage. In comparison, the Nike Elite has a hollow out on the hill and the Glides are flat. The hollow hill (see pic below) with crash rail has a feeling of less rubber to road surface. Therefore less contact with the ground has a quicker roll off under the foot. The Nike foam (phylon) vs. the Adidas boost felt denser by comparison. The phylon midsole holds its composition well under the hill and forefoot, this gives you an immediate response.  Hidden secretly in the midsole forefoot is a compressed air pocket (zoom air unit). The pressurized air unit is barely noticed and does not compromise your strike off the forefoot, making the Elite and ideal racing shoe.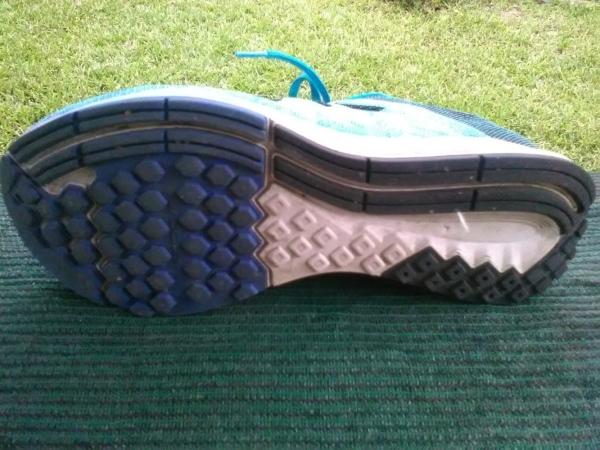 Upper
The upper is comfortable and spacious. Big toe box, almost exaggerated, so plenty of toe space. Foot is firmly strapped in with the flywire attached to the shoe laces. The hill is well supported without any slide. Upper is near seamless, except for two side panels and tongue attachment stitching. Material inner-sock lining is soft and complements the outer shell with good breathability. I really like the placement of the tick on the forefoot. While running, you can see the tick pointing in a forward direction, seemingly coaxing you forward. There is not much that can be faulted on the upper, except there is no 3M night reflection.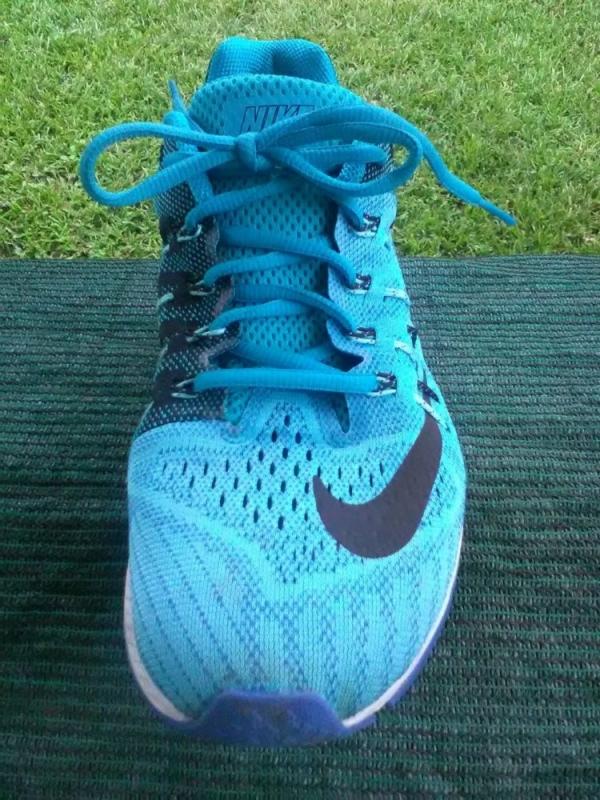 Pros
Light weight
Big toe box
Firm kick-off
Cons
No 3M reflection
Toe box might be a little big if you have narrow feet
Small stones get caught in crash rail

Conclusion
The Elites evoked my interest into venturing out my shell in look for the perfect shoe. Reason is, it was such a good shoe, that it made me realize that what I thought was good has now become mediocre.
And yes, I am comparing a speed shoe with a marathon shoe. This is where the story gets even stranger, I spoke to a sport shoe salesman and he told me he ran an ultra-marathon in this shoe. I now am thinking about it. I said I am in search of the perfect shoe, it might just be? Or is it my snobbery of having bought the Nike Elite 8 on sale, which has me thinking otherwise.
In conclusion the Nike Elite 8 has me confused, it is firm enough to be called a racer, but cushioned enough to run a marathon. I therefore have two words for it, "racer royal".