When shopping for the Nike Air Zoom Elite 9, my goal was to find something with a wide range.
I was looking for a shoe to run on roads for a long slow day or bring to the track and throw down 400s with the middle school cross country team. This shoe has an ability to hit the trails for 10+ miles after cross country practice.
It was helpful to not have to carry two different shoes with me on a daily basis.
What I learned was this shoe was more versatile than I could have ever imagined. After wearing these for most of a trail marathon training cycle, I decided to forego lacing up my trail shoes and chose Zoom Elite 9's on race day.
I found these shoes matched my neutral stride and mid-foot strike quite well. What first had me interested in the Zoom Elite's were the complete rubber out-sole and the light weight.
Outsole
The outsole of the Zoom Elite 9 includes rubber from heel to toe.
As I was planning to have this shoe double as my daily trainer and trail runner this was a must.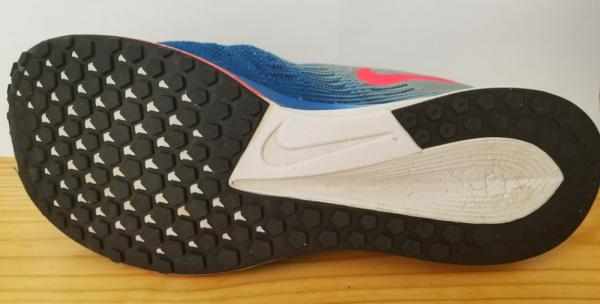 I found the rubber grippy in all road conditions (wet, rainy, and even a little snow).
They also provided plenty of bite on single track dirt and gravel trails, however, I would not recommend them for a muddy trail or one that includes many slick/wet/mossy rocks.
I have put about 350 miles on this pair with wear showing on the toe and heel at about mile 250.
Upper
The upper includes both flymesh and flywire setup.
I found this setup both forgiving and durable as I blow through the uppers of many shoes within a couple hundred miles. The Zoom Elite 9s are still without holes or rips at 350+ miles.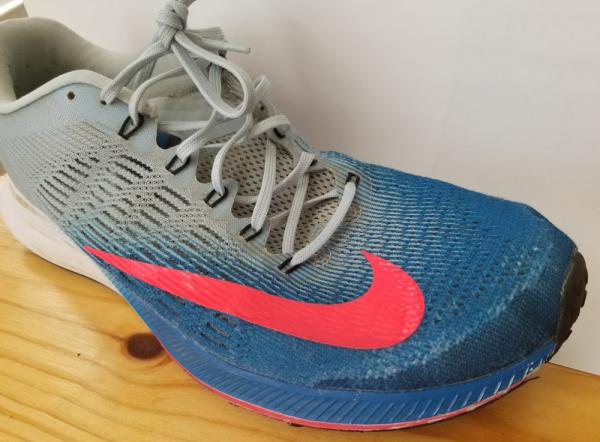 The upper is also stable. I am able to lock down my foot and get a comfortable fit, good for 2-3 hours on the trails without adjustment.
I have noticed two areas of concern. One, the laces need to be knotted tightly or even double knots do not hold.
Two, I found the angle of the heel counter a bit steep and I would have to make sure to not tighten the top lace too tight or I would feel added stress to my Achilles.
Midsole
This shoe is responsive and you get good ground feel.
The Zoom Elite 9's do not provide a whole lot in the way of plush cushioning. However, I did feel it was enough for 20+ mile road and trail runs.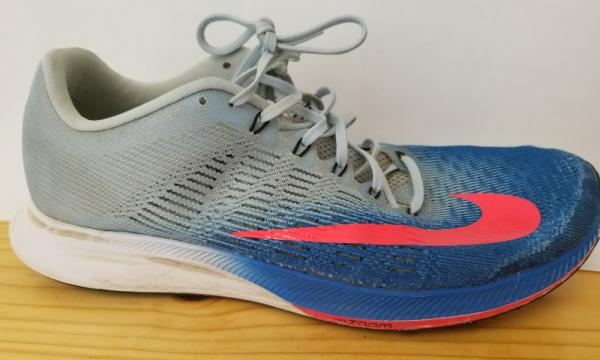 Pros
Mesh upper with flywire
Rubber outsole with tons of grip
Versatility in many distances and workouts
Lightweight
Cons
Shallow toe box (plenty of width for me but not much height)
Laces
Steep heel counter
Final Thoughts
The Nike Zoom Elite 9 is a workhorse. I have done it all in these shoes from track workouts to a trail marathon. They are durable, they are responsive.
Are you looking for a shoe for your speed work days and use it again for a long slow run? If the answer is yes, put the Nike Zoom Elite 9's on the top of your list.
At first, it feels as though there is a slight bump under the ball of the foot, this sensation relaxes after a couple of runs. I would say this is due to the Zoom Air pocket found in the forefoot of the Zoom Elite 9's.
Is this the shoe for your next 100-mile ultra? Probably not.
Does it have the responsiveness of a daily trainer from intervals to long slow runs? Absolutely.