Though many brands cater to the female clientele, there's probably only one dedicated to manufacturing athletic shoes for women — Ryka. Aside from producing workout trainers, there are also Ryka walking shoes that deliver exceptional support and comfort.
What makes Ryka walking shoes special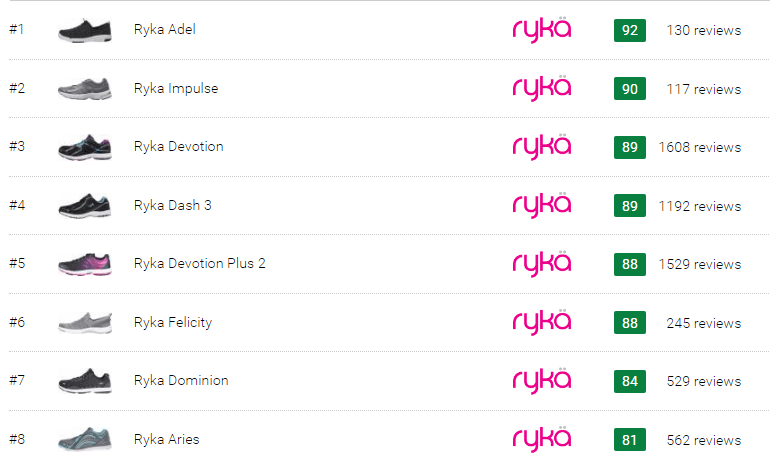 Best Ryka walking shoes - February 2019
Men and women are anatomically different and it's not just because of their reproductive organs. There are distinctions in the way some parts of their body are constructed which calls for different kinds of support in their walking footwear.
Women tend to put more of their weight on the lateral side of the foot which may cause unsteadiness in their gait and a higher risk of injuries.
Another aspect that Ryka emphasizes is the shape of a woman's foot. Men's feet are more rectangular which means that the heel is almost as wide as the forefoot whereas women's feet have tapered heels. Women also have higher insteps compared to men.
Most shoe manufacturers tend to just make smaller versions of their men's footgear which of course is contoured to accommodate a man's foot. When a woman puts this type of trainer on, the fit will feel off, like the heel will be too roomy.
Ryka has it as their mission to address these issues and deliver products that are able to accommodate the unique needs of women: a roomy forefoot, a snug heel, and a higher instep.
Technologies used in Ryka women's walking shoes
Ryka workout shoes are known for the comfort they deliver so it's not a surprise that the same technologies can be found in the brand's walking shoe line.
RE-ZORB
This proprietary technology is engineered using an ethylene-vinyl acetate (EVA) foam. This compound is designed to absorb shock to keep the foot protected from impact. It is also responsive, converting the energy from each step into energy to push off the ground. Depending on the model, some Ryka walking shoes utilize multiple RE-ZORB components, from a full-length platform to extra layers of pods at the forefoot.
Memory Foam
This cushioning unit is crafted to follow the shape of the wearer's foot to deliver full underfoot coverage. The natural heat of the foot softens the foam, allowing it to conform to the bottom of the foot and offer maximum support and comfort.
Skeletal Rubber Outsole
Instead of a full-length rubber, some Ryka walking shoes employ an eight-piece skeletal rubber outsole. This construction protects the midsole while also providing traction, without adding too much weight to the trainer. This design also allows the sole unit to be more flexible and promote natural foot movements and prevent fatigue.
Anatomical Precise-Return Insole
This sockliner has a bouncy disposition that contributes to the shock absorption powers of the primary midsole, reducing the feeling of tiredness at the end of the day. Ryka walking shoes with this element also deliver extra heel and arch support to keep the foot steady during the heel-to-toe transition.
Different styles of Ryka walking shoes
Lace-up closure
Some women like total control when it comes to fit adjustment, thus, they enjoy putting on walking shoes that feature a lacing system. It allows them to tighten the fit or loosen it to accommodate their high instep. An example of this is Ryka Devotion. This model features a low-cut profile with a synthetic mesh upper for breathability and high-density foam lining the inside to deliver a snug and supportive fit. For shock absorption, the trainer employs the RE-ZORB foam and Precise-Return insole. And finally, an eight-point skeletal rubber outsole provides traction and enhanced flexibility.
Zipped-up closure
If you're looking for something that is easy to put on but still provides some midfoot security, you can opt for Ryka Primo Knit. This footgear sports a zipper closure at the midfoot, allowing for quick on-and-off action. For a looser fit, just unzip it; it will not fall off because of the inner Lycra sleeve that envelops the foot. It utilizes a single unit of compression-molded EVA (CMEVA) foam to deliver underfoot cushioning and traction. Inside is a layer of an Anatomical Precise-Return sockliner that amplifies comfort and protection against impact.
Slip-on style
For women who want something that is very quick to put on or remove, or for those that just can't be bothered with laces, zippers, and straps, Ryka walking shoes also come in a slip-on style. An example of this is Ryka Felicity. Its stylish and feminine look makes it suitable for daily use as it partners well with various types of clothing. The upper is made of a custom heathered knit fabric that is breathable and flexible for all-day comfort. There's a thermoplastic polyurethane (TPU) strap that wraps the heel, serving as an external heel counter to secure the back and prevent it from accidentally slipping out. The EVA midsole reduces the shock that travels to the foot while the heel features a dual-density foam that steadies the rearfoot while walking. Inside, a Memory Foam insole cradles the foot to provide maximum comfort. It also has a stability shank under the arch to prevent overpronation. Rubber lines the toe and the perimeter of the heel and the midfoot to heighten the traction of the outsole.
Frequently asked questions
Can I work out in Ryka walking shoes?
Though Ryka walking shoes are mostly made using the same technologies as their training footwear, it would be best not to do so. Gym shoes have uppers that have more structure, which means they offer more support at the top of the foot. Walking shoes are generally softer, so the lateral support will not be the same which may result in injuries during dynamic movements.
Are Ryka walking shoes offered in a wide profile?
Yes, women who have broader feet can avail of Ryka walking shoes in a wide width. Aside from having a round toe box to accommodate toe splaying, the wider option offers more space to accommodate different foot shapes.
Do I need to break-in my Ryka walking shoes?
No, any footgear should be comfortable the moment you slide your foot into it, and Ryka walking shoes are no exception. If you feel like the shoe you purchased is too short in length or too tight in some areas that it causes pain or numbness, return it for something that fits better. Don't get an ill-fitting trainer in the hopes that it would suit better the more you use it. Some shoes do not break-in no matter how long you use them because of the wrong size and width.
How do I take care of Ryka walking shoes?
Walking shoes from Ryka come in different styles and utilize various upper materials. The quickest way to clean them is by using a dry brush to remove surface dirt. A wipe down using a clean damp cloth can also help to deal with some light stains. For caked-in dirt, make a warm soapy solution to dip a brush or cloth in and use it for spot cleaning or getting all of the upper cleaned. Wipe the surface with a clean, damp cloth to remove dirt and suds. Let the trainer air-dry for a few hours.
NOTE:
Do NOT put the footwear in direct sunlight or heat sources as that may compromise the construction of the shoe.
Remove laces and insoles if possible and clean and dry them separately.
Do NOT machine wash and dry Ryka walking shoes.
Did you know …
… that the word "ryka" (pronounced "raika") means born out of prayer or hymn? Sheri Poe founded the company back in 1987 because women were underserved in the athletic footgear department. So, essentially, the Ryka brand became the answer to women praying for training shoes that fit their unique needs.
… that the brand's CEO Sheri Poe made it a mission to see Princess Diana wearing her shoes? She reached out to the princess' personal trainers and sent over fitness shoes along with a letter that told Poe's story of survival and the Ryka R.O.S.E. Foundation whose mission is to help abused women get back on their feet. Her mission was a success as the princess was soon photographed wearing Ryka trainers.
This shoe has recently been added to RunRepeat. There are still not enough reviews for us to assign it a
CoreScore
.
CoreScore
A score from 1 to 100 that summarizes opinions from users and experts. The average CoreScore is 78.
More...