Looking for an uber-comfortable and stable shoe for spending long days on your feet? Your search ends with Skechers Arch Fit. Designed specifically for people with flat feet and overpronation, it is one of the best supportive shoes that you can get for such a low price. Not to mention how light it feels on the foot. From the first step, the shoe's comfort will make you want to wear it for hours.
Pros
Arch support for flat feet
Plush underfoot
Firm and stable platform
Smooth heel-to-toes
Excellent fit
Exceptional durability
Surprisingly light
Great traction
Machine washable
Cons
Flimsy heel counter (use a shoehorn)
Laces need a double knot
Warm for summer
Skechers Arch Fit review
Disclaimer: Arch Fit refers to the collection of supportive walking shoes from Skechers, not just one model. They are all built on the same platform but come with various upper designs, including mesh, knit, slip-on, and other styles. This review is focusing on the "Big Appeal" edition.
But you can see other versions of Skechers Arch Fit shoes.
Who is it for? Meant for people who need extra cushioning and support in an everyday walking shoe. It assists in reducing overpronation and it's able to accommodate flat feet.
Buy this shoe if your feet tend to roll inwards and your footwear wears out faster on the inner side. You can learn more about this condition in our guide on pronation.
Don't buy this shoe if you have strong ankles, normal arches, and no discomfort when walking. In this case, see neutral walking shoes.
How we tested Skechers Arch Fit
wore it as a walking shoe on a daily basis throughout one warm season (mid-May to mid-October 2020), in dry weather
included long walks (up to 7 miles) on paved roads as well as some light, hard-packed trails
Gone is the back pain!
I applaud Skechers for making a shoe that helps me spend a whole day not thinking about the back pain. Even after 10 miles of walking, I don't feel it in my body the next day, thanks to these foot masseurs.
NOT for severe overpronation
As much as I want to praise the Arch Fit, there is still room for improvement.
A noticeably narrow midfoot and lack of medial (inner) support in the upper can make you feel like you're walking more on the inner side of the shoe. The foot never slides off but it feels like it wants to.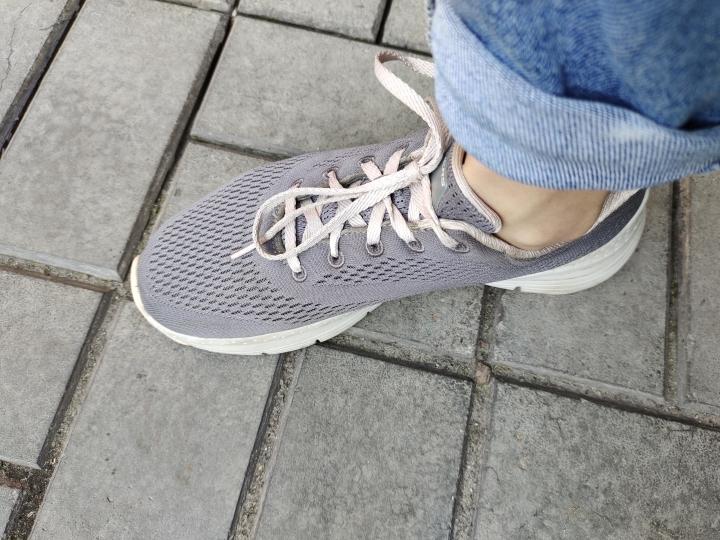 Compared to a stability shoe monster like ASICS Kayano, which I also use in the rotation, Skechers Arch Fit loses. But to be fair, the Kayano costs twice as much.
Oh, the Arch Fit insole
Most people don't care much about insoles but Skechers Arch Fit can make you change your mind.
Plush, generously padded, contoured to the foot shape. There are no bumps under the arch or anywhere else, just a feeling of a soft cradle from heel to toes. No wonder Skechers says it is "podiatrist-certified."
It is also removable, in case you prefer to put custom orthotics.
Tank of a midsole
Underneath the plush goodness of the insole, there is a solid, firm, chunky platform. It compresses so little that you can even hear a thump when walking on hard surfaces.
And if you happen to catch a pebble in between flex grooves, you will never notice it until checking the bottom of the shoe.
Paired with the widened forefoot and heel base, this density will keep you steady. Forget the squishy, wobbly feel of Skechers GOwalk shoes.
Buttery-smooth ride
A slightly rockered profile and flex grooves throughout the bottom make for some very pleasant heel-to-toe transitions.
Comfy fit, true-to-size
My regular women's US 7 in Skechers fits perfectly in the Arch Fit. The interiors touch the foot softy, never had any hot spots or blisters. The toebox is roomy both sideways and upwards.
You can get a nice lockdown by cinching the laces. There is zero heel slippage.
SO durable for a budget-friendly shoe
There is barely any midsole creasing that tends to happen in softer Skechers walking shoes. The cushioning itself still feels soft and supportive. And I can see no wear on the outsole.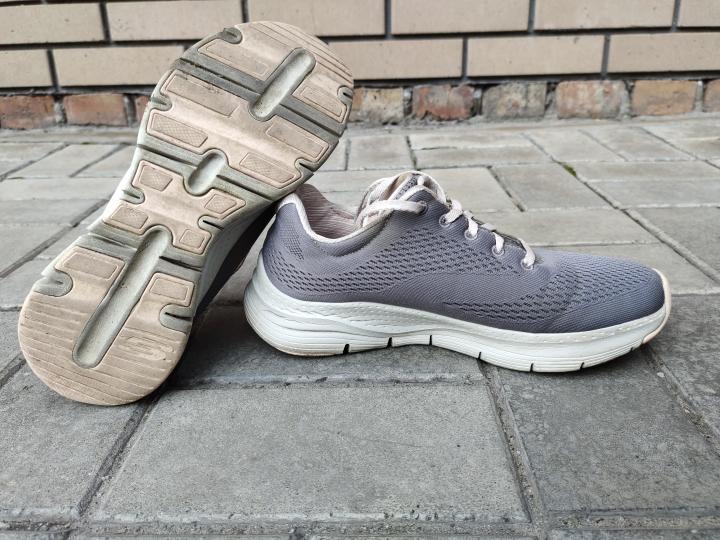 Heel counter crashed into pieces!
On the negative side, the internal plastic heel counter seems to have crushed into small pieces on the inner side of both shoes. You don't notice it when wearing the shoe, only when feeling it with fingers.
I assume that's because I was too lazy to use the shoehorn and pressed too hard when putting the shoe on.
Slick laces
Flat, slippery, unnecessarily long - these laces do get untied easily. I still have to make a double knot to keep them tied.
Too warm for summer
Despite having all the pores in mesh, a padded lining underneath it keeps the foot warmer. I find this version of Skechers Arch Fit a bit hot for temperatures over 60 F (15 C). It's best for 50-60 F (10-15 C).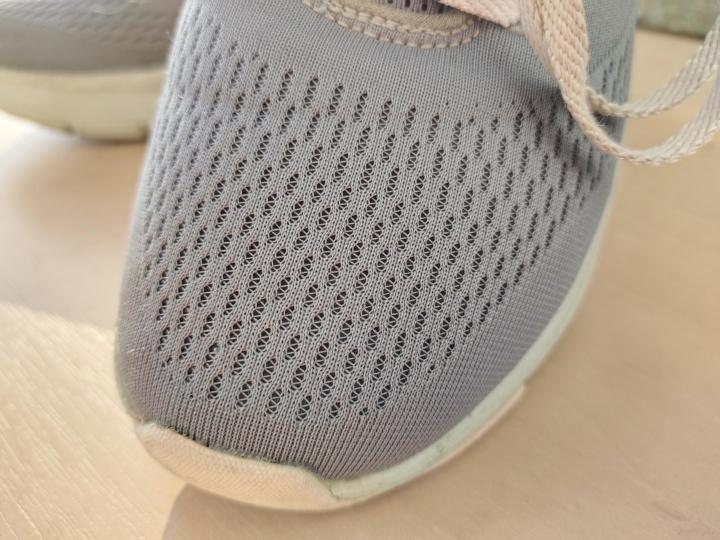 Skechers Arch Fit is chunky but light
For the amount of cushioning it has, this Skechers shoe doesn't feel heavy or bulky at all. But I like that it visually has that chunky sneaker vibe.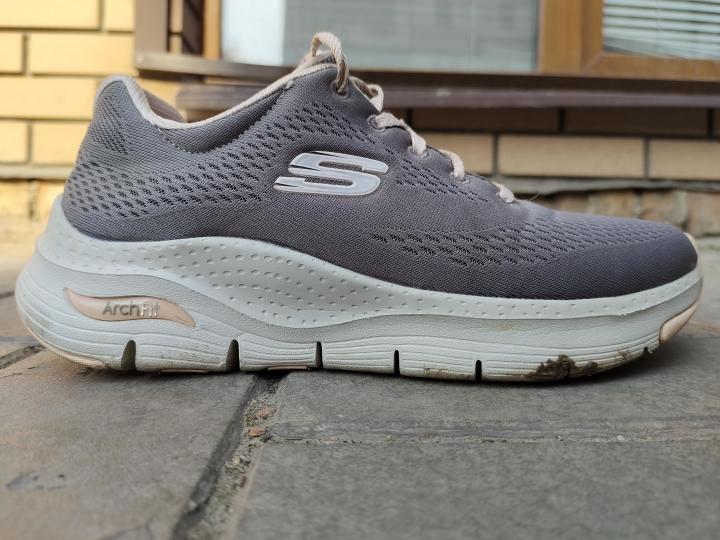 Insane traction
You can even do a little twist dance on wet paving slabs. Feels like the rubber gets even grippier on wet surfaces.
What's more, last weekend I walked on some rocky areas and the traction was impressive!
Washing machine test: pass!
The brand recommends Skechers Arch Fit as a machine washable model. So I decided to test that out. After a pretty loud washing session in cold water and in delicate mode (be prepared for some shoe tumbling against the machine interiors), the shoe came out looking pristine. I see no loss in fit, function, or form.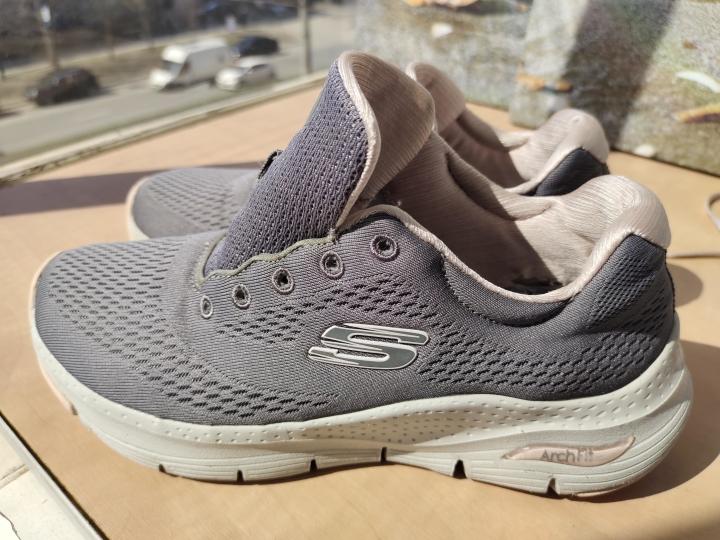 All that for $85?
I am amazed at how much Skechers was able to put into such an affordable walking shoe. And that's not to mention that you can already get it at a discounted price.
Bang for the buck, that's all I can say.