The Allbirds Wool Runners is the brand's most popular and recognizable silhouette. Made of soft Merino wool and other sustainable materials, this shoe started a huge trend in 2016. It has a minimal design but a maximum level of comfort for your daily walks and traveling. So cozy, it can even be worn without socks.
Pros
Amazing in-shoe comfort
Equally cozy at 41 and 68ºF
Can be worn without socks
Super lightweight
Machine-washable
Sustainable materials
Simple, easy-to-match style
Cons
Not for rain or snow
Not for hot weather
Loses traction over time
Who should buy the Allbirds Wool Runners
Allbirds is definitely something else on the market of walking footwear dominated by synthetic shoes. It is a shoe to consider if you value the following:
comfort, lots of it: the Wool Runner is so soft you want to wear it without socks
sustainability: each part of the shoe is made of responsibly-sources materials
versatility: the shoe remains comfortable in different temperatures (most;y cooler ones), offers support for all-day wear, is light and packable for traveling, and is easy to match with different outfits.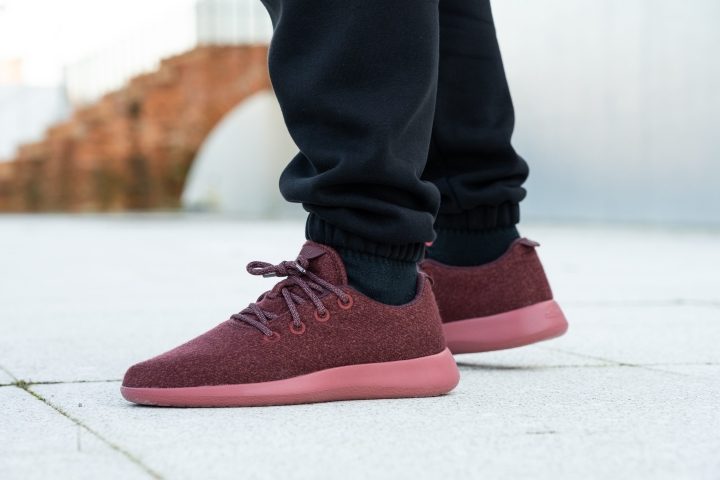 Who should NOT buy this walking shoe
There are certain situations where the Wool Runner may not be the best bet.
But the brand made sure it has a shoe for various needs: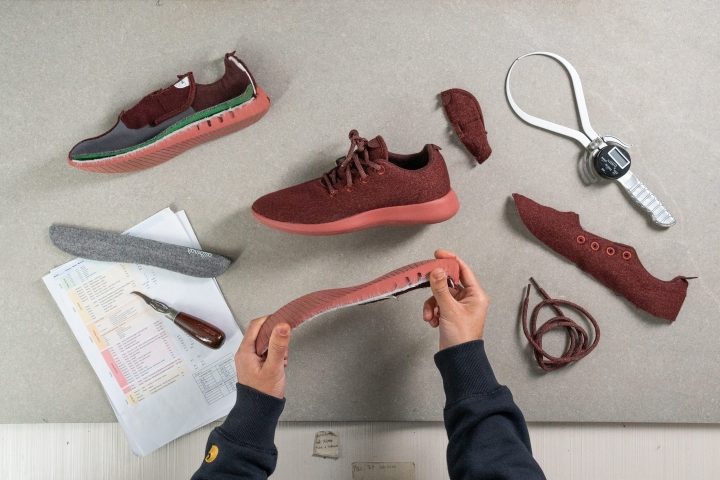 Cool when it's warm, warm when it's cold
The Wool Runner is highly appreciated for the fact that it is a good 3-season shoe (fall, winter, spring). It offers excellent thermoregulation for the temperature ranges of 41–68ºF (5–20ºC), which is perfect if you're somewhere with variable weather. A reviewer from the Pacific NorthWest reported happily wearing the shoe six months of the year.
Just be sure to steer clear of these Allbirds when it gets extra hot or rainy/snowy. There is not enough ventilation for warmer weather and the material gets instantly soaked when it's wet.
Fact check
In our smoke test below, you can see that the shoe is only ventilated through the tongue area, as opposed to the highly breathable Tree Dasher.
Allbirds Wool Runner (left), Allbirds Tree Dasher (right)
Fact check
You can also observe the density of the wool upper in our transparency test. On our 1-5 scale where 5 is the most breathable, the Wool Runner gets 1.
Various use cases of the Wool Runners
The majority of Wool Runner owners have used the shoe for all-day wear, commuting, city walks, etc. It is reported to feel comfortable at all times thanks to its plush and flexible sole.
They also like that the shoe has a clean, minimal design which is appropriate in most office situations.
Traveling is another area where the shoe shines. The wearers have been easily able to put on 20K+ steps/day without any pain or discomfort. It is also super easy to pull on and off without untying the laces which makes it a favorite airport and flight shoe for many.
A lady reviewer finds it ideal for a trip to Europe where "they'd blend in better than bulky running shoes" while also being comfortable for the cobblestone streets. It is so light and flexible that you can easily mash it into a backpack and forget about overweight baggage fees.
But what this Allbirds shoe is definitely NOT for is running. Despite being called "Runner," it is meant as a casual sneaker. Don't get misled!
Go true to size
The majority of reviewers reported that the Wool Runners ran true to their regular shoe size.
Fact check
Indeed, the shoe seems to run true to size. We measured the internal length at 261.3 mm in a men's US 8. According to Allbirds' size chart, this corresponds to US 8.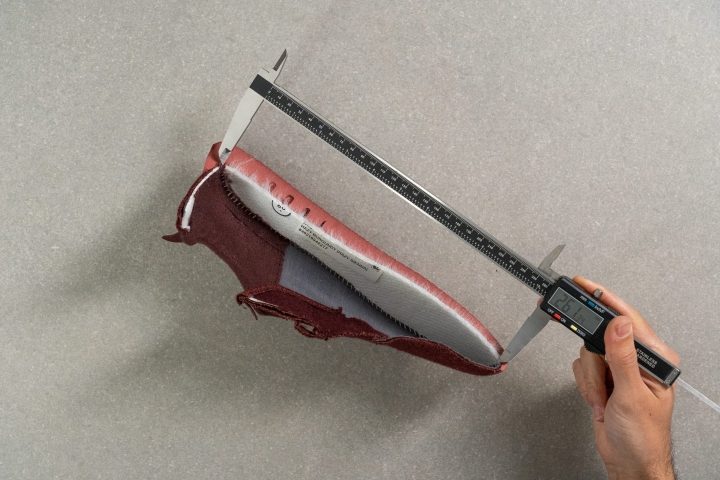 As for the width, there is enough room in the toe box while the rest of the shoe fits like a glove and conforms to the foot very nicely, especially over time.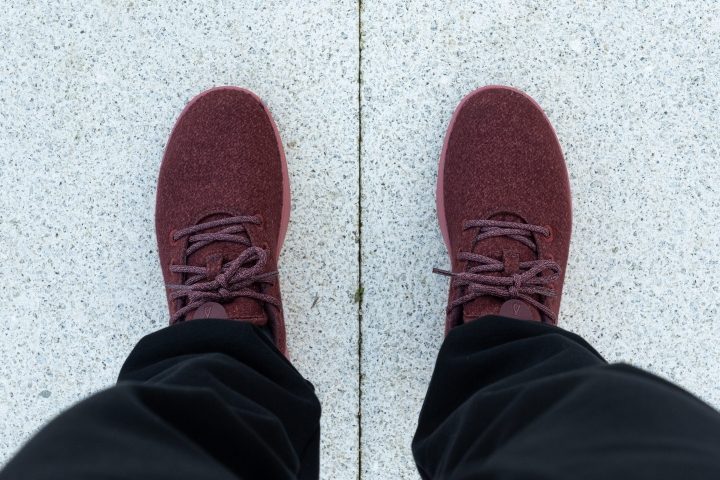 On the downside, the Wool Runners is best for people with narrow-to-neutral foot width. Those with wider feet say that it can be frustrating as the upper is rather unstructured and their feet "spill over the edges."
Fact check
In its widest part, the forefoot is 99.6 mm. This is considered wide for a walking shoe.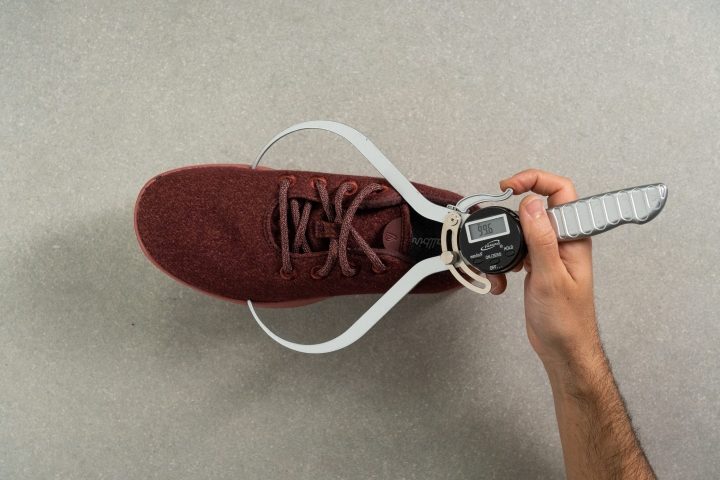 Unbelievably comfortable shoe
Here are a few of the happy comments coming from the wearers of Wool Runners:
"like wearing slippers all day
"my feet feel cuddled and hugged all day long"
"ridiculously soft, I couldn't stop touching them"
From the first step, the shoe feels so plush that many people claim it is one of the most comfortable shoes they've ever worn. The Merino wool keeps it fluffy and cozy with no itchiness at all. You can also forget about rubbing, blisters, or any kind of discomfort.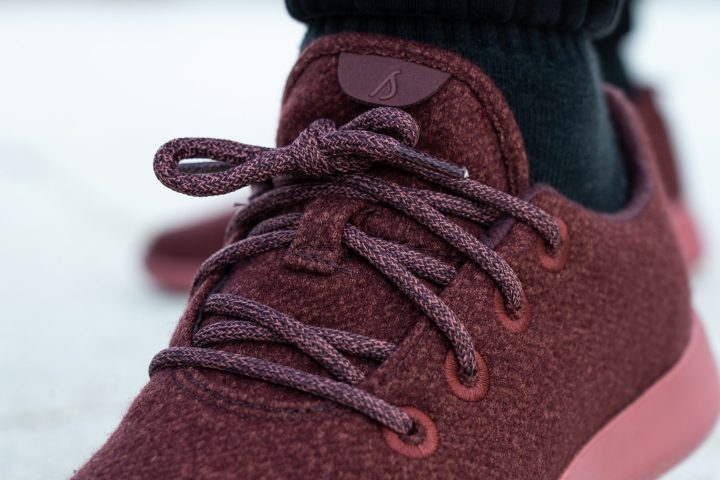 The insole is also lined with wool on the top to create that 360-degree comfort for the foot. And if you need to insert your custom orthotics, the insole is easily removable.
Fact check
Based on our measurements, the insole on the Wool Runners is 7.7 mm thick which is 2-3 mm thicker than most of our lab-tested shoes.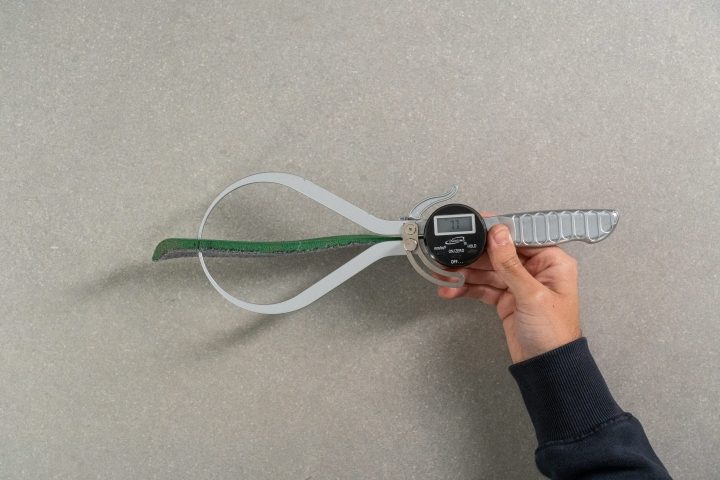 The shoe's SweetFoam cushioning has been praised extensively. There is a fine balance of support, softness, and flexibility. As some wearers reported, their feet never ached, even after spending all day walking.
Fact check
This Allbirds shoe is quite generously cushioned, especially in the heel section. We measured the stack height at 30.8 mm.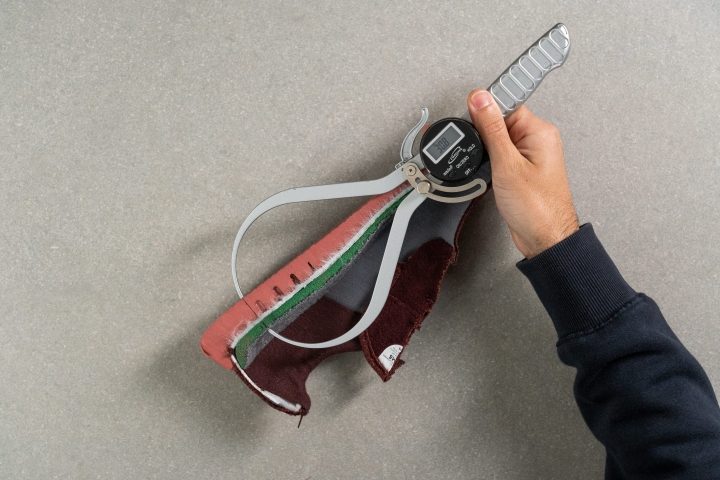 Fact check
The forefoot stack is 16.6 mm, which makes the heel-to-toe drop 14.2 mm. In simple words, your heel gets a lot of impact protection when you make a step.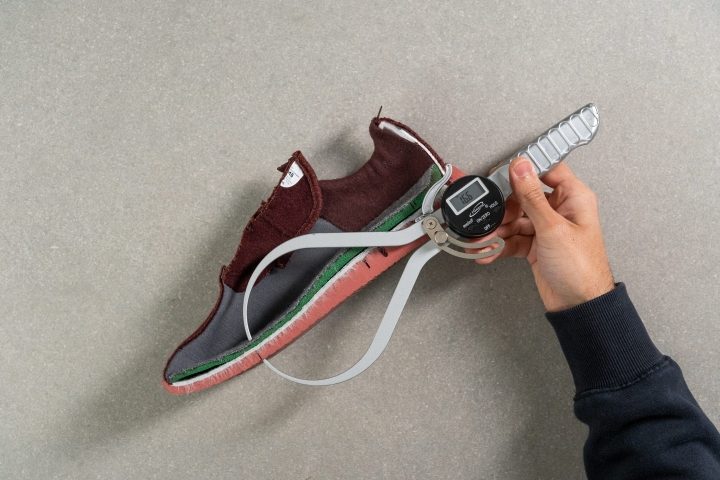 Pleasantly soft but not mushy
The Wool Runners have just enough softness in their sole to keep the foot comfortable.
Fact check
Our durometer measurements show that the shoe strikes a balance between soft and firm with a slight incline towards the latter. For reference, it is 20% firmer than the Allbirds Tree Dasher running shoe.
Wool Runner is extremely flexible
Almost barefoot-like!
Fact check
Allbirds Wool Runners are some of the most flexible walking shoes on our roster. They can only be beaten by OluKai sneakers.
Fact check
On a 1-5 scale where 1 is the most flexible, the shoe receives 1 on both longitudinal and torsional flexibility.
Not the best choice for flat feet
If your feet tend to roll inwards, the Wool Runners are too squishy and do not have any arch support. As one vlogger shares, "even just walking around Brooklyn, I've almost rolled my ankle a couple of times." Think of it as the total opposite of Converse Chuck Taylors. And if you need that kind of support, check out Skechers Arch Fit.
Socks: to wear or not to wear with the Allbirds Wool Runners?
The vast majority of those who tried wearing the Allbirds Wool Runners without socks were satisfied with the experience. They were actually surprised by how cozy it felt. "The wool was so silky and smooth," says one of them. There are also no issues with rubbing or itchiness. Most reviewers confirm it to be "odor-free," even after months of wear.
However, a smaller number of people did end up with smelly feet after going barefoot in the Allbirds Wool. But they noticed that it was mostly the insole that retained the smell, so they managed to ease the problem by replacing it. Allbirds actually sells insoles separately as well.
Great quality and durability for its kind
Some of the reviewers have worn the shoe for 2+ years! Of course, the shoe's wear-and-tear depends on how heavy it's been used but overall, the Wool Runners remain in a rather solid condition for the first 8-10 months of regular wear.
The two parts of the shoe which suffer the most are the upper and the outsole. The toebox deflates and collapses over time and also tends to wrinkle. As for the outsole, its tread pattern fades out leaving you with a more slippery shoe.
Fact check
There is no rubber outsole to protect the shoe's exposed foam In addition, the bottom surface lacks firmness which is often correlated with less longevity. For comparison, it is 22% softer than the Tree Dasher which has a rubber layer.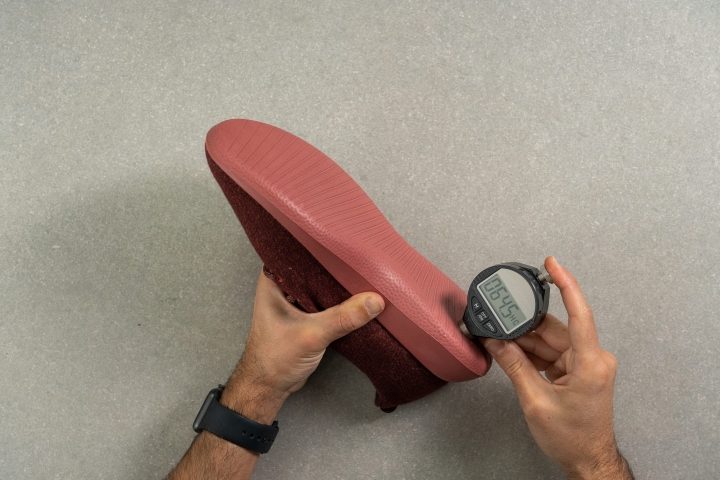 Stay away from slippery surfaces in the Wools Runner
This Allbirds shoe has good enough traction for common urban surfaces: paved roads, rubberized flooring, concrete, and asphalt. However, given the lack of lugs and a very smooth outsole surface, it's better not to check the shoe's grip on wet tile, muddy trails, ice, or rocks.
Remember that the shoe's grip also fades away with use. One reviewer even says that "[he's] almost eaten it on a subway platform wearing [his] faded Allbirds on a rainy day in NYC."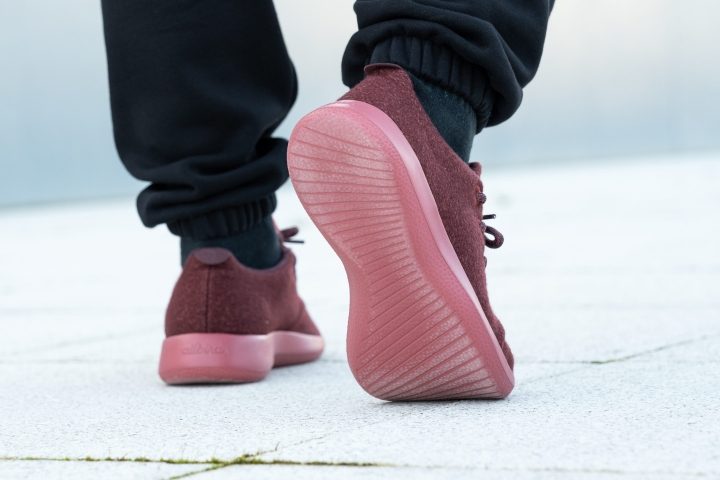 Allbirds are super light shoes!
The Wool Runner weighs 8.9 oz (252 g) in a men's US size 10. Compared to the average 11.3 oz (320 g) for men's walking shoes, it "feels like wearing nothing," according to the reviewers. Some people also take note of the excellent weight-to-comfort ratio of the Allbirds.
Sustainability is at the core of this shoe
From the ground up, the Wool Runner is made of sustainable materials. Sugarcane-based sole, castor oil-based insole, certified Merino wool upper, and shoe laces made of recycled plastic bottles. This shoe screams "go organic!"
And that's not to mention that it emits 43% less CO2e compared to a standard sneaker.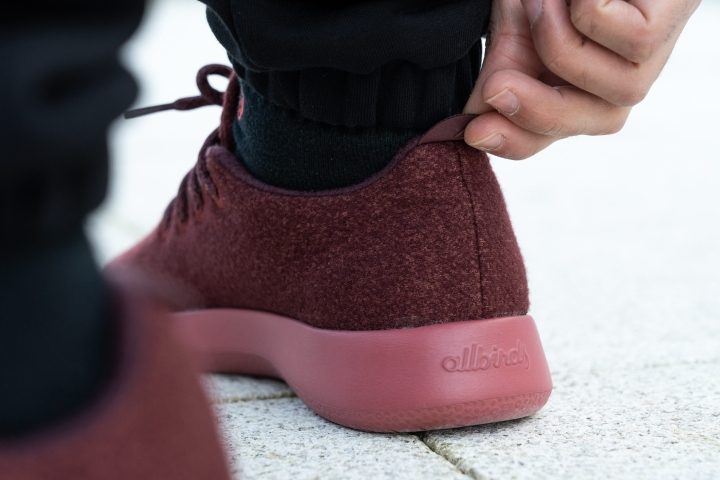 Couldn't be easier to take care of
The reviewers all agree that this Allbirds shoe is making life so much easier. To keep them clean, you can just throw them into the washing machine and let to air dry. But here are just a few tips from the shoe owners that prevent the wool from deteriorating quickly:
remove the insoles and the laces
put the shoes in a delicate's wash bag
wash on the gentle cycle
put cardboard or paper balls inside to protect the shape
let them air dry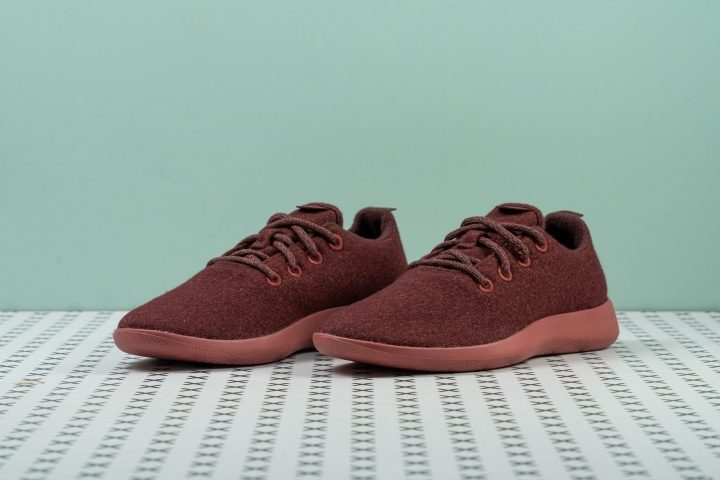 And if you don't have a washing machine at hand, some wearers were able to wash the shoes by hand, and they still looked like new afterwards.
A few people mentioned that although they love the white and lighter colorways, their maintenance is "admittedly more intensive" than for the darker ones.
And several others complained that the Wool Runner is slow to dry. For them, it took anywhere from 24 to 48 hours.
Simple but so elegant
The fact that the shoe has nothing catchy or flashy about it really makes it stand out from the crowd. You can even barely see the logo. So, be prepared to receive tons of compliments while wearing it.
Nearly all reviewers find it aesthetically pleasing and easy to dress up or down. It makes it an easy pick for daily wear on various occasions as it looks "casual and clean."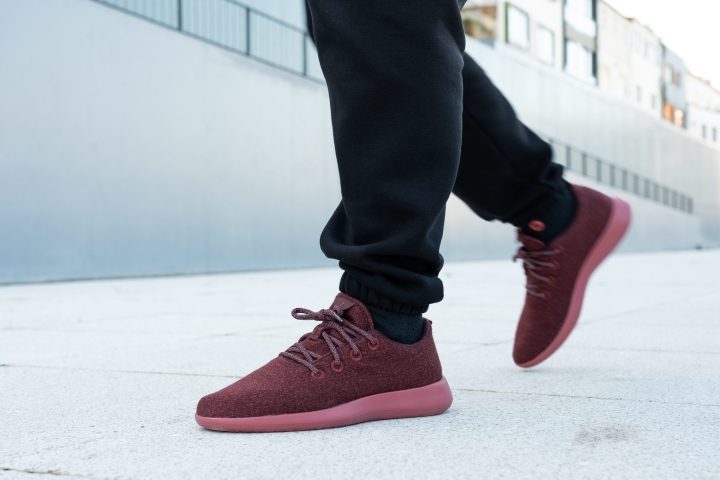 There are 12 different colors to choose from with Natural Grey being the crowds' favorite. As one reviewer says, it's got "a minimal and subdued look."
You might be surprised to find out that people like Obama, Mila Kunis, and Jessica Alba have been spotted wearing this Allbirds shoe. And Leonardo DiCaprio even invested in the company due to its sustainable approach.