Despite its simple looks, we believe that the Allbirds Tree Runner is very likely to entice you into buying multiple pairs. The merino wool goodness blended with a lightweight, flexible, and foot-hugging design is what made us love the shoe on the first try. Take it on your next trip or wear it around the office, the Tree Runner is going to feel equally at home.
Pros
Extra comfortable interiors
Equally cozy in 40 and 85ºF
Can be worn without socks
Lightweight and packable
Flexible sole
Removable insoles
Easy to style
Machine washable
Sustainable design
Cons
No half sizes
Lacks arch support
Who should buy the Allburds Tree Runners
This extra comfy option from Allbirds is a perfect choice if you need the following:
a shoe for all-day wear that feels like a bedroom slipper
extra light footwear for traveling that can be squeezed into a carry-on
a highly sustainable product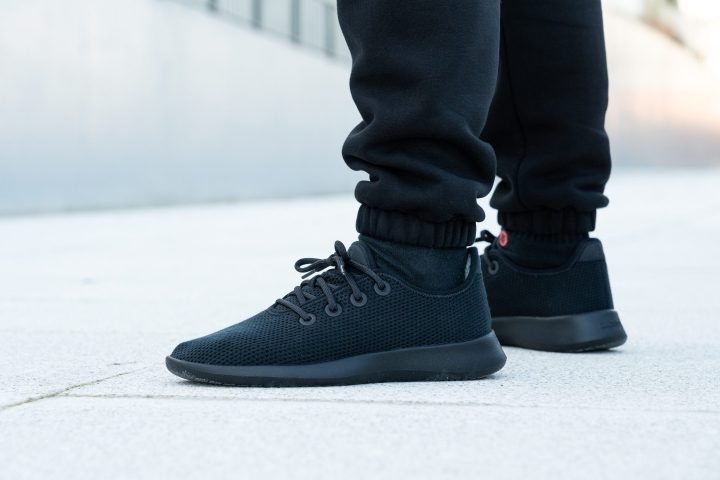 Who should NOT buy the shoe
Even though it's partially made of wool, this Allbirds shoe doesn't do well in colder temperatures. Consider the Allbirds Wool Runners for chilly weather instead. And if you expect lots of rain or snow, the Wool Runner Mizzles will be a better option.
The Tree Runners is also NOT meant for running. Yes, it's got the word "Runners" in its name which can be misleading but it is in fact a dedicated walking shoe. For running, see the Allbirds Tree Dasher.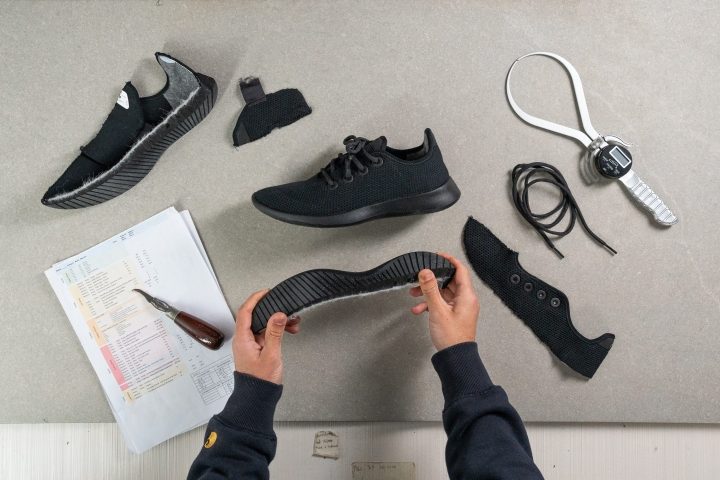 Keeps your feet fresh and odor-free
We couldn't give enough positive feedback regarding the shoe's thermoregulating and odor-reducing materials. Made of breathable eucalyptus fiber, it lets the heat escape easily. Even in 85-degree weather, our feet stayed completely dry and odor-free.
In our smoke test, we found that the Tree Runner is actually not the most breathable shoe on the spectrum. On a 1-5 scale where 5 is the most breathable, we rated the shoe with 3. For comparison, the Tree Dasher is a much more breathable option with a score of 5.
Allbirds Tree Runners (left), Adidas Runfalcon (right)
On the bright side, the ventilation pores are spread all throughout the upper, helping to create a consistent airflow.
In addition, the shoe has a very thin tongue (only 1.2 mm) which prevents the interiors from getting too warm. For reference, the average tongue thickness on athletic shoes is 5.8 mm.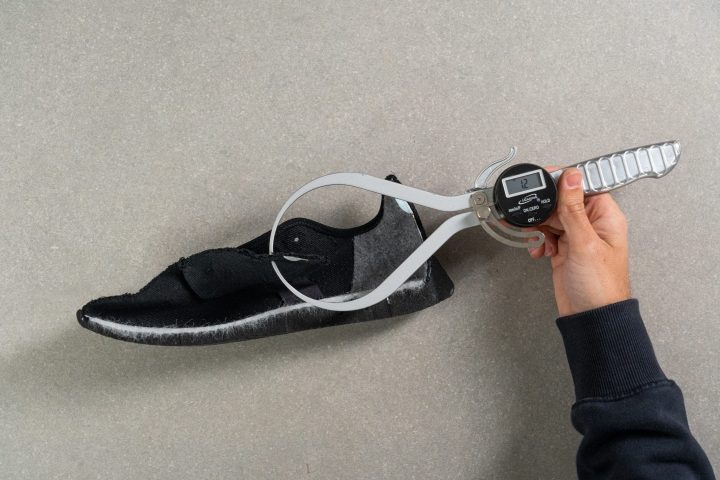 Socks or no socks - you decide
We found that the Tree Runner can be worn either way: with or without socks. The merino wool works wonders with comfort and moisture-wicking. We consider the pair as one of the consistently freshest-smelling shoes we have in our repertoire.
However, we still do recommend wearing light socks if your feet are especially prone to sweating and odor.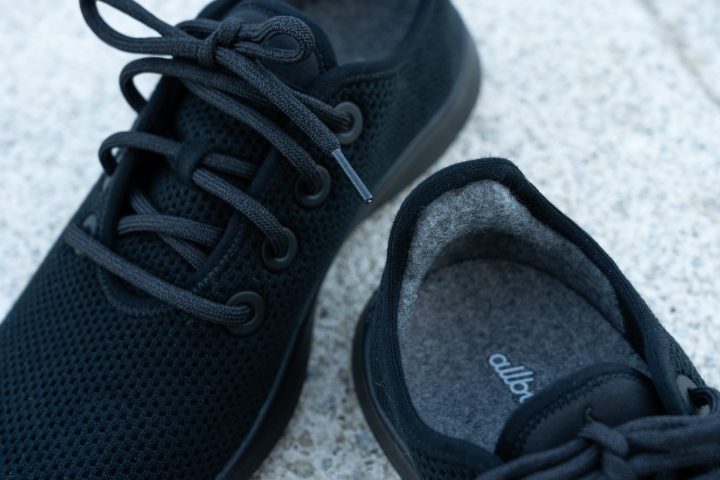 Allbirds Tree Runners can fit into any scenario
Knocking around the house, having lunch with friends, walking around the office, standing on feet all day - the Tree Runners have got you covered for all of these occasions and many more.
We admit that it has also made a great impact on us as a travel shoe. It is lightweight, easily packable, doesn't take up much space in the bag, keeps us cozy on the plane, and is very easy to slip on and off at security checks.
Remains comfortable for many hours on end
The Allbirds Tree Runner has become our go-to when we want one cozy shoe to put on in the morning and forget all about it until we go to bed. We feel that it's supportive enough to keep the pain-free.
As for the nature of the sole, we discovered that it provides a nice amount of cushion and it is not too soft and not too firm.
Based on our durometer measurements, the Tree Runner strikes a balance between the two. It is 11% firmer than the Tree Dasher but 10% softer than the Wool Runner.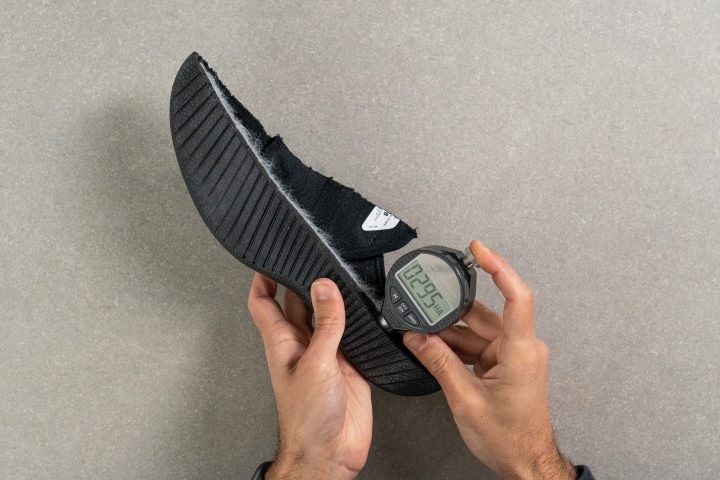 Disclaimer: We take all our measurements 5 times prior to noting down the results to ensure accuracy. The photo shows the last measurement.
The shoe also packs a good amount of underfoot foam for extended periods of walking. We measured the heel stack at 31.1 mm which is the average for athletic shoes.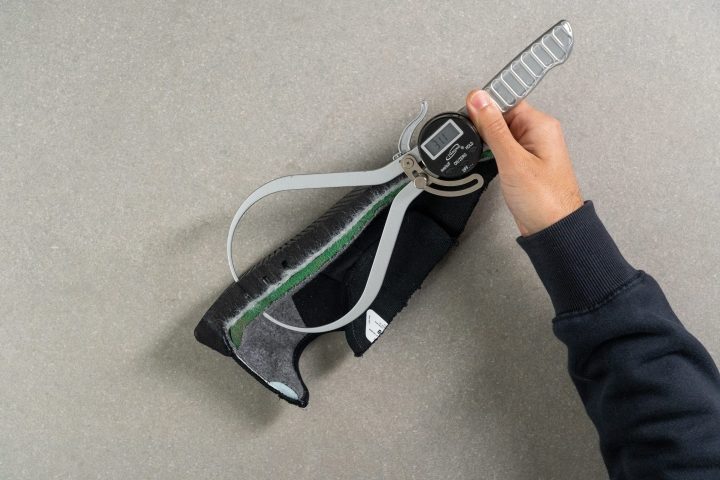 In the forefoot, the midsole is thinner at 18 mm. This creates a pretty noticeable heel-to-toe drop of 13.1 mm. This means that your heel gets plenty of cushioning for impact protection as you land your foot on it with each step.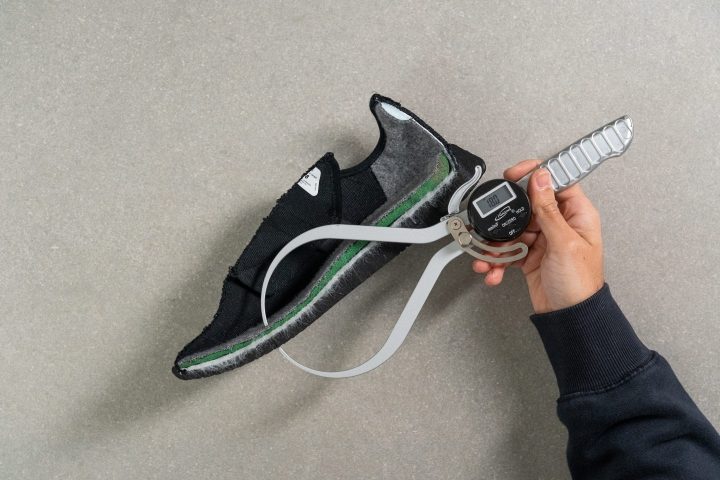 Padded insole feels like a cloud
We absolutely enjoyed the insole of the Allbirds Tree Runners. It is also covered with merino wool, giving us a more pleasant sensation. We feel that it is the most heavily padded part of the shoe.
The insole is indeed quite heavily padded. At 7.2 mm, it is 38% thicker compared to the average of insoles in running shoes!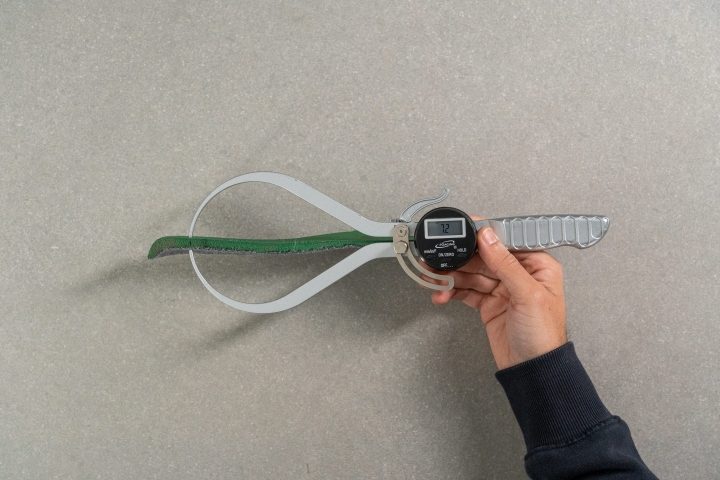 Great news is that the insole is easily removable. It can be replaced with a new one from Allbirds for $15 to extend your pair's life.
Unbelievably flexible!
The shoe's extra bendy sole can make you feel like you are walking barefoot, only protected from stepping on sharp objects.
Our resistance check of the Allbirds Tree Runners shows phenomenal results. It is 60% more flexible than our lab-tested shoes. Only shoes like Nike Free and Nike Flex can compete with the Allbirds in that regard.
In our manual assessment of flexibility on a 1-5 scale where 1 is the most flexible, the Tree Runners received a solid 1 for both torsional and longitudinal flex.
Tree Runner is not a shoe for flat feet
Because of how pliable the shoe is, we believe that it doesn't make a very stable platform for people with flat feet, overpronation, or any other foot conditions that require additional arch support.
Good thing the insole is easily removable and can be replaced with custom orthotics.
So light you barely feel it
We can't find another way to describe this shoe but light as air. We are happy with the lightness of this Allbirds shoe which makes us forget about wearing a shoe in the first place.
Tipping the scales at 8.6 oz (245 g) in a men's US 9, it is 22% lighter than walking shoes on average.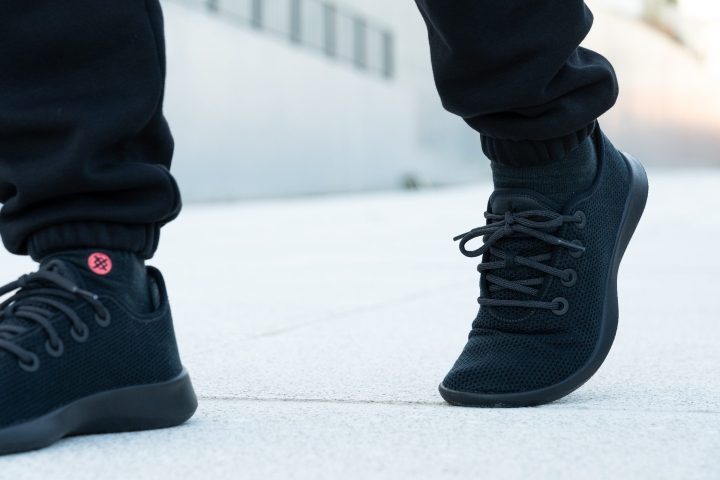 True to size with no breaking in
The Allbirds Tree Runner requires no break-in period and feels comfortable from the off. We also find it true to size.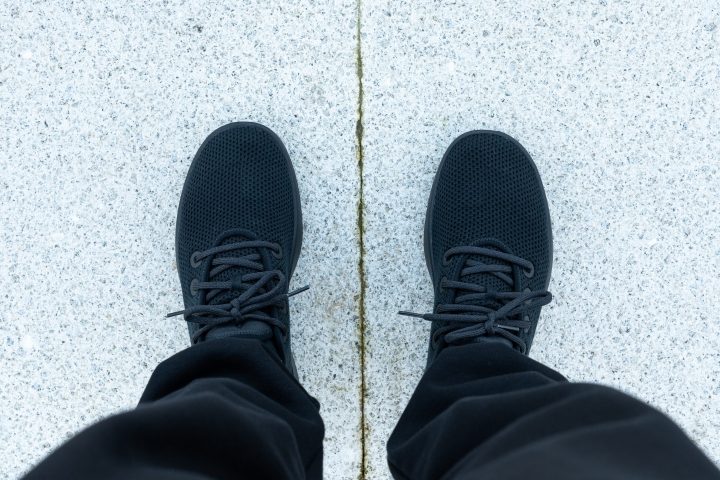 The shoe's toebox is very accommodating for average-to-wide feet. In its widest part, we measured the shoe's toebox at 99.1 mm.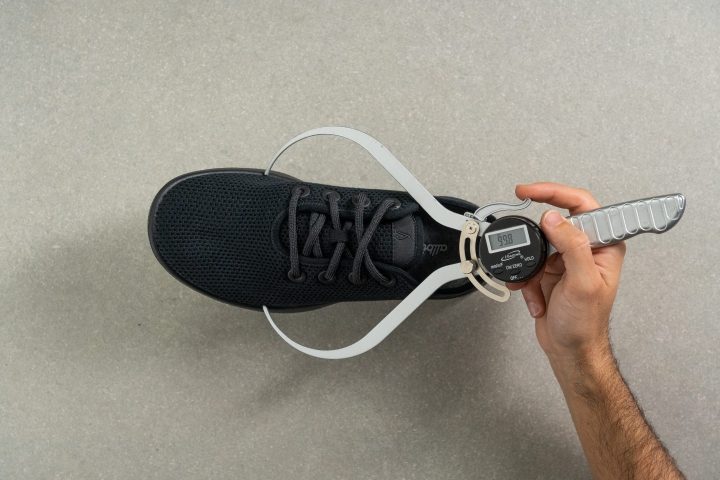 We measured the internal length of the shoe to be 260.7 mm in a men's US 8 size. This corresponds to Allbirds' official size chart where the US 8 equates to 260 mm.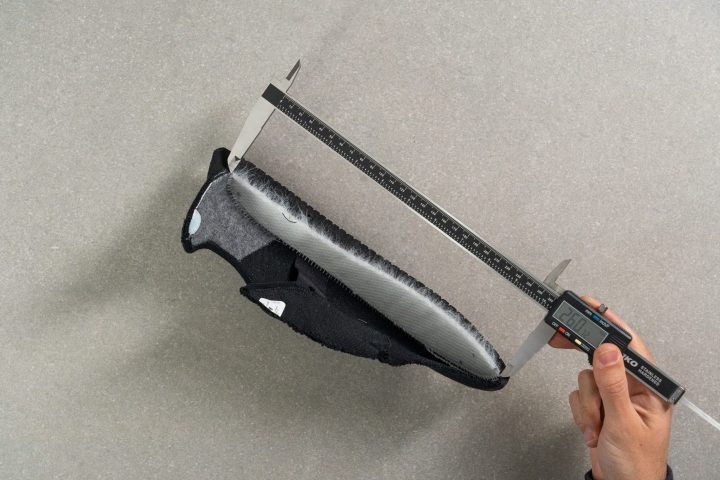 Tip for the ladies: If you can't find the Tree Runner in your size or don't like the colorway, you can opt for the men's version in a smaller size. Go down 1.5 US size from your women's Allbird size.
Can last for years with moderate use
We discovered that as long as you don't put the shoe through the wringer or take it hiking, the Allbirds Tree Runner is going to serve you more than one season.
Given the absence of an extra rubber layer at the bottom, this Allbirds shoe is going to be more prone to wearing out. Another factor that detracts from longevity is the level of density at the bottom of the shoe.
We measured the latter to be 23% softer than the average of shoes with rubber outsoles. So, it's better to avoid going hard on the shoe if you hope to wear it for a long time.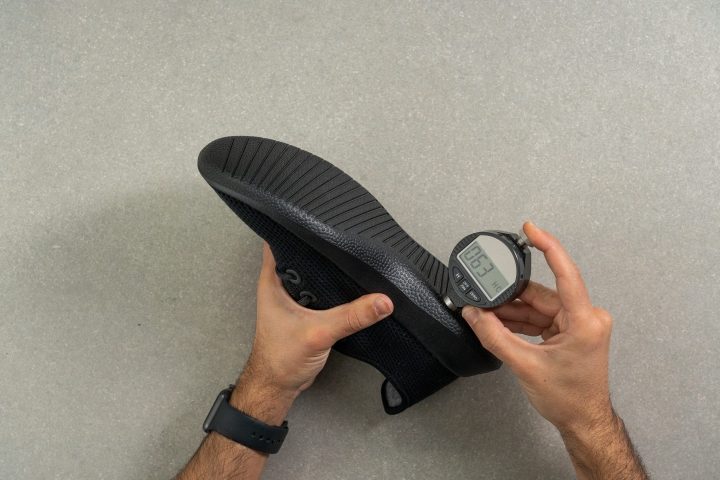 Grip is alright on dry surfaces
We found that the shoe is going to keep you surefooted on concrete, asphalt, rubberized floors, tile floors, etc., as long as all of these are dry. This is definitely not the type of outsole that will do well on wet.
One positive aspect of it though is that the Tree Runner seems to be rather quiet on smooth surfaces.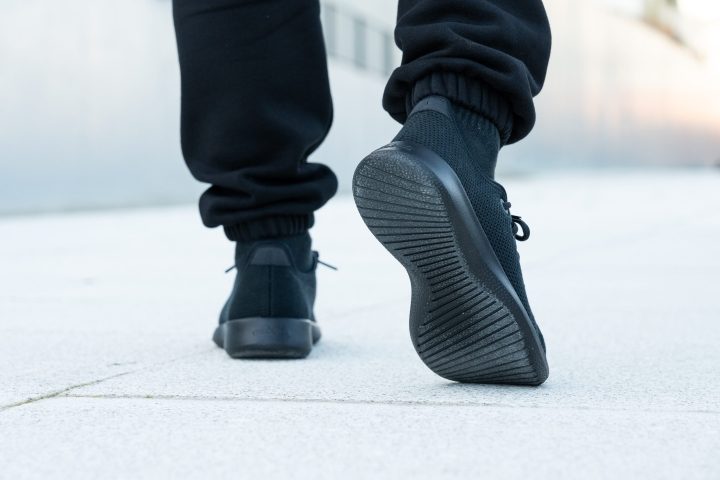 Allbirds shoes love the planet
Sustainable manufacturing lies at the core of the Allbirds brand. We were more than happy to join the environmentally conscious crowd when we purchased this pair of Tree Runners.
Nearly every piece of the shoe is made of a responsibly sourced material, including:
sugarcane-based SweetFoam sole
eucalyptus tree fiber upper
Merino wool heel lining
castor bean oil-based footbed
laces made of recycled plastic bottles
The shoe also prides itself on having a carbon footprint of 6.77 kg CO2e.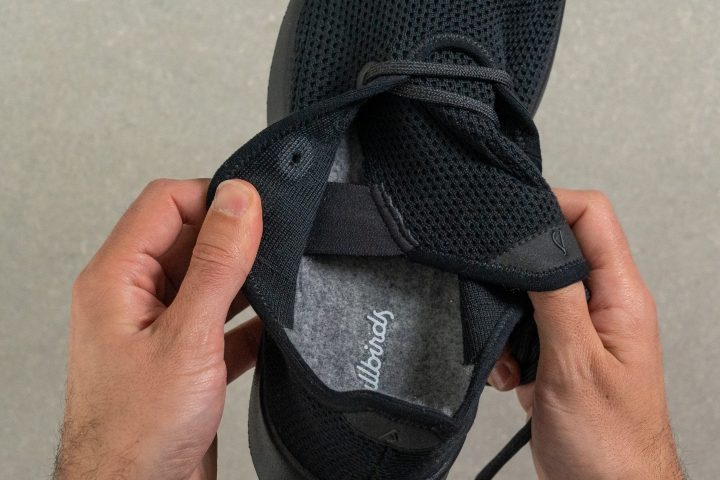 Minimalist design that's easy to style
We appreciated the simplistic vibe of this Allbirds shoe. However, we are aware that some people might still find it too bland, underwhelming, and even boring.
But for minimalism purists, we believe that the Tree Runner is a real gem. It has a straightforward and effortless style that can be worn with almost anything. Heck, we even got compliments from strangers when wearing the shoe!
The Allbirds Tree Runner is available in a dozen various color options, both subdued and bold to match your personal taste.
Easy to take care of
Giving the shoe its fresh look back couldn't be easier. Once every few weeks or months, we suggest taking out the laces and insoles, putting the Tree Runner in a delicates bag (or a pillowcase), and throwing it into the washing machine. Be sure to use cold water and a gentle cycle with mild detergent.
Allow the shoe to air dry.
Complete lab-specs overview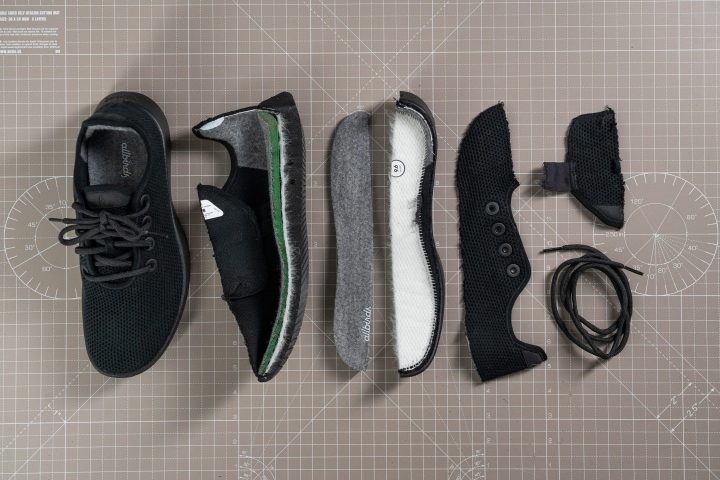 Allbirds Tree Runners
Average
Whole shoe

Weight (g)
239
235
Drop (mm)
13.1
14
Overall Internal Length
260.7 (men's US 8)
261
Flexibility of the shoe (N)
12.2
13
Flexibility of the shoe (Freezer 20 min) (N)
20.1
24

Flexibility of the shoe (% of change)

64.8
77.5
Longitudinal flexibility (1-5 scale, 5 being the stiffest)
1
1.0
Torsional flexibility (1-5 scale, 5 being the stiffest)
1
1.0
Upper

Thickness - Tongue (mm)
1.2
2.0
Width Upper - Forefoot (mm)
99.8
99.7
Width Upper - Heel (mm)
77.9
77.1
Flexibility of the heel counter (1-5 scale, 5 being the stiffest)
1
1.5
Tongue: gusset type
both sides (semi-gusseted)
-
Heel: pull tab
none
-
Midsole

Width Midsole - Forefoot (mm)
110.6
110.6
Width Midsole - Heel (mm)
82.6
83.5
Stack - Forefoot with insole (mm)
18.0
17.3
Stack - Heel with insole (mm)
31.1
31.0
Durometer Midsole Heel (Room temperature) (HA)
29.6
31.2
Durometer Midsole - Heel (Freezer 20 minutes)
40.9
42.2
Durometer Midsole - Heel (% of change) (TEST)
38.0
35.4
Outsole

Outsole thickness (Heel) (mm)
0.0
0.0
Durometer Outsole Heel (Room temperature) (HC)
62.1
63.4
Insole
Insole Heel Thickness (mm)
7.2
7.0
Insole: removable
yes
yes