7 Best Shoes For Walking On Concrete in 2023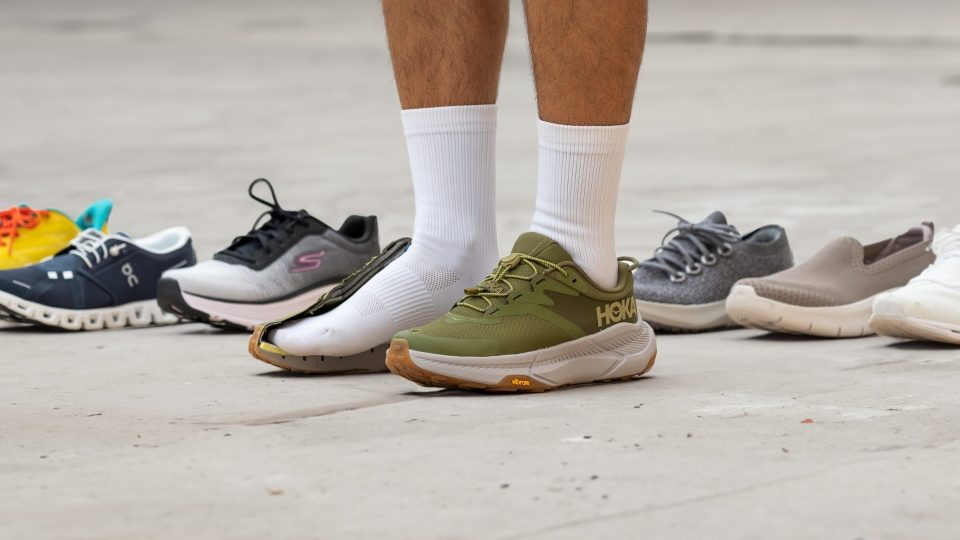 We earn affiliate commissions at no extra cost to you when you buy through us. Why trust us
Standing long hours on hard surfaces will essentially take its toll on your feet and whole body. To help alleviate this pain, you must wear a nice pair of walking shoes suitable for concrete.
To help you out, we have gathered several recommendations that you can use for your difficult days at work or your next walking session. Mind you, we subjected these walking shoes to intensive testing before we even vouch for them. Read over our life-changing suggestions to make your walks and stands on concrete more fun and enjoyable.
Comparison of the 7 best shoes for walking on concrete
| | | | | | | | | |
| --- | --- | --- | --- | --- | --- | --- | --- | --- |
| Best | | | | | | | | |
| CoreScore | | | | | | | | |
| Users rating | | | | | | | | |
| Experts | | | | | | | | |
| Best price | | | | | | | | |
| Ranking | | | | | | | | |
| Popularity | | | | | | | | |
| # of colorways | | | | | | | | |
Choosing the best shoes for walking on concrete
Walking on concrete surfaces can be tough on your feet, causing discomfort and even pain if you're not wearing the right shoes. Fortunately for all of us, we are living through the middle of a true golden age in walking shoe technology and innovation.
The support and cushioning of today's walking shoes are well-equipped for pounding pavement all day long.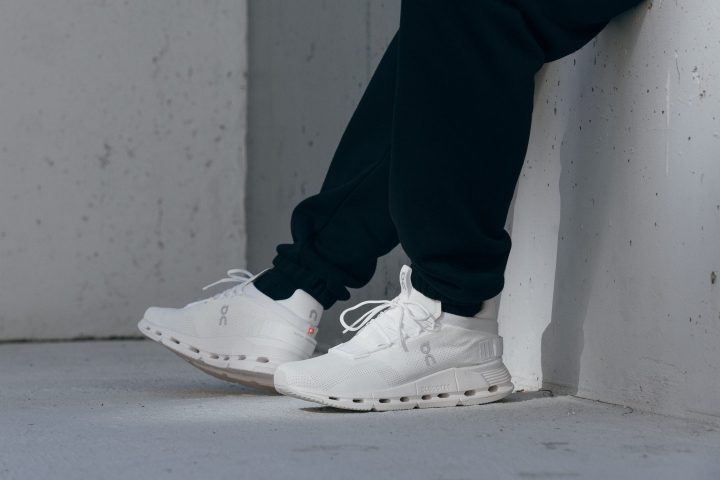 The importance of proper footwear on concrete
Let's face facts: human feet simply did not evolve to walk on hard surfaces like concrete. Proper footwear is an essential adaptation tool to keep your feet comfortable, protected, and injury-free.
Walking shoes designed for concrete surfaces offer abundant cushioning and support that not all walking shoes possess. They also have the style and versatility that many athletic shoes lack to make them suitable for work, city life, and travel.
Key features to look for in concrete walking shoes
Concrete is hard, unforgiving, and can get slick in wet or icy conditions. When choosing concrete walking shoes for accruing miles on sidewalks, roads, and paved pathways, a few features become more important to consider.
Cushioning and shock absorption technology
Walking on concrete – or other hard manufactured surfaces – subject your feet to repetitive, unforgiving impact forces, leading to discomfort and fatigue.
The best concrete walking shoes feature relatively thick midsoles and insoles to provide lasting protection.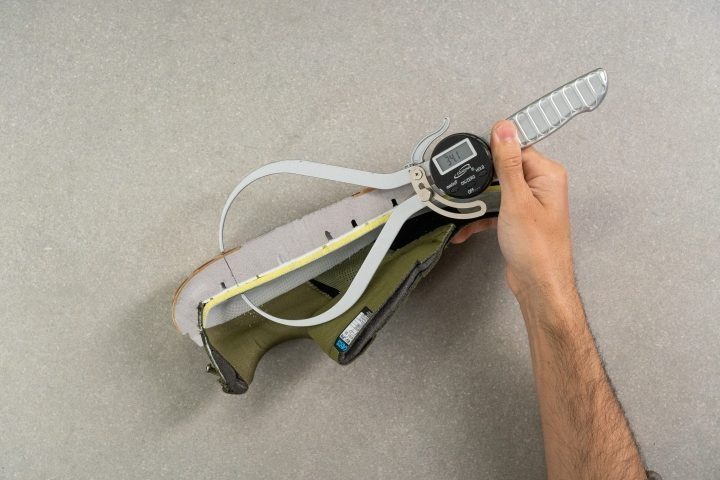 At least 30 mm of stack height in the heel is essential for comfortable walking on concrete
Advanced shock absorption technology integrated into the midsole of your shoes can further counteract this effect. Look for features like gel cushioning, air pockets, or advanced EVA foam that effectively absorb and disperse shock, providing you with a smoother walking experience.
Flexibility
The ability of the shoes to bend and twist in line with natural foot movements enhances comfort and proper biomechanics.
Shoes that are too rigid can impede your gait and lead to discomfort, especially on hard surfaces like concrete.
Concrete walking shoes should offer a balance between support and flexibility, allowing your feet to move naturally while providing the necessary cushioning and structure.
Outsole durability and traction
The outsoles of concrete walking shoes are engineered for durability. Rugged outsole compounds and a thicker construction will help your shoes withstand the abrasiveness of concrete surfaces without wearing them out quickly.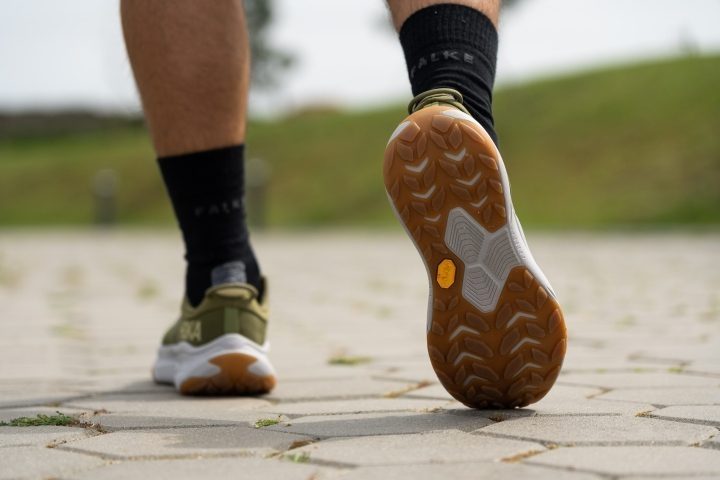 The traction pattern on the outsole enhances grip, providing you with stable footing even on smooth or wet concrete.
In our lab, we also use a durometer to measure how hard each shoe's rubber is. Generally, softer rubbers have better traction while harder compounds tend to last longer.
| | | |
| --- | --- | --- |
| | Hoka Bondi SR | Hoka Transport |
| Rubber hardness | 73.1 HC | 81.9 HC |
| Benefit | slip-resistant, better grip | more durable and hard-wearing |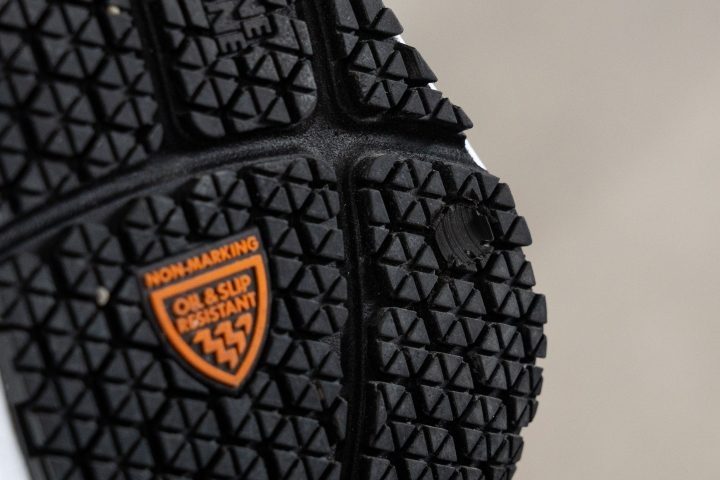 In our durability test, the Dremel left a much deeper dent on the Hoka Bondi SR's soft rubber than on most shoes. Our tread gauge shows 2.5 mm of depth as opposed to the average 1.6 mm. But the shoe's slip-resistant capacities are phenomenal.
Brand spotlight: Top brands with walking shoes for concrete
Hoka
Hoka is well known for its max cushion approach to running and walking shoes. The Hoka Transport model is especially well-equipped to tackle the challenges of concrete surfaces. With its emphasis on cushioning and support, the Transport offers a comfortable and stable experience for long days on hard ground.
On
On's shoe design philosophy makes them one of the best brands for concrete walking. The Cloudnova combines style and performance, while the Cloud line offers remarkable cushioning and comfort. For cold and wet climates, the waterproof edition of the On Cloud is an excellent concrete walking shoe.
Allbirds
Allbirds is known for sustainable and stylish footwear, and their Tree Runners shine on concrete. Combining eco-friendliness with comfort and a city-friendly aesthetic, these shoes provide a lightweight and cushioned feel for walks taking you just about anywhere.
Style and design in concrete walking shoes
Concrete walking usually implies walking in the city or for work, so concrete walking shoes should be stylish and versatile in a way that many athletically-oriented running and walking shoes are not.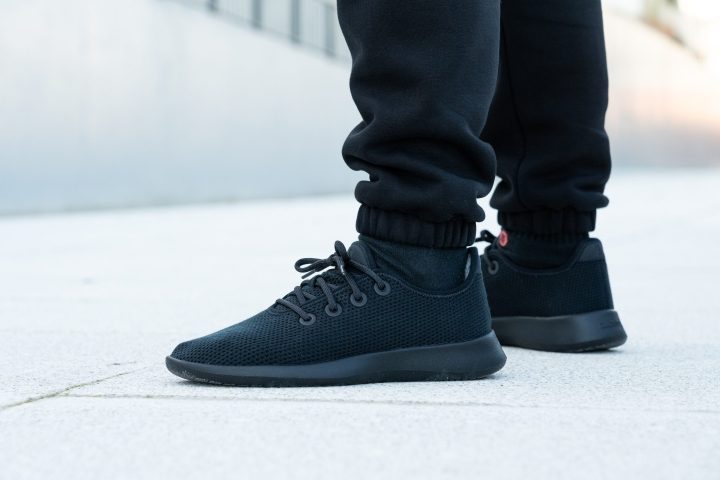 The best concrete walking shoes feature sleek designs and thoughtful colorways to work with any outfit and social environment. Certain brands, like Allbirds and On have mastered this without sacrificing the all-day comfort, support, and cushioning that are needed for concrete surfaces.
Again, this is ultimately dependent on your personal preference, but the best concrete walking shoes successfully blend form and function to maximize their versatility.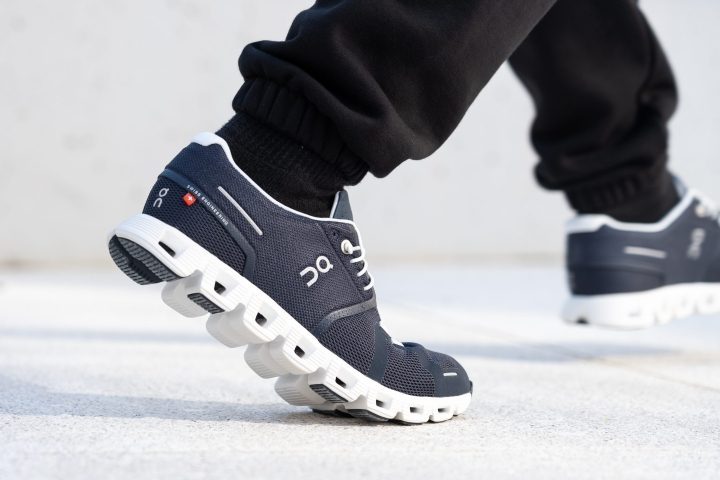 FAQs
Can I use running shoes for walking on concrete?
Many running shoes double well as concrete walking shoes, but not all will offer sufficient cushioning and support for concrete and other hard surfaces.
Running shoes also often have bright colorways and a sporty aesthetic, which is not always ideal for work or travel.
Concrete walking shoes will have versatile and stylish designs, along with excellent cushioning and support.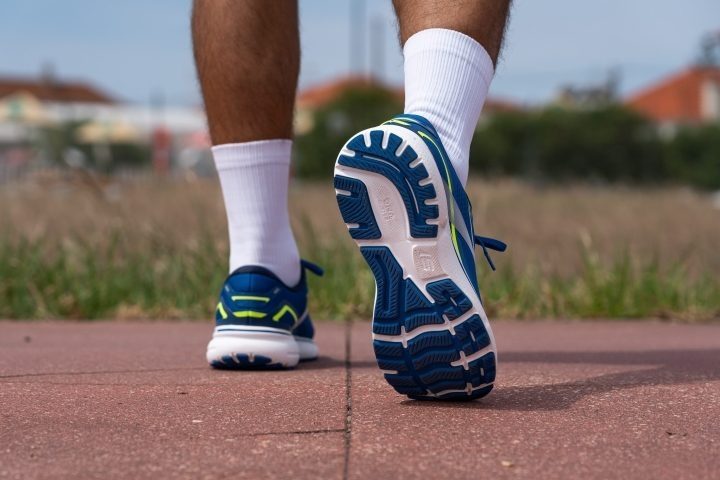 You can find hundreds of great shoes for walking on concrete among our road running shoes.
How often should I replace my concrete walking shoes?
It's generally recommended to replace walking shoes every 300-500 miles. However, signs of wear and reduced cushioning can be indicators for a replacement.
How we test walking shoes
We have meticulously assessed and tested more than 80 walking shoes to help you find the best one for you. For honest and fair reviews, here is our approach:
We buy these walking shoes using our money.
We put these shoes through a series of wear tests to determine their comfort, durability, flexibility, and many other parameters. We walk, stand, and even lightly jog in them on various surfaces, focusing on cemented or concrete ones both indoors and outdoors.
We also do tests on them in our lab. We slice the walking shoes to get a better perspective on every piece. One essential characteristic we look for in the best walking shoes on concrete is stability. Usually, the criteria we focus on for this are midsole hardness which is measured using our durometer, base width that's acquired using our caliper, and flexibility which is picked up using our digital force gauge.