8 best narrow running shoes
Updated August 2018
Based on 870 reviews
Loading please wait...
The Importance of Fit in a Running Shoe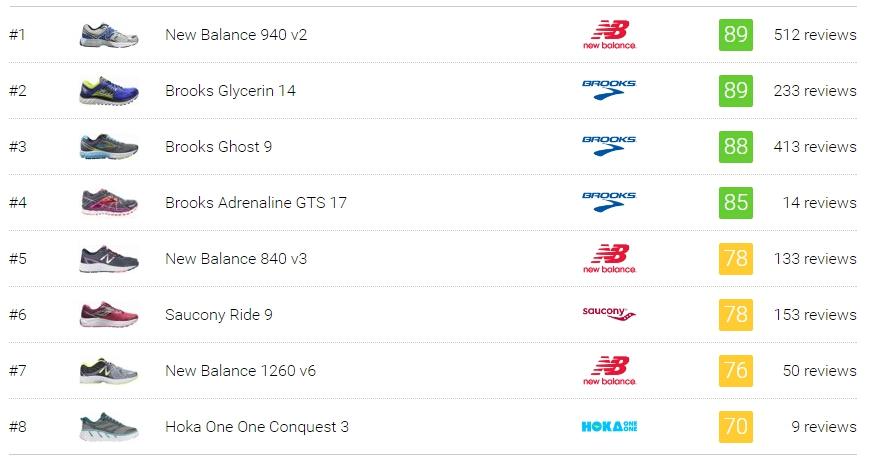 The value of getting the best fit can never be overemphasized in a running shoe. It is the biggest key in having a comfortable ride.
A runner is almost guaranteed of trouble, even a few strides into a run if the fit is nowhere near perfect. An ill-fitting shoe spells pain, regardless of distance or speed.
If a shoe is too wide, a twisted ankle, black toes during descent, and pain are almost guaranteed. If a shoe is too limited, there can be no question that blisters, hot spots, or irritations are bound to happen.
The price tag or the logo has no bearing when it comes to fitting. Runners are advised to try on the shoe without bias towards a certain brand as any manufacturer can deliver the best fit for a specific individual.
What should be the right fit?
The most comfortable fit hugs the foot in all the right place with decent flexibility for natural movement. It should be snug in the heel and midfoot without being overbearing and with enough room in the toe box for the toes to splay.
The toes should be able to do the "piano" movement without restriction while the entire frame has adequate space, support, and security.
Is shoe width true across all brands?
Shoe width is typically true, but not all the time. A size 7 could vary from one brand to another. In some cases, even the same brands featuring different lines of shoes, but with the same size number, could even vary in fit.
How do you know if you need a narrow running shoe?
When you feel like moving all over the place or when the run is quite sloppy, a narrow shoe should be greatly considered. Getting blisters from unstable movement in the heel and forefoot are also indications of a fit that needs to be more snug all over.
When you feel like you have used up every lacing technique possible and the shoe still moves like it has a life of its own, then it is a clear sign that a slimmer version of what you are wearing is required.
What is a narrow shoe?
A narrow shoe is constructed on the same last as the standard model. The difference lies in the 10 millimeters of lesser space in the upper. This difference in space creates a more glove-like fit and helps prevent unnecessary movements.
The difference may not look or sound that much, but the effect is very substantial as it can free the runner from pain, instability, and even injury.
If the midfoot and heel sections have adequate security, a more streamlined upper should do the trick in a fit that is a bit lopsided.
Is there an extra slim shoe?
Yes, there is. In an extra slim shoe, the last itself is 20mm narrower than the one used in a standard version. Together with the reduced space in the upper, the shoe should wrap the foot comprehensively.
If the heel and midfoot sections move freely, an extra slim frame should be really considered.
Are narrow shoes common?
Slightly slimmer shoes are not as common as a wide version. But, before you cry in desperation, there are still more than enough brands that continue to produce the narrow option.
The number of options coming from different producers also enable you to extend your choices. Getting the right fit should not limit you to one brand because of the numerous alternatives available.
How do I make sure that it is not too tight for me?
When checking out for running shoes, try to go in the afternoon when your feet have swollen from standing, walking or working. It will give you a gauge in looking for the best fit.
Try bringing your own socks for running. You can put these socks on to get a good feel about the shoe's fit.
When you are wearing your socks and your feet have widened to a certain degree, you should be able to have a very good idea that the right fit is there for the taking.
Finally, with slender fit, the rule of thumb is still to be followed. There should be half an inch between your toes and the end of the forefoot.
Get what you need
Slimmed down versions of standard shoes are relatively abundant. There are shoes that can accommodate the needs of different types of runners.
Narrow shoes are available for those who want lightweight trainers, a stable, or a more cushioned and supportive shoe.
There are also road and trail versions of this kind of shoe. Regardless of where the runner intends to run, the options are available where a narrow running shoe is badly-needed.
This shoe has recently been added to RunRepeat. There are still not enough reviews for us to assign it a
Corescore
.
Corescore
A score from 1 to 100 that summarizes opinions from users and experts. The average Corescore is 78.
More...