If you're looking for a great middle between the more traditional, lower-stacked NB 880 v11 and the uber cushy NB Fresh Foam More v3, that's where the Fresh Foam X 1080 v12 sits. It's a comfortable cruiser that's perfect for anything easy to moderate. And with the copious amount of foam it possesses, it's a gem in long-distance runs where protection and stability are at the forefront.
Pros
Protective cushion
Lively ride
Smooth transitions
Stable when cornering
Comfy upper
Durable outsole
Welcomes wide feet
For heavy runners
Grippy on snow, slush, and slick surfaces
No lace bites
Great heel hold
An eye-catcher
Cons
Not for narrow feet
Bottom-heavy for fast runs
Questionable breathability
Who should buy it
Take the Fresh Foam X 1080 v12 from New Balance if you're looking for a:
highly cushioned daily trainer for long miles on the road
running shoes for easy to moderate days or progressive runs (where you start easy and finish fast)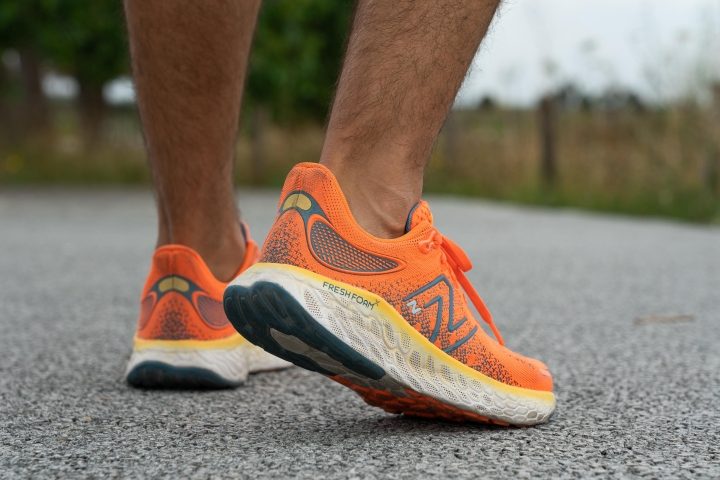 Who should NOT buy it
Those with narrow feet can have a more locked-in fit with the NB 880 v11 instead of the NB 1080 v12. And if you're looking for a true tempo speedster that won't weigh you down, get the NB FuelCell Rebel v2 or the NB FuelCell Propel v3.
New Balance Fresh Foam X 1080 v12 vs. v11
Gone is the "dreaded" UltraHeel design (less padding) in this iteration. For a comfier, more locked-in heel hold, it has more padding in the rear.
To have a stickier grip, the twelfth version has larger lugs.
For a more stable ride, it also has a wider base.
Surprisingly low drop (not as advertised)
After summarizing the reviews from running experts and avid runners around the world, we look at the lab data. This data point is by far the most unexpected one.
Fact check
We have measured a heel drop of 3.3mm while the advertised one is 8mm.
This means that the advertised stack heights (both forefoot and heel) were not confirmed in the lab as well and we covered that just below.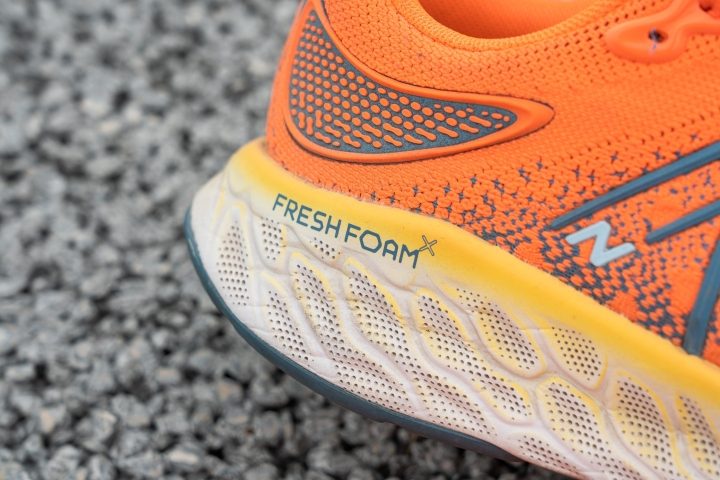 Mellows out the impact
As a more cushioned sibling to the NB 880, everyone agrees that the NB 1080 v12 kills it when it comes to protection. Even when pounding hard and heavy miles on the pavement, the majority state that they don't feel strained.
There's so much cushion underfoot; ground feel and shock absorption are a priority in this running shoe. They even recommend it to heavy runners.
Fact check
"So much" cushion turns out to be not so much after all: stack height at the forefoot is 23.6mm (while the average is 24.1mm) and at the heel it is 26.9mm (the average is 32.8mm).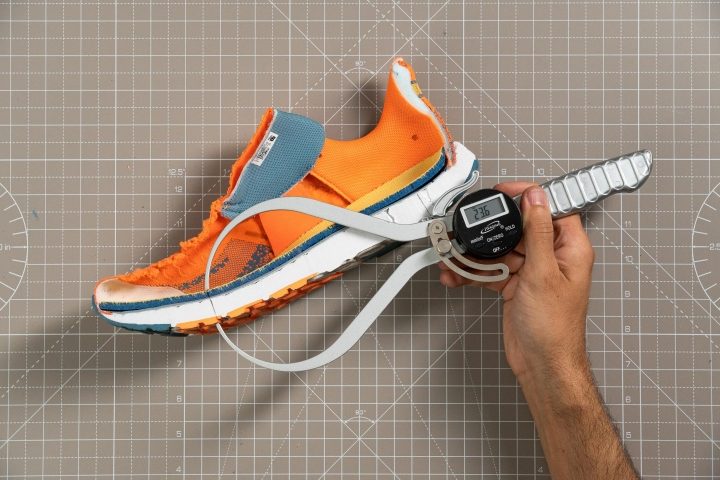 A little less weight would do
Although it has a bit of responsiveness for a quick change in pace and a fun ride, road runners still stay that it's not the best choice for fast runs. When placed head to head with lighter shoes like the ASICS Novablast 2, NB Fresh Foam X 1080 pales in comparison because of its bottom-heavy design.
For context, check out these weights:
New Balance Fresh Foam 1080 v12: 9.5 oz or 269g
New Balance Fresh Foam 1080 v11: 9.2 oz or 261g
ASICS Novablast 2: 9.9 oz or 280g
the average weight of daily trainers: 10 oz or 286g
They go on to show that the shoe only feels heavy due to its design.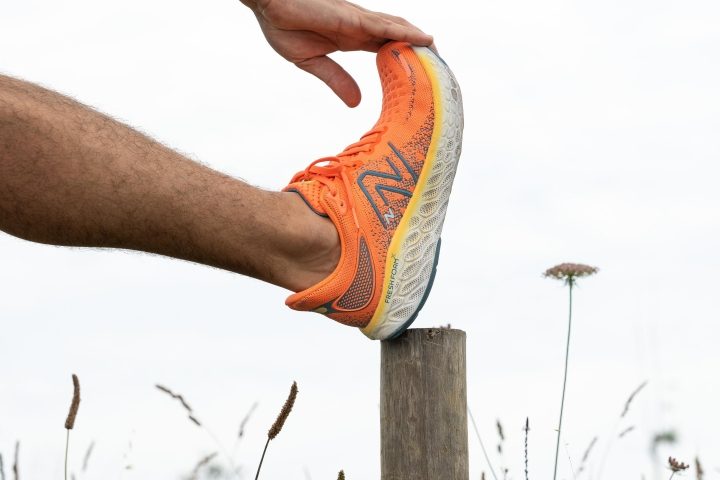 New Balance FF 1080 v12 is very soft
Everyone loves the overall softness that is noticeable momentarily at the step-in and that "it never feels mushy or unstable" as a tester has described it.
Fact check
Indeed, the lab numbers confirm it: this is one of the softest shoes we have ever tested. In the durometer measurements, the midsole at the heel scored 12.5 while the average for all shoes we tested so far is 29.8. For reference, some shoes score as high as 40 or 50.
Perfect for night runs
Look at it shine!
Smooth like butter
The heel-to-toe transitions are A-OK. One very experienced tester summarized this perfectly by saying that "the rocker-shaped midsole and resilient foam have been fine-tuned to enable quick turnovers."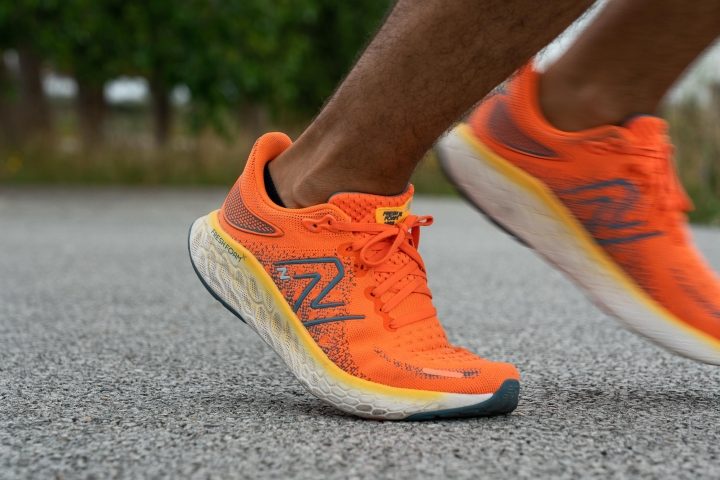 What also helps is the bigger amount of exposed foam which resulted in an avid runner saying "the rearfoot transitions are softer and smoother."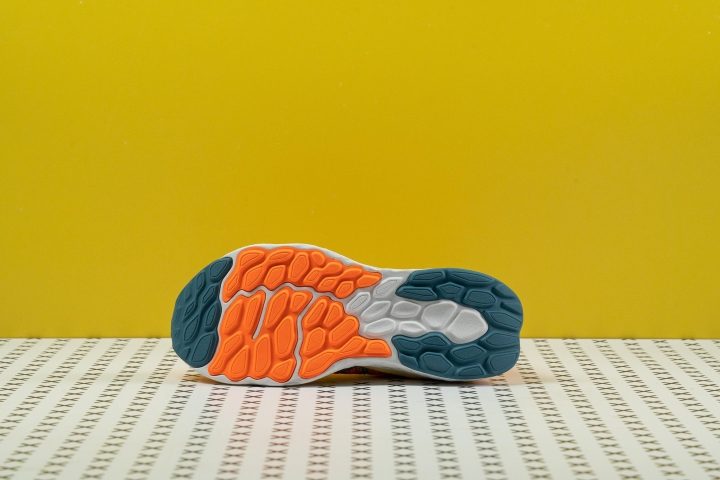 The new upper slays!
The NB Fresh Foam X 1080 v12's new Hypoknit upper is unlike other knitted uppers. Reviewers even say it's "one of the most impressive uppers" they've ever worn. It feels "premium and soft;" they have not experienced any rubbing or abrasion. One tester even said "The upper is extremely comfortable; so much so that you can even go sockless." Even better, it "seems to have the ability to stretch to accommodate any foot shape."
The heel only takes this feeling up a notch as it has more padding now than the v11. Those who are not fans of the past version say this is a welcome update as it eliminates the digging sensation of the last edition.
Experience a slip-free run
Apart from the comfort it delivers, the upper also generates a locked-in foothold that inspires confidence when even when cornering. And with the heel's more padded design, the heel clutch has been nothing but awesome.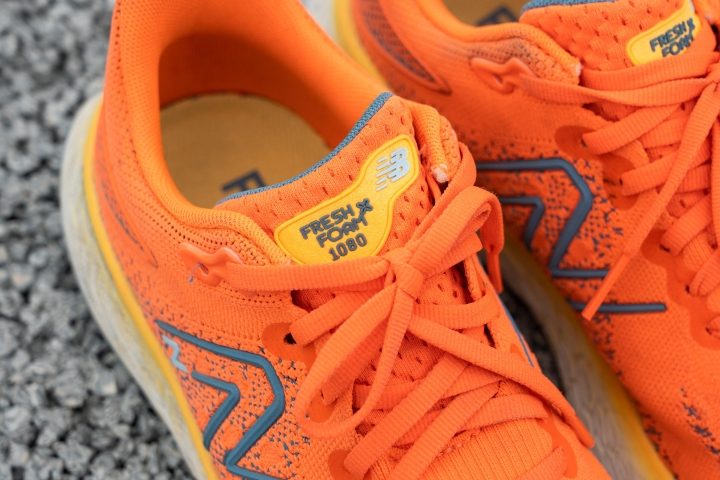 This said, runners claim that there's no need to lace lock this shoe at all. Experts also find the "wider base" a complement to this, making the ride even more surefooted.
Wide feet won't feel constricted in the Fresh Foam X 1080 v12
It's very roomy and accommodating up front; it doesn't feel tight even when the foot starts to swell. This has also been praised by broad-footed runners, saying it gives them enough room to feel comfortable.
However, those with narrow feet, and those who prefer a snugger fit find the shoe's toe box and midfoot too spacious. They say their feet were swimming in the shoe!
Fact check
Looking at the numbers, the forefoot is 97.0mm wide while the average is 98.7mm. Just about regular fit is present.
Hit-or-miss breathability
This is a polarizing topic! According to a running expert, the 1080 v12 "isn't very good at keeping the feet cool during the summer months." This does not lead to awfully sweaty feet and socks but is noticeable. However, another insanely experienced tester said it's "wonderfully breathable."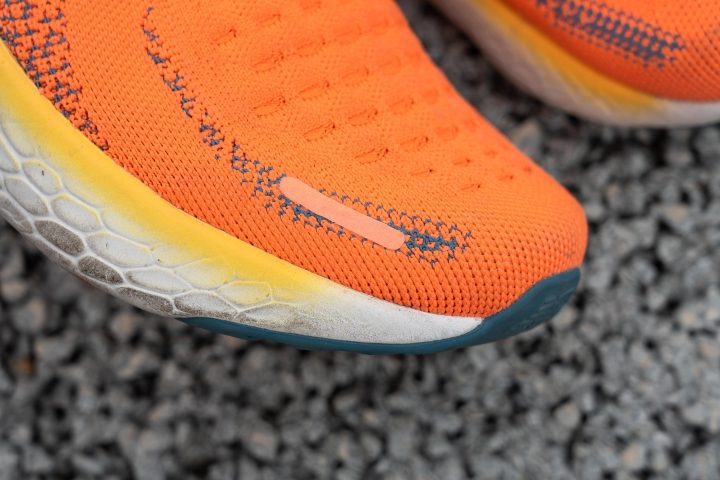 Tongue that protects
Speaking of tongue, the Fresh Foam X 1080 has just the right amount of padding. One runner explained it perfectly "The gusseted tongue is well padded and holds the midfoot very securely and very comfortably when lacing tight if you need to."
Using a caliper, we measured that the tongue is 3.6mm thick. Much thinner than the average: 6.1mm.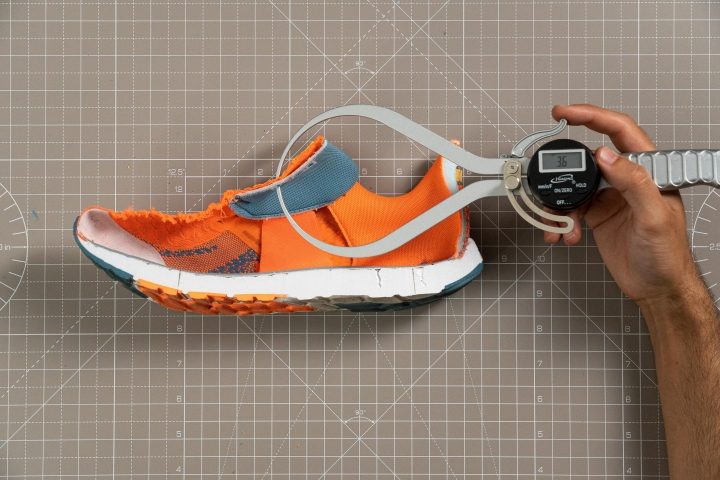 Traction is solid on New Balance Fresh Foam 1080 v12
For a road shoe, the New Balance Fresh Foam 1080 v12's grip is exceptional. On snow, slush, wet, and dry pavement, the outsole remains tacky. What's more, the lugs don't store rocks and pebbles.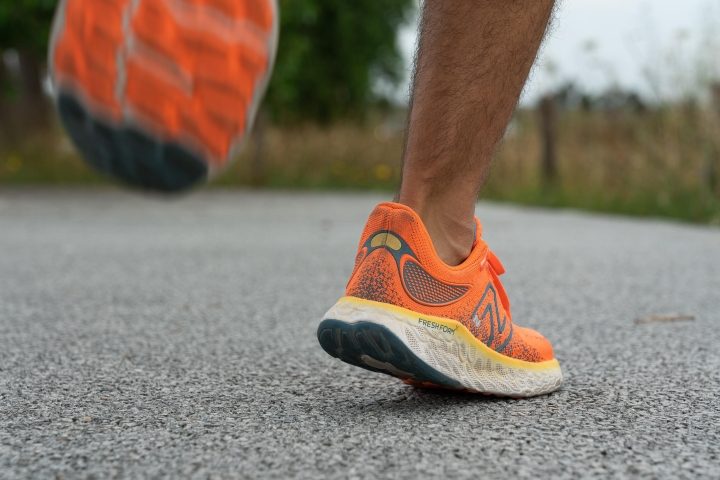 Built for the long haul
It's not just great for long miles, it's also built to last long. After 30 miles of heavy wear testing, droves of runners say that they barely put a dent on the outsole. Even a non-runner commented that the v12s are "extremely comfortable for walking around and standing all day." And, in case you're looking for a shoe with "extra firm side support," look no further because this runner commented that the v12 "works incredibly well for flat feet."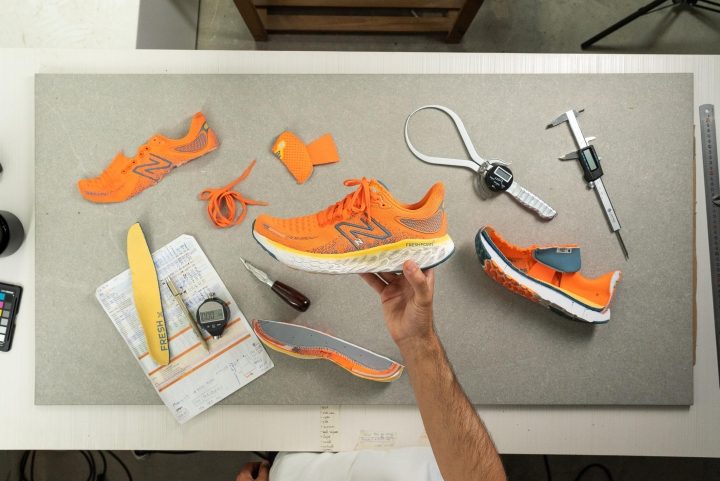 Hey there, good lookin'
Almost all reviewers agree that the 1080 v12 "nails it" in the style department. The vibrant colorways make the shoe a standout; they say many onlookers praise it.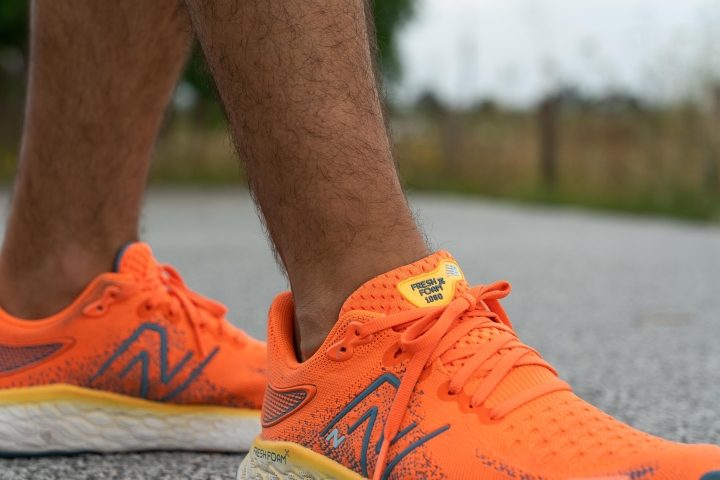 Stays soft in cold weather
Fact check
On average, shoes get 21% stiffer after being exposed to cold in our lab (20mins in the freezer). What's surprising about the FF 1080 v12 is that, even after the cold, it is still soft: it goes from 12.5 to 16 on our durometer. For reference, the average room temperature (before exposing it to cold) for all the other shoes in our lab is 29.8. So, after the freezer, the v12 is almost 2x softer than other shoes at room temp.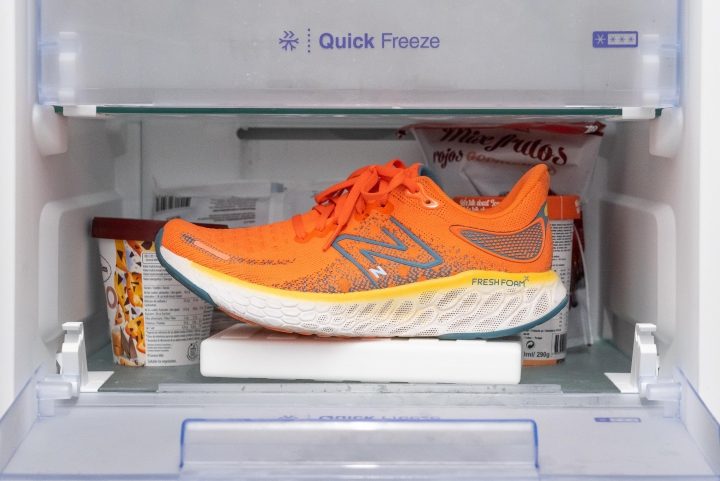 The same applies to flexibility. Even though FF 1080 v12 scored 51.5% when the average difference between the flexibility at room temp and after freezer exposure is 33.3%, the start and end numbers still make this a flexible shoe. Even in cold temperatures!
New Balance Fresh Foam X 1080 v12
Average
Whole shoe

Weight (g)

269

275

Drop (mm)

3.3

8.9
Flexibility of the shoe (N)

19.7

30.2
Flexibility of the shoe (Freezer 20 min) (N)
29.9

40.0

Flexibility of the shoe (% of change)

51.5

32.9

Lace slip test with the knot (N)
-

24.6

Longitudinal flexibility (1-5 scale, 5 being the stiffest)

2

3.4

Torsional flexibility (1-5 scale, 5 being the stiffest)

3

3.6

Upper

Thickness - Tongue (mm)
3.6

6.1

Width Upper - Forefoot (mm)

97.0

98.7

Width Upper - Heel (mm)

80.0

76.4

Lace Stretch (1-5 scale, 5 being the most stretchy)
3
2.6
Flexibility of the heel counter (1-5 scale, 5 being the stiffest)
2
3.1
Tongue: gusset type
both sides (semi)

-

Heel: pull tab
none

-

Midsole

Width Midsole - Forefoot (mm)
113.8

111.9

Width Midsole - Heel (mm)

89.1

89.0

Stack - Forefoot with insole (mm)

23.6

24.1
Stack - Heel with insole (mm)

26.9

32.8

Durometer Midsole Heel (Room temperature) (HA)

12.5

29.8

Outsole

Outsole thickness (Heel) (mm)
1.9

3.6

Lugs Depth (mm)

-

3.4

Durometer Outsole Heel (Room temperature) (HC)
76.0

81.2

Insole
Insole Heel Thickness (mm)

4.4

4.7

Insole: removable
yes
-