Overall ranking lists
Similar ranking lists
Sneakers are a popular choice of footwear for the general consumers primarily because of their comfort, versatility, and functionality. They can be classified into three types based on construction – the low tops, the mid tops, and high tops.
Low top sneakers have collars that do not cover the ankles, and usually very minimal in design and structure. They are sometimes referred to as "lows" or "low cuts."
High top sneakers, on the other hand, have collars that extend past over the ankle for additional ankle support and a more locked-in fit.
Mid top sneakers fall between the low tops and the high tops. Sneakers under this classification cover the ankles but not as extensive as that of the high tops' coverage, with their collar situated not higher than the ankle.
The majority of sneakers currently in the market falls under the low top classification.
What are the characteristics of low top sneakers?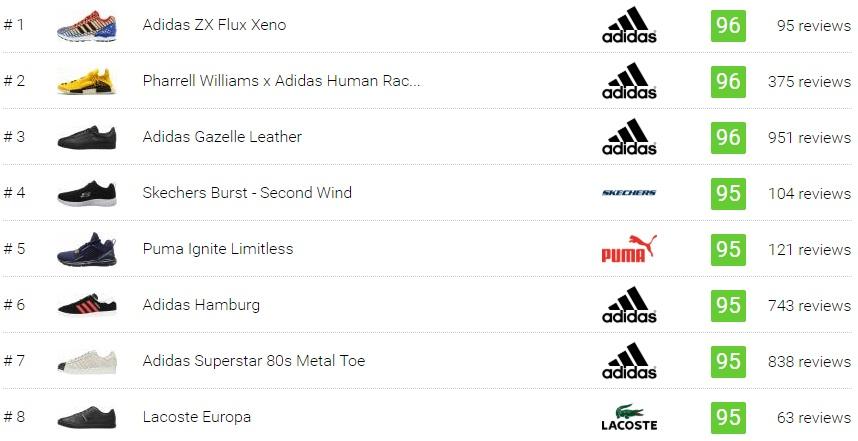 Lightweight. Low top sneakers clearly utilize fewer materials than mid tops or high tops. As such, in most cases, low top sneakers are relatively lighter in weight compared to the other sneaker types as lesser material equates to lesser weight. Nike sneakers are some of the lightest in the business.
Relatively affordable. Following the point mentioned above, low top sneakers are usually cheaper than sneakers with mid cut or high cut construction mainly because of the lesser amount of materials they require.
It is not always the case, though, as there are prevalent low top sneakers with a whopping price tag such as the limited releases, special edition models, designer items, or those equipped with top-of-the-line shoe technologies.
One of the many desirable characteristics of low top sneakers is that they are highly versatile style-wise. They exhibit a minimal construction and profile, which suits any wardrobe for both men and women. This attribute is an advantage over mid top and high top sneakers since, unlike the two, low tops can be paired with anything without looking like you are wearing a mismatched outfit.
Low top shoes are also versatile in terms of usage. Although sneakers are primarily regarded as lifestyle footwear, there are some men's low top sneakers and women's low top sneakers that can further be used for other purposes or activities such as training, skateboarding, and running among many others.
Low top sneakers have sufficient cushioning for the feet and lightweight construction. Some upper materials allow a sock-like fit to the wearer, while others utilize mesh or incorporate perforations to let the feet breathe.
Men's and women's low top shoes, similar to mid top sneakers and high top sneakers, also incorporate cushioning technologies for a more comfortable feel on the feet and added support and stability. Some of these are Nike's Air and Lunarlon, Adidas' Boost and Tubular, Asics' Gel cushioning, New Balance's AbZorb, and Reebok's Hexalite.
What are the advantages and disadvantages of low top shoes?
Low-cut construction
Advantages: The low cut construction allows freedom of foot movement for the feet.
Disadvantages: Sneakers with low cut construction sometimes have minimal cushioning and a little less support around the ankle.
Styling
Advantages: Low top sneakers are versatile in styling because of their overall shape and construction. They can be worn with almost any kind of outfit from day to night.
Type of closure
Advantages: Most low top shoes have lace-up closure, while others utilize Velcro straps or a slip-on construction. Regardless of closure type, low top sneakers are simple to put on and off compared to mid tops and high tops.
Disadvantages: Regardless of low top sneakers' type of closure, they do not provide a locked-in feel around the ankle, unlike in mid tops and high tops, because of their low cut construction.
Cleaning
Advantages: Low top sneakers are easier to clean or wash since they have fewer materials compared to mid top and high top sneakers. Additionally, the low cut construction allows quick drying.
What are the types of closure used in low top sneakers?
When deciding on a pair of right low top sneakers, one deciding factor for some consumers is the shoe's type of closure as it does affect not just the shoe's overall style but also the way the shoe conforms to the wearer's feet. Like other sneaker types, low top sneakers feature either one or a combination of the following closure types:
Tradition lace-up. This is the most common closure type of low top sneakers. It gives a snug, customized fit since the shoelaces can be adjusted and tied depending on the wearer's liking. With this closure, several lacing techniques can be used with either flat or rounded lace.
Most low top shoes with this type of closure also feature an extra loop on the middle part of the tongue in which the shoelaces could further loop through. This functions as a support to keep the tongue in place for a more comfortable and secure fit.
Velcro straps. Low top sneakers with Velcro type of closure are much quicker and convenient to put on, but do not provide the kind of customized fit that traditional lace-up does. Otherwise referred to as hook and loop fasteners, this closure type is more common in kids' footwear although prevalent as well in men's low top sneakers and women's low top sneakers. In fact, classic sneakers like the Adidas Stan Smith have also been released in Velcro strap variations.
Fun Facts
- Velcro was patented in 1955 by Swiss engineer George de Mestral. The word Velcro is a portmanteau of "velvet" and "crochet."
- Puma was the first notable shoe company to utilize Velcro as a shoe closure through the 1968 Sacramento model.
Slip-On. Slip-on low top shoes lack shoelaces or straps for easy wear and a more casual and relaxed look. It can easily be worn on and off, and because of this, it has been a favorite go-to shoe of choice for many.
One of the prominent slip-on low top sneakers, if not the most, is the Vans Classic Slip-On in black and white checkerboard print. Released in the late '70s, it gained international attention when it got featured in the movie Fast Times at Ridgemont High and worn by actor Sean Penn in 1982.
What are the usual trends in low top lifestyle sneakers?
Over the last few years, sneakers have been dominating the fashion scene and slowly replacing stilettos and high heels for women. This occurrence has been evident in the fashion events worldwide and even up to fashion bloggers and influencers' social media presence.
Scan through fashion outfit ideas and street style images in the web, and a significant number of web search results will surely land you to photos dominated by sneakers. Below are the usual trends in low top kicks:
White low tops. White low top sneakers are everywhere since Adidas revamped the classic Stan Smith in 2014. Men and women alike gave in to this trend not only because of its prominent presence in the fashion scene but also because of its minimal look that gives out an effortless yet stylish vibe to an outfit.
Other popular white low top sneakers include the Keds Champion Original Canvas Sneakers, Common Projects Original Achilles Low, Puma Basket Platform Patent, Nike Air More Uptempo, Nike Air Max 90 Ultra 2.0 Essential, Reebok Club C 85, Nike Air Force 1 07, and Adidas Cloudfoam Super Daily.
Low top platform sneakers. Not only are low top platform sneakers extra edgy, but they also add extra inches when you need it most. Though with the extra height comes an additional weight, so expect that low top sneakers of this kind are more substantial than the usual low to Puma is one of the leading brands of this type, particularly with Rihanna's collaboration.
Some of the many low top shoes with platform soles are Puma's Fenty Suede Cleated Creeper, Basket Platform, Platform Trace Bold Sneaker, Suede Platform, and Vikky Platform. Other sneakers following this trend are the Vans Old Skool Platform, Converse Chuck Taylor All Star Platform, Vans Slip-On Platform, Keds x Kate Spade New York Triple Decker, and Keds Triple.
Trainers. Trainers are the kind of low top sneakers that you can also wear to the gym or for light exercises. Functional and stylish at the same time, they dominate the street style and the perfect kicks to complete an athleisure look.
Examples are the Adidas EQT Support 93/17, Nike Dualtone Racer, Adidas Swift Run, Puma Ignite Limitless, and Nike Sock Dart.
Slip-On. If you are always on the go, slip-on low top sneakers are perfect for you. The lack of laces that need to be tied up saves you time. Plus, it is lightweight and works best for casual get up. Usually, slip-on low top sneakers exhibit pull tabs on the tongue and the heel so that the wearer could put them on and off much quicker.
Vans Vault x Taka Hayashi Slip Nomad LX, Vans Metallic Slip-On, Vans Checkerboard Slip-On, Keds Double Decker, Keds Champion Slip-On Leather, Lacoste Gazon Slip-On, and Gucci Dublin Tiger Skate, are some low top sneakers in this trend.
Velcro Straps. Current sneaker fashion trends do not limit low top shoes to traditional lace closure. The Velcro strap closure we've known back in the good old days as commonly visible to kids' shoes have been dominating adult low top sneakers as well. It gives a throwback, old-school vibe and also provide an effortless way of putting on and off a pair.
Some well-received Velcro low top sneakers in the market now are the Converse Pro Star Player OX 3-Strap, Adidas Stan Smith CF, and Vans Twill Style 23V.
Chunky Sneakers. Also known as the "dad kicks," "dad trainers," or "ugly sneakers" to some, chunky low top sneakers are also in style today. Men and women alike are wearing this kind of low tops for an effortless '80s vibe.
The chunky and thick soles unexpectedly add oomph to a casual look, though styling it with the right outfit is crucial. These shoes, however, are undoubtedly comfortable even after a long walk.
One of the most highly coveted ugly or dad low top sneakers is the Balenciaga Triple S. Others are the Gucci Rhyton Logo Leather, Concepts x New Balance 999 Hyannis, Yeezy Boost 700 Wave Runner, and Gucci Gara.
Velvet or Metallic. Velvet sneakers and metallic sneakers are also taking the storm in the sneaker market. This sneaker trend is a different take on the traditional leather, suede, or mesh upper material of low top shoes.
More common in women's low top sneakers than the male counterpart, these kinds of low top sneakers certainly make a statement in an outfit. Brands take some of their classic silhouettes for an upper material upgrade for a more fashion-forward look.
One example is the Keds x Kate Spade New York collaboration. Several Keds shoe models have been released in metallic versions such as the Keds x Kate Spade New York Triple Decker Glitter, Keds x Kate Spade New York Double Decker Glitter, and Keds x Kate Spade New York Champion Glitter.
There are also the Puma Basket Holographic, Nike Air Max Thea SE, Adidas Superstar Boost Silver, Adidas Stan Smith Boost "Metallic" Pack, Puma Basket Heart Patent, New Balance 1550, Nike Air Max 95 SE, and Puma Basket Platform Metallic.
The statement "Classics never go out of style." is applicable for sneakers in general, including those that fall under the low top sneakers category. Reebok Classics, as well as those from New Balance, are two of the most enduring retro styles. For the past decade or so, footwear brands have been reviving classic silhouettes from their archives. With a bit of material and technology upgrades, design tweaks here and there, or both, classic low top sneakers have been re-released or re-issued in different iterations to suit the modern day sneaker market and trends without losing the essence and totality of the sneakers' classicality.
What are the factors to consider when choosing the right low top sneaker for you?
Price
The more technologically advanced a sneaker is, the costlier it gets. Premium versions of low top sneakers are also more expensive than the regular models because they are upgraded with high-quality materials.
Typically, general releases (GR) are more affordable compared to limited releases and special releases.
In the sneaker market, limited releases almost always create a hype. As a result, this kind of sneakers usually becomes a must-have or a highly sought-after sneaker, especially for sneakerheads or collectors. This occurrence is also common for men's low top sneakers.
It also means that when a specific sneaker is a limited edition, it is not widely available across various retail sites. Most of the time, it can only be availed through the brand's official websites and flagship stores, or through the partner sneaker boutique or retailer (for sneaker collaborations).
Special edition sneakers are released to commemorate an event, to celebrate anniversaries, or to honor a particular person. Some of these sneakers are released in limited quantities, while others are produced in vast amounts that they could easily be attained across different retail shops.
In a general context, low top shoes are cheaper than mid tops and high tops. Again, this can be attributed to the fewer materials utilized by low top sneakers compared to the other sneaker types.
However, the price does not dictate a shoe's overall performance. It does not necessarily mean that expensive shoes are guaranteed to be of superior quality than the cheaper ones.
Affordable pairs could also be of top quality in the same way that the expensive ones could be non-durable and uncomfortable.
Style
One of the first things that consumers consider when buying a sneaker is its style. The style is, of course, a personal preference of the buyer. Thus, it should be noted that some sneakers that deem fashionable by most may not be as appealing to some.
Style does not always equate to comfort. When choosing low top sneakers, bear in mind that not because they look nice, they would automatically feel nice when worn.
The sneakers' background is often considered the basis of style and construction. It is a fact that many of today's low top sneakers took their roots from running, basketball, tennis, skating, hiking, soccer, and training.
Climate
Climate or weather conditions is also an essential factor to consider when choosing a sneaker. The upper materials of low top sneakers vary to suit certain weather conditions.
Usually, low top sneakers comprised of mesh materials or those with lots of perforations are suited for hot areas as these types allow the feet to breathe. Canvas low top shoes or sneakers with knit-based, sock-like upper materials like the Adidas' Primeknit, Nike's Flyknit, Reebok's Ultraknit, and Puma Evoknit always top the list for summer staples.
Low top sneakers are typically less preferred during the cold months. However, there are still low tops (such as winterized, waterproof, or water-resistant sneakers) designed to suit such conditions and keep the feet dry and warm.
Low top sneakers equipped with rubber soles that have excellent grip and traction should also be considered for the cold months to avoid slipping on wet and slippery surfaces.
Sizing and Fit
When choosing a pair of sneakers, you should be cautious to get the correct size for a right fit. It is advisable to try on a pair first before buying, but that is not really possible when shopping online. In this case, you could always depend on reliable shoe reviews and retailers' note on fit and sizing.
Sizing and fit of low top sneakers always vary per shoe brand and even shoe models of the same brand.
Generally, low top sneakers fit slightly loose compared to mid tops and high tops because they lack the locked-in fit around the ankle. Mid tops and high tops also have extra eyelets at the ankle for a more secure fit, which is lacking as well in low top sneakers.
Materials are also a factor. Usually, materials like leather and suede will stretch out over time, unlike the plastic-based synthetics.
Some low top sneakers are only available in unisex or men's sizing. Ladies who wish to cop a pair of these sneakers should opt for an approximate of 1.5 to 2 sizes smaller than their usual size.
Low top shoes also vary in terms of hold and support that they provide to the feet.
Low top sneakers based on basketball, tennis, or skate shoes provide overall sufficient hold and support as they usually have enough reinforcements and the materials used are curated to withstand such activities.
Low top sneakers based on running shoes, on the other hand, are usually very minimal in construction and allow flexible movement of the feet.
Usage
To determine what kind of low top sneakers suits you best, it is also important to keep in mind how you opt to use it as these shoes vary in construction, materials, and technologies.
Consumers usually prefer lightweight and comfortable low top sneakers as their go-to kicks for running errands or everyday activities.
Some consumers use low top sneakers for long walks when traveling, so they prefer those with sufficient cushioning that would keep their feet comfortable all throughout the day. Blisters could be avoided when you get a low top pair with adequate padding around the collar.
The same also goes for purchasers who buy a pair of low top sneakers as their work shoes, especially those that need to be on their feet for long hours. Skechers, in particular, has its line of work shoes called as the Skechers Work. These are sneakers and boots with technologies that adhere to safety standards while providing utmost comfort to the wearers. Low top sneakers under this Skechers' new shoe category are slip-resistant, with electrical hazard safe, and feature a composite toe.
Also, low top trainers are usually preferred by consumers who also use them as their gym shoe for light exercises or workout.
Commonly Asked Questions about Low Top Sneakers
How are the lows better than the highs?
Both low top sneakers and high top sneakers have their advantages and disadvantages. But low top sneakers are better in the following aspects:
Concerning market share, low top sneakers hold the more significant portion of the market compared to other cuts of sneakers like mid tops and high tops. This means that low top sneakers offer a broader range of shoe models and style variations.
Price-wise, low top sneakers are more affordable than their high top counterparts. Take for example the classic and all-time favorite Converse Chuck Taylor All Star unisex shoes. Available in both low cut and high cut variations, the former is priced at $55 while the latter is sold at $60. The price difference can be attributed to the fact production cost of high top sneakers are higher than the low top's.
The collar construction of low top sneakers offers more flexibility and foot movement than the high tops.
Low tops are more versatile than high tops.
How much does an average pair of low top shoes cost?
Prices of sneakers, including low tops, vary per brand and other factors as discussed above.
Skechers typically has a lower price range for low top sneakers compared to other shoe brands. You can get a pair of Skechers low tops for as low as $45 and not higher than $90.
Adidas and Nike, on the other hand, offer low top sneakers priced at $55 to $60, but could get as expensive as $385 to $700 for designer or collaboration shoe models.
Other shoe brands such as New Balance, Merrell, Asics, Puma, Reebok, Saucony, and Under Armour also offer low top sneakers in the similar price range, with the lowest price of around $65 and highest at approximately $220.
What is the best way to clean low top sneakers?
Low top shoes are generally easier to clean than mids and highs because of the lesser materials. The inner parts also dry quicker because of the low cut construction and open collar. But, how should you properly clean your low tops? Below are some quick guides.
First, consider the materials of your kicks. Low top sneakers made of suede upper material should not get wet to maintain their best quality. There are available suede brushes, suede eraser, and suede cleaner kits in the market that you can use to clean your suede shoes. Canvas, on the other hand, should not be exposed to bleach to avoid discoloration and fading. Bleach may also cause yellowing in white shoes.
Shoelaces could be washed normally with cold water. If using a washing machine, place it in a pillowcase or a wash bag.
The insoles should be removed once in a while and let them dry out. To eliminate bad odor, you can store it in an enclosed box with baking soda.
The midsoles and outsoles can be cleaned using a brush and a soap dish and water solution.
Are casual low top shoes available in different widths?
Again, shoe brands offer different sizes for their sneaker models. Shoe sizes are based on the length and the width of the shoe, with length indicated by numbers (5 – 14) and width indicated by letters.
Extra Narrow - 2A (men's); 4A (women's)
Narrow - B (men's); 2A (women's)
Normal/Medium - D (men's); B (women's)
Wide - 2E (men's); D (women's)
Extra Wide - 4E (men's); 2E (women's)
Brand-specific notes:

Skechers has its line of "Relaxed Fit" shoes with wider and more spacious toe box even for shoes in normal width sizes.
New Balance sneakers are frequently recommended by podiatrists as they come in various widths such as 2E, 4E, and 6E widths.
Under Armour produces a large selection of wide width sneakers but not much for 4E sizes.
Asics is known for having a wide range of 4E size men's sneakers.
Only select Nike shoes are available in narrow, wide, or extra wide width sizes. Narrow Nike shoes have a lesser volume in the upper with similar midsole and outsole as a regular width shoe. Wide Nike shoes have greater volume in the upper but similar midsole and outsole as a regular width sneaker.
Nike sneakers in Extra Wide widths, on the other hand, have greater volume in the upper forefoot area and a wider midsole and outsole than other regular width sneakers.
How do you style a pair of low top sneakers?
One advantage of low top sneakers is that they are versatile in styling and can be paired with basically anything. Styling this kind of kicks do not need much effort or skills as they go with everything from day to night. Gone are the days when rubber-soled kicks are worn just for athletic activities. Today, sneakers are as ubiquitous as other fashion staples.
Below are some points to consider when styling your low tops:
Buy low top sneakers that suit your wardrobe and personal style but never be afraid to experiment. Once in a while, try out a different brand, style, or color, and you may be surprised that one or two pairs look good on your feet.
Ideal for casual and street style, basic low top sneakers like the canvas-type look best when paired slim-fitted denim and chinos, and shorts.
Athletic or sporty-looking low top sneakers look stylish if paired with slim-fitted and relaxed denim or chinos. Wearing them with loose-fitting jeans is a no-no – unless you are aiming for a baggy look.
One fashion trend in wearing low-tops is known as "pinrolling." It is a straightforward and uncomplicated styling technique of tapering a pair of jeans or chinos to highlight a killer pair of kicks in an outfit.
Do low top casual shoes provide good foot support?
Yes, low top sneakers provide good foot support in a general context. The level of foot support, however, differs depending on the shoe's construction, materials, and additional features.
Typically, basketball-inspired low top sneakers as well as skate- and tennis-inspired provide an excellent overall hold and support as they are designed to withstand on-the-court or on-the-board conditions with supportive materials and additional overlays.
Moreover, running-inspired low top sneakers normally have a minimal construction that allows plenty of foot movement.
15 best low top sneakers
Adidas Lacombe SPZL
Vans Canvas Old Skool Lite
Adidas Gazelle Leather
UGG Cali Sneaker Low
Adidas Handball Top
Lacoste Court-Master
Vans Checkerboard Old Skool Platform
Adidas Montreal 76
Adidas Munchen Super SPZL
Vans Skulls Old Skool
Adidas EQT Support SK Primeknit
Nike Air Max 97 Ultra 17
Adidas Intack SPZL
Nike Air Force 1 07 LV8 JDI
Puma Basket Classic Gum Deluxe
This shoe has recently been added to RunRepeat. There are still not enough reviews for us to assign it a
CoreScore
.
CoreScore
A score from 1 to 100 that summarizes opinions from users and experts. The average CoreScore is 78.
More...