Adidas Adizero Boston Boost 6
Runners were generally impressed with the Adidas Adizero Boston Boost 6. It was able to deliver solid performance and service to them. The cushioning felt adequate and the quality of the materials was sound. A few caveats were made about its looks and its supposedly distracting tongue, but that didn't stop the athletes from enjoying this neutral shoe.
---
Verdict from 12 experts and 100+ user reviews
7 reasons to buy
Some testers noted that the Adidas Adizero Boston Boost 6 was adequately lightweight.
The word 'comfortable' was used by many runners to describe this running shoe.
A user wrote that the fit was great in the forefoot, mid-foot, and heel sections.
There were comments about the mid-sole cushioning system, which, for runners, was easily able to cushion the heel-strike.
The quality materials used in this model made it responsive to the movements of the foot, stated a reviewer.
A lot of users were satisfied that it came in sizes that fit their usual preferences.
It was versatile as a trainer and as a racing shoe, according to a reviewer.
3 reasons not to buy
A reviewer noted that the tongue of the Adizero Boston Boost 6 folded over distractingly.
The color of the product was brighter for some testers who had it delivered, and they felt that it was a bit disconcerting.
It felt a bit tight for one runner.
Bottom line
Runners were generally impressed with the Adidas Adizero Boston Boost 6. It was able to deliver solid performance and service to them. The cushioning felt adequate and the quality of the materials was sound. A few caveats were made about its looks and its supposedly distracting tongue, but that didn't stop the athletes from enjoying this
neutral shoe
.
Best price from 49 shops
We earn affiliate commissions at no extra cost to you when you buy through us.
78% say it's true to size.





Our reviews
As is the norm for serious Adidas running shoes, the design of the Boston 6 is not outlandish or attention-seeking, but still has enough character in some of the colorways. The colorway I got was the Core Black/Real Purple/Hi-Res Red option and find it to be quite attractive and sleek.
The Black allows it to stay clean looking even after tons of use and the red still gives it a bit of attitude contrasting with the dark purple. Overall, it is a super svelte looking design.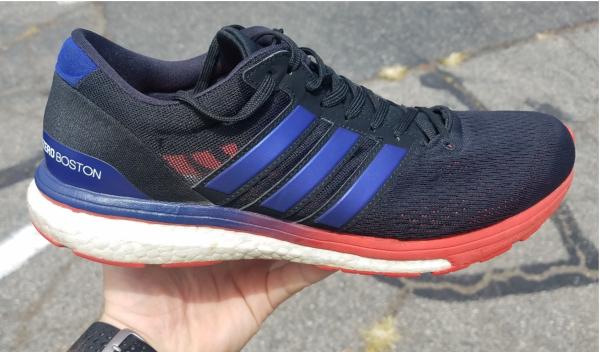 Tech specs
The Boston 6 is a lightweight neutral trainer/race shoe made for going fast without sacrificing support, cushioning, or durability!
It has a higher heel-toe drop of 10 mm (29/19) and weighs in at 8.6 oz in the standard Men's US 9. While the drop is on the higher end, the shoes are so responsive and the ride so smooth they feel more like an 8 mm drop in practice.
Durability
I have put about 300 miles on this pair of shoes and there are no signs of accelerated wear. The upper shows no signs of excessive wear and the Continental rubber outsole is as usual for an Adidas shoe seemingly indestructible.
The bounce of the boost midsole also seems to not have diminished at all and I could see getting at least 600+ miles out of these before the foam starts to feel dead considering I wore the Supernova Glide Boosts for well over that before noticing a real degradation of the midsole and outsole.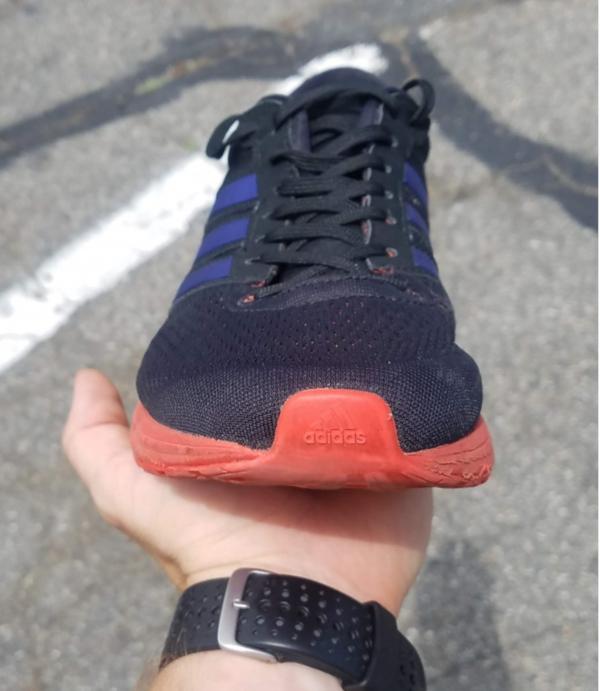 Upper
The upper is called a "Textile upper" by Adidas and is very breathable and comfortable on the foot. So much so that you can actually see the red insole through the upper, which is amazing for logging summer miles or wearing for longer runs.
While some runners may find the fit to run narrow I think it is normal for a shoe in the lightweight trainer/race shoe category. Through utilizing the Adidas stripes the Boston 6 creates an exceptional lockdown which provides a very secure fit and promotes faster paces.
The tongue and lacing system are also quite comfortable. Laces are of an adequate and I'd say perfect length with the lockdown being so good a runner's knot is not really required. The tongue is a very smooth material and of moderate thickness which stays away from the problems of hot spots or folding like some thinner ones tend to cause.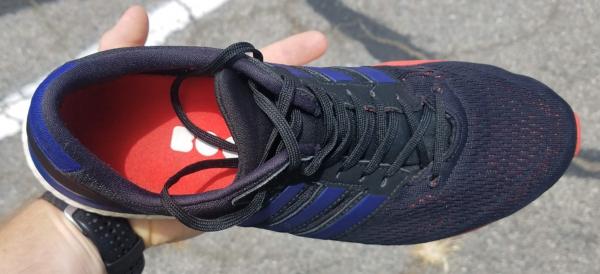 The heel counter is very well designed and fits like a charm with no wiggle room or rubbing issues. Material on the heel cup is the same as the tongue which does an excellent job of preventing heel slip while also providing a good level of padding to avoid blisters.
This is a hugely revamped upper from past Boston's and took an already excellent performance shoe and made it super comfortable as well.
Midsole & performance
The midsole and ride are where the Boston line has always shone and the 6 is no exception. Adidas' boost midsole is probably the best in the market, providing great energy return, protection, and durability.
The last pair of Bostons I had before these were the Boston 3's and 4's and I have to say while those were great shoes, the boost midsole has made this one of my favorite shoes to lace up.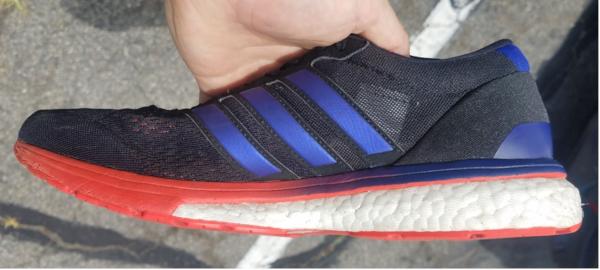 As these are more targeted for tempo paces and a road race shoe, it should be noted that the forefoot is somewhat rigid with a good spring for promoting faster paces, yet the heel and midfoot have a very protective and soft landing.
There is also what Adidas calls a TORSION SYSTEM between the heel and forefoot to add to the stability of the shoe.
One thing that might be an issue for runners is the sensation that it feels like you are running on the midsole as opposed to some shoes that feel like it's all one piece. I find the lockdown to be so good that this is not an issue, but it's worth mentioning.
Outsole
The outsole rubber is exceptional which is no surprise given the utilization of the Continental rubber that has been a standard for Adidas. As you can see in the provided pictures the outsole shows very minimal breakdown even after 300 miles!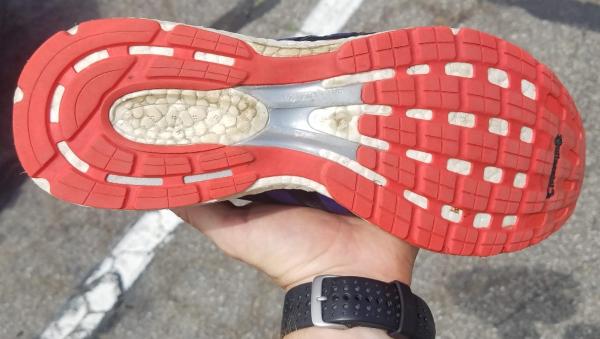 Outsole grip is also very good in wet and slick environments and even decent for some buffed out trails/grass fields. Adidas did a great job of leaving some boost exposed the save weight without sacrificing outsole durability.
While this is a neutral shoe the TORSION SYSTEM does a great job of providing some additional support which certainly aids in the snappiness of the shoe and durability of the outsole.
Scoring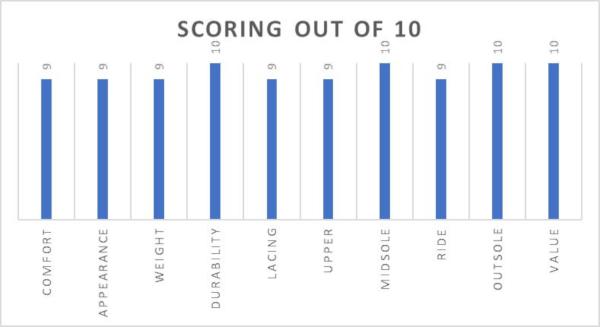 Conclusion
The Adidas Boston 6 is one of the best all-purpose running shoes you can get. It is light and snappy enough for repeats and other speed work, yet supportive and cushioned enough for the non-elite runner to use in a marathon.
For a lightweight trainer/race shoe it's durability is nothing short of amazing. While the average person will probably find the ride too aggressive for daily miles in this shoe it can certainly handle the workload.
As stated in the Upper section some runners may find the toebox tight, the upper material is forgiving enough that it should work for most foot shapes. Those who enjoy a lightweight and responsive shoe will absolutely love the Adidas Boston 6!
The Adidas Boston 6 is an extremely versatile shoe in my opinion, whether is it trying to achieve a new PR or doing a tempo run this shoe is up for the job.
The reason why I bought this shoe is because I required a lightweight trainer to train in. The shoe is responsive and would suit runners with a midfoot strike very well.
The Looks
The thing that drew my attention when I saw the shoe was the looks. In my opinion the shoe looks quite decent and I have been able to use it for casual wear.
Besides it is comfortable enough for me to wear it for a whole day without any discomfort. The Boston 6 is not exactly a shoe that is meant for street wear, however, I feel that it is a shoe that can be used for this purpose.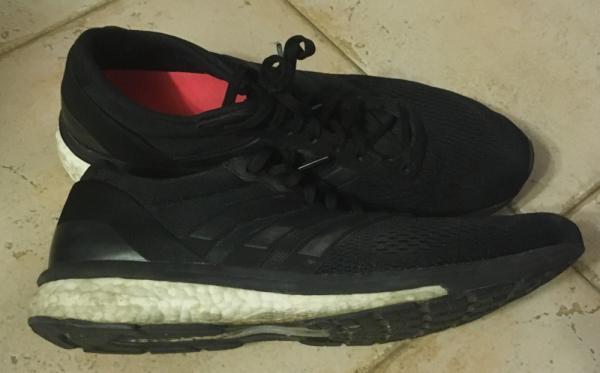 The Boost Foam
The boost foam that is used on many Adidas shoes now is the thing that really blew me away. Before owning this pair, I constantly hear my friends rave about how magical the boost foam is but I was skeptical about it.
My opinion on the boost foam has changed ever since I started using this shoe during training sessions. In previous my previous shoe, the Mizuno Wave Hitogami, I would often complain about doing drills on concrete as the eva foam used didn't provide the cushioning I wanted.
For Boston 6, I have not experienced any discomfort. The foam used offers adequate cushioning for long runs and is also responsive enough for me to do tempo runs and time trials on the track.
The Upper
The upper of the Boston 6 is one that love. It is a breathable mesh that is highly appreciated in the hot and humid weather of the tropics.
The upper of the Boston is very comfortable because it does not restrict the movement of the foot. It does not have any welded overlays on the front part of it.
I was slightly worried that the lack of welded overlays on the show would affect its durability. I was surprised that it is still holding up quite well even after training so much in it. The upper shows very little signs of wear even after doing roughly 150 km in it.
Another thing I like about the upper is the lacing system. The lockdown the lacing system provides is something that I love about the shoe.
The laces that are connected to the overlay keeps my feet in place and stop them from sliding. This lacing system has also given me the freedom to adjust the fit the shoe provided.
Although I enjoy the fit the shoe provides, the way the shoe is built has also given me problems with the tongue. Also it is worth to note that the tongue tends to fold upon itself in the middle of runs.
This has led to some slight discomfort but it has not led to any major problems when training in the shoe.
The Laces
One thing that has bothered with this shoe me are the laces. The laces on this shoe are too short. It is quite an irritating problem as it is very hard to tie the shoe when I lace the laces to the last eyelet.
This has led me to tighten the laces which is quite uncomfortable, especially when I am using the shoe during training. However, the laces do not get undone easily.
The Sole
The rubber on the sole of the Boston is very grippy. The continental rubber used on the shoe performs well in all surfaces and conditions . This allows me to focus on doing my best in runs instead of having to pay attention on the surface that I'm running on.
Besides being very grippy, the rubber is also very durable. There is very little sign of wear on the rubber although I do a lot of training on gravel which have destroyed many of my racing flats.
I also do have to commend the shoe's ability to handle wet surfaces. The rubber hasn't failed me on wet pavements and is currently my go to shoe for wet conditions.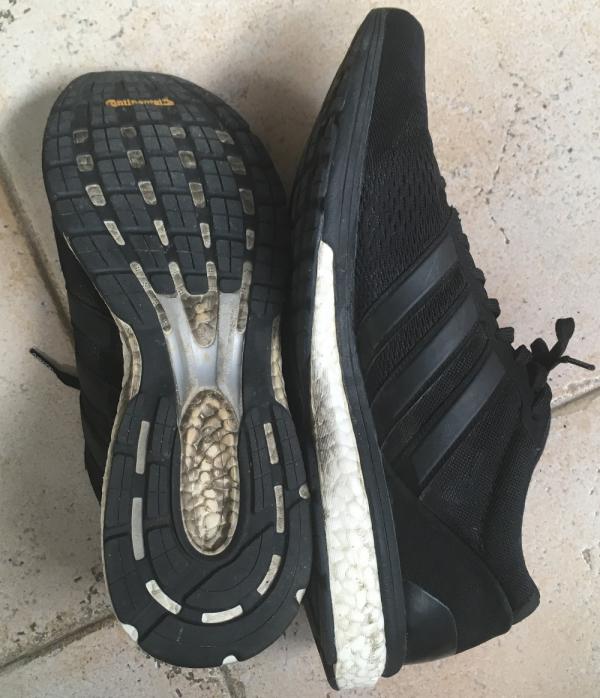 The Overall Performance
The shoe does perform well on most surfaces and even on light trails. For the most part, the shoe is responsive but it is still relatively cushioned and allows me to have feedback from the ground.
I definitely look forward to training in this shoes. They have been a joy to train in and have never failed me by providing consistent performance ever since they came out of the box.
Conclusion
The Boston boost is a very versatile shoe that allows me to run with confidence in all conditions. This lightweight neutral trainer allows me to do most of my workouts in comfort in the hot climate.
The shoe however, is slightly tight even though I bought it half a size up from my street shoe size which is where it lost some points. Still, it could probably just because I have wide feet.
All in all, I am very satisfied with the way the shoe has performed. The reason why it lost some points was mainly due to the tongue folding on itself and the laces being too short. However these problems are not major and only cause some minor discomfort.
I bought my first pair of Adizero Boston Boosts on sale. They were very different from the shoes I had been wearing - a lot less cushioned but I thought I would give them a go as they were such a bargain and looked great of course.
A trio of Boston 6 – (from left to right) 600, 135 and 0 miles on the clock

Responsive
I had previously read reviews that mentioned shoes being "responsive" at the time I felt this was a daft thing to say. What do these people think they are reviewing, a car?
Surely it is the runner, not the shoe that is responsive. However, after one 5k in the Boston's, I was converted and understood what reviewers meant by pop and return.
I have particularly noticed this on a fast course where you have sharp changes of direction (such as round the end of an out and back).
Look & fit
They are a snug fit but not overly narrow. I have wide feet and struggle in getting a comfy fit. I often have to go size up by half a size.
Boston boosts are not roomy, but they are quite rounded and don't have any overlays or extra material over the toes (the Boston 5 which I have since tried have a suede toe that makes it seem less roomy).
The mesh of the upper is also stretchy and flexible. The combination of these things helps not to overly restrict your toes and give you some wriggle room.
It also gives a snug fit, well around the ankle and doesn't slide around. This is a pet hate of mine when my heels seem to be sliding around the back of my shoe. I tend to use heel lock lacing but don't need to with the Boston 6.
They look great. They are unfussy, a little retro (yes, I am a child of the 70), and they come in a wide array of colorways.
A trio of Boston 6 – blue for training, grey for race days and navy itching to come out and play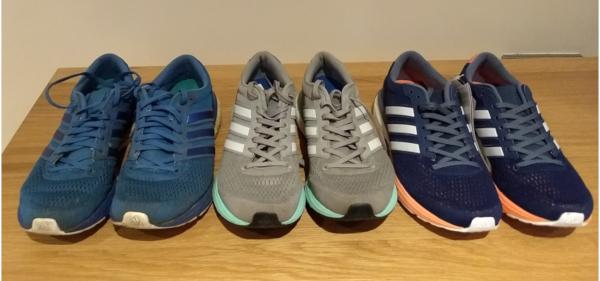 Lightweight
I am very conscious with so many other trainers that my there seems to be a lot more shoe that my foot and they feel clumpy. Not so with the Boston 6. While they are far from minimal, they are very light; you just don't know they are there.
Cushioning & comfort
The Boston 6 is my favorite shoe by far. When I first bought them, I kept them for shorter, faster workouts up to 5k. I thought that they wouldn't have enough cushioning for longer distances. Then snuck up to 10k, then 10 miles half marathon and had no problems.
In the run-up to my first marathon, I searched and searched for shoes that would be "like the Boston Boosts but a bit more cushioned." Six new pairs of running shoes later and none of them matched up, so the second pair of Boston 6 was purchased to see me through my 26.2.
Durability
My first pair of Boston Boost 6 has now clocked up 500 miles. While the outers no longer look box fresh, they are holding up extremely well, and there are minimal signs of wear on the soles.
I bought a second pair as my race day shoe, these are up to 135 miles now, and there is no noticeable difference running in my older and newer pairs. The older pair still seem perfectly snappy and responsive. I just like to have a smarter pair for race days.
I really had no excuse for buying a third pair yet, except that they were in a nice colorway that will go great with my club kit. So pair three are patiently waiting for their first race.
A trio of Boston 6 – continental rubber soles after (left to right) 600, 135 and zero miles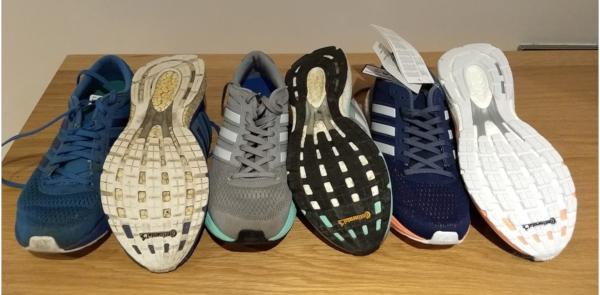 Negatives?
I find it hard to find something that I don't like about the Boston Boost 6. I've had no issues with them at all. Even after half marathons and a marathon, I've had no toe squishing, bruising or blisters.
There have just been a couple of occasions on very cold and wet days when I have found the boost foam to be quite hard underfoot at first. It almost feels like the insoles have shrunk a bit, but all seems to return to normal once the Boston 6 and I have both warmed up. I haven't found anyone else reporting this issue so it could be just my imagination or my feet!
To start by immediately laying my cards on the table I'll declare this: I love this shoe. Some say when you meet the person you'll marry that you "just know".
I think the same is also true when you've been trying several makes and models of running shoe and then you find "the one". This, for me, is the Adidas Adizero Boston Boost.
We are all individuals of course, and will not feel the same benefit from (or affinity with) the same shoe. However, I wanted to put in writing my reasons for rating this shoe so highly.
Reason 1: It is lightweight and low bulk
Coming in at 239g per shoe (for my UK size 9) this shoe is nice and light. I'm no speed merchant by any definition, but a reasonable interpretation of the scientific literature.
Looking at running shoe mass is that the heavier the shoe, the greater the metabolic cost. In simple terms; unnecessary shoe mass is to be considered the enemy (energy and performance wise) of all runners.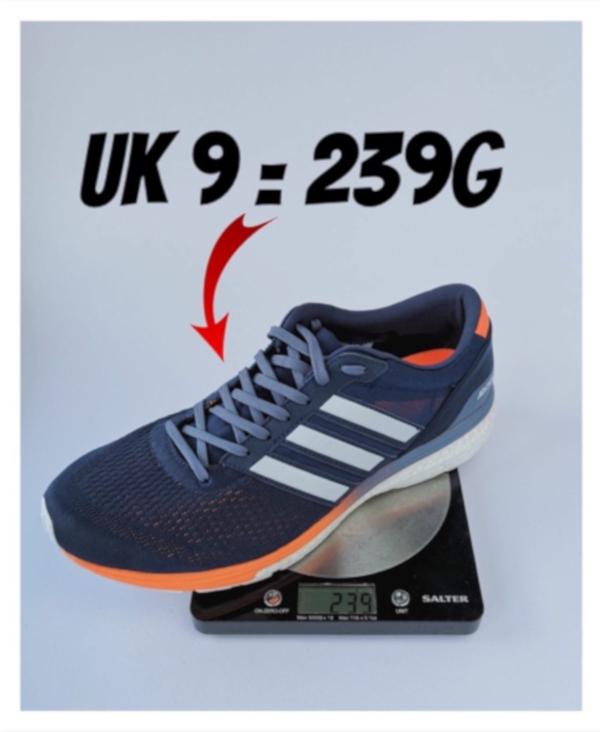 I also have a tendency to adopt quite a narrow step width when running, as evidenced by getting very muddy on the inside of my ankles in the winter and also by catching my standing leg with the foot that is swinging through, particularly when I get fatigued.
As such, I've never liked shoes which look and feel chunky or wide around the heel region as they seem to increase the frequency with which I quite literally end up kicking myself.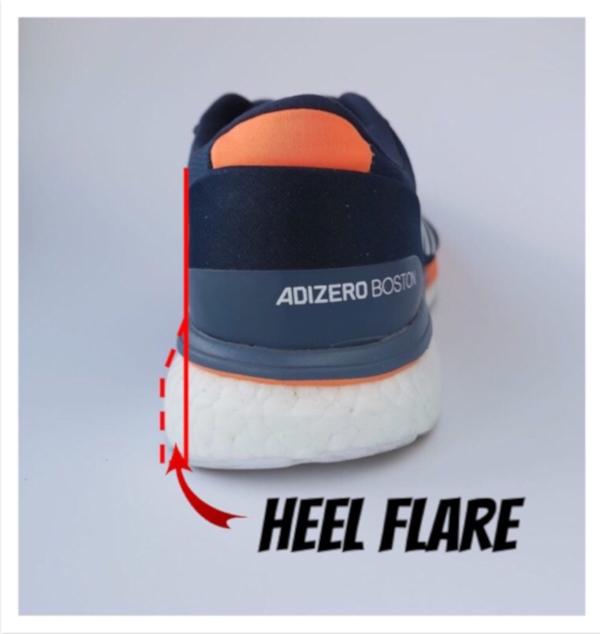 The Adizero Boston Boost nails this perfectly with its very narrow and snug fit, and minimal heel counter flare.
Reason 2: Its higher drop and toe spring
I feel we know each other well enough now that I can tell you something personal. I have very restricted movement in my ankle joints and my big toe joints.
I won't bore you with the finer details, but suffice to say, this has the potential to be an issue when running as motion in these two locations is key in achieving what is generally a linear movement from somewhere behind me to somewhere in front of me.
Thus, I need a shoe that is going to help me in this regard.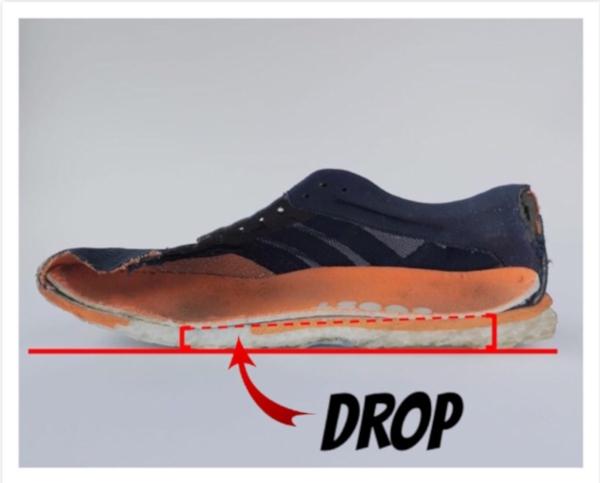 The shoe design features that facilitate this are a higher drop and an adequate toe spring. For any shoe to feel good for people with anatomy like me these two boxes that will usually need ticking, and the Adizero Boston Boost gets big green ticks for both.
Reason 3: Comfort is king
Sounds obvious that running shoes should be comfortable, but they should. Some emerging theory from Canadian academics has even suggested that comfort is a factor which may influence injury risk (more comfy = fewer injuries).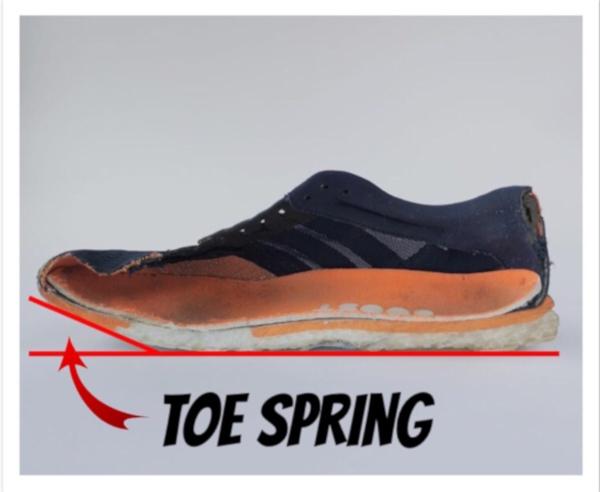 It is another thing that is wildly person specific, but I know I'm not alone in my thoughts regarding the Boost midsole. It offers a really high level of cushioning (a personal preference of my own).
But without any of the aforementioned concerns about being too bulky or heavy. I've found it difficult to fault, and also durable with my current pair still going strong approaching their 600th kilometer.
Summary
If you have narrow feet (or take narrow steps), a preference for cushioning and consider yourself stiff or restricted in the ankles/big toes then you just might love the Adizero Boston Boost as much as I do.
I also think it is a nice looking shoe with aesthetics that allow for daily wear; ideal for 'breaking in' a new pair slowly if that is your thing.
I've been gushing about it so much it would be reasonable to question why I have scored it 98/100 and not full marks.
Just two very minor comments here. Firstly, I've found the laces very slippery and prone to coming undone – nothing that can't be mitigated with certain lacing techniques though.
Secondly, whereas the outsole performs wonderfully in the wet (I don't think I've ever slipped once thanks to the Continental rubber), the upper is definitely not waterproof. Many road running shoes are not either of course.
But I've found that during rainy runs that my feet feel much wetter in these shoes than other makes and models for some reason. Minor points which don't diminish my love for this shoe. Adidas: you'll break my heart if you ever mess with such a winning formula.
Updates to Adidas Adizero Boston Boost 6
The Boost mid-sole is a foam unit that's efficient in delivering responsive cushioning and shock absorption. This foam is made from individual pellets that, when clumped together, bring a well-cushioned and soft platform.
This lightweight running shoe uses high-quality materials that make it more efficient when it comes to long-distance races and intense training. The outsole is resistant to wear & abrasion, the midsole provides long-lasting cushioning and stability, and the upper is breathable & comfortable.
Mesh material is used for the men's version while a knitted upper fabric is featured in the women's version. Both of these versions encourage air to seamlessly enter the shoe and keep the foot cool and dry.
The Adidas Adizero Boston Boost 6 has been optimized for racing, but it's also a great option for training and other athletic activities. Its supportive mechanics are consistent and its comfortable components remain efficient even after many uses.
Size and fit
The 6th iteration of the Adidas Adizero Boston Boost has a standard running shoe length, which is different from the previous version. It comes in a variety of sizes that adhere to the preferences of runners. Its width runs from medium to narrow, so it's more aimed at runners who have narrow or medium-sized feet. Its low volume construction makes it more responsive when used for racing and training as it doesn't restrict the natural movement of the foot.
Outsole
The AdiWear tech is a rubber material that is non-marking. Located in the heel area, it provides traction and durability that combats wear and tear. Continental Rubber is one of the most reliable components when it comes to outsole units. This rubber compound offers traction over a variety of surface conditions, even wet ones. So, runners get more confidence when running in puddles or slippery floors.
Midsole
The Boost foam is one of the Adidas technologies that provide responsiveness, shock absorption, and support to the underside of the foot. It's made from Thermoplastic polyurethane, a durable yet pliable compound that doesn't easily break down or wear off. The underfoot platform becomes more comfortable and springy because of this non-restrictive foam. A number of Adidas running shoes also possesses the Boost foam, including the Adidas Pure Boost.
A thermoplastic unit in the mid-foot area stabilizes the foot and leads it toward a better stride. This Torsion System runs from the heel to the middle area of the shoe, making sure that each transition through the gait cycle is smoother and more efficient.
Upper
Open mesh makes up the upper unit of the Adidas Adizero Boston Boost 6. The men's version uses a net-like design for the upper. For the women's version, a piece of knitted fabric is placed. They both deliver exceptional breathability and they wrap the foot snugly, yet comfortably. The Coolever Mesh Lining manages moisture and heat. It doesn't make the interior stifling even when the wearer uses the shoe for extended periods of time, making it a great inner lining for long-distance races. The traditional sock liner adds a bit more cushioning to the runner. It's not too thick, but it's supportive enough to keep the foot more comfortable when stepping on the shoe's platform. Directly connected to the lacing system, the stitched-on overlay system helps the upper when hugging the foot and keeping it in place. When the shoelaces are adjusted the upper fabric follows suit, making the fit customizable.
Rankings
How Adidas Adizero Boston Boost 6 ranks compared to all other shoes
Popularity
The current trend of Adidas Adizero Boston Boost 6.