The verdict from 19 experts and 100+ user reviews
The majority of the experts' reviews we've read have expressed love for this trail running shoe. They summarized their reviews with comments such as "this shoe is superb," "my go-to trail shoe" and "there's a lot to love."
2 to 3 experts were disappointed or 'meh', saying they weren't "overly impressed" and another indicating that it was only good for "a competent all-arounder." The third mentioned that it was "one of my favorite shoes of 2020," which by itself is a positive comment, but still only 'among' the better ones.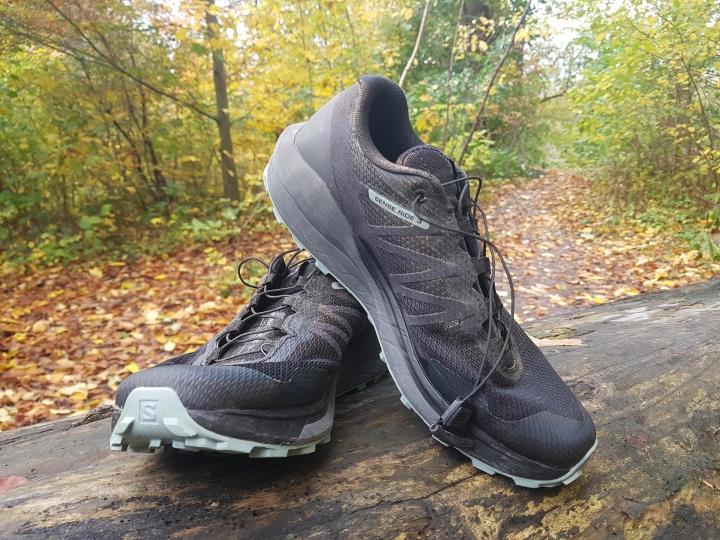 Who should buy the Salomon Sense Ride 3
Ideal if you want an all-around trail shoe, and you run mostly on dry surfaces. It's stiff! It's great for longer runs, and it's sturdier than most trail shoes.
Who should NOT buy the Salomon Sense Ride 3
Don't buy if:
You run off trails or on wet terrain. Salomon Speedcross 5 and Alphacross have been known for their aggressive grip and you can even find their waterproof iterations (Speedcross 5 GTX and Alphacross GTX) for wet conditions.
You want an agile and fast trail running shoe. The most famous Salomon's shoe for trail races (and its latest version) is S-Lab Sense 8.
You like a soft ride.
Sense Ride 3 vs Ride 2 - experts prefer the old
The consensus is that there have been huge changes from v2 to v3. If you liked the Ride 2, I recommend you buy that version again as opposed to buying the Ride 3.
It's my impression that the experts don't like the overhauls. Usually, experts are generous with their comments on all the amazing changes, but we were only able to find one positive (overall) comment stating that the "Sense Ride 3 has me hooked once again."
Other comments are more negative. One comment sums it up pretty well: "[it has] lost what made them attractive." However, the changes have pros and cons.
Salomon Sense Ride 3 vs. Ride 2
What got better
Lower and closer to the ground
Less slippage in the midfoot
A better protective upper
More responsive
More supportive upper
A tiny bit more aggressive outsole
The torsional stiffness is more assertive
What got worse
Heavier
Less stable
Beefier laces
Stiffer
Less quick and nimble
Comments that are neither pros nor cons:
Most say it's more cushioned calling its cushioning generous and softer, but others disagree. One says that it has less cushioning "contrary to what Salomon states."
Wider forefoot than most Salomon trail running shoes.
One mentioned a wider midfoot, but it was not confirmed by other experts.
A heavy bastard
It rarely happens, but all the experts mentioned the same gripe. It's heavy. Noone liked the weight.
Generally, you want as much shoe as possible with as little weight as possible, and it seems that the 280 grams were too heavy for all experts.
280 grams is lighter than the average trail shoe (314 grams). However, this one is 1oz heavier than the Ride 2, and people remember the Ride 2 as a decent race shoe. The Ride 3 is quite a different shoe, and hence the many negative comments on its weight.
Traction is ideal on dry surfaces (only)
Looking at 23 comments from experts on traction, the Salomon Sense Ride 3 must be considered to have good traction. Experts commenting "consistently sure footing", and "plenty of grip" as well as "held strong on slippery leaves".
However, it seemed that these experts had tested only in dry conditions, where it excelled.
Several experts who took it to wet conditions weren't impressed. This is expected, as the shoe has only 4mm lugs which by one was considered to not shed well. Another summed up it well saying it was "not an aggressive trail shoe".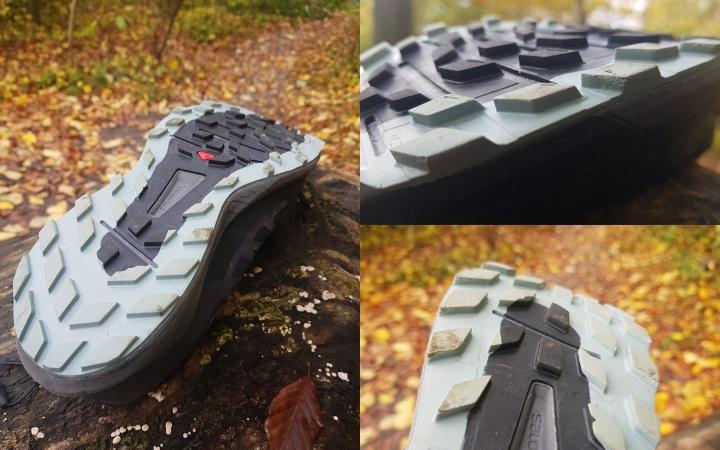 Protection is great, but not superb
The Salomon Sense Ride 3 is sturdy. Comments were raining in saying it felt "highly protective," that it would "handle just about any terrain" when it came to protecting your feet.
In terms of underfoot protection, one claimed that it could have had more "TPU for sharp rocks", and another saying that it was more for the forest than the mountain.
However, for most runs, the underfoot protection will be sufficient - especially as the sole comes with a rock plate. One said that it "work[s] for most kinds of trails at the most times." You won't feel stones underfoot, and the protection is definitely considered above average.
The toe cap does its job.
The firm ride is not liked
The general theme of the ride is that it's firm, one saying that it was "alarmingly firm." However, 3 of 10 experts said that after some miles, it softened up, but to what degree?
Only 1 of the 10 experts said that the midsole was "soft" and 1 other said that it was firm but not harsh. When experts comment like this, you know they'd prefer something less firm.
Several said that it was quite a stiff shoe.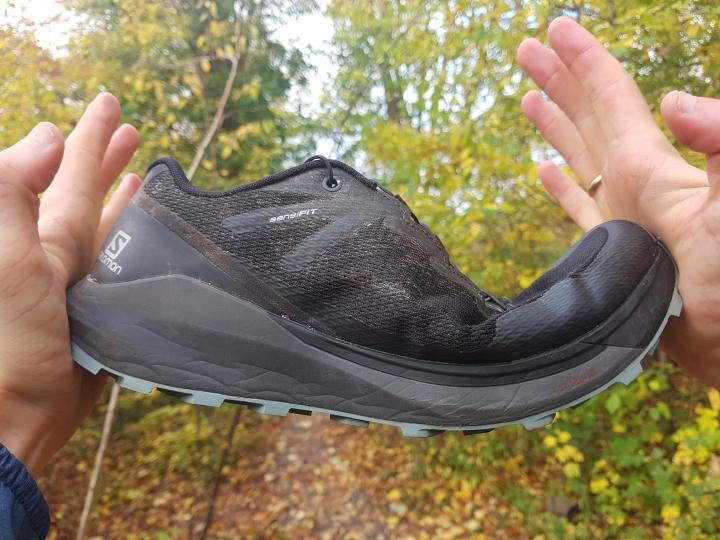 Comfortable but not a winner
4 experts commented on the breathability of the shoe. Half of them said that it felt airy and that it would be great for warm weather, and the other half said that its breathability was "somewhere in the middle."
The consensus is that comfort is great, not superb. Multiple reviewers liked the comfort also on longer runs. The heel collar is said to be soft.
The shoes' interior is stitch-free.
True to size!
All agree that it's true to size, and also that it's the same sizing as Ride 2.
Top-notch fit and a wide forefoot
While some didn't say if they liked it or not, all comments on fit say that the forefoot has become wider.
Generally, Salomon is known for a tight fit, and many say that the Sense Ride 3 has a different fit than most other Salomon running shoes they've tested.
The heel counter is said to be rigid, and others say that it gives them a "great feeling of lockdown."
Durable - this is the reason to buy the Salomon Sense Ride 3
Of all things discussed, durability seems to be the one thing that experts specifically applauded the Ride 3 for. One reviewer claimed no signs of wear after 70 miles, another saying no durability issues after 100+ miles and a third expecting at least 500 miles in the shoes.
Both the outsole and the upper mesh was praised, claiming it to be "solid."
Sense Ride 3 is a budget alternative
A few made comparisons to the S/LAB shoes from Salomon saying that the Ride 3 was a great budget-friendly alternative. Generally, it was perceived as a lot of shoes for little money.
A stable yet neutral shoe
The general theme is that the Salomon Sense Ride 3 is stable. It's a neutral running shoe, but with a stable ride. The lateral stability was praised in particular.
The laces are not a home run
While one claimed the laces to be "perfect for any use," most disagreed with that excitement.
Ridiculously long laces
The garage for stuffing laces is not built well
Some had to re-lace the shoes on longer runs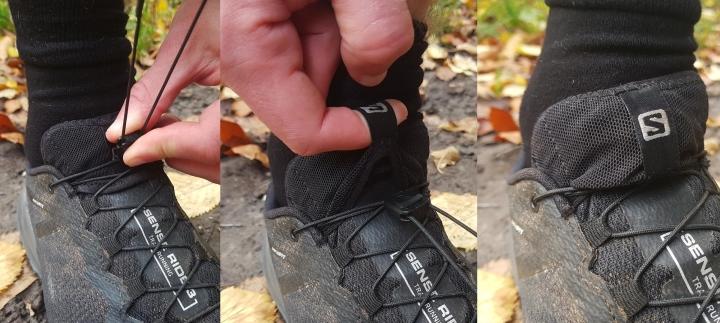 Not to forget...
It took a full night for the shoes to dry according to one expert
One noted that she rolled ankles a few times in these shoes specifically.
Low energy return
Compare popularity
Interactive
Compare the popularity of another shoe to Salomon Sense Ride 3:
Salomon Sense Ride 3 video reviews