Facts
Terrain:
Mud

,

Trail
Arch support:
Neutral
Weight:

Men: 9.9oz

|

Women: 8.3oz

Heel to toe drop:

Men: 8mm

|

Women: 8mm

Fit:
Medium forefoot

,

Medium heel

,

Medium toe box
Pronation:
Neutral Pronation
Arch type:
High arch
Use:
All-day wear

,

Fell running

|

Jogging
Material:
Mesh upper

,

Rubber sole
Features:
Breathable

|

Cushioned

|

Comfortable
Strike Pattern:
Midfoot strike
Distance:
Daily running

|

Long distance

|

Marathon
Release date:

Feb 2020

Brand:
Salomon
Width:

Normal

|

Normal

Price:

$120

Colorways:
Black

,

Blue

,

Green

,

Grey

,

Purple
Special editions:
SKUs:

L409563

,

L409601

,

L409602

,

L409690

,

L409697

,

L409699
Verdict from 8.5 hours of research from the internet
92
Great!
116 users: 4.5 / 5
15 experts: 84 / 100
8 reasons to buy
The Salomon Sense Ride 3 provides excellent traction, according to some users.

Based on reviews, the running shoe is supportive.

The majority of the testers agreed that the shoe feels smooth when running.

According to those who have tested it, the running footwear is well-cushioned.

A good number of consumers commented that the shoe is comfortable.

It is stylish, based on reviews.

The shoe is sturdy, as noted by a few buyers.

Many purchasers loved its roomy toe box.
3 reasons not to buy
One of the users commented that the Salomon Sense Ride 3 does not flex easily.

A buyer said that the toe box height of the shoe is low, making it problematic during long hours of running.

The shoe is heavier and beefier, observed by a tester.
Bottom line
Neutral pronators and trail running supporters and fans are the main consumers targeted by the Salomon Sense Ride 3. The neutral running shoe undeniably received positive comments from Salomon running shoe enthusiasts. With the technologies employed into the running shoe, the traction, support, response, and cushioning system are highlighted as the elements that improved the runner's performances.
Tip: see the best running shoes.
Our reviews
Trail running was my first love when it comes to sports. But, as I got older and began to take more care when it comes to protecting my back and joints, I started to run a bit less and opted for long nature walks.
As I walked more and more, I started going into mountain areas, so I needed a proper shoe. That was the first time I bought Salomon shoes. They were hiking boots to be more precise, but I was very impressed with how light and supportive they were.
Their price was high but they lasted five years. And, with every step on hard terrain that I took, I was grateful that I bought them.
These days I don't find enough time for hiking trips, but during quarantine, I started to run in nearby woods. That's when I saw that normal running shoes won't protect my feet and ankles from rocky terrain.
As I was looking for proper shoes, I came upon Salomon Sense Ride 3. It was a blind buy based on my previous experience with Salomon brand, and I have to say, I made the right decision.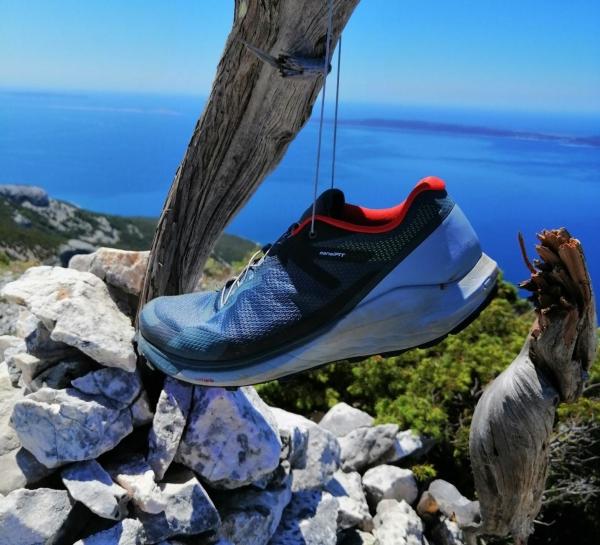 I started to enjoy running again without fear of getting my ankle twisted, having bruises on my feet, or slipping.
The best thing about these shoes is that you can use them on pavements and rocky terrains. They are light and yet give enough protection (except maybe forefoot area).
Since we live in times of pandemic and our movements and interactions are limited, these shoes are ideal companions for those of us that are lucky enough to live near forest areas.
We can slip them on and run for a few miles on the pavement until we reach those beautiful green areas that give us so much serenity and joy.
Design
Design is quite good. It is not too aggressive nor too mild. There are more colour combinations, and they all seem okay. The shoes can be worn in your free time and with jeans. I would say that the design is minimalist and modern. But, there are some nicer pair of shoes out there.
Upper
The upper is made of quality materials, it provides enough space for your toes but at the same time manages to feel snug and supportive (just make sure you adjust the laces). The tongue is on the thin side but since there are no traditional laces, it is no problem at all.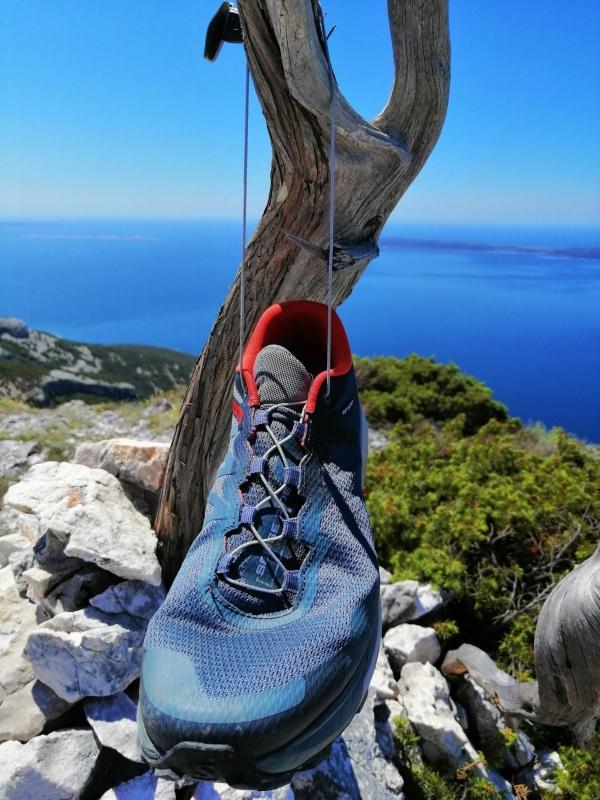 I wish they made the tongue a bit longer so that the laces could be inserted into the designated pocket more easily.
Sole
The sole of the shoe is really good, but it has a specific geometry that takes some time to get used to. It is hard to describe it, but it is similar to newer Nike Pegasus models. It is focused on the heel, and it kind of pushes you forward.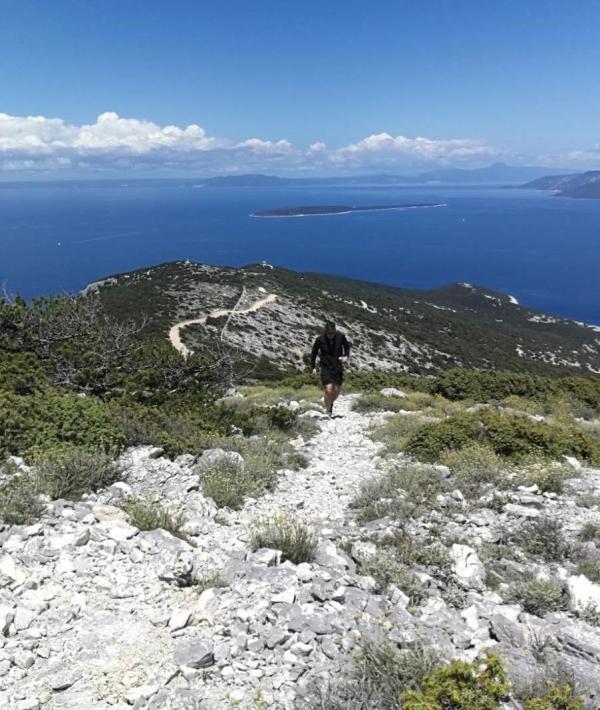 Overall quality is really good and it provides enough traction on different surfaces. Many trekking shoes tend to have hard soles to protect feet from rocks, making them slippery and dangerous in wet conditions and on certain surfaces. However, with these shoes, that is not the case.
The only reason I am not giving it a perfect score in this aspect is that I feel the lack of cushioning at the front.
Fit, geometry, and price
When it comes to fit, I like my running shoes to give me sock-like feel, that is snug but not too tight. These shoes deliver that feel plus somehow they leave just enough space for your toes. You can take the shoes right out of the box and go for a run and you will get no blisters and have no problems.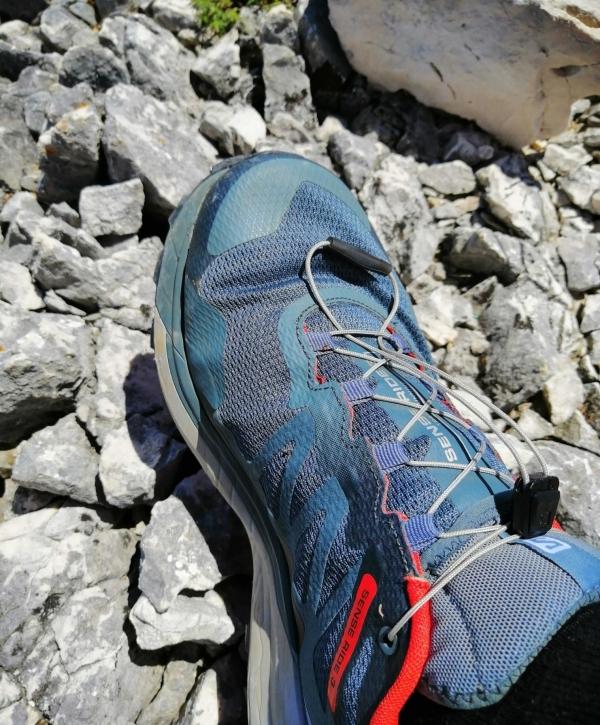 Shoes have 8 mm heel to toe drop, which works well. They do not take some special time to get used to except if you are accustomed to 12 mm drop shoes.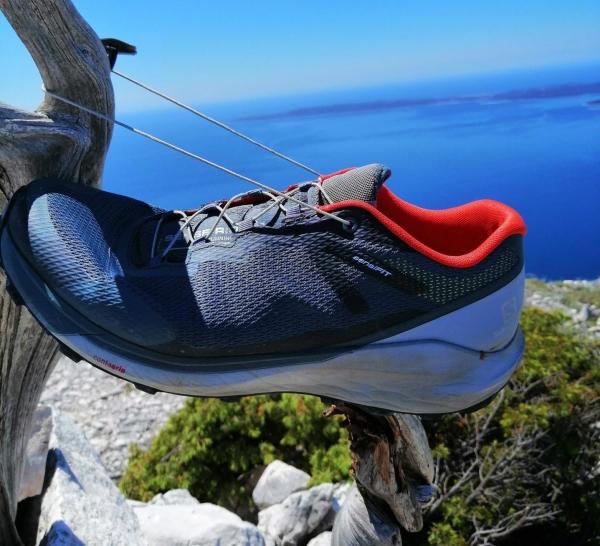 This is a high-quality shoe, therefore, the price is higher. But when we take into account discounts that can be found and compare the shoes with some other brands, the price is fair.
Conclusion
These are very versatile shoes that can be used all season and on all terrains. Not many shoes can do that, but I would say they work best on gravel roads during fall, spring, and winter. They are not water-resistant, but they can withstand small amounts of rain and wet grass.
Pros
High quality
Great traction
Versatility
Nice design
Cool laces
Supportive
Cons
Hard to put laces in their pocket at the top of the tongue
Not enough forefoot cushioning
The French brand, Salomon, is synonymous with trail running (and skiing), and it now makes impressive road shoes, too. Even though its slogan is Time to Play, they appear to take their design and technology very seriously.
This makes sense: if you're going to have the most fun possible, you'd better be comfortable and safe.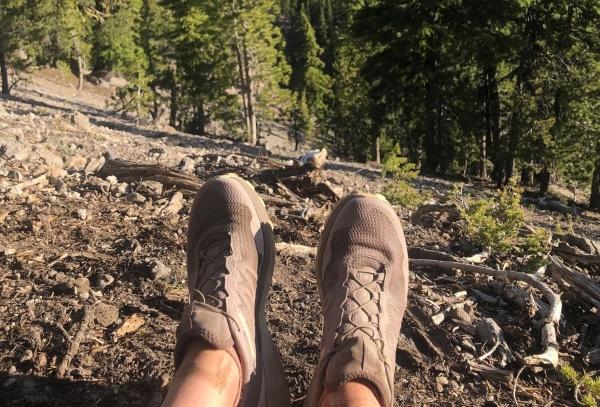 Salomon used to hold a reputation for narrow toe boxes, and this kept me away from its offerings for years. But, then it started to tweak its design, and word spread. I also heard about and approved of their sustainability policies.
The Salomon Sense Ride 3 is a neutral, 8mm-drop trail shoe. I'm a lightweight, mid- or forefoot striker who runs distances of 3-15 miles at a time, 4-6 times per week. I've run over 50 miles in the Sense Ride 3 on a mixture of trails, from steep and rocky to non-technical.
I've also tested it a little on the roads. I purchased this shoe seeking a neutral yet cushioned trail shoe for longer (10 miles plus) adventures on a variety of trails. I didn't need the aggressive traction of the Salomon Supercross models.
I'm a small-framed runner, and I appreciate a light shoe. Although Salomon refers to the Sense Ride 3 as lightweight, a women's size 8.5 weighs in at a little over 8oz—that sounded a bit heavy to me—but I don't feel it once it's on my foot.
I was looking for a toe box wide enough to let my toes move, but not so wide that it felt sloppy. This shoe hits the spot.
The Sense Ride 3 performs well on all trail conditions, and even on roads.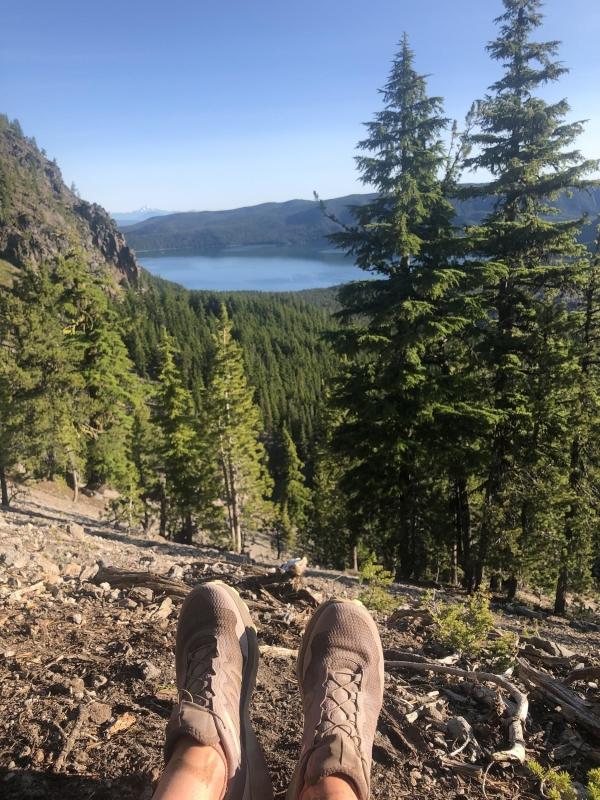 Aesthetics
Those who appreciate simple, classy designs will like the look of this shoe. It's sleek and no-nonsense. I love it. If you like a bold, attention-grabbing aesthetic, though, you won't find it in the Sense Ride 3.
The women's Quail/Vanilla Ice/Bellini colourway is shown here. There are currently four colour options.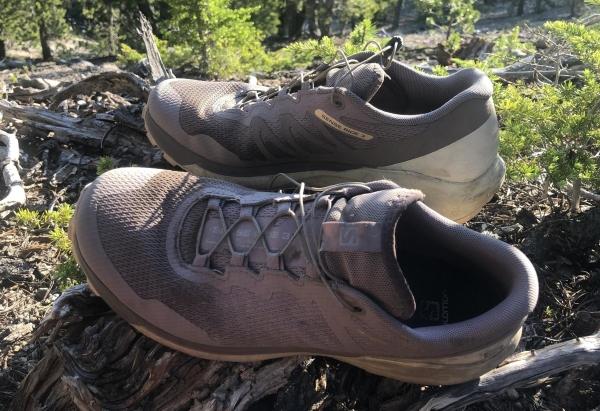 Upper
The Sense Ride 3 runs true to size. My only complaint is that the Quicklaces are far too long and the lacing system, in general, is flawed. It does not offer the one-pull system Salomon is aiming for.
I do not pull my laces particularly tight. Yet when I pull the cord to fit my foot, I have a ridiculously long loop left that I then have to tuck it into a special pocket inside the tongue to avoid stepping on it or having the plastic end hit my ankles as I run.
The cord laces go so high up that you really have to pull the tongue out to access the pocket. Not such a quick lace! When so much thought is put into every other detail, how this one gets missed by so many brands is beyond me.
Once everything is stashed in the pouch, it puts additional pressure on the front of my ankle, which is irritating.
Notice the pouch at the top of the tongue. The laces, oddly, sit over this pouch, so you have to pull it clear beforehand.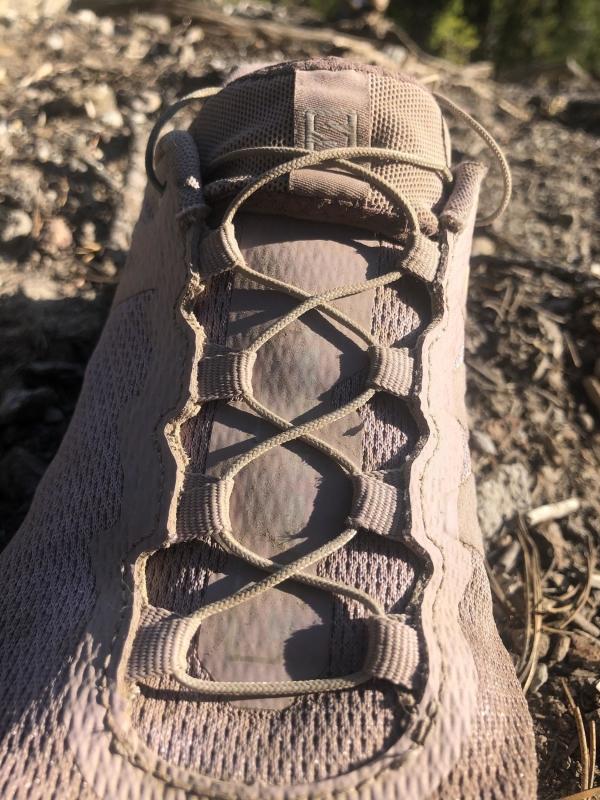 The process of lacing and tucking takes longer than a standard pair of laces—a minor irritation from an otherwise incredible shoe.
To adjust the laces, you loosen or tighten before securing with this black plastic tab. It doesn't feel very durable, though so far it has held up. You're left with a long tail to tuck into the pouch in the tongue. Great in theory, but in practice, it's a fiddle, and not that comfortable.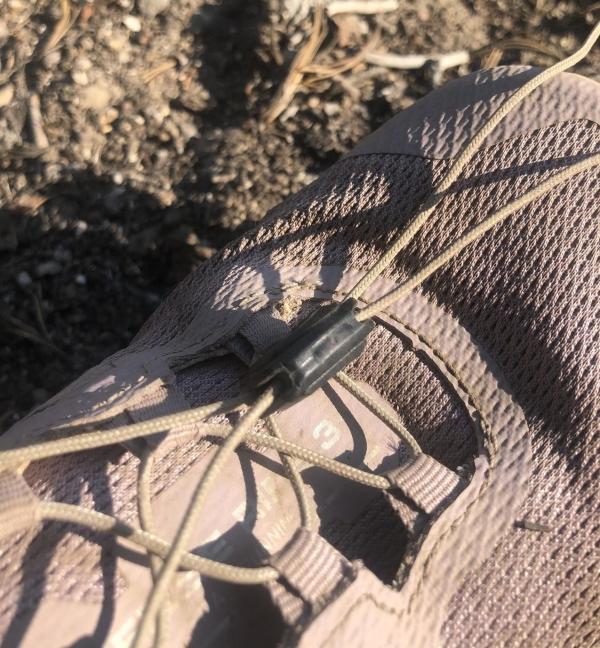 However, that one gripe aside, the upper is perfect. It feels durable, and I expect it to hold up for a very long time. I run on a lot of very dry, dusty/sandy trails and this shoe keeps all of that nonsense out. It's also reasonably breathable.
The attractive upper provides a secure, comfortable fit and keeps dust and dirt out. The sole does stain a little, but that's not a huge deal for me. The Sense Ride 3 holds your midfoot securely on the steep stuff.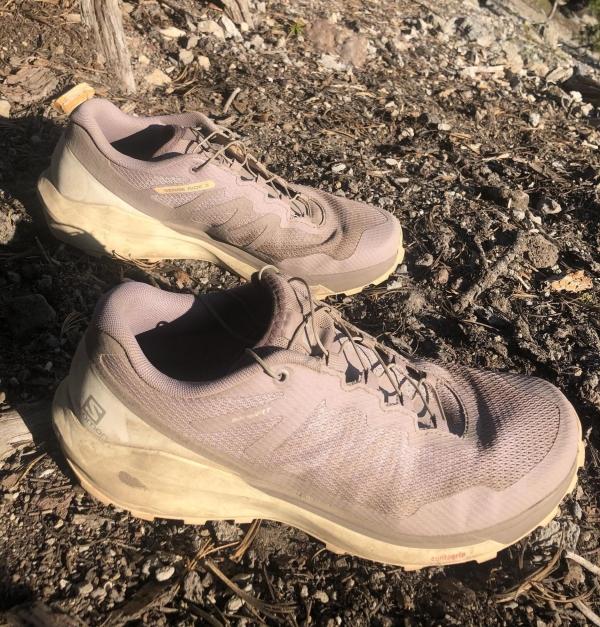 This is not a waterproof shoe, nor does it claim to be—run through puddles at your own risk. It also takes a while to dry after going for a dip (say, if your Beagle mix drags you into a lake mid-run, as a totally random example) but you can always opt for the Sense Ride 3 GTX model for a waterproof version.
The heel counter offers an excellent, snug fit.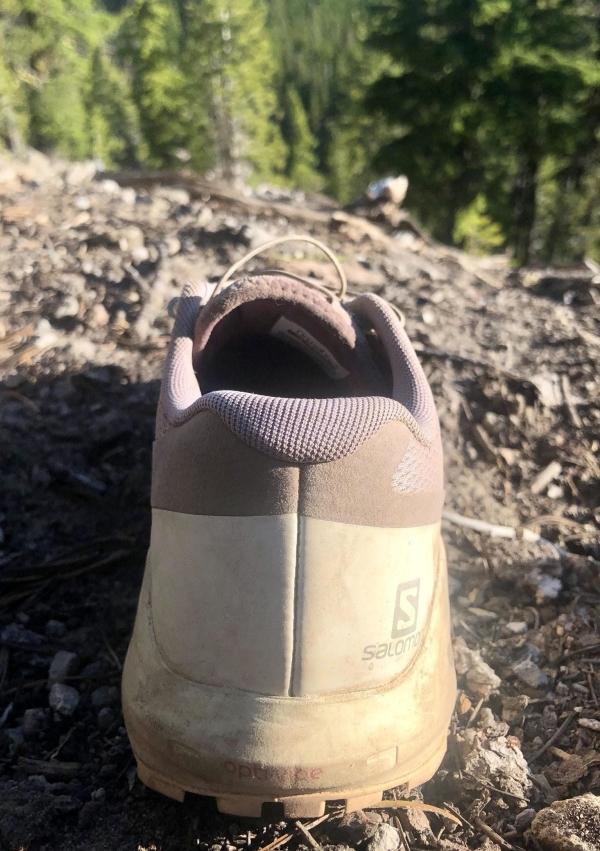 I have heard some complaints about the amount of white on this shoe and consequent staining. I don't love the blinding-bright-white look anyway, so that's a non-issue for me. After getting dirty on long, dusty runs, they cleaned up to an acceptable degree.
Reliable protection is provided by the film over the upper and tough toe bumper. This show protects from rocks, without entirely sacrificing ground feel.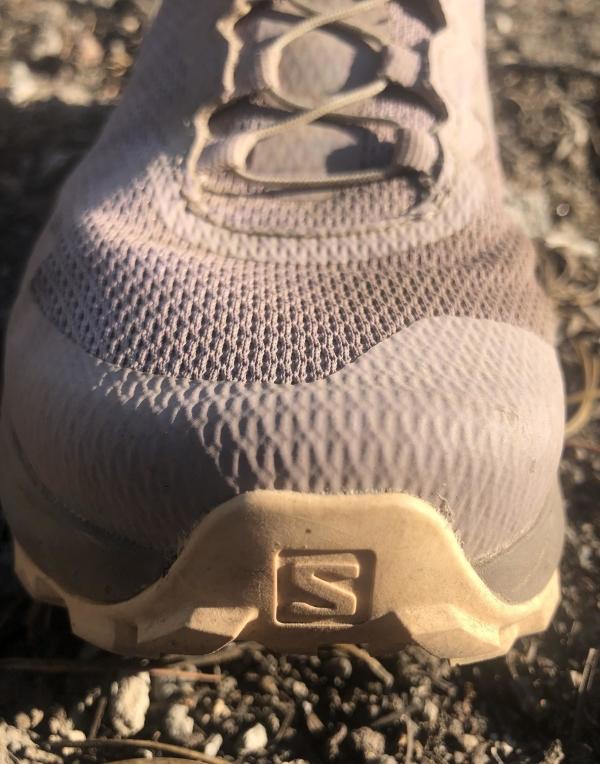 Midsole
The Sense Ride 3 has moderate cushioning. Salomon rates it as a 5/5 for cushioning, but this does not feel plush. For longer distances, this is just the right amount for me. The midsole seemed stiff at first, but once I was running in this shoe, it felt reasonably flexible.
The simple Ortholite insole is comfortable and holds up well.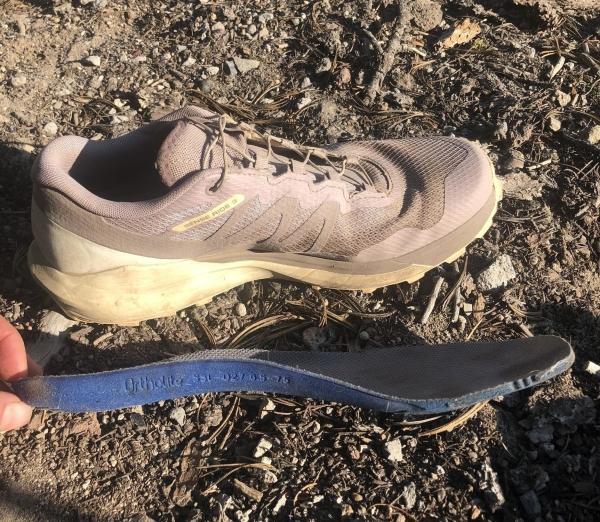 Salomon combines two types of foam in the Sense Ride 3. One is designed to dampen vibration as your foot strikes the ground, the other aims to provide energy return and push you onward. The impact reduction seriously works.
The day after particularly challenging runs, I can feel a difference. It does not deliver quite so much in terms of energy return. I can't say I feel super fast in this shoe, and I'd perhaps recommend finding a different model for racing.
The rock plate is segmented and does a fantastic job at protecting you from rocks underfoot. There is also a film that protects your foot from sharp sticks etc. and a solid toe bumper, too.
Outsole
The Contagrip sole provides great traction without collecting too much debris. It's easy to clean. The combination of the grippy sole and supportive upper mean that my feet stay exactly where they are meant to when I'm tackling steep descents.
The sole seems durable and offers impressive traction on the trails. It does occasionally pick up debris, but not enough to be noticeable while you're in motion.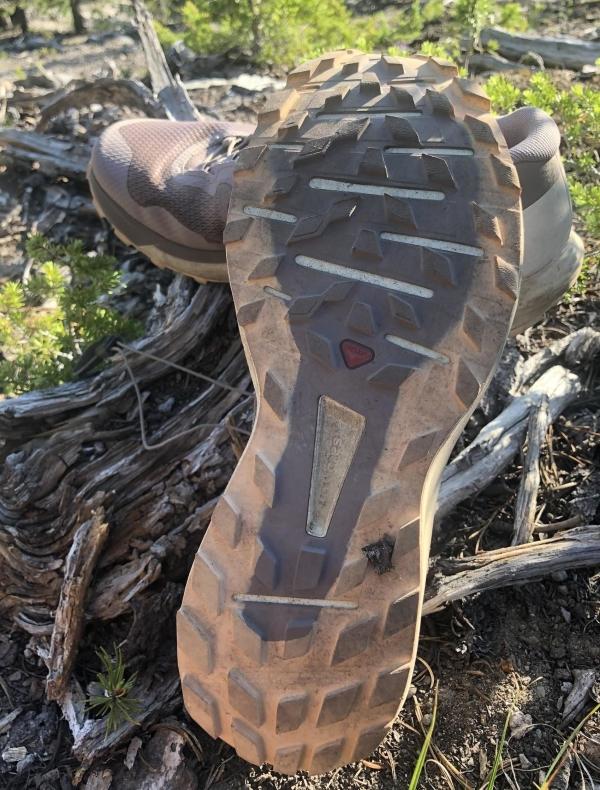 The bottom line
The Salomon Sense Ride 3 is one amazing, versatile shoe. It is durable and comfortable for long trail runs and fine for slower road running, too.
Due to an emergency (I had to run to get help for an injured friend), I actually wore this shoe for three trail runs in a single day, and I was still slow to pull it off my feet when I finally got home.
If that's not a testament to how comfortable and well-designed this shoe is, I don't know what is. Salomon, I salute you.
Pros
Comfortable
Good protection from rocks and debris
Great traction
Reasonably priced
Durable
Cons
Weird, inefficient lacing system
The Salomon Sense Ride 3 don't embrace many of the latest trail running trends. They're not low drop, super cushioned, or impossibly lightweight. Even the muted color palettes have a little bit of a dad-shoe vibe.
However, the Sense Ride 3 nailed it for me: The fit, comfort, and versatility make this shoe perfect for any type of trail. Being comfortable on both paved roads and trails is a killer feature that many serious trail shoes lack these days.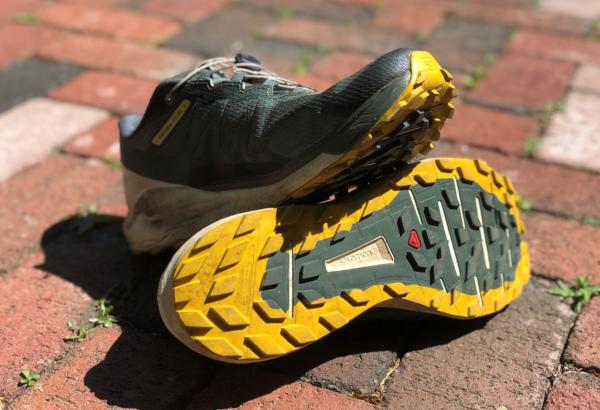 Upper
The upper is a stiff mesh that looks and feels very sturdy and protective. I've run a number of times through bush, rocks, and thorns and they came out unscratched.
Next, we have the signature Salomon lacing system - a drawstring system with a cinch to keep it tight. This might seem a little gimmicky if you're used to laces, but this one's actually amazing.
You never have to worry about your laces coming loose. Plus it creates a really well-distributed tightness across the shoe. This shoe just fits like a glove.
I've also heard that these shoes tend to run tight. However, I did not encounter this issue, unlike the previous shoes I've tried like the Hoka Speedgoat.
Midsole
With so many max-cushioned shoes flooding the scene, it was refreshing to run in a shoe that felt comfortable while also feeling nimble. This shoe, in general, isn't flashy, it's just really well executed.
I wouldn't describe the Sense Ride as exceedingly cushioned nor particularly firm. They're more like a good quality running shoe in the best possible way.
Having run in Hokas on the road and trail for a while now, I expected to feel a bigger difference in support and comfort. It did not disappoint, I felt just as comfortable and protected in these shoes.
Part of it is because I'm more aware of the terrain underfoot, and I pay slightly closer attention to where and how I step.
Outsole
Here's another area where these shoes toe the line very well. While these are definitely primarily a trail shoe, I've taken on 1-2 mile stretches of paved road with absolutely no problem or discomfort.
The lugs aren't nearly as big or aggressive as something like Salomon's Speedcross, but they still make easy work of rocks, fallen trees, loose gravel, etc.
Test run
10 miles, mixed trail and pavement, New England
Spring, 70 degrees and sunny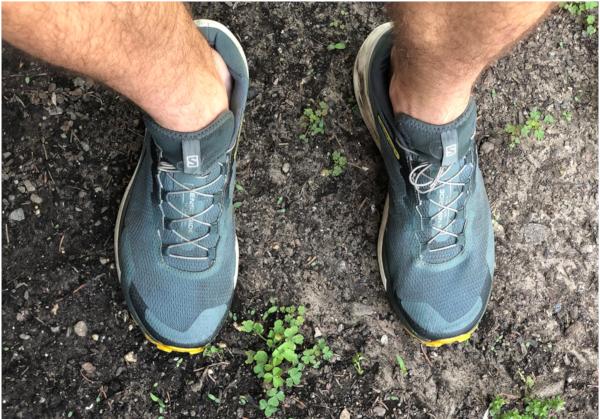 Setting out for some trails about a quarter-mile from home, these shoes immediately feel at ease on paved roads. The lugs aren't that noticeable on the sidewalk or at least are sufficiently offset by the cushioned midsole.
Approaching the trailhead, I see yellow police tape and construction vehicles. The road is closed for repairs. I cut through the torn up blacktop and gravel and get my first sense of the excellent traction that these shoes have.
The outsoles don't look overly aggressive but they're very effective. The biggest strength of the Sense Ride might be that they really blend in with their surroundings. That means you're not thinking so much about the shoe because they so seamlessly adapt to the terrain that you're covering.
While not the lightest shoe, they still feel fast do to the great fit and distribution with the help of the lacing system. Scaling up some larger boulders, I have no problem with grip (granted it's bone dry) and the lugs seem up for most conditions.
Conclusion
In the best possible way, I don't notice these shoes at all when I run in them. I can focus on running, and feeling good and balanced.
I also find myself reaching for these over other pairs of shoes that I have. They've absolutely become my primary running shoe.
The Salomon Sense Ride is a trail running shoe that is carefully engineered for those who have neutral foot mechanisms. It utilizes the new full-length Optivibe midsole. This component of the shoe decreases muscle fatigue during the running activity. With the utilization of this material, the user can start and finish every adventure in a faster manner.
Featured in the shoe is the anti-debris mesh upper. The essential goal of this is to provide additional protection and a customized fit.
This running shoe uses the Contagrip MA outsole. It is focused on delivering extra traction during the running session.
Integrated into the Salomon Sense Ride 3 are the EndoFit, SensiFit, and Internal SensiFit. All of these features of the shoe securely hugs the foot. As a result, a more secure, snugger, and the individualized fit is enjoyed by the user. The runner is sure to start and finish every activity with ease and confidence.
Like the Salomon Sense Ride 2, featured in the outsole of this shoe is the Contagrip MA. This component of the running footwear encourages non-slip traction. This kind of grip is essential in tackling the most challenging and toughest of terrains.
The Optivibe midsole is integrated into the Salomon Sense Ride 3. The goal of this is to increase shock absorption and decrease muscle vibration. As a result, increased responsiveness is enjoyed by the user.
Used in crafting the shoe is the ProFeel Film. This midsole technology is described as a thin TPU film that provides midfoot protection. The film delivers a midfoot shield without compromising ground feel.
Utilized in making this running shoe is the OrthoLite Sockliner. This material is composed of anti-bacterial elements that reduce odor and moisture. As a result, a healthier foot environment is aided. Aside from wicking moisture, added underfoot cushioning is also offered. The same material is used in creating the Salomon Speedcross 5.
The single-layer mesh is featured in the Salomon Sense Ride 3. This breathable material provides individualized fit. As a result, a more comfortable ride is received by the user.
Made from Kevlar fibers, the Quicklace is utilized in this running shoe. This durable fiber is meant to encourage a quicker and more comfortable entry and removal of the shoe. It is also focused on providing a more secure fit during the running activity.
Along with the Quicklace is the Lace Pocket. The primary function of this is to tuck the laces for secure storage. With the utilization of this material, the laces are kept to prevent any interruption during the run.
Improved comfort is encouraged by Internal Sensifit. Its sole responsibility is to reduce possible risks of irritation.
Together with the Internal Sensifit is the Endofit. This feature of the shoe is defined as an internal fit sleeve. It is strategically designed to hug the foot in the right places. This sock-like upper is vital in providing comfort and precise fit.
Lying in the upper area is the Sensifit overlays. These overlays wrap the foot beginning to the midsole, up to the lacing system. It aims to cradle the foot for a more secure and closed fit.
Size and fit
True to size
based on 21 user votes
How Sense Ride 3 compares
Corescore: 59-62
1 shoes (0.27% of shoes)
Corescore: 63-66
1 shoes (0.27% of shoes)
Corescore: 67-70
7 shoes (2% of shoes)
Corescore: 71-74
21 shoes (6% of shoes)
Corescore: 75-78
15 shoes (4% of shoes)
Corescore: 79-82
59 shoes (16% of shoes)
Corescore: 83-86
94 shoes (25% of shoes)
Corescore: 87-90
102 shoes (28% of shoes)
Corescore: 91-94
61 shoes (16% of shoes)
Corescore: 95-99
9 shoes (2% of shoes)
Price: $60 - $78
22 shoes (6% of shoes)
Price: $79 - $97
27 shoes (7% of shoes)
Price: $98 - $116
62 shoes (17% of shoes)
Price: $117 - $135
109 shoes (29% of shoes)
Price: $136 - $154
74 shoes (20% of shoes)
Price: $155 - $173
45 shoes (12% of shoes)
Price: $174 - $192
21 shoes (6% of shoes)
Price: $193 - $211
5 shoes (1% of shoes)
Price: $212 - $230
3 shoes (0.81% of shoes)
Price: $231 - $250
2 shoes (0.54% of shoes)
All shoes average:
10.4oz
Weight: 5oz - 6.8oz
7 shoes (2% of shoes)
Weight: 6.9oz - 8.7oz
55 shoes (16% of shoes)
Weight: 8.8oz - 10.6oz
144 shoes (41% of shoes)
Weight: 10.7oz - 12.5oz
114 shoes (32% of shoes)
Weight: 12.6oz - 14.4oz
23 shoes (7% of shoes)
Weight: 14.5oz - 16.3oz
4 shoes (1% of shoes)
Weight: 16.4oz - 18.2oz
2 shoes (0.57% of shoes)
Weight: 18.3oz - 20.1oz
0 shoes (0% of shoes)
Weight: 20.2oz - 22oz
0 shoes (0% of shoes)
Weight: 22.1oz - 24oz
2 shoes (0.57% of shoes)