The Altra Outroad is a zero-drop trail shoe that seems to take the place of the Timp in the brand's lineup: it's a true, excellent all-rounder that proved to be reliable on almost all surfaces. It's not the usual Altra when it comes to width, yet it's extremely comfortable and perfect for short to marathon distances. Last but not least, in a world where companies seem to compete to find the longest and most confusing names, "Outroad" is very welcomed.
Pros
Great on roads and trails
Pliable upper
Amazing outsole durability
Comfy padding
Less bulky than other Altras
Low stack
Doubles as a traveling shoe
Appealing design
Cons
Toebox is not Altra-wide
Breaking-in needed
Who should buy Altra Outroad
Buy it if you want a shoe that can be worn for almost every run. Its versatility, comfort, low to the ground style make it ideal for daily training, but also for longer sessions on gravel, single-track, rocks, and pavement too.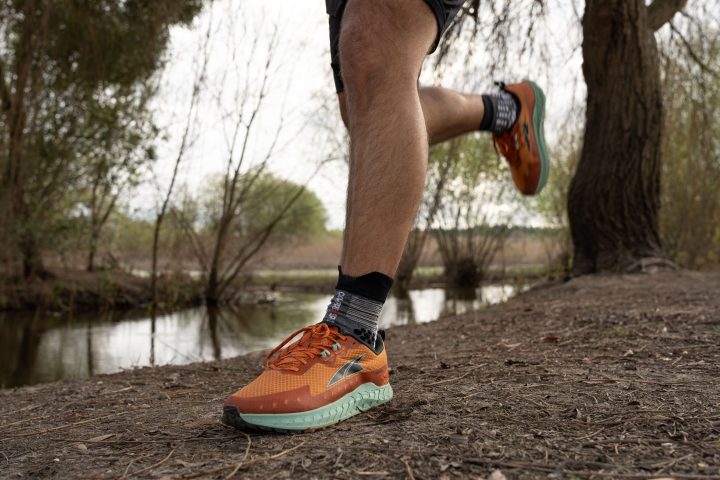 If you are a beginner, remember that this is a zero-drop shoe and a gradual approach is always recommended.
Who should not buy it
Look elsewhere if you: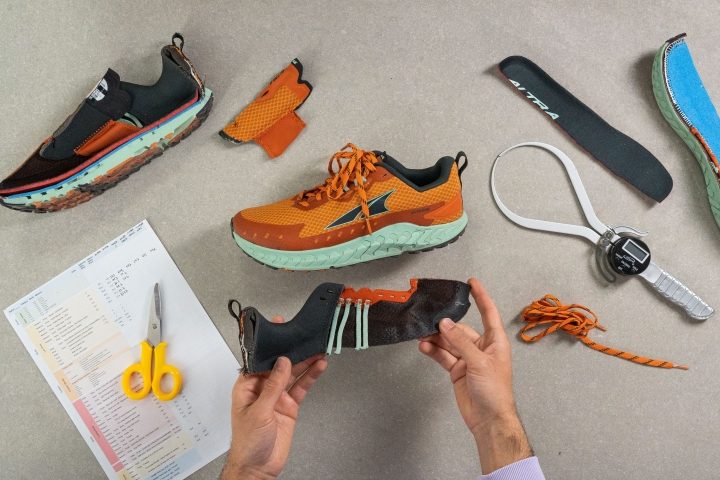 Upper is great on the Outroad
Those who tested this shoe described the upper as being well-crafted and really breathable, as they had no issues with their feet being too warm.
Fact check
According to our breathability test, the Outroad scored 4 out of 5, which means it is an airy shoe indeed.
We use a smoke-pumping machine and cover up the shoe mouth entirely, so that the smoke is only able to escape through the upper.
Altra Outroad (left): a lot of smoke is coming out, which means great breathability; Nike Pegasus Trail 3 GTX (right): breathability is extremely poor and limited to the tongue area.
Fact check
The transparency test seen below also confirms that the upper is airy. As you can see, quite a lot of light gets through the mesh.
Altra Outroad is the outsider of the family
Altra says the fit of this shoe is slim. What this means is that this shoe doesn't have the typical Altra's very wide toe box. However, runners who are not used to the brand's usual width still find it accommodating and somewhat roomy compared to other brands.
A runner had no doubts about this: it's "an awesome snug fit."
Fact check
We measured the widest part of the shoe's forefoot with a caliper: it's 99.1 mm, which corresponds to medium width (the average for trail running shoes is 98.9 mm). After wearing the shoe ourselves, we can confirm that the shoe did not feel tight at all, it was actually a bit loose.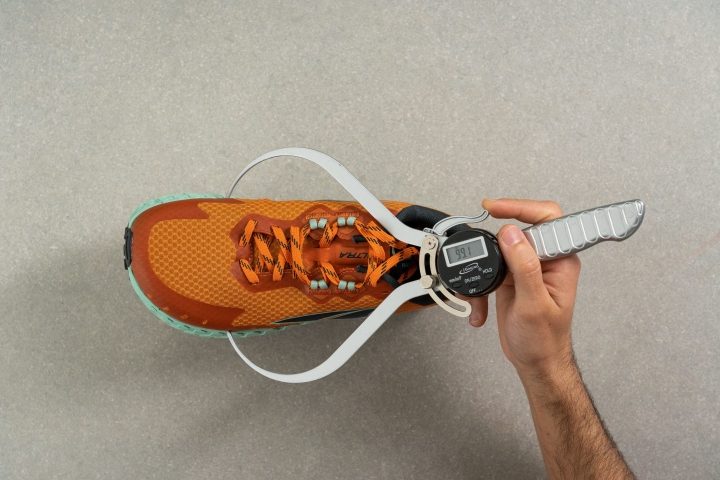 Thumbs up for the ride
On his first 10-mile run on both trails and roads, an experienced runner said he "had a blast." The ride was particularly smooth, soft, and responsive. And this was confirmed by another runner who said he enjoyed it a lot and "this is a bucket list shoe to have."
According to our durometer, the Altra Outroad has a balanced midsole. It reported a figure of 29.5, which is very close to the average for trail running shoes (30.2).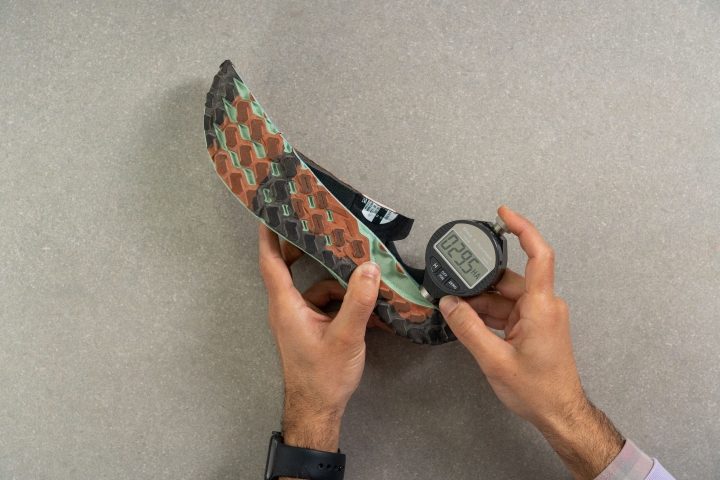 Disclaimer: We take an average of 4 measurements and exclude any outliers. This image shows just one of our measurements.
The stack height we measured in the lab confirms that the shoe is quite low to the ground compared to most trail running shoes (the heel stack is only 25.1 mm, whereas the average is 31.7 mm).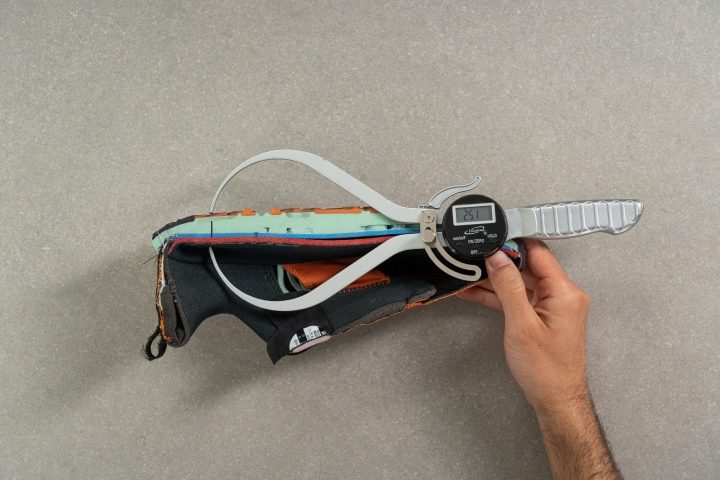 The height stack at the forefoot is 25 mm, exactly like the heel's, as this is a zero-drop shoe.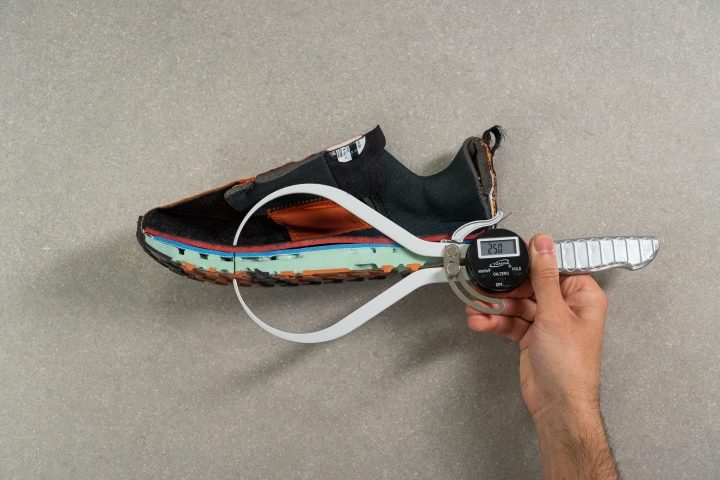 Our stack measurements are taken with the insole included.
The insole of the Outroad has a thickness of 4.1 mm, just slightly thinner than the average for trail running shoes, which is 4.6 mm.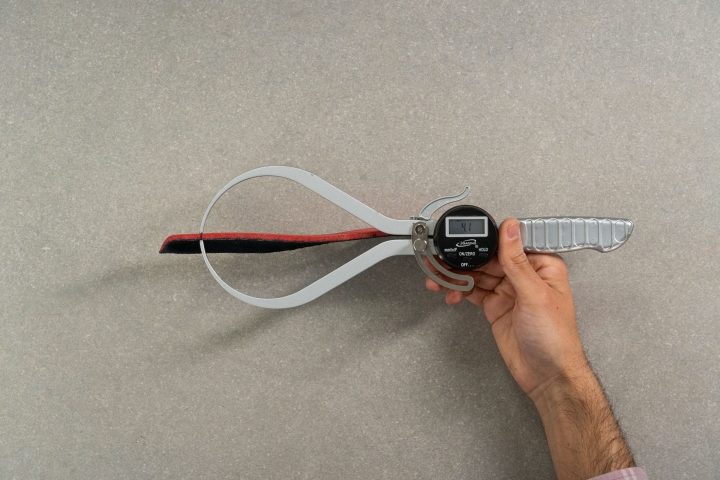 Grip in the Outroad is
really good
Testers appreciated the outsole they found in this shoe. It's rugged, durable, and as a runner pointed out, it "provides plenty of grip" on roads, gravel, grass, and most other types of terrains. Moderately technical terrain is not a problem either: as a tester said, it "can definitely handle it well."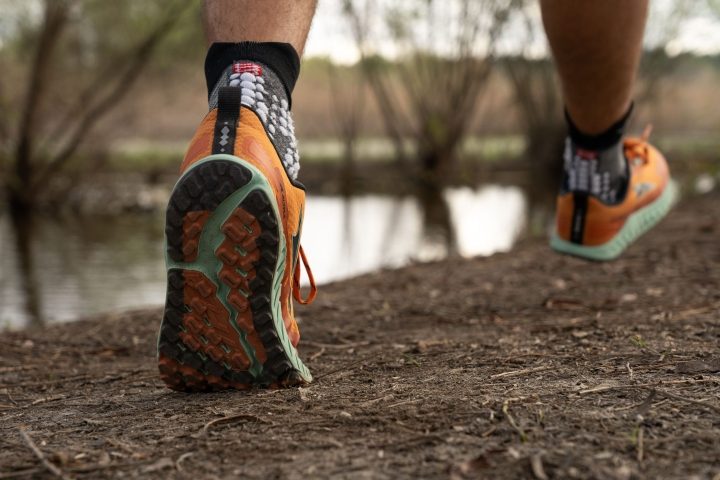 Fact check
While the average depth for lugs in trail running shoes is 3.5 mm, the Outroad offers 2.3 mm, a measure that's ideal for transitioning from trails to roads.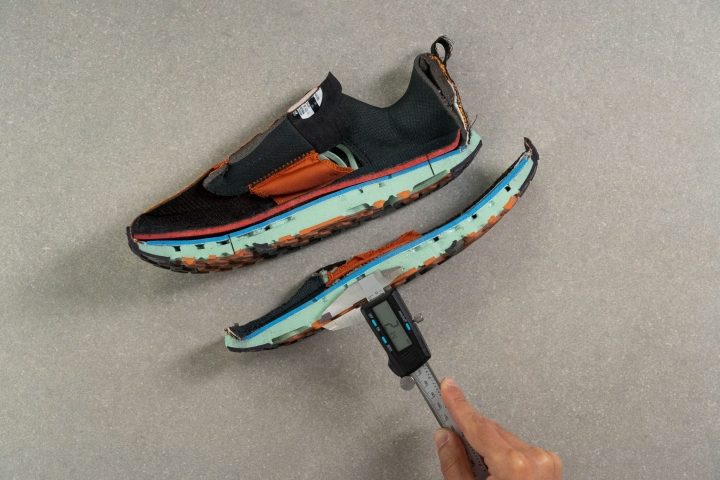 Fact check
When we tested the outsole with our durometer we found out that the rubber is 2.9% firmer than the average. This can explain the good durability, as harder rubbers tend to be more hard-wearing.
No rubbing, no blisters
Experts agreed on the comfort that this shoe provides. There's plenty of padding on the inside and around the ankle, a nice feel underfoot, and a semi-gusseted tongue that doesn't slide. As a runner said after his first 10-mile run in it, it "felt really comfortable the entire time."
Another runner pointed out that it was "problem-free right out of the box."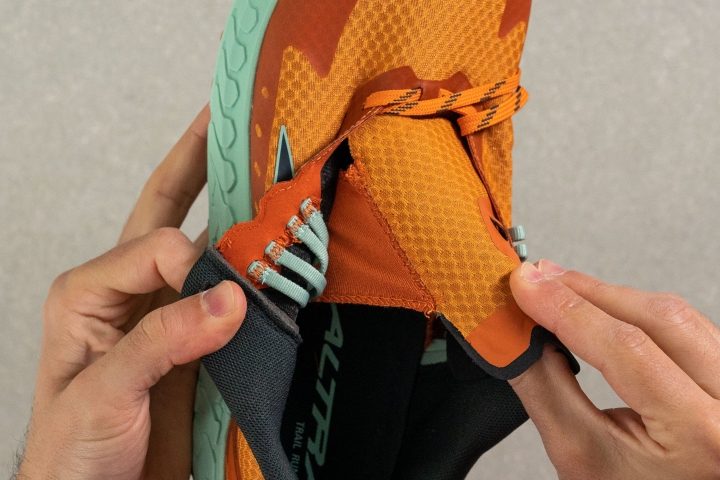 On top of this, contrary to many other trail running shoes, the Outroad has also a pretty flexible upper, particularly the heel counter.
The heel counter scored 2 out of 5 (5 being the stiffest). Rigid heel counters can provide more support to the foot but can be uncomfortable for some runners. Conversely, a flexible counter like this one provides less guiding for the foot but offers plenty of comfort.
A multi-purpose shoe
A tester pointed out that this is "the-one-shoe-do-it-all." It has "the perfect balance of cushion and traction" and this can be appreciated on a variety of terrains, even on tarmac. As noticed by another reviewer, running on the road feels smooth because the lugs are not very pronounced.
Besides, a runner used it for other activities as well. He said it's great when traveling and you are not sure which shoe to pack up.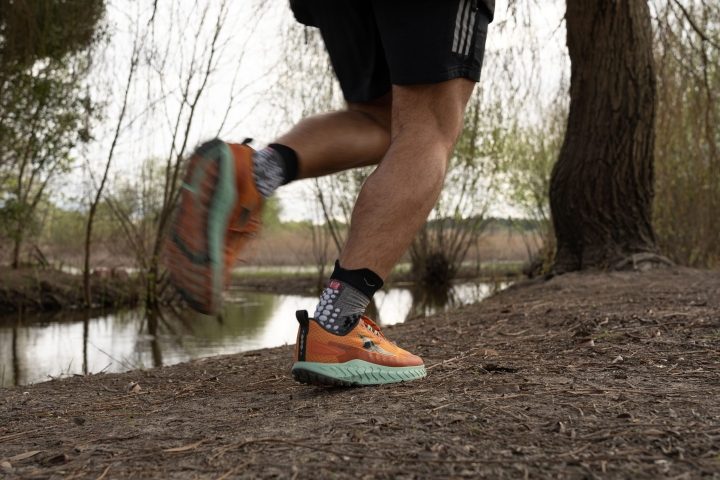 Much more rigid when it's cold outside
According to our tests, the Outroad is moderately flexible. It scored 3 out of 5 (5 being the most rigid) in our torsional and longitudinal flex test.
This was confirmed in our lab, where we measured the flexibility with a digital force gauge. The result was 29.1, which is considered moderate.
Fact check
We put the shoe in the freezer for 20 minutes and found out that when the temperatures go down it becomes 71.3% stiffer. Most trail shoes stay around 43.5%. This means that on a chilly day, the shoe might need some time to regain its flexibility.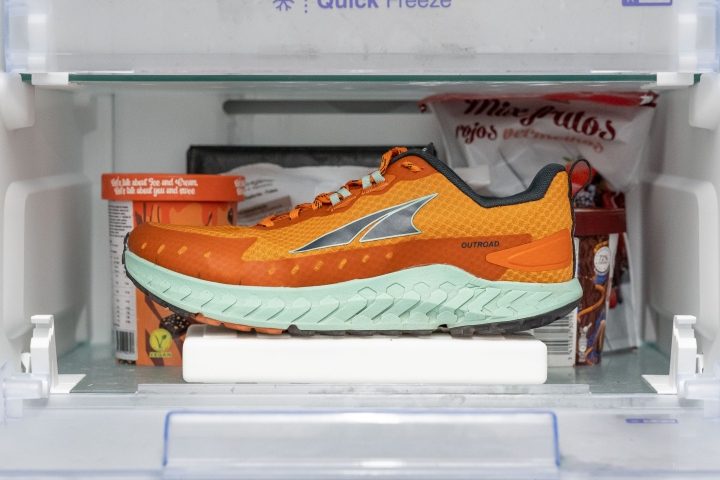 Altra Outroad offers some stability
Stability can be provided by different aspects. In the Outroad, this is provided by the width of the midsole and the low stack height.
In the widest part of the forefoot, the sole measures 111.3 mm (0.5 mm wider than average).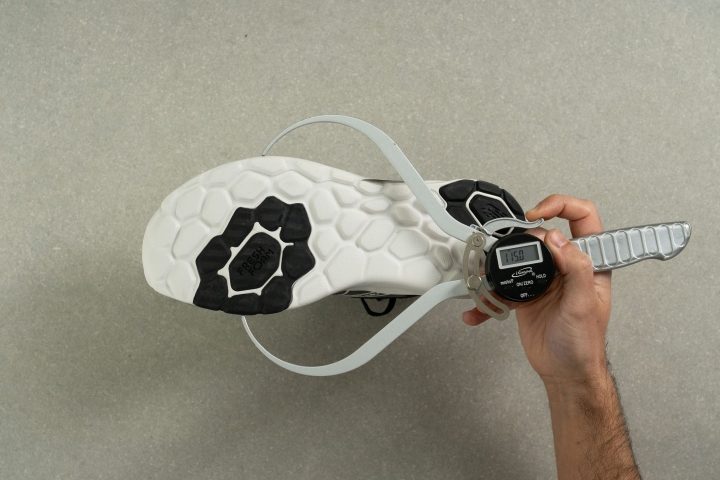 Lighter than what's on paper
At 10.7oz (303g), the Altra Outroad is very close to the average weight for a trail running shoe, which is 10.5oz (297g). An expert noticed that on foot it "feels a lot lighter" and doesn't seem heavy at all.
Outroad needs some time
A runner pointed out that the midsole needs to be broken in for a few miles. After that, the shoe really starts to shine and shows its full potential.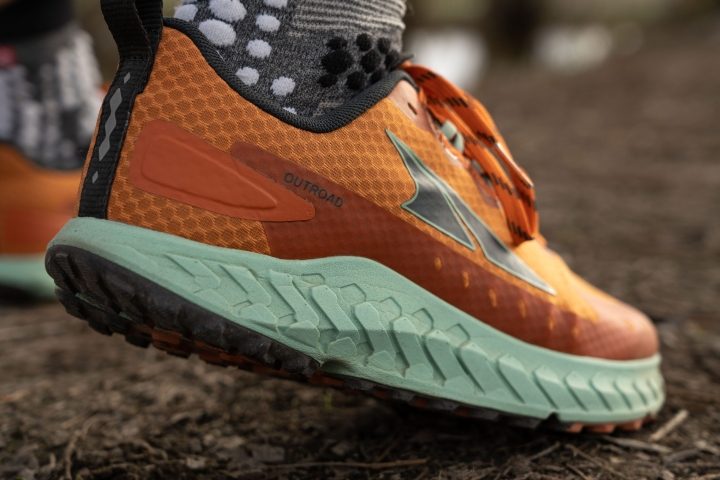 Not boring anymore
Some Altra fans have been let down in the past as the design was not always exciting. With the new Outroad, this issue is no longer there and a runner confirmed this when he said that this shoe "really looks cool."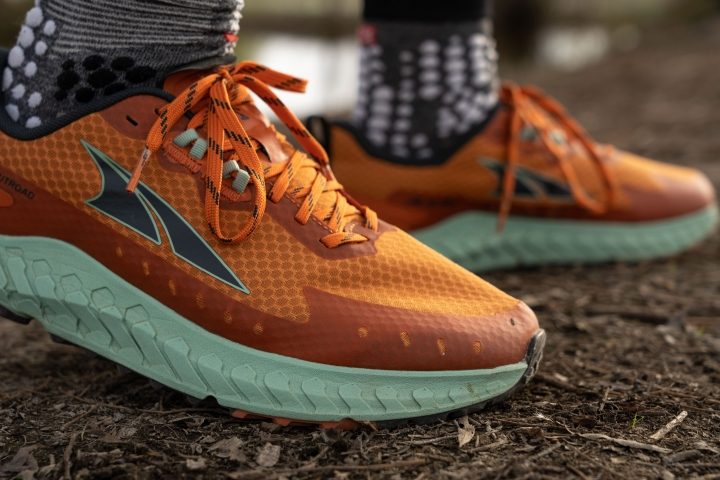 Visible when it gets dark
Though positioned only at the back, the reflective details make the shoe visible at night. This is a feature you usually find only in road shoes, but given that the Outroad is for roads too, it is important to have them.
Complete lab-specs overview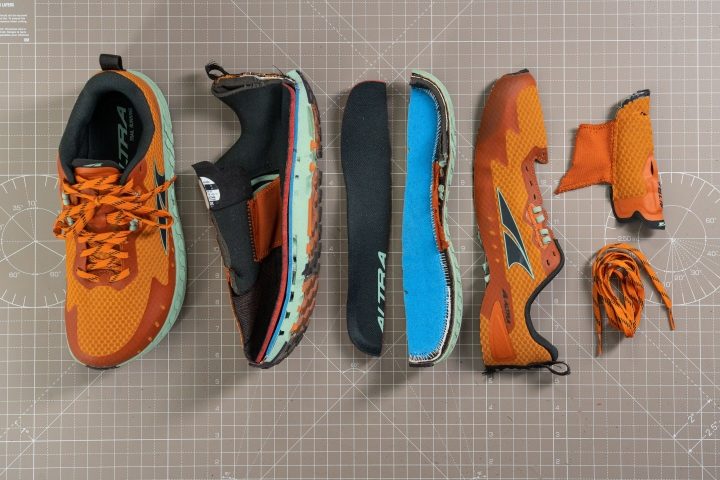 Altra Outroad
Average
Whole shoe

Weight (g)
303

290

Drop (mm)
0

7.5

Flexibility of the shoe (N)

29.1

34.6
Flexibility of the shoe (Freezer 20 min) (N)
49.8
49.8

Flexibility of the shoe (% of change)

71.3%
43.5%
Lace slip test with the knot (N)
-
-
Longitudinal flexibility (1-5 scale, 5 being the stiffest)
3
3.4
Torsional flexibility (1-5 scale, 5 being the stiffest)
3
3.3
Upper

Thickness - Tongue (mm)

5.4

6.0

Width Upper - Forefoot: Max width (mm)

99.1

98.9

Width Upper - Forefoot: Big toe (mm)

79.5

Width Upper - Heel (mm)

73.7

74.7

Lace Stretch (1-5 scale, 5 being the most stretchy)
Flexibility of the heel counter (1-5 scale, 5 being the stiffest)
2

3.3

Tongue: gusset type

both sides (semi)

Heel: pull tab

yes

Midsole

Width Midsole - Forefoot (mm)

111.3

110.8

Width Midsole - Heel (mm)

82.3

88.1

Stack - Forefoot with insole (mm)

25.0

24.3

Stack - Heel with insole (mm)

25.1

31.7

Durometer Midsole Heel (Room temperature) (HA)

29.8

30.2

Outsole

Outsole thickness (Heel) (mm)

2.3

3.3

Lugs Depth (mm)

2.3

3.5

Durometer Outsole Heel (Room temperature) (HC)

87.4

84.9

Insole
Insole Heel Thickness (mm)

4.1

4.6

Insole: removable

yes