7 Best Zero Drop Running Shoes in 2023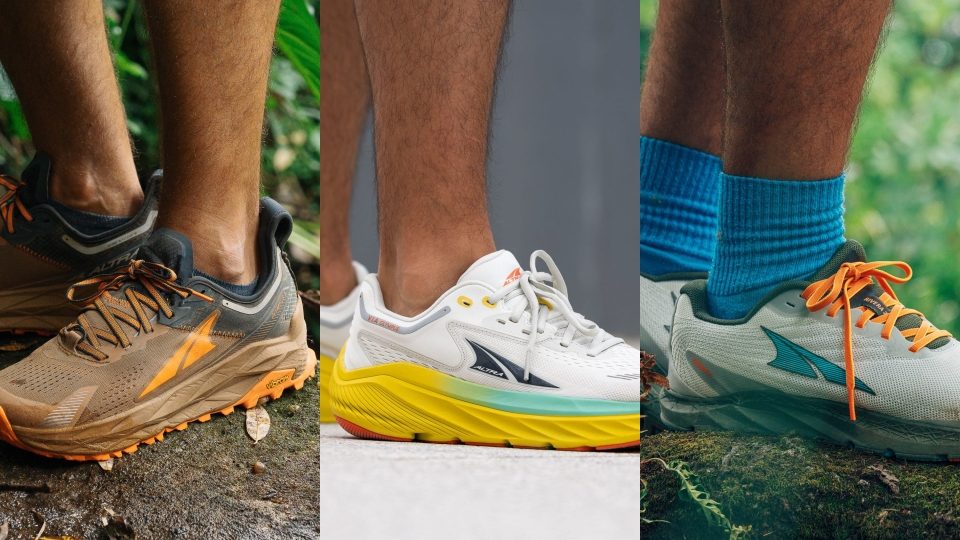 We earn affiliate commissions at no extra cost to you when you buy through us. Why trust us
Running in zero-drop running shoes is great BUT under a few conditions: you know why you're doing it and what to expect. Learn more in this guide so you can make an informed decision. Reading Born to run is simply not enough (but is highly motivating, yes!).
We are also zero-drop shoe fans here at RunRepeat and we have gathered over 30 models to test them out and find the best performers. And though many associate zero with minimalism, that's not necessarily the case. We've got some well-cushioned Altra shoes in our top picks below.
If you're not sure about which heel-to-toe drop you need and the effects it might have on your body and running, read our in-depth guide on the heel-to-toe drop.
Comparison of the 7 best zero drop running shoes
| | | | | | | | | |
| --- | --- | --- | --- | --- | --- | --- | --- | --- |
| Best | | | | | | | | |
| CoreScore | | | | | | | | |
| Users rating | | | | | | | | |
| Experts | | | | | | | | |
| Best price | | | | | | | | |
| Ranking | | | | | | | | |
| Popularity | | | | | | | | |
| # of colorways | | | | | | | | |
What are zero drop running shoes
As the name suggests, these shoes have a heel drop of 0mm. That means there is no height difference between the heel and the forefoot.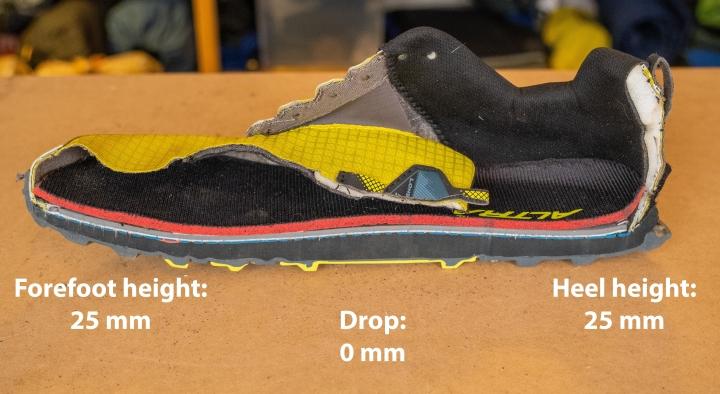 Example of a zero-drop running shoe cut in half
The moment you put zero drop shoes on for the first time, they might even feel like they have a negative heel drop. It's all good, nothing is wrong with the shoe (even though you'll see dozens of reviews hating the shoes because of this). It just takes time to get used to them.
If this is your first time hearing about zero drop in running shoes, it might not sound like a big deal, but it actually is. The majority of running shoes (92%) are outside of the zero-drop category. An unofficial standard is 10mm.
Heel drop vs. stack height
While the heel-to-toe drop might be zero, that doesn't mean that the shoes are flat and close to the ground. That's when stack height enters the scene.
Stack height is the amount of material placed between your feet and the ground. The more cushioning you look for in running shoes, the higher the stack height is. It's not related to heel drop.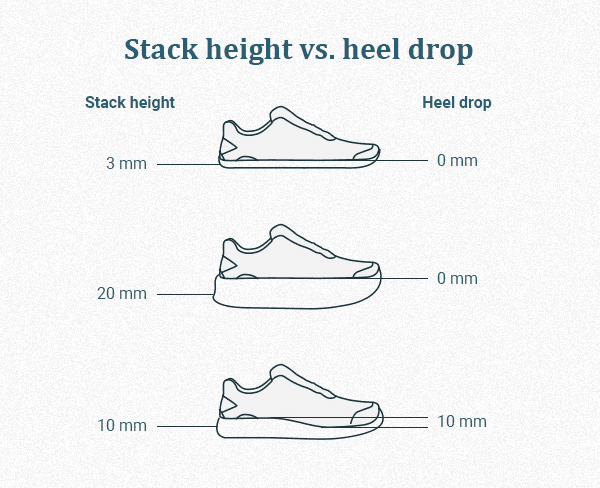 4 things to consider when buying zero drop running shoes
If you're looking for a zero-drop running shoe, chances are you're not a beginner. So we'll skip the obvious advice for buying running shoes and focus on that which is specific for zero-drop running shoes.
Here are a few questions to ask yourself before buying zero drop running shoes:
1. How much cushioning do I need?
This is directly related to how much a) ground feel you like and b) softness you enjoy. With more cushioning, there's more comfort, more weight, and less ground feel.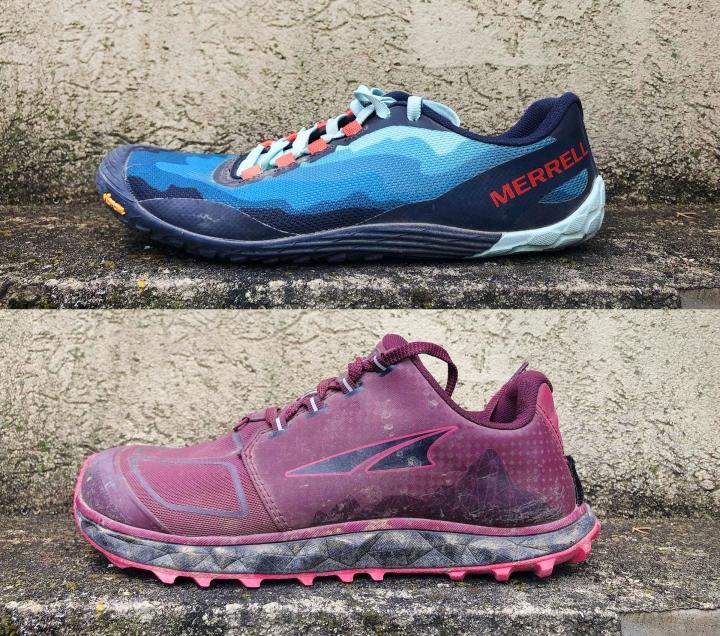 Merrel Vapor Glove 4 (barefoot zero-drop, no shoe feel, feeling every tiny bump) vs Altra Superior 4.5 (minimalist zero-drop, mid cushioning that allows for both shoe and ground feel)
Keep in mind that some shoes, like Merrel Vapor Gloves, are so flat that even walking on concrete in them might hurt your feet. But they do wonders on soft trails.
If this is your first trip to the zero-drop world, maybe leave the minimally cushioned shoes for later - to give your feet time to adjust to the new heel drop first. Either way, take it slowly.
2. What's my running strike?
This question is tightly related to the stack height and how much cushioning you need underneath your feet. While running, do you land on your toes (forefoot strike), midfoot, or heel (heel strike)?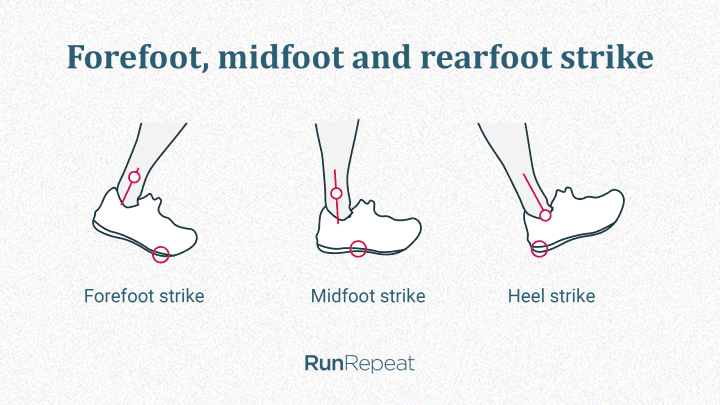 It's not a written rule, but experience has shown that minimal or really low stack height is more friendly towards forefoot- and midfoot strikers. This is because heel strikers don't get enough cushion while landing and might end up hurting their feet or ending the run abruptly.
Example of a midfoot strike
Heel strikers appreciate higher-stacked running shoes. Either way, take it slowly.
Stack height vs. running strike in zero drop running shoes
Minimal stack height
Medium and maximal stack height
Stack height values
0-12mm
13-33mm
Recommended foot strike
Best for forefoot and midfoot strikers
All, but heel strikers appreciate high stack the most
Brands to look at
Merrell, Vibram Five Fingers, Vivobarefoot, Xero
Altra
3. Do I need arch support?
Not all zero-drop shoes are completely flat and supportless. Some come with cushion and arch support and the most famous among them are Altra zero drop running shoes. The moment you put them on, you'll feel an arch-shaped cushioned bottom.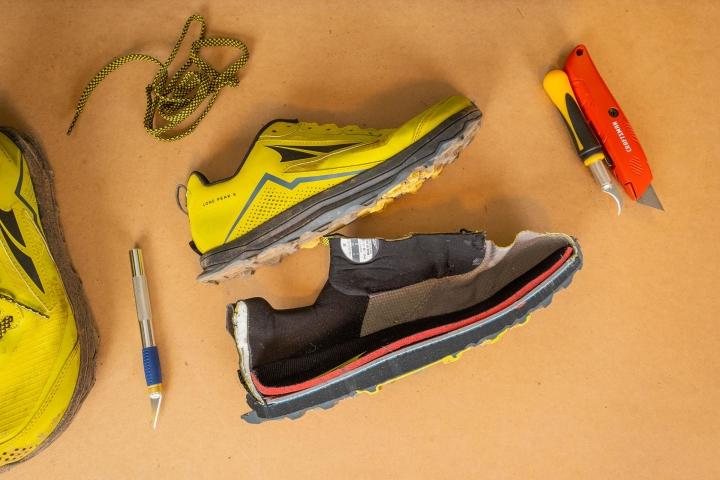 Visible arch-shaped support inside an Altra shoe.
However, if you prefer completely flat running shoes with no support features, brands like Vibram Five Fingers, Vivobarefoot, Xero are worth checking out. Either way, take it slowly.
4. Which fit do I prefer?
Zero drop running shoes have the most options when it comes to the width of the shoes and toebox design.
First, it all started with the idea that zero-drop running shoes will resemble barefoot running. Then those shoes got a bit of stack, a bit of support, and today there are even maximalist running shoes with a heel to toe drop of 0mm.
Next to the regular options found in the rest of the running world, these are specific to zero-drop only:
Vibram Five Fingers. Might look weird at first, but people swear by them. Basically, every toe has a pocket of its own.
Foot-shaped shoes. These running shoes actually resemble the shape of your feet - toebox are wide, enough to wiggle your toes, and they don't feel like your feet need to adjust to a design. It's vice versa. Altra has trademarked this design.
Either way, take it slowly.
The difference between barefoot, zero drop and minimalist running shoes
To once and for all distinguish these categories.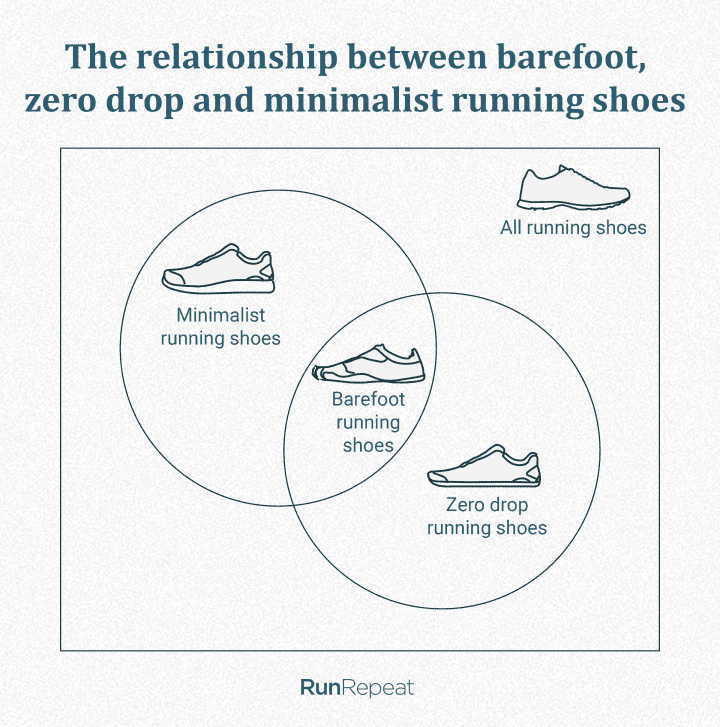 In the realm of running shoes, there are minimalist running shoes - shoes that need to satisfy a certain set of criteria. Zero-drop shoes may or may not be minimalist shoes, simply because heel to toe drop is only one out of 5 factors counting in the minimalist index. And all barefoot shoes are zero-drop shoes. They are minimalist of the minimalist. Pure logic dictates that barefoot humans have no heel drop.
Barefoot running shoes offer the best ground feel.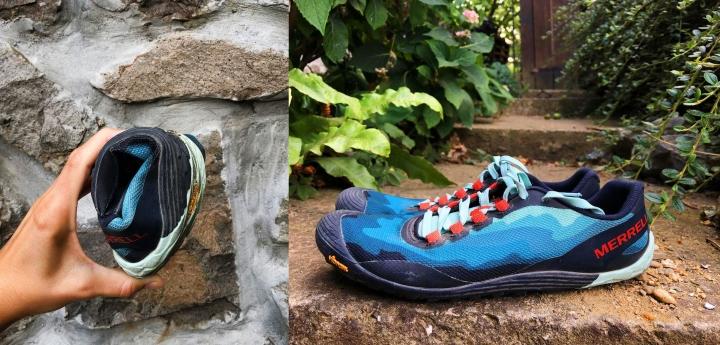 Example of a barefoot running shoe Merrell Vapor Glove 4
Nothing else is exact because most of the benefits depend on the stack height which varies both in zero drop and minimalist running shoes.
Are zero-drop shoes bad for your knees?
Depends. While low-drop running shoes affect lower leg muscles, that doesn't mean they are bad for knees or any other part of the body.
This study has shown that zero-drop shoes can be a great alternative for women with knee pain or weakness. This study has gone on to show that heel drop did not affect the injury risk in 553 runners (after a 6-month follow-up).
Transitioning to a zero drop running shoe
Transitioning period when going from a higher drop to a zero drop is a must. Take it seriously, take it slowly.
Here are a few facts to help you understand it:
The bigger the difference in the drop, the longer the transition period should be. Consider doing it in steps, e.g. getting shoes with a 4mm difference in the drop, not 8 or 10mm.
By changing the drop, you are changing the muscles that will work more while running. Lower drop [1 in the table below] asks for ankle, foot muscles, calves and Achilles to work more. Sometimes they are not ready and need more time to adapt. Higher drop [2 in the table] activates knees and hip muscles more.
| | |
| --- | --- |
| Low | High |
| | |
It will help if you start slowly. If there's no pain, use your shoes every day at short distances, even if it's only going to the grocery store. Slowly, up the ante. The moment you feel pain during or after the run, rest and don't put on the same shoes again until you're feeling ok. It should not come to that, ideally, at all.
How long it takes to transition to a zero-drop shoe completely?
For some, it's 2 months. For other people, we're talking about 1 year of slowly transitioning. As this study has shown, 10-week usually is not enough.
It's completely individual and depends on a few factors:
Your overall health and the strength of your leg muscles,
Previous injuries,
The difference in heel drop (it takes more time to go from 10mm to 0mm than from 4mm to 0mm),
Whether you follow the transitioning guidelines and listen to your body,
The amount of cushioning (cushioned zero-drop shoes are easier on the feet than completely flat running shoes that allow you to feel every little rock, crack, leaf underneath them).
This doesn't mean you should run only in zero-drop shoes. It's OK to mix and match with your other shoes as well.
Keep in mind, one drop doesn't work for everyone. Going zero-drop should be your decision and you should go through with it only if you enjoy it.
How we test running shoes
We are a group of running fanatics and we do in-depth research. We created our RunRepeat testing lab to put every shoe through the wringer and pick out the best in various categories. Here is the process:
We buy all reviewed shoes with our own money for transparency.
We deliver feedback on shoes after we log 30-50 miles. We run, walk, and even do light workouts in these shoes.
We cut every shoe into pieces to measure stack, drop, and 30+ other parameters.
The best-performing zero-drop shoes make it here.