The Hoka Tecton X is
Hoka
's first carbon-plated trail running shoe. To justify the name, it just might have started a tectonic shift - that's how much it is loved by runners. It's positioned as a speed-ready, racing and training companion to the
Hoka Speedgoat 5
. Thanks to the dual-plated design, we found that it shines at fast paces, especially the ultra ones. On top of this, it's a max-cushioned running shoe that keeps the feet protected without weighing them down.
Pros
2 carbon plates: very propulsive ride
Insanely stable
Looks fast and runs fast
Lightweight
Very cushioned & responsive
Worth the investment
Room for feet swelling
Grippy
No break-in
Vegan materials used
Cons
Not for technical terrains
Might accumulate mud
Expensive
Who should buy the Hoka Tecton X
Trail runners should go for the Tecton X from Hoka if they're:
eager to try a very fast trail running shoe, equipped with the newest technologies
training for upcoming ultra races and doing so at fast paces
running on trails, both soft ground and hard-packed, but avoiding technical grounds
looking for a fantastic commuter (a.k.a door-to-trail shoe)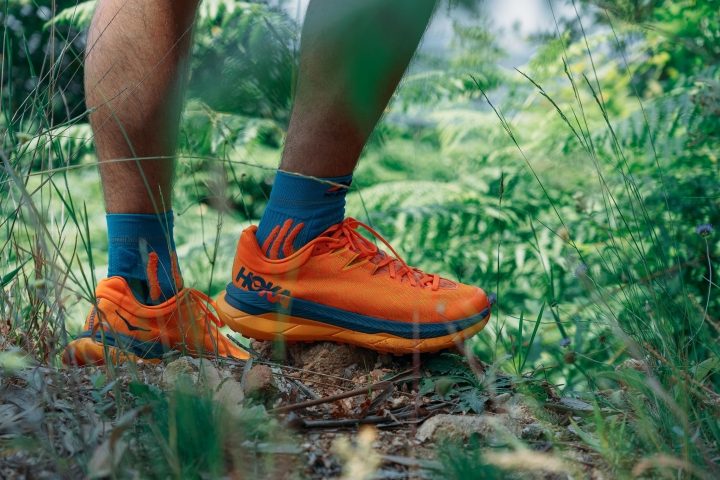 Who should NOT buy it
If you're looking to set PRs in highly technical terrains, the Tecton X won't do it. The plates are independent and runners feel that they work each in its own direction on rocks and off-trails, not giving a secure feeling. If you want to run fast on demanding ground, experts recommend the Hoka Torrent 2 or the Hoka Zinal.
Also, this is not a beginner's shoe in terms of paces - if you are doing a bit of everything or simply want something less expensive, yet great performance-wise, the Speedgoat 5 is the way to go.
Feels and fits perfectly right out of the box
From our experience, the Tecton X fits true to size, feels perfect, and requires no break-in.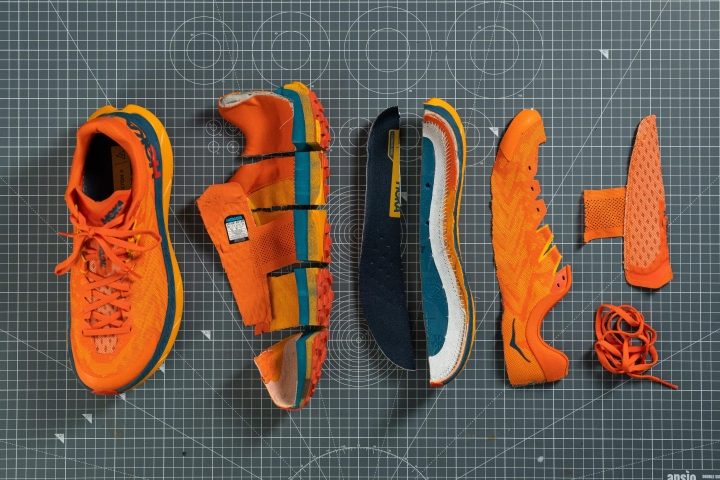 The shoe's upper uses jacquard mesh which breathes and drains well, and offers a wrap-like comfort, especially for medium-width feet. Narrow feet have room for toe splay, medium feet can swell and still find it comfortable. It's a regular fit and the upper allows for a proper lockdown from the start.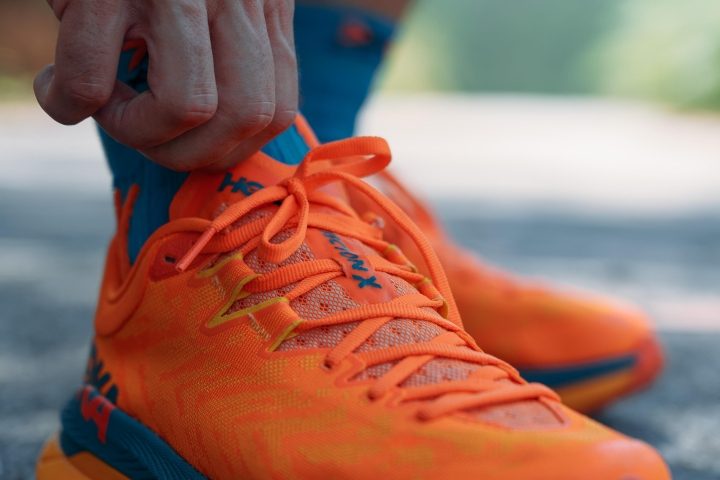 Also, the upper features a race-friendly tongue that's only 2.1 mm thick.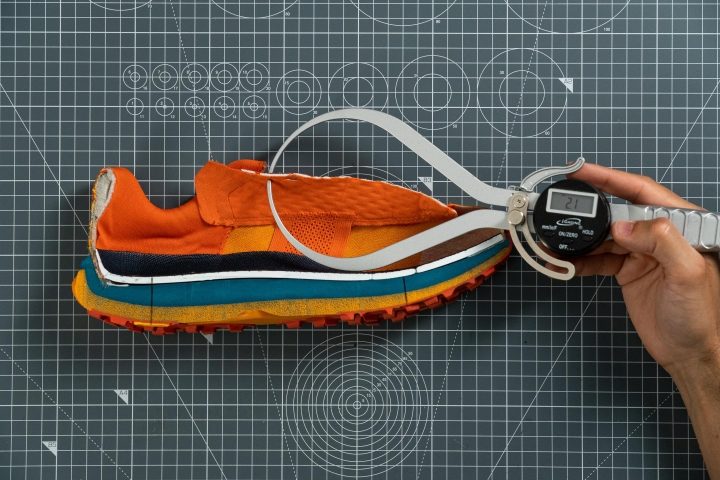 Compared to the average of 6 mm, it makes sense one would wear socks - if nothing else, to ensure there's no lace bite.
Tecton X is race-ready
Whether running uphills, smooth downhills, or on flat, moderately technical terrain, we felt the carbon plates come to life. They make the Tecton X an exceptionally responsive shoe.
If one carbon plate used to worry you in terms of flexibility and stiffness - worry not!
This unique design where the carbon-fiber plates are not connected but positioned parallel to each other allows for the shoe to be less stiff than expected when plates are in play!
Sticky outsole
On snow, frozen ground, non-technical dirt, and pavement, the shoe's outsole is a killer. It also appears to be very durable as the lugs are not wearing down nearly as fast as we expected.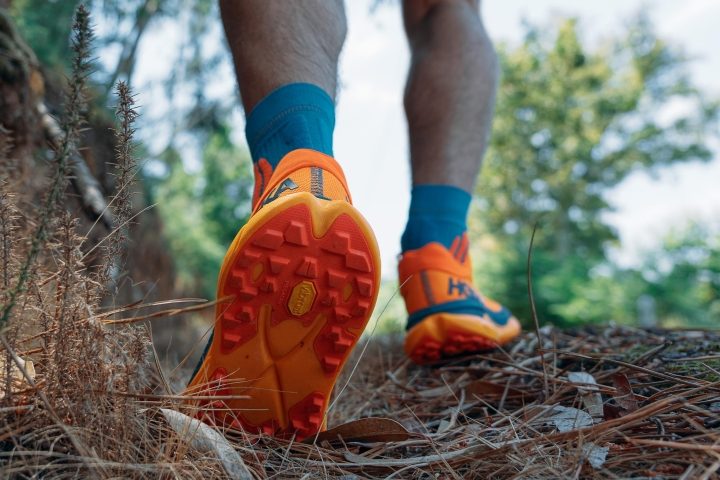 And because the outsole is not overly aggressive, we believe that it makes a great road-to-trail hybrid.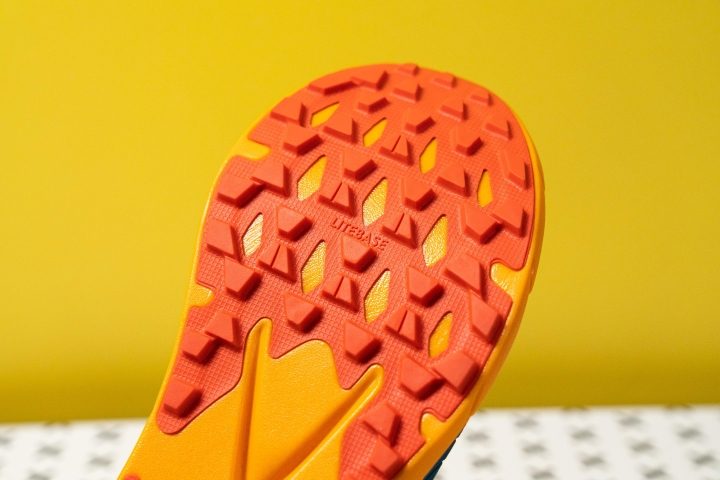 Looking at the lab data, this makes sense given that the depth of lugs is a moderate 3.5 mm.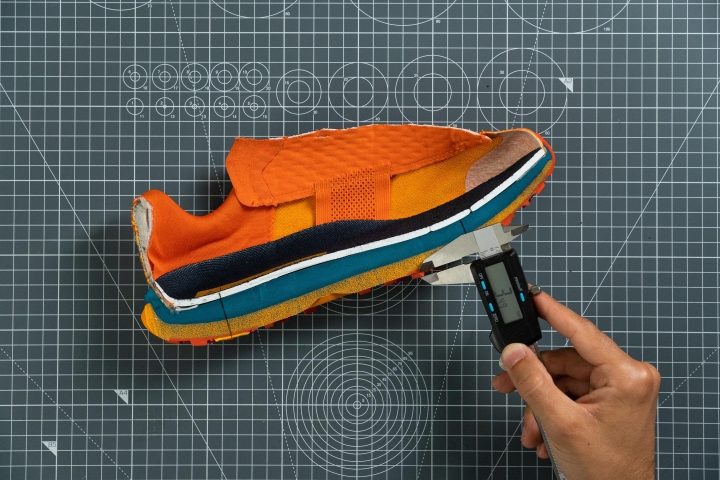 Comfortably cushioned, especially for a plated trail shoe
It looks big but it's the opposite on foot. Talking about big: Tecton X is ~3mm higher than the average shoe in our lab.
We have measured:
27.3 mm forefoot stack height
35.3 mm heel stack height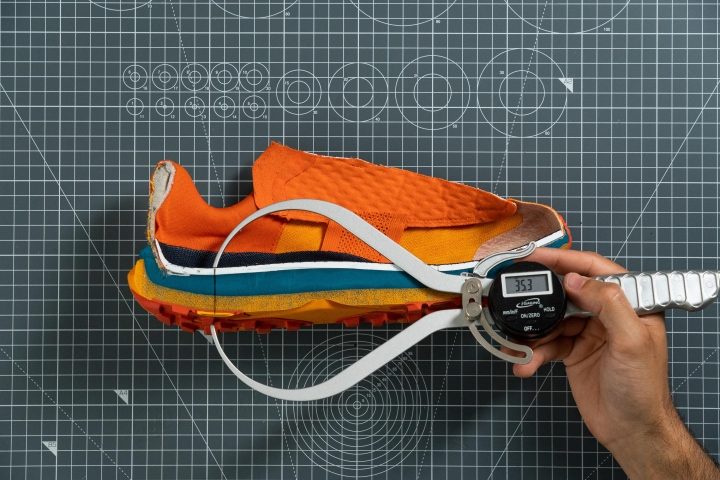 However, the "looks big" part is highlighted because this is not a common case (minus Hoka shoes) in the trail running world as it is on the roads.
Nailed it in the weight department
Trail running shoes on average weigh 10.5 oz (300g). But the Hoka Tecton X manages to trim it down a sub-9-ounce weight despite its huge stack.
The Hoka Tecton X offers a VERY stable ride
We've got no complaints in the stability department as this Hoka trail shoe remained steady and supportive all throughout the test run.
To fact-check this, we looked at the lab data. The base really is wider than the average:
heel width of Tecton X is 91.9 mm (the average is 89.1 mm)
forefoot width is 113.5 mm (compared to the average of 111.8 mm)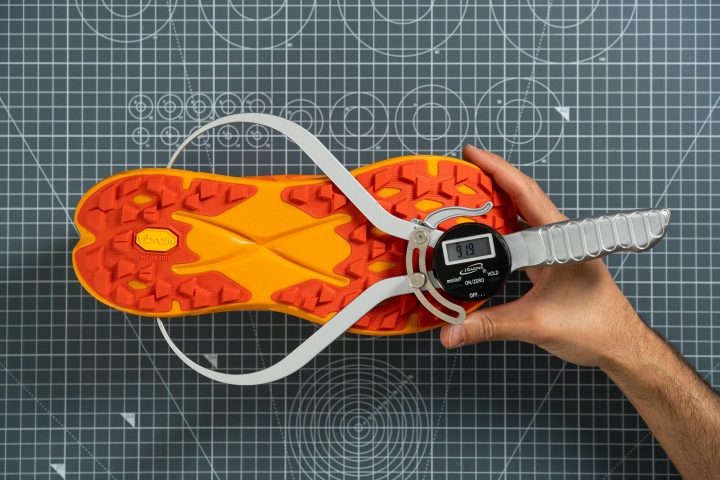 Store it wisely (at room temperature)
In the lab, we test the flexibility of shoes at room temperature and after keeping them for 20 minutes in the freezer. Then we check the difference in flexibility. Shoes, on average, get 31.5% stiffer after being exposed to the cold. Tecton X, however, got 55% stiffer!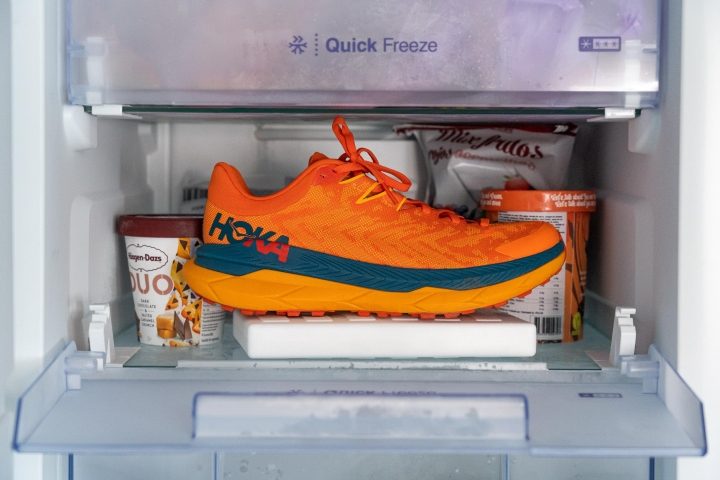 We also test the softness change. Here, Tecton X scores around the average, so all is good in this department. Worth noting though to pay attention - it might get a lot stiffer on winter runs.
The heel stays in place
Hoka nailed it! The shoe's heel counter is bombproof as it locks the foot in place.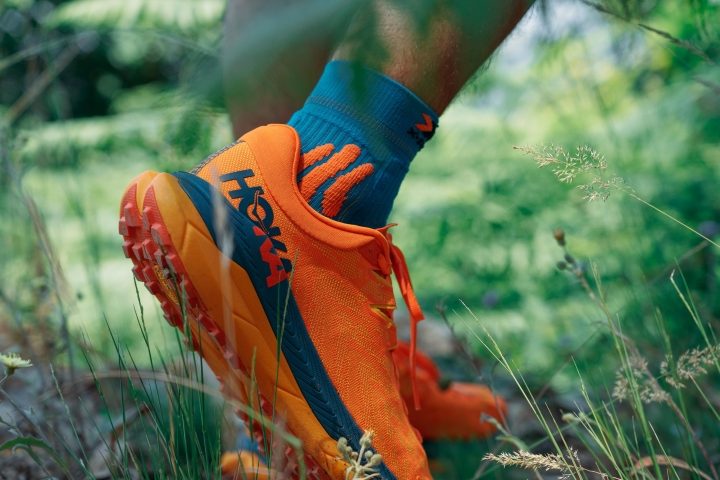 It is lightly padded and is also quite flexible. Assessing its stiffness in a manual test, we rated it as 2 out of 5, where 5 is the stiffest.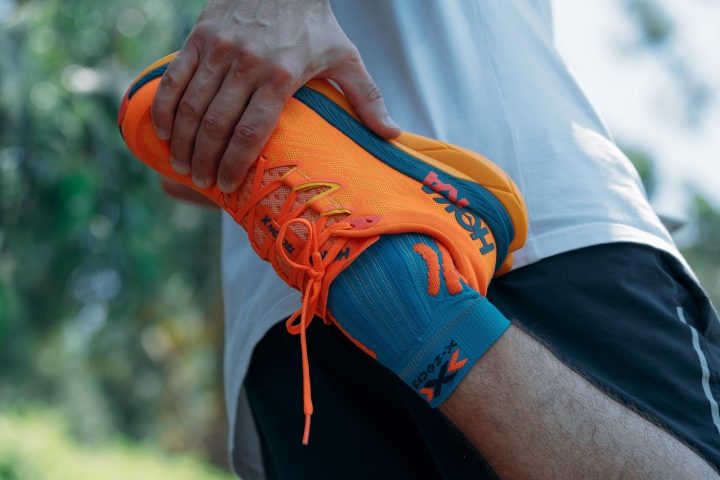 The Hoka Tecton X keeps it cool
The shoe's jacquard engineered mesh upper is very light and breathable. There are also no overlays, which makes the shoe extra airy when placed under the scorching heat.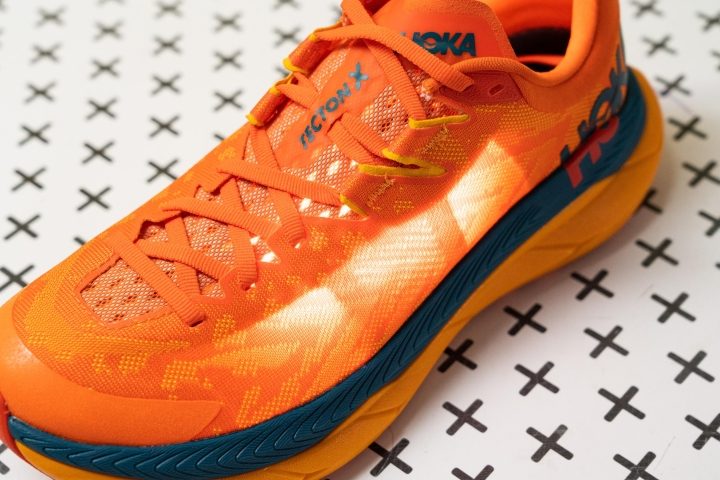 NOT for off-trail and technical terrain
When covering sharp rocks, tree roots, and overall loose and challenging terrain, we did feel the disharmony between the two carbon plates. Because the plates are separated, they sometimes perform so as well.
However, we believe that this is not something to hate the shoe for a lot simply because it is not what it was made for. Stick to less technical terrain, well-maintained trails, and less-rocky races and the Tecton X will shine.
Snug fit of the Tecton X
We've measured the shoe's forefoot width at 92.6 mm which is significantly narrower than the average. However, the overall design of the upper still allowed our feet to swell without feeling restrictive.
Wide footers, on the other hand, should consider a roomier option, like the Altra Olympus 5 or the Saucony Endorphin Trail.
Beware of mud
The X cut-out on the midsole tends to accumulate mud and is quite slow in shedding it off.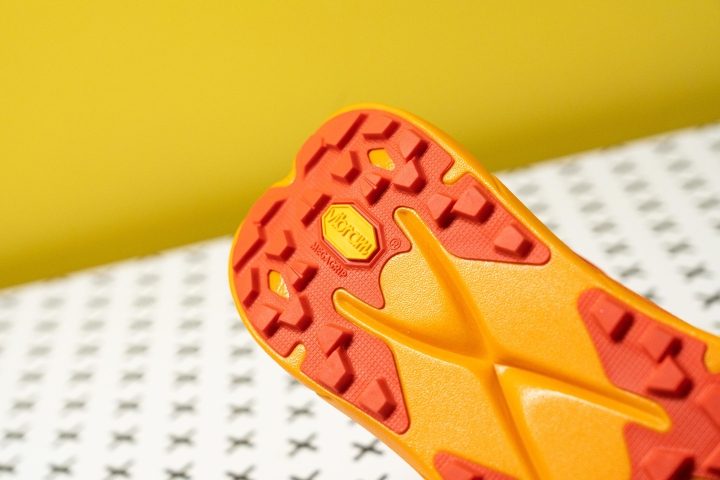 Priced just right for a carbon-plated shoe
While we do agree that the Hoka Tecton X's $200 price is a lot, we also think that it is well worth the investment. The never-seen-before midsole combo and dual plate design, plus the insanely propulsive feel on the trail - it all makes the package just right. For those into fast paces and new tech, of course.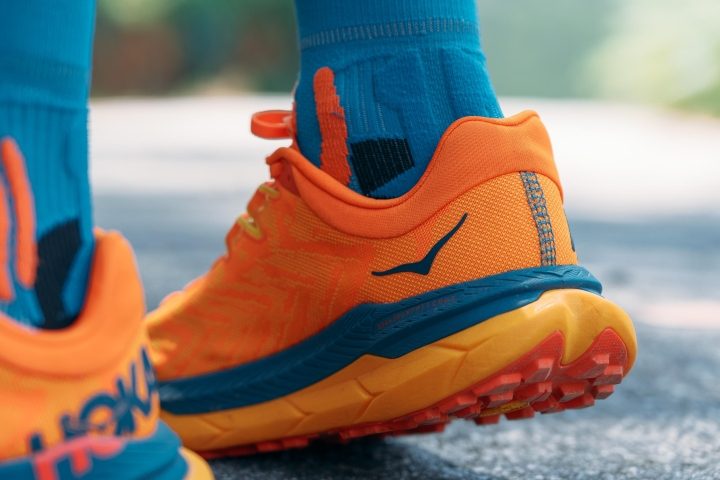 For reference, trail running shoes average $147, while carbon-plated trail shoes are averaging at $230.
Tecton X vs. Evo Speedgoat: Several folds better!
The Hoka Evo Speedgoat is a highly regarded trail running shoe that's also made for speed. But if you want all the good things from the Speedgoat amplified, the Tecton X gladly delivers:
Lighter: The Tecton X weighs in at 8.9 oz whereas the Evo Speedgoat weighs in at 9.3 oz.
Faster: Because of its dual-density ProflyX midsole and dual carbon-fiber plates, the shoe has more energy return with less weight for speedier performance.
More grip: With its updated Vibram outsole. the Tecton X has a more versatile grip on surfaces including dirt, snow, pavement, and moderate mud.