10 Best Brooks Running Shoes (Buyer's Guide)
With a "Run Happy" motto, Brooks believed that there is no right or wrong running shoe for you. Each runner picks the right shoe based on their preferences and running experience they want to achieve. If you are unsure which pair to get, this buying guide will help you narrow down your options.
How we review our Brooks running shoes
The best Brooks running shoes are determined by ranking them according to their CoreScore - a rating from 0 to 100. It is based on reviews from shoe experts, professional runners, and ordinary users.
We also spend an average of 7 hours per shoe doing research and reading thousands of user reviews from hundreds of retailers.
Ranking of the 10 best Brooks running shoes
Based on 641,514 user ratings 1,102 expert reviews
Here is a list of all 124 Brooks running shoes, where you can sort by "best rated" and apply filters.
Popular running shoes aren't the better rated ones
If you want a separate list of Brooks road shoes and Brooks trail running shoes, check out these corresponding buy pages:
5 things to consider when choosing the right Brooks running shoes
Brooks offers a wide selection of road and trail running shoes. There are also specific models designed for daily running and competition. In buying a pair of Brooks running shoes, here are 4 things to consider:
1. Terrain
Road and trail running shoes are made for different surfaces. Because of the added foot protection, trail running shoes are heavier and less breathable than road shoes. They also offer better traction and durability. Generally, Brooks road running shoes are more flexible and responsive.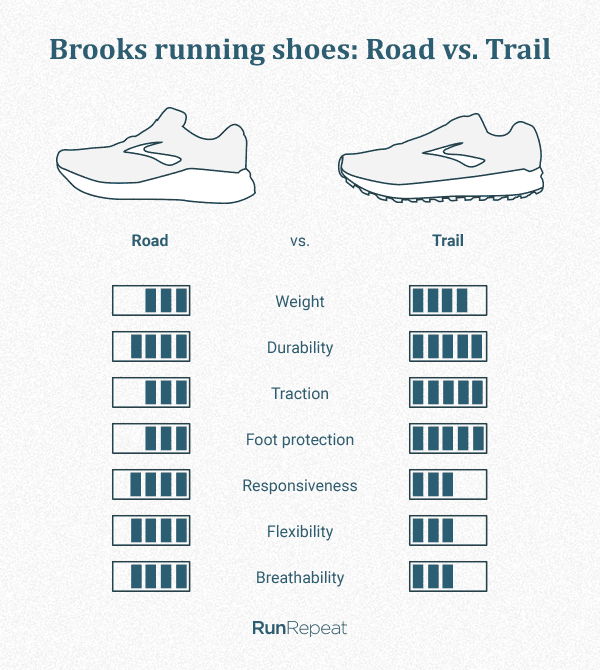 2. Arch Type and Level of Support
In choosing the best Brooks running shoe, consider your arch type (high, medium, low) and the level of support (neutral, stability, motion control) you need. Aside from overall comfort, wearing the right shoe will also help prevent injuries. Here's the quick guide for you: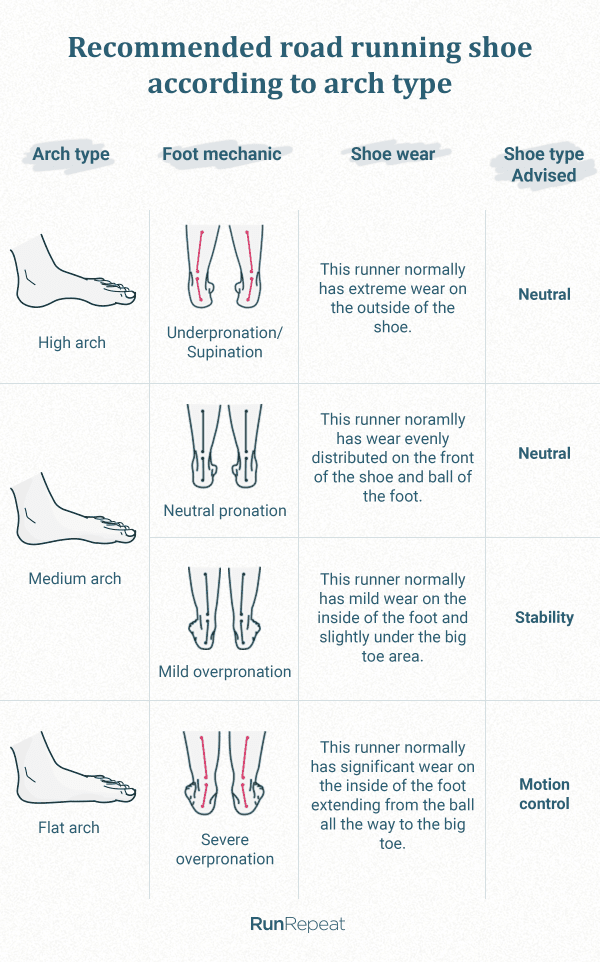 3. Distance
Brooks running shoes are also classified according to distance. Depending on your goal, here's a quick guide on what type of shoe to wear:
5K/10K Race

Half Marathon

Marathon

Daily Training/ Easy Jogs

- lightweight shoes

- snug fit

- beginner: look for extra cushioning

- cushioned running shoes

- forefoot striker: look for added forefoot support

- heel striker: look for extra heel padding

- durable solid rubber outsole

- breathable

- durable solid rubber outsole

- trail: look for a grippy outsole and extra foot protection

- cushioned shoes

- snug in the heel and midfoot

- roomy toe-box

- durable rubber outsole
4. Experience
Brooks running shoes are categorized into four types of running experience - Cushion, Energy, Connect, and Speed. They are specifically designed to address the preferences of every runner in terms of shoe impact and feel.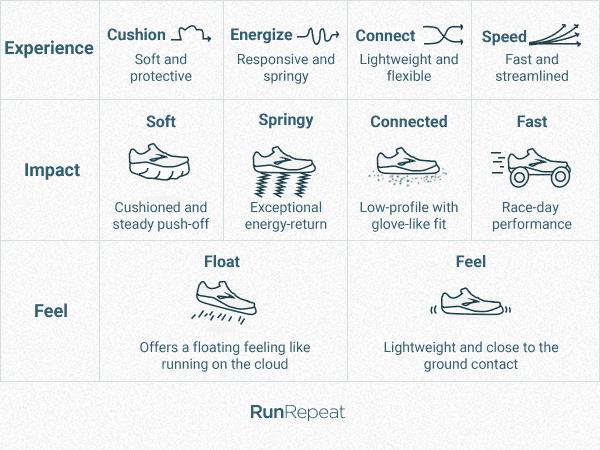 Brooks shoe collections based on the Experience type:
"Cushion": Brooks Ghost (road), Brooks Glycerin (road), Brooks Adrenaline (road), Brooks Cascadia (trail)
"Energize": Brooks Levitate (road), Brooks Ricochet (road), Brooks Revel (road), Brooks Caldera (trail)
"Connect": Brooks PureFlow (road)
"Speed": Brooks Hyperion Elite (road, carbon plate), Brooks Hyperion Tempo (road), Brooks Launch (road), Brooks Catamount (trail)
5. Width
To ensure that you get the best possible fit, Brooks offers its running shoes several width options - narrow, medium, wide, extra wide.
| | | |
| --- | --- | --- |
| | Men's | Women's |
| Narrow | B | 2A |
| Medium/Normal | D | B |
| Wide | 2E | D |
| Extra Wide | 4E | 2E |
Note: The availability of width options varies by shoe model and color.
The usual width is medium/normal. If you are not particular with width options when buying a shoe, then it is more likely the right fit for you.
If you experienced squeezing and earlier wear at the sides of your shoes then your feet may not be a typical width. It is highly advisable to visit a shop for a professional fitting.
For more show sizing and fit tips from Brooks, read this general guide.
Brooks running shoe technologies
Brooks is one of the leading innovators when it comes to shoe technologies. Here are some technologies used in the best Brooks running shoes:
Technology

Description

Support

GuideRails

An innovative support system that allows the knees, joints, and hips to move naturally while you run, helping the body find its natural path.

Pivot Posting System

It is a support technology designed for trail shoes, delivering a stabilizing suspension on both sides of the forefoot and heel.

Progressive Diagonal Rollbar

A tri-density midsole that delivers essential stability feature, allowing the foot to move naturally from heel to toe.

Upper

3D Fit Print

Uses a screen-print technology to add engineered structure to the upper without compromising flexibility and weight.

3D Rubber Print

An advanced screen-printing process that makes use of rubber to add durability and protection to Brooks trail running shoes.

Ariaprene Mesh

Foam-core technology designed to deliver second-skin and quick-drying coverage.

Engineered Mesh

A woven mesh that provides a balance of structure and stretch.

Fit Knit

It is designed to provide a more sock-like fit.

Ultimate Sockliner

A PU insert with an OrthoLite® memory foam designed to deliver added comfort.

GTX

A waterproof membrane that keeps the feet dry and warm on extreme running conditions.

Midsole

BioMoGo DNA

It provides long-lasting dynamic cushioning in environmentally-friendly design.

DNA AMP

It delivers maximum responsiveness by placing a polyurethane-based foam inside thermoplastic polyurethane (TPU) skin.

DAN LOFT

It is a Brooks cushioning that offers the softest feel without compromising durability and responsiveness.

DAN Midsole

A proprietary midsole foam that delivers impact protection unique to every runner.

Super DNA

A DNA midsole designed to deliver 25% more cushioning for runners looking for super soft and protective running experience.

DNA ZERO

A new midsole technology that offers light, consistent cushioning from start to finish.

DNA FLASH

It offers a combination of lightweight, soft cushioning and responsive ride helping runners to recover faster.

Segmented Crash Pad

A caterpillar-shaped technology designed to deliver shock-absorbing cushioning and encouraging a smoother heel-to-toe transition.

Outsole

Dual Stability Arch Pod

A passive support system designed to deliver stability without the use of a post.

Ballistic Rock Shield

A durable thermoplastic EVA material placed in between the midsole and outsole, delivering foot protection against trail debris and sharp objects.

TrailTrack Rubber

A durable material designed to provide extra grip on wet and dry surfaces.

Arrow Point Outsole

An outsole pattern that helps the feet move quickly from heel to toe.

HPR Plus

A rubber material that provides added traction and protection to the midsole from abrasive running surfaces.
Brooks Run Signature: A Revolutionary Idea
Run Signature is the brand's philosophy on how they design and create their running shoes. It is a revolutionary concept based on scientific research that empowers every runner to choose how they want to experience the run.
The extensive research was focused on joint geometry and motion patterns, which are completely unique in every individual. Brooks believed that in order to improve running performance, enhance comfort and reduce foot injuries one should not focus on fixing the runner's "flaws" but rather on the natural and highly individual motion paths of the joints.
In order to give runners the best experience, Brooks starts with the runner, not the shoe. The brand aims to help runners find the shoe that will allow them to run in a more natural state.
Brooks inspiring athletes
Brooks sponsors professional athletes to inspire runners everywhere. One of the significant athletes is Desiree Linden, an American long-distance runner who won the 2018 Boston Marathon despite the grueling weather condition.
She was wearing the prototype of the Brooks Hyperion during the race and sets history as the first American woman to win the Boston Marathon in 33 years. It is also the first win for the Hansons-Brooks Original Distance Project team.
The best Brooks running shoes in every category
Other buying guides
Now, are you ready to buy brooks running shoes?