10 Best New Balance Running Shoes (Buyer's Guide)
New Balance offers a wide collection of shoes that are designed for road and trail running. If you want to get a new pair, this guide will help you pick the right one.
How we review our New Balance running shoes
Here at RunRepeat, we give each New Balance running shoe a CoreScore of 0 to 100, indicating how liked the shoe is among the actual users.
We also spend hours each day doing research and reading thousands of user and expert reviews around the internet.
We have more than 150 New Balance running shoes in one list. The ranking is based on more than 700 experts and 100,000 user reviews
Ranking of the 10 best New Balance running shoes
Based on 391,226 user ratings 801 expert reviews
Here is a list of all 161 New Balance running shoes, where you can sort by "best rated" and apply filters.
Popular running shoes aren't the better rated ones
If you want a separate list of New Balance road shoes and New Balance trail running shoes, check out these buy pages:
A 3-step guide to buying New Balance running shoes
1. Determine the running surface
Here's the quick comparison of the New Balance road and trail running shoes: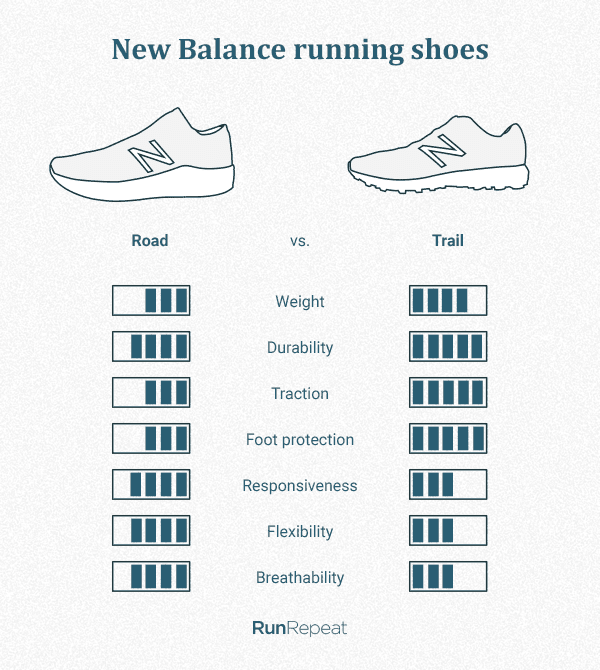 2. Consider the shoe feel
You need also to identify how you want each step to feel. New Balance categorizes their shoes into three shoe feels - soft, moderate, direct.
Shoe feel

Soft

Moderate

Direct

maximum cushioning
plush yet supportive

medium cushioning
flexible
light

lightly cushioned
close ground contact
responsive
3. Understand New Balance numbering system
Some New Balance running shoe models have numbers on their names, which can be confusing for those who are not familiar with the brand's numbering system.
Here's how you read the style or model number: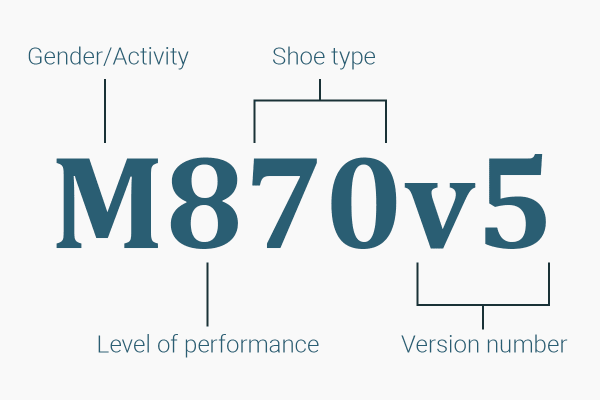 The letters represent the gender and sometimes the activity - M = Men's; W= Women's. Here are a few other examples: MT = Men's Trail, WT = Women's Trail, and US = Made in the USA
The level of performance refers to the number of technologies. However, New Balance emphasized that while most of their "higher-numbered" models feature more technologies than those "lower-numbered", it is not always the case.
The two digits refer to the shoe type as shown below: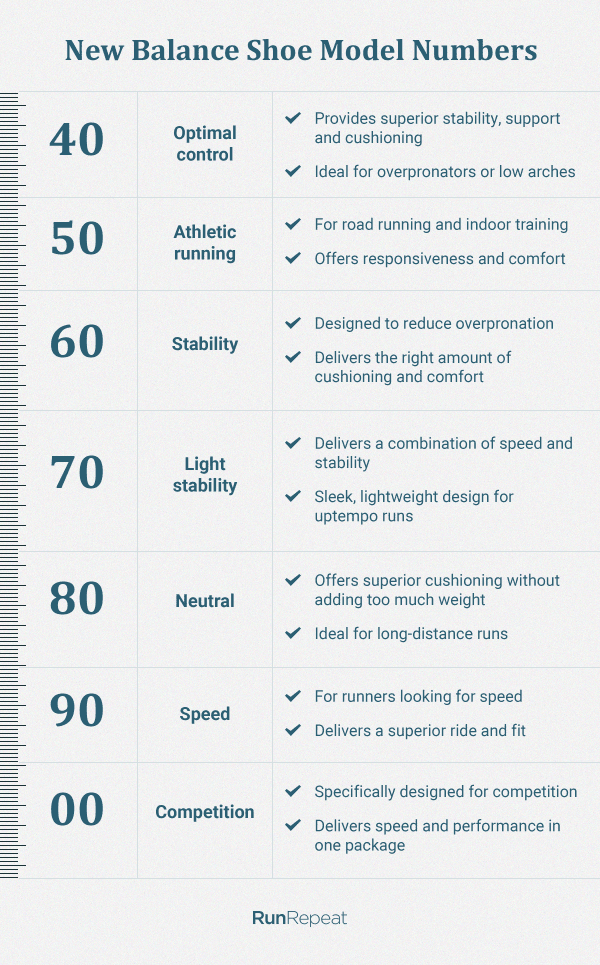 Version number refers to the times the model has been updated.
Shoe type is tightly connected to pronation. When you know how you pronate, it's easy to see which type of shoe you need - neutral, stability, or motion control. It's what New Balance covers with those 2 digits and what is usually known as pronation and arch type. Here's the chart which will help you understand what those 2 digits are saying: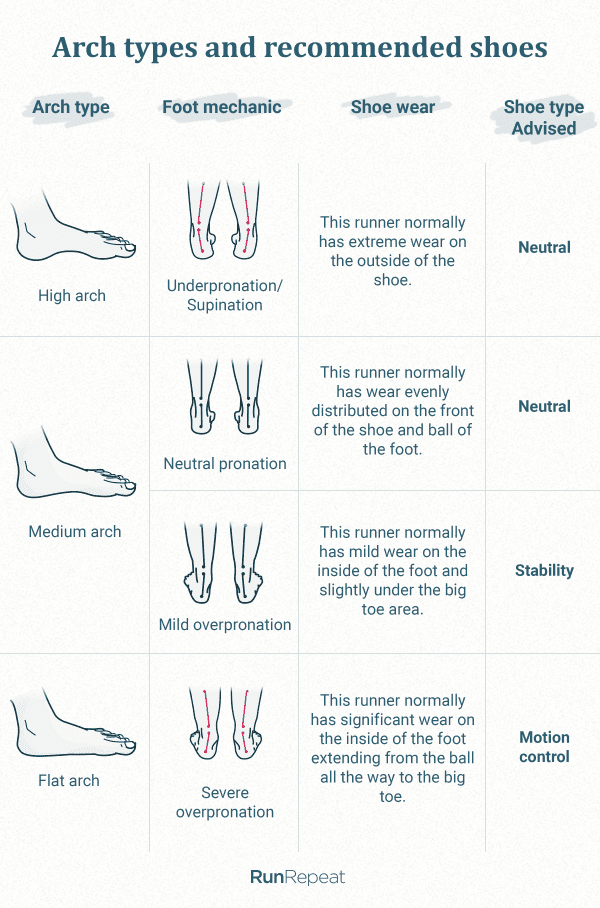 Tip: Buy a pair of neutral running shoes if you don't have anything particular about your feet.
If you want to know more about arch support, read this study - The Truth About Arch Support - A Meta Analysis of 150 Studies.
Additional features of New Balance running shoes
| | |
| --- | --- |
| | Some New Balance road and trail running shoes have waterproof features. These shoe models are equipped with a GTX membrane that keeps the feet dry on wet and rainy running conditions. |
| | The Boa Closure System allows runners to experience a more customized fit. It is a unique lacing system that is made of three integral parts: a micro-adjustable dial, super-strong lightweight laces, and low-friction lace guides. It is easy to operate as well - just turn the dial to tighten and pull up for quick release |
The best New Balance running shoes in every category
Other buying guides
Now, are you ready to buy new balance running shoes?