The Asics Contend 3 is a neutral running shoe that might have you wondering (after a little while) why you paid three times as much for the more lavish models.
This shoe could be greatly improved by upgrading the sock liner.
A good shoe
Well done, a bit dated but well put together with tried and true materials and techniques, with no high-tech printed overlays and none of the latest state-of-the-art cushioning materials such as DNA or FlyteFoam.
This shoe performs well in all areas except one, cushioning!
Good Looking
The Contend is the typical classic Asics design. The heel counter and midfoot-uppers use some fine web material, very nice looking.
Durability
With just under 70 miles of easy running, I see no more wear on the outer soles of the Contend than with the Asics GT-2000, as a mid-foot striker.
The Asics GT series has AHAR (Asics High Abrasive Rubber) in the heel, the Contend does not, so some runners will see faster heel wear without this model.
White Arrows show that the Asics GT 2000 has an additional layer of density foam and added gel in the heel, the Contend has only simple white EVA and far less gel.
Weight is 348 grams for size 44.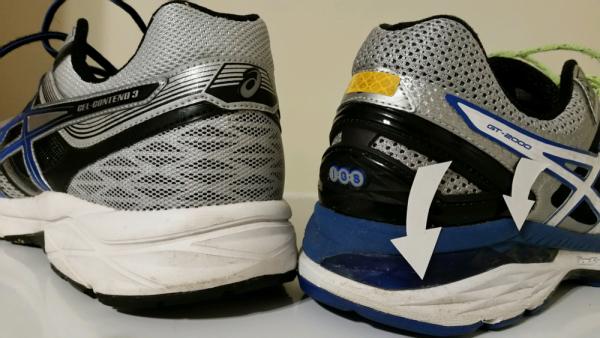 Safety
Not a great deal of after dark reflectors except on the rear.
These shoes are a candidate for reflective laces or some reflective material, however, the fact is that even if you had 20 reflectors and a big flashing light on your hat, it might not help at all because many drivers are simply not looking!
Bring your reflective laces just in case, they are moving as you run and this motion helps. And remember you simply must be ready to jump out of the way!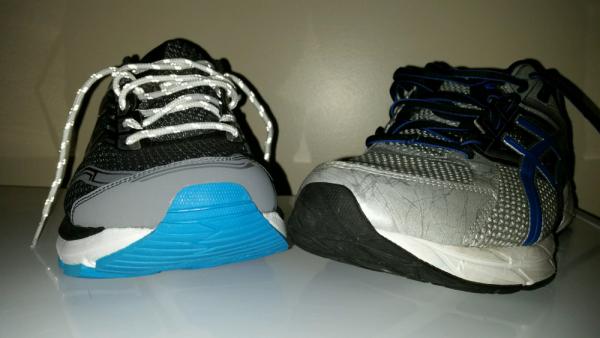 Not for the Novice
This is not a shoe for the beginner, a novice runner should be running in a more substantial shoe, such as the Asics GT, Cumulus or something like the Brooks Ghost to avoid injuries so common in the early years of running.
Once a runner has built up some miles and has become stronger and more durable, their shoe choices increase.
Conclusion
This shoe is best suited for a very lightweight, experienced runner on a tight budget, as an every other day trainer, leaving the Nike Pegasus or Asics GT for longer runs.
With that said, there seems to be no substitute for quality, we get what we pay for and after adding in the cost of upgrades it might be better to wait for a sale on a better shoe.
Run Happy. Run Safe!