The 25th iteration of the Cumulus series from ASICS is lighter and comfier than ever. These neutral runners sport a combination of ASICS tech that makes them dependable daily trainers for taking on the next run when you want to go far at a steady pace. Its overall construction from the upper to the outsole is geared toward ensuring that runners have fatigue-free feet at the end of the day.
Pros
Versatile daily trainer
Superb step-in feel
Firmer ride than the Nimbus 25
Great for long and slow days
Breezier runs in the summer
Feels light on feet
Grippy outsole
Stable ride
Great lockdown
No break-in needed
Cons
Too high stacked for some
Feels flat underfoot
Not the best for speedier runs
Who should buy the ASICS Gel Cumulus 25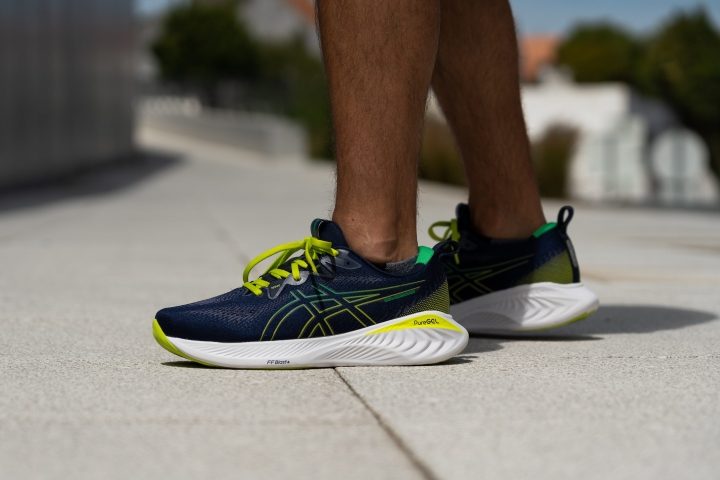 The ASICS Gel Cumulus 25 is a solid pick for:
Runners who are looking for versatile daily trainers that shine on both their long and easy runs.
Those who have normal to high arches who would appreciate a bit of guidance and stability in their running shoes.
Newbie runners who want a dependable daily trainer that makes their runs stress-free and their feet fatigue-free.
Who shouldn't buy it
The ASICS Superblast is a better cure for runners who are fans of a responsive ride. Also, the lower weight of the ASICS Novablast 3 also makes it a daily trainer that handles tempo runs better than the ASICS Gel Cumulus 25.
The ASICS Gel Cumulus 25 keeps feet stress-free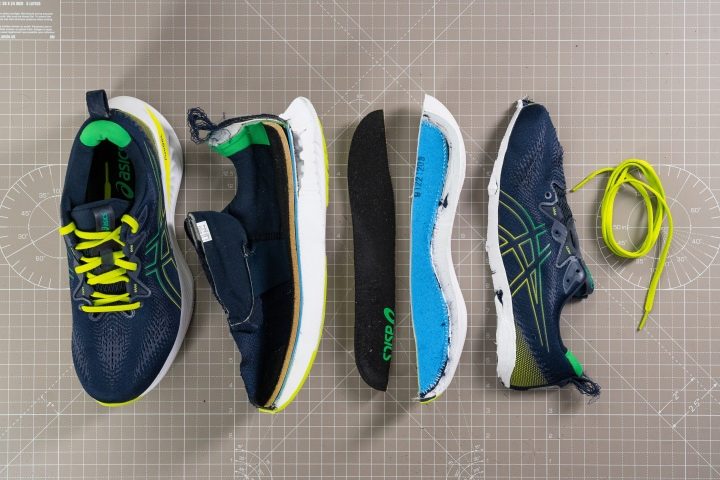 An expert who took these out in 80-degree weather found the mesh upper to be super breathable. According to them, their "feet stayed happy the whole time."
It's amazing how efficient the ventilation holes are in this shoe.
Fact check
We put the claims of fantastic airflow to the test, and the results were absolutely astonishing! We awarded the Cumulus 25 a 4 out of 5 on our breathability scale, being 5 the top score. It truly allows for excellent air circulation, keeping your feet cool during every run.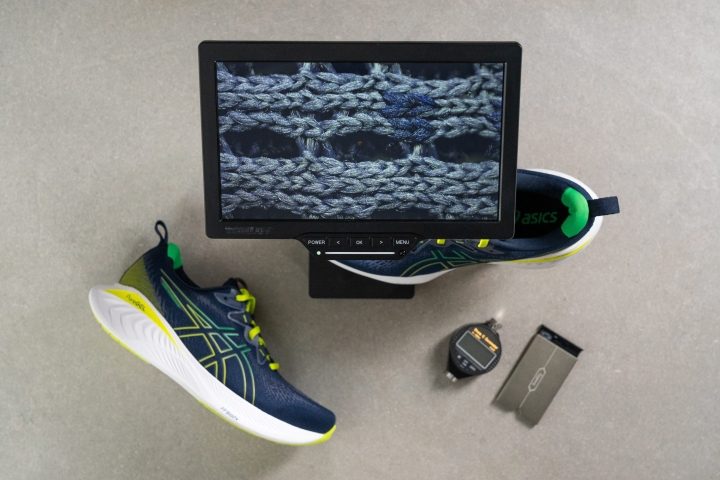 We also took a really close look at it under our super fancy microscope, and boy, did it deliver!
We found these massive ventilation holes and a relatively-thin engineered mesh. The perfect combination for optimal breathability.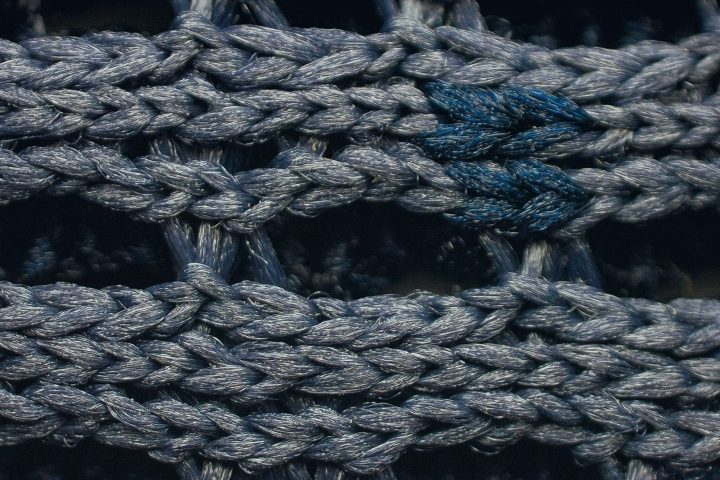 A critic said that "The mesh is smooth, thick and doesn't breathe very well so it's more suited to winters and cool climates."
Fact check
Fortunately, we can't agree, because the shoe is really breathable. You already saw before that the shoe is really breathable.
Long-lasting shoe
The upper is world-class, which is exactly what we expect from ASICS.
A tester said: "I've run in 2 previous versions of the Cumulus and I've found them to be really comfortable, durable, balanced workhorses." So, what about this one?
After carefully examining the Cumulus under the microscope, we had little doubt that it would fail our Dremel test. However, to our surprise, the resilient engineered mesh employed by ASICS proved strong enough to win the battle.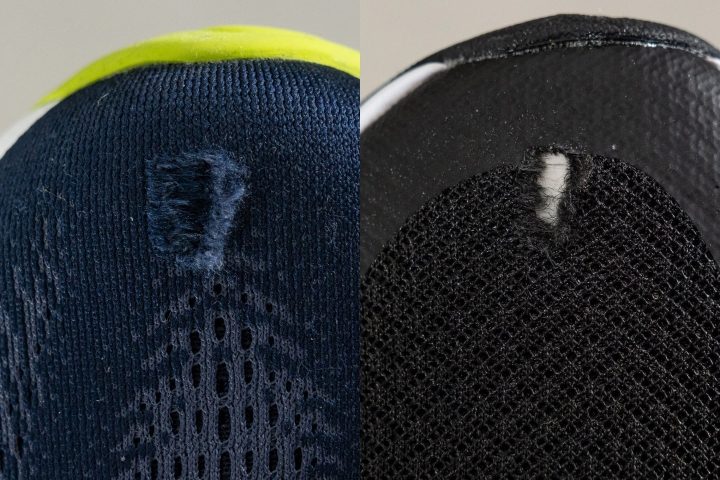 In the comparison image above, you can see the Cumulus 25 (left) against the Nike Renew Ride 3 (right). It's astonishing how the ASICS shoe outperforms the Nike in durability, despite the similarities regarding breathability.
And how about the heel? One of the areas prone to wear in the Cumulus is always the heel counter. It needs to provide substantial padding without being too rough. Fortunately, in our dremel test it appears that it strikes a balance between comfort and durability.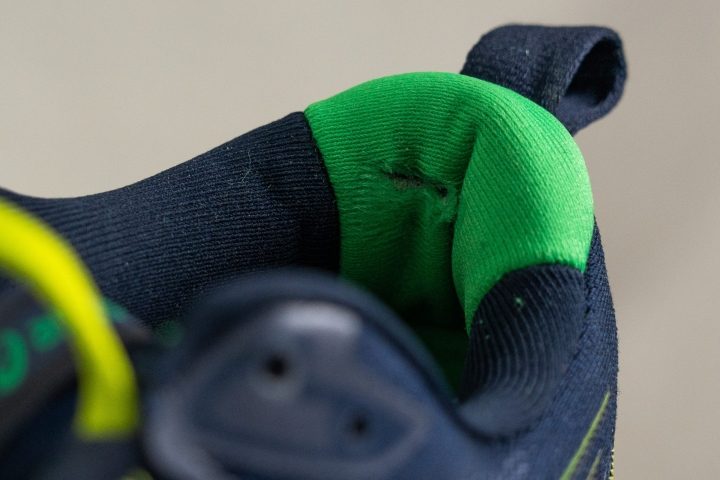 FF Blast+ is soft and bouncy, but underperforms in winter
From step-in to taking it out for a run fresh out of the box, the Cumulus 25 "feels like a cloud" on a runner's feet. Another runner owes this plush feeling to the coming together of a well-padded heel collar, a thick semi-gusseted tongue, and updated midsole technologies.
The combination of ASICS' FF BLAST PLUS foam and re-engineered PureGEL technology makes these daily trainers "feel a bit firmer" than the ASICS Gel Nimbus 25. This same ASICS user mentioned that for him, the midsole "feels like a cross between Novablast and Superblast" in terms of underfoot feel.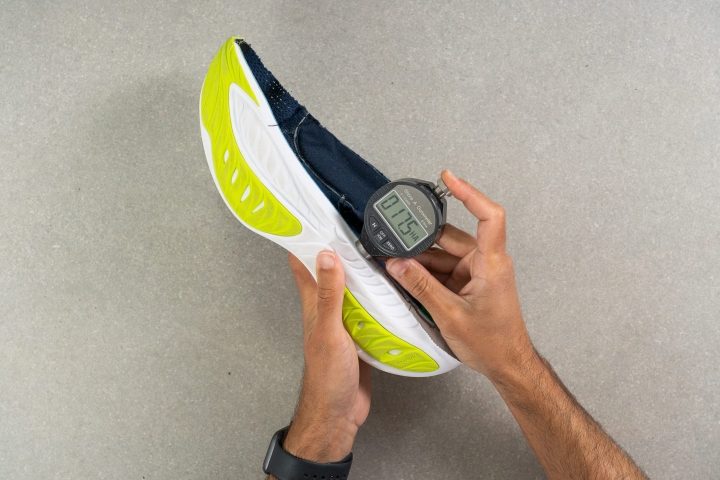 Disclaimer: We average four measurements and eliminate any outliers. This image depicts only one.
Fact check
We didn't feel like the Cumulus was firmer than the Nimbus 25, and you know what? The durometer test backed us up on this one. In fact, it's actually 6% softer!
Next, we decided to put the Cumulus 25 to the test in chilly temperatures to see how it would perform. That's when we realized that maybe that's why the previous user found it to be firmer than the Nimbus.
His feedback was actually given during the winter season and cold weather can sometimes make the shoe feel way firmer, as we explained in our advanced guide about this topic.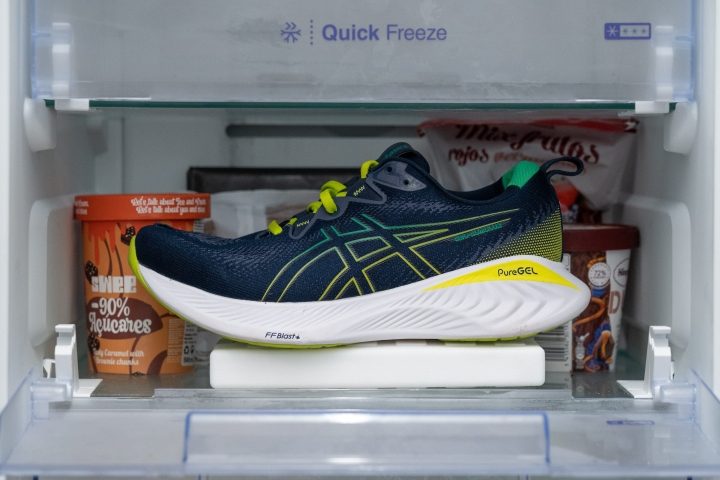 Fact check
The FF Blast+ is a mix of EVA and Olefin, so it's no surprise that it doesn't exactly excel in the cold, considering EVA is the main ingredient. After we put the Cumulus 25 into our freezer for a quick 20-minute chill session, it became a whopping 39.2% firmer and a teeth-grinding 67.5% stiffer, underperforming against the average shoe.
However, a critic said that they did notice these to have "a little bit of bounce but nothing crazy." An avid runner even mentioned that versus other ASICS options, "it feels flat compared to others."
From GEL to PureGEL
Just take a look at the picture above—you'll notice a good chunk of PureGEL in the heel. The goal here is to make this shoe a dream come true for heel strikers.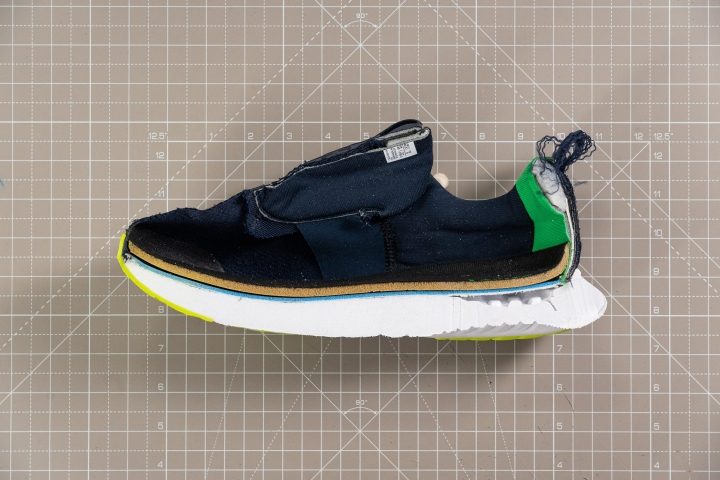 This is the newest twist on the ASICS proprietary GEL technology, which has been praised in the Nimbus and Cumulus models for years on end, but it was mostly outdated with the rise of the latest foams.
Stiffer than ever
The Cumulus has always been recognized by fans for its flexibility, but that seems to be changing with the introduction of the v25. This new model has significantly more foam than ever—which inevitably makes it stiffer than previous versions.
With that said, it's not crazy stiff, as it scored 2 for longitudinal flexibility and 3 for torsional flexibility. And in our 90º bend test, the result was 23.6 N, which is 39% less than the average shoe and 52% less than the Nimbus 25.
Disclaimer: we take an average of 4 measurements and remove any outliers. This video shows just one of our measurements.
Less weight and more stack in a wide enough platform
The Cumulus 25 comes in at 269 grams for a Men's US 9 which makes them almost 5 grams lighter than its immediate predecessor. A runner loved how "you don't even feel like you're wearing shoes" because of how light it feels on their feet.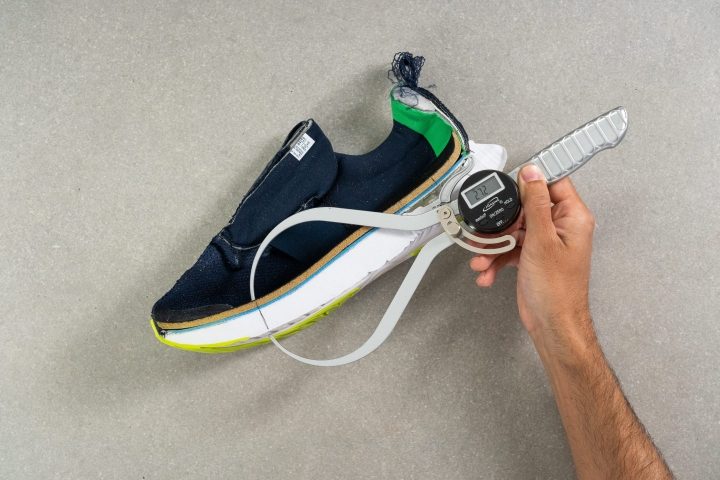 Disclaimer: When we measure stack height, it includes the insole.
We absolutely LOVE it when brands are able to provide extra cushioning while reducing weight. In addition to the 5 grams already mentioned, the v25 offers an impressive 15% more foam in the rearfoot area. This means you'll have even more support and comfort during your runs.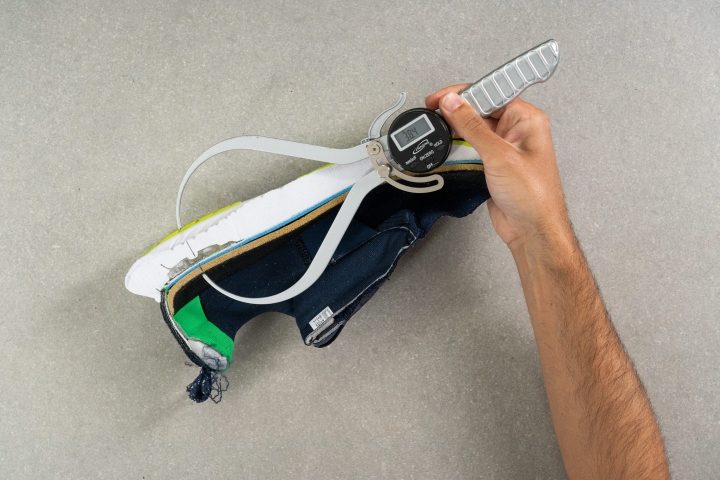 Disclaimer: When we measure stack height, it includes the insole.
Fact check
The 25th version of the Cumulus running shoe has a stack height of 29.5/37.5 mm, with a 8-mm drop, according to the official numbers provided by ASICS. However, our detailed measurements show that it actually has a stack height of 27.2/38.4 mm, resulting in an 11.2-mm drop from the heel to the toe. That's steep!
All this high and soft foam comes with a trade-off in terms of stability despite the wide platform. The 25th edition of the Cumulus model may not be the best choice for pronators. Check the Cumulus 24 instead.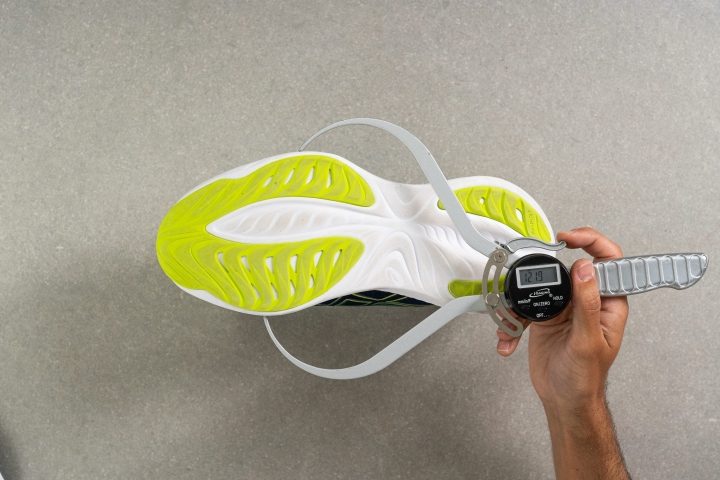 On the flip side, if you've got your heart set on snagging the latest update, you should know that it features the widest platform in Cumulus history. For example, it's a whole 6% wider than the v23 and a jaw-dropping 8% wider than the average running shoe.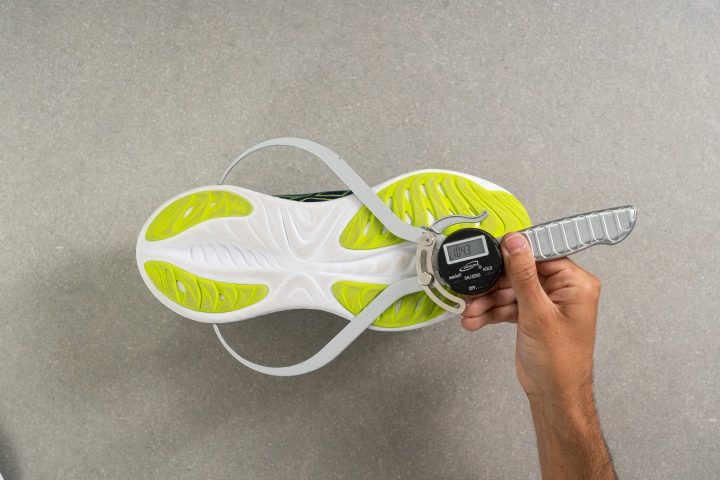 ASICS Gel Cumulus 25 vs ASICS Gel Nimbus 25
Most ASICS fans are raving about how one is better than the other. Fortunately, many reviewers have given their thoughts about this stand-off:
"The Cumulus 25 is not as soft and squishy as the Nimbus. However, it is definitely smoother."
"While on the Cumulus, you feel a slight push on the forefoot" which many runners didn't experience with the Nimbus.
For a men's US 9, the Cumulus weighs 20 grams less.
"The Cumulus gives you more contact with the ground than the Nimbus 25."
If you prefer a natural ride and more ground feel, then you should go with the Cumulus. On the contrary, if you love a super-plush platform for easy paces, the Nimbus seems a better cloud shoe.
An all-arounder that shines on the long and slow days
A critic calls the ASICS Gel Cumulus 25 a "do-all shoe." The majority of critics agree with this and say that they were able to take these on easy runs, speed work, and even walking the dog.
However, a runner was able to figure out where these excel as they loved how they handled longer, and easier pace miles. They were even more specific and mentioned that for them, these are the "ideal shoe for the 2nd run of the day." And of course, being a daily trainer, there's no rocker in here.
In an effort to take comfort to the next level especially in your easy days, ASICS included a thicker-than-average 6.1 mm OrthoLite™ X-30 insole.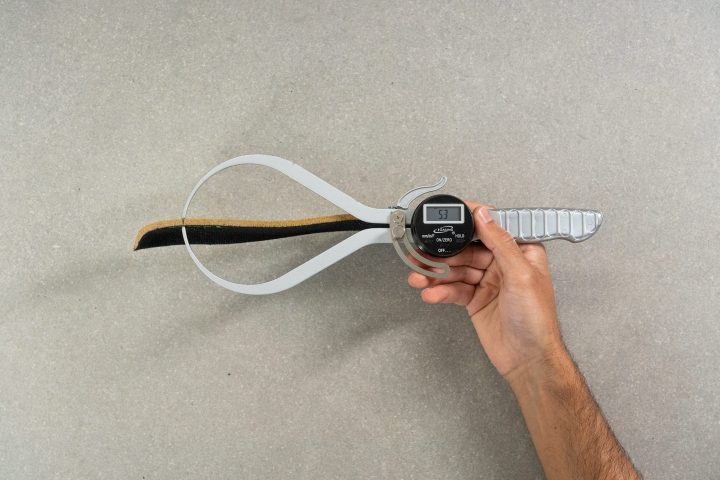 On the other hand, testers loved the roomy fit: "The toe box is broad yet secure. Wider higher volume feet should have few issues."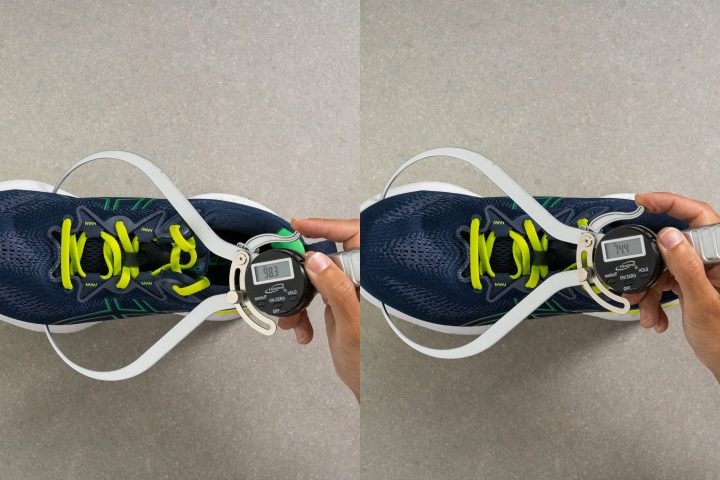 And in case you have super-wide feet, remember that ASICS manufactures this shoe in wide sizes, although in limited colorways.
Keeps feet stable and secure
The side heel counter tech that's integrated into the Cumulus 25 is appreciated by a runner as according to them, this translates to "less ankle strain." With this, a critic also shared their thoughts on how they found these to have more stability than the Nimbus 25.
An expert also mentioned how they appreciated the "not overdone rear stability" that they owed to the broad heel of these neutral runners.
Fact check
We can confidently say that the Cumulus 25 is a total champ when it comes to heel support. With our rating of 3/5 for heel stiffness and the ample cushioning in that area, there's absolutely no chance of heel slippage, and you'll be able to use your standard
running knot
.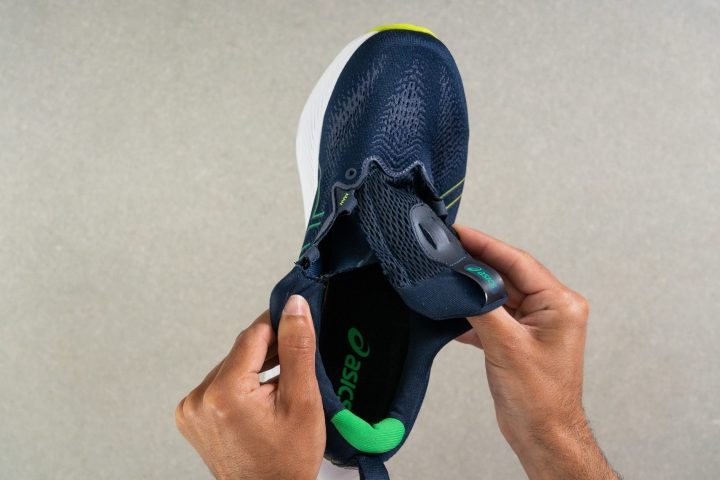 A critic loved how their heel was locked in and felt secure throughout their test run. Another praised the padded semi-gusseted tongue which definitely stays in place and does not cause rubbing issues.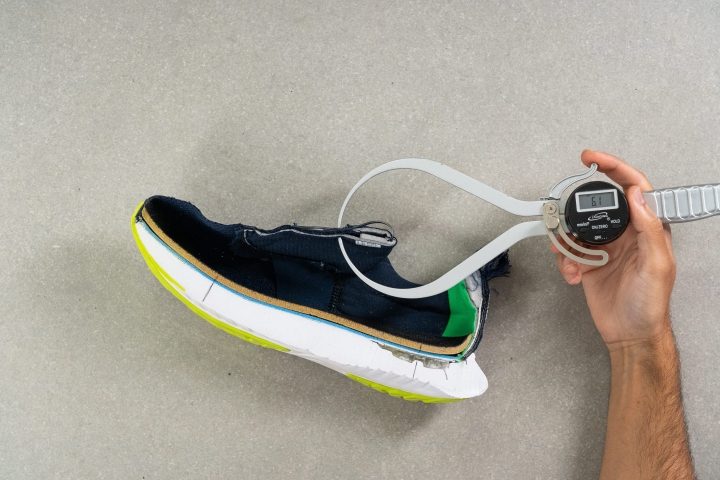 Fact check
Even though the tongue of the shoe is more padded than the average shoe, it doesn't feel as comfy as the earlier models. Measuring just 6.1 mm thick, it's a lean 23% thinner than version 24 and 34% compared to v23.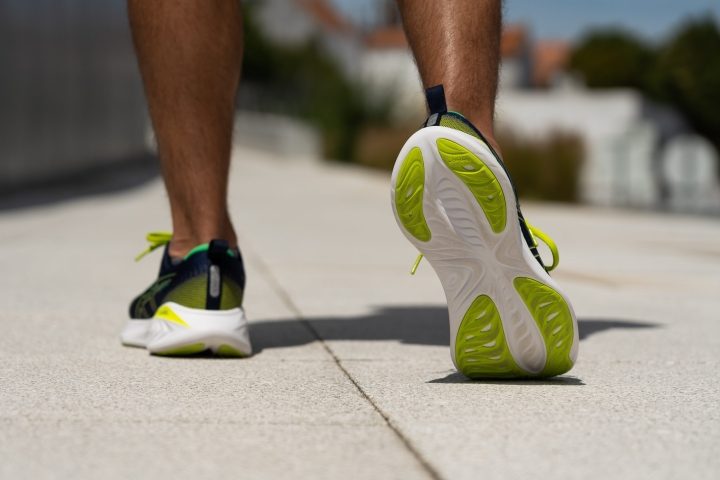 Adding to this, a reviewer showed their love for the outsole which they said "really grips onto the pavement" which added to their confidence when taking these runners out on the road. Another running expert told that "the exposed foam is very durable so you'll be able to get a good amount of mileage".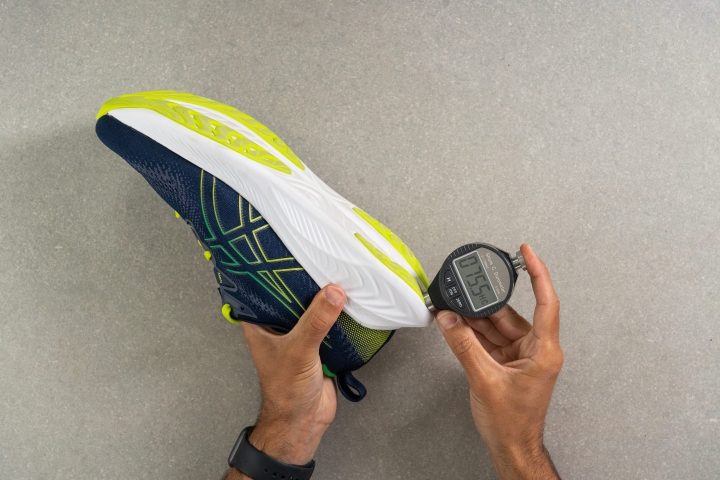 Disclaimer: We average four measurements and eliminate any outliers. This image depicts only one.
The Cumulus has always nailed it when it comes to grip, even if it means sacrificing a bit of longevity. So, once again, we're dealing with the same trade-off.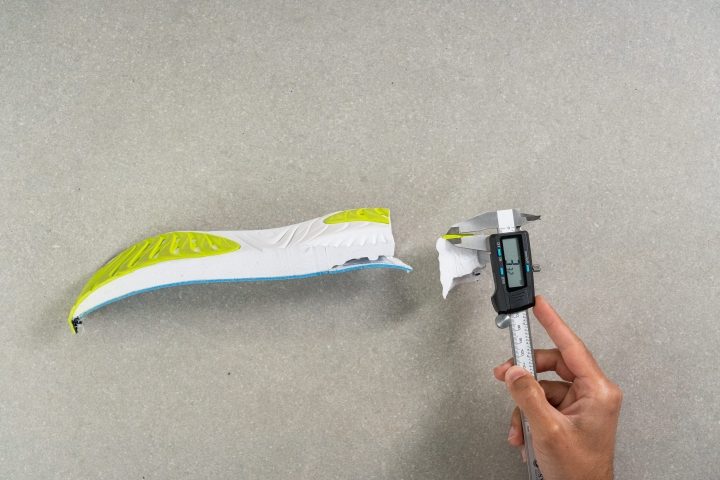 Fact check
With a hardness of 76.0 HC and a thickness of 3.3 mm—both lower scores than the average shoe—the AHAR rubber on this shoe really clings to dry surfaces.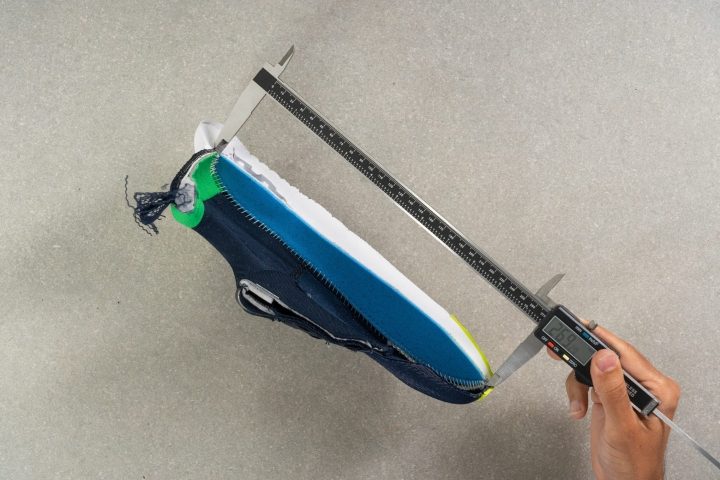 Fact check
This shoe fits just right! According to
ASICS' official size charts
, in a US size 9, the shoe should have a length of 270 mm. We found it to be a super close 269.1 mm. That's pretty impressive.
Small things, big impact!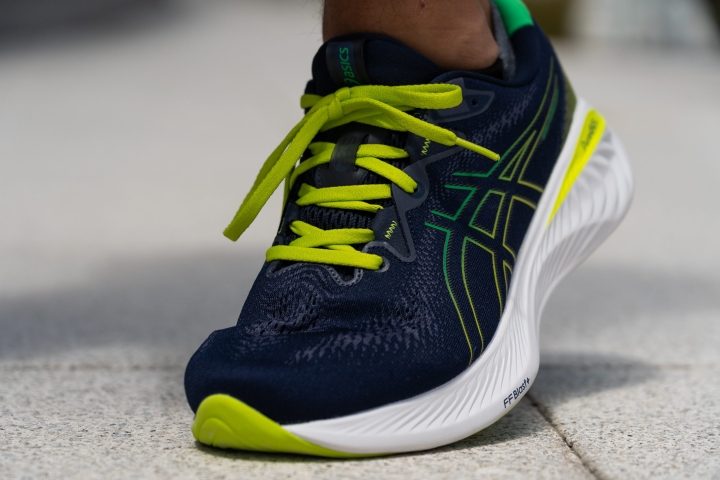 The Cumulus 25 features flat laces that are long enough and of good-enough quality given the shoe's MSRP. Additionally, it includes a finger-loop pull tab, which should be a mandatory feature in almost every shoe, as it facilitates stepping in with ease.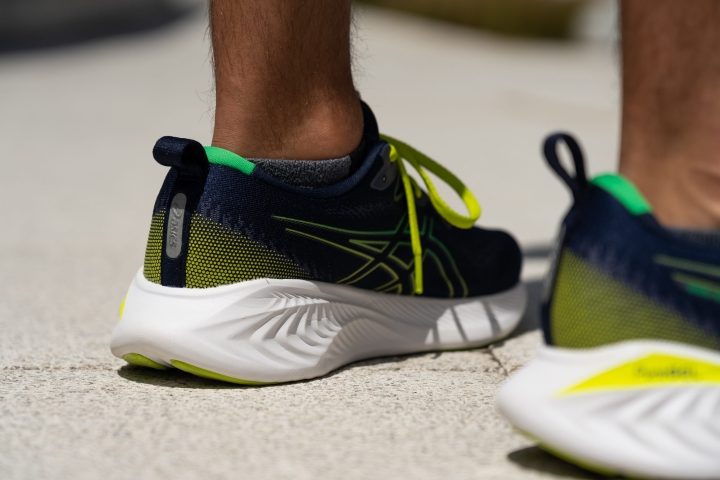 Finally, while it may not be the most reflective shoe out there, it does come with two large vertical heel straps, which are a well-received bonus by night runners!