Verdict from 1 expert and +100 user reviews
5 reasons to buy
The color schemes of the Asics FuzeX Rush CM gained some fans who stated that they were visually appealing.
The color-changing nature of the upper unit's chameleon mesh received positive remarks.
The lightweight disposition of this product was lauded by most runners.
People have used this running shoe for various activities such as casual walks and even weightlifting.
As mentioned in some user reviews, the upper offers a good amount of comfort and breathability.
3 reasons not to buy
The forefoot section of the upper tore apart quickly, according to several consumers.
Some people considered the midsole foam to be too thin and incapable of providing adequate underfoot cushioning.
The toe box was deemed a bit tight, with some testers claiming that it caused some bruising on the toe-ends.
Bottom line
The Asics FuzeX Rush CM received mixed-to-positive reviews. Most runners agreed that this neutral shoe's design was agreeable. They also appreciated its lightweight disposition and its versatile construction. But there were those who noticed a bevy of discrepancies which made the product less appealing. These inconsistencies in the design prevented it from becoming a go-to choice for those who desire form and function in a stylish package.
Tip: see the best running shoes.
Our reviews
Fresh off the most amazing race experience of my life—a 2:45:16 PB at the wet, windy and wintry 2018 Boston Marathon. I bought three new pairs of shoes and I wanted to immediately throw myself back into training and I wanted to go faster.
I gotta admit, I didn't research well. I got a bit taken in by the pictures on the FuzeX Rushes. Look at the official product photos for these puppies and maybe just say the name to yourself, and you think "fast".
The numbers, if I cared to look, suggested a different story. It weighs 9.2 oz, it's not bulky but it's certainly not built for speed. But I was taken by the profile shots and reviews with words like "performance" and "responsive'. I didn't think about the numbers. I didn't look hard enough at the pictures.
So, thinking I was getting a fast trainer for the next cycle, I ordered a pair of Asics FuzeX Rushes the week after I completed the marathon. Here are a couple side lessons. First, just because you're buying online, doesn't mean you can't actually try your shortlist on in-store before deciding. Second, don't grocery shop when you're hungry and don't shoe shop when you're on a rest week.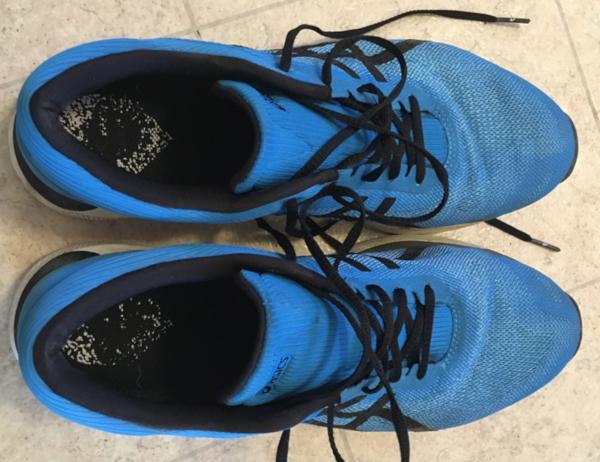 Shall I compare thee to a shoe made out of a futon?
The Fit
I was immediately disappointed, and remain so after putting about 125 km on them. The weight contributed to the disappointment but wasn't the main issue.
As I get fitter and faster, I want lower weight shoes, but 9.2 oz for an everyday trainer isn't heavy by any means. So, while these weren't the speed demons I was looking for, I could easily slot them in for easy runs, consistency runs and even long runs, if it wasn't for other issues.
The biggest issue for me is the eyelets. Specifically, there's no extra set of holes at the top. I had never considered that would be an issue before buying the FuzeX Rush, and so I had never thought to look for it in photos.
If you have no idea why this might be an issue, check out this awesome RunRepeat post on lacing techniques. I use that second set of holes at the ankle to firmly hold my heel in place (the "heel slipping" technique in the linked article).
When I learned about this lacing technique, it revolutionized my shoe-buying. All of a sudden, a shoe didn't have to fit perfectly to keep my foot from moving.
I'm much less apt to go for a very specific shoe fit, which means I can try different brands and models and be less injury prone as different shoes work muscles differently. I also find this technique holds bulky shoe tongues in place better.
But no deal with the FuzeX Rush, that lacing technique just isn't an option. And the tongue is bulky! So, I find my heel lifts with my stride, and the tongue slides a bit over the course of run.
The Feel
The FuzeX Rush doesn't hurt. They don't cause blisters. They don't slow me down. They just feel… off. They feel a bit bulky. They feel like they aren't on securely. They feel like they are made out of futon material.
They also aren't holding up very well. The foam looks like it's breaking down big time on the underside of the shoe, and creasing fairly heavily on the sides after just 125 km. I don't feel a difference yet, but may well soon.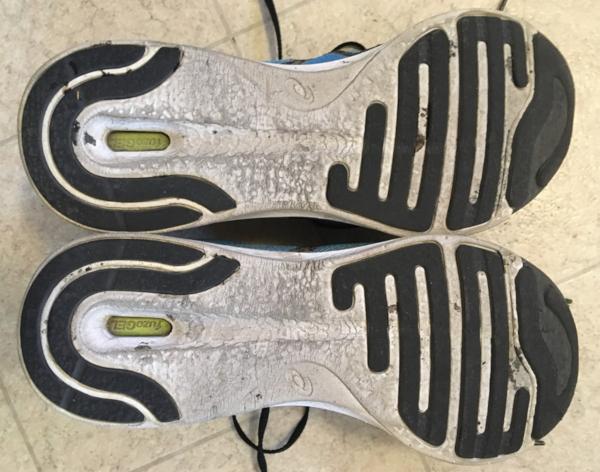 That foam ain't lookin' good after 125 km.
The Builds
To be clear, these shoes aren't a disaster. They aren't what I wanted, and I never really enjoy running in them. But, I'm going to get their full life out of them.
I run fairly long distances, putting in 20+ km on consistency runs. I don't use them for long runs or speedwork, but they're in the regular rotation for everything else.
The Races
Too heavy. Too much bulk. To iffy on the fit. No races for these fellas.
The Upshot
I wear them regularly and they aren't terrible, but I don't like them and I wouldn't buy them again.
Good to know
The Asics FuzeX Rush CM is a neutral road shoe that's created for runners who have neutral pronation. It features a seamless construction which accommodates the foot in a sock-like coverage that's free of irritation. A color shifting mesh gives more flair to the visuals of this model, making it more eye-catching.
The sole unit of this road running shoe makes use of a full-length foam that has the shock-absorbing properties of the proprietary Asics GEL system. It cushions and carries the foot throughout the running session. Durable rubber protects and provides surface traction.
The Asics FuzeX Rush CM has a standard running shoe length. It permits the regular preferences of people when it comes to the sizing scheme. The width profiles are D – Medium and B – Medium for men and women, respectively. Its semi-curved design mimics the natural curvature of the human foot.
The outsole unit of the FuzeX Rush CM utilizes the Asics High Abrasion Rubber or AHAR. Because it's made of durable carbon rubber, its purpose is to shield the rest of the sole unit from wear and tear while also providing surface traction.
Thin flex grooves are placed in the forefoot section to encourage the natural flexibility of the human foot, especially as it readies itself for the toe-off phase.
FuzeGEL is a full-length unit that's made from the amalgamation of foam and the proprietary GEL cushioning system. It aims to carry the foot responsibly through the gait cycle, cushioning it and keeping it safe from impact shock.
The ComforDry Sockliner is made in collaboration with Ortholite. It adds a bit more cushioning for the underfoot. It also brings protection against moisture and bacteria, thereby causing the in-shoe environment to be clean and healthy.
Synthetic mesh is used for the upper unit of the Asics FuzeX Rush CM. It is breathable, so it allows air to keep the foot-chamber cool and dry. It can change colors depending on line-of-sight and time-of-day.
Seamless construction is employed in this model, which means that traditional seams and stitching are not utilized. This design brings a smooth and non-irritating wrap for the foot of the wearer.
Minimal use of thin, synthetic overlays provides structure to the upper. They help in hugging the foot and keeping it in place.
Rankings
How Asics FuzeX Rush CM ranks compared to all other shoes
Popularity
The current trend of Asics FuzeX Rush CM.