Review coming soon
Topo Athletic Vibe has just been released by Topo Athletic . Our experts are working on a detailed review. Please, come back later.
Get an email when final verdict is ready:
My Rating
User reviews:
SportsShoes, REI and 21 other shops don't have user reviews
Our reviews
I've been a fan of Topo Athletic for a while and reviewed the Runventure 2, Mtn Racer, the Magnifly 3, all of which have been in the very good to great range. I'm also a big fan of the natural focus of their shoes instead of the maximalist support and massive heel-to-toe-drops.
Design
These slip-on shoes are designed to be worn barefoot, and they excel at maintaining a comfortable fit with or without socks. I've been wearing them to work and for pretty much anything that isn't running for 3 weeks, and they have yet to stretch out or lose their shape.
Upper
The upper is an engineered knit mesh upper with a molded padding overlay of some sort of soft synthetic material near the ankle. It comes together nicely and makes for a very comfortable fit, either barefoot or with socks. These shoes are meant to be worn barefoot, which usually I'm not a big fan of, as I have very sweaty feet, and it often feels like my feet just slosh around in shoes if I wear them barefoot. However, these feel better than any other pair of barefoot shoes I've tried, though I still typically prefer to wear them with socks for comfort.
Topo claims that the upper is antimicrobial, which I assume is to aid in reducing foot smell and not fighting the coronavirus. Either way, these slip-ons did not smell especially bad after a few days of my stinky, sweaty feet walking around in them, but they did need a bit of foot powder to be completely odor-free.
One slight issue with this shoe is that the knitted upper ends at about the midfoot, so sometimes when I slip them on, I accidentally fold over the edge of the knitted upper that sits beneath the molded padding section This is only a mild complaint though, as it's easy enough to fix by using my finger between the shoe and my ankle to smooth the material against my foot.
Midsole
The midsole is appropriately cushy. It has just enough cushioning to make them comfortable for walking at any pace, but they are still responsive and stiff enough that it doesn't feel like your shoe is a floppy pillow. My only wish is that they had zero heel-toe drop instead of 5mm. Otherwise, I wouldn't change anything else!
Insoles
The insole is actually my favorite part of this shoe. Topo Athletic claims that it "aids in the recovery process as the repeated ridges lightly stimulate and massage the nerves along the bottom of the foot". I won't confirm or deny that claim, but what I do know is that I like how it feels on my foot, especially after a long run.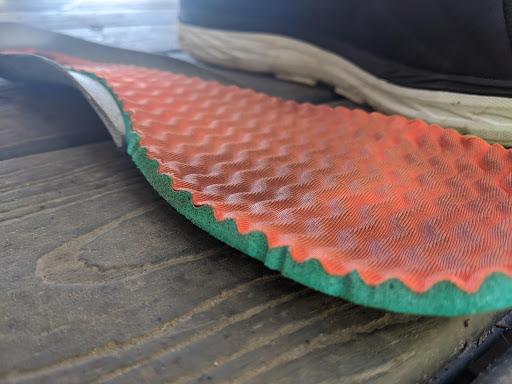 My only complaint is that there is a slight gap in height between the gray and orange layers, which is noticeable near the heel while wearing the shoes barefoot.
Outsole
The outsoles are made of a combination of the midsole material with a covering over the high abrasion areas with more durable material of the same color. You need to feel the difference in order to understand, but the outsole looks to be appropriately durable for the intended use of these shoes, which is casually walking around.
Performance
So how do you measure the performance of a recovery shoe? Well, I figured I'd run a lot, then wear these shoes and compare how I felt a day or two later to how I feel after similar efforts according to my training logs. I was also lucky that I received these shoes in the mail as I was heading out on a 10-mile run, with a 20-mile run scheduled for the next day and a (virtual) marathon scheduled for 3 weeks later!
The results: I had some fastest recoveries I've ever experienced after such large mileage weekends! Was this wholly the doing of these shoes? Definitely not.
I think it was a combination of a lot of other factors, such as I got my run and post-run nutrition just right, I followed up my runs with stretching routines prescribed by my PT and yoga, I rested effectively, I foam rolled after each run, and I got good sleep.
Ultimately, I don't know how much the shoes helped, but what I can say confidently is that they felt good on my feet, and I enjoyed wearing them when I wasn't running!
Durability
I've noted no issues with durability through my first 3 weeks of use. I've worn these essentially every day, putting at least a few miles walking on them, and the outsoles only show minor wear.
Style
I like the look of these shoes, but don't love them. I'm not the kind of person who wears statement pieces or really knows much about fashion at all, but the padded upper section makes the shoes look a tad… weird.
They don't look bad, but they do look just a tad funky on my feet, almost like shoes that people from the '80s would design to look futuristic and minimalist.
Topo's other shoes look pretty good, so I'd hope they can do a little better with the next version of these. However, if you're like me and not too concerned with looks, then this shouldn't be a big issue!
Fit & Comfort
They have all of the comforts of a running shoe but are casual enough to wear to work, which makes them easy to use as an everyday shoe. The roomy toe box is large enough to be comfortable but small enough that it doesn't look like I'm wearing clown shoes (an issue that my wife has with some of my Altra shoes). The upper hugs the foot well without being too constrictive or loose.
The overall fit of these shoes is fine. I wear a size 12 in most shoes, and these in a size 12 fit me well.
Value
These shoes retail for $110 on Topo Athletic's website, which I think is an appropriate price for these shoes. They should last a while and be a lot more comfortable than the casual shoes you wear around, and better looking than the old pair of running shoes you wear while out and about.
Would I pay $110 for these shoes? Probably not, but that's because I like to wait for the new models to come out so I can buy the previous version at a discount. I would definitely pay $80 for these shoes though!
Conclusion
These shoes are comfortable, easy to put on and take off, and you can wear them just about anywhere. If the point of recovery shoes is to be comfortable and easy to wear, then these shoes check both those boxes!
I don't absolutely love the looks, and I'd prefer a zero heel-toe drop, but these shoes do almost everything well.
Would I recommend them to a friend?
Yes! And I'd ask them what they thought of the shoes a week or two later to get more anecdotal evidence about recovery shoes
Disclaimer: RunRepeat.com provided me these shoes for free in exchange for testing and an honest review. This is my best attempt at an unbiased take on these shoes.
The Topo Athletic Vibe is noted as being an active recovery or casual shoes for everyday use. Honestly, I have never considered having a specialized shoe for recovery days, but why not. I have shoes for fast days (for me the NB1500's or Saucony Kinvara's), shoes for longer runs (NB Tempo), shoes for special occasions (those expensive, low mileage carbon plated jewels) but never really considered shoes for those easy recovery runs. And now, here's the Topo Vibe.
You might ask why would I want another pair of shoes. Let's take a peek into my mind. So I usually start planning the run for a while. Part of that planning is lacing up with different sets of shoes. That is when the wheels start to grind. Do I run in the heavier trainers, faster minimalists, or what? The shoes that I lace up tend to direct my thought process. Seldom have I actually ran a recovery run in the manner it was designed to be run. Could a shoe change that? Read on (spoiler - it changed it for me!)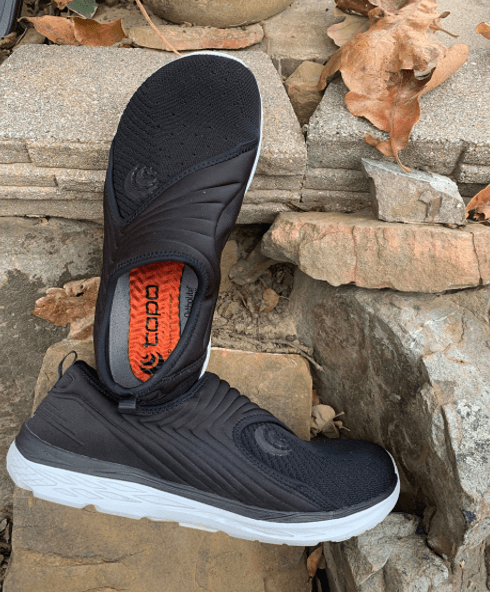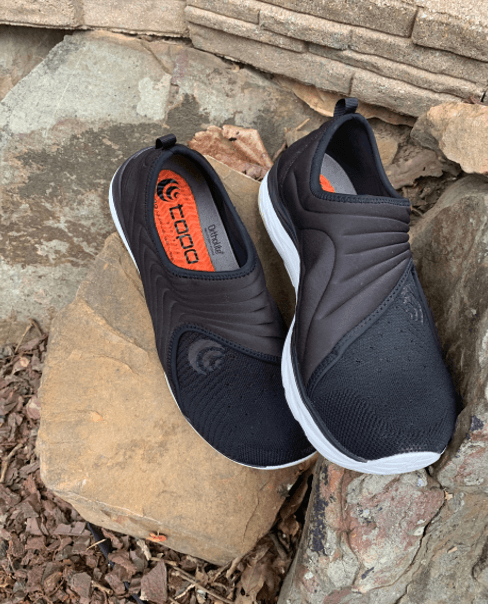 First Impressions
Out of the box, it was an interesting introduction. I had seen the shoe, read a good deal about it, so I had some anticipating thoughts. I was pleasantly surprised at the sturdiness of the shoe. It looks so soft in the photos. It is actually soft but the form of the upper adds a surprising feel to the hand (and feet).
Topo advertises a signature fit with a snug heel and a spacious toe box. I have never had issues on the back end (heel) but the toe box area has caused issues again and again. So I was excited to see how these fit, especially noting a larger toe box area.
The wrap across the top gives a strong stabilization to what appears to be a squishy shoe. I was somewhat mesmerized by the build of the upper - light and airy, but strong and without any obvious structure. It moves but is not easily crushed as I expected. It retains its shape with no hesitation.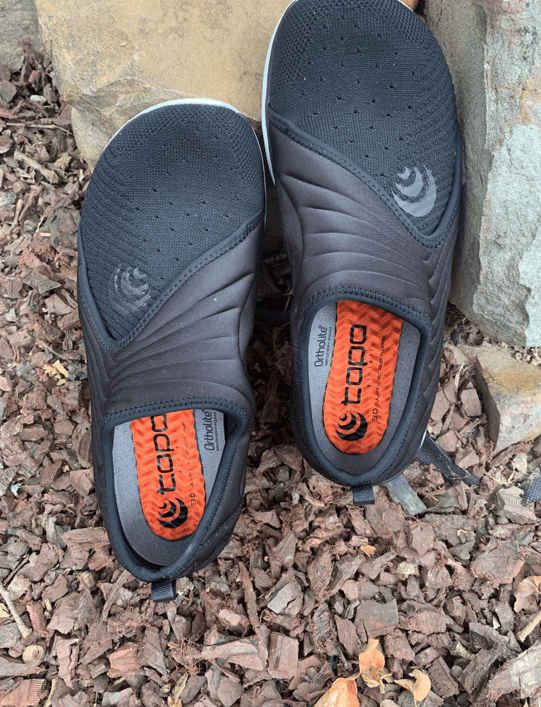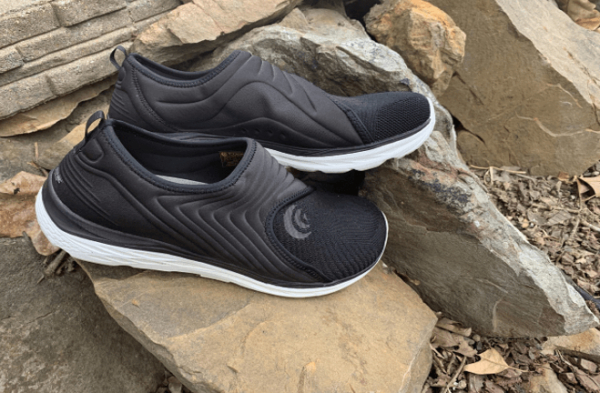 On Feet
I have read they are intended to be worn without socks, but I just can't. I have always been a socks-on-when-wearing-shoes kind of a guy. So how about some thinner no-shows socks? Great!
The shoe slips on easily. The fit feels nice. They are true to size with a wide toe box, as noted. To me, these have as much room as many 2E's that I have worn. There is a structure over the top of my foot and lots of breathing room around the toes. I can't feel the sides at all on my typically squished toes on non-wide (2E) shoes.
I walk and hop around a bit and my initial concerns waned. There are no laces! There is no way this can be a running shoe with no ability to snug it down. But on the initial walk and hop around, they didn't move. Interesting! Can this be a decent shoe for running?
Taking a final note of other features before hitting the pavement, the drop is noted as 5mm so nothing too far off of the norm for me. The weight is around 8 ounces, which is nice (again with that word!). It is noticeably light.
There is no obvious rolling when transitioning from forefoot to toe. The heel is no stiffer than the rest of the shoe. There is a light squish though nothing drastic. The heel is not as dominant as I have experienced in some shoes. It just follows the lead of the front. This feels good when walking.
The insoles are noticeable. Topo did some work with the insole team for this one. It is not the standard paper-thin necessity that just covers some seams and construction. There is some thought that is considered of what your feet might like on a day off or easy run. How about some massage action? It is not distracting though you can sense the ridges just a little and it feels nice.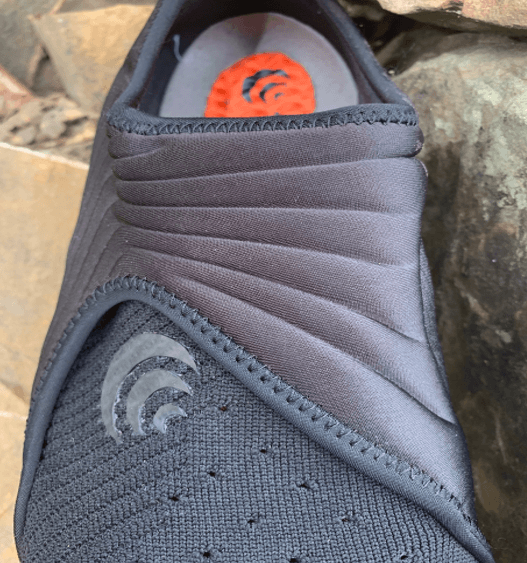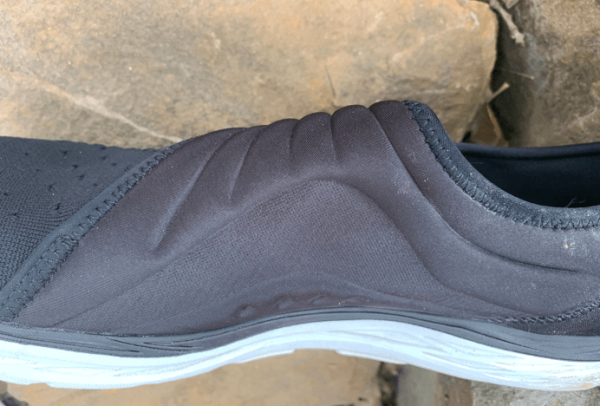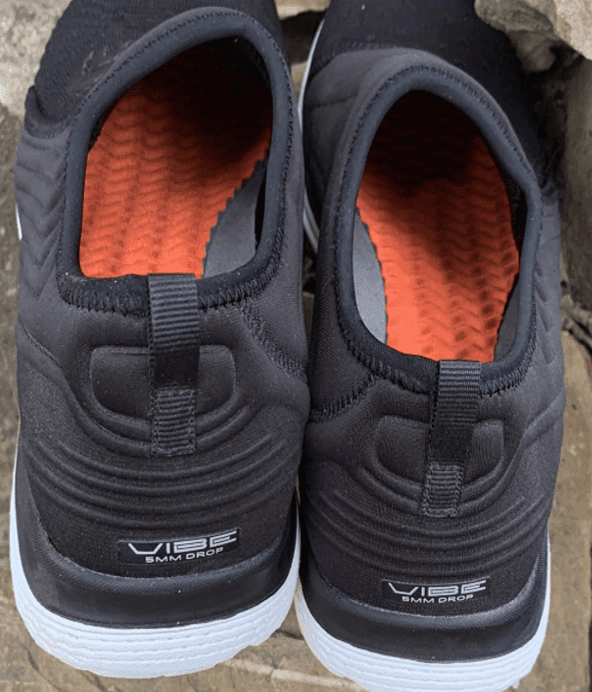 On the Move
So, first impressions from unboxing, examining, and even skipping around have been good. No doubt these would make good walking or everyday shoes. I really like how these feel all around. But for running? Let's do it!
Watch on, GPS signal obtained, and we're off. Maybe I shouldn't actually be wearing a watch for a recovery run. I track my mileage meticulously and usually monitor my pace and such pretty closely. I am focussing on recovery for this run and promised myself not to study my watch.
Yes, I was skeptical that these would work on the run. They just can't be sloppy with the wide toe-box and no laces. But - 20 steps down the road - they are not moving around. Another 20 and no hot spots. Another 20 and feet are feeling the insoles - and kinda smiling at me. A mile later and I notice that I am actually running 60-90 seconds slower than normal (cruising at a modest 8:45-9:15 mile).
I am achieving a recovery pace without a fight! Without constantly putting on the brakes! I don't feel the urge to speed up. This is a very relaxing, enjoyable run. My first run with these was 7 miles. I typically go less with new and drastically different shoes. But everything felt good from the beginning. There were no odd sensations on my feet, joints were not squeaking or squealing and burned muscles from earlier runs were chillaxing nicely.
Before giving my final verdict I put these through some more paces including some hills and even a little gravel. They hold their form going downhill though there is a little movement as they are roomy. Pushing uphill really stresses the sole but no issues. I could get a good sense of the firm underlay yet it didn't beat me to death. I would not run hills extensively here but in recovery, I suppose that is a given. They are not trail shoes by any stretch of the imagination. They are a completely different shoe on uneven, loose terrain (e.g. gravel). I hopped off the gravel and back on to pavement quickly.
As far as to wear, I see no major abnormalities taking place. They are wearing similar to other shoes that easily get 300 miles before starting to show decent signs of wear. Time will tell, but there are no issues with premature wear.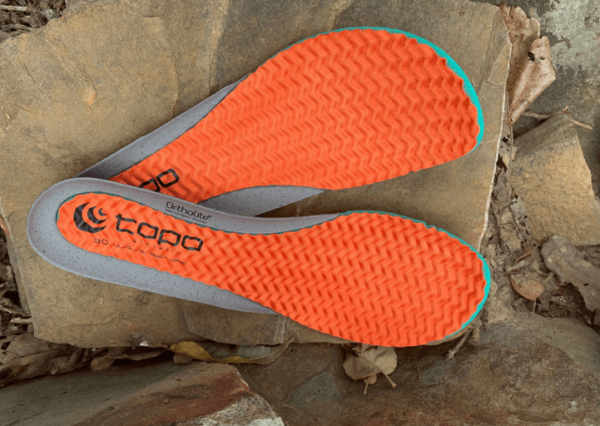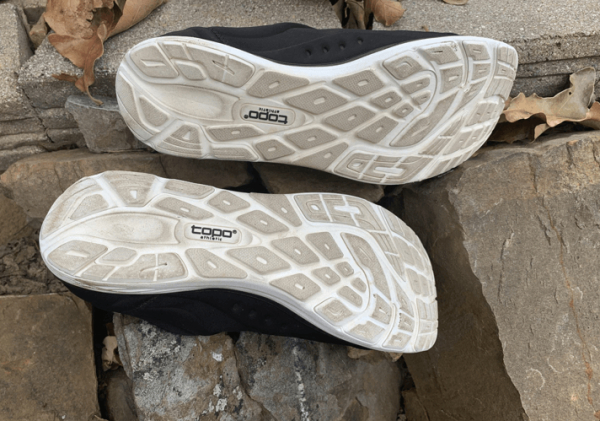 Final Thoughts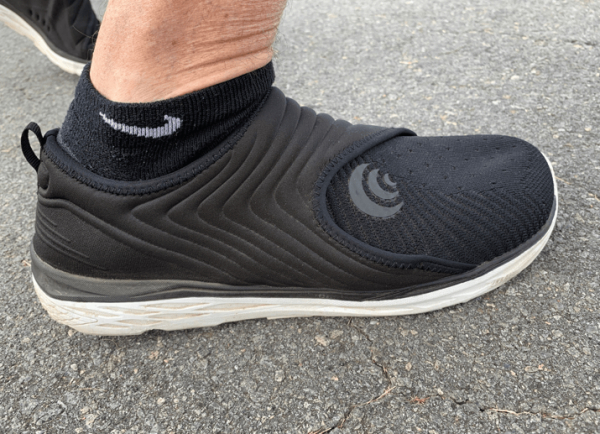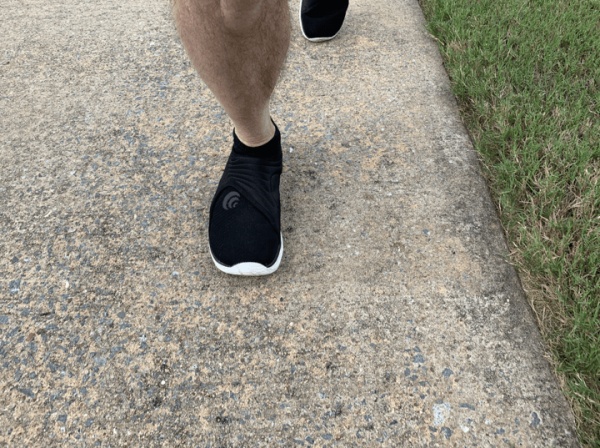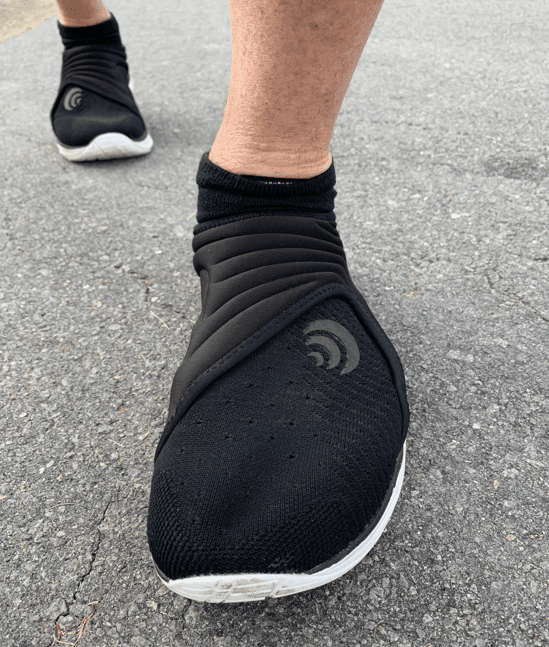 The foundations of my initial impressions grew as did the relationship with the Topo Athletic Vibe. After a double handful of similar runs, they are molding to my feet well with no changes that work against their purpose. I still continue to make some mental reminders to check on them. They disappear in my runs and do not call attention to themselves. They are indeed a great recovery shoe.
When putting them on, my mind knows what is coming (and what is not). There is not a fight to do more than a nice, easy run. I give the Vibe's credit for getting me there. Also, these are indeed great walking and everyday shoes. I have worn them out a time or two and even had them as travel companions. They don't look like running shoes and don't feel like the typical running shoes when pushing the grocery cart either. These are specialized shoes.
While you might wonder, do you really need shoes specifically for recovery? Well, do you have shoes for everything else? Are you having trouble actually achieving a recovery run? These went above and beyond what I expected and ever thought possible. Nice!