Verdict from 19 experts and 100+ user reviews
7 reasons to buy
The Saucony Peregrine ISO is a very comfortable shoe, said some runners.
Based on some comments, the shoe runs true to size.
A few mentioned that the shoe is not difficult to put on.
Many users lauded the shoe's excellent grip on varied trail surfaces.
A couple of buyers admired the durable design of the Peregrine ISO.
Some runners admired the shoe's wide toe box.
The Saucony Peregrine ISO has a very responsive cushioning, said some users.
2 reasons not to buy
A few users found the shoe to be too wide for their medium foot shape.
According to a few user reviews, the color of the shoe is not pleasing and they expected to see more color options.
Bottom line
Saucony is known to be a reliable brand when it comes to trail running shoes and indeed, the brand receives praises for creating the Saucony Peregrine ISO.
Most users admired the shoe's durability, cushioning, and comfortable cushioning. Though a few have issues with the color options and width, overall, the Peregrine ISO is still considered by some as a worthy investment.
Tip: see the best trail running shoes.
Our reviews
I'm a big fan of Saucony running shoes. I have tried other brands, but I keep coming back to Saucony every time.
So when I wanted my first pair of trail running shoes, I thought I would look no further than this brand.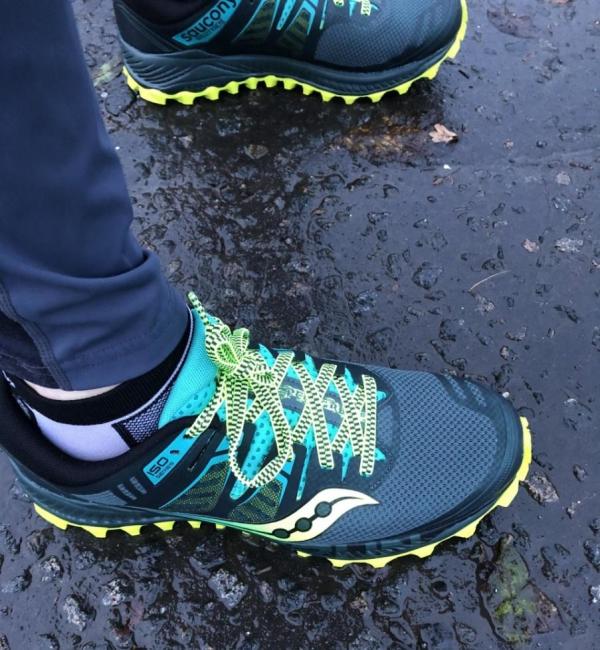 The picture of them above is when they were first out of the box. They didn't stay this clean for long, though. I'll show some pics when used as trail shoes should be, later in this review.
Introduction
Saucony Peregrine ISO is a trail shoe designed to let you run with confidence on various terrain. Whether that is forest track, path, mud, grass, or sand, they enable the runner to be free and go 'off-road.'
In many ways, a trail shoe is meant to be very different from a road shoe. However, this shoe has many of the likable characteristics of Saucony's top road shoes.
Outsole
I normally start a review with the upper, probably because that's the part we see most. In this case, though, as we're talking trail shoes, I'm going to kick off with the bottom of the shoe.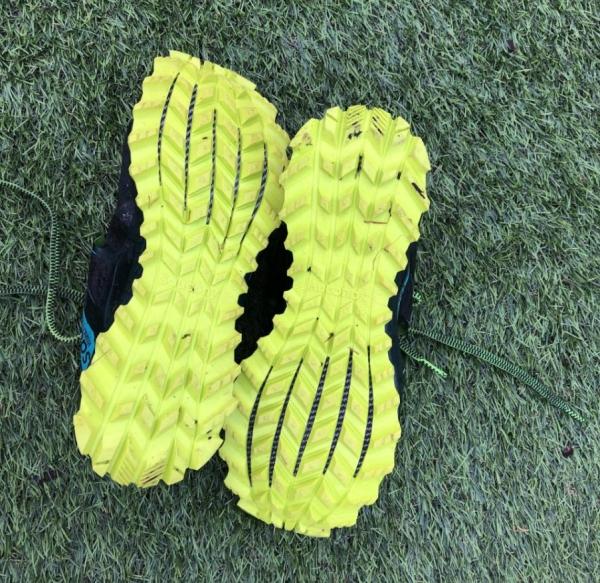 As with most trail shoes, traction and the ability to cope with various terrain are key components of any good shoe.
The Saucony PWRTRAC outsole is employed on the Peregrine ISO to give you that traction. The sole has 6mm rubber studs which seem to stick and grip to any surface.
I have ran in dirt, gravel, mud, stoney paths, and leafy forest trails with no issues. The sticky rubber studs can cope with all types of off-road surfaces really well.
Be prepared for the lugs between the studs to pick up quite a bit of mud if running on particularly muddy terrain, but this is easily cleaned with some water. Check out the pictures below after one such muddy run.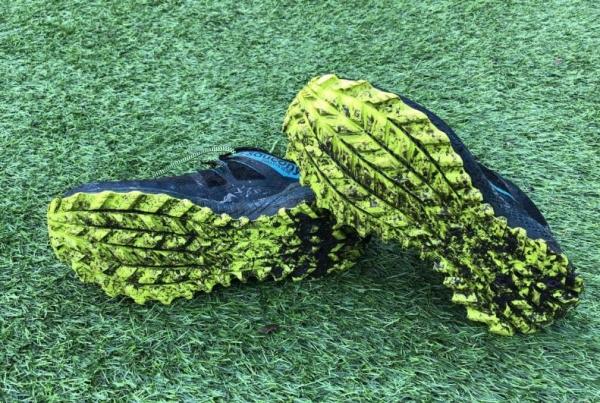 Overall the traction on these is superb. No slipping on any surface. They give you the confidence to run with freedom on any underfoot terrain.
Durability
I can't give any solid assurances as so haven't done loads of miles in them yet. What I can say is after half a dozen runs, they are showing no signs of wear. The photos of them when cleaned up above are after my last run in them.
Midsole
The midsole has both Saucony's PWRFOAM and EVERUN systems in it. Stack height is heel 22.5mm and forefoot 18.5mm, which means a 4mm drop. They weigh in at 261g.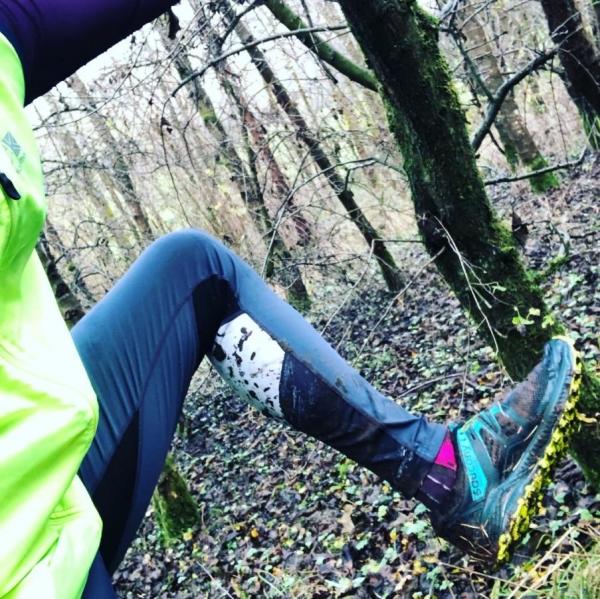 Comfort & performance
They are very comfortable shoes. I wasn't really expecting it from a trail shoe. I thought they might be a bit stiff, but not so.
Straight away, they feel nice to wear. The fit is snug, and you can feel the cushioning immediately. The heel is really well-cushioned, and the tongue is one of the most padded I have come across.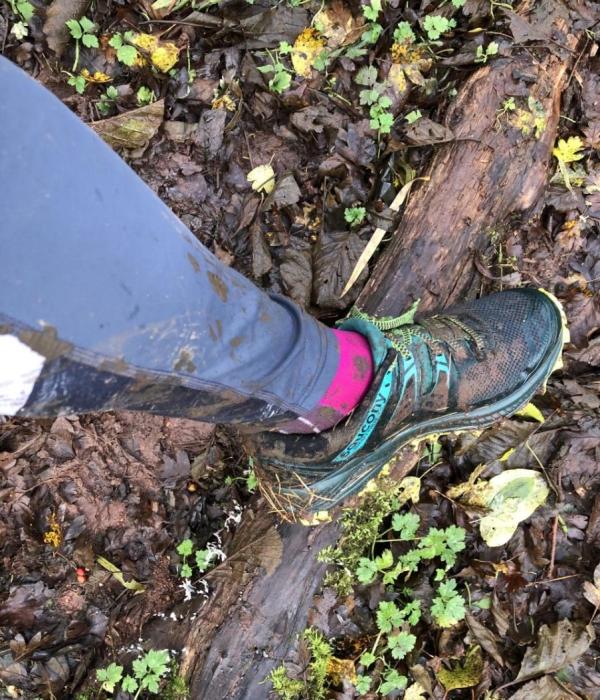 In terms of the heel, there is extra support provided by the heel cup. Neutral style runners like me may feel this isn't needed, but it's ideal in a trail running shoe.
It gives you confidence that your foot won't move too much when going over a variety of different and difficult terrain.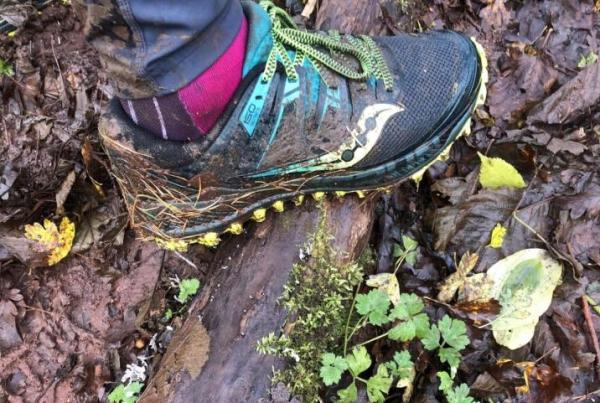 Performance-wise, I love the 4mm drop. The low to the ground feel is perfect for off-road running.
The Peregrine ISO may not be the speediest trail trainer, but it does cope well with all types of surfaces; you can even run on the hard roads to the trails without any discomfort.
Upper
The upper is quite tightly weaved but still breathable for your feet. Plenty of flexibility too, I don't find them stiff at all.
I want a bit more protection for my toes if climbing steeper rockier surfaces, but I think this shoe is not really designed for mountain climbing.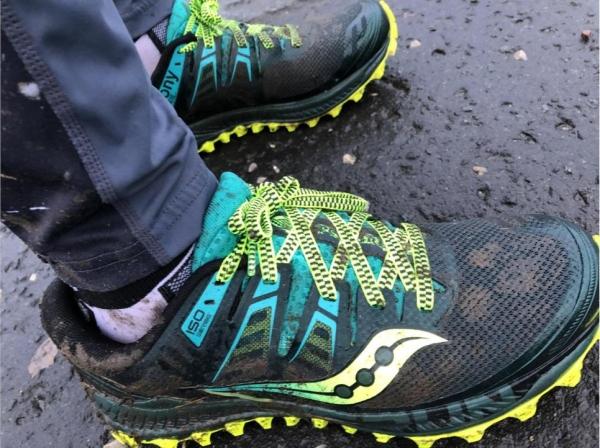 Design
Right out of the box, they are a very attractive shoe. They come in a variety of colour arrangements, but I chose the dark green ones with flashes of bright yellow, including yellow soles.
Unfortunately, they didn't stay so vibrant for long, but this is expected from off-road, all-terrain shoes.
Conclusion
In summary, as you've probably gathered, I really like this shoe. I love the feel and fit in particular.
They are great shoes for a beginner trail runner, as they handle all types of terrain well. I would definitely recommend the Saucony Peregrine ISO!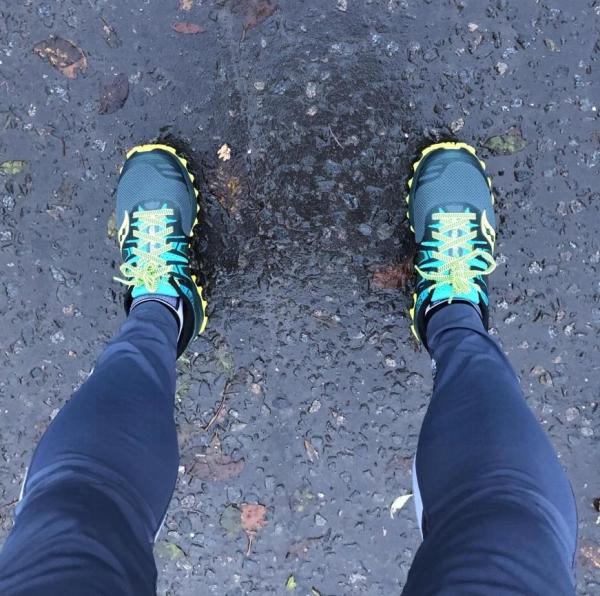 I absolutely love running on trails. The rougher the terrain, the happier I am. I very often run on wet grass, bogs and slippery slopes, as well as rocky or muddy tracks.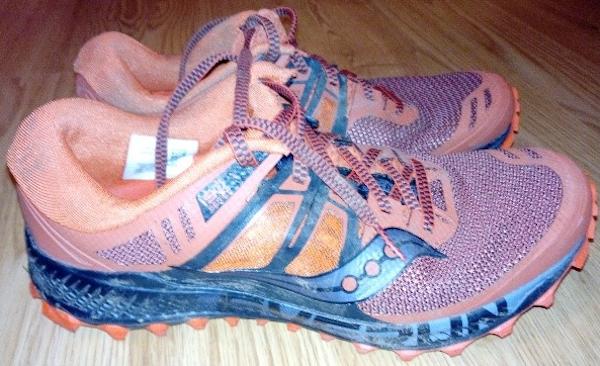 For this reason, I like to rely on light shoes with an aggressive outsole and a firm grip. The Peregrine ISO seemed to tick all the boxes, so I decided to put them to the test.
First impression—love at first sight!
Just out of the box, these shoes look nice and aggressive. I first tried them out, heading for what I thought was going to be a short jaunt on the trails.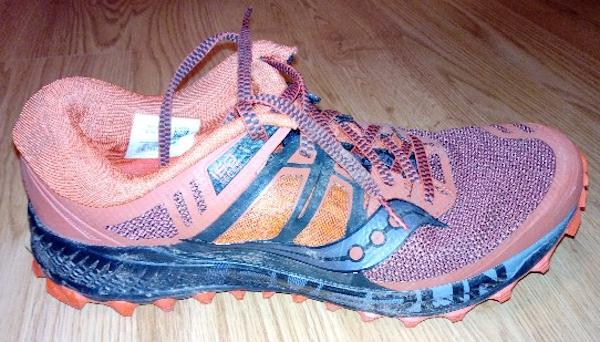 The situation quickly degenerated as I got caught in a heavy downpour.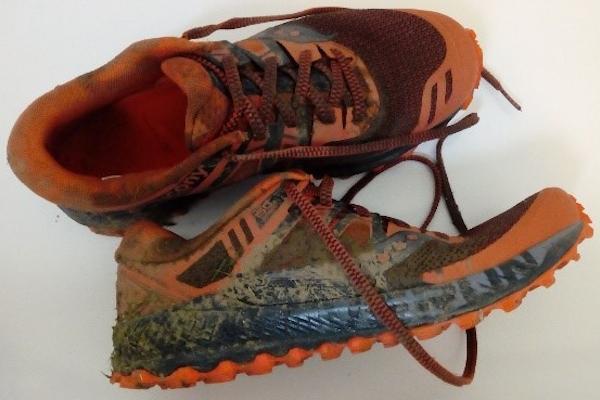 I decided to head home via a muddy slope—and that's when it happened. I heard something click, not my knee luckily, but my brain falling in love with these beauties!
Race day
I recently got a chance to properly test the Peregrine ISO as I sported them at the Dartmoor 3-in-ONE race. This is a 22.5 miles multi-race event starring hills, water, hills, rocks, hills, bogs—and, did I mention, hills?
All I have to say about the Peregrine ISO's performance is: WOW!
Upper
The upper of the ISO is sleek and appealing, with plenty of mesh for breathability. I got mine in an orange and black pattern: tiger and speed immediately spring to mind.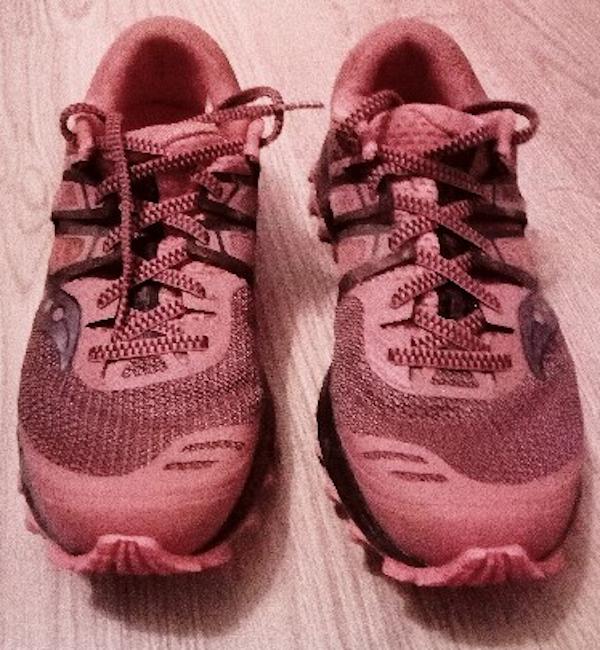 I like this colour pattern, but these shoes are also available in a reasonably wide range of colours.
The toe box appears narrow at first glance, potentially due to the tapered end of the shoe. Despite this, the ISO feels very comfortable when running distances up to 20+ miles.
There's plenty of wiggle room, and I have not suffered any bruised toenail or blister, yet.
I have not had the chance to test them on a longer outing. But, I am pretty sure they would exceed expectations in terms of both comfort and performance.
The upper features ISOFIT technology, which means the shoe is designed to adapt to the foot shape to enhance the comfort and stability experience.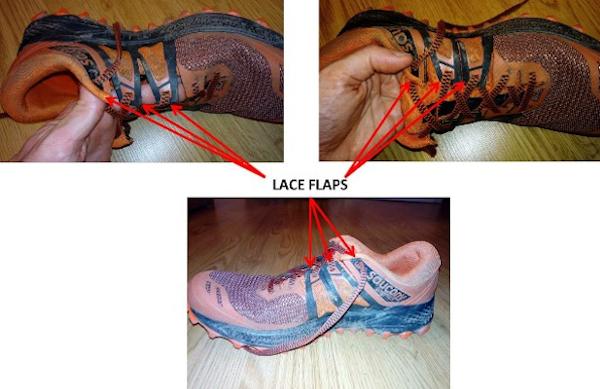 Individual lace flaps are part of this design. These flaps help distribute the pressure of the laces, wrapping the upper foot comfortably.
Midsole
The Peregrine ISO provides a fair amount of cushioning and responsiveness, thanks mainly to the EVERUN™ Topsole layer. However, the cushioning feel is somewhat offset by the shoe's low drop.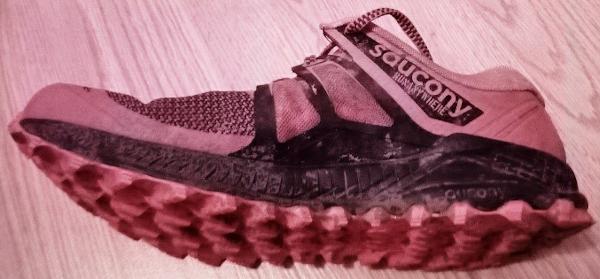 This means that the spring effect that you should experience on foot take-off is limited and you have to rely on your leg muscles to propel forward (sorry!).
On the other hand, foot landing does benefits from the technology, with the result that the shoe feels comfortable on all terrains.
I have to say that while the running experience is great, my first race with the Peregrine ISO did not go so smoothly.
The terrain featured bogs and streams; I suspect the amount of water was just too much for the shoes to cope with, or maybe my downhill stride was not as light as I hoped it to be.
I had to rely heavily on shoe grip on the heels to maintain a controlled descent on muddy switchbacks. Whatever the reason, both insoles lifted and started bunching up under my feet while I was running downhill.
This could be due to a faulty design, or maybe just a combination of extreme water conditions and my running style. Either way, I found this quite irritating.
Outsole
The outsole features PWRTRAC technology, which should give these shoes additional durability and traction. The outsole is indeed very robust and features an impressive array of multidirectional lugs and vertical grooves.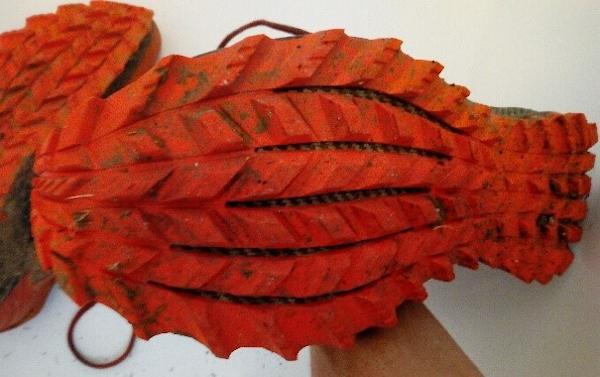 The studs are in place to provide stability and grip, while the grooves help provide flexibility. I especially like the performance of the Peregrine ISO on slippery terrain, as you can feel the shoe gripping the ground on the ascents.
Resistance to abrasion is good, but not the best I have experienced with trail shoes. After approximately 100 miles, I can already notice some of the rear studs wearing off a little.
This is not of big concern, and it certainly relates to the amount of mileage one spends running on more abrasive surfaces (e.g. tarmac or gravel).
The slightly asymmetrical wear of the shoes—most probably related to my gait—is also evident in the picture.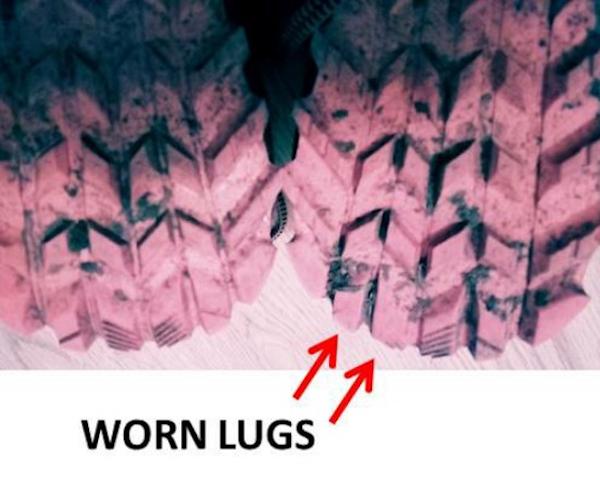 The drop on the ISO is fairly low at 4mm; I find this gives me more control and freedom of movement.
However, due to the somewhat narrow outsole, I would recommend a gradual break-in. This is especially for those runners who like to rely more on cushioning and support.
Pros
Traction: exceptional, definitely a strong feat for these shoes. What I like in particular is the array of studs that runs up to the very tip of the toe box.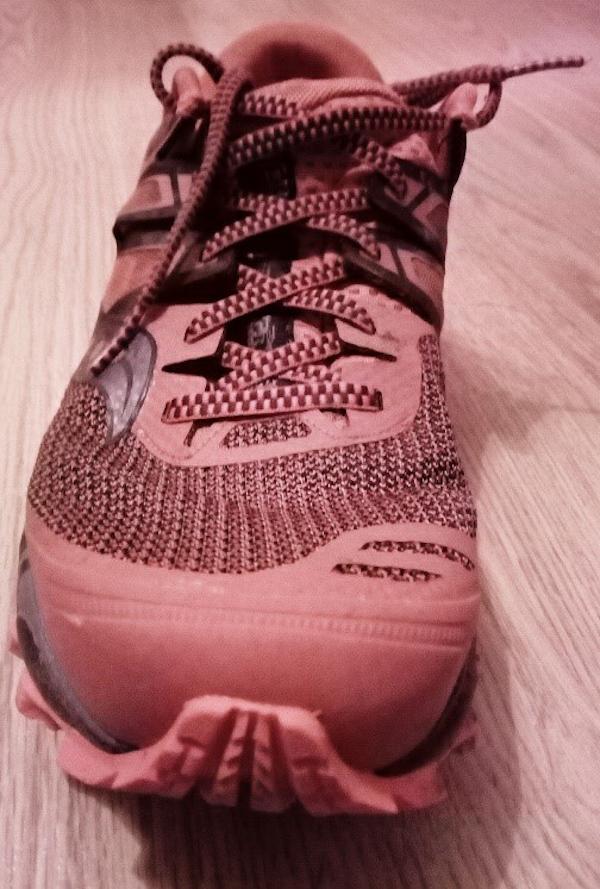 This ensures a firm grip right to the end of every single stride, providing stability until the toes of the lagging foot leave the ground. I feel this makes the most of forwarding propulsion on slippery terrain.
Manoeuvrability: Weighing 298g, these shoes feel light and comfortable to wear. This is also thanks to the cushioned insole, combined with a high soft padded heel collar and individual lace flaps.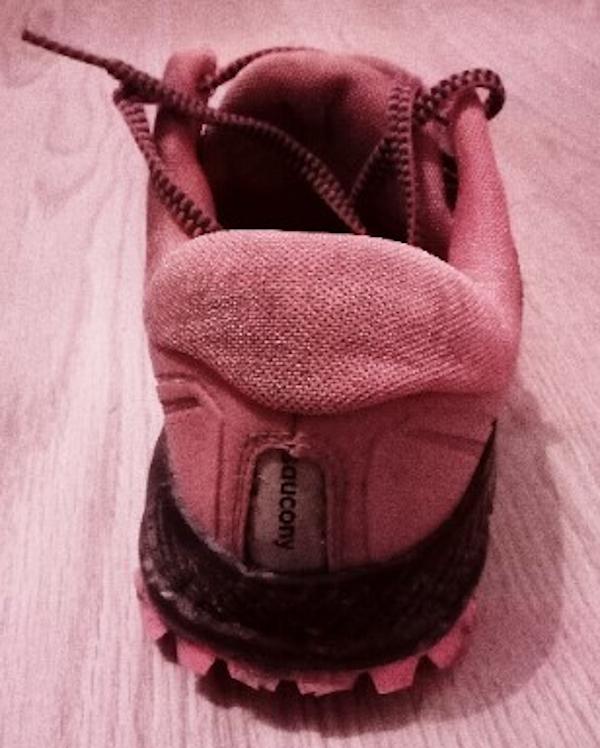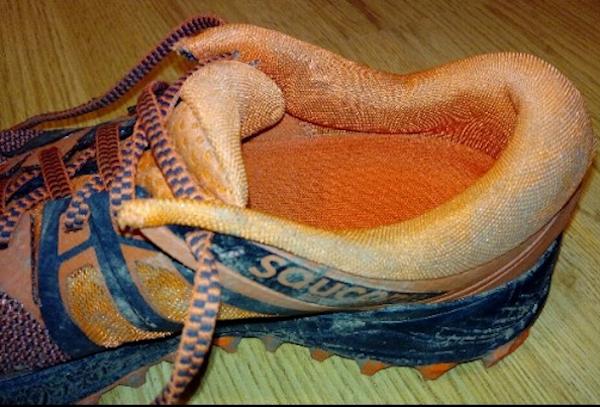 Responsiveness: Cushioning is there, but this is not extreme. There is a good amount of shock absorption when running downhill.
However, there is no obvious spring effect when running on a flat hard surface or tarmac. This is not necessarily a bad thing, as cushioning is generally provided by the terrain when running on trails.
Cons
Laces: I like my shoes with a tongue pocket for laces. Laces in the Peregrine ISO are not overlong, so this is not too much of an issue. However, I find it useful to have laces safely stowed when running on trails.
Breathability: this is great, but I think the upper could have done with some more waterproofing.
Support: I can easily see the narrow outsole affecting both foot and ankle stability, especially in the less experienced trail runner, or in people subject to twisting their ankle.
Conclusion
The Peregrine ISO is a speedy and reasonably priced trail shoe. Comfort, speed and grip are all on the menu. The pros definitely outweigh the cons.
If you are after a great performing running shoe, this is the one!
Good to know
- The Saucony Peregrine model received an updated upper in the Peregrine ISO version. The shoe uses the same technologies found in the latest Peregrine 8 model but with an ISOFIT dynamic upper. It aims to give runners a soft, sock-like fit.
Designed for the trail, the Saucony Peregrine ISO uses the PWRTRAC outsole, which is also used in other Saucony running shoes. The main function of the PWRTRAC is to provide reliable traction and durability to the shoe. The PWRTRAC compound is more durable than other rubber materials and it is configured with hexagonal pattern and 6mm lugs for grip and stability on varied terrain.
Flex grooves are also added into the outsole to provide flexibility whenever necessary. The grooves adapt to the foot as it flexes while running.
In the midsole is the EVERUN Topsole that extends from the heel to the forefoot. This full-length midsole material offers a more responsive and springy ride
The EVERUN Topsole construction works well with the PWRFOAM, which is designed to reduce landing impact. These two midsole technologies aim to provide runners with high-energy and continuous underfoot cushioning throughout the run.
In the upper of the Saucony Peregrine ISO is the well-known ISOFIT technology. It is composed of a flexible mesh material that follows the natural shape of the foot. The mesh flexes as the foot moves to different directions while running. It also aims to give the foot a smooth, sock-like fit.
Also in the upper are the Flex Film overlays that are designed for a snug and secure fit. These overlays are made from thin film, so it does not add weight to the overall design of the shoe.
For added durability and foot protection, Saucony also adds a rubberized toe tip in the Peregrine ISO.
The shoe also features a gusseted tongue to prevent small stones and trail debris from entering the shoe. It also has a RUNDRY collar lining that has a moisture-wicking capacity.
The collar and supportive heel counter also enhance heel fit and secures the heel while running.
Rankings
How Saucony Peregrine ISO ranks compared to all other shoes
Popularity
The current trend of Saucony Peregrine ISO.