For a
daily trainer
that only costs $100, we are surprised by the quality of the Axon 2 from
Saucony
. It's a durable and versatile shoe with a
very smooth ride.
Whether you're running easy miles or picking up the pace, the Saucony Axon 2 is a great all-rounder. Overall, it's a
budget shoe
that we consider one of the most quality-oriented max-cushioned trainers on the market.
Pros
Comfy for easy days
Seamless heel-to-toe transitions
Lighter than it seems

Soft, form-fitting upper

Breathable in warm weather
Tacky on dry and wet surfaces
Long-lasting

Great-value purchase
Cons
Firm for long miles and recovery days
Squeaky noise on pavement
Lacks bounce and energy return
Who should buy the Saucony Axon 2
Get the second version of the Saucony Axon if you're in the market for a:
pocket-friendly

running shoe that can cover easy and moderate runs
great-value option that offers a smooth ride and is ready to take a beating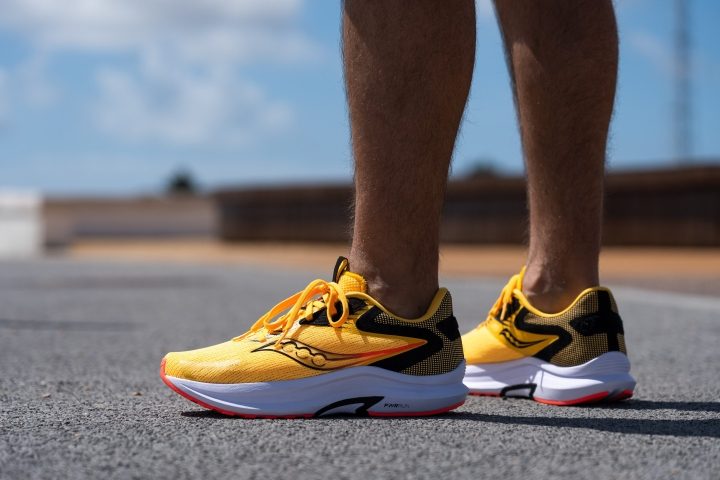 Who should NOT buy it
If you're seeking a budget-friendly shoe that excels at faster paces while also being suitable for recovery runs, this might not be the best choice. Consider the Nike Pegasus 40 or the Saucony Kinvara 14 instead, although they aren't as affordable.
Saucony Axon 2 vs. 1
After garnering positive reviews for the first version of the Saucony Axon, Saucony kept changes in this model at a minimum by only revamping the upper.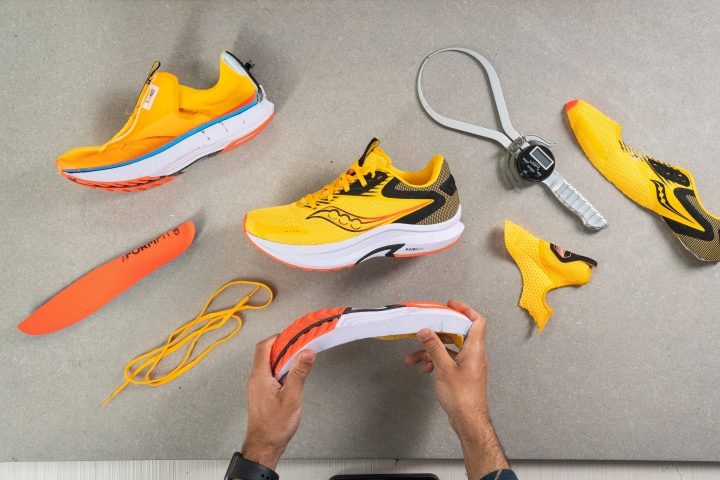 And it worked wonders.
The upper is a winner
There aren't many low-cost shoes with a state-of-the-art upper, but this is one of them. The features a pretty straightforward engineered mesh upper which also happens to be very soft and breathable.
Following our signature breathability test, we can confirm that the Saucony Axon 2 achieved an excellent result, scoring a 4 out of 5, with 5 being the most breathable. This performance surpasses that of higher-end daily trainers like the New Balance Fresh Foam X More v4.
The results of the light test are pretty obvious too. There isn't any significant blockage, as light easily passes through the upper.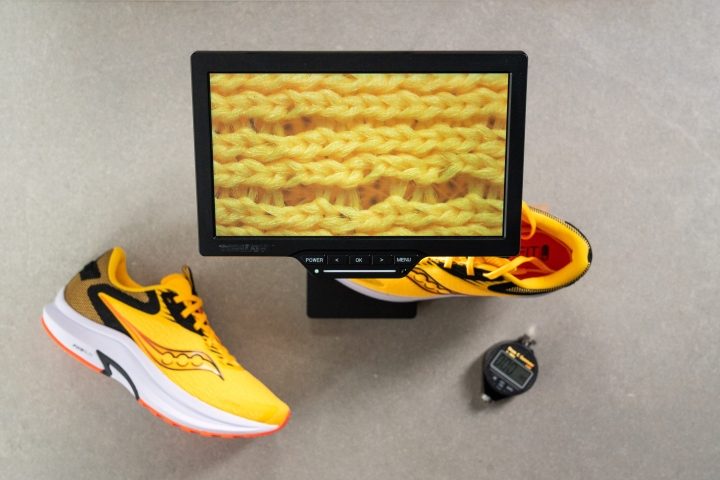 Saucony employed a multi-layered engineered mesh featuring a crossed pattern. This design enhances breathability while, in theory, should improve durability.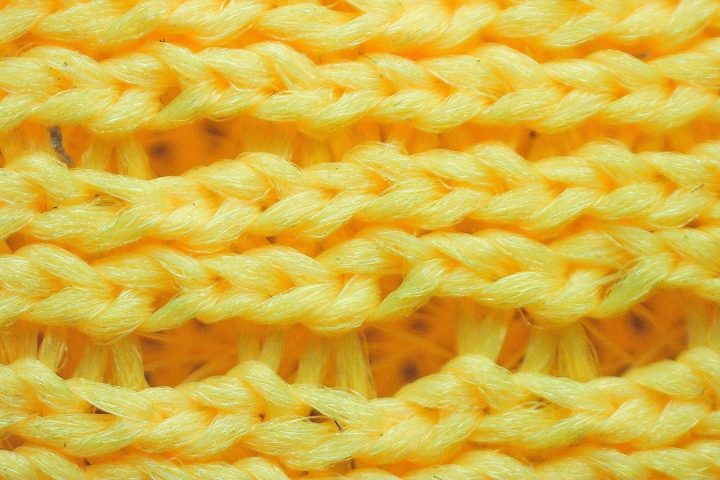 And durability is just what we tested after being amazed by the optimal breathability.
In this case, the outcome isn't as impressive, though there's a reasonable explanation: To achieve maximum comfort, the American brand utilized a softer mesh, which, as expected, is less resistant to abrasion. Our Dremel test resulted in a significant hole.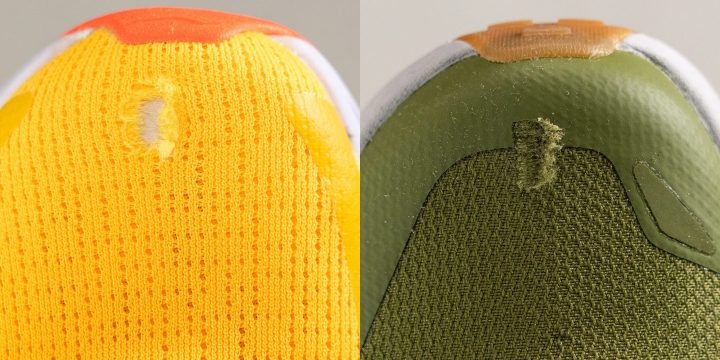 Comparing the outcome to the durability-focused Hoka on the right, it's evident that Saucony prioritized comfort over resistance.
So it's pretty clear that the upper it's soft and acclimates to the foot well. It's also super-padded and there are no reports of hot spots. The tongue and collar are also plush; the overall feel of the shoe is comfortable. Some even wear it sockless!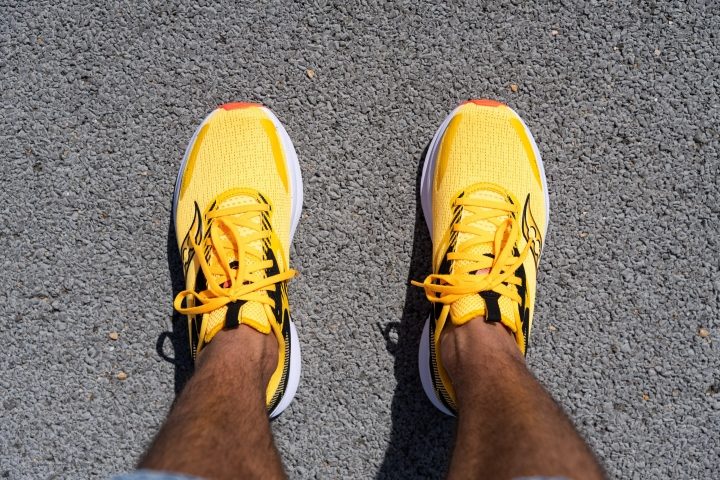 Stiff shoe enthusiasts, this one's for you
This shoe is stiffer than it appears. In our manual assessment, we gave the Axon 4/5 in both tests, longitudinal and torsional. Obviously, this resulted in a pretty stiff ride.
And of course, we measured it precisely in our lab with our signature bend test.
Disclaimer: we take an average of 4 measurements and remove any outliers. This video shows just one of our measurements.
The Saucony Axon is exceptionally stiff for a daily trainer. It required as much as 39.9N of force to bend the shoe to 90º, making the shoe 99% stiffer than the Nike Air Zoom Pegasus 39, and 95% stiffer than the Saucony Guide 16. But compared to the average, it is only 25% stiffer.
Although you'll feel the Axon 2 slightly more flexible once broken in, please keep in mind that this shoe will remain stiff throughout its entire lifespan.
Easy miles, easy ride
If there's a hybrid between the Saucony Kinvara 13 and the Saucony Endorphin Shift 3, that's the Axon 2. Meaning to say, it's very cushioned like the Kinvara and it rolls smoothly like the Endorphin Shift.
It's comfortable for short, easy-to-moderate days, and maintains efficient heel-to-toe transitions; AND it's easy to pick up the pace in. But it's not a buttery-soft shoe, nor should you expect that from a $100 daily trainer.
With a durometer measurement of 22.3 HA, we can confirm that the PWRRUN midsole is not buttery-soft. It turns out to be 62% firmer than the one in the Pebax-based Endorphin Speed 3.
But compared to road running shoes on average, it is 8% softer!
The absence of extra softness is understandable since this durable daily trainer also needs stability to satisfy heel strikers and pronators.
Adequate behavior under cold temperatures
The Axon 2 features Saucony's PWRRUN foam, a blend of EVA and TPU. Choosing EVA as the base instead of a full-TPU midsole like in PWRRUN+ results in a lighter and cheaper shoe, but potentially less effective under cold temperatures.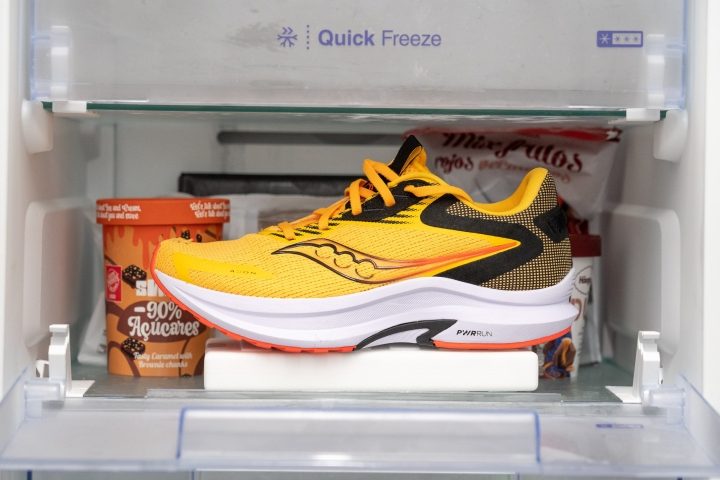 We tested the Axon 2's flexibility and softness after placing it in the freezer for 20 minutes. Our findings:
Firmness increased by 16.1%.
Stiffness increased by 28.7%.
These results reveal that the Axon 2 performs better than the average shoe (26.7%/45.1%), which is expected since it's not an EVA-only shoe.
Dude, where's my drop?
Saucony official numbers for the Axon 2 are 35/31 mm of stack, for a 4-mm heel-to-toe drop. That put this shoe as one of the most high-stacked cheap daily trainers out there.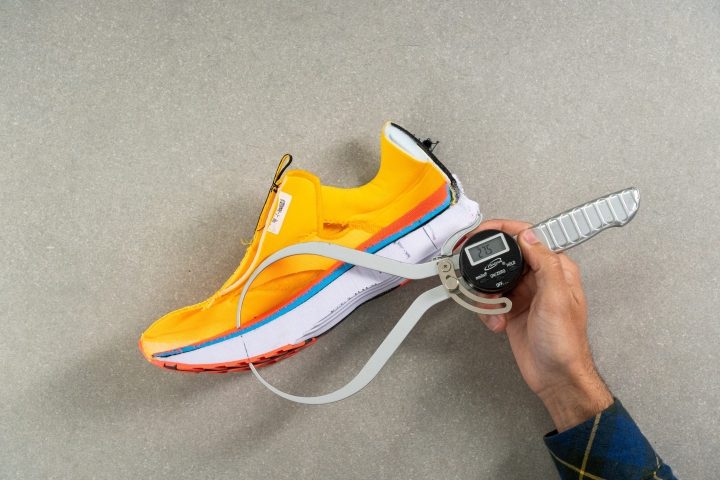 Disclaimer: We always measure stack with the insole included.
Unfortunately, this time we have to disagree with the brand. Our precise measurements, as you can see above and below, put this shoe with the nearly-as-claimed 35.3 mm in the heel—YES!—, but only 27.5 mm in the forefoot—NO!—which is substantially lower than the official numbers.
As a result, you'll get a 7.8-mm heel-to-toe drop—almost double than stated by Saucony!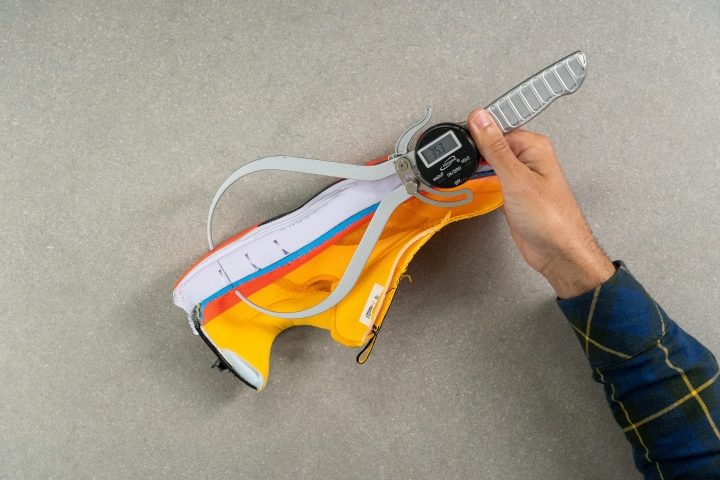 Disclaimer: We always measure stack with the insole included.
If you're searching for an affordable low-drop shoe, consider the Saucony Kinvara 13, which has a RunRepeat-verified 4.5-mm drop. As it's last year's model, you can expect to find some great deals.
The Saucony Axon 2 won't drag you down
It has plenty of cushion, and it's not the lightest on paper. However, when on the run, the shoe feels lighter than it looks.
The Axon 2, in a US size 9, weighs a mere 282 grams—not only does it break the psychological barrier of 300 grams for a daily trainer, but it also manages to outperform the previous Axon, although it only does it by 1 gram. A win is still a win, right?
A certified bruiser
30 miles of our rough wear testing barely left any wear on the outsole! The rubber remained unscathed, plus the midsole was not bottoming out any time soon!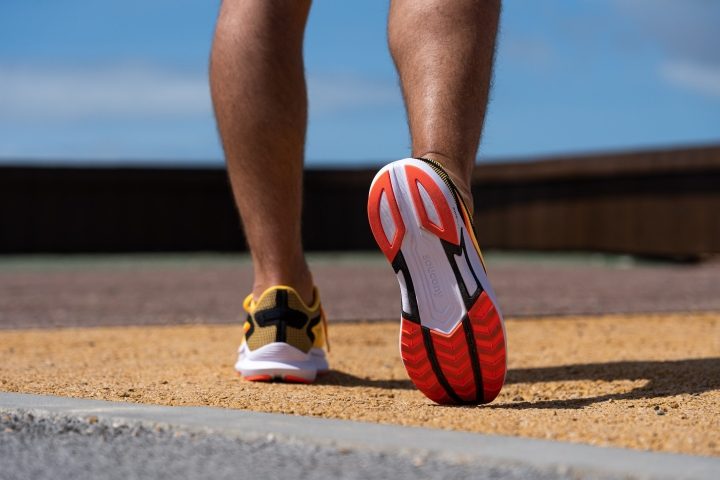 Moreover, the outsole sticks to the ground so well. This shoe has no issues on both damp and dry road surfaces thanks to its rubber. However, the tradeoff for this is the annoying, squeaky sound it produces.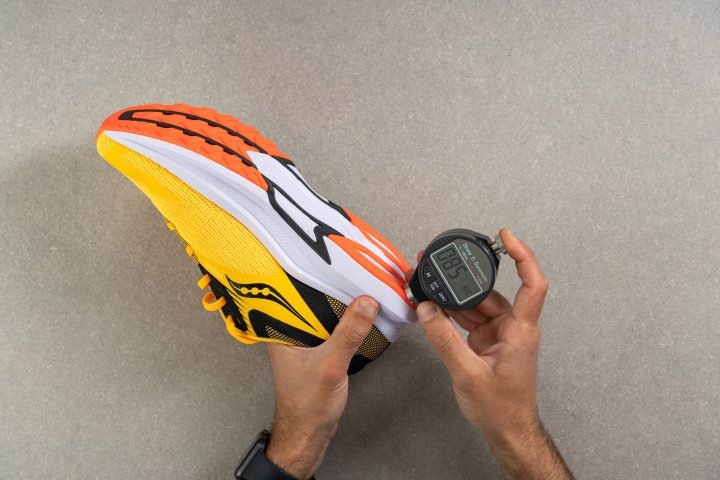 Disclaimer: We calculate an average of 4 measurements and disregard any outliers. This image portrays just one of those.
With a 4.1-mm thick outsole and a hardness of 85.3 HC, you can expect the Axon 2 to offer world-class durability. Why? Because the Axon v1 already had impressive durability, even with rubber that was 11% thinner and 3% softer.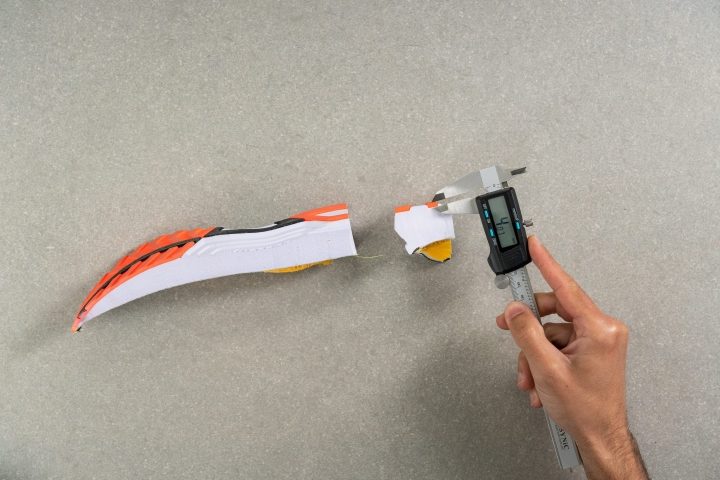 Snug fit overall and good lockdown
If you often struggle to find room for your toes in many shoes, these aren't going to fit you.
Although the toebox is roomy at its widest point, it tapers quite aggressively toward the big toe, measuring exactly the same 67.6 mm at that point as the racing-oriented Adidas Adizero Adios Pro 2. That's a 43% taper, for a 33% average.
Being a narrow shoe, it's relatively easy to offer a better-than-average lockdown.
Saucony shoes usually have stiff heel counters, which keep heel slippage at bay. We found that the Axon 2 stays true to this trend, and we're giving it a solid 4/5 on the stiffness test—with 5 being the stiffest.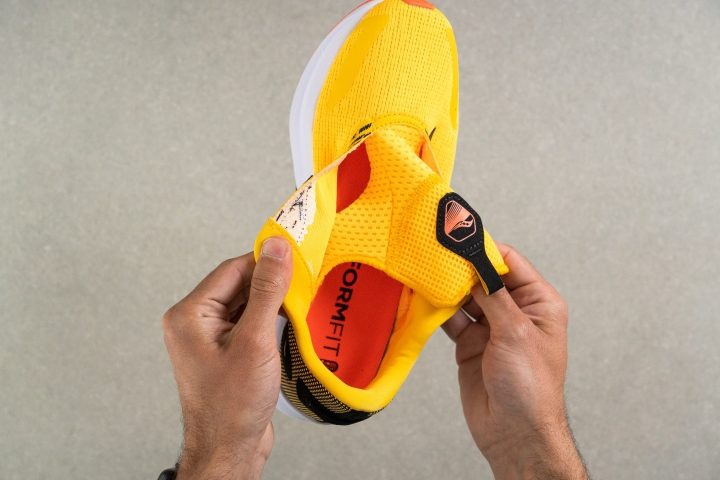 The Axon 2 achieves this by utilizing a semi-gusseted tongue—partially attached to the sides—with ample cushioning to prevent lace bites and ensure a comfortable ride even in long runs.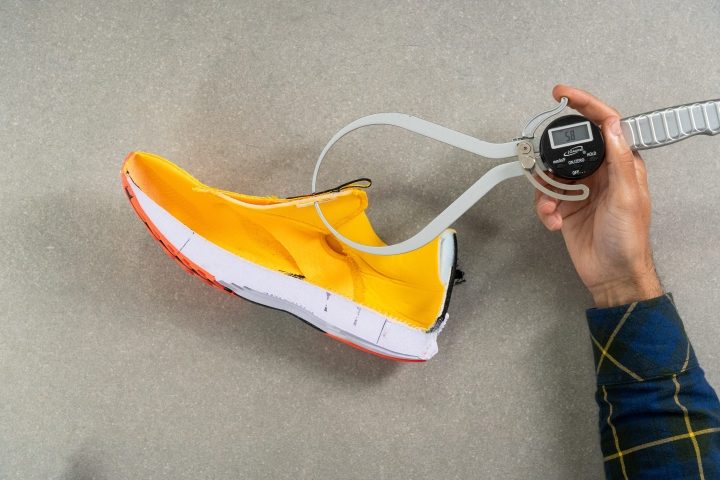 Based on our caliper measurement (5.8 mm), the shoe's tongue thickness is the same as the average.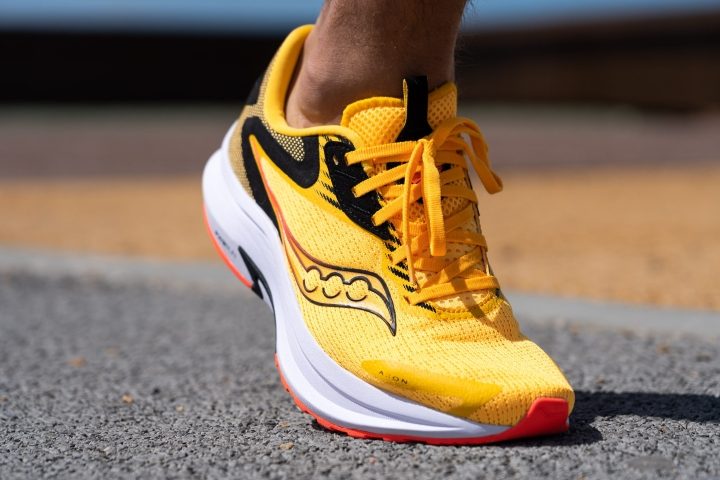 Lastly, there's nothing exceptional to note about the insole. It is removable, with a thickness of 4.2 mm, same as the average.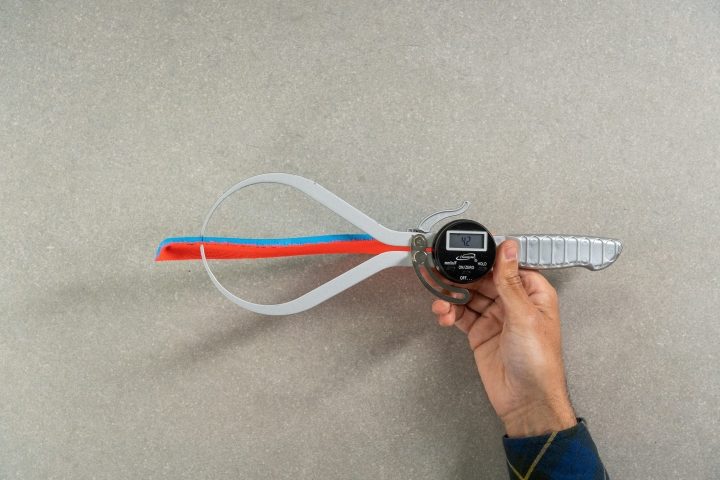 Average landing platform
We meticulously measured the shoe and found that it has the same width in the forefoot as the average. However, in the heel, it is a couple of millimeters narrower.
But the good news is that this was not critical for our stability on the run.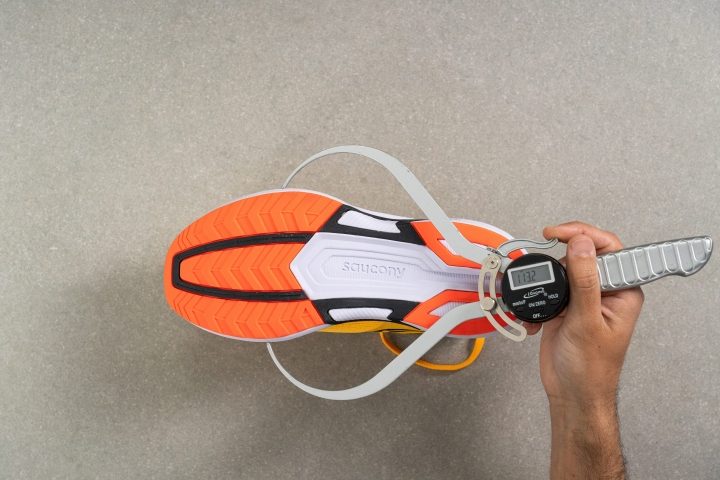 The Axon 2 positions itself as a middle-of-the-road shoe, aiming to please not only neutral runners but also those with mild pronation issues.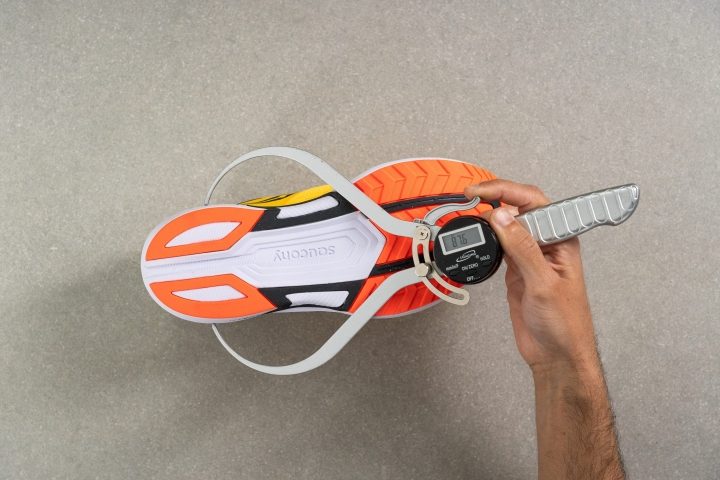 Value is an edge from the Axon 2
While other running shoes' prices continue to go up, the Saucony Axon 2's price tag remains affordable. On top of this, it performs just as well as its steeper-priced counterparts.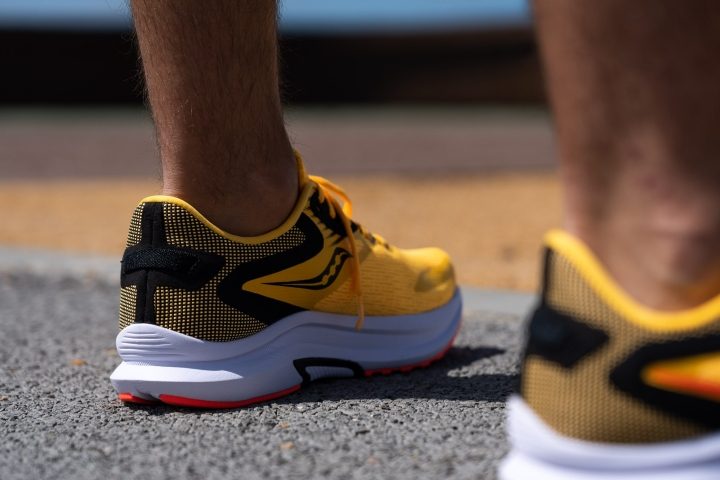 For reference, the Saucony Axon 2 only retails for $100 while the other daily trainers cost $132, on average.