If you've ever experienced foot pain, you may have already been adviced to buy a pair of Vionic walking shoes by your podiatrist, or a friend, or a family member. But you ask yourself, what's so special about these walking shoes? Can they really help relieve foot discomfort?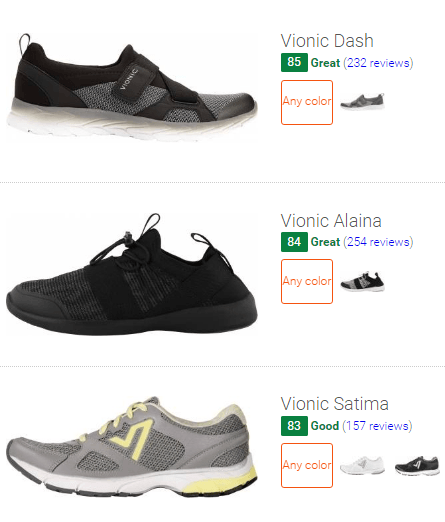 Best Vionic walking shoes for women - December 2019
What to expect from the best Vionic walking shoes
What makes Vionic walking shoes different from other trainers in the market is the way their footbed is constructed. It is designed to render support for long-lasting comfort. Special technologies also appear in some Vionic walking shoes. These innovations are podiatrist-designed to support natural foot movements.
This orthotic technology is built into Vionic walking shoes. It has a deep heel cup that steadies the rearfoot, pronounced arch support for greater underfoot contact, and a soft forefoot to absorb shock. This footbed helps align the foot and relieve pain in various parts of the foot, lower back, leg muscles, and the joints of the lower extremities.
This innovation is found under the ball of the foot in some walking shoes from Vionic. It stabilizes the forefoot to increase flexibility underneath the first metatarsal, allowing you to bend at the forefoot with ease. It also aims to help people with forefoot pain and sensitivities.
Active Motion System (AMS) technology
A construction utilized in some active Vionic walking shoes, the AMS uses a combination of three features: a lightweight and breathable upper, a flexible and cushioned midsole, and the Orthaheel footbed. This construction provides stability, support, and comfort no matter the activity. The Vionic Walker Classic is one of the models that use the AMS technology. It has leather overlays protecting the mesh upper which helps retain its structure for a reliable foothold.
Brief history
Phillip Vasyli, a renowned podiatrist, had one goal: to make orthotic treatment accessible and affordable to those who need them the most. Decades ago, orthotics were costly and time-consuming to make. Vasyli wanted people to be able to go in for a consultation and be able to walk out already feeling better. Because of that vision, the first heat-moldable orthotic was born. It became the backbone of what now is known as the Orthaheel technology, which the brand claims as the first true orthotic that can be obtained without a doctor's prescription.
Frequently asked questions
Can I use Vionic walking shoes to workout?
Vionic walking shoes are primarily designed to support the walking motion. They feature a unique footbed with a raised arch which some people may find uncomfortable for dynamic exercises. However, there are models designed with flexibility in mind like the Ngage 1.0 Active. This trainer is a walking shoe but thanks to the 1st Ray technology, there's more give under the forefoot for a more natural foot bending. Its upper is also made of mesh which keeps the interior fresh if you do decide to use it at the gym.
Are Vionic walking shoes available in wide width?
Yes, there are Vionic walking shoes available in wide profile. An example of this is the Vionic Miles which is a women's walking shoe equipped with the AMS Technology. The midsole uses ethylene-vinyl acetate (EVA) foam with a podiatrist-designed Foot Motion Technology (FMT) orthotic insole. The upper is crafted from lightweight and breathable mesh. Another model available in wide is the Walker Classic.
How much does a pair of Vionic walking shoes cost?
The price of these shoes ranges from $100 to $150. It may be pricey for most people, but for those who are in search of relief from foot pain, no cost is too high. If you want to own a pair of Vionic walking shoes, you don't have to worry about breaking the bank as RunRepeat can help you find the best deal with just one click. Just choose a pair that entices you and RunRepeat will present you with the various offerings from online retailers. Now, you won't have to wait for the brand sale to get a good offer.
When should I replace my Vionic walking shoes?
Walking shoes, in general, have a lifespan of about 350 to 500 miles of wear or about 6 to 9 months of use. However, some Vionic walking shoes employ orthotics that can last up to 12 to 18 months. Though the underfoot cushioning may remain unchanged for a year or so, if you notice that the outsole has lost traction or there are rips or tears on the upper, it may be time to get a new pair. Wearing trainers with defects can lead to foot discomfort and in some instances even accidents.
Do I need to break in a Vionic walking shoe?
Vionic walking shoes are meant to be comfortable from the moment you put them on your feet, however, because the footbed is designed to hug the arches and cup the heel, it may take some time to get used to its unique shape. Vionic recommends wearing its footwear only for a few hours for the first few days until your feet have grown accustomed to it. Depending on how much you wear these trainers, they will be completely comfortable to wear for longer periods within a week or two.
How do I clean my Vionic walking shoes?
Regardless of the upper material, a quick dry-brushing can remove surface dirt easily. Wiping it down with a damp cloth can also help clean the top. However, if there is any dried mud on the shoe, you may want to dip a cloth/sponge/brush into a warm soapy solution and scrub the stain away. Remove the suds by wiping it with the use of a clean, damp cloth. Avoid submerging the shoe in water, but if it does get soaked, remove the insole and the laces if possible, then clean and dry them separately. As for the unit itself, the brand recommends drying it under direct sunlight.
Remember! Do NOT use man-made heat sources to dry the footgear as that could compromise the build. Do NOT machine wash the product unless the manufacturer says otherwise.
Are there Vionic walking shoes for overpronators?
All Vionic walking shoes are crafted with raised arches. This design ensures that the midfoot is supported at all times and also prevents the foot from excessively rolling in. But if you need additional support, you can purchase additional orthotics from Vionic.
Are Vionic walking shoes offered in slip-on style?
Yes, there are Vionic walking shoes sporting a slip-on style. For men, there's the Vionic Bryant which uses a soft suede upper with gore inserts that allow the mouth of the shoe open wider as the foot slides in or out. For women, there's the Vionic Dash. Though there's a strap on the midfoot, the trainer can be worn or removed without unlatching the strap because the opening is wide enough. The elastic strap retains a snug fit at the forefoot.
6 best Vionic walking shoes
Vionic Walker Classic
Vionic Bryant
Vionic Turner
Vionic Ngage 1.0
Vionic Tate
Vionic Revive
This shoe has recently been added to RunRepeat. There are still not enough reviews for us to assign it a
CoreScore
.
CoreScore
A score from 1 to 100 that summarizes opinions from users and experts. The average CoreScore is 78.
More...