184 best trail running shoes
Updated (April 2018)
Based on 23,840 reviews
Loading please wait...
What distinguishes trail shoes from road shoes?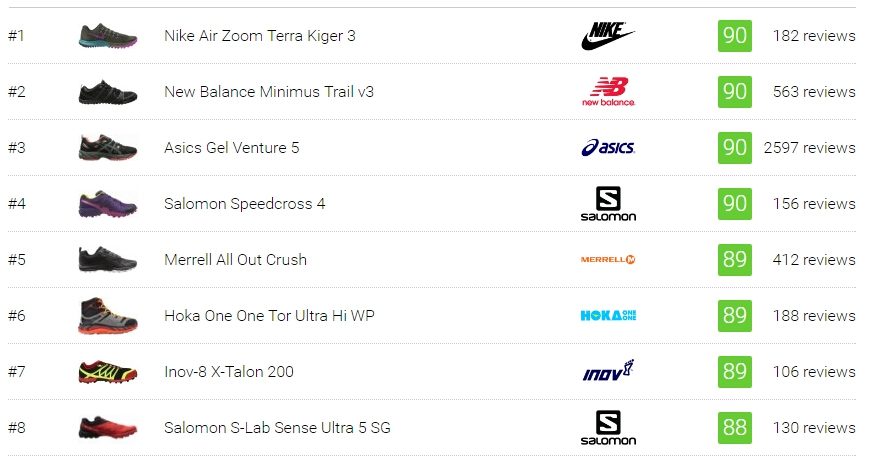 Two categories: At RunRepeat we have two categories: road and trail
Outer soles: Trail shoes have a varying degree of rough outer soles. If you primarily move on rather compact gravels, you do not need much structure in your outer sole, but having a little will improve your grip. For muddy terrains, a rough outer sole will improve your performance significantly. In snow and ice, you need trail shoes with spikes or trail shoes that are compatible with spikes.
Waterproof: Around 20% of all trail shoes are waterproof (Look for GTX = Gore-Tex)
Underfoot protection: Trail shoes typically have solid soles to offer underfoot protection
What should I look for in my new trail partner?
Outer sole. Ask yourself if you will be running in mud, snow, mixed gravels or grass? The outer sole is one of the most important parameters. The more unstable the surface, the rougher outer sole.
Weight. A lighter trail shoe (Men: <250 grams, Women: <230 grams) will make you faster, though it will give you less protection, less stability and less comfort. If you have challenges twisting ankles, opt in for the supportive trail shoe. If you have signed, up for a trail race and want to beat your colleague? Go light.
Waterproofness. You can use a non-waterproof shoe in wet environments too. However, if you rather often run in wet conditions, choose a waterproof model. Gore-Tex models are most popular, but there are alternatives. Typically, the most popular models comes in non-waterproof and waterproof variations. Waterproof trail shoes are typically 10% more expensive and weights 5-10% more.
How to find the best trail running shoes?
Don't restrict your search. Big brands offer great shoes but they might not be the best for you. Look for other brands that specialize in trail running. You might find the perfect trail partner from the brand you have never tried before.
Know your terrain. It is important to think on where you are going to run. You might need a shoe that can cross from road to trail or running shoe that can survive a rough, technical terrain.
Try several pairs before you buy. Extend your patience and try several shoes before making the final decision. You are on the right track if you can find a shoe that feels so comfortable and have a nice fit.
This shoe has recently been added to RunRepeat. There are still not enough reviews for us to assign it a
Corescore
.
Corescore
A score from 1 to 100 that summarizes opinions from users and experts. The average Corescore is 78.
More...