New Balance Fresh Foam Hierro v6 review
91
The Corescore is a score from 0-100 that summarizes opinions from users and experts. Below shows the distribution of scores for all running shoes.
Verdict
A heavy-duty trail beast, the Balance Fresh Foam Hierro v6 has proved to us it's more than capable of taking a beating from harsh elements! It crushes everything underfoot and will last plenty of miles. After putting it to the test, we found that it works best as a road-to-trail transition shoe and a light to moderate dedicated trail shoe.
Pros
Comfortable
Super plush
Protective underfoot
Amazing lockdown
Easy to put on (heel loop!)
True to size
Heel rudder
Looks amazing
Value at $135
Cons
Heavy
Runs warm
Could be grippier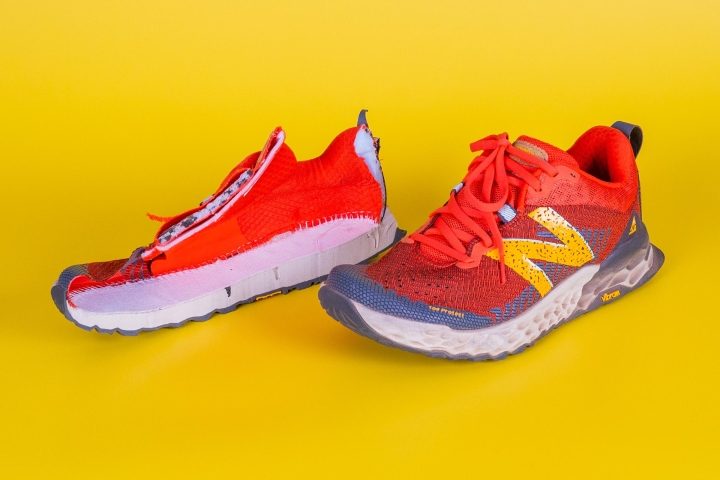 75% say it's true to size.
We earn affiliate commissions at no extra cost to you when you buy through us.
Comparison to similar running shoes
| | | | | | | | |
| --- | --- | --- | --- | --- | --- | --- | --- |
| | Add a shoe to compare | Add a shoe to compare | Add a shoe to compare | Add a shoe to compare | Add a shoe to compare | Add a shoe to compare | Add a shoe to compare |
| CoreScore | | | | | | | |
| Users rating | | | | | | | |
| Experts | | | | | | | |
| Best price | | | | | | | |
| Ranking | | | | | | | |
| Popularity | | | | | | | |
| # of colorways | | | | | | | |
New Balance Fresh Foam Hierro v6 review and lab test
Another sexy trail shoe from New Balance
The Fresh Foam Hierro v6 is a super-plush, trail bruiser that's cushioned and extremely durable. It's designed for the trail runner that wants to attack moderately technical terrain with protection and comfort in mind.
It's also ideal for runners that want to run on the road to and from the trails thanks to its modest lug design and thick, soft midsole foam.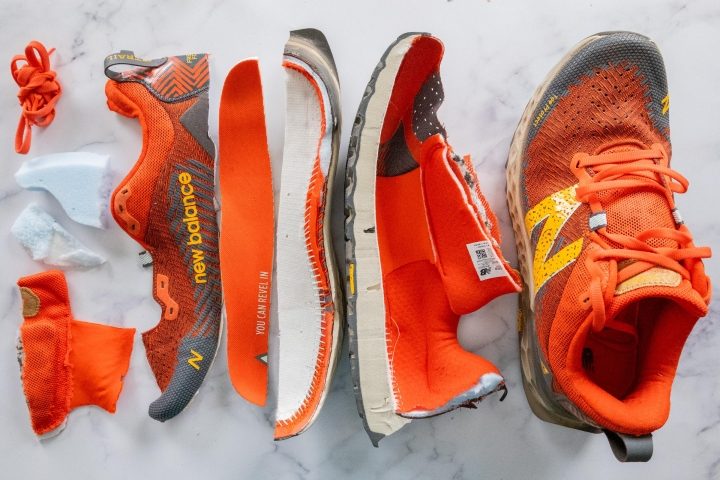 There's a lot of pros and cons to this shoe, so read on to see how it performed in our use and lab tests!
Who should buy the New Balance Fresh Foam Hierro v6
The Hierro v6 is a great shoe for trail runners looking for a super plush and comfortable trail shoe that's padded in the upper and offers plenty of protection underfoot from sharp objects.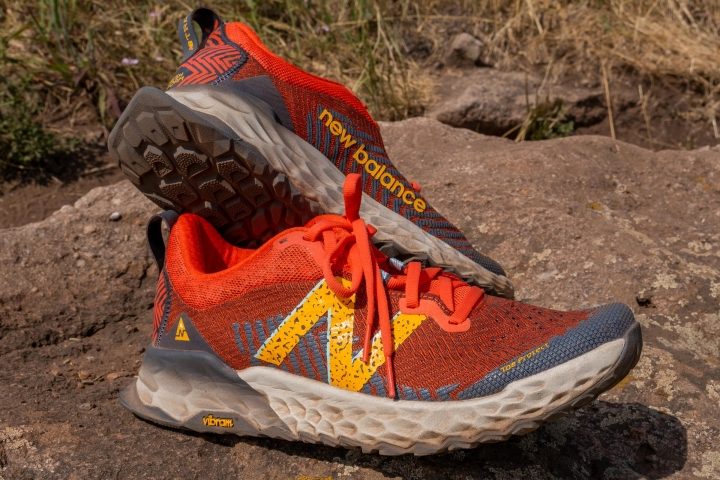 It's a nice entry shoe into moderate trail running and will perform well on dry, rocky terrain that's not overly technical.
If you live close to the trails and plan to commute on the roads to and from nearby dirt, this shoe would be great as it performs well on harder surfaces, and feels a lot like typical daily road trainers.
Lastly, this would be a great light hiker! If you speed hike or hike in trail runners, this could be a great option as well.
Who should not buy it
Don't buy the New Balance Fresh Foam Hierro v6 if:
You want a lightweight shoe. This thing is a bit of a beast when it comes to the scales. Check out the Arishi Trail for a lighter option.
You run super technical terrain or off-trail. The lug pattern on the Hierro v6 is modest and better suited to easy-moderate terrain. Check out the Salomon Sense Ride 4.
Ground feel is important to you. These babies have a lot of foam underfoot. Check out Altra's trail lineup instead.
Ultimately these are long-distance, slower pace trail shoes designed for milder terrain. There's a ton of need for shoes like this, but if you're doing shorter, faster, or more aggressive runs you may want to keep looking.
Hierro fits true to size but is snug
These run true to size, but do feel a bit long and bulky.
They fit wider feet fine after some break-in, but right out of the box they do feel tight and constricting. This is mainly because of the tight tongue gussets and ample padding in the upper.
Wholly comfort Batman
These are built for comfort. There's an insane amount of padding in these shoes.
First off the upper is as plush as any shoe out there. The tongue is a fat 7.5mm thick, compared to the average shoe at 5.4mm thick. I personally like about 1.5-2mm so even the average shoe is a bit over padded in my opinion around the tongue.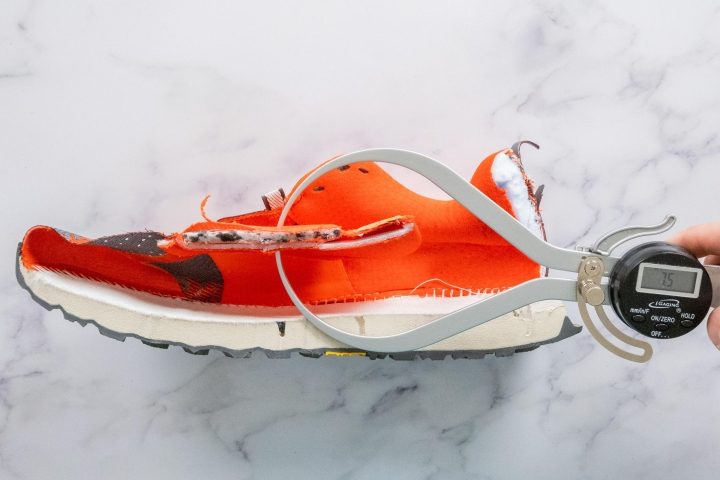 The ankle collar has more foam in it than any shoe I've tested. We don't normally measure ankle foam thickness anymore, but I had to throw the calipers on it. 21.1mm!! That's insanely plush, and to me feels a bit chunky and overdone, and at times it even feels bulky while running.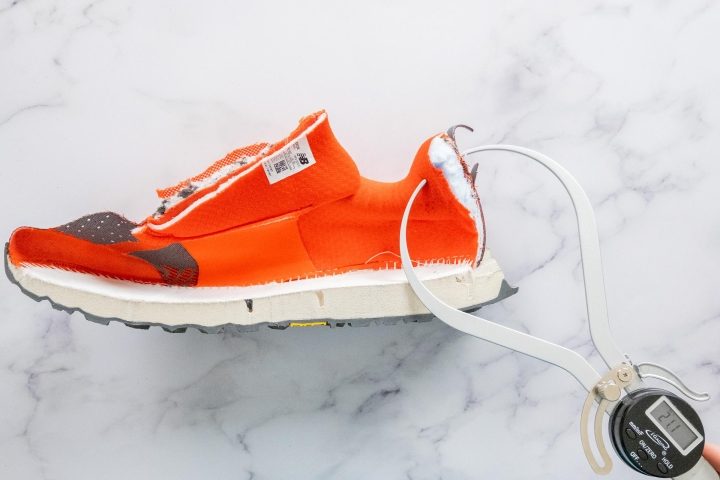 The midsole is also plush. It's not the tallest shoe in the world at 26.9mm in the heel (average is 32.7mm), but the Fresh Foam X material is soft (14.5HA compared to the average shoe at 22HA)and dense at the same time. I know that's a bit conflicting, but it's soft enough to absorb impact well and not feel like a brick, but it's not so soft as to be unstable or allow much ground feel.
Hierro v6 is stable and consistent
The ride of the Hierro v6 is extremely stable and consistent thanks to its wide base, measuring at 114.2mm under the forefoot (112.7 is average). This is not a shoe that's super-fast, or high performing, it's built more around comfort and because of that, it doesn't throw any surprises your way.
The foam is soft enough to be enjoyable underfoot, but the whole shoe itself doesn't flex much. The shoe really only flexes at the natural break under your toes giving it a bit of a stiff feel. It scored 4-5 on our torsional flex test (5 being the stiffest) meaning it doesn't have a lot of flex or twist from side to side.
It feels like a road shoe with lugs to me, not necessarily a trail-specific shoe. This is ideal if you commute to your trails or need a shoe to do a little of everything.
Also worth noting, it has this funky heel rudder off the back. This is designed to give the shoe a bit more stabilization on the downhills as you land on your heel first. It's gimmicky I think and doesn't do a ton in my opinion other than maybe tricking yourself into believing you can feel the ground earlier which can help with balance on steep descents. Placebo? If it works…
Ultimately it's a bit too cushioned for me and there's no ground feel, I like to feel lower and more connected to the trail personally.
Break this baby in
This shoe is stiff and tight out of the box and does need a bit of break-in. Mostly the upper is just over padded and tight and the midsole is stiff. Give it a few runs before any big efforts or races.
Chunky monkey
At 11.4 ounces (323g) it's heavy, and you can feel it. This is the Hierro's biggest downfall, it's just too heavy.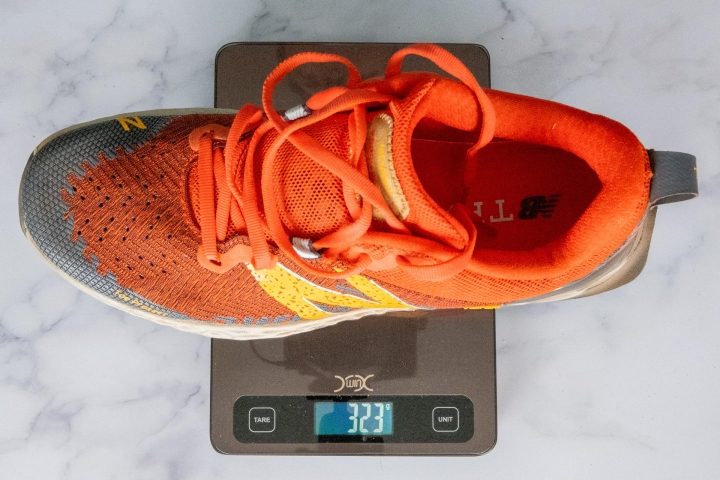 The good news is New Balance is headed in the right direction here. Version 6 lost over an ounce from v5 but it's still heavy. NB needs to shed a lot of the foam and about 2 more ounces and then this shoe will be fire!
Hierro v6 built for battle
This shoe is a tank. Durability is not an issue here. The Vibram outsole is tested and proven to go the distance.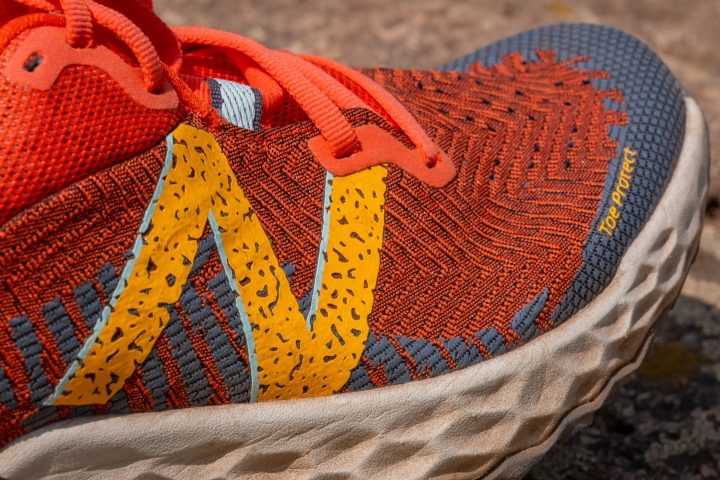 The shoe is overbuilt with an insane amount of foam, and the upper has thick rubberized welded overlays throughout the whole shoe. Rocks be damned!
Can't go wrong with Vibram Megagrip
The Vibram Megagrip outsole is a great rubber, it's super grippy, but I do wish NB had made the lugs a bit more aggressive. This shoe works well on-trail but left me wanting a bit more off-trail and on super tech climbs/descents.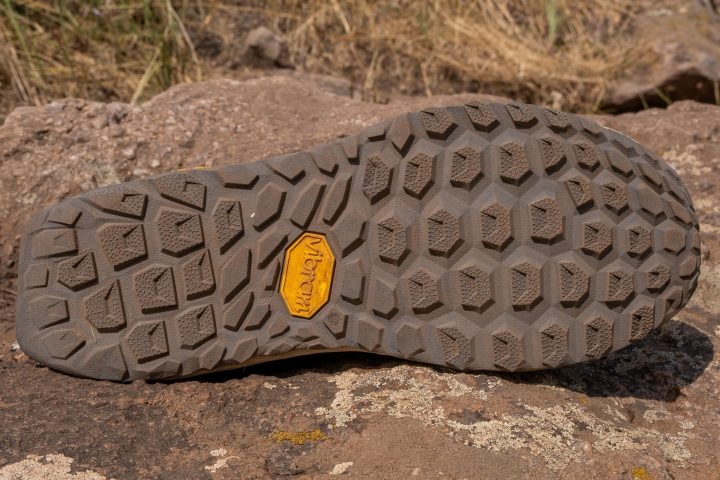 The lugs are only 3.3mm deep and closely spaced so they just don't dig in like sharper, sparser lugs on other trail shoes we've tested.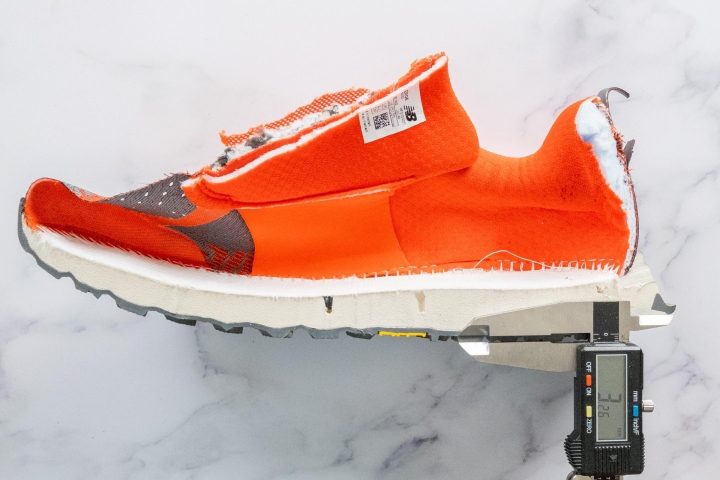 We only have hard-pack and rocks here in Colorado this time of year (mid-summer) so I didn't get to test on wet or soft surfaces, but I assume the Megagrip rubber will perform well on wet, but I do think in softer terrain you'd want a bit more meat underfoot.
Where should the Hierro v6 go
This is really designed as a long-run training shoe. It's comfortable and cushioned, but it's not all that fast or nimble.

Works well on the road to thanks to it its modest lugs. Could be a good commuter shoe.
Poor score on breathability tests
This shoe is not very breathable. I scored it a 2 out of 5 on our breathability tests. Heat and vapor escape nicely through the vented perforations on the toe, but basically nowhere else.
There's just too much padding.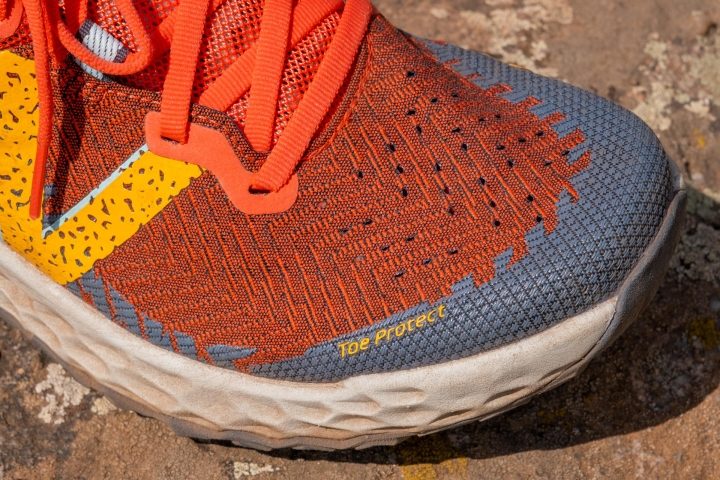 All that foam holds moisture too. Mine were noticeably wet hours after a workout just from sweat, I can't imagine how long these would take to dry out after a stream crossing or a wet run.
Power gussets for killer lockdown
Amazing lockdown! The shoe feels very snug without being too restrictive. When shoes run narrow there's discomfort, I didn't have that at all in this shoe.
It feels secure which is a great thing in a trail shoe. This is mainly because of the gusseted tongue. I love a gusseted tongue, and usually, they are connected to the base of the shoe with a thin, soft, pliable nylon. This shoe's gussets are basically 3" elastic straps, and they hug your foot tightly.
Why doesn't every shoe have a heel-loop
Love the welded heel-loop. YES NB, this is one of the best I've seen.
It's a very robust PVC material that doesn't twist, is easy to get your finger into, and you can pull hard on it without fear of it ripping off in your hand.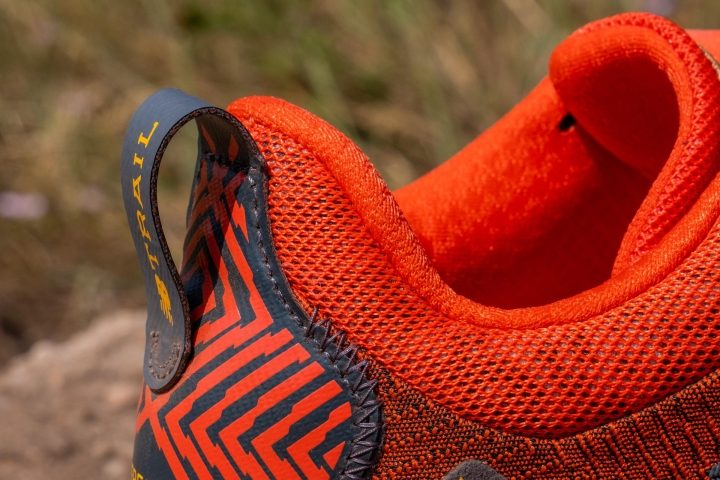 Winter running
Although these would be ideal in the winter since they run a bit warm, the Fresh Foam midsole does harden significantly at colder temps. The durometer of the midsole hardened 72.4% (from 14.5HA to 25HA) after 20 minutes in the deep freeze. Compare that to the average stiffening of 38.5% and it becomes quite a brick.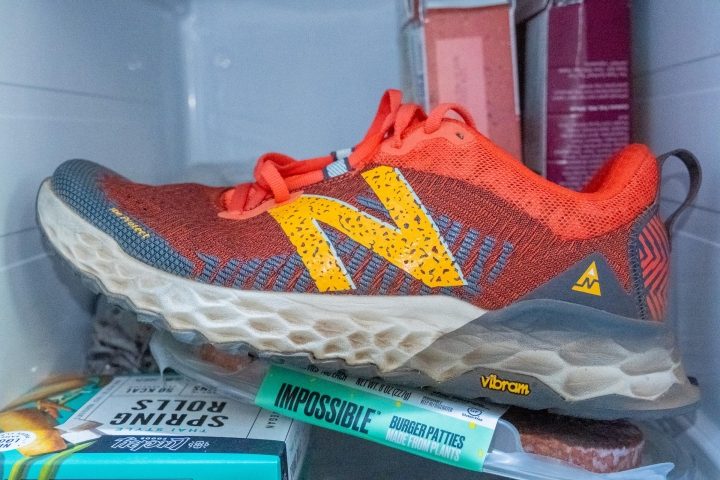 As for flex, it was only 32.6% less flexible in this test (19N at room temp and 25.2N at cold temps) which is under the average cold flex finding of 40.7% increased overall stiffness. This is mainly due to the shoe flexing fairly well under the toes and being fairly stiff underfoot to begin with.
Sexy and decently priced
This is a great-looking shoe! New Balance makes exciting-looking shoes and I dig that as a lot of my running shoes tend to turn in to town sneakers often, as I usually need a beer after a hard run!
I really dig the cork logo patch on the tongue too, steezy!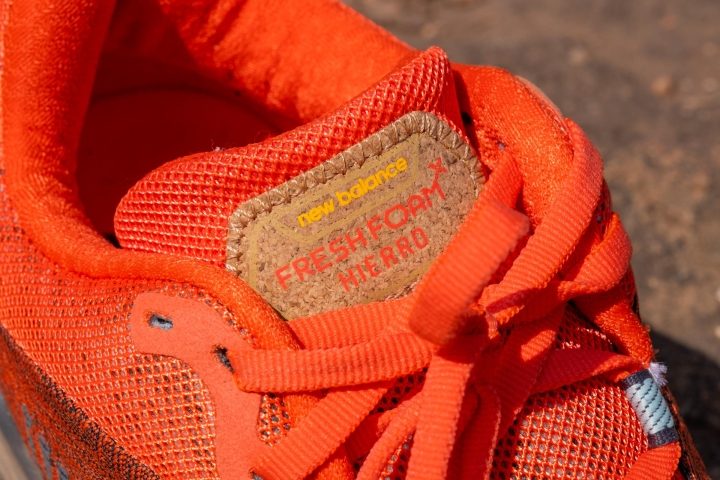 And the positive messaging on the insole.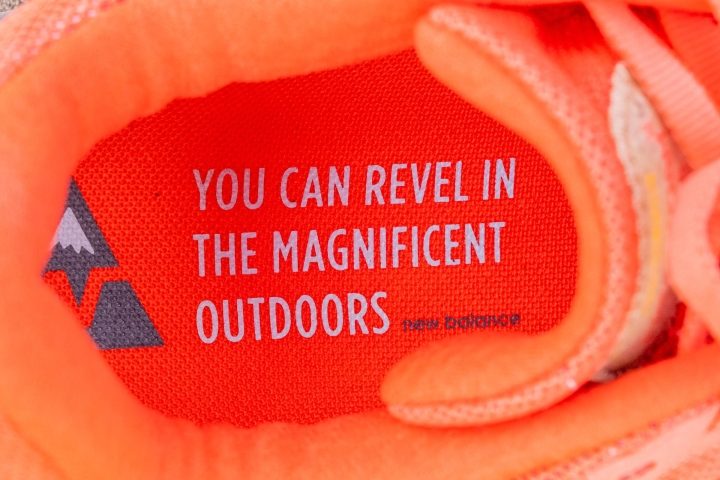 At $135 I think this shoe is a good value for the commuter out there looking for a plush shoe with killer style.
One last gripe. No reflective elements. I know there's not a ton of need on trail shoes, but these are solid commuters so I wish NB had put a few in case you're coming home from the trails after dusk.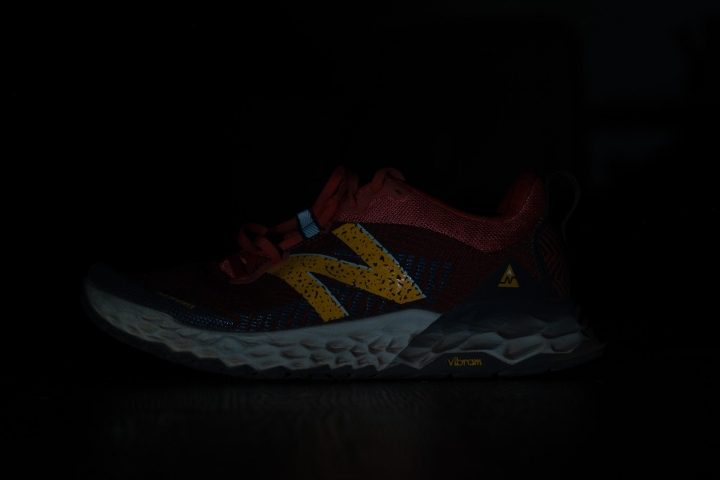 Complete lab-specs overview
Hierro v6
Average
Whole shoe

Weight (g)

323

266

Drop (mm)
9.2
9.4
Flexibility of the shoe (N)
19.0


35.4

Flexibility of the shoe (Freezer 20 min) (N)

25.2

46.5

Flexibility of the shoe (% of change)

32.6

40.7

Lace slip test with the knot (N)

12.7

22.4

Longitudinal flexibility (1-5 scale, 5 being the stiffest)

4

2.9

Torsional flexibility (1-5 scale, 5 being the stiffest)

2

3.1

Upper

Thickness - Tongue (mm)

7.5

5.4

Width Upper - Forefoot (mm)

98.6

98.5

Width Upper - Heel (mm)

80.4

75.5

Lace Stretch (1-5 scale, 5 being the most stretchy)

4

2.8
Flexibility of the heel counter (1-5 scale, 5 being the stiffest)
4
2.9
Tongue: gusset type

Both Sides (Semi)

-

Heel: pull tab

Finger Loop

-

Midsole

Width Midsole - Forefoot (mm)

114.2

112.7

Width Midsole - Heel (mm)

88.5

89.2

Stack - Forefoot with insole (mm)

17.7

24.3

Stack - Heel with insole (mm)

26.9

32.7

Durometer Midsole Heel (Room temperature) (HA)

14.5

22.0

Outsole

Outsole thickness (Heel) (mm)

2.4

3.7

Lugs Depth (mm)

3.3

3.2

Durometer Outsole Heel (Room temperature) (HC)

77.0

79.0

Insole
Insole Heel Thickness (mm)
2.8

4.2

Insole: removable

Yes
Compare popularity
Interactive
Compare the popularity of another shoe to New Balance Fresh Foam Hierro v6:
New Balance Fresh Foam Hierro v6 video reviews