Cheap sneakers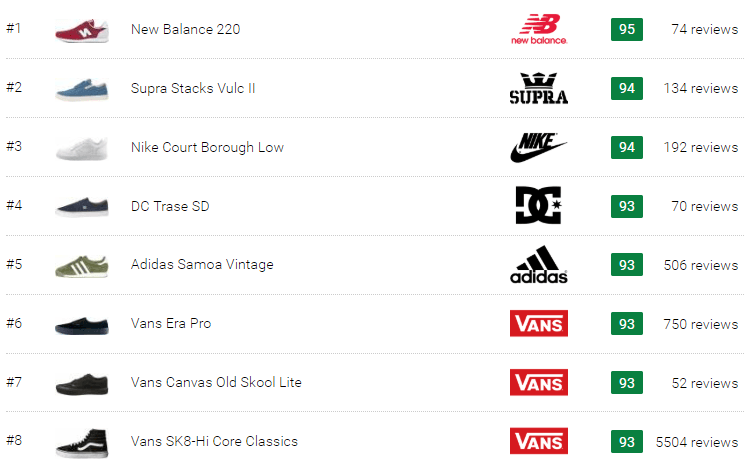 When it comes to shoes, the price tag will always be a primary consideration for many people. This is because individuals want to get what they're paying for, just like any other product. This is especially important as sneakers are meant to be worn and will have to last for quite some time so that the user will get the most out of them.
That said, it's no wonder why people are drawn to cheap sneakers. Although there has of course been some bad rep for low-priced kicks, it doesn't necessarily mean that they are not worth considering. Just like any other shoe, they have their pros and cons, the number one for the former being their attractive prices.
Most sought-after inexpensive shoes
Price regularly dictates the preference of sneaker fans. Hence, it's no wonder that many inexpensive shoes are almost always found on the list of sneaker hunters. Listed below are several of the most sought-after cheap sneakers for men and women, with more information about their pricing, size range, and features.
Popular cheap sneakers for men
1. New Balance 220
Introduced as a running shoe in the late 1970s, the New Balance 220 has mainly stayed in the background compared to other models from the brand. It later transitioned into a lifestyle sneaker, with recent iterations featuring neutral colorways. This highly versatile shoe was then updated with modern features for comfort, making it fit for today's lifestyle.
The upper is made up of a combination of materials, whether nylon, mesh, suede or leather, depending on the colorway. On the toe and heel are suede overlays for extra durability.
It has a price point of $65.
Men's sizes from 4-14 were issued for these cheap sneakers. They fit as expected. Women can also go down by 1.5 sizes for a proper fit.
2. Supra Stacks Vulc II
The Supra brand is known for its contemporary skate styles, releasing such kicks as the Supra Stacks Vulc II, an iteration of the Stacks II model. As the name implies, this shoe has a vulcanized outsole designed for durability and performance. This sneaker also maintains a smooth street style appeal, a signature touch of Supra footwear, making it suitable for switching between the skate park and the streets.
It has a seamless toe design that's built for fewer seam damage during skate sessions.
Its retail price is $65.
These cheap men's sneakers are available in sizes 4-14 as well as in women's 5.5-15.5. It generally runs true to size.
3. Nike Court Borough Low
The Air Force 1, hailed as one of the most iconic kicks of all time since its launch in 1982, inspired the silhouette of the Nike Court Borough Low. This latter model was released in 2016 in tribute to the classic sneaker. In addition, the retro basketball design of this shoe was made as a homage to the different neighborhood courts in various boroughs. They helped bring this type of style to its current level of widespread popularity.
The upper is made up of breathable and lightweight perforated synthetic leather material, making it ideal for everyday wear, especially in warm weather.
At its price point of $65, these kicks offer bang for the buck.
Sizes were issued in men's 7-14 along with women's 5-12. It mostly fits as expected according to reviews.
4. DC Trase SD
First introduced in 2015, the DC Trase SD has a neat and smooth upper made up of suede, which sits on top of a vulcanized outsole. There are various colorways offered for the shoe, giving its low-top profile a subtle edgy flair. With its minimalistic design, this street-ready sneaker could fit with any casual outfit of the day.
The rubber outsole is built with an abrasion-resistant design featuring a pill pattern tread for a durable and reliable ride.
It has a highly affordable price of $60.
For the sizing, men can choose from sizes 4-14. Women could also decide to go 1.5 sizes down. A couple of users shared that the shoe runs at least a half size small.
5. Adidas Samoa Vintage
When it comes to classic sneakers, Adidas can boast of many models, including the Samoa shoe. It was first introduced in 1977 as an indoor soccer sneaker. By the 1980s, the model was widely used and liked in the street style fashion scene. In 2011, the brand brought back the shoe in the "All Originals" series, alongside other classics such as the Gazelle, Superstar, and Campus kicks.
In June 2016, Adidas released this sneaker's first pack in the colorways Craft Ochre/Auburn and Collegiate Navy/Yellow.
These cheap sneakers are easy on the pocket at their $65 price.
Men's sizes are offered from 5-13 along with women's 5.5-10. It has been generally found to fit true to size.
6. Vans Era Pro
The Vans Era has been a staple in the Vans catalog since its release in March 1976, hailed as one of the best cheap sneakers of all time. It was initially named the Style #95 and was meant for skating, as it was built with more padding than the Vans Authentic. This model was designed by skaters Stacy Peralta and Tony Alva and has been remade with different editions. One such iteration is the Vans Era Pro, a high-performing upgrade of the Era with an extra durable structure.
The footbed is made with UltraCush HD technology, which offers premium impact protection and cushioning.
These shoes are very affordably priced at $60.
Men's 6.5-13 are offered. Women can get a pair of these kicks by going down by 1.5 sizes. It has been confirmed to fit as expected.
7. Vans Canvas Old Skool Lite
The Vans Old Skool was initially introduced as Style #36, the first shoe to feature the highly recognizable Sidestripe logo. It was also the first skate sneaker to showcase a suede toe box along with leather paneling. It has continued to dominate the street style scene, with various reworkings released, including the Vans Canvas Old Skool Lite. This model is made to be more lightweight and flexible for use both on and off the board.
Double stitching on the heel cap and toe cap deliver extra durability along with high abrasion resistance.
Other popular and cheap variations of the Old Skool include the Vans Pig Suede Old Skool and the Vans Canvas Gum Old Skool.
These cheap sneakers for men have a budget-friendly price tag of $65.
Men's sizes are offered from 6.5-13 and women's sizes from 5-14.5. More than a handful of wearers thought that the toe box fit narrow.
8. Vans SK8-Hi Core Classics
Vans sought to create a shoe that offered ample ankle protection, an essential feature for skating. Thus, the brand came up with the SK8-Hi, which was known as Style #38 when it was first released. Since then, the sneaker has been a mainstay in the Vans catalog, paving the way for such retro versions as the Vans SK8-Hi Core Classics. It's trendy with a vintage vibe, ensuring that the overall look is as timeless as it is versatile.
This upper is made up of suede and canvas, showcasing the iconic Sidestripe. It also has a vulcanized rubber waffle outsole.
Another highly affordable model from the same series is the Vans Mono Canvas SK8-Hi.
These kicks are relatively cheap at a price of $65.
Men's sizes can be found from 3.5-16 as well as women's sizes, ranging from 5-14.4, featuring a true-to-size fit.
9. Reebok Royal Nylon
The Reebok Royal Nylon is the retro iteration of a favorite sneaker from the 1990s. It promises to mesh style and comfort together with its sporty appeal and simple design. With a modern outlook, the model is infused with Memory Tech, which offers what the brand describes as luxurious comfort.
These cheap men's sneakers are made to be more flexible through the flex grooves around the forefoot area.
It has an attractive, low-price tag of $55.
Sizes are in men's 5.5-15 and women's 6.5-11. A few reviewers have found that the sneaker runs narrow.
10. Converse Chuck Taylor All Star High Top
First introduced in 1917, no list of iconic sneakers would be complete without the Chuck Taylor All Star High Top from Converse. This former basketball shoe was initially built for the sport of soccer and netball. It rose in popularity due to Chuck Taylor, an enterprising basketball player who so successfully marketed the shoe that Converse decided to name it after him.
This shoe was the first to feature non-skid technology at its release.
Despite their continued popularity, these kicks remain budget-friendly at $55.
The sizes offered are in men's 3-18. Women can also get a proper fit by going down by two sizes.
Many users have described the fit as large, recommending that others go one or two sizes down.
In demand low-priced shoes for women
1. Adidas Cloudfoam Advantage Stripe
Released under the Adidas NEO sub-brand, the Cloudfoam Advantage Stripe offers a lightweight and highly supportive feel. It has a leather upper and a classic court silhouette that makes it look neat and timeless at the same time. The Three Stripes logo detailing on the lateral sides offer a striking contrast to the shoe's overall minimalistic and straightforward flair.
Premium cushioning is delivered by the Cloudfoam Surround sockliner, which also incorporates memory foam.
These cheap cute sneakers were released at a price of $65.
Women's sizes were issued from 5-12. A few purchasers have attested that the shoe runs big, advising others to grab a half or full size down.
2. Skechers D'Lites - Runway Ready
The D'Lites Collection is one of the most popular series of shoes from Skechers. Sandals, boots, and slip-on sneakers are all featured in the category, offering contemporary kicks for men, women, and kids. Comfort, durability, and styles are front and center with each model, just like in the Skechers D'Lites - Runway Ready. It's well-loved for its substantial sole and flamboyant upper with a mix of patterns and prints.
Woven fabric material makes up the side panels of the sneaker, enhancing ventilation.
$65 is the price point of these kicks.
Available sizes are in women's 5-11. It has been observed to run true to size generally.
3. DC Chelsea TX
The ladies' exclusive DC Chelsea TX is one of the casual staples from the DC lifestyle catalog. It has an upper made up of canvas material, along with a pill-patterned outsole. It also has a vulcanized construction for an extra durable structure, a signature of DC's skate-inspired kicks. The shoe's padded silhouette offers a sporty appeal.
Its textile fabric lining enhances breathability and helps in wicking away moisture.
At a price of $60, these cheap cute sneakers are very budget-friendly.
Users have revealed that the shoe fits as expected. Women's sizes from 5-11 can be found.
4. DC Danni TX SE
The DC Danni TX SE is primarily a lifestyle kick, yet it has been incorporated with different skate elements. As a result, the model is built to be durable, supportive, and stylish to boot. Other skateboarding features include the toe hat and rubber heel bumper, along with the signature vulcanized construction.
These cheap women's sneakers feature a one-inch platform sole that gives a boost of height and style.
It has a very low price tag of $55.
With a true-to-size fit, these kicks are available in women's 5-11 sizes.
5. Adidas Court Vantage
This sneaker was released in the 1970s and was reintroduced under the Adidas Originals series. The line is known for bringing back heritage kicks for lifestyle use, which was the case for this popular tennis shoe that was worn by Australian player Rod Laver. Adidas brings the minimalist Court Vantage with both classic features and contemporary details.
This model's branding details include the iconic Adidas Originals logo on the tongue and the Adidas heel plate.
These shoes offer bang for the buck at a $60 price.
According to a few buyers, this sneaker runs large. They said that getting a half size smaller would be more optimal. Sizes are offered in women's 4-10.5 and men's 4-14.
6. Nike Tanjun
The Nike Tanjun was unveiled in the year 2015, its design taking inspiration from the highly popular Nike Roshe Run. In Japanese, "Tanjun" means simplicity, a very apt word for a neat and straightforward sneaker. Although it looked very similar to the Roshe Run, the unassuming model has since been widely praised. It's a contemporary classic that is also one of the best cheap sneakers in recent times.
The mesh upper has a diamond grid design that offers a stylish look and a well-ventilated feel.
One other noteworthy and budget-friendly edition of the Tanjun is the Nike Tanjun Slip-On.
It has a very reasonable price of $65.
Some reviewers have noted that this model may run small. Sizes can be found for women's 5-12 and men's 6-15.
7. DC Chelsea SE
Another version of the Chelsea model, the DC Chelsea SE cheap women's sneakers feature feminine grace. Along with a smooth silhouette, the shoe's neutral and soft colorways offer different options for a chic street style appeal. Depending on the color, the upper can be made of suede or leather material. Like many other DC models, this shoe features the signature pill pattern on the sole for excellent traction.
This sneaker's modern color selections include Black/Silver/Black and Peach Parfait.
It was released with a retail price of $65.
It has a true-to-size fit, with available sizes ranging from 5-11 for women.
8. Nike SB Check Solarsoft Canvas
Nike Skateboarding was launched in 2002 to leverage the popular skate scene. The series introduced skate-centric products that offered style and the brand's signature high-quality touch. Since then, Nike had developed a reputation for ultra-cushioned and durable kicks for skateboarding, such as the Check Solarsoft Canvas. These cheap sneakers bring much to the table with their flexibility, breathability, and ventilation.
Hyperfeel technology gives this shoe an ultra-comfortable feel.
It also has a Solarsoft insole that delivers a barefoot-like feel while giving protection.
Pricing for this sneaker is tagged at $65.
There were a handful of wearers who felt that the model fit narrow. Offered sizes are in women's 5.5-12 along with men's 4-14.
9. K-Swiss Aeronaut
Sporty yet dynamic, the Aeronaut model from the K-Swiss brand satisfies athleisure trends with its versatile flair. A two-toned mesh upper that is as minimalistic as it is lightweight gives the shoe a street-ready appeal. Those who like to be active while staying casual may find these kicks worthy, especially given their highly affordable price point.
IMEVA technology is used on the midsole, offering a shock-absorbing feature for a supportive ride.
These kicks are priced at only $60.
Women's 5-11 and men's 6-14 are offered for the sizes. A lot of commenters found that the sneaker runs small and narrow.
10. Skechers Gratis - In Motion
Lightweight and well-cushioned for an ultra-comfortable feel, the Skechers Gratis - In Motion is another modern classic from the brand. Its upper is made up of synthetic leather and mesh upper, offering a durable and flexible fit at the same time. Its color variations include all-black, gray/pink, gray/white, black/white, and gray/light blue.
This model can be conveniently slipped on and off owing to the elastic neoprene tongue and the lace-up bungee closure.
These sneakers come at a cheap price point of $60.
It has been confirmed to fit as expected. Women's sizes are available, ranging from 5-11.
Where to find cheap sneakers online
There are many online retailers of sneakers, from the big chain stores to the small and independent businesses. Cheap kicks could be found at brand name websites such as Nike, Adidas, Skechers, DC, and more. These brands are known for offering high-quality shoes under the budget-friendly to the affordable range. There could also be some markdowns, so it would be a good idea to check out the brand's online stores.
On the other hand, discounted or cheaply priced footwear could be copped at such online retailers as Amazon, Zappos, Footlocker, and many others. They have many listings of kicks that offer band for the buck, as well as those that are on sale. At times, such sites also feature a price range filter that could be used to find what one is looking for.
Frequently Asked Questions
1. Where to buy cheap sneakers in physical stores?
Aside from cheap sneakers online, different stores could also sell cheap shoes. Department stores that carry various brands tend to have markdowns from time to time in addition to selling low-priced kicks. Even brand stores could also have some highly affordable offerings, depending on the model. However, it could be easier to find sales online as there is a wide variety of availability from different stores which one could just search for in a few clicks.
2. Are cheap shoes worth it?
Research has been done on the worth of expensive shoes compared to cheap ones. However, brands and their models differ significantly from each other when it comes to quality. The chief concern is to find the right model for one's feet.
It's also always a good idea to check the reviews of affordably priced kicks before buying them to make sure that one would be getting one's money's worth. The same could apply to any model, whatever the price.
3. Are cheap shoes bad for your feet?
Each person's feet are different. The shape is just one consideration, which affects the way one's foot feels when wearing shoes. Another concern is the size, whether it is narrow in width or average or wide. Foot conditions such as heel spurs, bunions, and plantar fasciitis could also require different features for comfort.
That said, the price is not always a guarantee that the sneaker would be good for one's feet. Some cheap shoes have been found to have impressive comfort and a high level of quality, such as the New Balance 220. As such, one should not entirely discount cheaply priced kicks. Checking and carefully observing the fit of such footwear would be a good thing to do.
4. Are cheap shoes of low quality?
Quality is not always subpar when it comes to low-priced sneakers. Some could offer excellent quality construction, such as the Nike Court Borough Low, which has a durable leather and suede upper. Different footwear brands could offer competitively priced shoes that still incorporate the quality that they are known to deliver.
5. Is it always better to buy expensive footwear instead of cheap ones?
Some may think that the higher the price of the sneaker, the better the quality and comfort would be. However, this is not always the case. In fact, one study done by RunRepeat points out that expensive running sneakers are getting lower ratings from users than the cheap ones. This could apply to lifestyle shoes, too.
6. How to get sneakers for cheap?
There are several ways to getting low prices for one's footwear. Research is recommended to keep one up to date when it comes to reviews, prices, markdowns, and other details for one to find the right cheap sneakers online. There are also ways to get discounted rates, such as through promos, limited sales, coupons, exclusive offers, and more.
7. Where can I buy cheap sneakers that are brand-name?
Brand-name shoes that are very affordable are readily available at department stores, footwear retailers, and brand outlets. The key is to know where and what to look for. Online brand websites also offer a wide range of products to choose from.
8. What is the price range of cheap shoes?
Cheap shoes that have been found to be of good quality typically start at $55 up to the budget-friendly price point of $90. Brands that offer such kicks under the $60 mark include Reebok, Converse, Vans, Adidas, K-Swiss, and DC. How could one determine the quality of low-priced shoes?
Despite the attraction of low prices, there is some cheap footwear out there that offer bad quality and comfort, which in the end could be bad for one's feet. There are some signs to look out for to determine whether or not the kicks are right or wrong for a person. Here are some tips.
Check the insole of the shoe to make sure that it doesn't bubble out. Additional cushioning around the ball and heel are also good signs of high-quality construction.
A plastic finish around the outsole is always a bad sign.
Take a look at some of the brand-name technology that may have been used in the sneaker. Such features as Vibram sole and Ortholite cushioning are good indications of quality footwear.
Take a whiff at the sneaker. If it smells too strongly of synthetic material or chemicals, then it could be a sign of subpar manufacturing.
Pay attention to the sound of the kicks as you walk around in them. If they squeak too much or produce click-clack sounds, then it could be a sign of low quality.
Carefully observe the stitches and gluing of the model. Loose threads, stitches that don't look neat, crooked lines or visible glue are signs of low quality.
Branding details could also be a sign of quality. Logos that are stick-on or crookedly done are bad signs.
Lastly, flimsy laces are a tell-tale sign of subpar quality.
9. Is the manufacturing country something to consider when it comes to cheap kicks?
Big footwear brands are known to outsource their manufacturing to many factories all over the world. Most notably, the majority of these factories are located in Asia, in countries such as China, Vietnam, Thailand, and more. The country of origin can be seen in the tongue label or on the shoe box.
There have been cases where the same models of shoes differed in quality due to their manufacturing country. It's best to check for each sneaker as it could be a case-to-case basis, depending on the brand.
15 best cheap sneakers
Vans Primary Check Old Skool
Vans Canvas Old Skool Lite
Vans Pop Camo Old Skool
Vans Checkerboard Old Skool Platform
Vans Skulls Old Skool
Supra Stacks II
Supra Stacks Vulc II
Vans Checkerboard Old Skool Lite
Adidas Samoa Vintage
Vans SK8-Mid Pro
Adidas Lite Racer Adapt
Nike Tanjun
Reebok Royal Nylon
Converse Chuck Taylor All Star High Top
Adidas Court Vantage
This shoe has recently been added to RunRepeat. There are still not enough reviews for us to assign it a
CoreScore
.
CoreScore
A score from 1 to 100 that summarizes opinions from users and experts. The average CoreScore is 78.
More...