There's not likely a more famous shoe in the world than the Asics Gel Kayano, other than perhaps the Nike Pegasus.
The original Kayano was designed in 1993 by Toshikazu Kayano of Asics. This is the 21st issue of the great Kayano.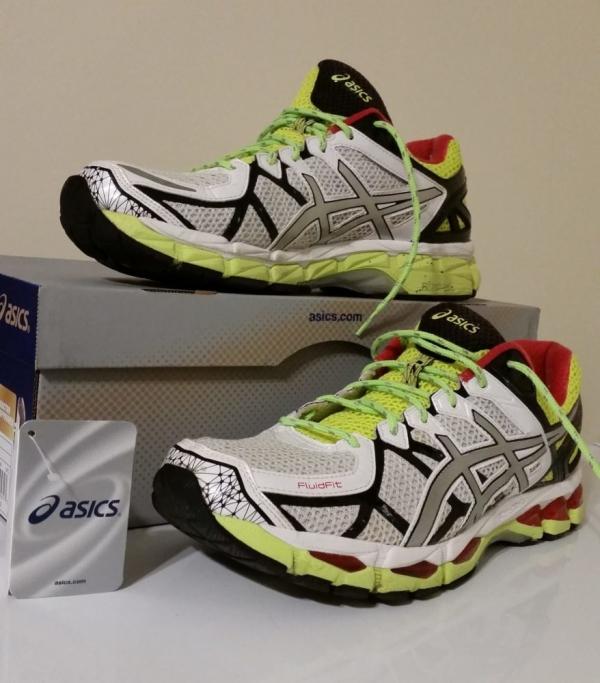 Safety
Some makers including Asics, leave out the reflectors to save a dollar or euro.
This is not the case here as drivers at night should be able to see Kayano runners a kilometer or mile ahead, if the drivers are looking.
Reflectivity is excellent front and rear.I added the reflective shoelaces for more safety but found no need for adding reflective tape.
Durability
I purchased version 21 in October 2015 on sale and with discount points for just under $100.00. Definitely a good buy!
With over 300 miles of easy road running, including two half marathons, these shoes show about 40% wear, while cushioning has not changed, as far as I can detect.
I am fairly easy on the outer soles (bottoms) at 148 lbs. I will say these shoes are more durable than almost any shoe I have owned, very comfortable and long wearing.
Quality
The Kayano ride with a little more noise than the Brooks Ghost or Nike Pegasus, but there is something that is felt when you slip into these shoes that cannot be measured.
There is a sense of confidence that only something of very high quality and design can bring, I call this the "BMW factor."
Style
I often run in old cutoff jeans, not being one for style, but people have remarked on these beautiful shoes, more than once and this had never happened before.
Racing
For me, I would alternate between the GT and Kayano when training and then bring out the Kayanos on race day. This would limit wear on the Kayanos and keep them around longer.
These are excellent marathon and half marathon shoes.
Summary
I had intended to buy the Asics GT but could not pass up the year-end sale.
I think that these are perhaps some of the best-built shoes ever made, with quality materials, style, durability and even some unmeasurable qualities, however, the Asics GT 2000 is only a "little bit less" of all these things for a lot less money.
But if someone were to ask me "What do you want for Christmas", I know what I would say.