Verdict from 3 experts and 67 user reviews
6 reasons to buy
The Adidas D Rose 773 V offers excellent value for money, nearly all reviewers claim.
A lot of players are pleased with their purchase. They are saying that they enjoy playing in these Adidas basketball shoes.
These basketball shoes have amazing traction according to most testers. The outsole is made of durable rubber and offers great stopping power.
Most players are impressed with the Bounce cushioning. They assert that it is an enjoyable cushion that works for any position. The Adidas Dame 5 is also equipped with full-length Bounce.
The D Rose 773 V fits perfectly, most testers declare.
These Adidas basketball shoes offer a lot of support and stability, many are reporting.
Bottom line
Generally, Adidas did not disappoint with the fifth edition of Derrick Rose's 773 line. The materials are what you would expect from a budget model, but everything else almost works to perfection.
Whether indoors or outdoors, these affordable Adidas basketball shoes offer an enjoyable playing experience. It has grippy traction, balanced cushioning, excellent support, and a comfortable fit.
There is very little to dislike about the Adidas D Rose 773 V. It is a versatile basketball shoe that caters to any position and playing style.
Tip: see the best basketball shoes.
Our reviews
The D Rose 773 V is a low budget shoe. Mainly made for guards, this shoe has BOUNCE™ midsole cushioning technology made out of mesh and has a black and red design.
So, what is the performance of the D Rose 773 V?

Upper
It's one of the worst parts of the shoe to me because it doesn't suit my needs. Let me explain myself. The shoe is made out of a mesh, so the good part is that it's breathable.
The downside is that when it rains, even a little bit, my feet are soaked. For comparison, the Lebron 13 are also made out of a mesh, but I never had this issue with those. The reason is that the mesh on the D Rose 773V is loosely knitted in comparison with the Lebron 13.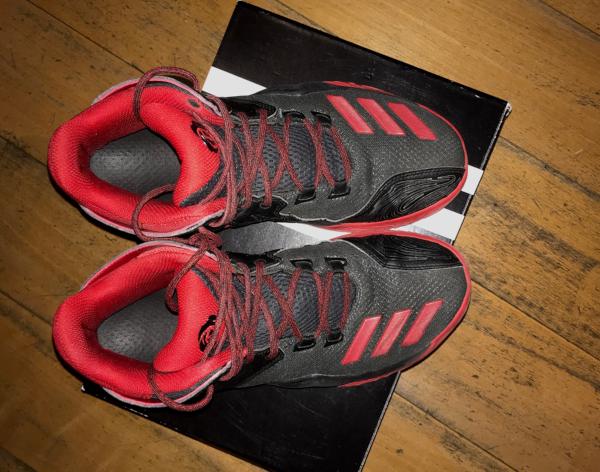 Outsole & grip
On one hand, one word comes to mind when I think about this model - durability. I play a lot outside, and durability is essential to me in a basketball shoe, and the D Rose 773V didn't disappoint me on that point.
Most of the time, I play on a very rough surface, and it seems to do nothing to the rubber. In France, this model is budget-friendly ($60) and to have such great durability on such a low-priced shoe is amazing!
On the other hand, the second word that comes to mind is bulky. The outsole is really wide. That's good for stability, but it's bulky (even though the shoe is light) on foot and I feel like I lose some mobility because of the width of the shoe.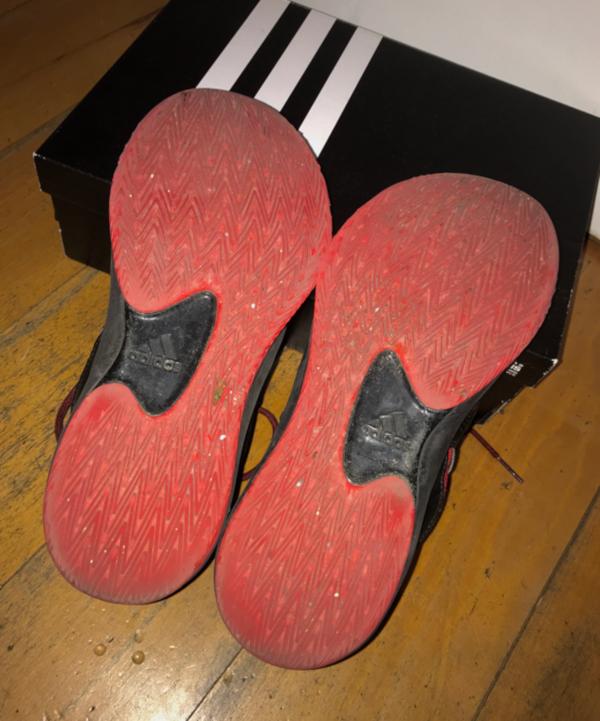 Laces
I love the laces on this shoe. I think it has to do with the overall locking design and it's perfect. Once I tie those shoes, they do not loosen up even after 2-3 hours of playing time. I think it's also linked to the material used on these laces; they are kind of "slip-less."
Weight
The shoe is pretty lightweight. It's made of mesh so it might be the reason why. In comparison with my Nike Lebron 13 for instance, those shoes are really light on my feet.
Comfort & fit
This shoe was really comfortable for me, and the fit is perfect. I went down half a size in comparison with my Nike shoes. The shoe is snug on the foot but not too tight. My feet were perfectly locked in without feeling too small.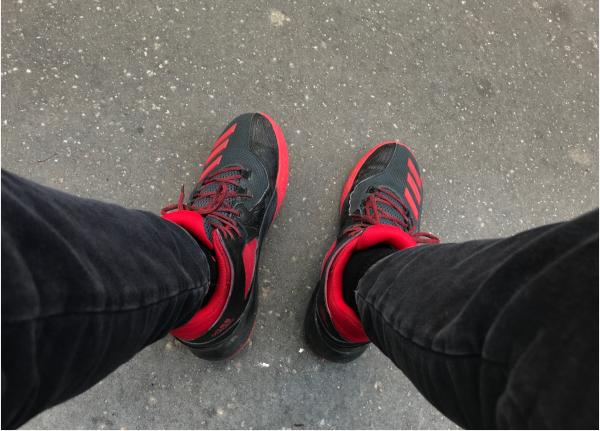 Midsole & cushioning
The Bounce technology is really good on the back for the heel, but I think the forefoot lacks some cushioning. I don't like when basketball shoes are stiff on the front, and it's the case here. I know some people like it and would call it "court feeling."
I don't really like that feeling, especially when playing outside where the ground is really hard. Even though the midsole is bouncy, I think it lacks a little bit of responsiveness. I do not have the feeling that I can pass my defender on the first step, mostly because of this "no-cushioning" in the front.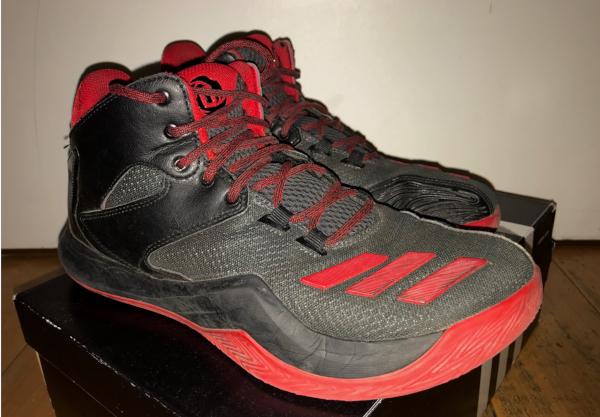 Traction
I like the overall traction of the shoe. It's pretty simple and reminds me of old simple basketball shoes, but it's great. Nothing fancy, and it did a great job holding me on the ground during my crossovers, step-backs, etc.
Pros
Affordable
Durability especially on the outsole as well as the mesh
The fit is perfect for me, and the shoe doesn't go anywhere
The lock is perfect
Cons
I don't really like the overall design, and I think at this price ($60) you can't have both - a slick design and a good (but not great) performance shoe
The mesh is low-end quality, and my feet are soaked when it's raining.
Shoe quality feels a little bit cheap (even though the shoe is very durable)
Conclusion
Overall, that's a nice shoe regarding the price. The cushioning is good and the stability is perfect. What I love most about this shoe was the lock. I felt my feet were secured in this pair. For my use, playing on blacktop, the outsole was perfect and very durable.
On the other hand, the downside is the design and the mesh (but maybe some of you guys will find it ok at least). The mesh feels cheap but it didn't break yet so might not be so cheap after all.
I've had some basketball shoes like the Jordan Superfly 3 that was very good but not durable. At a $120, keeping a shoe just a year is really disappointing. But it's not the case at all with the DRose 773V. So, my final words would be that the DRose 773V is a low-priced durable shoe built like a roc.
Good to know
Whenever Derrick Rose hits the hardwood, you know that he'll drive past his defender and finish strong at the rim.
Inspired by his aggressive style, the Adidas D Rose 773 V provides tons of stability and traction that are perfect for fast cuts and changes in direction. Its springy Bounce cushioning allows him to jump quickly and drain his signature floater.
Cushion. The D Rose 773 V uses Bounce cushioning for energized comfort all day long. The ultra-soft Bounce technology provides unrivaled comfort by converting every bit of impact energy to momentum.
Traction. A non-marking rubber outsole is used on the Adidas D Rose 773 V. Utilizing a herringbone traction pattern, the outsole is designed to deliver optimum grip for lateral and linear movements.
Length and Width. The Adidas D Rose 773 V runs long according to testers. They advise going down half a size to get a perfect fit.
Lockdown. These Adidas basketball shoes utilize a lace-up closure to securely lock the foot in place. There are webbed wraps around the heel and quarter panel for an enhanced fit.
The shoe's mid-top ankle collar and TPU heel counter provide additional support while the TPU in the midfoot enhances stability and delivers torsional rigidity.
The Adidas D Rose 773 V features a mesh upper with debossed synthetic leather overlays. The air-mesh upper maximizes breathability to keep the feet cool and light. Synthetic overlays offer increased support and durability.
The D Rose 773 V takes its design cues from the D Rose 7. Sharing a similar silhouette, the Adidas Three Stripes is found on the forefoot and Derrick Rose's logo can be seen on the tongue.
Derrick Rose has already transferred teams, but his shoes still pay tribute to his hometown. Launching as the Adidas D Rose 773 V Red October, this stylish all-red basketball shoe pays homage to his beloved Chicago.
Aside from the Red October colorway, an all-white D Rose 773 V is also available as well as a combination of black, red, and green.
Rankings
How Adidas D Rose 773 V ranks compared to all other shoes
Popularity
The current trend of Adidas D Rose 773 V.