The Adidas Dame 8 is another shoe from the Damian Lillard series that delivers on aspects that matter. It is supportive, bouncy, light, and offers a decent amount of court feel. However, it has serious issues with traction on dusty courts, which some players may consider as a deal-breaker.
Pros
Good traction on clean courts
Impact protection in the heel
Forefoot responsiveness
Secure lockdown
Comfortable in-shoe feel
Side-to-side stability
Wide-foot friendly
Okay for outdoor courts
Cons
Dust magnet
Fiddly heel lining
Who should buy the Adidas Dame 8
This basketball shoe from Adidas is a suitable option for basketball players who:
play on clean courts all or most of the time
have normal-to-wide feet (the toebox is extra roomy)
want a well-rounded basketball shoe that is reasonably priced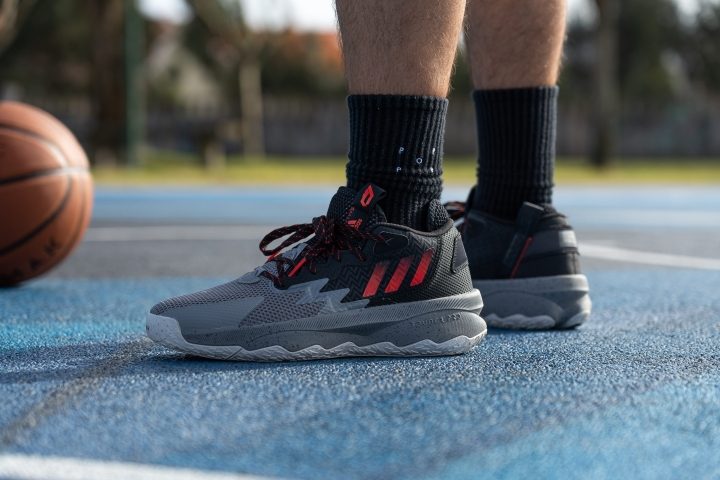 Who should NOT buy the Dame 8
Do NOT get this Adidas shoe if you often play on dusty floors. This is the shoe's weakest point and it collects dust like crazy. For a more consistent grip, consider the Adidas Harden Vol. 6.
Also, if you are a narrow-footer, the Dame 8 will most probably just give you a headache with its huge toebox. The Adidas Trae Young 1 is reported to have a more form-fitting upper.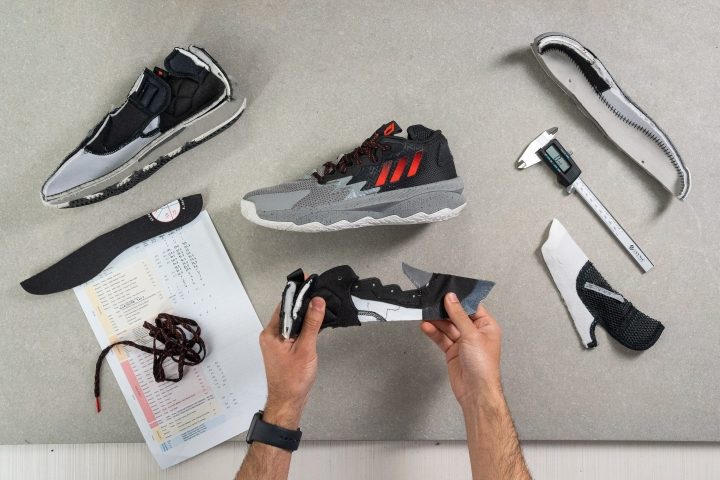 Plenty of comfort and support in the upper
A lot of reviewers praise the Adidas Dame 8 for delivering a cozy in-shoe feel. They say that the shoe is quick to break in and the material conforms to the foot pretty well. "Like a nice warm hug," describes an expert.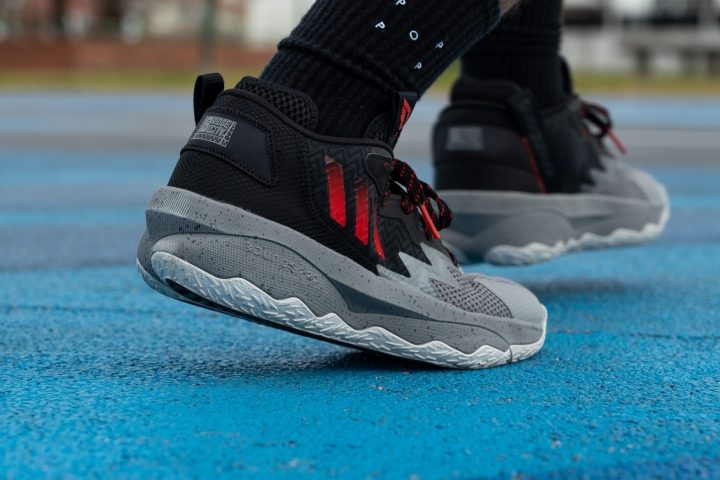 The interiors are also well-padded in the tongue and collar. The latter actually has four "bone pillows" which embrace the Achilles for enhanced comfort and support.
Fact check
The tongue padding of the Dame 8 is actually not as thick as it can get. We measured it at 6.3 mm, while the average for basketball shoes is 9.5 mm.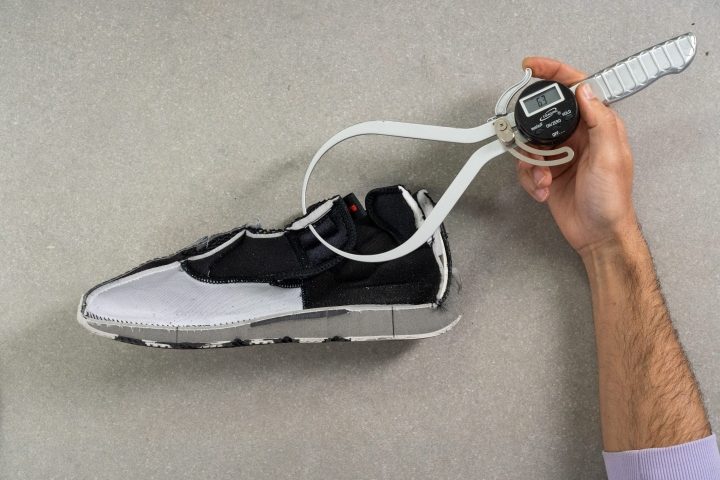 Overall, the testers love everything about this aspect of the shoe except for the added layer of padding at the heel. This piece is somewhat fiddly as you have to hold it up when putting on the shoe because it tends to fold in.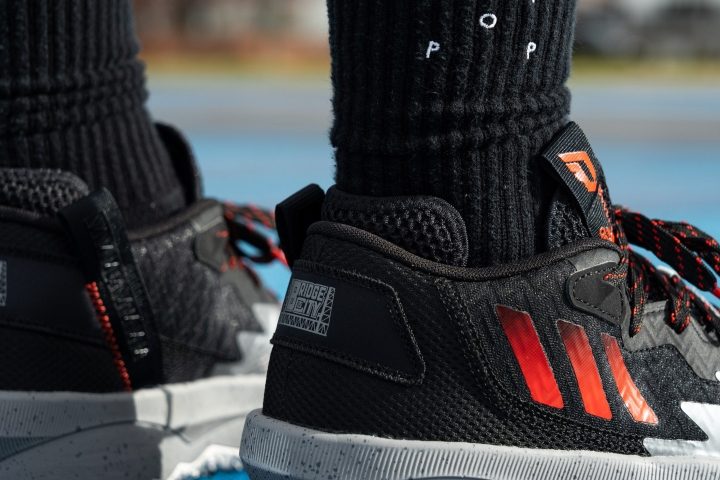 Added that the heel counter itself is not very structured, a flimsy heel could be a problem for some. On a 1-5 scale where 5 is the stiffest, we rated it as 2.
It's a warm shoe
Don't let those large mesh pores fool you - the Adidas Dame 8 is not a breathable shoe.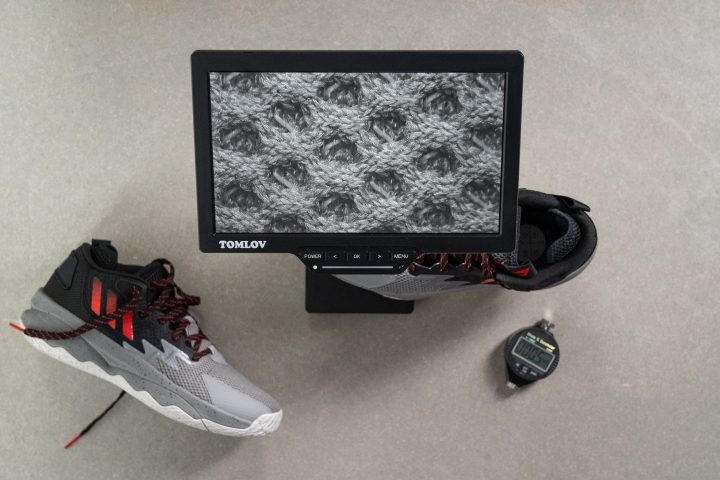 What appears like huge ventilation holes turns out to be a pretty tightly-woven fabric.
Adidas Dame 8 (left) vs. Nike Zoom Freak 4 (right)
Fact check
Our observations are confirmed in a smoke-machine breathability test. Based on the amount of smoke that passes through the shoe's upper, we rated the Adidas Dame 8 as 2 out of 5 (where 1 is the least breathable).
And as you can see from the transparency test below, the shoe's upper has multiple layers which don't let any light shine through.
Traction...well...didn't really gain that much traction
Traction is OK, especially on clean courts. However, on even mildly dusty surfaces, hard lateral movements can lead to slips. According to the playtesters, this is because the outsole picks up dust quite easily. And what makes it worse is that occasional wiping is not enough. "Two good stops and then you have to wipe again," complains a reviewer. He also finds playing in the shoe "kind of dangerous" for that reason.
And if you are a speedy player, the issue becomes even worse when you have to plant the foot hard and do a quick stepback or a crossover.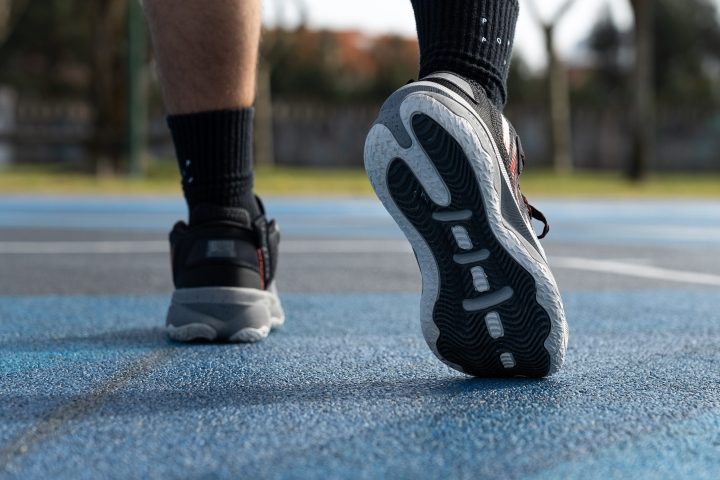 It appears that Adidas was not able to learn from the Dame 7's traction experience. The Dame 7 was also described to only have so-so traction at best.
But the outsole has solid durability for outdoors
Those who have tested the Dame 8's wear resistance on outdoor courts are impressed with the durability of its rubber outsole.
Fact check
This is quite surprising given that the outsole on the Adidas Dame 8 is neither very thick nor hard.
We measured its outsole thickness at 3.6 mm, whereas the average for our lab-tested basketball shoes is 3.8 mm.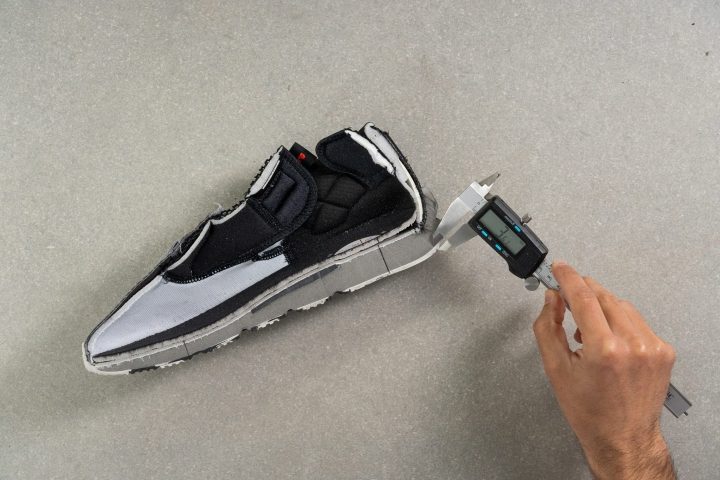 Fact check
The same goes for the firmness of that rubber. On average, basketball shoes that are recommended for outdoor use have a hardness of 79 HC but the Adidas Dame 8 comes in at 76.9 HC.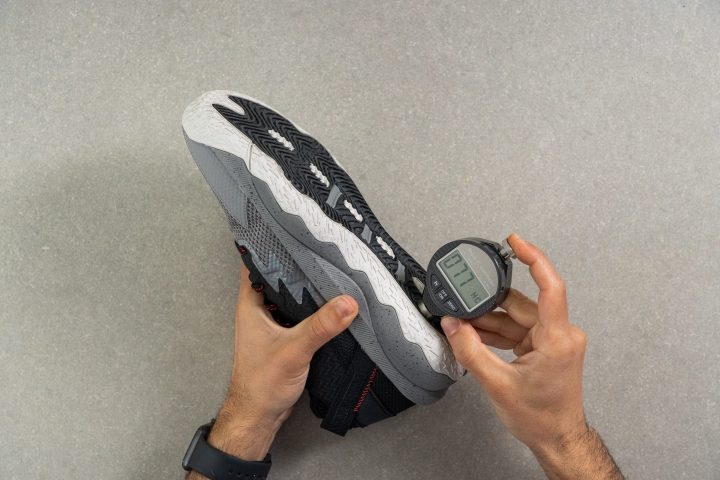 But despite having below-average parameters, the Adidas Dame 8 still makes it to the range of outdoor-friendly shoes.
The Dame 8 has strategic cushioning
Based on the general users' feedback, the Dame 8's Bounce Pro delivers a more pleasant cushioning experience than the Dame 7's Lighstrike. It provides a lot of compression in the heel and felt "hella bouncy," according to an expert. Another reviewer also reports that the Bounce Pro feels "springier and more responsive than Boost."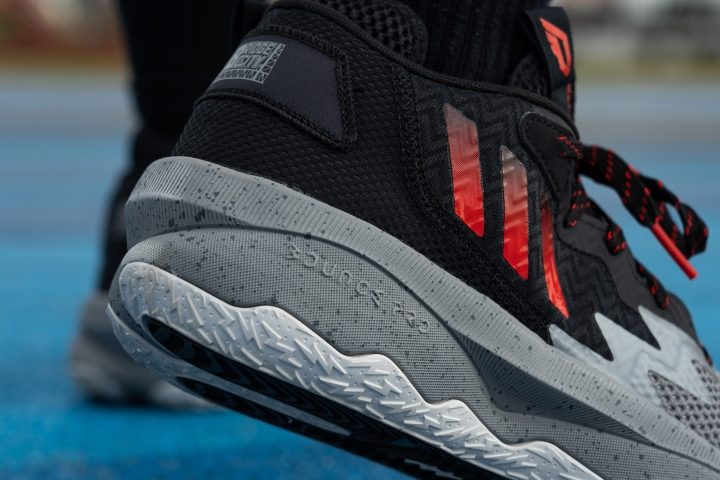 The Bounce Pro setup is also described as firmer in the forefoot, giving the wearers a pleasant mix of court feel and impact protection.
In addition to this, the transitioning from one step to another felt "fluid" and "extremely smooth" according to the playtesters.
Fact check
Measuring the heel portion of the midsole, we can definitely confirm that it is on the soft side. Compared to the rest of our lab-tested basketball shoes, the Dame 8 is 34% softer under the heel.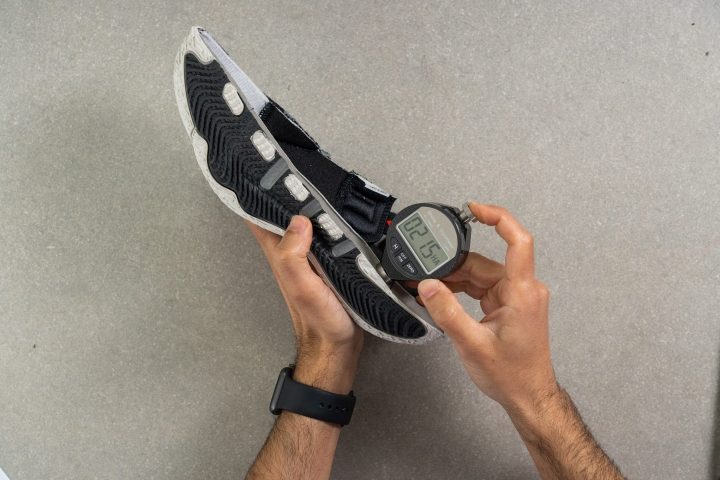 Disclaimer: To ensure accuracy, we take four measurements with the durometer. The average between them is our final result. The photo above shows just one of these measurements.
When it comes to the amount of cushioning, the Adidas Dame 8 packs just as much of it as most other hoop shoes do. Using a pair of calipers, we measured its heel height at 30.5 mm (2.3 mm thicker than average) and its forefoot at 20.1 mm (0.9 mm thinner).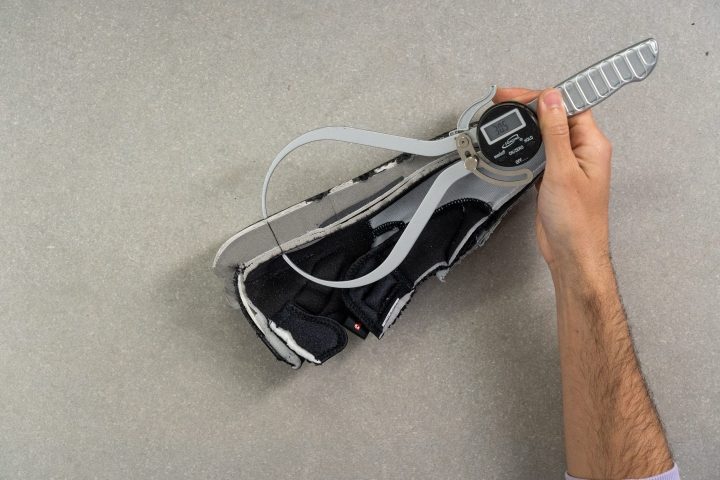 Disclaimer: All stack measurements are taken with the insole included. In the Dame 8, it is of average thickness - 4.2 mm.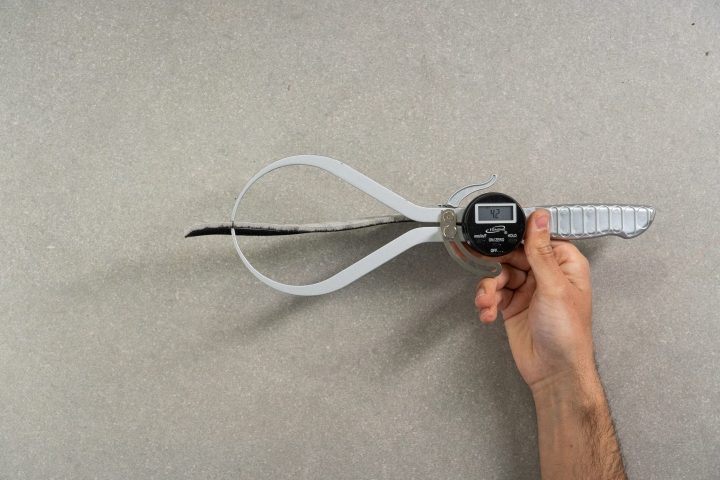 There is a good deal of flex
Speaking of smooth heel-to-toe transitions, the Adidas Dame 8 has more flex to it than other basketball shoes. So, if you are not a fan of a stiff ride, this Adidas shoe could be the answer.
Even by mere twisting and bending the shoe in our hands, we could already tell that the Dame is among the flexiest. On a scale from 1 to 5, where 5 is the stiffest, we rated the shoe's longitudinal flexibility as 3 out of 5 and its torsional one as 4. For reference, the average for basketball shoes is 3.9 and 4.4 respectively.
Now, to prevent bias, we used a resistance gauge while bending the shoe to a 90-degree angle. Our perception was confirmed - the Adidas Dame 8 is 13% more flexible than average.
The Dame 8 took care of support, y'all! No complaints!
The base of the Dame 8 is fairly wide, so there would be no rollovers.
Fact check
Indeed! The platform of this Adidas shoe is a GREAT deal wider than average. We measured the forefoot and the heel at their widest points and found the following:
forefoot (119 mm) - 7.3 mm wider than average
heel (99.1 mm) - 8.5 mm wider than average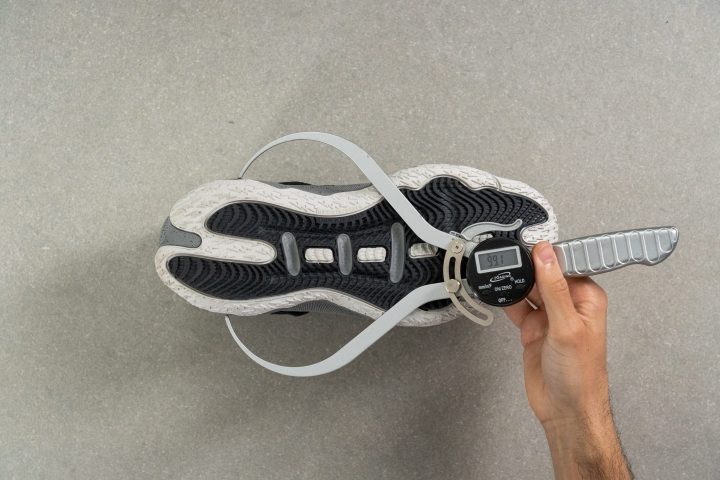 Also, there are no unnecessary side-to-side movements on the footbed according to the playtesters. Here is what else they say regarding the shoe's stability aspect:
"no issues with lateral containment"
"ultra-stable shoe for hard pivoting and directional changes"
"next-to-no heel slippage"
Sizing down is very likely
Expert reviewers of basketball shoes all agree that the Adidas Dame 8 runs a bit long, so you will need to go at least half size down to achieve the right size.
The shoe also comes with an unusually roomy toebox that gets even bigger as the material tends to stretch out. This is great news for wide footers as it makes the foot "free to be itself." But people with narrow feet should definitely stay away from this Adidas shoe.
Fact check
Although we cannot agree that the toebox is "unusually" spacious, it is indeed a roomy one. Compared to the average, the Dame is 1.6 mm wider in the widest part of its forefoot and 1.3 mm wider around the toes.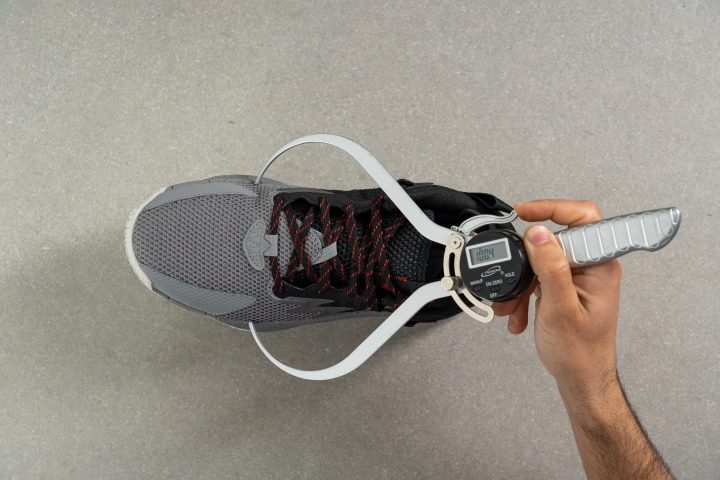 Fact check
We measure both the widest part of the forefoot as well as the toe area to check if the toebox is tapered. In the case of the Adidas Dame, it is not. It remains wider around the toes than most basketball shoes.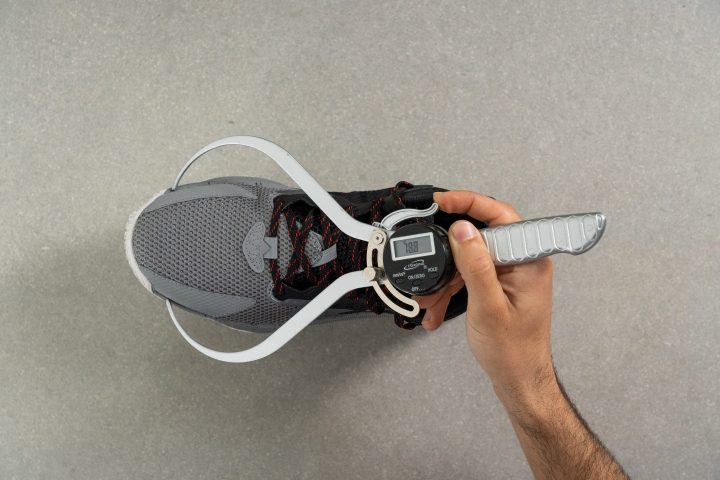 Complete lab-specs overview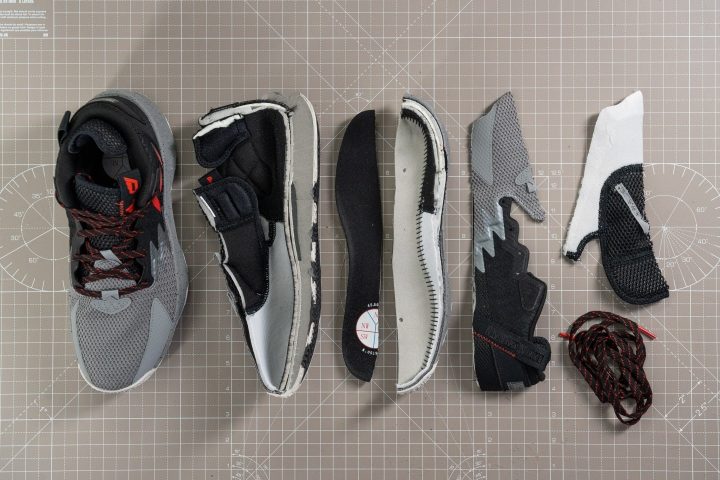 Adidas Dame 8
Average
Whole shoe
Weight (g)
397*
368
Drop (mm)
10.4
7.2
Flexibility of the shoe (N)
41.9
47.3
Longitudinal flexibility (1-5 scale, 5 being the stiffest)
3
3.9
Torsional flexibility (1-5 scale, 5 being the stiffest)
4
4.4
Upper

Smoke test (5 being the most breathable)

2
2.3
Thickness - Tongue (mm)
6.3
9.5
Width Upper - Forefoot (mm)
100.4
98.8
Width Upper - Heel (mm)
78.8
77.5
Flexibility of the heel counter (1-5 scale, 5 being the stiffest)
2
4.1
Tongue: gusset type
both sides (fully gusseted)
-
Heel: pull tab
finger loop
-
Midsole
Width Midsole - Forefoot (mm)
119.0
111.7
Width Midsole - Heel (mm)
99.1
90.6
Stack - Forefoot with insole (mm)
20.1
21.0
Stack - Heel with insole (mm)
30.5
28.2
Durometer Midsole Heel (Room temperature) (HA)
20.3
27.3
Outsole
Outsole thickness (Heel) (mm)
3.6
3.8
Durometer Outsole Heel (Room temperature) (HC)
76.9
79.4
Insole
Insole Heel Thickness (mm)
4.2
4.2
Insole: removable
yes
-
*Disclaimer: The weight of the Adidas Dame 8 was measured in a men's US 8. In a US size 9, this corresponds to 14.9 oz (422g) per shoe, based on the weight measurements of over 40 shoe sizes.