Our reviews
Having run 600km in these shoes, I owe them a thorough review, and it is overwhelmingly positive apart from one small (toe) issue.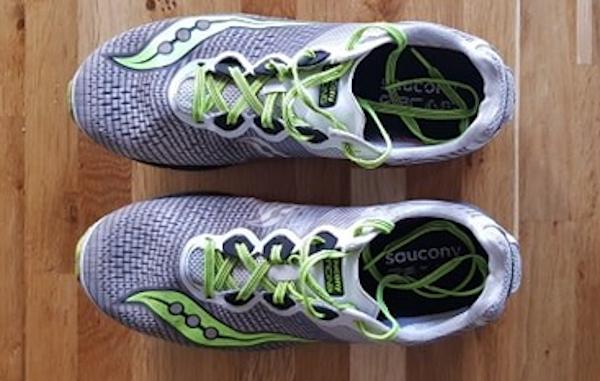 I was moving to a shorter distance, faster training. Running efforts and tempo runs more regularly, so I was after a lightweight, 'fast' shoe. I'm not entirely sure what this means, but the Saucony Type A8 fit this description.
Minimalistic
I prefer a more minimal shoe, not quite down to your Vibram FiveFingers but certainly less than your regular Hoka.
The Saucony Type A8 has a stack height of 13mm/17mm for forefront/heel. This was minimal enough so that I felt in contact with the ground but not so much that you could feel every lump and bump.
The 4mm was enough to allow me to run on my forefoot without tipping me forward, which is the feeling I sometimes get in shoes with a larger drop.
Whilst this stack height and drop was ideal after longer distances, you start to notice the lack of cushion compared to my previous Saucony Freedom ISO 2s, which I used for longer distances.
Saucony Freedom ISO 2 on top, you can visibly see the difference in the stack height and cushion.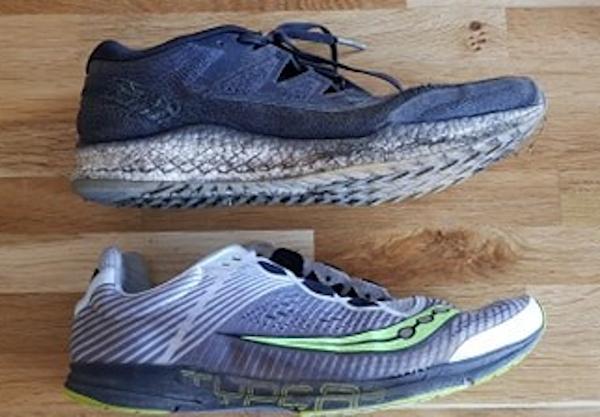 Weight
I clearly remember putting these on, and the weight (or lack of it) was astounding. It seems odd to say that you can feel the difference from a standard 220g-280g shoe.
But, at the stated 167g, these did feel very light. Yes, I did weigh them…
Going from my previous shoe, it felt like I had taken weights off my feet. The first run I did in these, I couldn't help making a tempo run.
Upper
The mesh upper is breathable so that your feet stay cool but not so much so that you can feel the wind (as per my current fly knit New Balance 890 V7s).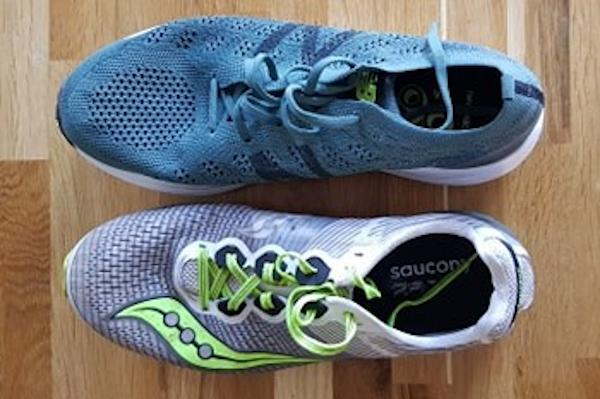 The shoes feel secure, hugging the mid-foot and heel. The heel cups the foot somewhat, but it does not cause any issues. This seems to be because of the very soft, silk-like material stitched to the inside of the heel. A little bit of luxury.
I also like that the upper is free from any obvious structural. The FLEXIFILM technology really seems to work. It keeps the foot secure without any large structural upper that almost always ends up rubbing on the foot for me.
A narrow shoe
I have wider feet but not that wide. From the outset, I felt like I needed to put my feet on a diet. I could feel the outer side of the mesh against my little toes—although it wasn't uncomfortable, just enough to remind me that I have slabs for feet.
Eventually, I burst through. They are very narrow shoes, especially vs my new New Balance 890 v7s (as per the previous picture).
Although this wasn't until 580km, which is some good durability considering that for approximately 290,000 steps, I smashed against the fabric of the upper. Eventually, the toe box was just too small for me.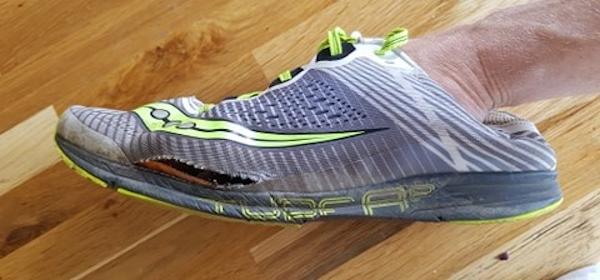 Midsole
I have to admit that I didn't find anything special about the midsole. But, this is sometimes a pro as I didn't notice it, it just did the job. No slipping and some extra cushion.
Durability
This shoe has surprised me with its good durability. As above, I could feel the mesh against my little toe, and it took 580km to come through. The Saucony Fastwitch did this within a couple of hundred kilometres. So, it did hold out.
You can see in the picture that the tread remains across most of the forefoot bar the outer edge where I do tend to land heavier. Even still, not bad going!
Worryingly the mid-foot (in black behind the yellow) has started to erode severely on the outer edge. It seems to be made of a softer material.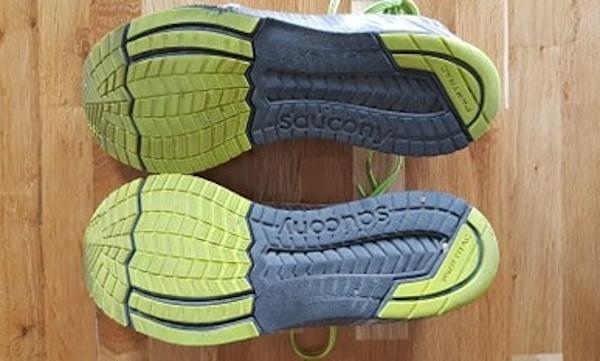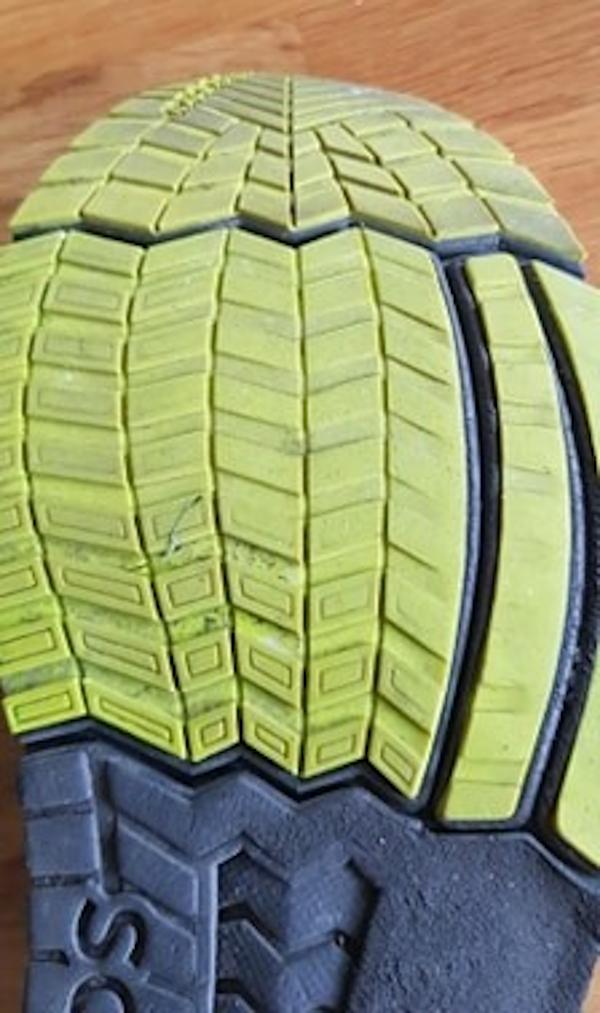 Traction
Right through until the end, in both wet and dry conditions, this shoe grips the road, even with wear. I've been really impressed by this. The grip almost gets better as you speed up. Similar to a decent car tire!
As you push off for an interval or some strides, there is no slip, just responsiveness and grip.
Style
This is a personal opinion, but I had not worn a white trainer since high school gym class. Due to stock, I ended up going for white, but over time I've fallen in love with them. To me, they are clean, crisp, and simple.
I've also never cleaned them, they have been used for winter miles and still remain fairly clean for a white shoe. Remarkable really, as I am partial to a stomp in a puddle.
Conclusion
The Saucony Type A8 wants you to go faster. A lightweight but comfortable and durable shoe, I would recommend this shoe for shorter distances to anyone with narrow to regular width feet.
I would be buying the Saucony Type A9 if I knew they were wider.
Saucony, please make a wider shoe! Everything else was just great.
Pros
Light
Comfortable
Durable
Traction
Cons
Extremely narrow
It took some time to get used to the bright white
Updates to Saucony Type A8
Always a dependable race-day shoe, the Saucony Type A series levels up with the Type A8. It caters to runners who want a shoe that enhances speed and allows a protective and secure fit for an absolute race day performance.
The shoe's most noticeable upgrade is the upper. Now with an engineered mesh, each foot gets a customized fit and an ample opportunity for natural movement. It also gets a revamped, low-profile construction.
The midsole and outsole of the Type A8 remain the same as the previous iteration. The Saucony SuperLite (SSL) ethylene-vinyl acetate (EVA) foam, XT-900 carbon rubber, and the IBR+ forefoot flex elements are all still present to bring the tried-and-tested efficiency of the Type A series.
Size and fit
The Saucony Type A8 has the ideal construction of a race-day shoe: narrow at the forefoot and midfoot for a snug fit, and moderate at the heel for natural mobility. The shoe is available in medium width, but with its low toe box height, runners might want to go up a half-size if they prefer more room for toe splay.
Outsole
The Type A8 uses XT-900 as its outsole. It is one of three variants of Saucony's carbon rubber outsole of increasing levels. XT-900 is a mid-level material that offers moderate traction and protection on the high-wear areas.
In the forefoot area is the IBR+, which stands for Injection Blown Rubber, an element that is 33% lighter and more cushioned in contrast with the typical blown rubber. This feature enables a flexible toe-off, thus resulting in quick turnaround time. The IBR+ is also present in the Saucony Ride 10.
Midsole
Saucony's SSL EVA is a premium material that brings maximum rebound inside a minimal weight. The SSL EVA gives the shoe durable and resilient properties, which, in turn, improves the running economy. What this means is that the runner is more efficient in utilizing the necessary energy for running.
Upper
The engineered mesh upper of the Saucony Type A8 permits for a dynamic and seamless fit. As it supplies an almost second-skin feel, the foot is encouraged to move according to correct biomechanics and without inhibitions.
The shoe also has FlexFilm, a thin, welded film that acts as a supportive unit to the upper. With FlexFilm, the need for extra layers – such as overlays – become unnecessary, emerging in a trail runner that is adaptive and streamlined.
Compare popularity
Interactive
Compare the popularity of another shoe to Saucony Type A8: