The 8th instalment of the Fastwitch is a very light running shoe that gets a little more cushioning for runs ranging from 5 to 10K's. For very efficient and elite runners, this could be a superb option for half marathons as the lightweight stability keeps their form throughout the run. Besides having a more forgiving sole, the improved breathability and exceptional grip makes this an excellent option for those who are looking to lower their PRs.
---
Verdict from 4 experts and 100+ user reviews
9 reasons to buy
The soft mesh upper of the Fastwitch 8 is one of the biggest reasons why some runners loved the comfortable feel of this shoe.
It is a value for the money investment, based on the comments of several reviewers.
It is significantly lighter than the previous model.
The upper gets a boost in breathability because of the large and numerous holes.
According to a few testers, the outsole is very grippy, even in wet conditions.
A handful of reviewers loved the more forgiving cushioning as it allows them to take the shoe for longer runs.
The lightweight support is enough for neutrals and mild over pronators to enjoy.
There is substantially more reflective details in this shoe.
It runs true to size, as noted by some runners.
2 reasons not to buy
There is only one color option as of the current release.
A few claimed that the heel section does not hold their foot as well as the previous edition of this shoe.
Bottom line
The 8th instalment of the Fastwitch is a
very light running shoe
that gets a little more cushioning for runs ranging from 5 to 10K's. For very efficient and elite runners, this could be a superb option for half marathons as the lightweight stability keeps their form throughout the run. Besides having a more forgiving sole, the improved breathability and exceptional grip makes this an excellent option for those who are looking to lower their PRs.
Best price from 50 shops
We earn affiliate commissions at no extra cost to you when you buy through us.
84% say it's true to size.
Our reviews
My first thought when I got these shoes is that they are not for running slow; they are for speed. It should be illegal to go slow with these shoes on.
I came across Fastwich when I was looking for something that could offer some stability while also being lightweight for races across short distances. I wanted something that was good enough to be used on the track. This would mean I would not need to buy a pair of spikes for only a couple of track events each year.
Well, I found what I wanted.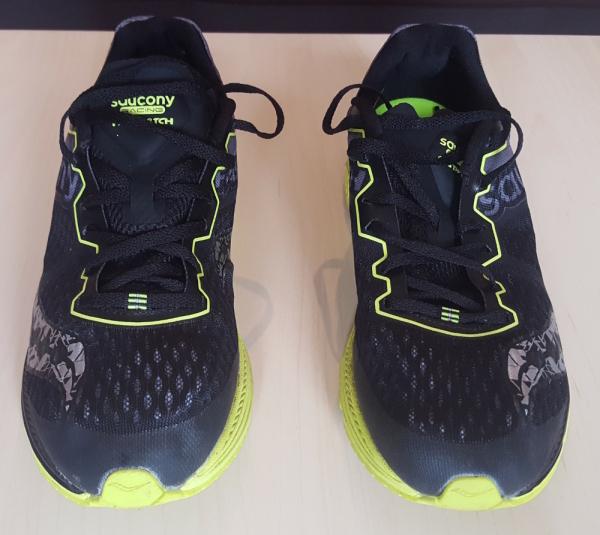 Size
At first, they feel quite tight, and you may think you need to buy half a size larger; don't do that! As you run on these shoes, they become like a second skin and will eventually fit perfectly (unless your foot is shaped strangely).
I panicked and went for half a size larger. I am now really regretting that decision. Now that I have broken these shoes in, I wear two pairs of socks when I am running in them.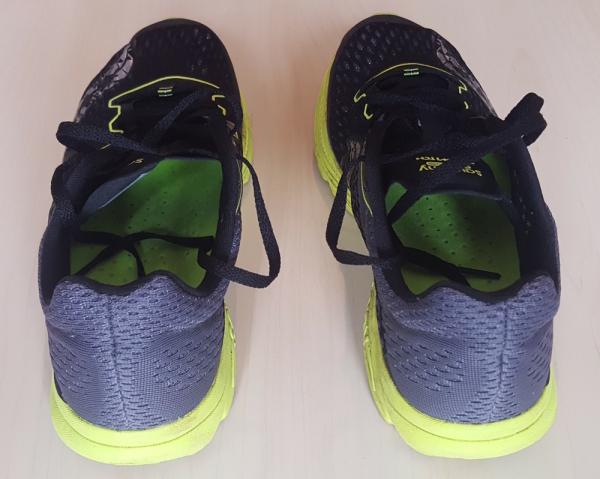 So, if you are interested in these shoes, bear this in mind when choosing the size. I have read other reviews that say the same thing; so it appears to be a common issue.
These shoes are very lightweight. Out of curiosity, I weighed them. The UK 7.5 size (EU 42) is only 172 grams, which makes them one of the lightest running shoes I have ever owned.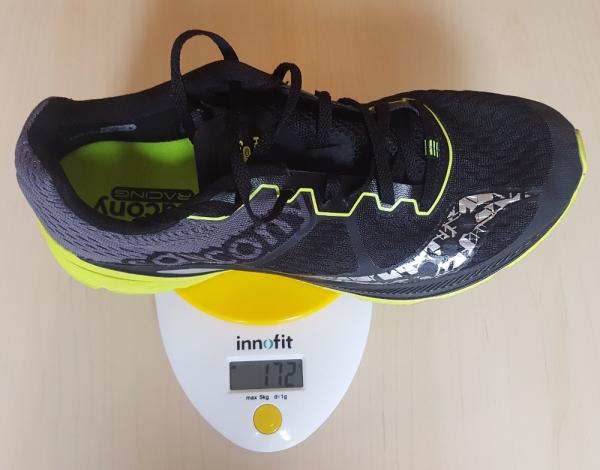 Usage
In terms of usage, I think that these shoes are suitable for any running event, from 800 m to half marathons. They may be a bit too light for road marathons unless you have a perfect gait without traumatic impacts on the ground.
If you plan to wear them for track events, I found them to be a very good alternative to spikes with the benefit of gentle support. So, unless you are an elite athlete, I think you can use them during races or fast training sessions on track.
In terms of road racing, you should be aware that the stack under your foot is thin (only 14 mm); as such, if you are a heavy runner, I advise you not to wear them on race day because of the risk of injuries.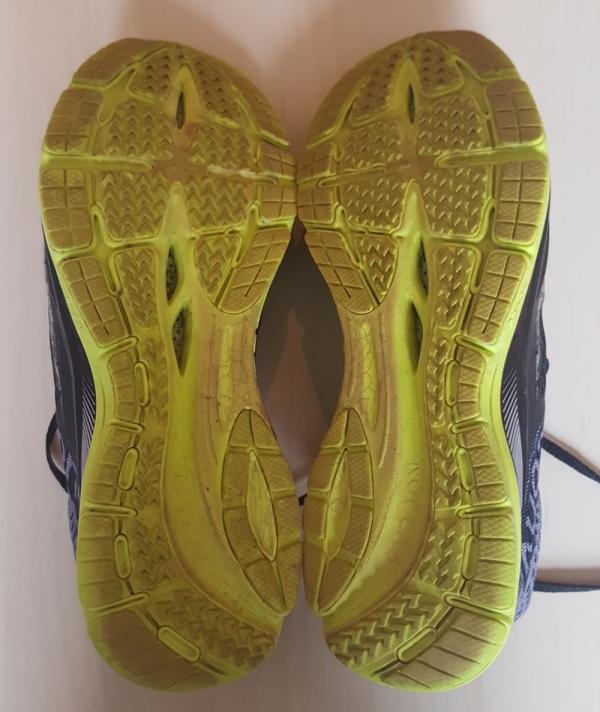 Off the track, I think they are a very good shoe for any distance between 5k and half a marathon. For the full marathon distance, I think that their suitability will vary from individual to individual.
An elite or a light runner can run a marathon in these shoes; however, if you are not particularly fast or heavy, I would try wearing them while participating in some tempo running on the road before deciding whether they are suitable for marathon distances.
Also, with shoes of this type, as the distance increases, the hardness of the surface plays an important role because the impacts on a softer surface are more readily absorbed than those on a surface like dry and old asphalt.
I think they are ideal for 5 km and 10 km road races. I would not use them for everyday training unless I were doing a speed workout.
Design
When it comes to the design, I do not really like black; however, at the moment, this is the only color that is available in the UK for men. I would have preferred yellow or a brighter color.
When it comes to female shoes, there is much more choice. In addition to the black, yellow and coral versions are available, which are not bad at all - I like them.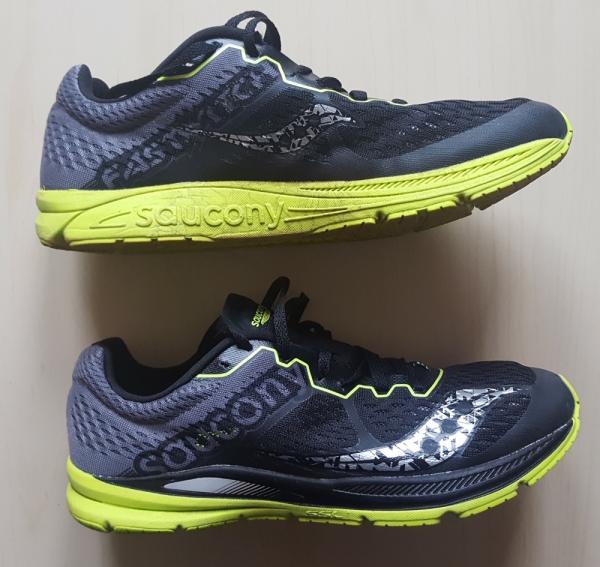 Durability
I think that you should not be concerned about durability with these type of shoes because you are not going to use them every day unless you train exclusively on the track.
I would use my judgment to determine when to replace them, because some parts of the stack may deteriorate before the shoe starts to exhibit any visible sign in the upper or in the sole.
Undoubtedly, you are going to need to replace this shoe before you see any major deterioration of the outer sole because, in the last couple of years, Saucony have developed their shoes to be more durable than other sole material. As such, if you see signs of deterioration, it means you have run way too much on that shoe.
I think they could last around 600 km, but I would not be surprised if you wanted to dispose of them before that mark.
What I like
Lightweight
Gentle stability
What I dislike
Tricky to choose the right size
Conclusion
If like me, you are looking for a (very) lightweight shoe that offers some degree of stability, you should definitely go for these.
Also, unless you are an elite, you may find them suitable for track too; obviously not for a 100-meter race, but distances of 800 m and further, they do their job well.
They are ideal for 5 km and 10 km races but whether you choose to wear them for distances above half marathons is a personal decision.
A no-frills racer with minimalist tendencies that retains an impressive amount of support and stability features.
The shoe will keep your foot secure step after step into short and middle distance races. A lightweight keeper for the days you really want to go fast!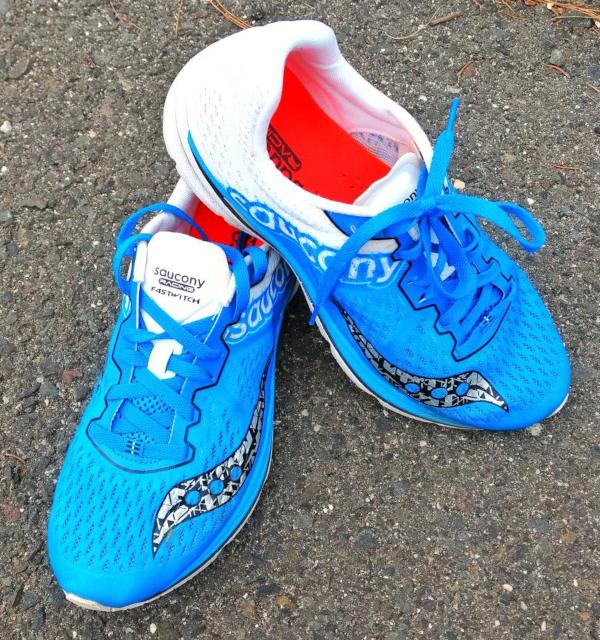 Pros
Impressively lightweight
Minimal approach to support
Great forefoot flexibility
Breathable, stretchable upper
Great all-around execution
Cons
White shoe shows dirt easily
Not for suitable long runs without experience
Too much stack height
Lack of protection in upper
Getting used to stability elements took some practice
Outsole
A carefully calculated application of PWRTRAC rubber combines with a vertical carve out in the back part of the shoe. Nice taper rises up to the front of the toes to allow for a powerful and precise toe-off.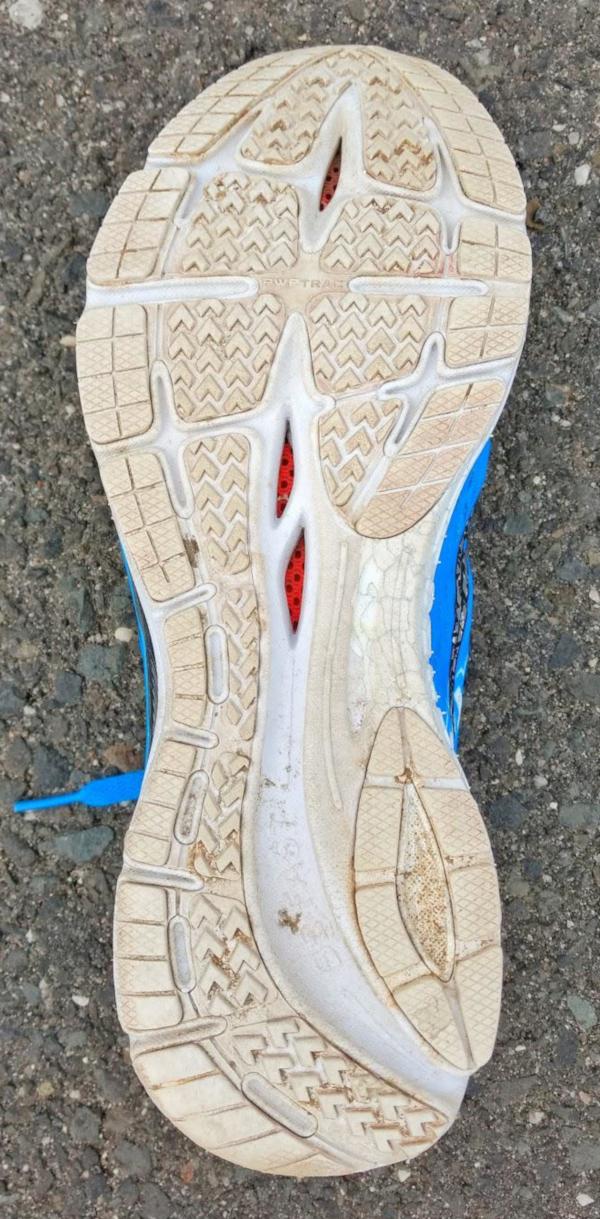 Small, arrow-shaped lugs give a superb grip during forward motion. Great design that should last for many miles, though don't mistake design for a longer lasting trainer type.
Midsole
A Saucony Super Lite blend of EVA stacks up with the outsole to 18mm in the heel and 14mm in the front, providing a 4mm drop.
The volume of cushioning compared to the shoe's 6.5oz weight is truly remarkable, made possible by three holes (yes, you read right) in the front part of the midsole and a carefully designed groove between the two sections of outsole rubber in the heel. This cuts out a lot of weight and should not be a problem if you stick to the road and flat trails.
In any case, there is a thin, highly flexible insole that sits on top of the sole stitching and a what looks like a thin layer of super durable mesh.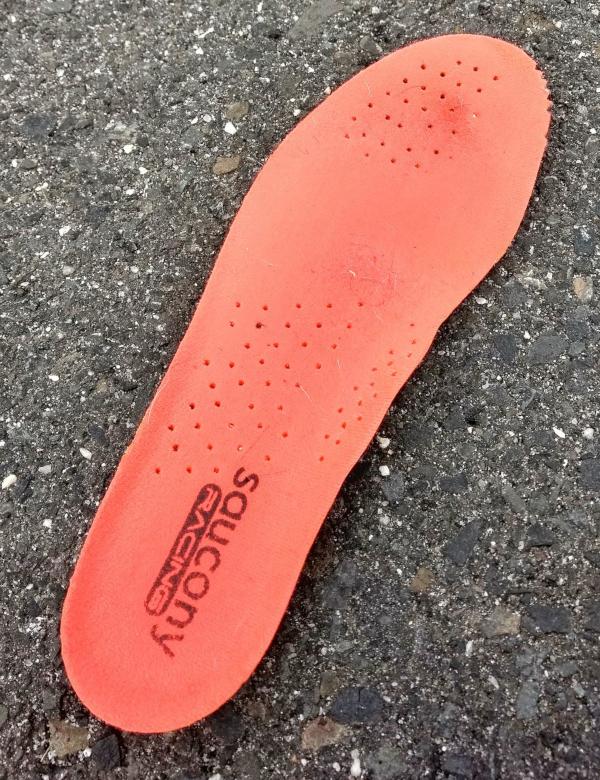 The insole is so light it almost blew away with the wind when I was taking that picture. Just avoid sharp rocks and big pieces of glass and you should be fine. Alternatively, you could ditch this insole and put in custom orthotics, but it will add a couple of ounces.
Also included is Saucony's GRID technology, offering extra stability and cushioning in the heel. Paired with a heel cup, shaped collar and soft sockliner in the upper, you get a notable amount of support with not much bulk or weight. The most solid part of the shoe by far.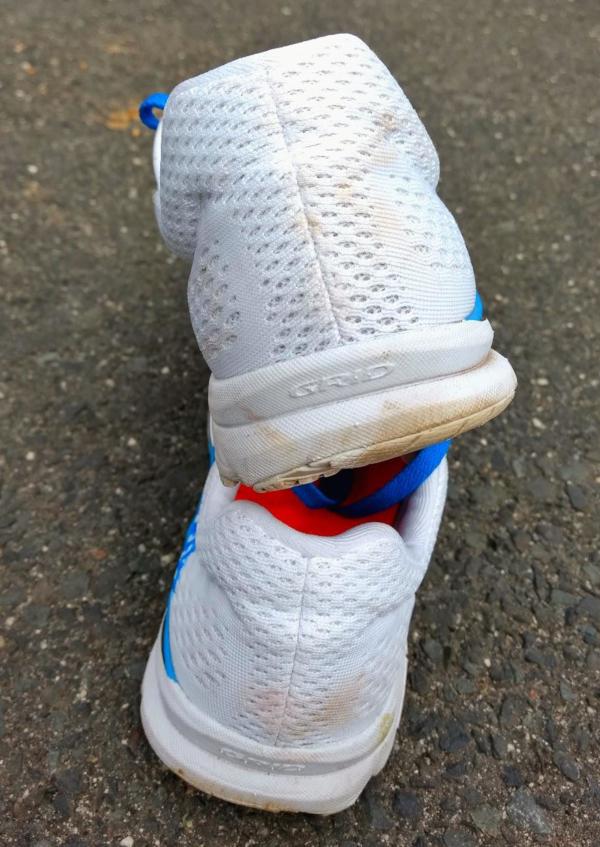 Speaking of solid, there are some dual density areas of the sole that limit the otherwise flexible nature of the foam.
The medial post provides a lot of support if you are a serious pronator or tend to breakdown on longer runs. I find it to be excessive for a light racing shoe and hope they can find a way to cut it back.
Upper
I have to say this is my favorite part of the shoe and probably top five favorite uppers of all time. A soft, flexible and breathable air mesh is strategically covered with Saucony's FLEXFILM.
The eyelets are a bit thicker than the mesh and pair well with the thin, flat laces. A tiny pillow of padding is on the tongue exactly where you are expected to tie your shoes, with the rest of a tongue just a simple mesh.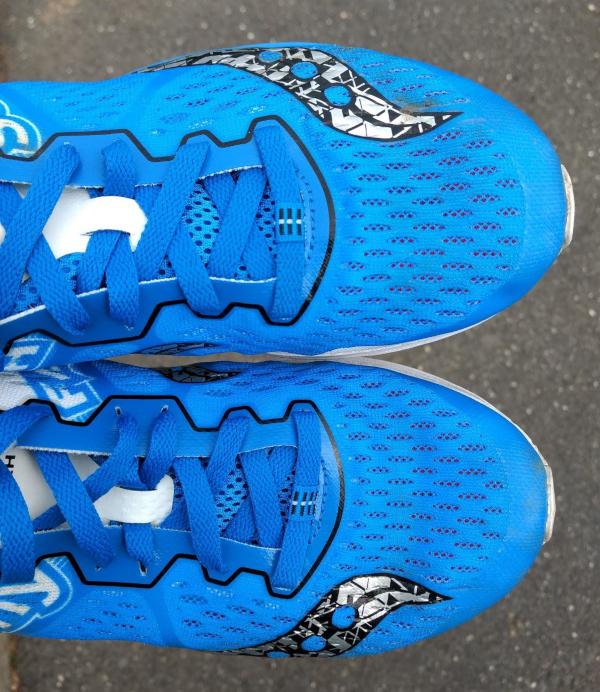 The fabric is remarkably breathable and stretches comfortably around your forefoot and toes at all times.
The only true seams are in the sockliner and collar in the back (as well as under the insole) and I never experienced any hotspots. Although I didn't particularly care for the colors, I really appreciated the execution of the design and hope for more uppers like this from Saucony.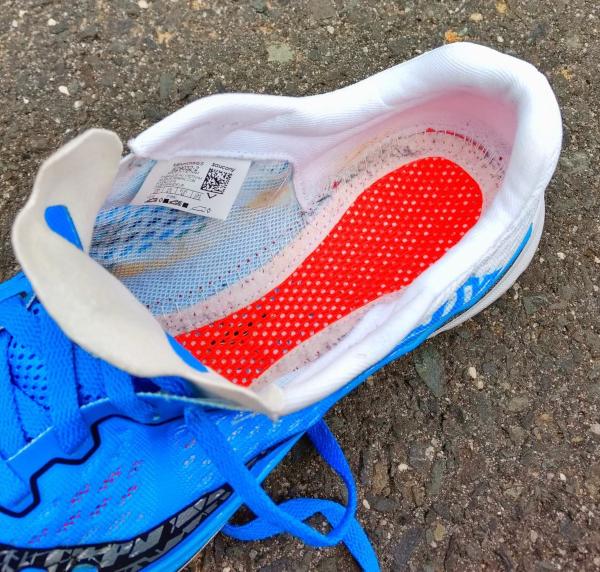 Uses
I tested these shoes on road, synthetic track, park trails and cinder track and had no issues with grip or stability on any of the surfaces. The stack height provided a balanced amount of comfort compared to its weight.
As I mentioned before, I would not recommend using these shoes on very uneven terrain because of the nature of the insoles, though they should hold up ok if your race has a short section of rough road or trail.
I went on a few runs in the rain and my feet did not get uncomfortably wet, although I actively avoided standing water (mostly because the shoes were white, though). Save these shoes for good weather days where you expect to be doing tempo runs or speedwork, as they don't have a huge amount of cushion for longer runs when your form starts to break down.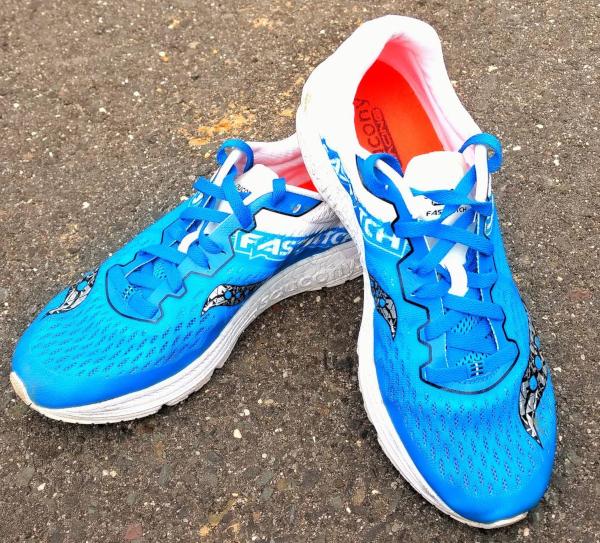 I haven't done a proper race in these yet but would consider them ideal for 5k to half-marathon distance. While I'm sure they would hold up for a full marathon, I personally feel that the design is a bit too aggressive when you plan to be on your feet for over two hours.
Rating
Saucony really nails the upper on this shoe. The midsole and outsole offer a great balance of cushion and flexibility.
However, the heel cup and medial post are a bit too much stability for an otherwise minimalist design. I would prefer less stack height, ditch/reduce the stability elements and add a bit more rubber underfoot to make the shoe last a little longer.
Comparison
I bought these after transitioning to minimalist and barefoot style shoes for days when I needed more support. The heel stack was particularly noticeable on the synthetic track when doing sprints and intervals, but I didn't feel it bothered my gait and mechanics too much. However, when compared with the pair of Nike Free RN I owned in the past, I felt that the heel was much more stable and the drop much more gradual.
If you are looking for something more minimal, I'd check out the Merrell Vapor Glove 3, New Balance Minimus 10 v1 or the Vibram V-Run. If you want a bit more support and cushioning you might look at the Saucony Zealot ISO, Brooks Pureflow 7 or Nike Flex Fury 2. There are trail versions for some of the shoes mentioned if you prefer your runs unpaved.
Transition shoe to minimalist running?
One thing I will add here if you are considering to use this shoe as a transition to a minimalist shoe. I had previously tried out this theory with the Nike Free RN and did not have a great experience.
The heel is too high and does not force you to load your calves nearly enough. I personally found buying a Vibram shoe, rotating with the Merrell Trail Glove 4, and reducing my mileage worked to achieve the transition.
Final thoughts
These shoes really fit well into the small niche in my shoe rotation. I'm keeping the mileage on them low in case I decided to sign up for a road race and would definitely buy them again if needed or upgrade if a newer version comes out. The shoe is very affordable and offers great features and durability for its price point.
I was looking for a lightweight shoe that I could use in my triathlon races and came across the Saucony Fastwitch 8. With my current weight of 80 kg, I considered the shoes the most extreme racing shoes I can risk running without getting injured.
I ran already over 50 kilometers with them and find them quite nice as an additional pair of running shoes to swap. Please keep in mind they should not be your all day running shoes.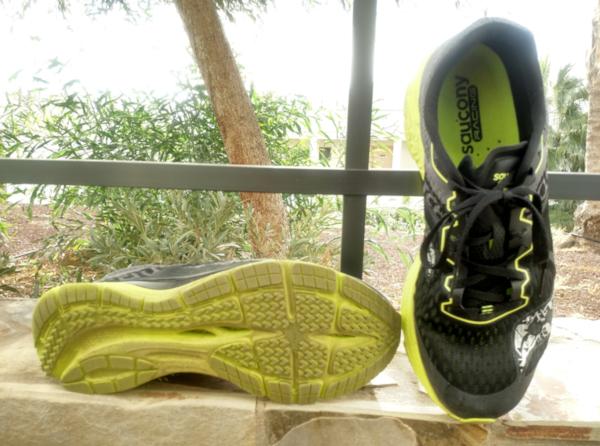 Being a neutral running shoe that came in at 183 grams, you should be quite sure of your foot muscles and should be an experienced runner already to use them safely.
Design
Design-wise, the Saucony is not an eyecatcher, but this is only a minor reason for me to buy a running shoe. The less colorful the shoes are, the more usable they are as sneaker at work occasionally.
Comfort
My first runs with the Saucony were pretty smooth, and I could not point out any specific issues with them. Choosing the same size, I wear with nearly every running shoe; I felt ok here as well.
After some runs, I made the error of running barefoot for a 6-kilometer run. And that run was enough to get me some big blisters on the small toes. This is a setback for me as I intended them to use in triathlons where up to 10 kilometers I never wear socks.
It seems that the upper mesh is not soft enough or the toe box is too small for my foot. Therefore no more barefoot running for me using the Fastwitch 8.

Sole & durability
I used the shoes until now but only for running on tarmac, and I advise you to do that as well.
It definitely will not provide you with enough support. When running in trails, you will feel bigger stones penetrating the cushioning effect of the shoe. But when used on a tarmac, the shoes should be good for 400-500 kilometers depending on your weight.
Performance
Here is where the Saucony Fastwitch 8 has its big appearance. As I would not recommend somebody using the shoes for marathons, a 10k or half marathon personal best can be shattered with the Fastwitch 8.
With the small drop of 4 mm and the weight below 200 grams, I put the shoes to have the biggest impact for all buyers on the 10-kilometer tarmac races.
Pros
Minimalistic shoe made for personal bests on short distances
Lightweight
True to size (no fitting needed before buying)
Long evolution of this particular shoe
Cons
Not usable barefoot for me (small toe box)
A little bit too pricey
Only usable on a tarmac
Updates to Saucony Fastwitch 8
The changes in the 8th iteration of the Fastwitch are limited to the upper. For this version, the welded overlays are replaced with thin, fused versions that are as sturdy as stitched overlays, but without the weight. It is one of the reasons for significant weight loss.
Another change in the upper is the new engineered mesh with larger and more numerous holes for enhanced ventilation. For those who run in humid climates, this shoe should ensure a sweat-free and dry run.
For aesthetic appeal, the plastic-like finishing of the earlier version is now more sophisticated. It offers the looks of a shoe that belies its very reasonable price tag.
Size and fit
Saucony brings back the fit of the earlier model in the Fastwitch 8. But, because of the softer mesh in this version, it accommodates various foot types a little better. The shoe offers excellent midfoot locked down while the rear section has decent security throughout every run. It runs true to size.
Outsole
The Fastwitch 8 utilizes Saucony's brand-exclusive PWRTRAC outsole with its numerous arrow-shaped lugs from the heel to the forefoot for superior traction, even in slick conditions. This durable outsole material is also placed in the outer unit of the Saucony Peregrine 8.
For flexibility and a smoother ride, a vertical cut from the heel to half the midfoot is carved in the underfoot. There are forefoot flex grooves that give the shoe excellent roll-offs.
Midsole
The midsole is laid with the very light SSL EVA or injection-molded EVA with Saucony's own rubber properties. It covers the length of the midsole for a quick and efficient transition from landing to take off. The Fastwitch 8's lightweight stability is mainly due to the medial post beneath the arch to curb mild overpronation.
Upper
An engineered mesh that is softer and more breathable covers a large part of the upper. The mesh works hand in hand with the FlexFilm overlays that are very thin, translucent, and fused for a really sophisticated look and lightweight support. An Ortholite Premium Sockliner provides anti-sweat, anti-microbial, and anti-odor properties. It also enhances the cushioning of this shoe. A traditional lace-up closure keeps the fit secured until the run is finished.
Popularity
The current trend of Saucony Fastwitch 8.