Category + brand ranking lists
When is the right time to get a wide shoe?
When the upper is quite suffocating or restrictive, a wide shoe could be a very good option. When there is a sense of just too little of everything, an extra wide choice could be the way for you.
What is the difference between a wide shoe and an extra wide version?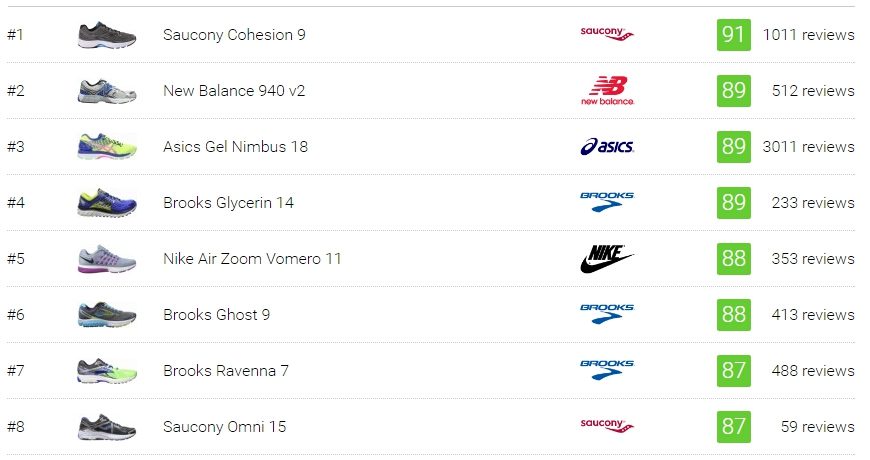 A wide shoe is built on the same last as the standard version, but with more upper space. About 10 millimeters of upper space, oftentimes spell the difference between a great ride and a painful ordeal.
An extra wide shoe includes the added upper space and around 20 millimeters more room for the last. It means that it is extra wide all over.
Runners with medium heel or forefoot should stick to the wide version as the extra wide model will almost ensure the foot to move all over the place.
Do all brands have the same standard width?
Generally, yes. But, it is common knowledge that there are also significant differences. One brand's standard width could be just too tight for you while a wide shoe from another brand could fit just like a glove.
In several instances, even different lines of shoes from the same brands could provide a different fit for you. Since there is a very good chance that you will be rotating shoes, trying them on before giving that credit card is a very logical thing to do.
Fit is everything
After countless hours reading reviews and expert opinions, one thing stands out. Fit is everything. The best fit is usually the likeliest start to have a very comfortable run.
Runners would normally express their appreciation of how good their runs are based on how comfortable the ride is. There is absolutely no way for a runner to feel that comfortable without the best fit.
Even at an ultra-discounted rate, runners look for the most basic requirements in their running shoes. A great fit comes, normally, on top of that list.
A shoe that is either too wide or too narrow is the quickest way to blisters and even injuries.
What is the best fit?
The best fit comes from a running shoe that wraps the foot all over in security and comfort. There should be flexibility in the right areas, enough room in the forefoot for the toes to splay and to accommodate mid-run swelling.
What are dead giveaways that you do not have the best fit?
Too much movement
When you feel like the laces are the only thing that's stopping your shoes from flying, it's an obvious hint that the shoe is just not the right one for you.
Too much movement also creates the sensation of being sloppy. No one wants to feel that way, even right out of the gates.
When there is too much room, the heel usually moves, which could lead to painful rolled ankles. There is no stability with extraneous heel movements.
Too much room in the forefoot can also lead to bruises, particularly when going downhill. The added room causes the toes to slide forward with every landing. Blue toes are never a good sight.
Too restrictive
Too snug is also a bad thing. Even running on flat surfaces causes all kinds of pains. The toes are guaranteed to take a beating when the fit is too tight.
When there is not enough room for the foot, blood circulation is usually affected, even when you do magic tricks with the laces.
Normally, blisters would appear in the most likely or unlikely places. Like blue toes, blisters and irritations should never happen during a run.
There is also a slight feeling of having an unstable run, especially if you feel like your foot is almost on the edge of the platform with every stride. It means that your foot is straining against the confines of the shoe.
When the foot is restricted, your natural running form is hampered. Above all, when it is too tight, the most luxurious interior will never solve the problem of getting hot spots.
In this case, getting something with a little extra width may save the day for you.
What are the widths of a running shoe for the men's?
B=Narrow
D=Standard/Medium
2E=Wide
4E=Extra Wide
What are the widths of a running shoe for the women's?
2A=Narrow
B=Standard/Medium
D=Wide
2E=Extra Wide
A little advice
The name or the logo of the shoe does nothing when it involves fitting. No one brand has exclusive rights in delivering the right fit for you.
As there are hundreds of shoes available, it is very good for you to widen your horizons and try different brands.
Do not insist on wearing any shoe that causes you pain or blisters, even when you have spent a considerable amount of your investment on it.
Besides the pain or blisters, an injury could dampen your enthusiasm or totally ruin your goals.