When it comes to running shoes, being able to choose the right aesthetics and size isn't the only factor in achieving comfort and satisfaction. It is also vital to determine the width of your foot. People with wide foot dimensions should know that there are shoes that cater to their needs and that most companies also manufacture products that aim to give an agreeable fit, regardless of foot-size or width.
Running shoes for wide feet make it easier to feel secure but not restricted. However, it is worth noting that not all shoes with wide versions have the same in-footwear experience. Each brand even has its specific size-and-width charts. So, knowing your foot-dimensions permit considerable knowledge about the shoe that you're getting and the fit that most likely harmonizes with you.
Wide or narrow: determining your width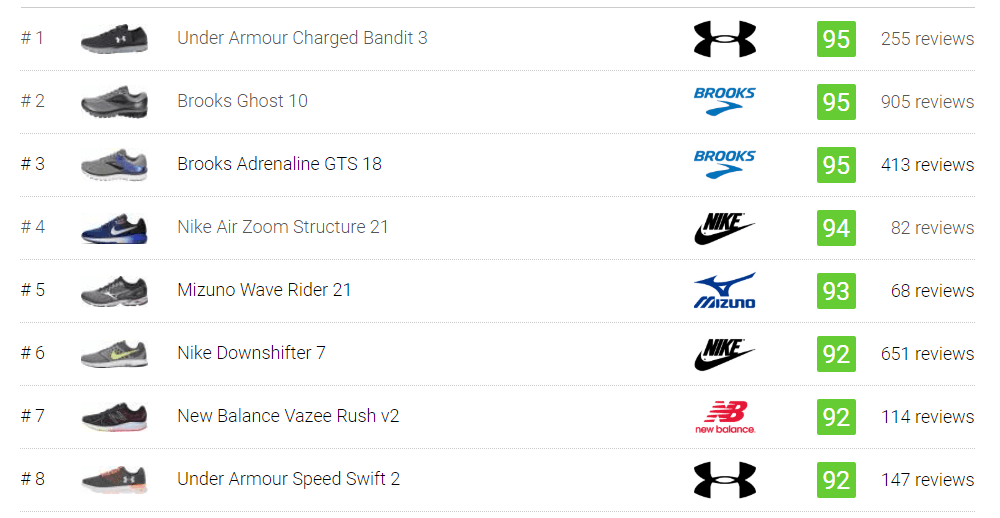 Having a general familiarity of the widths of your feet is a helpful way in ultimately influencing your choice of shoe. Suffice it to say that the best method of knowing the width of your chosen shoe is actually to try it out. If you don't feel any tightness in the medial and lateral sides of your foot, then it's more likely that you got the right one. If the flanks of the upper feel too loose, then it might mean that the product is too wide for you and that you need narrow running footwear. However, if the fit is too tight, then you may need a wide-width option.
Here are some other ways of determining the width that suits you:
Utilizing the Brannock Device
The Brannock Device is a measuring tool for the foot that's created by Charles Brannock. Its accuracy in measuring foot-size and width has made it a standard item in the footwear industry. You may even find one in your local shoe store.
This metal contraption allows the person to determine both the length and width of a foot within a minute. The company that had made this instrument is positive about its 95-96% accuracy. It is available in US, Euro, and UK measurements, and it has specific versions that cater to men, women, and children.
If a Brannock Device isn't immediately available, then one convenient method is tracing both your feet on a blank sheet of paper. It's not as accurate as explicitly getting the measurements from an industry-standard device, but it might help you in knowing if you need a wide running shoe or otherwise. Moreover, it also lets you measure the size.
An essential factor when it comes to using this method is the wearing of socks that have medium thickness. Measuring without wearing a sock limits the results to that of the foot that is bare; it might cause the coverage to feel too tight when the shoe is worn with socks.
Your foot needs to stand on top of the blank piece of paper. It should be at an even angle, and it should be comfortable. A pen or pencil is used to trace the outline of the foot. It would be counterproductive to trace from the underside of the foot because it would drastically change the actual dimensions. Keep the pen or pencil at an upright angle and then draw the perimeter of your foot.
After successfully getting an outline of your foot, you can use a ruler to interpret your results into numbers. There are many size charts online. They are helpful when it comes to getting your shoe-size and width. It is worth noting that the tracing method is mostly useful when ordering shoes online or when asking another person to buy shoes for you.
Personally trying out a shoe
Even though there is value in knowing the different foot-measuring techniques, there's little to be said about the importance of actually trying out the shoe that you want to get the correct fit. Being able to get a personal feel for the product makes everything easy. You'd certainly know if it's too tight or too loose. Your feet will communicate with you through the in-shoe perception and level of comfort.
The personnel in the shoe shop are also there to keep you informed about what you're wearing and how you could get the pair that's right for your needs.
Information about the standard width
Typically, shoe companies adhere to the same standard when it comes to the width of their products. But you should be aware that there are many features, components and design liberties that may affect the fit. For instance, the regular width of a particular brand's line of footwear may feel alright while another company's selection may either feel too tight or loose.
There are also occurrences where several options from a single company may bring a different fit. Evidently, you won't be getting ones that are exceedingly unsavory in coverage and capacity to hug the foot, but you'll most likely be rotating your running shoes in conjunction with your type and level of activity. So, it's never wrong to do some research on your chosen pair or pairs of shoes, and it certainly wouldn't hurt to go to a shoe shop and test some of the items that most interest you.
The difference between a wide shoe and an extra wide version
A shoe that has a wide width is fundamentally crafted on a last that is prevalent in a standard iteration. The distinction is that the broader one has more upper space, approximately 10 millimeters of it. This seemingly inconsequential modification may mean additional comfort and relaxation to those who need it.
The extra wide width profile benefits from the extra upper space found in the wide profile, as well as a 20-millimeter extension to the last. This configuration allows additional space to all sections of the foot, not just the forefoot section.
While some people would think that an extra wide version of a shoe offers more appeal since it gives more space than its standard or wide counterparts, it's not agreeable if you have a heel that has a medium volume. The roomy interior may cause some unwanted wobbling or positional displacement during the running session.
Top 5 wide running shoes
There are lots of wide running footwear on the market, but some of them are evidently more popular than others. At RunRepeat, we get all the info about the products and place them in one cohesive source. We even make sure to allow users the chance to rate their favorite wide shoes.
Moreover, even though shoes aren't inherently created using a wide-width template, having the option is usually enjoyed by many. Here are the top 5 wide running footwear based on popularity:
Purchasing tips for runners with wide feet
Strange as it sounds, it is difficult for people with wide feet to procure shoes that suit their measurements. A lot of shoes on the market are created using a medium width template, making them more agreeable to those with mid-volume foot-dimensions.
Thankfully, many companies are sensitive to the different types of feet and the varying needs of footwear enthusiasts. They even have a series of releases that feature different width options, from narrow to wide to even extra wide.
If you are more inclined to wide shoes, you can also make it easier to get a pair using these purchasing tips:
Contrary to popular belief, the foot shouldn't fit too snugly in the foot-chamber, be it lengthwise or crosswise. It significantly affects the comfort levels, as well as the capacity of the foot to relax and move more naturally.
When it comes to your shoes, you should have adequate space in the toe-box for the splaying and wiggling of your toes. To determine this trait, the space between your big toe and the front end of the footwear should be about a thumb's width.
An essential aspect of any right fitting shoe is its upper unit. You should determine if it adheres to the shape of your foot, stretching or expanding to accommodate its dimensions. A lot of wide running shoes feature stretchy mesh or knit-fabrics that conform to the shape of the wearer's foot.
You should also keep in mind that as you run, our foot swells and bulges. It's just part of body mechanics and the effect of ground impact. Wearing shoes with restrictive uppers prevents you from feeling relaxed and contained.
Being able to customize the in-shoe experience of your wide running footwear is a helpful way to keep you comfortable throughout your activities. Removable insoles allow you to choose whether or not you need more space for your foot. Sure, these add-ons provide a bit more cushioning, but if they're not intended to stabilize the arch or correct overpronation, then you may give some concession for your foot to stay relatively relaxed.
Inquire about the availability of a wide width
A lot of brands feature running shoes that have multiple width options. It's advantageous to put a little bit of research to know if the shoe that you desire has a wide-width option. You can check out the brand sites and the retailer sites for width filters. If you're in your local athletic store, then you can ask for assistance from one of the staff.
The prolific brands that sell wide running shoes for men and women
New Balance
This brand has the goal of providing a mix of performance and accessibility. They have a wide variety of running shoes that utilize various technologies and configurations to encourage consumer choice. One of their strategies for user-friendliness is the availability of different widths, including X-Wide and even XX-Wide.
Here are some of the best of New Balance's line of wide running shoes according to RunRepeat's Corescore as of 2018's first quarter:
New Balance Vazee Rush v2 – It is a neutral running shoe that has a breathable upper and a no-sew construction for an irritation-free coverage. It also makes use of the Rapid Rebound foam for responsive cushioning throughout the running session. The Corescore for this model is 92 out of 100.
New Balance 610 v5 – With a Corescore of 91, it is evident that this trail running shoe has gained the favor of most consumers. It has a trail-optimized outsole design, a shock-absorbing midsole, and a structured upper for sturdy support.
New Balance Leadville v3 – The Leadville v3 is another of New Balance's models for trails. The unique aspect of this shoe is its capacity to correct overpronation using a stability post on the medial side of the sole unit. Stability trail models are rare, and this is one of them. It has a core score of 91.
Asics
A sound mind in a sound body – that is the philosophy behind this brand. It strives to innovate and accommodate the various needs of consumers from all around the globe. It even has several series of shoes that were able to withstand the test of time and bring new things to the fans. It prides itself in its goal of delivering athletic performance and style in a single package. The available width-variants are medium, wide and extra wide.
The best wide running shoes from Asics according to the RunRepeat Corescore (first part of 2018) are:
Asics Gel Foundation 12 – With a Corescore of 90 out of 100, this road shoe has undoubtedly received agreeable ratings from its consumers. Moreover, it's designed as a motion control model, which means that its purpose is to correct severe overpronation and prevent discomfort or irritation to the tendons and muscles of the underfoot.
Asics GT 2000 5 – This running shoe has been created to provide support for mild and moderate overpronators. It features a shock-absorbing midsole, several gait-supporting features, and a midfoot support system that stabilizes the arch. The RunRepeat Corescore for this model is 89.
Asics Gel Contend 4 – Daily runners are treated with a versatile running shoe that has a contemporary look and an affordable price. People apparently welcomed its capacity as a runner and as a companion in the gym. The Corescore is 88 out of 100.
Saucony
Where two rivers run together – this phrase became the essence of the Saucony name. Since its inception in 1898, this brand made it a mission to provide reliable footwear for athletes. Now, it has become a force in the industry, delivering both trail and road shoes for a multitude of situations, mixing functionality with modern aesthetics and innovation.
Saucony Ride 10 – This road shoe has been touted by many as a versatile option for those who want to start getting into running. It's also admired by many expert runners for its capacity to deliver a pleasant underfoot experience. Moreover, its lightweight structure and flexible composition permit smooth transitions through the gait cycle. The Corescore is 89.
Saucony Cohesion 11 – With a Corescore of 86, the versatility of this running shoe became a high point for consumers. It apparently offered lightweight and agreeable performance in a durable and true-fitting façade. The midsole provides shock attenuation and support to the curves of the underfoot.
Saucony Guide 10 – The brand's stability shoe for everyday running offers a mix of flexibility, a smooth in-shoe experience and a helping of support against overpronation. The silhouette uses the cloth-like engineered mesh for ventilation, as well as printed overlays that prevent the product from looking too bulky. The RunRepeat Corescore is 86 out of 100.
The lacing techniques for wide feet
Having wide feet and finding shoes for such an anatomical design may be a challenge. But if you're wise and sure about the product that you're getting and the level of comfort that you're receiving from its different components, then you're sure to have a great time taking on the roads and the trails.
As a bonus for yourself, you can manipulate the lacing techniques to heighten your experience with your running shoe. Laces fundamentally help in tightening the fit and securing your foot, but it doesn't have to be too tight or restrictive. You can enjoy a relatively relaxed in-shoe experience without sacrificing the fit and feel if you adjust the placement of your laces to accommodate a wide foot-volume.
RunRepeat has its list of the Running Shoe Lacing Techniques and Knots for those who want to learn more about how to maximize comfort and efficacy in the lacing system. Two of these methods emphasize support for people with wide feet.
Wide forefoot – This lacing technique has the goal of maintaining a secure coverage, but with a bit of space for the forefoot to relax. Human feet naturally swell during activity, so a more accommodating upper may give some respite. When setting up the laces, it's pertinent to skip the regular crisscross looping of the shoelaces on the first three pairs of eyelets. The two ends of the strings need merely to snake through them, only commencing the regular grid pattern after the third eyelet.
Wide feet in general – Those who have wide feet in general or want to experience a more relaxed in-shoe experience need not worry because there is a lacing method that opens up the top part of the upper and prevents the full instep from feeling too constrained. The lacing process begins with a conventional outward-and-inward crisscross configuration, but it skips the third and fifth pair of eyelets. The evenly spaced out design makes sure to free more space for the foot.
Points to ponder
The logo or the popularity of the company behind a running shoe isn't directly related to the fit and sizing. There's not a single brand that can consistently and flawlessly deliver the correct fit for you. There may times when you'd feel as if you're not getting what's due you in the width department, but you'd be remiss if you don't try out the shoe yourself or gain more knowledge online.
You can try to be comfortable with the fact that there are hundreds of running shoes on the market. They have different designs, technologies, and supportive It may be advantageous if you broaden your scope and test footwear from several brands.
Being invested in a particular brand or a pair of shoes is an easy undertaking. You can give some love for its cool design, the pristine quality of its construction, and its potentially price-bloating popularity. But if you're getting any pain or any form of irritation while wearing your preferred footwear, then it's not worth your effort in trying to love it. Your level of comfort is vastly imperative.
Being uncomfortable in your running shoe could dull your enjoyment of running and pursuing a healthy lifestyle. It's not just about getting the most responsive midsole, the most traction-ready outsole and the most breathable upper; you also have to remember to feel as if the shoe was specially made for you.
Minor discrepancies in the design or construction of your running shoe can be overlooked. Try not to be so caught up in the inconsequential details. Stay enabled, remain active, and don't allow your zest to be dampened or your goals to be spoiled.
Frequently asked questions
Which material is best for a wide running shoe, fabric or mesh?
The trick to getting a non-restricting fit is to make sure that the upper is capable of expanding and conforming itself to the shape of the foot. It is of no question that most leather compounds cause a limitation to the in-shoe experience, but fabrics that have an open construction are more likely to permit a relaxed ride.
Mesh isn't relegated to a single material that's derived from plastic. There are versions of it that are made to look and function like woven cloth, with some percentage of the material tightly constructed to achieve a strong structure. The textile-like engineered mesh is an instance that exemplifies sturdiness and flexibility in a breathable silhouette. Some brands that have this article include Nike, Saucony and Under Armour.
On the other hand, there are upper units that are made of fused yarn that were joined by a precision knit process. The material offers a sock-like feel that is seamless and form-fitting. Its woven nature makes it soft and smooth, preventing the foot from feeling restricted.
So, when it comes to the kind of material that caters to people with wide feet, both fabric and mesh have their qualities. They're both designed to be durable, breathable and efficient. It is worth noting that yarn-based uppers aren't very common and they look relatively unique, so it may be an aesthetic advantage if you opt for a running shoe that features this material.
Is it difficult to find a wide running shoe?
Over the years, footwear brands and manufacturers have taken into consideration the individual needs of different consumers. They strive for innovation and user-friendliness, aiming to accommodate as many people as possible. Suffice it to say that there are more shoes on the market today that are available in a wide-width version.
Determining the availability of wide shoes is quite simple. When you're visiting your preferred brand or retailer site, you can navigate the product page to find a sub-menu that lets you choose the size and fit, should these options be available. On the other hand, you can check RunRepeat's filter feature to determine brands and shoes that have wide-width versions.
Which is more expensive, a narrow or wide running shoe?
There is a perception that a pair of running shoes has a different price if it is available in various sizes or widths. However, it is worth noting that the different measurements don't affect the price. Think of it as a shoemaker's personalized service to the customer. It would be unfair to people if there's a price hike for every centimeter or inch. Suffice it to say that the manufacturer's suggested price already includes the concessions to the materials and shoe-dimensions.
I have wide feet. Which width option should I consider, wide or extra wide?
The width option that is right for you depends on your level of comfort and need for extra room in the shoe's foot-chamber. It is pertinent to be knowledgeable of your initial baseline when it comes to your footwear measurements. If you're used to getting the wide-width version, then you're more likely to be comfortable with shoes that have that selection.
But if you feel any discomfort on the sides of your feet or if your toes don't have any space for natural splaying, then you may opt for a version that's wider than your usual preferences. Sometimes, it may not even be a problem with the width. Going half-a-size or a size up may free up some room for your forefoot.
Worry not if you have purchased the wrong shoe online. There may be times when the fit or the sizing just aren't right. Such cases happen. Most brand sites and retailer portals allow users to opt for replacements if they're not satisfied with their purchase. These companies have in-website instructions on how to facilitate product returns or exchanges.
I have wide feet. What happens if I purchase a medium-width running shoe?
If you have wide feet and you have purchased a pair of medium-width running shoes from a brick-and-mortar shoe shop, it probably means that you're comfortable with the fit when you tried it out for yourself. If you have any concerns about your purchase, it's easy to bring back a product to the store.
On the other hand, you might be worrying about a shoe that came from an online source. The sub-menu for widths may not be available, or the product that's sent to you may mistakenly be the medium-width iteration. You can try it and see if it fits. If it doesn't, then the medial and lateral sides of your feet may feel some tightness. Your toes may also be in an uncomfortable position as they're likely to be crammed together. Some people may tolerate such an oversight, but the key to ultimately enjoying your running shoe is your comfort level.
How will I know if I'm someone who needs a wide running shoe?
The primary sign that tells you that you are a person who needs a wide running shoe is a definite feeling of discomfort when wearing your regular shoes. For people who are still physically developing, you may notice yourself outgrowing the shoes that you love. You may perceive a discrepancy in how you wear your shoes, how you tie them, and how you ultimately feel during extended use.
If you're experiencing such symptoms, then you may want to consider checking out new shows. The best way to check if it's a new shoe you need or a new width profile is to go to a shoe store and try on some shoes. Make sure that your foot can stay comfortable and that your toes are capable of relaxing when on the ground. You should also consider a more relaxed upper construction that accommodates the natural swelling of the foot during activity.
But finding a roomy toe box and a stretchy upper isn't the only thing that you need to contemplate. If you find yourself wanting for more comfort, even after determining the construction and helpful features of the running shoe, then you can ask for models that have wide-width versions.
This shoe has recently been added to RunRepeat. There are still not enough reviews for us to assign it a
Corescore
.
Corescore
A score from 1 to 100 that summarizes opinions from users and experts. The average Corescore is 78.
More...