Nike dad sneakers
A man in his early 40s, with straight-cut light blue jeans, tucked in polo shirt, chunky white tennis sneaker, and a phone waist clip - this is the usual ensemble of daddies. Who would have thought that we will borrow style from our not so fashionable dads?
Dads are the least most likely you would run to when you are looking for tips about trendy sneakers. But things turned in 2018 when the staple fashion of our daddies dominated most of the fashion magazines, retailers, and runways. Our dad's style has been hi-jacked and revamped for the urban fashion elites.
The Dad shoes or sometimes tagged as ugly sneakers features chunky profile that first struck the market in the 90s and came back with extensive clamor, surprisingly, from the women fashionistas. Most of the dad shoes look like blocks strapped on one's feet in vintage color-blocking details in retro hues such as white, black, red, blue, or silver.
Trendy Nike dad shoes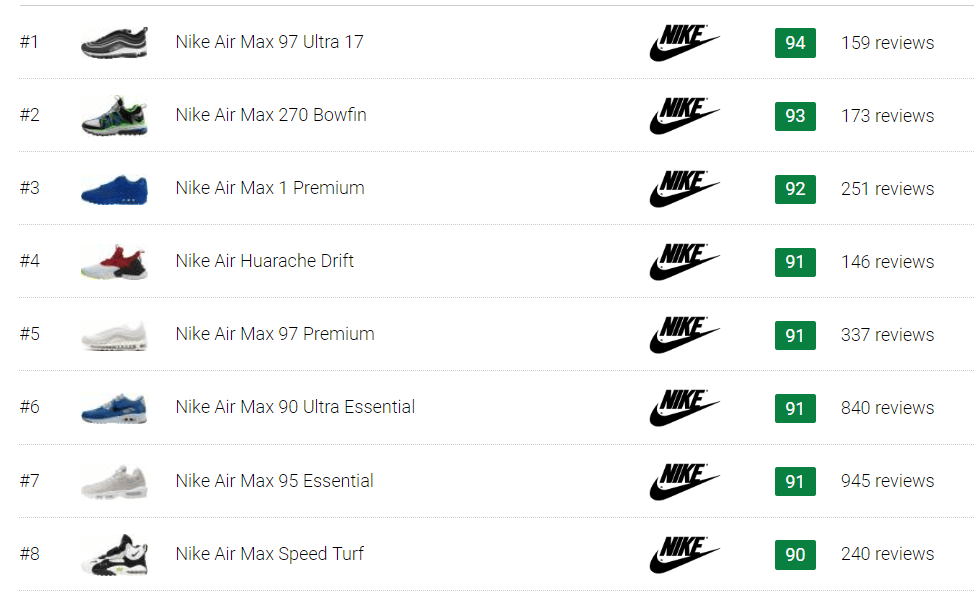 Because of this 'domination' and obvious fact that this trend doesn't seem to be going away anytime soon, Nike decided to capitalize on this trendy look and revive some of its classic looks for the current curious onlookers.
RunRepeat decided to curate some popular Dad shoes offered by Nike. Scroll down our list of best pretty "ugly" Nike shoes that you may want to consider strutting the streets within the near future:
Nike Air Monarch IV
Released as training sneaker, this model currently rules the lifestyle domain as it reigns the beefy kick trend. This Nike shoes for dad are said to be the reason for the division on the sneakers world as some would tag is as "dope" while some would dub it as "nope."
An Instagram page was created specifically for the Monarch naming this kick as the "King of All Dad Shoes" and has been prototypical of the ugly dad sneaker trend. While many credited the Monarch to be the pioneer of this shoe craze, many, however, give credit to the Balenciaga chunky kicks.
The Monarch IV conquered the social media and was seen sported by some influencers such as Drake and Russell Westbrook. Despite its unattractive appeal, many still found reasons why this pair a must-have in anyone's collection:
This model is found at a budget-friendly price range or $65.
This shoe features a full-length Air-Sole unit with width options from D to 4E.
The thick soled and well-padded sneaker is widely available at a price range that your pocket will surely thank you.
For people who don't like to catch attention, wearing the Monarch is the best option as this kick can easily blend in the crowd. Monarch will simplify your life.
These pairs are offered in safe colorways that could match almost any outfit. These ugly Nike white dad shoes are also available in all black hue to boost the versatility.
The comfort level is superb, just like walking with a pillow under your foot.
The Nike Air Max 1
Initially launched in 1987, Tinker Hatfield designed this line as Nike's continuous way to push the envelope of creating one-off and high-performance sneakers. This line is famous for its visible, massive air cushioning found at the heel giving a stocky overall profile. The Nike Air Max has remained relevant over the years and its legacy continues to grow for the current market.
Since the upsurge of the Dad sneakers trend in 2018, the Air Max 1 has been a household name in the four corners of the fashion industry. The versatile, chunky appeal and fashion-forward look caught the attention of many runners, sneakerheads, and fashionistas.
For its beefy profile, the Nike Air Max has been a perpetual part in the list of fashionable 'ugly-pretty' shoes in the market. We collated some AM models that have been enjoying the lifestyle limelight:
Nike Air Max 95
Nike Air Max 95 was initially unveiled as running footwear in 1979 and first to display the Air-Sole unit. This pair has a ripple design which was introduced in Neon Volt colorway, as the designers' attempt to minimize the appearance of dirt and wear and tear.
Tagged as the most stylish Air Max version, this iteration has thick upper displays a gradient hue in gray accented with neon yellow. The daring silhouette of the Nike Air Max 95 was due to the brand's attempt to take the limelight away from the basketball domain.
Because of this pair's popularity and reasonably priced range, many retro fans enjoyed using this model. Nike keeps on releasing fresh iterations under the AM 95 umbrella that keeps the people to wear them, giving the Nike Air Max 95 a brighter future in the fashion trend.
Here are few of the variations of the AM 95 that dominated the current dad sneaker trend:
Nike Air Max 95 Essential. The chunky AM95 Essential shoes have straightforward style displaying the classic details, such as the design lines and the bulky soles. This streamlined version of the classic kept the features that made the prototype famous.
Nike Air Max 95 LX. This luxe edition in premium materials and construction is offered exclusively in women's sizing. The upgraded version of the classic 1995 kick is made of plush materials depending on the colorway - leather, textile, or combination of these two.
Nike Air Max 95 NS GPX. This men-exclusive Nike dad sneakers have smooth upper with visible Nike branding on the sides. The bulky sole added with logo in contrasting hue enhances the overall stylish charm and attractive vibe.
Nike Air Max 95 SE. This model was introduced in 2017 exclusive for the women added with striking color-changing materials on the heel, toecap, and eyestay. This kick boasts its classic details that have been modernized gaining more followers and admirers.
Nike Air Max 95 Ultra Essential. Introduced in 2016, this streamlined version of the Nike Air Max 95 highlights its Ultra outsole tooling added with Hyperfuse upper. These ugly Nike shoes are offered in neutral and vibrant tones to boost its versatility that can be worn with almost any laidback, athletic attire.
Nike Air Max 98
This model highlights its full-length Nike Air sole on its midsole, similar to the Air Max 97, to show off its 20 year-old history in the sneakers game. Nike offers the eye-catching Nike Air Max 98 in combinations of colors while sporting several comfortable and durable elements that suits both men and women buyers. While this model may not be as admired like its chunky brood, this model turned a favorite piece in the dad sneakers trend.
Nike Air More Money LX
This sneaker for the women is the luxurious version of the Nike Air More Money unveiled in 2018. This upscale sneaker has the removable flaps as part of its lacing system. Also, the heavy sole of this maximalist sneaker was inspired by the Nike Air More Uptempo.
Nike M2K Tekno
A design that took its DNA from the Nike Monarch 1, was introduced in the public in January 2018 during the runway fashion show of John Elliot. This modernized version of the Monarch suits the dad sneakers trend with its chunky aesthetics offered in a variety of colors.
While it parades a beefy midsole, this kick is surprisingly lightweight and very comfortable. This model also shows several layer panels and heel counter made of plastic boosting its dad sneaker look which dominated the market in the 90s.
Nike Air Huarache City
This travel-friendly sneaker offered for the women highlights its heel strap system with a sock-like sleeve. Its chunky foam sole with encapsulated Nike Air-Sole cushioning adds futuristic style apt for the current dad sneaker trend. Nike's City edition of the famous Huarache is incredibly comfortable.
Nike React Element 87
The React Foam technology on its midsole with translucent shell upper and trail-running inspired lacing system make several people consider the Nike React Element 87 one of the best new silhouettes recently released by the Swoosh. This futuristic chunky silhouette was introduced during the runway shoe of UNDERCOVER and sent significant thrill in the sneaker world.
Nike Zoom 2K
Launched in the last quarter of 2018, Nike unveiled another retro inspired sneaker to add to their streak of dad shoe kicks, the Zoom 2K. It exhibits distinctive paneling, subtle branding, and accents channeling the 90s feel.
Supreme x Nike Zoom Streak
Nike partnered with Supreme again to add another item to their dad shoe stash. Launched in 2018, this sneaker displays the ultimate dad shoe vibe with its blazing streak of flames that covers its mesh and leather upper added with hits of red hue on the insole and outsole.
Frequently Asked Questions
What are the features of ugly Nike dad sneakers?
Dad sneakers or ugly shoes from Nike got its moniker from its vintage look that seems to come straight from our dad's 90s essential casual piece. These bulky kicks with exaggerated features reign the comfort level over stylishness. We have come up with a list of features for one can be tagged as dad shoes:
The pair has exaggerated midsole with curvy lines that may add few inches to its wearers.
It has thick, padded upper similar to the 90s tennis shoes.
Most dad kicks have uncanny 80s or 90s pattern on the upper, such as retro branding or neon accents.
Color blocking is also common in the dad sneakers.
Since dad shoes' primary focus is the comfort, most of it has excellent arch support to provide all-day cozy strides.
How did the chunky sneaker trend start?
According to a research company called Trendera, in 2018, sportswear producer giants namely Nike and Adidas started to create chunky kicks to add to their arsenal. When Adidas unveiled the Yeezy Wave Runner 700, it displays dad sneaker vibe.
When Nike celebrated the 35th anniversary of the Nike Air Force 1, the Swoosh brought their bulky shoes to the trend. These steps of the giant brands inspired other labels, even the luxury brands such as Balenciaga, to launch their own ugly, heavy, and exaggerated sneakers.
How to style Nike dad sneakers?
In today's fashion trend, the bolder, the better; thus there is no reason to shy away from flaunting your attention-grabbing Nike ugly sneakers. There are several ways on how to wear the chunky sneakers, here are few of our suggestions:
To emphasize your on-trend Nike chunky sneaker, you may pair it up with skinnies, leggings, or shorts matched with plain tees and simple accessories, such as fedora hat and sunglasses.
Some fashion sites suggest wearing the ugly shoes from Nike with monochromatic ensembles. Example, if one is wearing a black sneaker, he or she may match this kick up with black attire with hints of neutral tones such as white, beige, or brown.
Another interesting look with the Nike chunky sneakers is when you pair it with a full ensemble inspired by the 90s fashion, such as relaxed fit light-washed denim jeans with blue nylon jacket or oversized t-shirt with Astro Boy print.
Combining this beefy Nike shoes for dad with a suit can also work well for a smart casual outfit. Loose fitting blazer and pants or skirt look great with the stout sneakers giving a fresh and laidback aesthetics.
Flared or palazzo pants are in the loop again, and it is best to pair it with chunky kicks. This kind of pants gives a peek of the sneaker underneath its wide hemline which somehow downplays the dad sneaker from Nike.
What is the most expensive Nike ugly sneaker?
To date, the priciest Nike dad shoe in the market is the Nike Air More Money LX which costs $185 followed by the Nike Air Max 98 and Nike Air Max 95 LX offered in $180.
Can we use Nike dad sneakers for the daily grind?
You can wear the Nike dad sneakers every day as the brand inserted several comfortable elements to give its wearers consistent comfort all day long. Also, because of its on-trend appeal, wearing these chunky kicks will surely elevate the charm of your casual attire.
How to clean my white Nike dad shoes?
Nike brand suggests few easy ways on how to clean their Nike ugly shoes for optimum performance and longer life span:
Remove visible dirt found on the outsole, midsole, and the upper using dry brush with soft bristles or worn out toothbrush.
Remove the laces and wash them with the shoe cleaning solution composed of warm water with mild laundry detergent.
Also, wash the soles using the cleaning solution and soft-bristled brush. After, dry the soles with a clean, dry, and soft cloth.
Meanwhile, cleaning the upper is also easy by using a mild cleaning solution and brush or soft fabric. Pat dry after by using a microfiber towel.
Lastly, air-dry the cleaned shoe at room temperature. Do not place it under direct sunlight as it may damage the color and the materials used on the shoe.
It is not advised to use a washing machine or bleach solution as it may damage the sneaker.
Can my vintage Nike shoes be considered dad sneakers?
Vintage Nike sneakers can be considered ugly/dad shoes if it comprises the elements we have enumerated such as exaggerated midsole with curvy lines, thick padded upper, hints of the 80s and 90s fashion, and with arch support for that unmatched comfort.
Where to buy Nike dad shoes?
These fashionable Nike Air dad shoes can be bought on the official online sites and physical stores of Nike. Also, some well-known retailers online offer Nike dad sneakers, such as 6pm, Amazon, eBay, End, Finish Line, JD Sports, Footlocker, Zappos, and many other retailers.
15 best Nike dad sneakers
Nike Air Max 270 Bowfin
Nike Air Max 1 Premium
Nike Air Max 97 Premium
Nike Air Max 90 Ultra Essential
Nike Air Max 95 Essential
Nike Air Max Speed Turf
Nike Air Max 97 OG Metallic Silver
Nike Air Huarache Ultra Breathe
Nike Air Huarache Drift
Nike Air Max 95
Nike Air Max 95 Premium
Nike Air Huarache Light
Nike M2K Tekno
Nike Air Max 93
Nike Air More Money
This shoe has recently been added to RunRepeat. There are still not enough reviews for us to assign it a
CoreScore
.
CoreScore
A score from 1 to 100 that summarizes opinions from users and experts. The average CoreScore is 78.
More...