The Saucony Breakthru 4 came into the industry with grace, but not with a bang. While neutral runners were positive about its affordable price, it's lightweight build, and its appealing color schemes, some of them felt that its midsole wasn't as comfortable. One person even claimed that something was causing some discomfort to the arch of the foot.
---
Verdict from 3 experts and 100+ user reviews
5 reasons to buy
The toe box of the Saucony Breakthru 4 was broad enough for toe-splay, several users commented.
The available colorways for this running shoe were visually endearing, some people noted.
Most consumers welcomed the price tag, stating that it's affordable.
The lightweight nature of this product gained the favor of its testers.
The sizing scheme followed most people's expectations.
2 reasons not to buy
A few testers complained that the midsole was stiffer and less responsive than the previous version.
According to a consumer, there was a lump in the sole unit that tended to grab the arch uncomfortably.
Bottom line
The Saucony Breakthru 4 came into the industry with grace, but not with a bang. While neutral runners were positive about its affordable price, it's lightweight build, and its appealing color schemes, some of them felt that its midsole wasn't as comfortable. One person even claimed that something was causing some discomfort to the arch of the foot.
Best price from 50 shops
We earn affiliate commissions at no extra cost to you when you buy through us.
83% say it's true to size.
Our reviews
Saucony has been a mainstay brand among the running community for over a century. No stranger to the brand, my history with Saucony dates back to my high school cross country days, and the brand continues to remain a staple in my shoe rotation.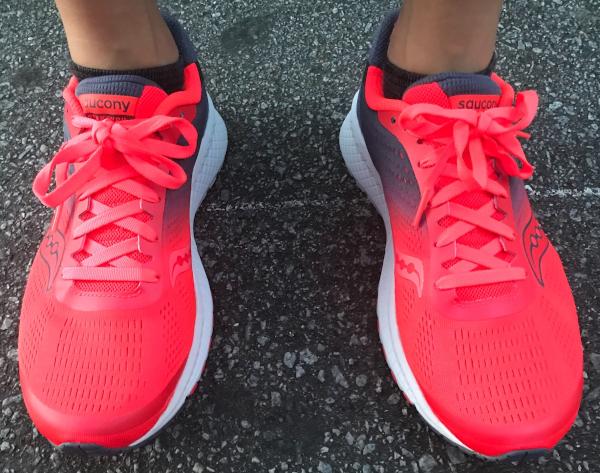 The successor to the Breakthru 3, the Breakthru 4 has a similar silhouette to its previous iteration, but with its new updates, how does it stack up? Time to find out!
Overview
Saucony certainly has evolved and changed over the years. Sometimes change is for the better and occasionally change leaves you scratching your head wondering why modifications were made at all.
Designed for the neutral runner in mind, the Saucony Breakthru 4 has several "updates" from its predecessor.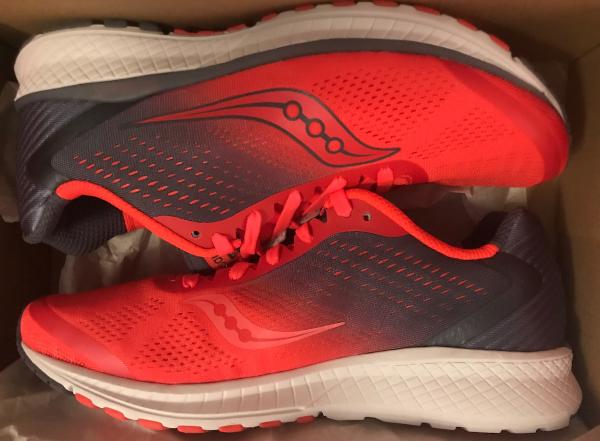 The overall appearance of the Breakthru 4 is vaguely similar to the Breakthru 3. But, there have been modifications to the upper, midsole, topsole, and outsole, which differentiates the two iterations.
Breakthru 4 is diverse enough for various distances. But, if you are familiar to the former iteration, the Breakthru 4 feels like a completely different ride from its predecessor.
Aesthetics, uppers, and laces
Quite visibly the Breakthru 4 and the Breakthru 3 look very different from one another. If anything, the Breakthru 4 makes your feet look much bigger than its previous iteration, which had a much sleeker overall look.
Check out their side-by-side comparison:
Differences in the Breakthru 4 on the left and Breakthru 3 on the right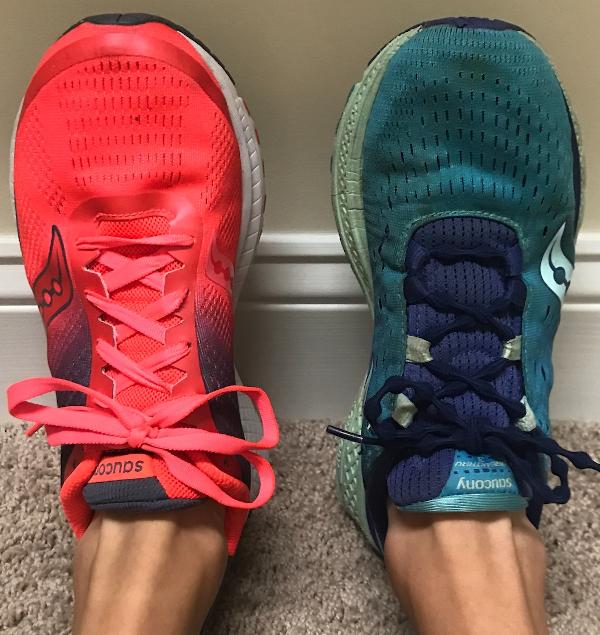 It is easy to see differentiations between the two iterations visually. The Breakthru 4 (left) has additional printed overlays in comparison to the Breakthru 3 (right).
The most obvious overlays are on the toe cap of the shoe, which is not seen on its previous iteration, as well as overlays surrounding the shoelace eyelets.
Note the toe cap overlay on the Breakthru 4 (right)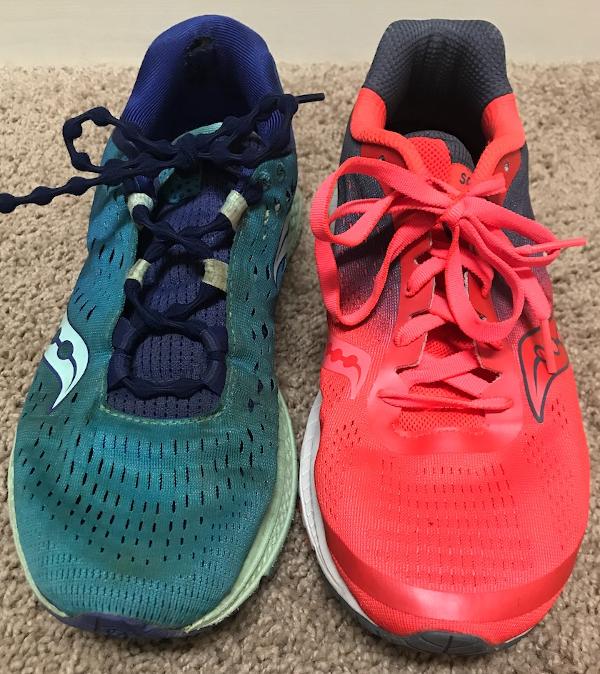 Close up view of the overlay on toe cap (Breakthru 4 on the right)

The engineered mesh upper is lightweight, yet not as breathable as the Breakthru 3. The pores are much smaller on the Breakthru 4, compromising the shoe's ability to release heat. I had a lot of difficulty with this as my feet were perpetually hot while running in these shoes.
Breakthru 4 on the left, Breakthru 3 on the right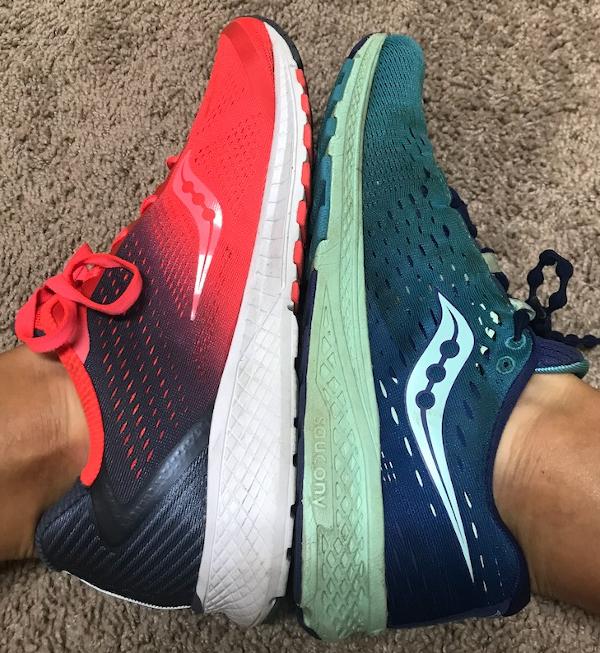 The tongue is very cushioned on the Breakthru 4. Also, the shoelace eyelets are different between the two models. The Breakthru 4 now has eyelets reinforced with overlays instead of sewn loop eyelets.
Unfortunately, the uppers stretched out over a short period, thus compromising the lockdown of the midfoot. I had to tie my laces much tighter to get the lockdown feel I desired, which ended up causing pain to the top of my foot.
Despite being outfitted with flat lace, the positioning and type of eyelets did not distribute pressure across my foot evenly, in my opinion. Also, the tighter I tied my laces to amply lock down my midfoot, the more pressure I had on the lateral aspect of my foot and my 5th metatarsal.
Note the difference in shoelace eyelets. Breakthru 3 (left), Breakthru 4 (right)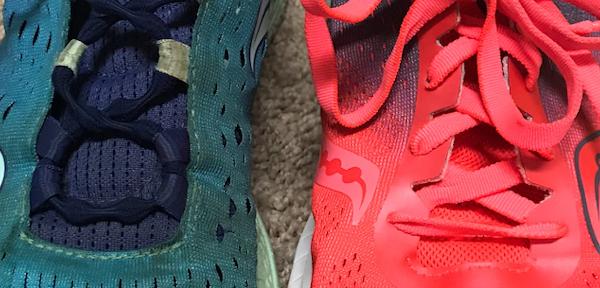 The lace length for the Breakthru 4 is excessively long, but you can always change out the laces as I did for my Breakthru 3s. Moreover, another distinction between the two iterations is the heel counter. The Breakthru 4 now has a molded heel support. This heel counter of the Breakthru 4 is much higher in height and is much more firm than its predecessor.
Notice the heel counter variances. Breakthru 4 (left), Breakthru 3 (right)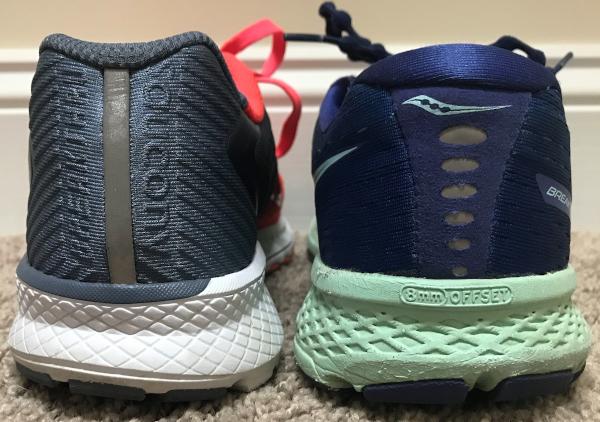 Aesthetically speaking, the Breakthru 4 is not a bad looking shoe. The color schemes of the Breakthru line are very bright.
Though this particular color is deemed "ViZiRed", it is more like a coral pink/orange. The vibrant color certainly does pop!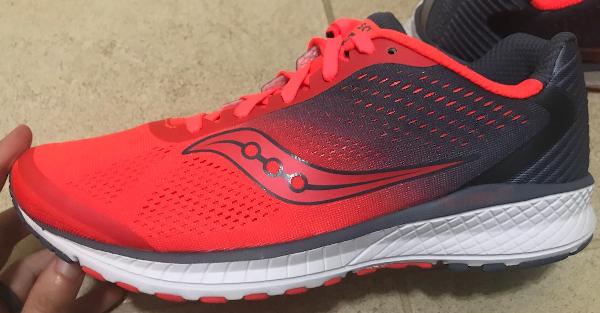 Midsole, topsole, and outsole
Now outfitted with an EVERUN topsole, the Breakthru 4 allegedly now has a breakthrough in cushioning. In my opinion, the cushioning is alright—it isn't overly plush or excessively firm.
The EVERUN topsole is supposed to increase energy return and add extra pep in your step. It also increases underfoot cushioning through your run.
The midsole PWRfoam is moderately cushioned to soften the impact between your foot and the running surface you are running on. Miraculously, the Breakthru 4 is 0.1 ounces lighter in weight than its predecessor.
Lastly, the outsole of the Breakthru 4 is flexible as it is outfitted with Tri-Flex grooves made of blown rubber. These grooves help to increase force dispersion over a greater surface area, allowing for more flexibility and traction of the Breakthru 4.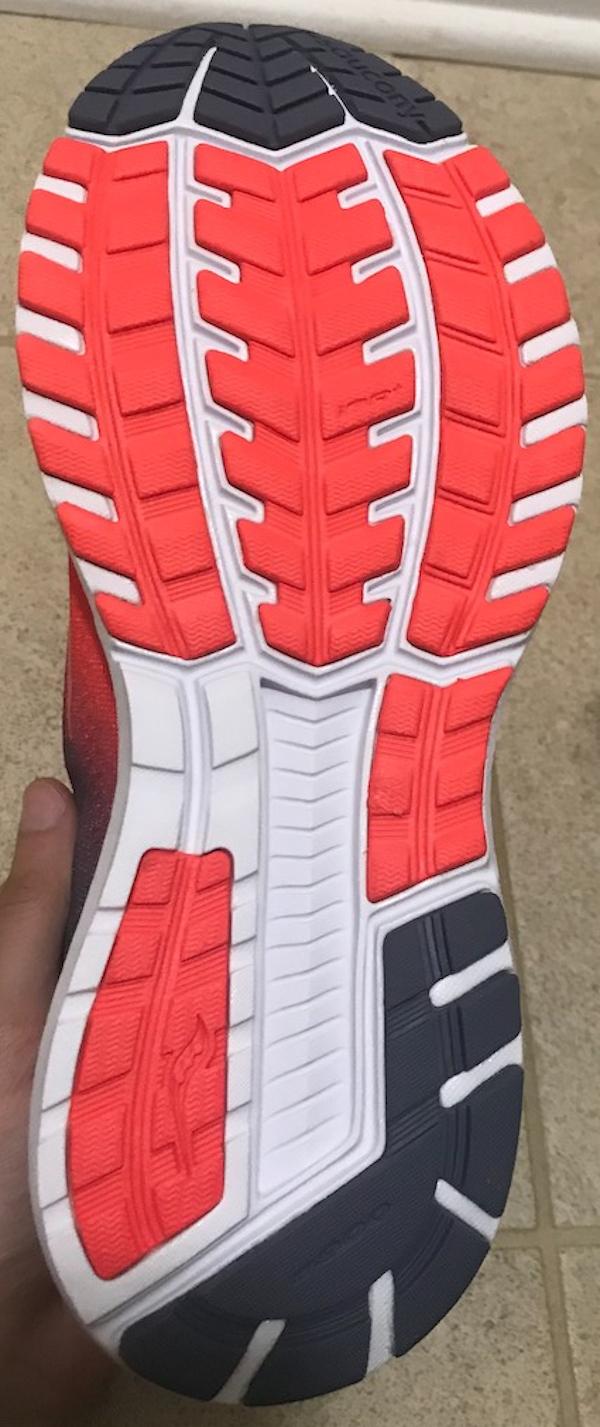 Sizing
There are some sizing inconsistencies for the Breakthru 4. The Breakthru 4's sizing was much different than any other model of Saucony I've run in the past.
Typically, I wear a size 9.5 in Saucony. Yet, oddly, the 9.5 for the Breakthru 4 felt clunky and awkwardly too big.
Unfortunately, I was not able to try on a pair that was half-size or even a full size smaller, but I am not sure this would remedy this issue. If possible, I would recommend trying these shoes on at your local shoe store to find the correct sizing.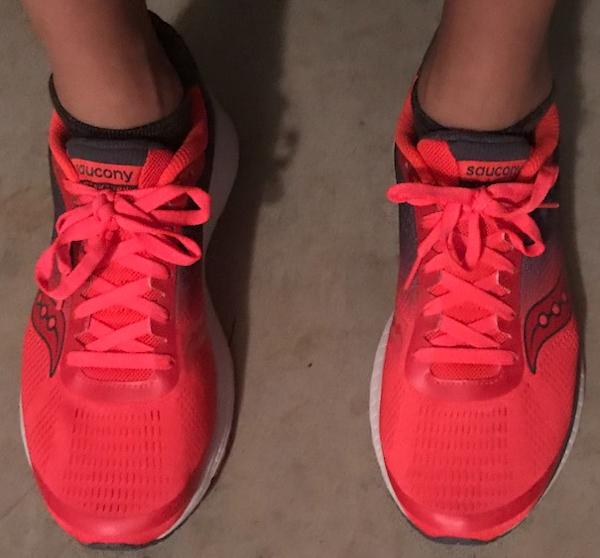 I assumed since I've consistently worn a 9.5 in Saucony for decades that this would be my size, but that wasn't the case for the Breakthru 4.
Here is my size chart of various shoe brands to be used as a comparison in choosing the right size for yourself:
| | |
| --- | --- |
| Saucony | Typically 9.5 |
| New Balance | 9 |
| Reebok | 9 |
| Asics | 9 |
| Brooks | 9 |
| Altra | 9 |
| Nike | 9 |
| Mizuno | 9.5 |
| Inov-8 | 9.5 |
| Salomon | 9.5 |
| On Running | 9.5 |
| Topo Athletic | 9.5 |
| The North Face | 9.5 |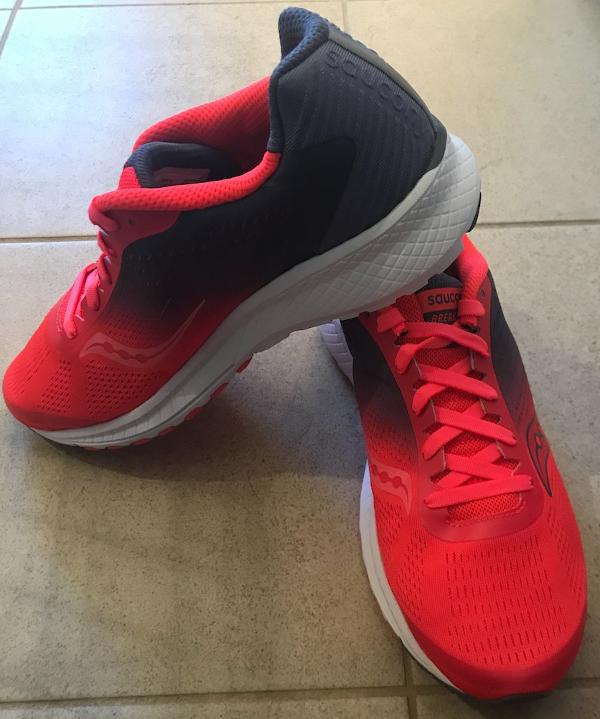 Specifications
Here is a quick break down of the Breakthru 4 road running shoe specifications:
| | |
| --- | --- |
| Weight | 7.4oz/ 210g women's and 8.6 oz/244g men's |
| Heel stack height | 25mm |
| Forefoot height | 17mm |
| Heel-to-toe offset/drop | 8mm offset |
| Type | Road running |
| Pronation category | Neutral |
| Cushioning | Moderately cushioned |
I wanted to note that despite being classified as a neutral running shoe, I felt as though the Breakthru 4 bordered the line feeling almost like a stability or light stability shoe, in my opinion.

Performance & comfort
I've tested the Breakthru 4 on the road, track, and treadmill, and my experience was unique for sure. Let me start by saying that I liked the 8mm heel-to-toe offset of the Breakthru 4 because it's a great balance between the heel and forefoot for me.
I'm not quite ready to run solely in a zero-drop platform because I am easily susceptible to Achilles tendonitis, but I don't care for a high stack height either. An 8mm is a nice middle ground.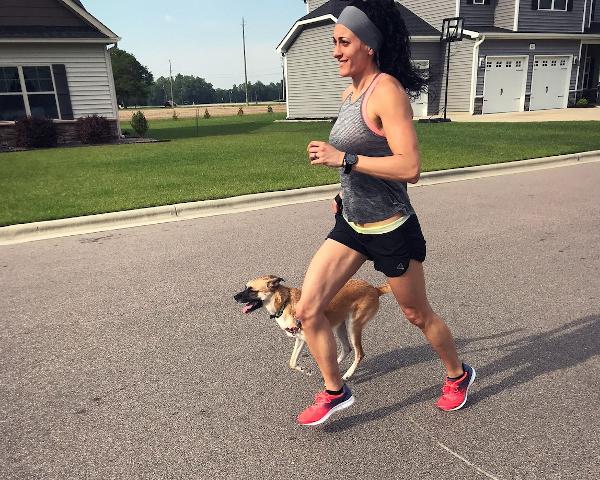 I think I held the Breakthru 4 on a high pedestal after being a super fan of the Breakthru 3. From the moment I put the Breakthru 4s on my feet, they felt rather clunky.
Also, there was definitely a break-in period required for these shoes. I battled some blisters and irritation bilaterally inferior to both my great toes and my first metatarsals, as well as irritation to my fifth metatarsals.
This continued to happen for nearly 20 miles in the shoe before the shoe was "broken in." This was frustrating because I didn't experience any hot spots, blisters, or irritation in the previous iteration of this shoe.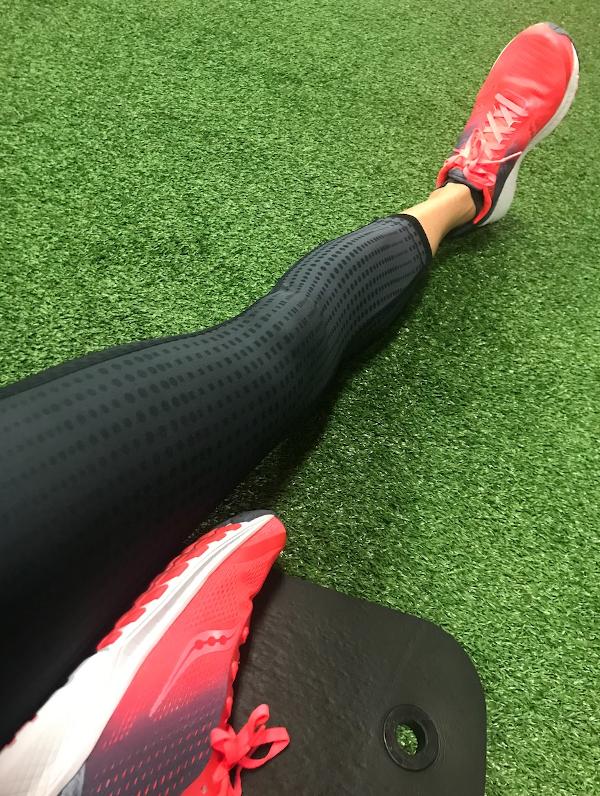 Subsequently, I felt as though the engineered mesh uppers did not breathe well whatsoever. Perhaps, this is why my feet blistered so quickly in these shoes because my feet were constantly sweating in them.
The breathable pores on the upper are much smaller on this iteration, which I believe attests to the inability to release heat appropriately.
My feet were always extremely hot, and they became excessively sweaty in the Breakthru 4. I know, too much information and rather gross, yet I'm just being honest.
After each of my runs, I couldn't wait to get the shoes off of my feet and quickly put on my Oofos recovery flip flops after every single run.
As I mentioned, the breathable pores are visibly smaller on the Breakthru 4 in comparison to the Breakthru 3:
Pore size differences in uppers attest to breathability; Breakthru 3 (left) versus Breakthru 4 (right)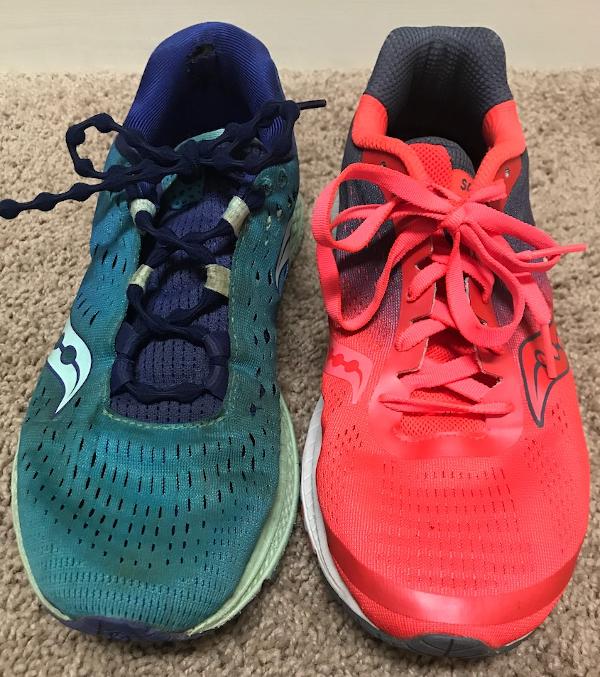 In addition, the uppers stretched out over time. Due to this issue, I had to synch down on my shoelaces to properly lock down my midfoot. This ended up being both frustrating and uncomfortable because the laces were already really long, to begin with.
Furthermore, I didn't feel as though the Breakthru 4 were even close to the responsiveness of the Breakthru 3. Sure, the Breakthru 4 feels a tad more cushioned than its predecessor, yet the cushioning was still on the firm side of being cushioned.
The cushioning was not a problem, but the lack of energy return was. I was initially drawn the Breakthru 4 because of the full-length EVERUN technology intended for a springier and livelier ride.
I am familiar with the EVERUN topsole because I love it obviously in the Breakthru 3, but also in the Saucony Freedom ISO. Unfortunately, the springiness was essentially nonexistent in the Breakthru 4.
I really wanted to like the Breakthru 4, but I did not feel the energy return that was marketed for this shoe.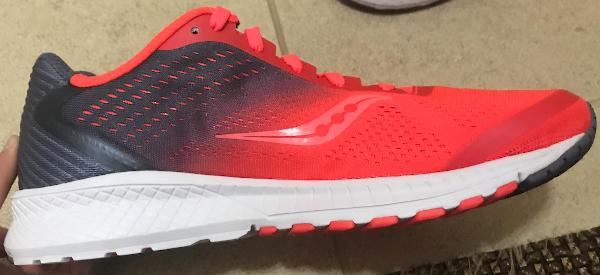 Lastly, the outsole was the most disappointing aspect of them all. The blown rubber showed significant wear at only 50 miles in the shoe.
By 150 miles, I have already retired these shoes to now become strictly lawn shoes. The traction and tread are completely degraded in the midfoot/forefoot area.
Before and after: Extreme wear after only 150 miles!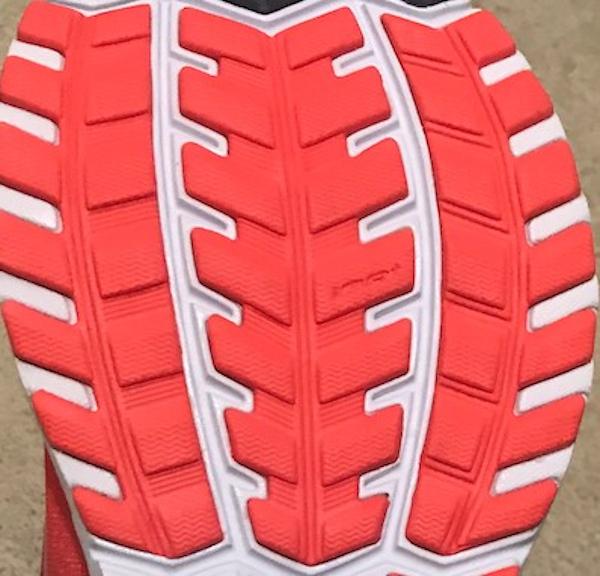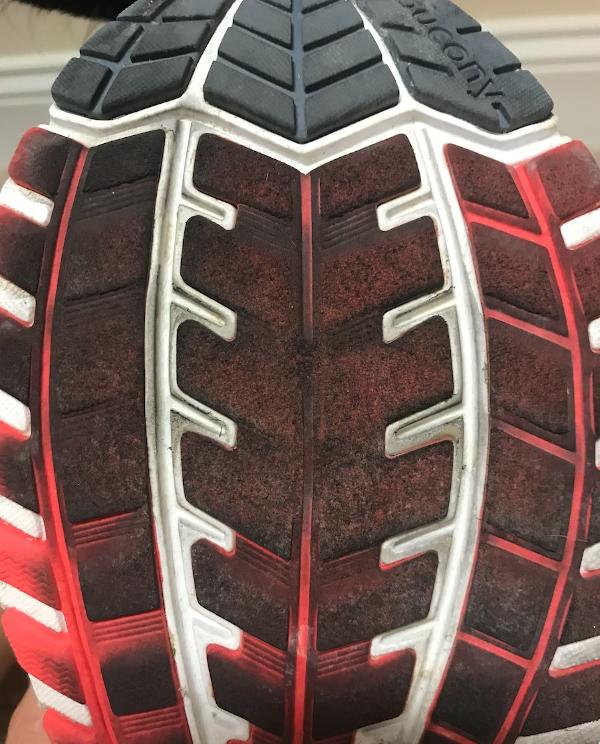 I find it hard to comprehend how the outsole wear differs so immensely between the Breakthru 3 and 4, despite running the same type of activities (road, track, and treadmill).
I ran in the same conditions and even mostly the same running routes in each of these shoes. This makes me wonder why the outsole of the Breakthru 4 had such early wear.
It made me really sad that the longevity of the Breakthru 4 is very short-lived. The tread is completely worn flat in the midfoot region.
Breakthru 3 (left) versus Breakthru 4 (right) outsole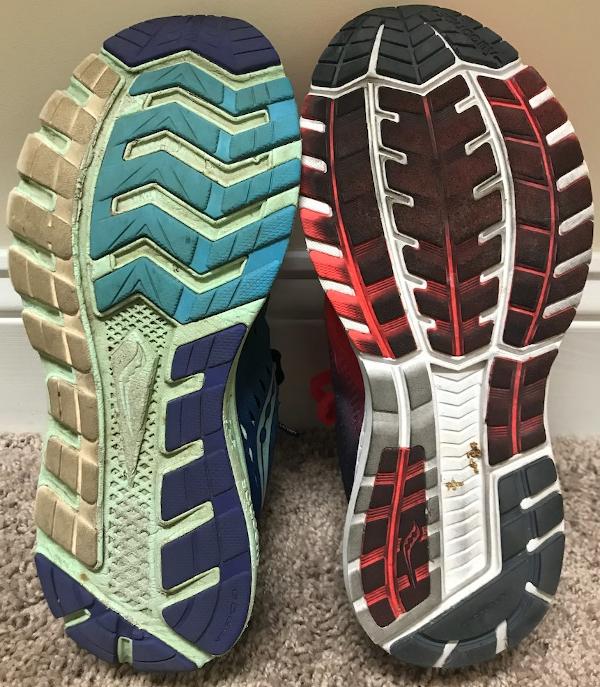 Pros
Lightweight
Somewhat affordable price
Cons
Extremely early signs of wear on the outsole
Shoelace length is excessive
Not as responsive as its predecessor
Feels clunky
Sizing issues
Midfoot lockdown issues
Mesh upper does not breathe well
Completely different ride than Breakthru 3
Break-in period required
Frequent blistering/irritation
Final thoughts
Quite candidly, the Breakthru 4 left me disappointed. I loved the previous iteration so much that I had high expectations for the Breakthru 4. Sadly, this is my first experience with Saucony in which I felt let down.
The Breakthru 4 did not feel anything like Breakthru 3. In addition, my experience was quite frustrating dealing with updates that felt like downgrades.
Unhappily, I have decided to retire my Breakthru 4 shoes after only running 150 miles in them, which is not much for a running shoe whatsoever.
I've owned my Breakthru 3 running shoes for nearly two years and put in well over 300 miles in those shoes, and they still have tread-life on the outsole! I loved my Breakthru 3 shoes so much that I put holes in them from running in them so often!

If I had to choose one shoe, I would have most definitely chosen the Breakthru 3 over the Breakthru 4 without a shadow of a doubt. I'm all for upgrades, but the changes made from the Breakthru 3 to the Breakthru 4 made me question if I was even running in the Breakthru line all-together.
I am not certain what direction Saucony is going with the Breakthru line, but there are some issues that they need to address.
Until a few months ago, I ran for most of my runs on Kinvara, but I wanted to try a less pricey shoe with a higher drop and possibly more cushioning.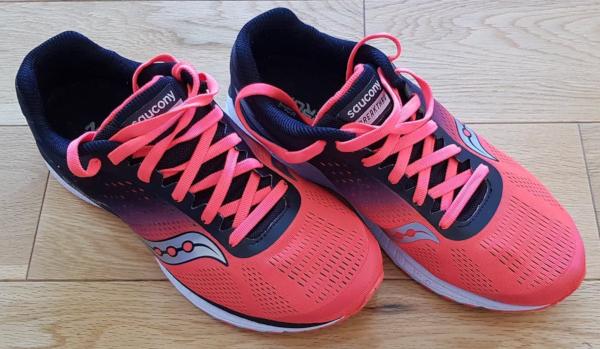 Runner profile & workouts
Saucony Breakthru is a light everyday trainer, fairly fast shoe, not heavy but not too cushioned either. You can run in a wide range of paces with Breakthru, from your steady run up to slow runs if you don't fancy a big cumbersome shoe.
But, if you would like to stay in the same brand for fast days, 10k or shorter distances, Saucony offers lighter alternatives such as Kinvara and Fastwich.
Size UK 7 weights 252g, which does not put them in the lightest shoe realm but cannot be classified as heavy. A good halfway, more in the light side.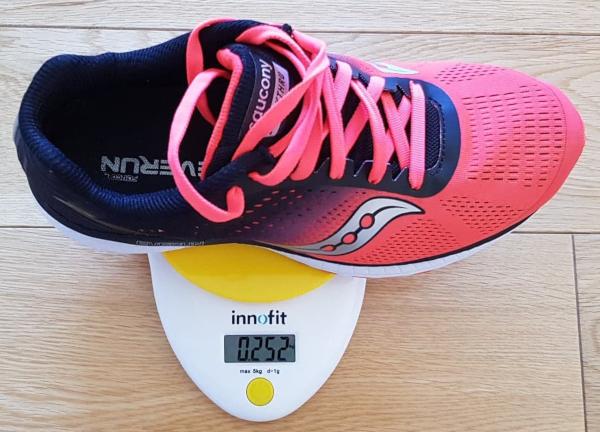 Fit
If you already run on Saucony or already tried any other model, you won't find any surprise. I'm UK 7 on all Saucony range, Breakthru included.
In terms of toe box, I find it a tad smaller than Kinvara, my foot if fairly wide but I don't find these shoes tight at all. If comfortability is your biggest concern, then you may consider Saucony Ride, which gives also more cushioning but at expenses of pace.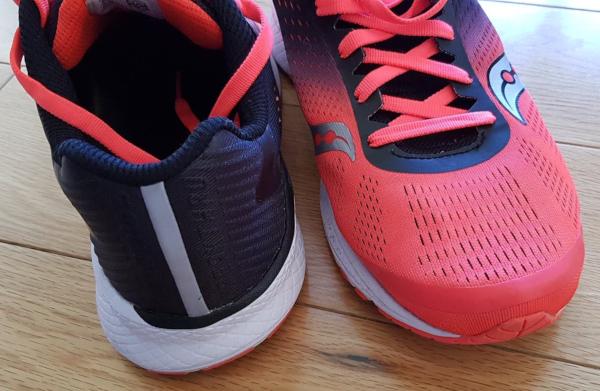 Durability
I ran only 30/40k on Saucony Breakthrough but it does not look like a durable shoe, I would estimate its durability as average, without big expectations.
In the Saucony range, I would estimate its durability longer than racing Fastwitch, but shorter than Ride and Kinvara.
Design
Well, if you give a lot of importance to the look, probably you wouldn't consider the Saucony range.
From this point of view, my personal opinion is that Saucony can improve a lot. I liked their colors range, but they are still far from Nike's, Adidas' and Brooks' captivating look.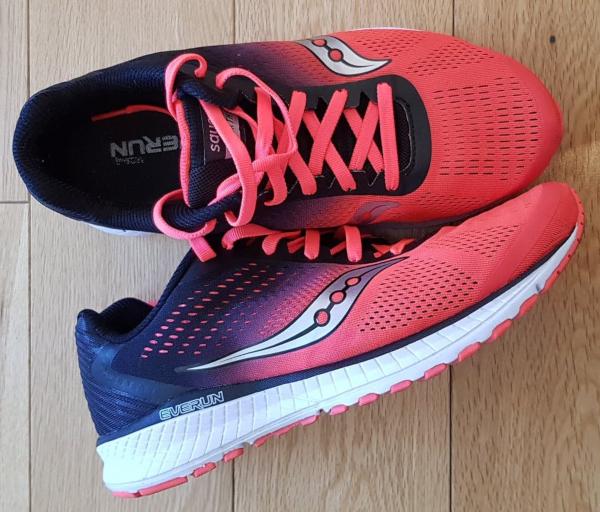 In terms of ride, they are neutral without much support. You feel the feet completely free without any cumbersome outer sole support. Also, in terms of cushioning, its a good compromise between pace and cushioning.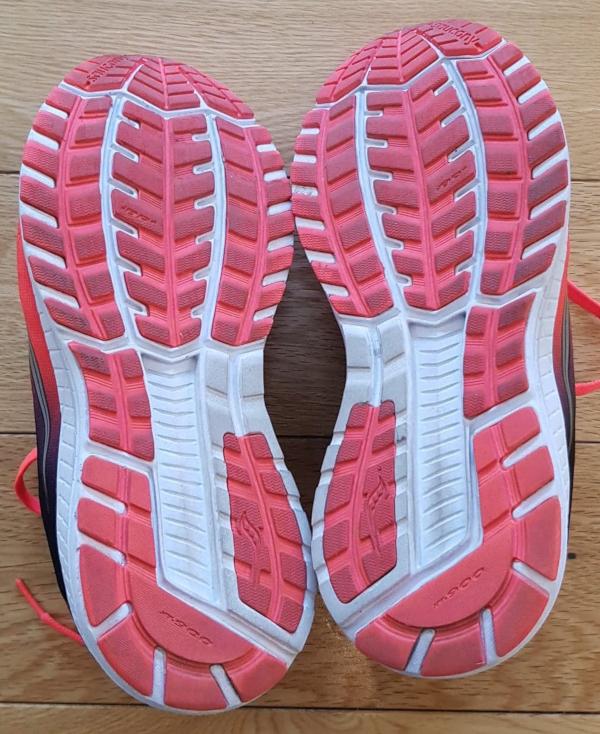 Comparison
I think the most similar shoe to Saucony Breakthru that I tried is Adidas Boston Boost. The Boston Boost has a slightly smaller toe box but the upper mesh is softer than Breakthru.
Otherwise, other shoes that I put in the same league of Breakthru is the Brooks Launch. The latter in theory have a bigger toe box but I always get some disturbing chafing and the tendency to develop black nails.
Between the two, I feel that I have a more natural ride with Breakthru, while Brooks Launch is more supportive and you can feel the whole 10mm drop. Kinvara, compared to Breakthru, is more a race day shoe, with a lower drop a tad less cushioning.
Pros
Fast and versatile everyday trainer
Natural ride
Cons
The look can be better
Not much cushioning
Conclusion
Saucony Breakthru is a neutral running shoe that lets you have a very natural ride.
It's an everyday running shoe more in the side of fast runs than easy, and if the Kinvaras low drop makes you tired, or you are rotating shoes with a low drop, Breakthru is definitely an option to consider.
Updates to Saucony Breakthru 4
The Saucony Breakthru 4 is a running shoe that's designed for the neutral runner. It is an update to an established series that's lauded for its capacity to provide a versatile performance on the roads. While the silhouette looks similar to the Breakthru 3, it has been updated with a more secure construction and a set of printed overlays.
The main midsole foam offers responsive cushioning and shock attenuation. But it's not alone in ensuring a smooth underfoot experience. A topsole that's coined as EVERUN is added to encourage bouncy steps and a return of energy.
The outsole unit of the Breakthru 4 has 3 points of flexibility. This combination of flex grooves and surface patterns makes sure that the foot can transition through the gait cycle with ease and comfort.
Size and fit
The Saucony Breakthru 4 is true to size. It welcomes the preferences of consumers when it comes to length. The available width for the women's version is B – Medium while for the men's iteration, it's D – Medium. It has a semi-curved shape that is similar to that of the human foot.
Outsole
XT-900 is a rubber compound that's crafted to be durable and long-lasting. It is placed in the heel area for optimum protection against wear and tear. It also provides surface traction. This durable rubber material is also used in the outsole of the Saucony Cohesion 12.
The forefoot section of the Saucony Breakthru 4's outsole has IBR+, which is made out of blown rubber. Aside from providing traction, its purpose is also to deliver some additional responsiveness to every step. This material is known for its pliable and soft composition.
Tri-Flex is an outsole design that focuses on the flexibility of the foot. It fundamentally allows the platform to bend in conjunction with the metatarsals, thus accommodating the natural movement capacity of the wearer.
Midsole
PWRFOAM is a cushioning unit that's created to attenuate impact shock during the landing phase of the gait cycle. It eases the pressure generated by the foot-strike and muffles the strain that it causes to the lower extremities of the body.
The EVERUN full-length topsole is placed on top of Saucony Breakthru 4's primary foam unit. This material is springy, and it encourages energized steps. It doesn't stiffen the platform because it has a reactive nature.
A foam footbed affixes more cushioning for the underside of the foot. It can be removed or replaced with any custom orthotic or auxiliary insole.
Upper
The Saucony Breakthru 4 features engineered mesh on its upper. This breathable material takes the form of woven cloth, with closely knitted sections and ventilation pores for added breathability. Moreover, it doesn't have a substantial weight, and it doesn't limit the natural movement capability of the foot.
Overlays are printed onto integral sections of the façade. These thin strips of synthetic material heighten the structure and durability of the upper. They also help in holding to foot in place and keeping it secure.
A molded heel support structure holds the back of the foot during the activity and prevents it from wiggling inside the shoe-interior. It also makes sure to shun accidental shoe-removals.
A soft lining helps the rest of the upper in embracing the foot. It makes the runner feel a smooth and irritation-free experience in the foot-chamber.
A traditional lacing system graces the Breakthru 4. It sanctions the quick-and-easy tightening or loosening of the fit. Flat shoestrings allow a tight lockdown that's easy to adjust yet hard to mess up.
Popularity
The current trend of Saucony Breakthru 4.