6 best triathlon running shoes
Updated July 2018
Based on 525 reviews
Loading please wait...
What are the features of a triathlon running shoe?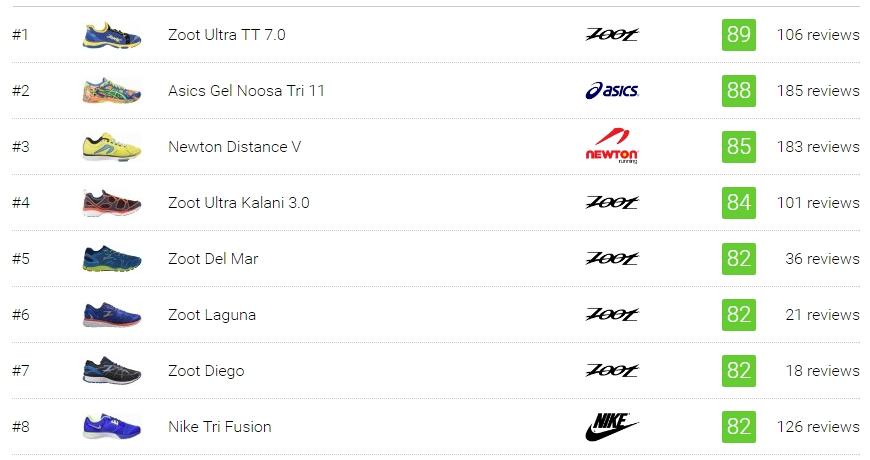 Quick lacing scheme. Ideally, most triathlon running shoes have quick lacing system that allows quick foot entry during transition. Some triathlon shoes come with elastic laces that don't require tying. Some of them also lack the traditional tongue.
Seamless upper. Most of the triathlon shoes have seamless upper. It is designed to give excellent comfort while running. While some runners are comfortable running with socks, there are some tri-athletes who are more comfortable without them. Thus, the shoe must be comfortable enough for long runs. It must also prevent irritation and blistering.
Lightweight construction. The weight of the shoe affects the performance of the runner. Having a lightweight and fast running shoe helps runners to increase its pace and performance.
Finding the best triathlon shoe
Size and gait. In finding the best triathlon shoe, it is important to pick the shoe that matches to your running gait - neutral, over pronation or supination. Getting the correct size is also necessary. Having enough room for the foot to swell a little would be perfect.
Weight and comfort. Triathlon shoes should be lightweight, fast and comfortable. They are designed for triathlon purposes and you need to determine which works best for you depending on your running style and preferences.
What differentiated best triathlon shoes from the worst?
Comfortable. Best triathlon running shoes are comfortable to wear. They have seamless internal fit, giving a sock-like, comfortable feel while running. Most of them also have drainage system that keeps the shoe from retaining water.
Enough cushioning. The best triathlon running shoe delivers the right amount of cushioning. It should not be too soft and not too firm. It should be enough for your weight and for high mileage runs.
Durable. Durability is one of the features that set a best triathlon shoe from the worst. Best running shoes have impressive technologies and they are made from durable materials designed for long-term use.
This shoe has recently been added to RunRepeat. There are still not enough reviews for us to assign it a
Corescore
.
Corescore
A score from 1 to 100 that summarizes opinions from users and experts. The average Corescore is 78.
More...