Overall ranking lists
Similar ranking lists
Sneakers have gone a long way since its inception in the 1800s, but it is great to know that most of today's modern footwear stemmed from the sports of running. In fact, the first ever sneaker innovation – the spikes - was invented to enhance the athlete's speed and stability while running on difficult terrain. Moreover, today's most popular sneaker brands like Nike and Adidas started off manufacturing shoes with the purpose of improved running.
Initially manufactured for athletes alone, running sneakers started to become a household must-have with the idea of physical fitness through running at one's leisure time. It then became so popular and widely preferred due to its beneficial purposes compared to the regular kick, and not to mention its wide variety of stylish designs. Most shoes released in the last decade have been based or at least inspired by the running shoe.
Today, in between the ultra minimal and vibrant sneakers are casual footwear inspired by retro running shoes that have not only captured the spirit of the tracks, but also the streets. These casual sneakers with running roots are generally called running sneakers.
General Characteristics of Running-based Casual Kicks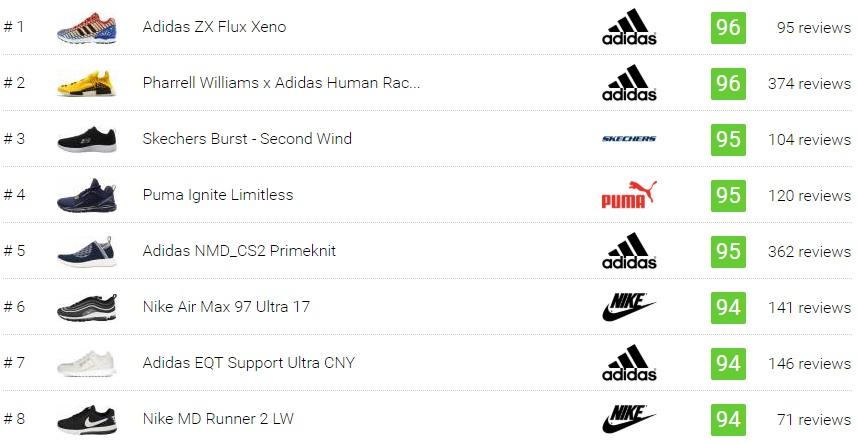 In today's broad spectrum of sneaker variations, running sneakers can be distinguished through a number of standard attributes that can be broken down into three parts – upper, midsole, and outsole. Customarily, running sneakers are modeled after previous releases that were created with the sport in mind and therefore will have more technical elements to its design and could pose to be beneficial for everyday use.
Most, if not all brands carry a running-inspired pair with these characteristics; hence it would be wise to know the basics to guide you in the search for your next running-inspired kicks. Below are detailed descriptions of the anatomy of a running sneaker.
Upper
Most materials used in a running sneaker's upper are generally light and breathable yet durable for a comfortable and stable ride. Examples of the textiles frequently used are mesh and nylon or sometimes with a combination of leather accents for stability and structure. It is also streamlined and minimal in form to avoid adding unnecessary weight.
In recent years, with the help of technology advancements, uppers that offer a lighter, more breathable sock-like fit have been more apparent on the latest running sneaker releases. Nike's FlyKnit and FlyWeave and Adidas' Primeknit are some of the most popular upper constructions today. Commonly used as lifestyle footwear, it is also worth noting that running sneakers are also offered in low, mid, and high-top profiles that mostly serve visual purposes.
Examples of some running sneakers that feature a lightweight and breathable upper are the Adidas EQT Support ADV Primeknit, Nike Air Max 1 Ultra Flyknit, and Asics Gel Kayano Trainer Knit.
Midsole
The midsole is an essential part of the running shoe as it serves as the feet's protection from impact and provides support too. In a typical vintage running shoe, materials used in the midsole are EVA or Polyutherane, which are shock-absorbent and lightweight.
With today's technological progress, the midsole now fulfills another duty as it houses countless innovations to enhance comfort in every step. Footwear companies have been naming their different midsole offerings: Nike has their latest foam cushioning called React, along with Shox and Air cushioning, Ecco has their BIOM tech and Adidas with Boost. Each of this midsole contraption serves different functions such as responsive ride, impact reducing, foot stabilizing, and many more.
Apart from staying true to its heritage, running sneakers have retained the importance of the role of the midsole to entice casual wearers with the idea of utmost comfort in an everyday casual setting. Some examples of running-inspired sneakers with superb midsole comfort are the Adidas Y-3 Pure Boost, Ecco BIOM Fjuel Racer, New Balance 1300, and Nike Air Max 90.
Outsole
Running shoe outsoles are usually crafted from two types of rubbers: carbon and blown rubber. Most modern running shoes have flex grooves for flexibility and make the heel-to-toe transition smooth and efficient. For running sneakers, just like other lifestyle kicks, the importance put on the outsole is not as great as that of the upper's and midsole's. Despite this, it is worth noting that the running sneaker's outsole is commonly derived from its athletic roots and normally provides excellent traction and grip.
Some of the recent running sneakers that have maintained the retro running shoe's outsole are the Asics Gel Lyte III, Saucony Grid 9000, and New Balance 574 Core, while newer outsole designs have been presented by shoes like Nike Air VaporMax Plus and Adidas NMD_R1.
Why opt for a pair of Running Sneakers?
Although running sneakers are not designed to perform in any sports activity, it is still patterned and based on a running shoe's DNA. This means that running-inspired sneakers incorporate some of the performance shoe's attributes in its structure while exhibiting a stylish demeanor trendy enough for everyday casual use. Listed below are some key benefits that running sneakers offer in a day-to-day setting.
Provides more cushioning and support

Performance running shoes focus more on providing the wearer ample amount of cushioning and support to absorb impact and protect the feet during the rigorous activity of running. Naturally, most sneakers that took after running shoes have retained this trait and proved to be advantageous for daily use.

Breathable and weighs less

In traditional running shoes, every ounce of weight is crucial as it adds strain to the feet and legs. Hence, running shoes are purposefully engineered with lightweight and breathable materials to provide utmost comfort. This feature extends to the running-inspired lifestyle sneakers.
Puma Ignite Limitless, Reebok Classic Nylon

Wide variations of heel-to-toe drop

Racing shoes offer an array of heel drop measurements to cater to the different biomechanics of the foot. Heel drop measurements basically mean that if you typically land on your forefoot first, you need a lower heel drop. And if you land midfoot or on the heel, you need a higher heel drop. Each foot is uniquely shaped and having these options applied to a lifestyle sneaker are therefore very convenient and essential for everyday use.
Valuable Points to Consider When Selecting your Next Running-inspired Lifestyle Shoes
Once you have made up your mind that a pair of running sneakers should be your next purchase, the next step would naturally be familiarizing one's self with the different types of running sneakers available in the market.
Here are some factors to consider when choosing a new pair of running sneakers:
Upper Material and Construction
Running sneakers, in general, utilize light and breathable materials with minimal construction. Keep in mind that brands could switch up a specific shoe model's upper material depending on the colorway.
Mesh

Shoes crafted from mesh material offer a lightweight and breathable fit as it is a fabric material that is stretchable with closely spaced holes.
This material is frequently utilized in shoes with one-piece and sock-like constructions due to its flexible nature.
In modern running sneakers, the mesh material is frequently either woven or knitted to form a one-piece, sock-like construction that provides less irritation to the foot.
Most brands use leather in combination with mesh for more structure and support.
Examples: Adidas Tubular Runner, Nike Roshe Two

Nylon

Nylon material's appearance looks more condensed when compared to mesh, offering a more durable build.
It is also used in one-piece and sock-like uppers specifically in Nike's FlyKnit tech due to its durable composition.
Nylon is also generally utilized in combination with leather for a more sturdy and supportive fit.
Examples: Nike Cortez Basic Nylon, Saucony Bullet

Leather

This material is the oldest fabric used on a sneaker, which explains why most retro running sneakers have a leather upper.
It is very durable and offers a sturdy ride.
Could be faux or real leather.
Examples: Nike Shox NZ, Brooks Addiction Walker
Cut and Style
Note: As with any other lifestyle sneaker, it is a common practice for brands to release updates of a specific model in varying cuts and styles.
Low-top (collar is below the ankle)

Most running sneakers are manufactured in this cut. It is crafted with lesser materials and often lighter and more cheaper.

Mid-top (collar sits right on top of the ankle)

This is the second most popular when it comes to running sneakers' cut. It is not as preferred as the low-top running sneakers, but most consumers favor it for visual purposes and a more secure fit.

High-top (collar stretches over the ankle)

Running sneakers in this cut are limited. Nevertheless, consumers prefer high-tops for its added protection and warmth, especially in colder seasons.

Silhouette
Colorway

This is an essential part of choosing your next running sneaker as it could make or break the shoe's design and your outfit. Moreover, the shoe's colorway has been proven to be at times the reason for a shoe model's success.
Nike Air Max 90 in Infrared, Nike Flyknit Trainer in Volt
Support
In addition to providing comfort, sneakers with the right amount of support could play a significant role in helping with physical issues like plantar fasciitis, pronation, shin splits and plenty more, especially if you are on your feet most of the time. The type of lifestyle sneaker that offers the most support are running sneakers, as it retains some of the features of a performance running shoe. Companies responded to unique physical issues by developing different technologies to aid in the wearer's condition. Check some of the brands' common innovations and their purposes at the end of this page.
Price
Brands have made sure to manufacture different products with a wide price range to cater to different consumer types. Hence, no matter the budget you have set for your next purchase, you will find a pair of running sneakers for you.
Low to average-priced running sneakers (Below $100)

Most running sneakers in this range have a low-top construction, while some mid and high-tops are also included.

Reasonably priced to slightly expensive running sneakers ($100.01 - $150)

Shoes from this price group are usually crafted from top-grade materials or exhibit a modern style.

Premium ($150.01 and above)

Most running sneakers that fall under this price bracket are either collaborative sneakers or made with premium materials or decked out in exceptional detailing and innovation.
Some of the most iconic and classic Running Sneakers of all time
Running shoes are built to provide comfort and protection to the wearer's feet while engaged in the strenuous and repetitive activity of running. Today, lifestyle sneakers have adapted the running shoe's attributes for its comfort and performance benefits. These running-inspired lifestyle sneakers are used for everyday use in an urban setting and have seamlessly fused style and innovation. Let's take a trip down memory lane and visit some of the most iconic running sneakers that have set the bars high and paved the way for today's modern running sneaker. Here's a list of some of them:
Nike Waffle Trainer (1973)
Background
In the 70s Bill Bowerman, one of the founders of Nike was looking for a running shoe that would perform well on an artificial surface. His search didn't produce any results, so he experimented on his own and eventually came up with the waffle outsole.
Released in 1973, the Waffle Trainer was the brand's first pair of running shoes. It was responsive and performed well on uneven surfaces.
Design Features
The Nike Waffle Trainer is known for its waffle iron-molded outsole with small bulbs that stick out for grip and traction.
Its upper is crafted from nylon with Nike logos on both sides. This allowed for a lightweight and comfortable fit.
Today, the Nike Waffle Trainer has been reinterpreted in various ways including some modern updates.
Contributions to Sneaker Culture
The Nike Waffle Trainer's outsole is the first major sneaker innovation in sneaker history. Most athletic shoes' outsoles were flat before the Waffle Trainer. The small knobs that protruded provided excellent grip on various surfaces and introduced the idea that outsoles could absorb impact too.
The waffle sole was used in a number of other Nike products such as the Nike Elite, Nike Tailwind, and American football shoes.
New Balance 574 (1988)
Background
Design Features
The New Balance 574's upper utilized a combination of suede and mesh materials.
Vibrant colorways of this model helped establish its reputation in the sneaker world.
It features the brand's ENCAP cushioning system for comfort and protection.
Contribution to Sneaker Culture
The 574 is available in an incredible amount of colorways that gave people a diverse selection of styles that every sneaker fan has their favorite.
Onitsuka Tiger Mexico 66 (1966)
Background
It is a reissue of Onitsuka's most popular shoe called the Onitsuka Limber.
First introduced in the pre-trials for Mexico's Olympic games.
One of the brand's first pairs to feature their stripe logo.
Design Features
The Onitsuka Tiger Mexico 66 is crafted from full grain leather.
Aside from its recognizable Onitsuka stripe logo, this pair's T-toe construction is also one of its distinct features.
The Fame of Onitsuka Tiger Mexico 66
The popularity of the Onitsuka Tiger Mexico 66 catapulted when Bruce Lee was seen wearing it in a yellow colorway during a fight in the movie Game of Death.
Uma Thurman also wore this kick in the same colorway in the movie Kill Bill as a tribute to Bruce Lee. This helped introduce the shoe to a new generation of sneaker fans.
Celebrities and public figures have also been spotted rocking the Onitsuka Tiger Mexico 66, including Jared Leto, Jake Gyllenhaal, Kristen Stewart, and Prince William of Wales.
Nike Cortez (1972)
Background
Conceived in the mid-sixties and designed by Bill Bowerman, the Nike Cortez was introduced in 1972 as the ultimate training shoe for the long distance runner.
Design Features
The Nike Cortez was first released with a leather upper, but the brand's quest to provide a lightweight kick led them to release multiple variations of the shoe's upper material such as nylon.
Nike Cortez's Fame
The Nike Cortez has had a fair share of its time in the spotlight. Farah Fawcett in the hit show Charlie's Angels wore a women's version of the shoe called the Nike Cortez Señorita.
The shoe was also featured in the highly-acclaimed movie Forrest Gump and the comedy series Seinfeld.
It also became a mainstay amongst the urban youth especially the break-dancers, LA rappers and youth.
Asics Gel Lyte III (1990)
Background
Developed by Asics designer Shigeyuki Mitsui, the Asics Gel Lyte III became the brand's most recognizable silhouette in its entire collection.
It took all the great features of its predecessors such as the lightweight construction and the GEL technology and added next level details that made it to the ranks of classic footwear.
Design Features
The Gel Lyte III introduced the split-tongue design for a contoured fit and better stability. It contracted and sealed the foot in a comfortably snug manner.
It also featured triple density sole and a visible GEL cushioning technology.
The shoe's design exhibits a chic athletic style that helped in the transition of the kick into the lifestyle arena.
Asics Gel Lyte III's Double Life
This pair was designed with efficient running performance as its utmost priority, but sneakerheads have also coveted this shoe, even after decades since its inception, for its stylishly timeless design.
Nike Air Max 1 (1987), Air Max 90 (1990), Air Max 95 (1995)
Background
The Nike Air Max range is a running-inspired set that is regarded as a revolutionary range as it is the first collection of shoes that featured a transparent midsole that showcased a brand's technology, in this case, the Nike Air tech.
Design Features and Their Significance
The Nike Air Max 1 was considered a ground-breaking design as it is obviously the first of its kind wherein it featured the visible Air technology.
The Nike Air Max 90 is the third release from the line and features more air than previous models, which provided more comfort. It is also bolder when it came to colorways and design, which aided Nike in entering the world of fashion.
The Nike Air Max 95 is the first kick to feature the visible Air tech in the heel as well as in the forefoot offering outstanding cushioning and comfort. It also came in a black midsole, which further pushed boundaries of shoe design.
Nike Air Max and Pop Culture
The Nike Air Max shoe has been highly regarded by most sneaker fans that Nike designated a day to celebrate it. Every year, on March 26 sneaker fans commemorate the Nike Air Max Day.
Significant Collaborations
Sneaker collaborations are a thing of a recent phenomenon, but it further established the sneaker culture in ways never seen before. Footwear companies tap on different personalities, from athletes to designers and artists, to work together in designing a shoe. These collaborations are usually released in a limited number of pairs, which creates further ruckus amongst die-hard sneaker fans.
While most popular collaborations in history are mainly on basketball sneakers, the simple and essential design of a running sneaker also attracted personalities and sneaker fans alike. Below is a list of some of the collaborations made between a brand and a significant figure on a running sneaker:
Patta x Asics Gel Lyte III
Patta is a store that is based in Amsterdam that caters to anything streetwear. They have been releasing collaborations in partnership with Asics, specifically on the renowned Asics Gel Lyte III since 2007.
Patta and Asics have released at least three iterations of the Asics Gel Lyte III. Its limited nature and unique colorways have resulted in quick exhaustion of available pairs.
Chanel x Pharrell Williams x Adidas NMD Human Race
Adidas' NMD range is generally a collection that is sought after by most sneaker fans today. Add a luxury brand, and a famous musician to the mix and sales will surely get crazy high, which is what exactly happened in the Chanel x Pharrell x Adidas NMD Human Race collab.
This pair was exclusively released in a Chanel temporary pop-up shop in Paris in December 2017.
The shoe was made available at USD 1,160, but because of the ultra-limited pairs coupled with a lot of hype from sneaker fans reselling prices was unbelievable. Lowest reselling price was $7,500, the average was at $11,791, while highest sale reached a whopping $25,000.
Reebok Classic Leather x Kendrick Lamar
Kendrick Lamar's storytelling abilities are not only apparent in his music but also in his other endeavors. In this case, Lamar's collaboration with Reebok transcends superficial qualities through his call of unity and equality amongst violent gang organizations in the US.
Lamar's fame coupled with his established reputation in hip-hop made quite a commotion in the sneaker scene.
Reebok and Kendrick have released a number of other pairs since their initial collaboration in 2016.
Undefeated x Nike Air Max 97
Undefeated is an established streetwear brand that has been on the scene since 2002. They have collaborated with multiple brands, but their latest collaboration with Nike has been one for the books.
Nike and Undefeated released their collaboration on the Air Max 97 in mid-2017.
Launched at a price of $180, its high demand caused reselling prices to soar. The lowest reselling rate is reported to be $210, averaging at $330, and highest at $699.
Frequently Asked Questions
Here we compiled some of the most asked questions regarding running sneakers. Provided herewith are answers to aid in your search for your next pair.
Are running sneakers and running shoes the same?
Simply put, running sneakers are lifestyle-based footwear that took after any attribute of a performance-based running shoe. It could be the lightweight and minimal construction, or it could be a technology inspired by running.
Running sneakers are not fully engineered for the activity of running, but they provide more cushioning and support than a regular sneaker, making it beneficial for everyday use.
Can running sneakers be used in light physical activities?
Although running sneakers are not fully equipped with running features, it contains a number of attributes that could work efficiently in light physical activities such as walking and Zumba. Keep in mind that each foot has its unique condition and needs. Hence, observing and figuring out if a particular shoe meets your personal requirements require a good amount of trial and error. Each experience is unique and individual that a specific running sneaker like the New Balance 990 could work great for you but it might not for the next person.
Where to purchase a pair of running-based casual shoes?
Most leading sports brands offer running sneakers as part of their product inventory. In fact, Nike, New Balance, and Saucony's first manufactured footwear were running shoes that eventually crossed into the lifestyle arena and ultimately paved the way for running sneakers. Below is a list of brands that offer running-inspired sneakers.
How did running shoes turn into lifestyle shoes?
When sneakers first came out, it was considered a luxury item, as rubber was expensive during those times and leisure was rare. This meant that sneakers were only worn by the elites. Then as the 20th century began, fitness and athleticism became popular and sports brands started to pop out of everywhere. But it was not until the Nike Cortez was released that the sneaker began to be associated with casual everyday use.
Released in 1972, the Nike Cortez is a running shoe that came in a variety of colors and donned the iconic Swoosh logo for the first time. Olympic participants were clad in Nike Cortezes. Non-athletes started to take notice and purchased the shoe with the intention of standing out from the crowd. Other brands saw the potential and grabbed the opportunity to do the same.
Today, sneaker releases are met with the same fervor, if not more enthusiasm as that of fashion shows. Sneaker fans line up outside retail stores days before a shoe's scheduled release, and some are even willing to pay ridiculous amounts of money for reselling prices.
How to care for your running-inspired classic shoes?
Just like any other footwear, your running sneakers need proper care for it to last longer and get the utmost value for the money you spent. Cleaning your shoes depend on what material you are dealing with. Below are tips on how to care for your pair:
Remove sock liners first before cleaning shoes - Given that your shoes have removable sock liners, it is essential to remove them first to clean your pair from the inside out thoroughly.
Clean immediately after getting dirty - Dirt and stains are easier to remove when they are new. The longer they sit on your shoe, the more they dig into the materials, which makes it harder to clean.
Keep white laces looking crisp - To clean a pair of white laces, just make a mixture of hot water and bleach and leave the laces soaked for a couple of hours. Laces should look fresh and clean afterward.
General cleaning for less sensitive shoe materials - Most sneakers can be cleaned with a mixture of warm water and detergent. First, soak your kick in the mixture for at least 15 minutes then spot clean dirt and stains with a brush. After dirt and stains are removed, rinse shoes with cold water then pat dry with a towel and let it air dry.
Cleaning suede material - Suede tends to show wear faster than other materials so doing this extra step is essential to get more prolonged use out of your sneakers. After performing the steps of general cleaning stated above, apply a coat of suede protector spray to protect the material from wearing out. Suede protectors are readily available in sneaker stores.
Cleaning leather material - One thing you should never do when washing your leather shoes is to clean it using the washing machine. This can damage your kicks and shorten its lifespan. To clean your leather sneakers, first, wipe out any dirt or mud then get a cotton or microfiber towel and an ivory soap and brush. Work up a lather and brush shoes in tiny circles to get rid of stains and dirt. If you're satisfied with how your kicks look, let it sit and dry.
Get rid of that funky smell - If your shoes start to get smelly, you have to wash it first by following the steps above. Then these extra steps should do the trick: after it fully dries put your shoes in an enclosed box with baking soda or stuff dryer sheets in them overnight. Voila! Your sneakers should smell fresh and clean again.
Store your pair in a cool, dry place - To get extended wear out of your running sneakers, storing them in a cool and dry place is the key. Letting them air out properly keeps the moisture away, which is the culprit for rapid disintegration of your shoe's materials.
How to style running sneakers?
If you think you're not the sporty type and have been dreading the thought of dressing your running sneakers for every day or wondering how to look cute wearing sports-inspired kicks, then here are some useful tips you could try.
If you are not sure where to start, it is recommended to opt for a low-top running sneaker in a monochrome colorway first. This way it would be much easier and less daunting to pair with a myriad of casual outfits.
If you are into sporty looks or would like to add oomph to your look, sneakers that come in mid- or high-tops offer precisely these.
Top off a stylish ensemble with outerwear such as coach jackets, blazers, or cardigans for a dressier option you could wear on several occasions.
For the ladies, a pair of running sneakers would look great paired with jeans, shorts, or sweatpants for a casual day. Or you can dress it up with skirts or dresses for a comfy yet feminine look on days you want to look fab.
For the gentlemen who are going for the athleisure look, pairing it with joggers or gym shorts and a shirt should do the trick. On laidback days, walking shorts or jeans are casual staples. Moreover, your running sneakers could be dressed up in chinos and a crisp shirt or even a suit for certain occasions.
To add character and style to a rather boring look, consider opting for a pair of stylish socks with allover prints. This could enhance your overall look in a snap.
Another way to elevate a dull ensemble is going for a pair of running sneakers bathed in bold colors such as red, royal blue, army green or anything neon. This is a surefire way to spark interest and make heads turn wherever you go.
What are the common shoe technologies used in lifestyle-based running sneakers?
Having knowledge about which technologies are available for everyday use could be beneficial especially if one has conditions such as plantar fasciitis, pronation, supination, back and knee problems, etc. These technologies could aid in improving comfort and lessening strains that cause pain. Below is a list of the technologies being offered by different brands
Nike
Adidas
Boost

This technology is famous amongst new sneakerheads. It is composed of heated and expanded TPU capsules, which provides a responsive feel and higher level of energy return.
Example: Adidas EQT Support 93/17

Primeknit

An upper technology that provides a one-piece, supportive upper with a sock-like fit.
Example: Adidas NMD_R1 Primeknit
Ecco
BIOM

This innovation is characterized by having a glove-like fit, reduced seam construction that enhances stability on uneven surfaces. It also aims to mimic barefoot running by encouraging the feet and legs to do the work instead of utilizing too much cushioning.
Example: Ecco BIOM Fjuel Train
Puma
IGNITE

An ultra-responsive cushioning foam with excellent energy return and provides comfort, support, and stability.
Example: Puma Ignite Limitless

evoKNIT

Puma's version of an entirely knitted upper that provides a breathable, durable sock-like fit.
Example: Puma Tsugi Blaze EvoKNIT

DISC

A fastening system that utilizes a rotating disc that pulls internal strings to tighten and untighten the shoe.
Example: Puma Disc Blaze
Saucony
GRID

It provides superior cushioning and stability by centering the foot upon every impact, and at the same time absorbing and reducing impact to the foot.
Example: Saucony Grid 9000
New Balance
ABZORB

A midsole technology that comprises of a superior blend of foam cushioning and compression set.
Example: New Balance 999 Made in the US

ENCAP

New Balance shoes with ENCAP means its midsole is made from EVA with a distinct PU rim at the heel that is durable and gives support and stability.
Example: New Balance 997
Asics
GEL

It is a gel-like material inserted in the shoe's midsole to provide shock absorption and protection. It could be placed in the kick's forefoot, midfoot, or both.
Example: Asics Gel Kayano Trainer
15 best running sneakers
Adidas ZX 500 RM
Adidas EQT Support SK Primeknit
Nike Air Max 97 Ultra 17
Adidas EQT Support 93/17 Yuanxiao
Adidas EQT Support Ultra CNY
Adidas Lowertree SPZL
Adidas Yung-1
Adidas N-5923
Puma Ignite Limitless
Under Armour Charged 24/7 Low
Adidas ZX 280 SPZL
Saucony Grid 8000
Nike Air Safari
Reebok Classic Leather Altered
Reebok Aztrek
This shoe has recently been added to RunRepeat. There are still not enough reviews for us to assign it a
CoreScore
.
CoreScore
A score from 1 to 100 that summarizes opinions from users and experts. The average CoreScore is 78.
More...