Overall ranking lists
New Balance categories
New Balance Athletics Inc. or merely called New Balance (NB), with headquarters in Boston, Massachusetts, USA, is one of the oldest sports footwear companies in the global market. This brand has mastered athletic shoe construction for over a century now and takes pride in having the majority of its top-of-the-line New Balance sneakers mass-produced from its factories in the United States and the United Kingdom.
NB maintains its solid reputation in the footwear industry, producing high-quality New Balance sneakers based on its retro-styled models. Adding more interest to its growing directory of sneakers is the conception of a sub-label called New Balance Numeric (NB#) which consists of skateboarding-inspired shoes.
Get to know more about New Balance sneakers and how this brand came to be. Here is a lowdown on what New Balance is offering and why it is worth the attention.
A Guide to 5 Different Types of New Balance Sneakers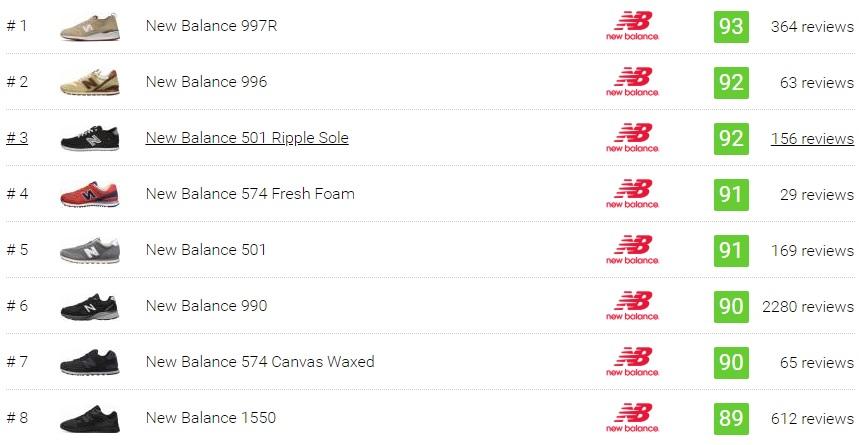 Just like most of the sports shoe brands globally, New Balance was struck by the sneaker bug and found itself tweaking its famous vintage-styled sporty trainers into fashionable everyday wear, keeping some of the best assets of its heritage shoes intact. Today, we see New Balance sneakers with features adopted from specific sports such as skateboarding, running, tennis, and hiking.
1. Skateboarding-inspired New Balance shoes
New Balance created a sub-label named as NB Numeric or NB# that offers skateboarding sneakers.
These New Balance sneakers are performance oriented which have strong appeal to professional and amateur skateboarders.
Built with a sturdy upper leather, reinforced toe tip, and a rubber outsole that is grippy to withstand the harshness of this street sport.
Skate-inspired New Balance sneakers are built with hard-wearing outsoles.
The outsole construction is made of either a vulcanized sole or cupsole.
Vulcanized sole (or simply Vulc shoes) - thinner and lighter than the cupsole; flexible, thus it offers better board feel; provides high chances of accurate flicks.
Cupsole - slightly weighty than the Vulc shoe; padded thus it promotes better cushioning protection.
Sample of skate-inspired - New Balance Pro Court 212, New Balance Pro Court 213, New Balance Arto 358, New Balance PJ Stratford 533, New Balance 868, New Balance NM 288, New Balance Quincy 254, New Balance 598, New Balance 505, New Balance 345
2. Tennis-inspired New Balance sneakers
New Balance sneakers based on vintage court shoes are built with comfort from its padded collar and tongue
The sole is crafted with stability features to address the needs of each backhand and forehand drives.
These court classic New Balance sneakers are revamped to fit today's style.
Sample of tennis-inspired - New Balance 300, New Balance 300 Engineered Knit, New Balance 300 Vintage, New Balance 300 Leather
3. Running-inspired New Balance kicks
New Balance is known for its performance shoes built for the tracks since the 1970s.
These shoes have enough cushioning on the footbed and midsole that protect the foot against impact while in motion.
Sample of running-inspired - New Balance 420, New Balance 996, New Balance 530, New Balance 501, New Balance 620, New Balance 574 Core, New Balance 1550, New Balance 574 Classic, New Balance 597, New Balance 997
4. Hiking-inspired New Balance sneakers
Hiking requires deep lugs in the outsole so users can have a good grip on damp, uneven surfaces. Having deep lugs is the notable feature in hiking-inspired New Balance sneakers.
These rugged lugs prevent users from quickly slipping or sliding on smooth surfaces.
Sample of hiking-inspired - New Balance Trailbuster Re-Engineered, New Balance Fresh Foam Trailbuster
5. Casual New Balance shoes
Casual New Balance sneakers are built to be lightweight, flexible, and breathable which makes them ideal for daily use.
Gone are the days when classic New Balance sneakers are considered as

"

Daddy's shoes" or a kind of shoe only Dads would wear. Thanks to the updated look of today's New Balance sneakers using sleek and minimalist styles, daring color schemes, and cutting-edge design technologies, such as the following:
3-D printed sole - This kind of New Balance sneaker commands a higher price as it uses three-dimensional printed sole. The initial release was a limited edition.
Deconstructed - Deconstructed New Balance sneakers have trimmed down upper structure using advanced technologies. This technique reduces the use of seam making the upper look streamlined.
Distressed - The suede material used in the upper of some New Balance sneakers are simulated with touches of age and wear, which adds character such silhouettes.
Re-engineered -These re-imagined New Balance sneakers have restructured upper composition using lightweight and breathable materials like modern knitting techniques.
Sample of casual New Balance sneakers - New Balance 247 Sport, New Balance 247 Classic, New Balance 247 Luxe, New Balance MS066 (slip-on, 3-D printed style), New Balance 696 Folk Festival (distressed style), New Balance 420 Re-Engineered
12 Most Popular New Balance Lifestyle Sneakers and Collaborative Hypes
New Balance love for numbers is evident on how each of its sneakers is labeled. The number system in naming its shoes is based on New Balance's philosophy that each sneaker is made to be unique.
Most of those who are loyal to the brand have already familiarized themselves with the famous New Balance numbers that standout in the different series. However, consumers who are starting to be accustomed to the New Balance sneakers get easily confused with the digits as several of its sneakers have very minimal differences in appearances.
Below are the most famous numbers in the directory of New Balance sneakers. This list of New Balance sneakers includes the collaborative ventures with different boutique outlets and designers that further pushed these models to global admiration.
1. New Balance 574
Iconic celebrity. New Balance 574 was initially marketed as a running shoe when it was introduced in 1988. Aside from its simplicity and affordability, its standout comfort and durability garnered an appeal among avid runners. The testimonials of NB loyalists pushed for a significant increase in sales for New Balance 574s.
The positive word of mouth about the 574 New Balance sneakers placed this silhouette back on the shelves decades later yet refashioned with modern upper designs and colorways using varied materials like premium leather and reflective detailing.
These alterations are seen in variations such as the New Balance 574 Lux, New Balance 574 Leather, and New Balance 574 Reflective.
The 574 midsole which initially integrated the ENCAP feature in the rear area evolved using other running-inspired cushioning technologies. The changes led to the release of updated versions, some in minimalist forms, such as the New Balance 574 Sport and New Balance 574 Fresh Foam.
The popularity of New Balance sneakers labeled as 574 pushed the brand to venture into overseas production, particularly in Asia. It has been said that a significant volume of 574 pairs are made in Asia, while those that are in better shape and high quality are manufactured in the US, including the customizable editions through the brand's NB1 Customization.
Collaborations:
NB comes together with Mexican fashion designer Ricardo Seco for the release of the multi-colored and beaded Ricardo Seco x New Balance 574.
The team-up between NB and global lifestyle brand and maker of 9FIFTY cap produces a stretch bootie iteration called the New Balance x New Era 574 Sport.
Another quite sought-after collab is known as the Ronnie Fieg x Dover Street Market x New Balance 574.
2. New Balance 576
Posh star. Similar to the 574 silhouette, the New Balance 576 also developed its fanbase. It further benefitted from the second round of fame when makeups done in a number of shades were included in the Lucien Pellat-Finet's runway show on men's contemporary streetwear.
The 574's association with this luxurious label has elevated its charm leading to a series of drops of New Balance sneakers in a wide range of colorways. The appealing frame of the 574, which is exclusively manufactured in New Balance factories in the UK and US, turned out to be a favorite reference for remakes.
Collaborations:
New Balance teams up with UK brand Nordstrom for the drop of the New Balance 576 Made in USA Pack in bright red, sky blue, and charcoal hues.
Another version that has earned the approval of fans for its skull design is the Mita Sneakers x FRAT x New Balance MT576S Bamboo Rake, a team up with Japanese brand mita sneakers. This edition was released twice, in 2009 and 2011 much to the delight of avid NB followers.
3. New Balance 577
Highly-coveted sneaks. New Balance released the 577 with a slightly different layered pattern on its pigskin upper, a sleeker and streamlined design versus the earlier models. According to aficionados of New Balance sneakers, the 577 is highly-coveted as it is solely assembled in the Flimby factory in the UK. Apparently, UK-made New Balance sneakers go through rigid quality protocols during production, which is why it is much sought-after by collectors.
Collaborations:
From its Flimby factory in the UK, New Balance has unveiled various editions through team-ups with other labels and designers. These products include Bodega x New Balance 577 HYPRCAT, and The Good Will Out x New Balance 577 Autobahn Pack.
4. New Balance 990
Most innovative. One of the most iconic New Balance sneakers in the field of running is the 990. It represents the brand's innovation, technology, and craftsmanship which took NB designers several years before this shoe was introduced in 1982. Back then it was deemed as the most advanced running shoe in the industry.
Unlike other New Balance sneakers in the running roster, this shoe was had for the first time a set of new technologies such as motion control device which allowed users to enjoy running with its flexibility, cushioning, and support.
Since it is the most celebrated and innovative among New Balance sneakers, this model has been a subject of revamps for many decades now. In 2012, New Balance celebrated the 30th year of the 990 with about 10 million pairs of this model sold globally.
Collaborations:
New Balance partnered with legendary California-based clothing brand for the release of the Stüssy x New Balance 990v4 in cream color.
NYC-based clothing line created solid sneaker collaborations with NB for the drop of the J. Crew x New Balance 990v1 Pack in Indigo Flame and Cobblestone colorways.
A completely Tyrian Purple in rich suede comes out from the team up between Concepts and New Balance for a refashioned look of the 990v2.
5. New Balance 996
Sleek and clean. The iconic 996 from NB is constructed with a combination of buttery pig suede and mesh on its cover and considered as one of the cleanest among the retro models with its simple, fast-forward design. Assembled in its Boston factory and initially introduced in 1988, the 996 has long been known for its comfort benefits.
New Balance sneakers marked as 996 are built with an ENCAP wedge cushioning unit surrounded by a dual density C-Cap midsole. The sturdy C-Cap provides protection, cushioning, and stability as it acts as a shell that wraps the softer ENCAP foam cushioning. These features give shock-absorbing benefits that relieve the feet from discomfort.
While comfort is the notable feature of the New Balance 996, its style is not compromised. In fact, this New Balance sneaker was a knockout in the US the first time it hit the shelves. Its initial retail cost of $100 did not alarm consumers who were willing to shell out extra cash for well-made and technology-supported New Balance sneakers such as this one.
New Balance sneakers under the 996 label landed on the tennis court with improved technology built into the sole that allows smoother lateral movements. One of the updated models is the New Balance 996v3 which is constructed with a knit, nylon-infused upper and lightweight cushioning.
Collaborations:
New Balance partners with American specialty retailer J. Crew for the drop of the J. Crew x New Balance 996 Neptune
New Balance and Japanese contemporary fashion label come together for the release of an all-white deconstructed version named United Arrows x New Balance 996.
6. New Balance 997
Supportive type. New Balance 997 was initially manufactured wholly in the US which resembles the 996 model. The plastic heel strap which can be seen protruding below the collar is the component that sets the 997 apart from the 996 version. This piece of plastic support is made of Hytrel which is a specific kind of copolymer conceptualized by US manufacturer DuPont.
This piece of engineering can be flexed in multiple directions just like rubber, and it does not wear out quickly which is comparable to the strength of plastic. Added to that a rubber compound is placed in the heel that extends the sole's lifespan.
The increase in demand over the 997 New Balance sneakers forced the brand to simultaneously manufacture this model both in the US and UK factories. This silhouette is also the first in the 990 series that had a version intended exclusively for the women. The profile designed for the women's feet is created with a non-reflective N logo.
One of the modern approaches used in the 997 New Balance sneakers is the minimal use of overlays, reducing lots of weight from the entire shoe. One example is a deconstructed version called the New Balance 997R.
Collaborations:
New Balance hooked up with other lifestyle merchants and designers in coming up with innovative designs for the 997. These are the Concepts x New Balance 997 Rose, J. Crew x New Balance 997, Stance 997, Nonnative x New Balance 997, and Stance x New Balance 997.
7. New Balance 997.5
Pop star. Sandwiched by two favorite silhouettes, the New Balance 997.5 is another model that shares the limelight with the New Balance 997 and 998. New Balance tinkered with the two old-school styles in coming up with this hybrid, mashup version in 2016 built with high-quality pigskin leather.
American rapper and singer Kanye West was instrumental in elevating this shoe to fame as he was seen sporting New Balance sneakers tagged as 997.5. During the first year of its release, following the drop of its signature gray tones, the 997.5 became a favorite canvas for collaborative projects.
Collaborations:
Australia-based sneaker publication creates a spin-off of its 998 Tassie Devils silhouette and introduces the Sneaker Freaker x New Balance 997.5.
NYC-based designer Ronnie Fieg puts touches of light-colored tones to the retro-style model for the release of the Ronnie Fieg x New Balance 997.5 Mykonos Collection in Cyclades and Archipelago colorways.
Retailer Concepts blends in teal, yellow, gray and red, putting a brighter vibe with the release of the Concepts x New Balance 997.5 Esplanade.
A team up with a Chinese sneaker retailer led to the release of the DEAL x New Balance 997.5.
8. New Balance 998
Trendsetter. New Balance 998 is constructed with the distinct suede, and mesh body with a chunky and supportive ABZORB cushioned midsole.
Collaborations:
This model reached its popularity status when New Balance hooked up with Concepts retailer for the release of a hip looking Concept x New Balance 998 C-Note. The colorways used in this edition was influenced by the redesigned $100 bill released during that time.
Australian-based Sneaker Freaker and New Balance led to the 2013 release named Sneaker Freaker x New Balance 998 Tassie Devil, a sophisticated-looking sneaker in violet, black, and white.
The Horween Leather x New Balance 998 is considered as the most expensive variation of this model which initially retailed at $400.
A variation named J. Crew x New Balance 998 offers an urban jungle-themed look.
9. New Balance 999
Fit for the President. Another famous silhouette under the 990 series is the chunky-soled 999 which overtook the popularity of its predecessor, the Made in USA 998. This model takes on the combined cushioning features of ENCAP, C-Cap, and ABZORB with the added pad in the forefoot for that heightened cushioning benefits.
Collaborations:
One of the much-adored variations is a product of NB's tie-up with Concepts. Named as Concepts x New Balance 999 Kennedy, this sneaker is nautically-themed. The inspirations for this sneaker are England's sailing culture and US President John F. Kennedy's apparent love for such hobby.
The fusion between Louisiana-based clothing boutique and New Balance led to the drop of a lifestyle shoe for men, the Sneaker Politics x New Balance ML966.
10. New Balance 1300
Chunky chic. Released in 1985 as a running shoe, the New Balance 1300 initially had the ENCAP engineering in its midsole that provides support for an extended period since it is made up of hard wearing materials.
This model belongs to the Made in USA collection which resembles the 996 yet with a chunkier sole as the 577. An update came out four years later, which had a smaller display of the N logo which had stitched details.
Collaborations:
One of the much-sought colorways that belong to this model is the Ronnie Fieg x New Balance 1300 Salmon Sole.
New Balance hooked up with an athletic store Alife Rivington Club for the release of the A.R.C. x New Balance 1300.
11. New Balance 1500
Stylish performer. Majority of the most popular retro-styled New Balance sneakers are mainly produced in Boston. However, the famous New Balance 1500 is manufactured in the UK factory. This model is built with the standard features of a training shoe with a narrow and slender frame.
Although it is designed for casual wear, the 1500 can still perform. It is much desired for its flexibility, durability and tech features such as the ENCAP midsole and plastic arch bridge. In fact, this shoe was the sneaker that Germany's runner Sebastian Kienle sported when he snagged the Ironman World Champ title in 2014.
Collaborations:
This staple New Balance sneaker received a number of renditions through collaborative efforts, namely: Provider x New Balance 1500, Nice Kicks x New Balance 1500, Solebox x New Balance 1500 Toothpaste Pack and Nazar Eye, Colette x UNDFTD x La MJC x New Balance 1500. Adding to list are Hanon x New Balance 1500 Chosen Few, Norse Projects x New Balance 1500, Crooked Tongues x New Balance 1500 Black Beard, and Foot Patrol x New Balance 1500 Encyclopedia.
12. New Balance 1600
Budget-friendly. The New Balance 1600 resembles the silhouette of the 1500 yet with a cleaner look. Just like the 999, the New Balance 1600 variations are mostly assembled and produced in Asian factories, which makes it more reasonably priced as compared to other favorite New Balance sneakers.
Collaborations:
Online information channel Nice Kicks and Philadelphia's leading street apparel boutique UBIQ partnered with New Balance for the drop of the Nice Kicks x New Balance 1600 Grand Anse and UBIQ x New Balance 1600 The Benjamin.
5 Top Reasons Why New Balance Sneakers are Worth Buying
Brand loyalty is one of the factors that can drive consumers to settle on the same sneaker label over and over. Most often their choices tend to be influenced by what is being offered by the big players in the market, pushing aside other brands that may be performing as well.
New Balance is one of those names that has been overshadowed by the big dogs and considered somewhat underrated. Here are five standout features of New Balance sneakers and what makes it worth a try.
1. Quality of materials
Vintage-inspired New Balance sneakers are crafted with components capable of bending easily, offering a plush covering for the feet. It is one of the brands that consistently produces premium-grade leather upper materials.
Common upper materials of New Balance sneakers are buttery suede, soft leather, full grain leather, Nubuck, breathable mesh, and sweatshirt jersey.
2. Comfort
Comfort is relative as it is impossible to have two pairs of feet precisely the same, which is why New Balance sneakers have varied types of cushioning for different feet. New Balance sneakers use a combination of foam cushioning and durable compounds in the makeup of its midsole.
Usual midsole features of New Balance sneakers are ABZORB, ENCAP, RevLite, and EVA.
3. Design
New Balance sneakers are used to be called "daddy shoes" or the kind of shoe dads would wear with a buttoned-up polo shirt paired with khaki shorts. The brand slowly refashioned the daddy shoe image by coming up with modern designs of classic New Balance sneakers that go well with a wide range of casual wear. The updated versions of the old-school New Balance sneakers receive a splash of creativity through a broad selection of colors and styles.
New Balance sneakers' modified styles are deconstructed, distressed, and re-engineered.
4. Construction
New Balance has a strong reputation for producing well-constructed products. It takes pride in its attention to detail, a tradition long been practiced in New Balance factories. New Balance sneakers are made with a neatly assembled upper from the stitching of the overlays to the attachment of the sole. Consumers rarely expressed issues regarding scored suede, undone stitching, blotches of paint and stains on New Balance sneakers.
Notable construction features of New Balance sneaker are well-stitched upper and neat assembly of shoe parts.
5. Durability
New Balance sneakers utilize innovative materials on the upper that do not disintegrate easily as well as sturdy rubber compounds in the outsole with grippy tread patterns for enhanced stability.
What is the price range of casual New Balance shoes?
Price is among the determining factors when buying a pair of sneakers. Is it light in the budget? Is it worth its value? These are some of the questions that come to mind when scouring over large selections of sneakers. Here are the approximate price brackets of New Balance sneakers and what kinds of models fall under these categories.
Below $120
New Balance sneakers can go as low as $85 to $118 with designs inspired by vintage sports shoes and built with fundamental cushioning features, durable outsole, and adequate lug size.
Those near the $120 mark come with an improved upper cover.
There are several NB# models which are within this bracket or even less than $100.
Up to $200
Specific designs of New Balance sneakers fall within the average price range of $130 to less than the $200 mark.
These New Balance sneakers are upgraded versions of the old-school classics which are predominantly available in lighter frames.
The sole of New Balance sneakers within this category are built with additional technologies such as REVlite, ENCAP, among others.
Costly New Balance sneakers under the NB Numeric are below $200. One of which is the New Balance 868, built with a FantomFit upper.
Over $300
These New Balance sneakers use premium-grade suede and leather materials on the upper.
Some of the revamped versions of the New Balance 990 series are within this range, which is constructed using modern technologies.
Special edition releases cost higher than other models in this price range such as the New Balance 997 Baseball Pack.
Some of the New Balance sneakers priced up to $300 are constructed with a combination of different technologies such Fresh Foam, ABZORB, Zante, CCap, Rollbar, NDURANCE, to name a few.
How do New Balance lifestyle kicks fit?
There are two factors to consider when getting the adequate fit of New Balance sneakers, whether you are aiming for New Balance Classics or New Balance Numeric Skate shoes. These are your foot's width and length measurements.
Width
New Balance sneakers for men are created with

"

D" width, while it is

"

B" for the women. Both are the standard, medium, or average width measurements.
If you feel that your current shoe appears to be too roomy on the sides, it is advisable to consider choosing a narrower size of width measurement.
If you find that your present shoe is obviously narrow or tight, it is recommendable to select a full-width size or go a half size higher.
Length
Men's sizes of New Balance sneakers range from 1 to 20 US, while for the women's it is 3 to 15 US.
If you think your feet slightly fall in between sizes and you are wondering if you will get a size higher or lower, it is ideal to go for a bigger size.
It is easier to adjust to a larger size and obtain a suitable fit by using insoles, thicker socks, or by merely changing the lacing technique.
New Balance Numeric Skate shoes are usually built with a narrow fit. To obtain an appropriate, personalized fit, New Balance suggests purchasing a half size bigger than you would in your typical New Balance sneakers.
How to get suitable fit and size of New Balance sneakers?
New Balance sneakers are created to fit directly out of the box and require very minimal time to break it in.
New Balance sneakers are designed to keep the heel snug without any space for slipping, which means your heel rests appropriately on the heel cup.
There should be enough space in the toe box or that region surrounding your forefoot. It should be spacious enough that you can move your toes freely up and down or side to side without bumping the walls inside the shoe that will eventually cause calluses and corns.
It is ideal to have your feet measured once every year as the feet incline to adjust over time.
Feet tend to grow more prominent with age. Sometimes calluses acquired over time affect the sizing of your shoes.
The feet tend to expand during the day. Thus, the best time to try on New Balance sneakers is at the latter part of the day when the feet becomes rounder or has expanded.
The length and width of your right foot may differ from your other foot, at times in full size.
Make it a habit of buying shoes that fit well your larger foot given the parameters above.
Design Your Own Unique Pair of New Balance shoes
New Balance thrives on customization. It only takes a few clicks of the mouse to get one's desired personal styles of New Balance sneakers. Depending on the choice of sneaker model, buyers need to shell out a few more dollars to obtain their one-of-a-kind pair of New Balance sneakers.
One can choose from a wide range of hues, materials, and even thread colors for embroidered detailing. Consumers are given a selection of previously designed inspirations which they can tweak to fit their desired taste.
Some facts about New Balance sneakers NB1 customization program:
The NB1 custom shoe production line started manufacturing unique pairs of New Balance sneakers in the US since 2011.
The NB1 customization program was revamped in 2015 which added the 998 model and the perforated suede option.
Workers at the Lawrence MA factory hand-build over 200 personalized pairs of New Balance sneakers each day.
Among the materials to choose from are pigskin suede, synthetic, reflective, and mesh.
Some of the common areas of New Balance sneakers that can be altered are base underlay, toe, saddle, heel, base accent, heel tab, collar accent, layers of N logo, lining, sole, molded plastic collar accent, and thread color for embroidery.
Purchasers can have a personalized message embroidered on the rear end of the shoe.
For the 998 alone, there are 58 quadrillion rare color combinations of New Balance sneakers that can be created.
Highly-skilled manufacturing personnel is expected to handle the shoes for 22.5 seconds only, and that includes cutting leather and hand stitching.
Every shoe is carefully examined before they are packaged. The customized New Balance sneakers have to match the original design.
Technologies that set New Balance apart from other classic sneakers
New Balance long understood the anatomy of the feet as it started producing shoes for orthopedic purposes before it leaped to manufacturing athletic shoes. Just like any top playing sports shoe company, New Balance takes pride in its proprietary technologies, developed to address the varying needs of consumers in the areas of COMFORT and CUSHIONING, STABILITY, and SUPPORT.
New Balance retained some of its tech features in making lifestyle sneakers or for its non-athletic shoes assembled for everyday use.
Get a quick run through of these tech elements found in different sections of the shoe, namely midsole, outsole, insole, and upper. This list will help you understand more the structure of your next purchase of New Balance sneakers.
Midsole Technologies
The twin benefits of comfort and cushioning in sneakers stems from the midsole. The midsole is the middle layer of the sneaker which lies between the inner and outer sole crafted to absorb shock. It is a section of the shoe that sneaker designers love to experiment with technologies which offer consumers protection against impact.
ABZORB
It is considered a state-of-the-art midsole technology by New Balance.
The ABZORB is made with a layer of hard-wearing rubber that rests atop of the outsole in the rearfoot area.
The ABZORB pads are created to absorb or take in the energy during impact, especially when the feet hit the ground whether through running or walking.
The foam-based polymer structure works by spreading the forces away from the point of impact, thereby lessening the blow that is transmitted through the sneaker up to the leg and lower body.
The ABZORB unit increases durability to the midsole of New Balance sneakers.
ENCAP
This technology is made up of EVA

(

ethyl vinyl acetate) foam, which acts as the central cushioning unit in the heel.
This wedge of EVA is surrounded by a rim of synthetic resin known as polyurethane

(

PU).
Just like the ABZORB, the ENCAP's role is to absorb shock and disperse it to a larger area so that the heel won't take up much of the impact.
REVlite
A lightweight inventive foam compound that does not wear quickly.
It offers the same energy return as other foams which are 30 percent heavier.
This feature reduces a lot of weight from the shoe without sacrificing cushioning and stability.
C-Cap
Uses a block of compression-molded EVA that offers cushioning and flexibility.
This foam is thicker and more stiff from the midfoot going towards the heel, to address the need for shock absorption
A more shallow height goes from the midfoot to the toe.
Fresh Foam
Using modern technologies, New Balance was able to adjust the chemical properties of the foam compound used in the midsole, creating a version called Fresh Foam that is springy and stable at the same time.
The midsole design uses different zones, which look like a geometrical pattern from the exterior. These shapes form varying levels of compression and resistance that absorb and react to impact, leaving the feet cushioned and supported.
Insole technology
The insole is the soft bed that lies inside the shoe which is either fixed or removable. It offers cushioning, warmth, and commonly used to improve the fit.
Aetrex
New Balance partners with orthotics retailer Aetrex in offering users with optimal underfoot support and cushioning.
Aetrex insoles are also made with anti-bacterial top cover to keep feet healthy, fresh, and dry.
Outsole Technologies
The outsole, also called the outer sole, is the area of the sneaker made of rubber that gets in direct contact with the ground. The rubber is commonly constructed with various tread patterns that offer grip and keeps feet firm on the ground. This is the area of the shoe where most of the support and stability technologies are located.
Rollbar
New Balance sneakers with Rollbar minimize rearfoot movement.
With the rollbar, it prevents the foot from rolling inward or outward during movement.
The Rollbar consists of a TPU post and plate placed in the heel that reinforces the midsole walls and increases its firmness.
NDURANCE
NDURANCE is a proprietary rubber compound developed by New Balance used for high wear areas in the outsole.
One can expect that this sneaker will last an extended period as it offers maximum durability.
Upper Technologies
The upper is the portion of the shoe that covers the top and sides of the foot from the toe to the heel that is made of different materials. It is attached to the bottom part of the shoe or the sole. New Balance uppers are traditionally made with a combination of leather, suede, and mesh which are stitched all together.
Fantom Fit
One of the elements that users look for in the design of the upper is its ability to breathe or allow air to circulate in and out of the shoe. A breathable top prevents feet from getting toasted inside that leads to discomfort. The FantomFit has such element.
This feature seamlessly fuses mesh with a supportive synthetic layer keeping its overall weight very light and breathable.
It reinforces the shape of the upper and prevents it from sinking inward.
New Balance sneaker with FantomFit tech: New Balance 868
New Balance Sneakers Quick Facts
1. What does
"

Made in the USA" label means in New Balance lifestyle sneakers?

New Balance claims that they are the only major footwear manufacturer that assembles over 4 million pairs of shoes in the USA in a year. Sneakers produced in its US-based factories, assembled by domestic workers and built with local materials of around 70 percent are categorized as Made in the USA. This brand is privately-owned by Chairman and Chief Executive Jim Davis who is committed to domestic manufacturing.
2. What does
"

Made in the UK" label mean in New Balance shoes?

New Balance sneakers labeled as Made in the UK or Made in England are produced in the brand's site in Flimby, Cumbria. Over 28,000 pairs of sneakers are being manufactured weekly in this UK factory, which employs a little over 200 personnel.

Since it opened in 1982, the Flimby factory has been producing handmade New Balance sneakers. The demand for these handcrafted products continues to have an appeal to sneaker collectors. It is said that many of the skilled workers in this British factory have been employed for over a decade already. Thus, the core values of the brand regarding high level of craftsmanship, teamwork, and customer satisfaction are maintained in this facility.
3. Which signature New Balance sneakers are produced in the Flimby factory?
One of the most common New Balance sneakers produced in Flimby is the 1500 which comes in low-top and mid-top variations. In commemoration of New Balance's 35 years in the UK in 2017, it released a Flimby 35th Anniversary Pack comprising of much-adored heritage classics, built with premium materials. The pack consists of New Balance 770, 991, 1500, and Epic-TR.
The first footwear introduced at the Flimby site is the H610, a hiking shoe, followed by the 990 running shoe, and succeeded by ranges of soccer boots and basketball shoes.
4. Does New Balance have tie-ups with Asian countries?
High demand for New Balance sneakers apparently forced the brand to have sub-contracted facilities in Asia. As reported earlier, a remainder of New Balance manufacturing is completed by third-party partners in Vietnam, Thailand, and China. However, the popular models are created in the USA and UK. Customized pairs of New Balance sneakers are made in the USA.
5. Why New Balance casual kicks are considered expensive?
While several shoe brands since the 1980s began their production overseas for a much cheaper cost, New Balance did not adhere to the trend and opted to keep its domestic production. This US-based brand managed to keep its five factories in Maine and Massachusetts employing American associates and utilizing local materials, thus putting a higher retail cost on most of the famous New Balance sneakers.
6. What falls within the range of most affordable New Balance vintage shoes?
One need not have to break the bank to obtain a pair of New Balance sneakers as there are several New Balance designs which are priced way below $100. These New Balance Classic and New Balance Numeric models include New Balance 501, New Balance 410 70s Running Suede, New Balance Pro Court 212, New Balance Pro Court 213, New Balance Quincy 254, New Balance 501 Ballistic, and New Balance 515, to name a few.
7. What kind of leather makes up the buttery suede cover of most New Balance sneakers?
The notable buttery suede used in a multitude of New Balance sneakers is made of pigskin and not cowhide.
8. Are lifestyle sneakers from New Balance considered vegan shoes?
Some New Balance sneakers are constructed with synthetic materials. Although specific models made use of synthetic leather, it does not mean that New Balance sneakers are 100 percent vegan. The brand claims that it uses various kinds of glues depending on the available resources and some of these adhesives contain animal products.
9. How to clean New Balance sneakers?
A number one no-no is putting New Balance sneakers through a washing machine since there are parts of the shoe that are not advisable to be submerged in water or subjected to heat. There are suede or leather cleaners that help prolong the quality of suede and leather cover of New Balance sneakers. Obtain silicone-based cleaning products to avoid any potential harm to the shoes.
Use light bristle brush with a mild detergent that is free from dye to prevent any forms of stain. Scrub with the brush and wipe it clean using a damp cloth. Keep it air dry for 24 hours.
10. Who are the notable figures that made New Balance casual shoes more popular?
While other shoe companies considered teaming up with known athletes and celebrities since the 1980s, New Balance stayed true to being a brand "Endorsed by No One." However, some iconic figures inadvertently placed this brand to stardom.
One of them is Steve Jobs who is said to be a die-hard New Balance supporter. In fact, it was reported that he had a hand in formulating the design concept of the original 990. Jobs admiration over the 99x series was evident as he was seen in most of his public talks wearing such model.
Former US President Barack Obama received a pair of 990 before he got elected for a second term.
Former US President Bill Clinton is an avid fan of the 1500 model.
In 2009, the

"

Endorsed by No One" principle of New Balance was brushed off as the brand started to tie up with athletes Miguel Cabrera, Curtis Granderson, and Heidi Klum.
Celebrities with brief moments with New Balance are Kanye West who was seen sporting the 998; Pharell Williams in New Balance 574.
11. What is New Balance Numeric?
The New Balance Numeric or NB# was launched in 2013 to address the needs of skateboarders. This sub-brand produces skate-specific New Balance sneakers that offer flexibility and excellent grip. A sponsored team of professional skateboarders stand as faces of the NB# line. Among them are PJ Ladd, Arto Saari, Levi Brown, Tom Karengelov, Jordan Taylor, Tyler Surrey, Tom Knox, Brandon Westgate.
Among the favorite NB# models are the New Balance Pro Court 212, New Balance Pro Court 213, New Balance 868, New Balance NM 288, New Balance 598, New Balance PJ Stratford 533, New Balance Arto 358.
12. How New Balance started footwear production?
New Balance started as a manufacturer of orthopedic shoes and arch supports in Boston, Massachusetts under the name The New Balance Arch Company back in 1906. Founded by British immigrant to Boston William Riley, it had a small group of customers as it paid particular attention to a narrow business line of premium quality goods.
13. How the name New Balance came to be?
Earlier stories revealed that William Riley derived the name New Balance by observing chickens in his backyard and how its three toes best supported its body. This observation inspired Riley to come up with three-prong arch supports that offer a sense of balance. Soon enough New Balance was conceived.
14. What was the first ever athletic New Balance sneaker?
Over two decades since it started, New Balance finally stepped into the sports market offering distinctly designed orthopedic footwear for track and field and baseball players. The first performance shoe produced by New Balance is the Trackster, the world's first ripple-soled running shoe for men that was introduced in 1961. New Balance is known for catering a wide range of width options since its release of the Trackster.
15. On which New Balance sneaker did the N logo was first showcased?
Designed by Terry Heckler, the N logo first appeared in the 1970s when New Balance introduced the 320 silhouette.
16. How to decode the numeric New Balance sneakers titles?
What is unique about the New Balance sneakers are the way these were named. The numbering style of each silhouette speaks a lot about the type and function of the shoe.
Most of the New Balance sneakers are derived from performance shoes, with high volume from the running category, which significantly affects how such shoes were named. The shoe model or name, which consists of four sections, is traditionally displayed on the tongue.
Before we go on dissecting further the meaning behind the names of New Balance sneakers, we ought to be reminded that these are refashioned iterations of vintage sports trainers.
The first number - reveals the level of quality of New Balance sneakers. Those named with higher numbers are typically constructed with a combination of several technologies.
Tail numbers

-

the last two digits indicate the degree of cushioning in the shoe.
60 or stability shoes - initially designed for those with feet that do not roll inward or outward.
70 or light stability shoes - created for users who run at a fast pace
80 or neutral shoes - are appropriate for those who do not need additional arch support.
90 or speed shoes - common choice of professional distance runners and even amateur runners training for mid- and high-mileage running.
Version - some shoes have an additional code indicated by the letter

"

V" paired with a certain number. The letter

"

v" stands for

"

version" followed by the series number.
17. Which models of New Balance sneakers are up for customization?
Some of the most popular models of New Balance sneakers are up for customization, such as the iconic 574, the classic 300, the trendsetter 998, and the performer 990v3.
18. What sets New Balance apart from other brands regarding fit?
Aside from the standard width options B and D for women's and men's, New Balance sneakers are available in wide, extra wide and XX wide widths. The respective sizing codes for these broader width measurements are D, 2E, and 4E for women's; 2E, 4E, and 6E for men's.
15 best New Balance sneakers
New Balance 220
New Balance 247 Classic
New Balance Suede 247
New Balance 247 Sport
New Balance 501 Ripple Sole
New Balance 247 Decon
New Balance 574 Fresh Foam
New Balance 247
New Balance 574 Leather
New Balance 515
New Balance 300
New Balance 990
New Balance 1550
New Balance 574 Retro Sport
New Balance 501
This shoe has recently been added to RunRepeat. There are still not enough reviews for us to assign it a
CoreScore
.
CoreScore
A score from 1 to 100 that summarizes opinions from users and experts. The average CoreScore is 78.
More...