10 Best New Balance Walking Shoes (Buyer's Guide)
This selection focuses on the fitness-centric walking shoes from New Balance. They are different from the classic NB sneakers, like the 574, typically associated with the brand.
New Balance walkers are made for walking, hiking, and traveling. Many of them also come with arch support.
How we test for the best
Our teammates at RunRepeat keep an eye on all the walking shoe offerings from 12+ top brands, including New Balance. We consider both popular and little-known NB models to keep the competition fair.
We have researched all the nitty-gritty details of over 25 (and counting) NB walking shoes to understand the benefits they offer.
46,000 reviews from experts and regular buyers have been summarized to compare and shortlist the top-performing shoes.
Our final verdict is presented in the form of CoreScore, a number from 1 to 100 found next to each model name.
Ranking of the 10 best New Balance walking shoes
Based on 189,659 user ratings 5 expert reviews
Here is a list of all 28 New Balance walking shoes, where you can sort by "best rated" and apply filters.
Popular walking shoes aren't the better rated ones
What makes walking shoes from New Balance stand out
Big focus on arch support. Originally started as an arch support manufacturer, the brand has always taken flat feet and overpronation seriously.
Multiple width options. New Balance is one of the very few major athletic brands that make shoes in several width options, from Extra Narrow to Extra Wide.
Diabetes approved. Nearly every pair of New Balance walking shoes is recognized as appropriate for people with diabetes. These shoes are given the A5500code and are subject to Medicare reimbursement.
3 questions to ask before buying an NB walker
1. Use: city or trail?
If you need a walking shoe for commuting, working on concrete or tile floors, going shopping, or simply getting through your day, consider New Balance shoes for urban use.
If what you have on your mind are forest trails, countryside roads, and not very rocky mountain tracks, go for the brand's trail walking shoes. These models are also waterproof.
2. Style: athletic or classic?
Athletic

Classic

breathable

flexible

sturdy

supportive

durable

most come with arch support

most are approved for diabetes

some have Velcro straps

more expensive
3. Arch support: needed or not?
If in doubt, see the illustration below to guide you. You can also learn more about pronation and arch support in our meta-analysis of 150+ studies on the topic.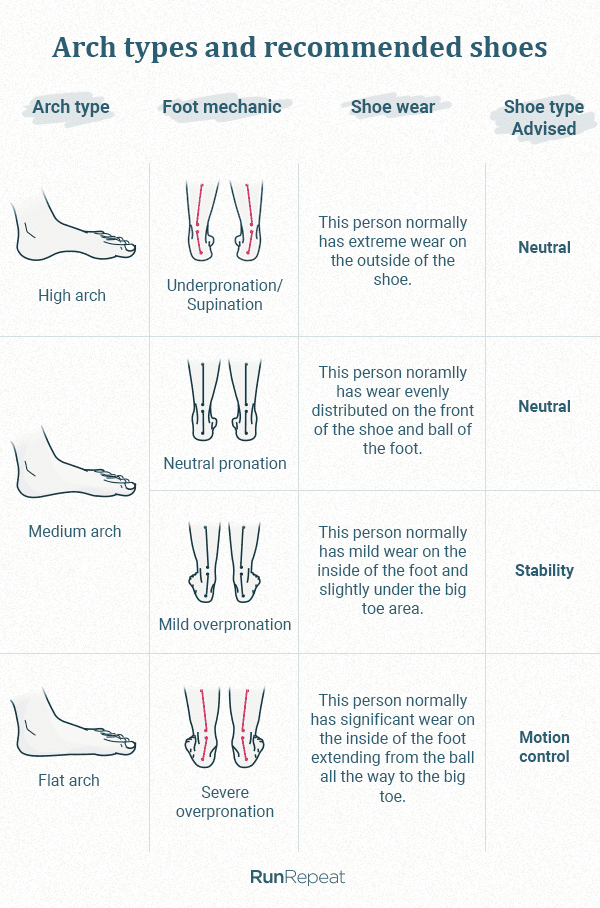 Other New Balance shoes to consider
Apart from the dedicated walking shoes, your daily walking needs may also be satisfied by New Balance sneakers and running shoes.
However, the choice will depend on your personal preferences in footwear. Here is how these three categories differ:
| | | |
| --- | --- | --- |
| | | |
| All-day support | All-day support | All-day support |
| Motion control | Motion control | Motion control |
| Lightness | Lightness | Lightness |
| Style | Style | Style |
New Balance walking shoes are best for those who want to feel supported all throughout the day and look for a more conservative shoe style.
The best New Balance walking shoes in every category
Other buying guides
Now, are you ready to buy new balance walking shoes?